Fotor is a one-stop image editor based on AI technology support. It has a professional background remover that can serve as an excellent online passport photo service.
With Fotor's passport photo maker, you can quickly convert ordinary photos into passport photos and ID photos online. Fotor will automatically identify the portrait part and remove the background in seconds, and you can also change the background of the photo to white with one click. Fotor offers a wide selection of passport photo background colors. Simply select the background layer and choose the color as desired and the background color of your photo will be replaced with a single click.
Fotor offers three preset passport photo sizes: the standard US passport photo size of 2x2 inches, and two other common photo sizes of 30x40 mm and 35x45 mm. You don't need to crop your photo to meet the standard passport photo size. Fotor's passport photo maker tool can easily convert photos to passport size.
The process of making passport photos is without compressing the quality and details of the original photo, and there are multiple download options for you to choose from to meet your different needs!
Key Features:
Novice friendly and easy to use.
Large selection of background colors.
Smooth handling of details.
Multiple download formats.
No loss of original photo quality.
Passport photo size can be modified and edited at will.
More manipulation of passport photos is possible
Cutout. Pro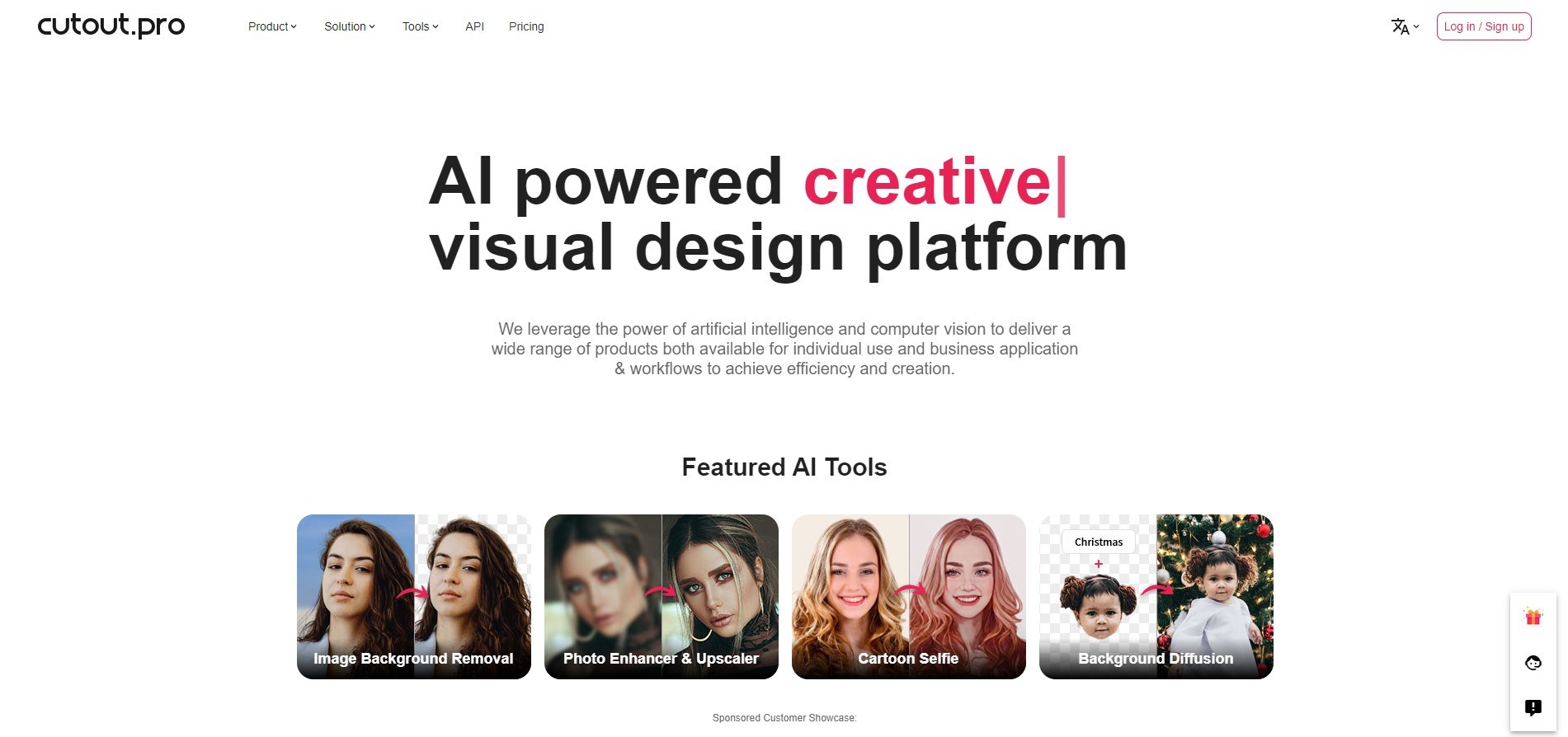 Cutout. Pro is an AI-powered image editing and background removal tool. But thanks to its AI capabilities, it also has a passport photo creation tool.
Simply upload a photo to its passport photo maker tool and select the paper size for printing the photo. You can get one photo as well as multiple photos, depending on the image and paper size.
Next, either enter the desired image size or pick from the list in Cutout. Here you can find some commonly used sizes for document photos, such as 2" x 2" as well as country-specific passport sizes.
By default, it is possible to remove the background, but you can add a solid color as a background. A prominent feature is that you can change the clothes on the image. But for that, you have to take several pictures so that the clothes are well aligned with your body.
Pro requires two credits to create a passport photo with Cutout. The free account gives you one credit, which is not enough for this purpose. It costs $3 to purchase a pack of three credits. Alternatively, you can invite a friend to get five free credits.
Key Features:
Intuitive and easy-to-navigate layout.
Both digital and printable versions available.
Different versions of the same photo are available
Passport-Photo. Online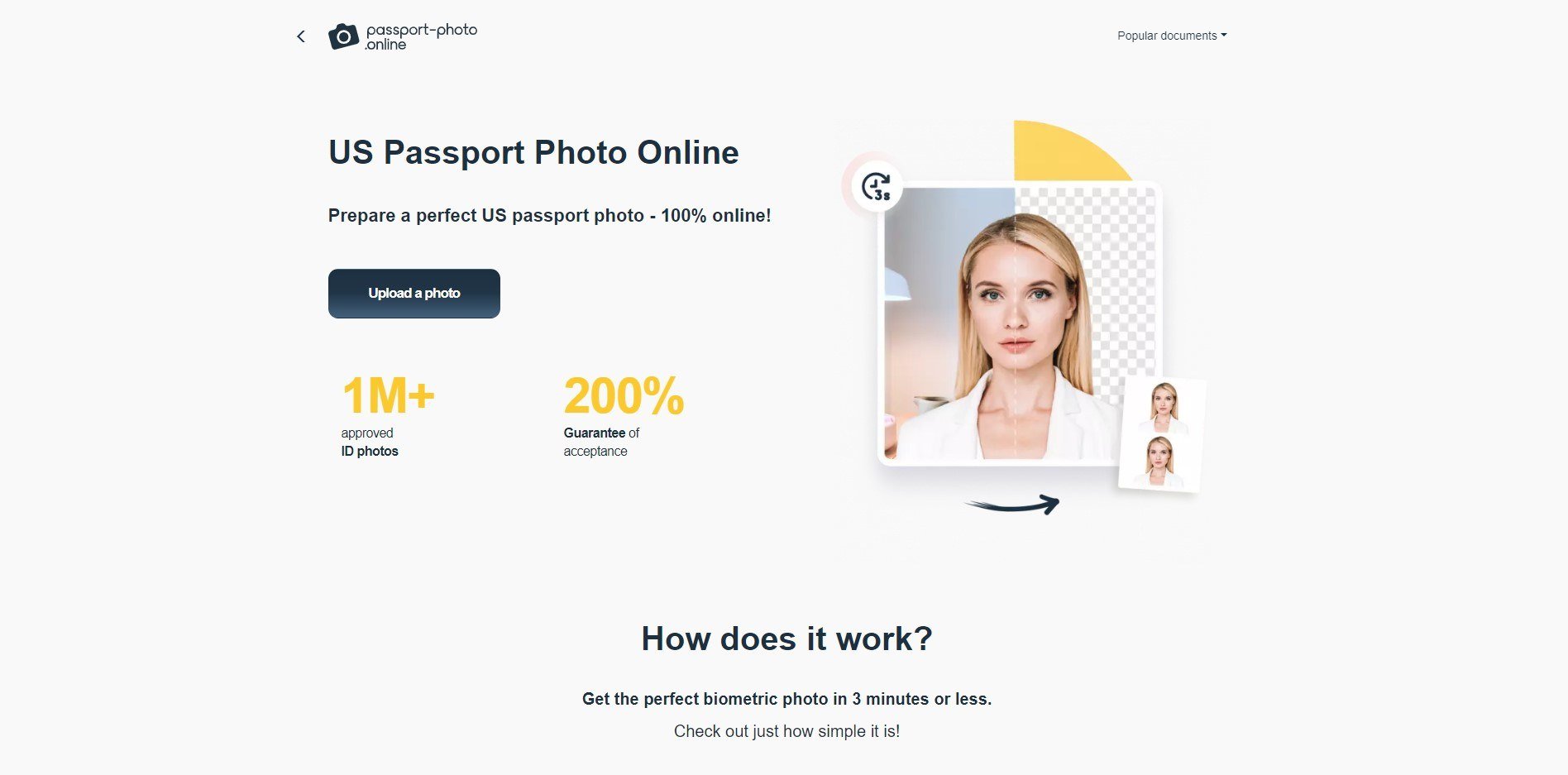 Passport-Photo. Online is available as a website and mobile app and has been downloaded by over 1 million users worldwide. It is one of the few companies that offers a full suite of tools and features to its customers. Passport applicants don't have to worry about taking a perfectly lit photo against a white wall. The advanced artificial intelligence system improves contrast, eliminates shadows and adjusts the background to official requirements - it can even erase objects, patterns or another person from the image!
Online Passport Photo has an impressive database of different documents from around the world. It automatically crops and resizes to the desired size; thanks to this option, future passport holders don't have to look up the requirements for their passport photos. The process takes only 3 seconds, after which the user can preview their image. If it doesn't meet their requirements, they can do it again until they find a perfect shot. All shoots are free of charge and customers only pay for the final result.
Online passport photos are provided with digital copies and, upon request, 2 (two) high-quality prints delivered directly to the client's door. Each photo is carefully reviewed by a team of experts working around the clock. The Passport Photo Online team ensures 100% compliance with the official passport guidelines of the countries listed below.
Key Features:
Automatic features and tools, including background removal editor.
Artificial intelligence system to improve contrast and remove some shadows.
Expert verification.
Database with over 200 documents and nationality requirements.
Unlimited number of shots
Visafoto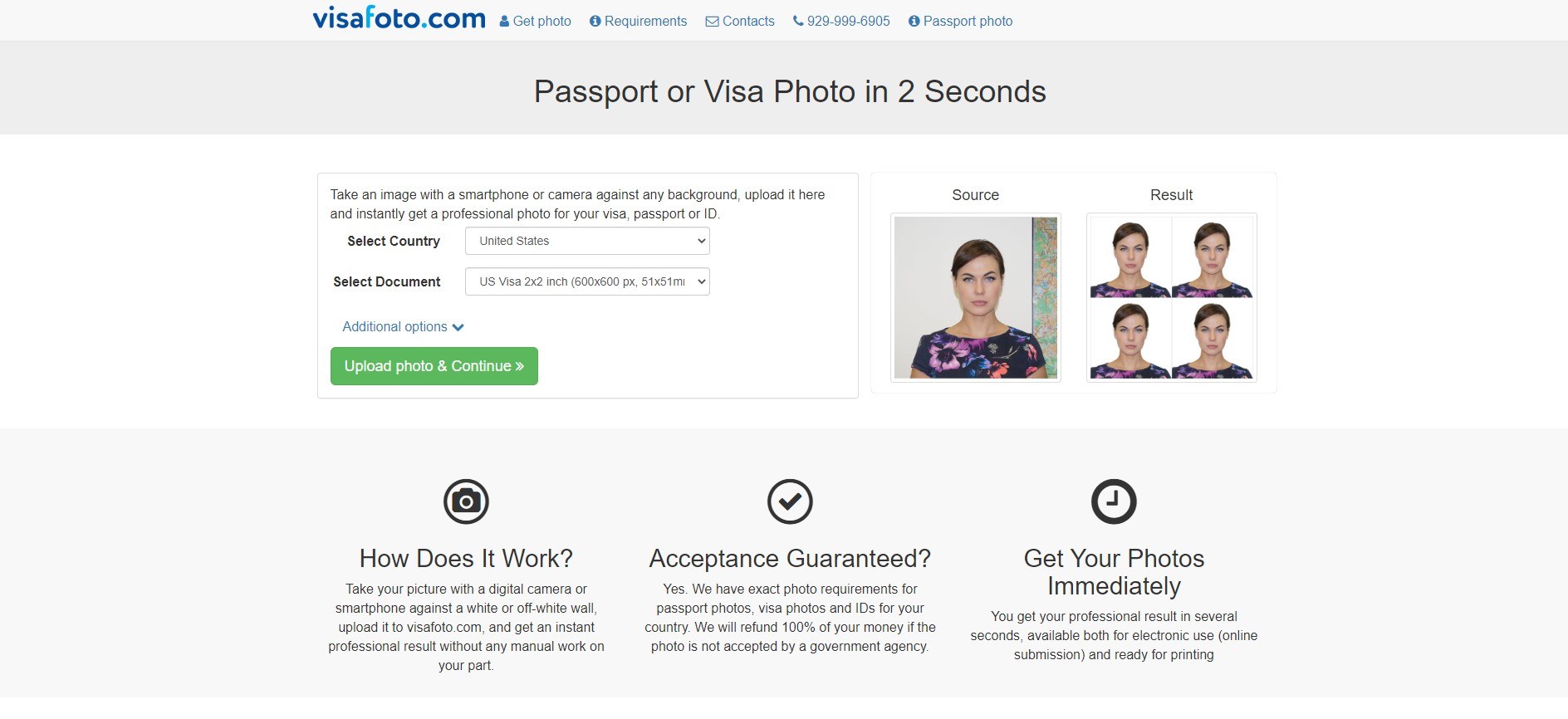 With a full suite of programs, Visafoto offers to create US passport photos that are 100% compliant with official guidelines. The site's system crops, resizes and removes backgrounds from the uploaded images. For about $7, users will receive a digital copy and a 4×6-inch printable template.
Images can be previewed before payment is made. A detailed request form and a link to the State Department website are also provided. The service ensures a 100% refund in the event of a rejection. However, there have been complaints about this option and customer service in general.
Key Features:
Comprehensive photo adjustments.
100% refunds, but there have been reported refund issues.
Both digital and printable copies are available.
ePassportPhoto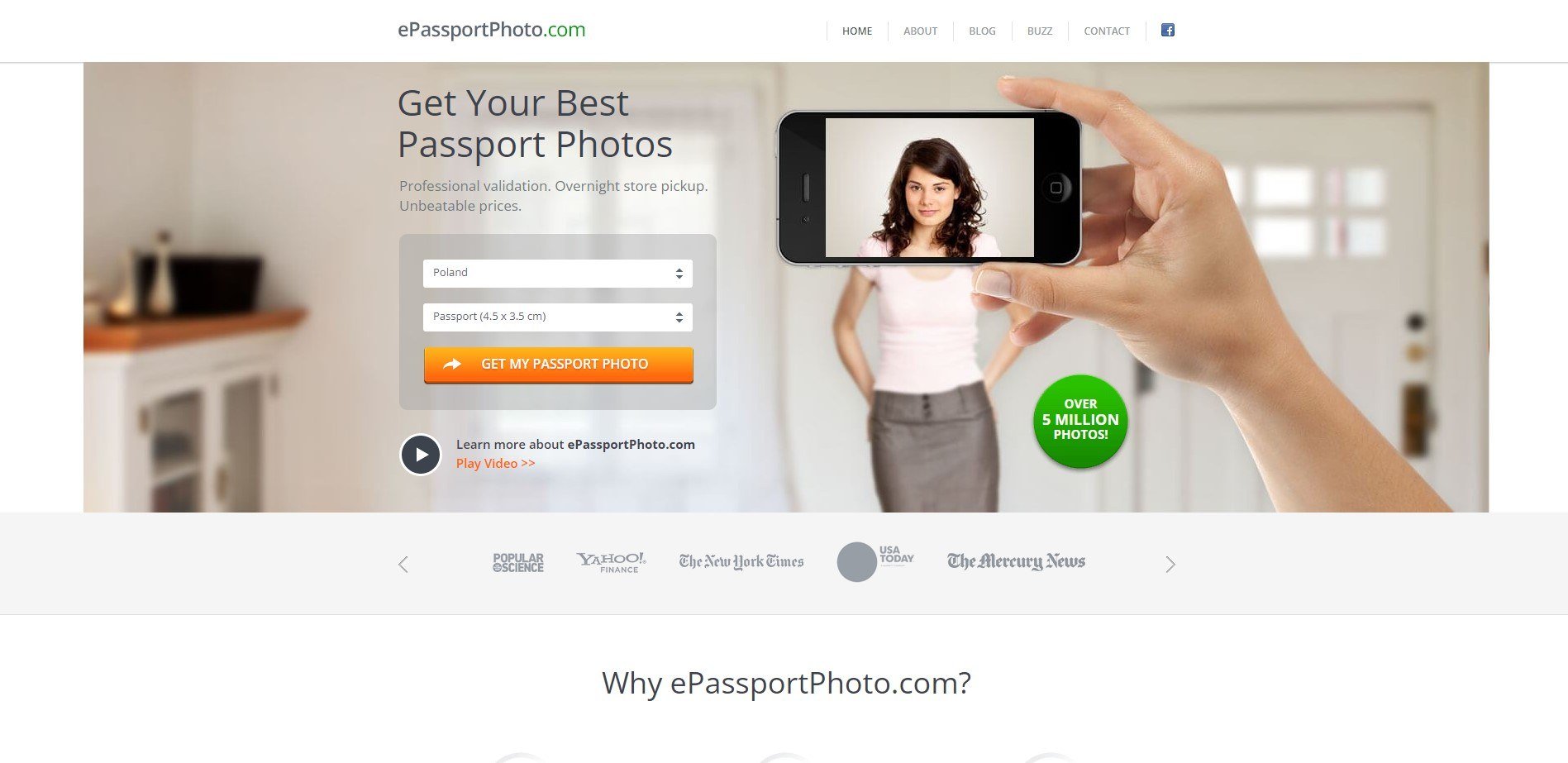 ePassportPhoto has a seemingly clear and intuitive layout that may include some misleading information. It offers two services - DIY and Premium.
The DIY passport photo service is advertised as a satisfactory digital image creator. While the images can be downloaded for free, not only must they be cropped by the user, but there is also no tool to remove the background. In this way, ePassportPhoto does not offer a full digital copy service, and a premium version is recommended.
The premium service includes retouching of photos and verification by experts. However, users cannot preview the results. ePassportPhoto offers home delivery or pharmacy pickup for $4.99 (according to the website, shipping is not included). U.S. citizens who order their photos before 2 p.m. are eligible for same-day in-store pickup, for which an additional $0.20 printing fee will be charged. The price for a set of 2 (two) passport photos is $9.99.
If the photos are rejected, ePassportPhoto offers a 100% refund. In addition, there is a 20% discount on every other photo ordered through their service.
Key Features:
20% discount on every additional photo.
100% refund in case of rejection.
Expert verification.
Same day pickup.
Additional charges for shipping and printing.
No digital copies
Conclusion
Getting your passport photos taken can be a time-consuming and expensive process. But with the help of an online passport photo service, you can have your passport photo taken quickly, affordably, and conveniently. In this article, we will discuss the top five online passport photo services you should consider when taking passport photos. We talk about their features, prices, quality and more to help you decide which service is best for you. We hope this article is helpful!