Currently, TikTok has more than 1 billion monthly active users, making it one of the most popular social networks in the world.
If you are new to TikTok, this guide will help you get started with the first step- creating your TikTok pfp.
Learn everything you need to know about TikTok profile pictures, including the right TikTok profile picture size, how to set up your TikTok profile picture, tips and ideas for making a good profile picture, and a whole lot more.
Let's dive in!
Table of Contents
What's the TikTok Profile Picture Size?
For profile pictures, TikTok requires a minimum size of 20 x 20 pixels. But the most ideal TikTok profile picture size is 200 x 200 pixels. This will make sure your profile picture looks sharp and clear on mobile devices.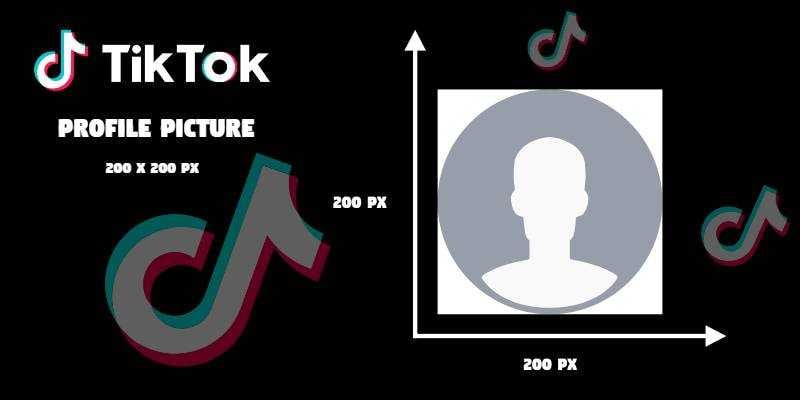 You don't have to worry about resizing pictures. There are a number of online tools to help you make your profile picture the right size for TikTok. Fotor's photo editor is one of them. You can quickly resize your picture to the desired dimensions using it.
Good TikTok PFP Ideas to Make Your Profile Stand Out
When creating a TikTok profile picture, the most important thing is to make sure that it represents who you are. Here are some Tiktok profile picture ideas to get you inspired.
A Selfie
A selfie is one of the most common types of profile pictures on TikTok. It is a great option if you want to show yourself and let your followers know a little bit about who you are.
There are many photo editing apps that you can use to add a little extra flair to your selfies. For example, you can use filters, make your photo into black and white, add a glitter background, and more to create an aesthetic pfp for TikTok.

Logo
You can use your brand logo as the TikTok PFP if you are using TikTok to promote your own brand or service. This will make it easy for your audience to recognize you.
Make sure your logo picture is high-resolution and large enough to be visible on your account.
Cartoon Avatar
Cartoon PFPs are also very popular on TikTok. It's a good way to express your personality, and while maintaining your privacy at the same time.
You can use your favorite cartoon characters as your TikTok PFP, or make your own avatar with Fotor's avatar generator. It offers a large selection of cartoon avatars for you to choose from. Additionally, you can personalize avatars' appearance using various editing tools. Using it, you can create a cute pfp for TikTok easily.

A Picture of Something That You Love
Since TikTok is an entertainment platform, so it's totally ok to use a funny pfp for TikTok. You can use an image that features something that you love. This could be anything from your pet, car, favorite food, vacation photo, etc.

How to Change Profile Picture on TikTok?
You can easily change or set up a TikTok profile picture by following the below steps:
Open the TikTok app on your smartphone, and tap the Me icon from the bottom bar.
Tap Edit Profile.
Tap Change Photo then tap Select from Gallery.
Then select the image you want to put as a TikTok profile picture and tap the Save option. That's it!
How to Create a Good TikTok PFP?
It is extremely easy to make a pfp for TikTok using Fotor's profile picture maker. Here's how:
1. Go to Fotor.com, and click the "Create a design" button on the homepage.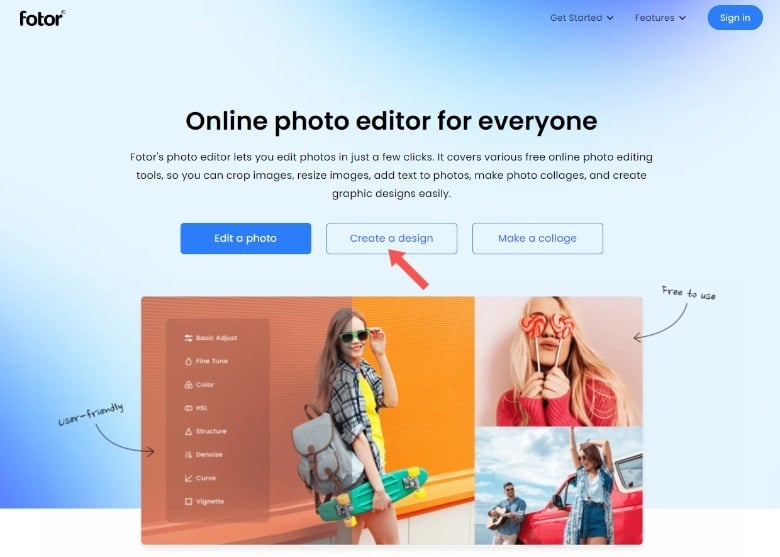 2. In the search bar, type "profile picture" and you'll find a variety of ready-to-use pfp templates.
3. Take a look at the profile picture templates and choose one that you would like to use.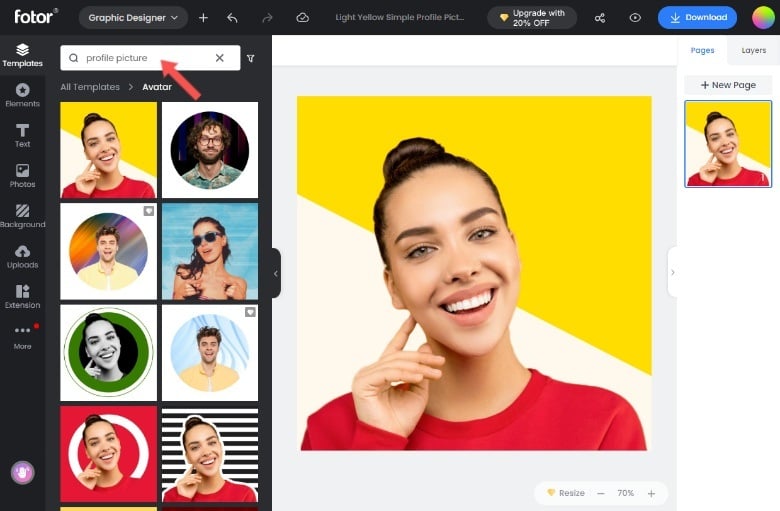 4. Drag your own profile picture onto the canvas. Then you can start editing your photo however you like- smoothen skin, erase blemishes and wrinkles, adjust lighting and colors, add borders, stickers and filters, and a whole lot more.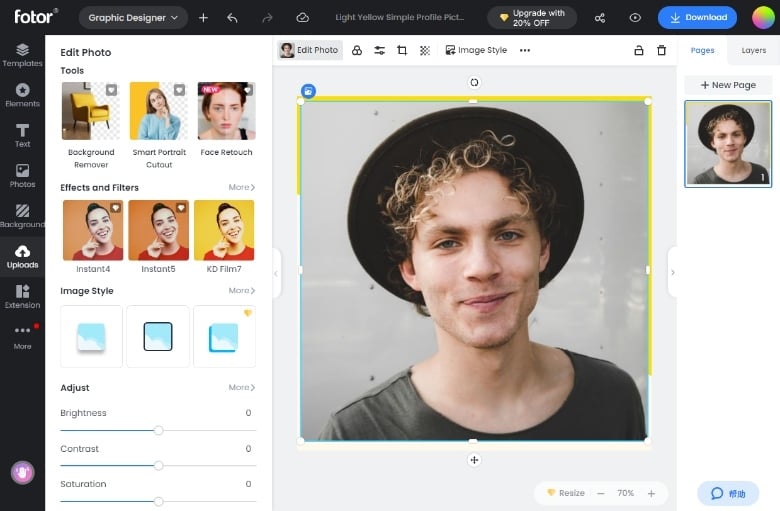 5. If you don't like your background, no worries, you can use Fotor's AI background remover tool to remove the background in an instant.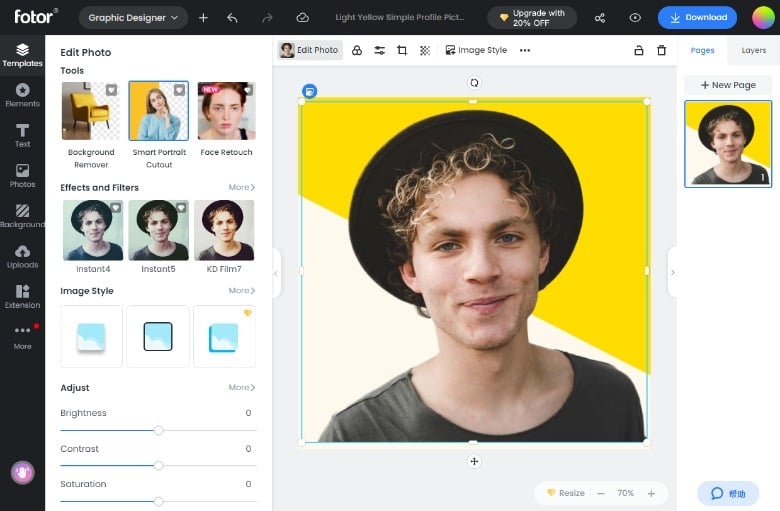 6. When you're done editing, circle crop your photo to fit the TikTok profile picture size and that's it. You can export your profile photo in high-resolution JPG, PNG or PDF file.
Tips for Taking a Great Tik Tok Profile Picture
These tips will help you take a great TikTok profile picture that will get more likes and views.
1. Make Sure Your Lighting Is Good and Natural
Lighting is key. A bright, natural light will make your skin look luminous and will minimize the appearance of wrinkles and blemishes.
If you can't get good natural light, you can try putting a piece of white paper in front of your face. This will help brighten up your features and make you look more radiant. Additionally, there are lots of profile picture maker apps that you can use to quickly edit and adjust the lighting of your pictures. These apps offer a wide range of features and tools to enhance the quality of your pictures, such as crop&resize, color adjustment, photo filters, and more.
2. Find the Right Angle and Pose for Your Profile Photo
To take a professional headshot, it's crucial to choose an angle that shows off your best features. You can experiment with different angles and poses to find the best one that works for you.
3. Keep Background Clean and Simple
Backgrounds are often overlooked, but they are just as important as the subject of your pfp. Having a cluttered or busy background will distract people's attention from you. So it's important to keep the background as clean and simple as possible.
4. Take Lots of Profile Pictures and Choose the Best One
Don't be discouraged by bad photo shots. It's said in every 20 photos, there is maybe 1 good photo to use. So if you're not happy with the final results, just try again!
FAQs About TikTok PFP
1. Why Can't I Change My PFP on TikTok?
Here are a few things you can try if you can't change your pfp on TikTok.
Close your TikTok app and restart.
Check your internet connection. If you are using a VPN to connect to TikTok, turning it off may help fix the issue.
Check if TikTok's servers are up and running. In most cases, the reason why TikTok won't let you change your PFP is that it has server problems. You can view the status of TikTok using a third-party service like Downdetector. Or you can go to Twitter and check their official account for the latest issue reports.
2. How Do I Change TikTok PFP on PC?
It is quite simple to change TikTok PFP on PC. Here's how to do it:
1. Sign in to your TikTok account on your computer.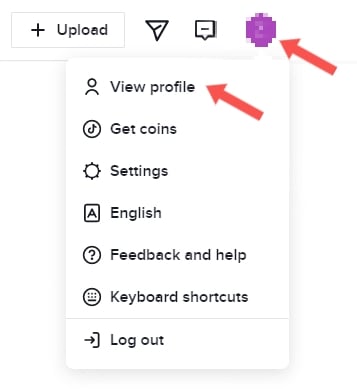 2. On the top right, click your profile picture icon and then click View profile.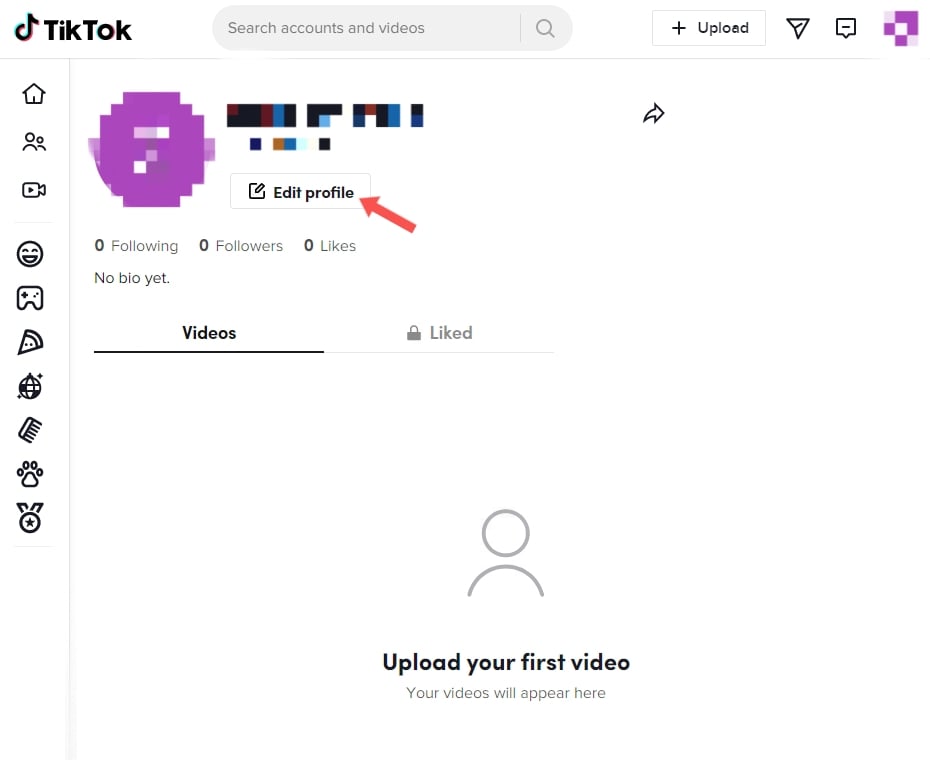 3. Then click Edit profile, and you'll see a pop-up window.
4. To change a new profile picture, click on the pencil icon.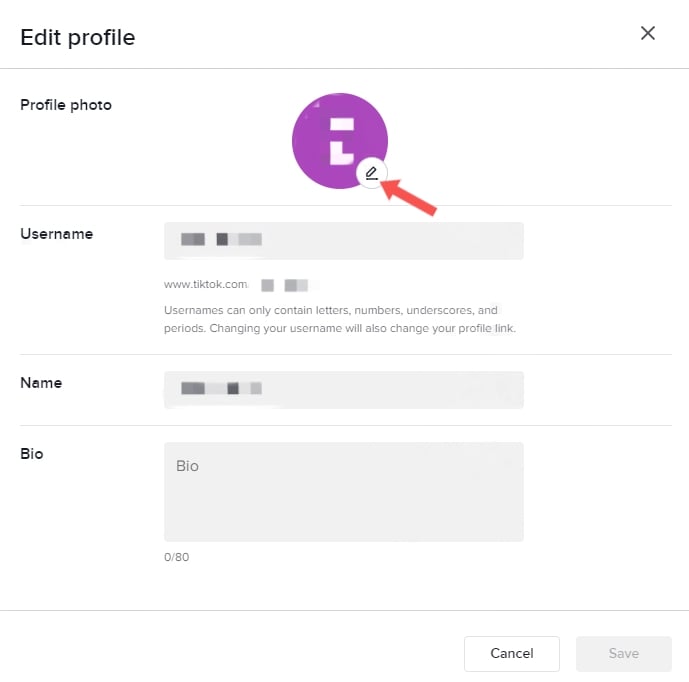 Summing Up
Your TikTok profile picture will draw people in, or keep them away. So it's crucial that you have a good TikTok PFP.
Now that you know what makes a good TikTok profile picture and how to create one, it's time to make your own one!
You'll be well on your way to creating a TikTok profile that will help you gain followers, likes, and views with these tips and tricks.