Top 6 Requirements for ID Photos
When people apply for identity documents such as passports, ID cards and driver's licenses, a qualified photo ID is an important factor in getting the application through.
Not only to pass the application, but more importantly to avoid seeing a goofy photo every time you pull your driver's license or ID card out of your wallet afterwards.
Here are 5 tips for meeting the general ID image rules.
1. Taken in Front of a Solid, Neutral Color Background
Photo requirements for passports or identity cards vary from country to country, but they all have one important detail in common: a plain background. So it should be plain with no patterns, objects, textures, other people, pets, trees or any other sundries. And photos may be either in color or black and white and must be taken against a neutral color background such as white, light grey or off-white.
What's more, the background color should be in sufficient contrast with head. And make sure that the background is all in one color and one shade.
Sample pictures that would be accepted vs. rejected are as follows.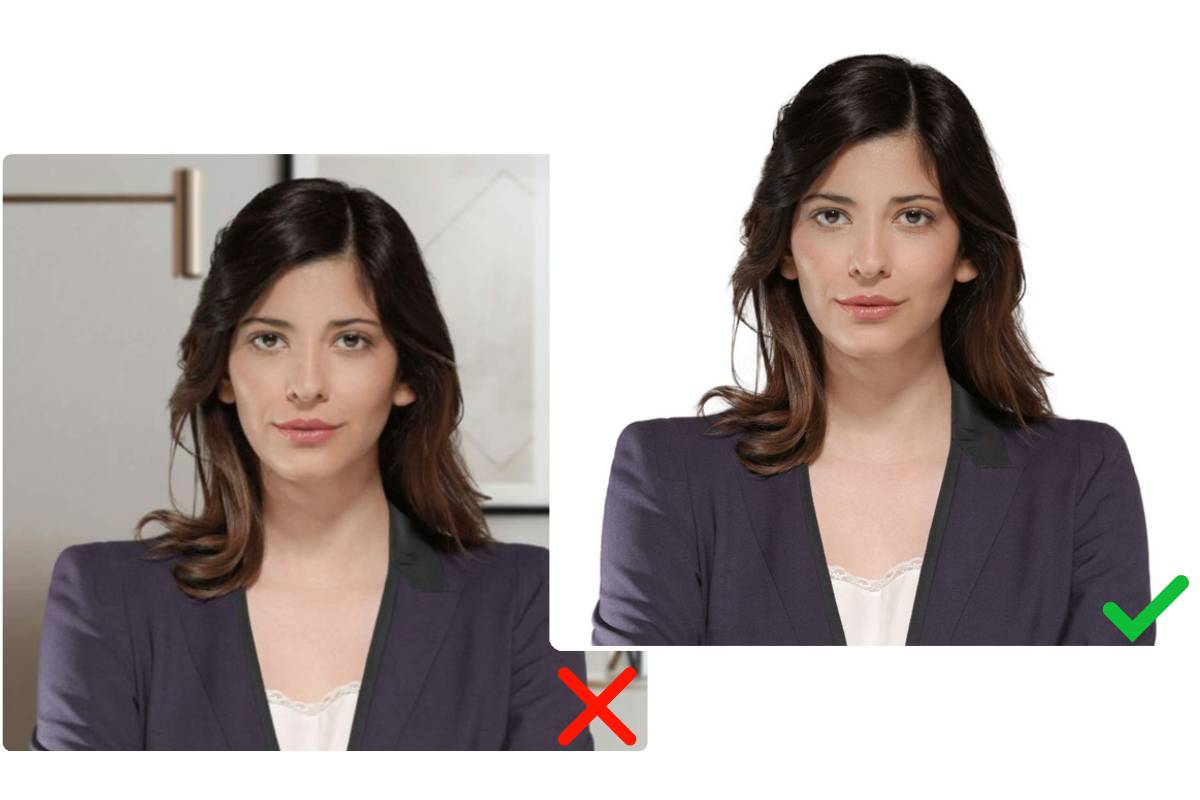 2. Use A Light That Highlights Both Sides of Your Face Evenly
Firstly, the ID picture should be taken at where there is good lighting and the flash can be used when it is necessary. If there is not enough light, the face will not be clear or even cannot be recognized.
Secondly, it should be avoided that lighting casts a shadow on one side of your face or in the background. Make sure that there is no reflection caused by your glasses or accessories.
What's more, the photo should not be over- or underexposed. Too much light and too little light can blur your face, resulting in overexposed or underexposed photos.
Sample pictures that would be accepted vs. rejected are as follows.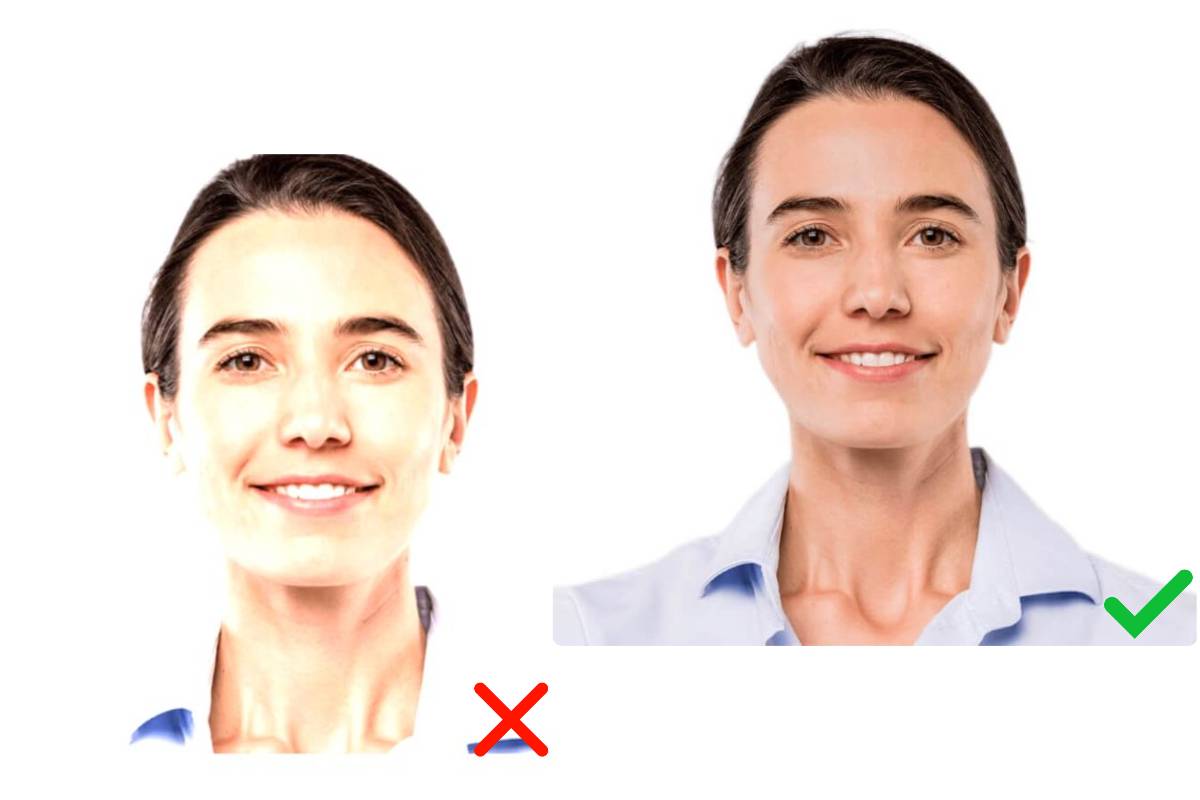 3. With A Natural Facial Expression
When people are taking ID pictures, most of the time, they have an expression on their face that they do not like or there is something else that makes them unsatisfied with their photos. Actually, a perfect ID picture can be taken as long as you have a natural facial expression.
Don't smile too much, whether you are photographing your driver's license or passport. You can have a little smile on your face so you don't look cranky, but don't flash a big, unassuming smile. In addition, remember to look straight at the camera with your mouth closed and both eyes open.
Sample pictures that would be accepted vs. rejected are as follows.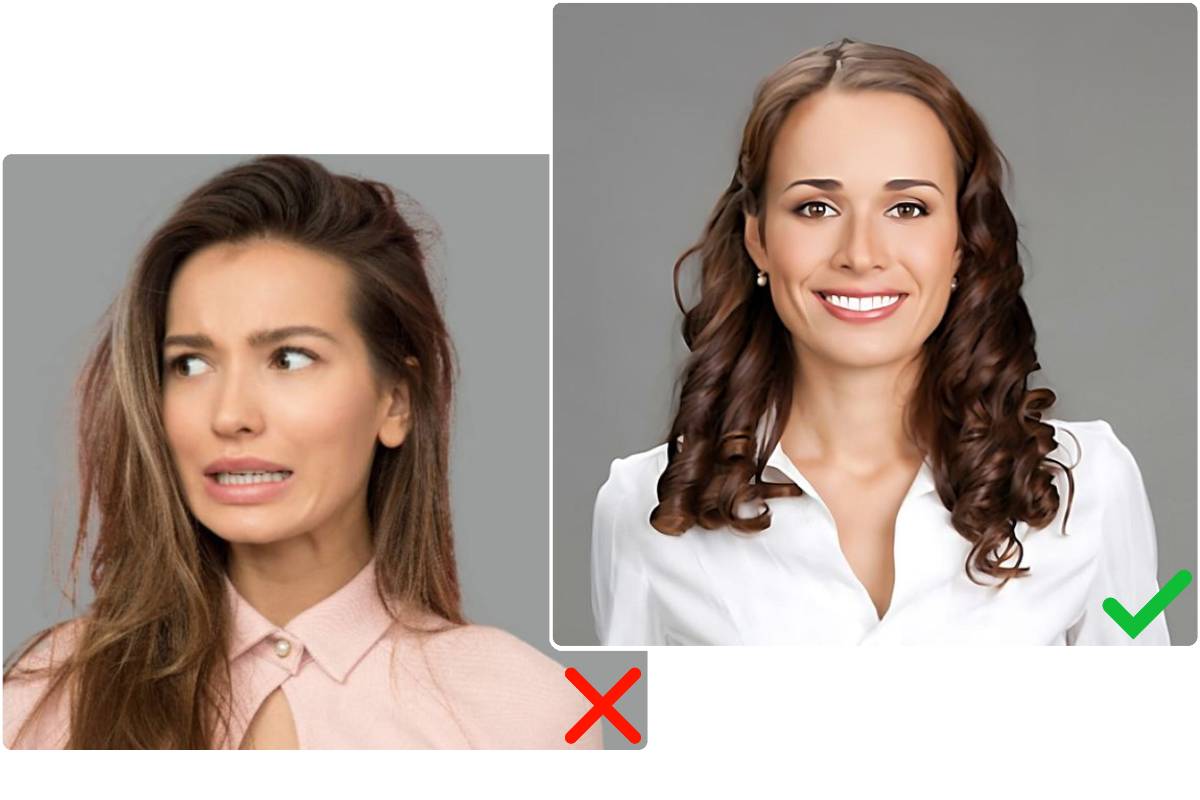 4. Make Sure That Your Entire Face is Visible
Before taking the ID image, please adjust your hair and clothing to make sure that your full face is visible. And your eyebrows should not be covered by hair. It is also important that your eyes be completely visible in your photo so your glasses must be fully transparent.
Generally, there should be no hats, head coverings, sunglasses, earbuds, hands, masks or other objects that obscure your face unless required for medical reasons.
Besides, keep your eyes horizontally aligned, head not tilted and shoulders straight. So that your shoulders and face can squarely face the camera.
Sample pictures that would be accepted vs. rejected are as follows.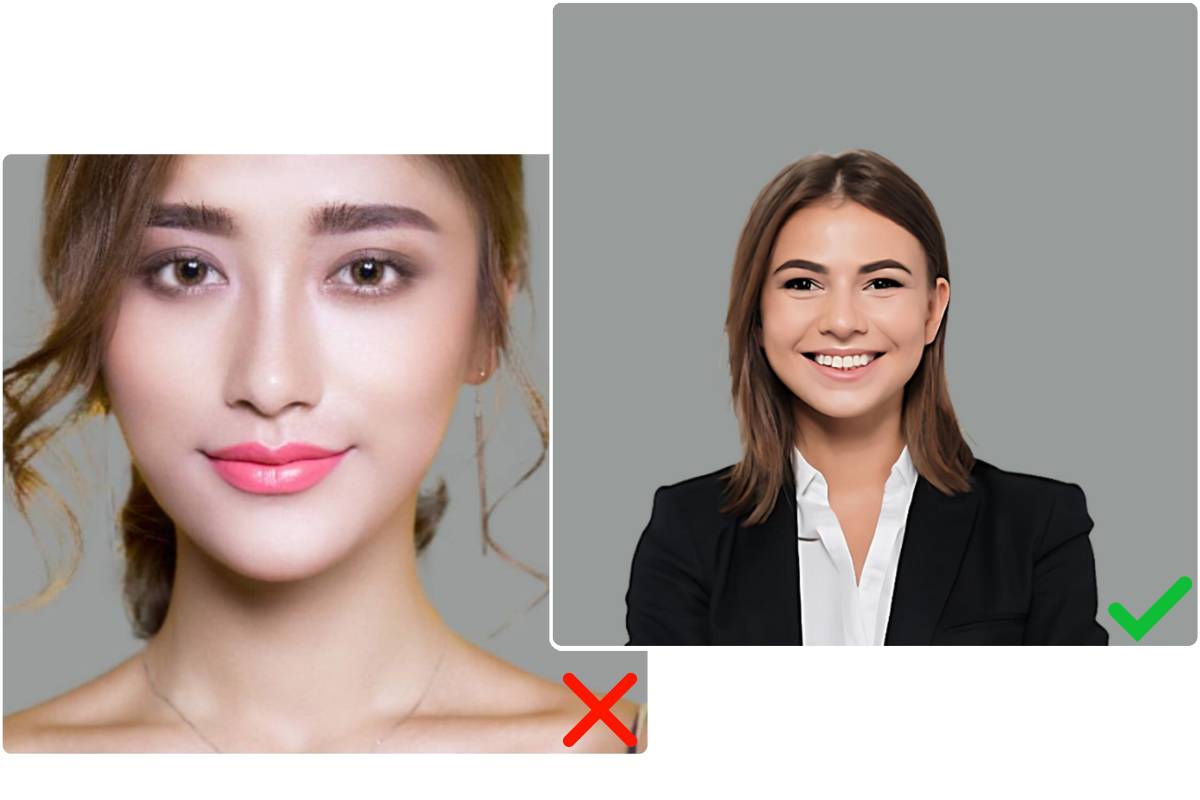 5. Be Careful How You Dress
There are certain colors that are not suggested for the ID photo. For example, you can wear what you normally wear, but don't wear white clothes. Because the background of such photos is often a light color which not only will your clothes blend in, but if you are fair-skinned, you will also look very pale and sickly. Also, wearing in black is not advised for the same reason.
Head coverings and hats are only accepted due to religion reasons. You may keep your head covered if your religious beliefs do not allow your head uncovered. But the head covering must be plain, only in one color and contrast with the background of the photo.
Sample pictures that would be accepted vs. rejected are as follows.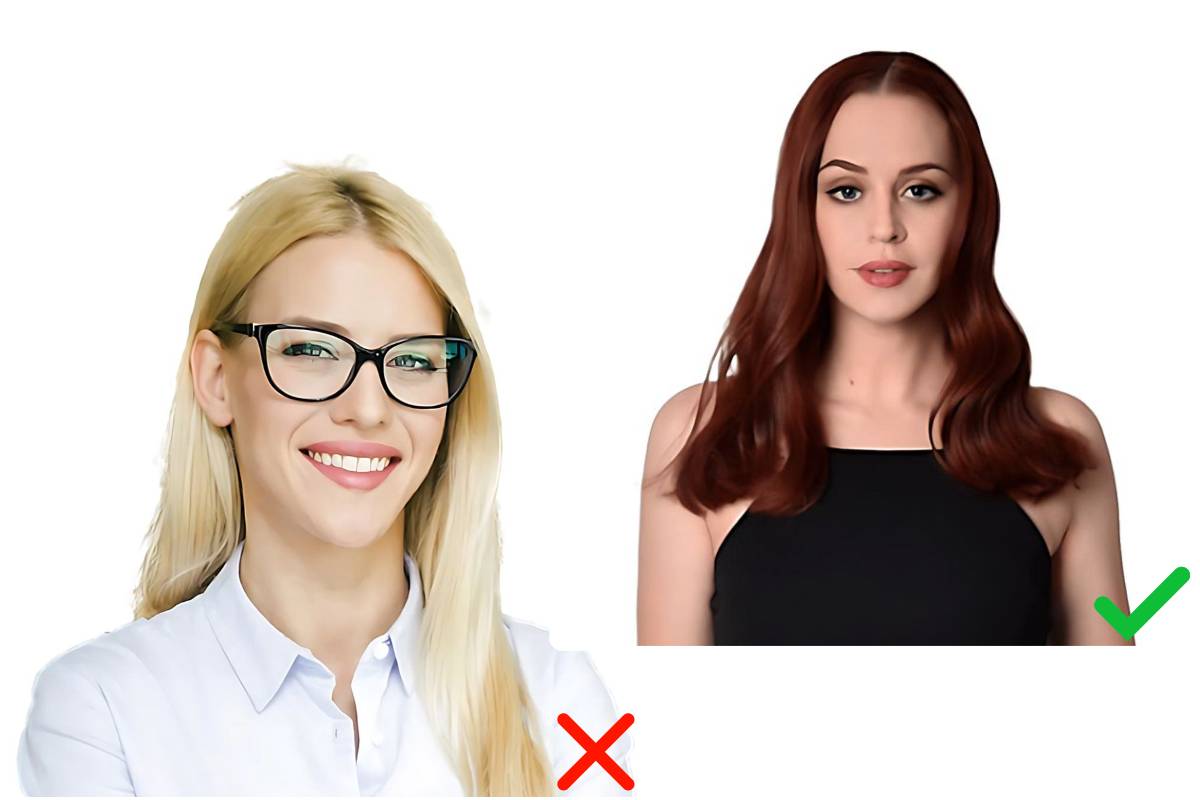 6. Use Standard ID Photo Sizes
The table below lists several common photo sizes.
But the most used sizes are 2 x 2 inches and 3.5 x 4.5 cm. The size of the head in the photograph must be between 1 and 1 ⅜ inches from the chin's bottom to the tip of the person's head.
| | |
| --- | --- |
| Size(inches) | Size(cm) |
| 2x2 inches | 5.08x5.08 cm |
| 1.5x1.5 inches | 3.81x3.81 cm |
| 1.38x1.77 inches | 3.5x4.5 cm |
| 1.18x1.57 inches | 3x4 cm |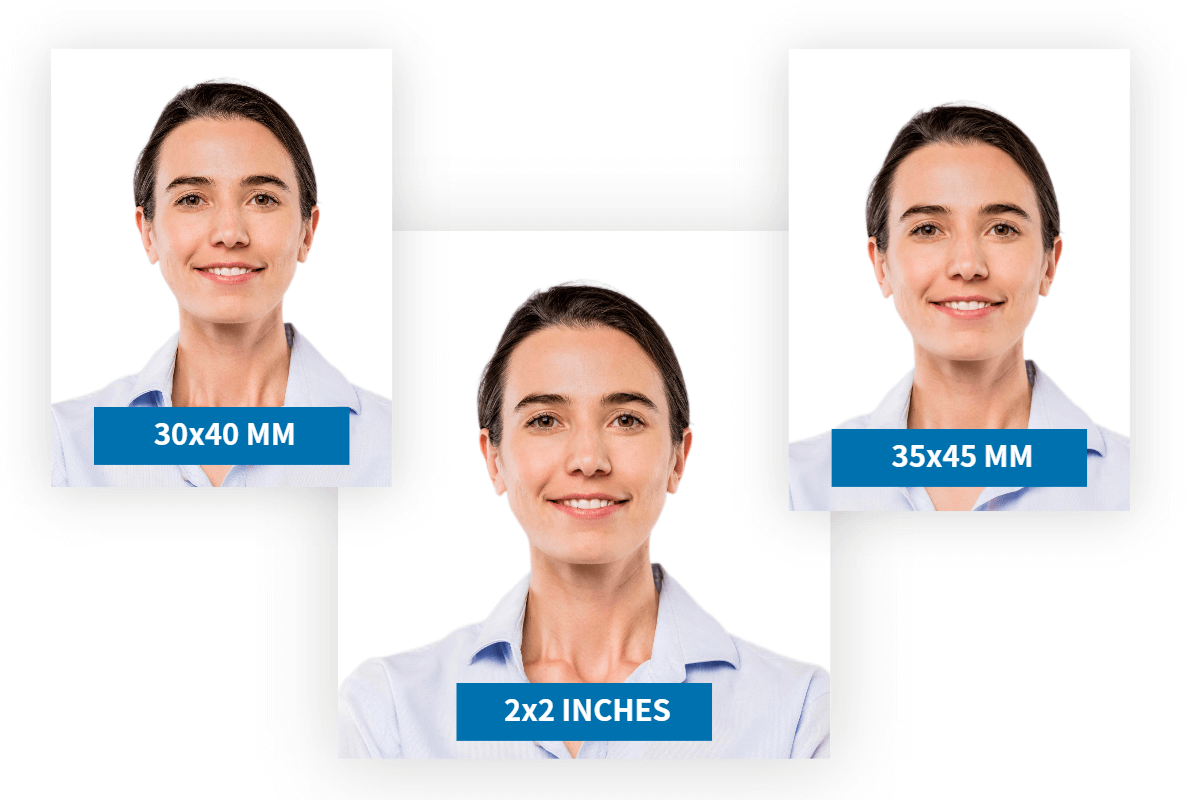 How to Get an Excellent ID Photo With Photo Editing Tools?
Trying to take an excellent ID photo? Start with Fotor's powerful online editing functions which can help you perfect your ID photos.
Having Fotor is equivalent to having a powerful background remover. Backed up by advanced artificial intelligence, you can remove the rejected background of the photo in a few seconds. After removing the image background, you can change the background with the color accepted for the ID photo such as white or off-white.