With its user-friendly interface and powerful AI tools, Fotor lets you transform photos into captivating sketches effortlessly. The app provides a variety of filters, such as sketch, ink outline, pop art, Van Gogh, and much more art effects that dazzle you.
Fotor is super easy to use, it allows you turn photos into drawings in one tap. Simply upload the photo you need to transform and choose one of the art effects that best suits your artistic vision, and you'll have a stunning masterpiece in seconds. Additionally, Fotor offers customization options that allow you to adjust the intensity, contrast and brightness of your sketch painting. Whether you prefer realistic sketches or more stylized watercolors, Fotor has you covered.
How to Turn a Picture into a Drawing?
It is easy to turn a picture into a sketch using the Fotor app:
Firstly, open the Fotor app on your phone.
Tap "AI Tools", and choose "AI art effects", and then, upload the image you want to convert it into sketch.
Choose the "Sketch" effect, and wait for Fotor to turn your picture into a sketch. You can adjust the intensity of the effect by sliding the slider.
When you are satisfied,tap "√" and "Save" to download your sketching masterpiece.
2. Painnt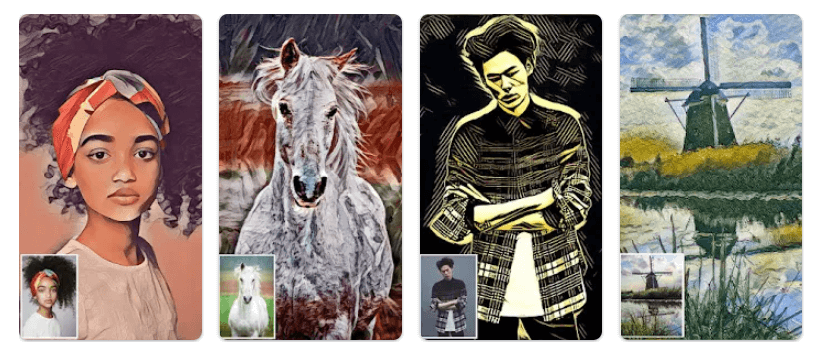 Available: iOS & Android
Painnt is a popular photo to sketch app, it has a vast library of more than 2,000 artistic filters and effects. It utilizes advanced algorithms to transform your photos into stunning sketches, imitating the style of famous artists such as Van Gogh, Picasso, and Monet. With Painnt, you can explore various art movements and apply their distinctive characteristics to your images. The app offers a wide range of sketching styles, from delicate pencil drawings to bold ink outlines, ensuring that you can find the perfect match for your desired aesthetic. Painnt also provides extensive customization options, allowing you to fine-tune your sketches and achieve the desired level of artistic expression.
3. ToonMe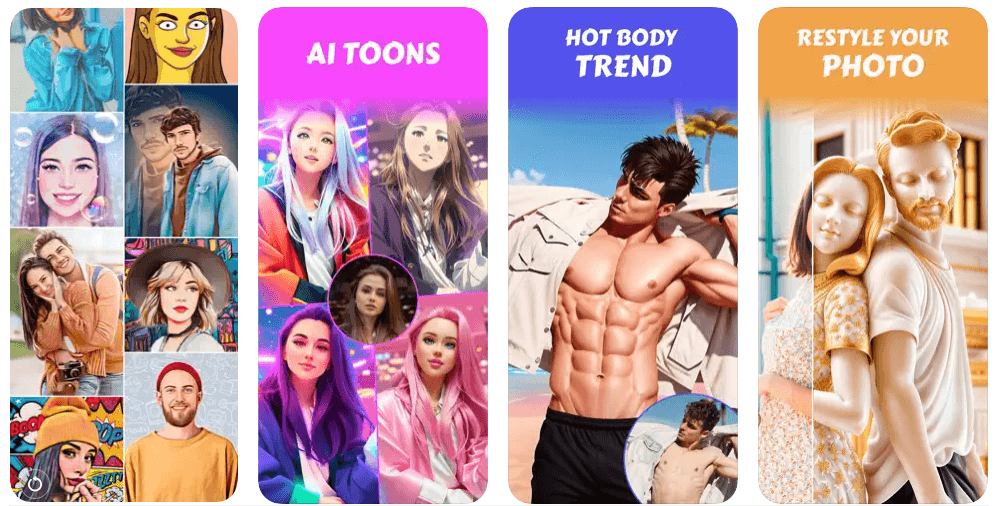 Available: iOS & Android
If you're looking for an app that transforms your photo into cartoon or caricature-style image, ToonMe is an excellent choice. It is a popular mobile app that allows users to transform their photos into cartoon or caricature-style images. The app uses artificial intelligence algorithms to apply various artistic filters and effects to the uploaded photos, resulting in a cartoon-like representation of the original image. Users can customize the style, colors, and other aspects of the cartoon transformation, and the app also offers additional features like stickers and text overlays.
4. Clip2Comic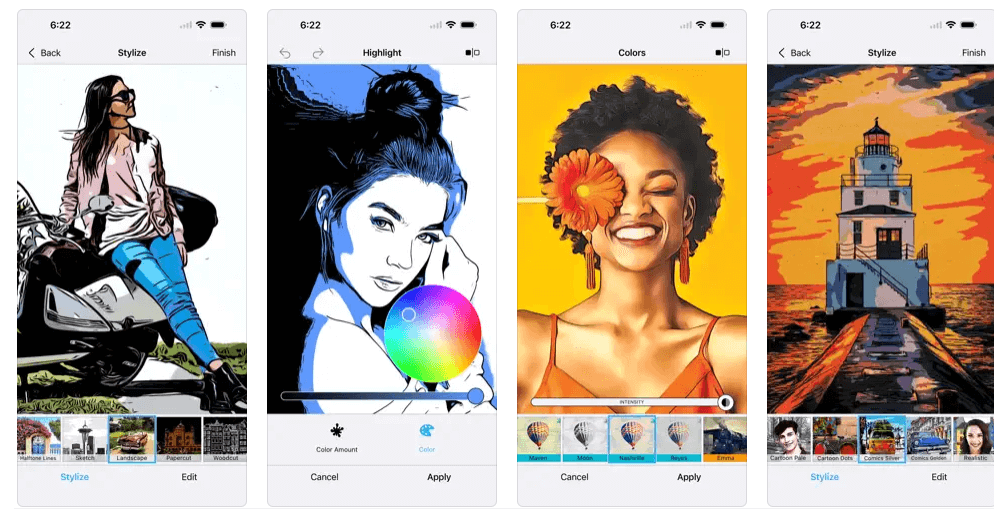 Available: iOS only
Clip2Comic is an app that allows you to add cartoon filters to your photos and videos. Unlike the previous apps in this post, it offers an in-app camera providing a live preview feature. You can also upload images and modify them directly from your gallery. The app offers a wealth of features, including turning photos into sketches, turning photos into cartoon caricatures, and more, allowing you to create fun effects with one click.
Once you have created the drawing effect you want, you can share your work to social media platforms directly from this application. In addition, if you wish to have a physical drawing, Clip2Comic offers an in-app service that prints your converted image as a postcard or greeting card, with the added convenience of free shipping. Unfortunately, however, the app is currently only available on iOS.
5. Prisma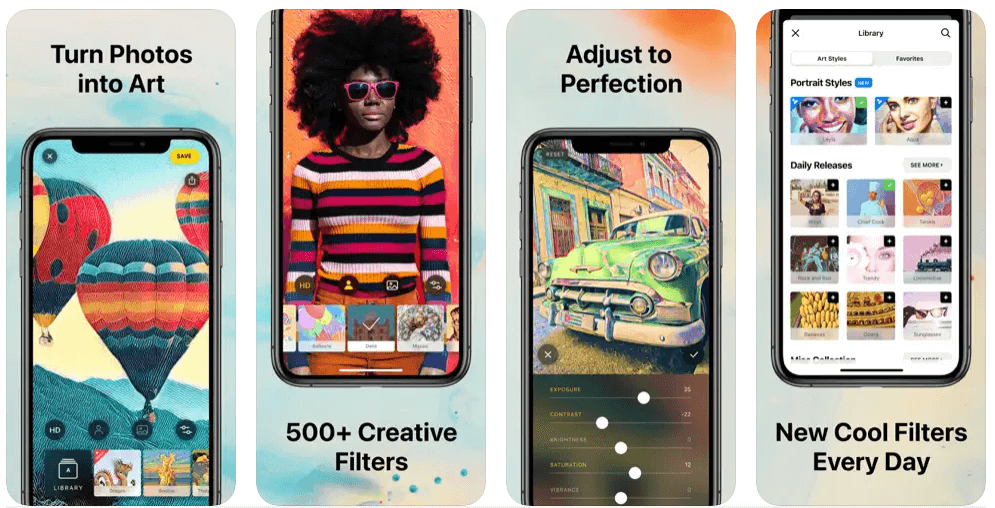 Available: iOS & Android
Prisma is a mobile application available for both iOS and Android devices. It is designed to transform ordinary photos and images into visually stunning artworks using a variety of artistic filters inspired by famous artists and art styles. Just take or upload a picture, choose an artistic filter, and get a stunning painting. When you are done, you can also share directly on social media.
Prisma's real-time processing allows you to preview different filters before applying them, ensuring that you achieve the desired look for your sketches. In addition to its extensive collection of art filters, Prisma occasionally introduces new filters and updates to enhance the user experience.
6. Watercolor Effect Art Filters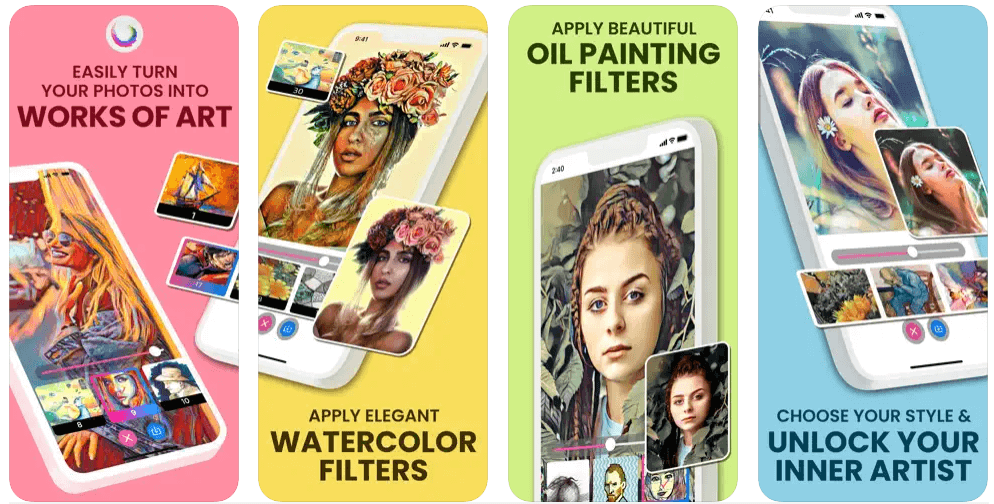 Available: iOS only
While not strictly a photo to sketch app, Watercolor Effect deserves a mention for its ability to transform your photos into stunning watercolors. This app gives your photographs a unique and artistic flair by imitating the fine brushstrokes and brilliant colors of conventional watercolor art. With a simple and intuitive interface, Watercolor Effect allows you to apply different art styles and adjust the intensity of the effect. Whether you want to evoke a dreamy, ethereal atmosphere or capture the beauty of nature, this app can meet your needs.
Conclusion
With the advent of photo to sketch apps, transforming your ordinary photos into captivating drawings has never been easier. From Fotor's versatile editing tools to Painnt's vast collection of artistic filters, each app brings its unique strengths to the table. So, don't hesitate and transform your photos into extraordinary sketches with these remarkable photo to sketch apps today!