YouCam Perfect | Best Beauty Camera App to Crop Photos for Social Media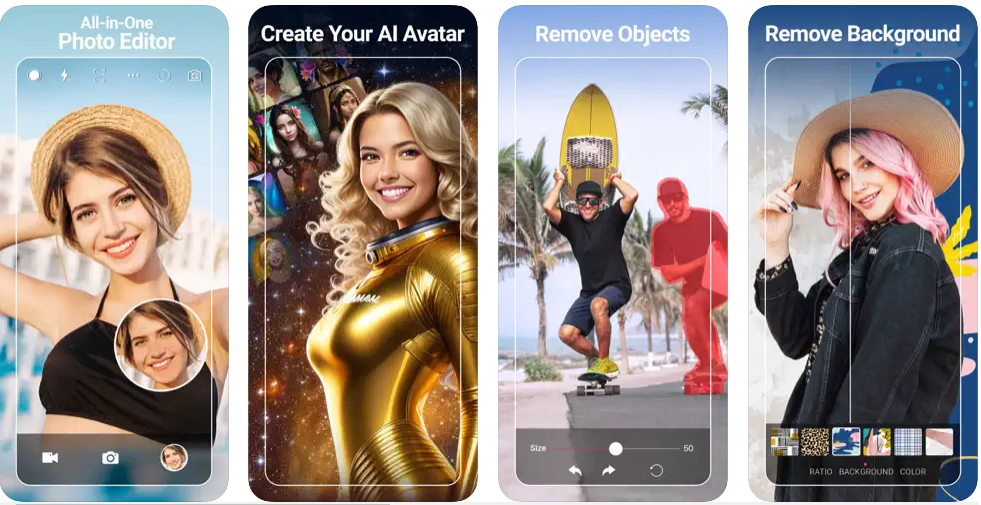 YouCam Perfect is a popular photo cropping app that offers a dedicated cropping tool to help you achieve the desired composition. This app allows you to crop your photos using various aspect ratios or freely adjust the dimensions. It also provides an auto-crop feature that automatically detects and suggests the best crop for your image.
Additionally, the cropping photo app offers a wide range of filters, effects, and beauty tools to enhance your photos. Whether you want to crop your pictures for social media or create stunning compositions, YouCam Perfect offers a user-friendly experience and impressive editing capabilities.
Available for: iOS/Android
Pros:
All-in-one photo editing tools
One-tap image cropper tool
Provides specific settings for cropping
Cons:
Best features are paid ones
Pricing:
Premium Version: $5.99 per month
PhotoDirector | An Overall App for Crop Image Tools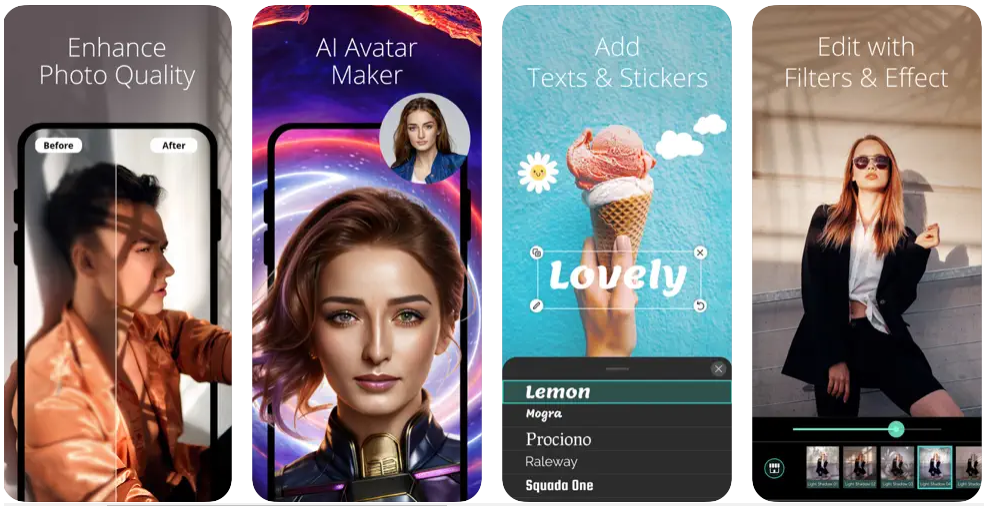 PhotoDirector is an incredibly easy-to-use and feature-rich photo cropping app, which allows you to crop images with ease. The app offers a variety of aspect ratios, including common social media sizes, and also allows you to customize your own dimensions.
PhotoDirector is more than an image cropper. It also enables you to remove unwanted objects, add text, filters and effects and so forth.
Available for: iOS/Android
Pros:
Great basic picture editing features
Sophisticated AI-powered photo effects
Cons:
Requires a reliable Internet connection
Pricing:
Photo Crop | Best Choice to Minimize Storage Space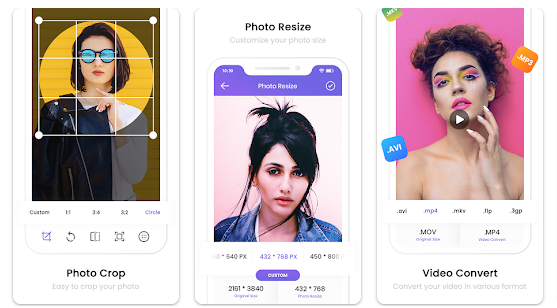 Photo Crop is a dedicated photo cropping app that focuses on providing a straightforward and efficient cropping experience. This image cropper app is free to use without any cost. This cropping photo app was previously available for the iOS devices only but now you can use it on the Android as well. It comes with some unique features but as this is a free app so you have to face problem ads while cropping photos using the app. If you prefer a lightweight and straightforward app solely for cropping photos, Photo Crop is worth considering.
Available for: iOS/Android
Pros:
Possibility to share images
Possibility to crop pics in various shapes
Cons:
Pricing:
Picsart | Basic Photo Cropping App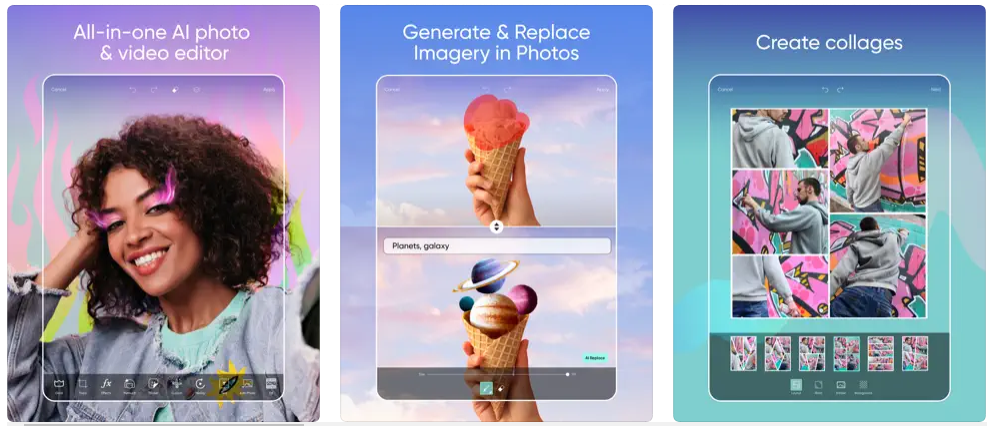 Picsart is a popular all-in-one photo editing app that offers a wide range of creative tools, including a powerful cropping feature. The app allows you to crop your images using various aspect ratios or freely adjust the dimensions. Picsart also provides advanced editing options like filters, effects, overlays, and blending modes, enabling you to create unique and artistic compositions. With its vast community and social features, Picsart offers a platform for sharing and discovering creative works.
Available for: iOS/Android
Pros:
Has a large variety of features and editing tools
Offers real-time collaboration
The editor allows for the creation of multi-layered designs
Cons:
The 7-day free trial requires payment details to be entered
Too many ads on the mobile app
Pricing:
VSCO | Best Crop Photo Editing App for Filters
VSCO is a widely-used photo editing app known for its high-quality filters and minimalist aesthetics. While VSCO does not offer an explicit cropping tool, it provides a "skew" feature that allows you to adjust the perspective of your photos. This feature can effectively crop and straighten your images by modifying their angles.
Additionally, VSCO offers a wide selection of filters and editing tools to enhance your photos' appearance. If you prefer a clean and minimalist editing experience, VSCO's skew feature can be a creative way to achieve cropping effects.
Available for: iOS/Android
Pros:
Great choice of picture editing features
Numerous impressive filters
Cons:
No web editing or desktop apps
Some functions are available after purchase
Pricing:
Snapseed | Best Choice for Basic Photo Editing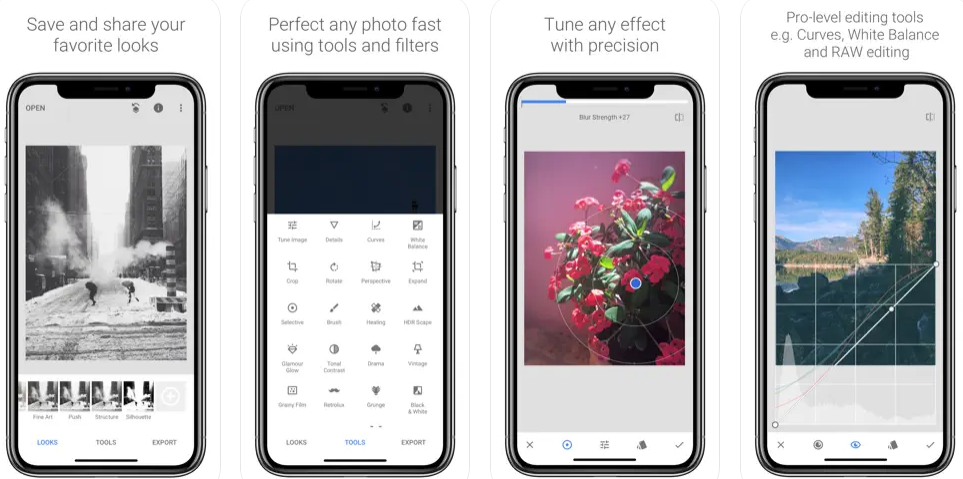 Snapseed is a professional photo editing application for Android and iOS that enables users to crop photos and enhance their photos furtherly. Snapseed has a great set of basic tools and excellent advanced features. It provides users with many filters, text options, blur tools, and special effects, like double exposure and face enhancement. Snapseed's non-destructive editing capabilities ensure that your original image remains intact, allowing you to experiment freely. If you're seeking a professional-grade photo cropping app, Snapseed is a top contender.
Available for: iOS/Android
Pros:
Great number of impressive photo editing tools
Professional-grade presets
Enough control over effects
Cons:
Save options are not the most intuitive ones
Pricing:
Adobe Photoshop | Free Online Image Cropper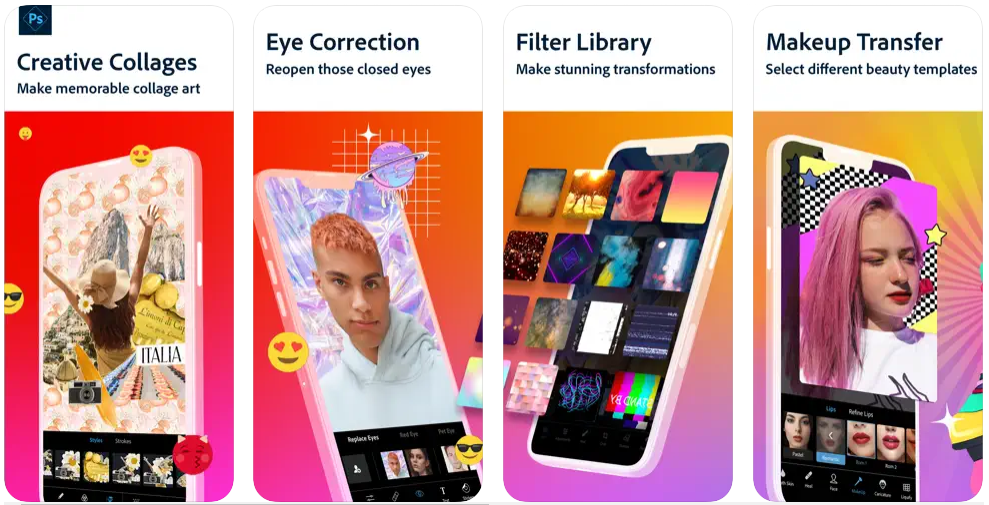 Adobe Photoshop Express is a mobile version of the renowned desktop software, offering a wide range of editing tools, including a cropping feature. This photo cropping app allows you to crop your photos using various aspect ratios or customize the dimensions to fit your preferences. The app's integration with Adobe Creative Cloud enables seamless synchronization between devices and access to your edited photos across multiple platforms. If you're familiar with the desktop version of Photoshop or prefer a powerful editing app with extensive capabilities, image copper of Adobe Photoshop Express is a top choice.
Available for: iOS/Android
Pros:
Integration with online galleries
Useful basic photo tools including cropping
Cons:
Some features available only via a paid subscription
Pricing:
Photoshop Plan: $20.99 per month
Conclusion
In this post, we have shared 8 best free photo cropping apps for iPhone and Android. Whether you're an amateur photographer or a social media enthusiast, these photo cropping apps offer a diverse range of features and editing capabilities. By utilizing these image croppers, you can unleash your creativity and elevate your photography skills, turning your ordinary photos into extraordinary works of art.