Available: iOS / Android
Pros:
Large library of hair colors.
YouCam Makeup | Best Hair Color Changing App for Instagram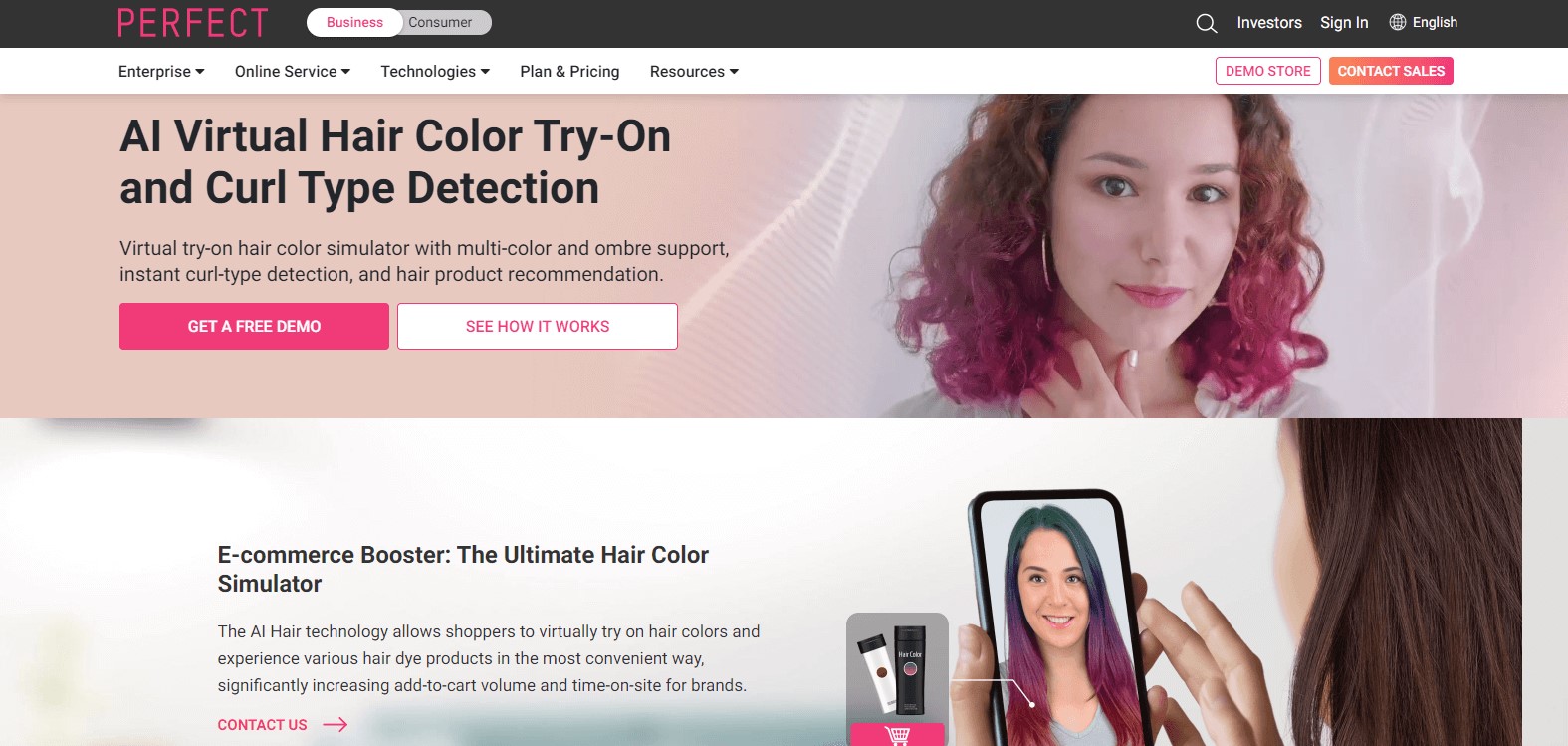 This application is one of the most widely used app worldwide and provides more than just a hair color-changing tool. It is a robust app that employs augmented reality to enable you to create complete images, starting from makeup to changing color shades as you would in an actual beauty salon.
This hair color-changing app is ideal for Instagram and comes equipped with all the necessary tools to take selfies and edit photos before sharing them with your friends.
With its built-in hair makeup feature, you can browse through over 150 color options and apply them to your photo from either your gallery or during photo capture using your camera. The virtual hair color filter is so accurately superimposed on your strands that it appears as if you had just visited the salon for a dye job.
Aside from the colors, you can also pair them with up to 4 hair dye styles, all exclusively offered by the YouCam Makeup app.
Available: iOS / Android
Pros:
150+ Hair Color Options.
4 Hair Dye Styles: Rainbow, Ombre, Two-tone, Single Color.
Precise AI Hair Detection.
Both Camera Try-On and Photo Mode.
Fabby Look | Best for Whimsical & Trendy Colors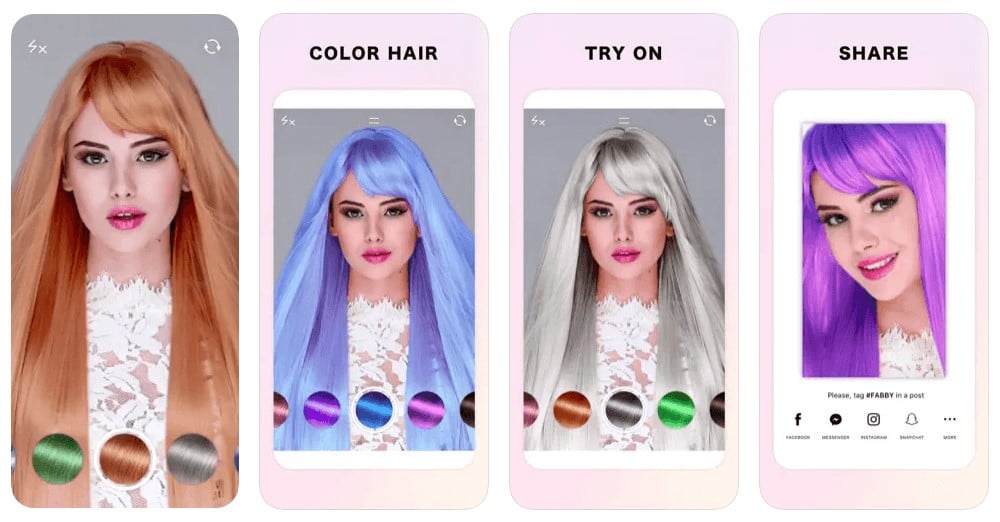 If you are tired of standard hair colors and want to experiment with bold and extraordinary shades, try the hair color test app Fabby Look.
Fabby Look is a hair color app that is enjoyable, loads quickly, and provides a realistic experience, even if its color options mainly focus on unrealistic shades. If you want to experiment with colors like blue, purple, pink, magenta, platinum, and other fun and vibrant shades, this app is perfect for you.
Available: iOS Only
Pros:
Try on unique, trendy hair colors.
Experiment with color in real time.
Try on color in videos as well as photos.
Cons:
Not as many color choices as some other apps.
Style my Hair | Best 3D Color Effect from L'Oréal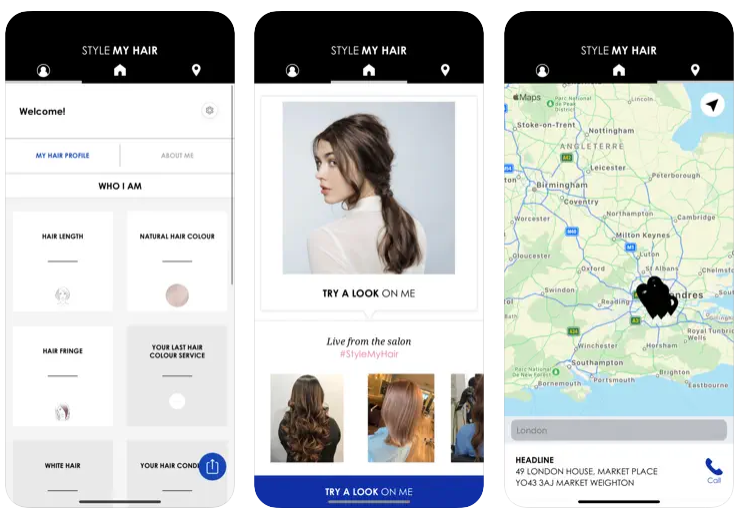 Style My Hair is a hair color app developed by L'Oréal that is free, versatile, and precise. It offers a wide range of options, from natural shades of blonde and brown to more creative tones like pink and purple.
The app employs 3D technology to enable you to see how the new hair color will appear as you move around, run your hands through your hair, or flip your tresses. If you find a look that you like, you can share it with your friends and receive their opinions. Once you're ready to commit to a specific color, the app will guide you to a nearby L'Oreal professional to make it a reality.
Available: iOS / Android
Pros:
Choose from tons of color palates.
3D technology shows a new color in motion.
Directs you to a L'Oreal professional salon.
Offers tips, tricks, and trends.
Cons:
No option for seeing what a haircut would look like.
Hair Color Changer | Best for Focusing Only on Coloring Your Hair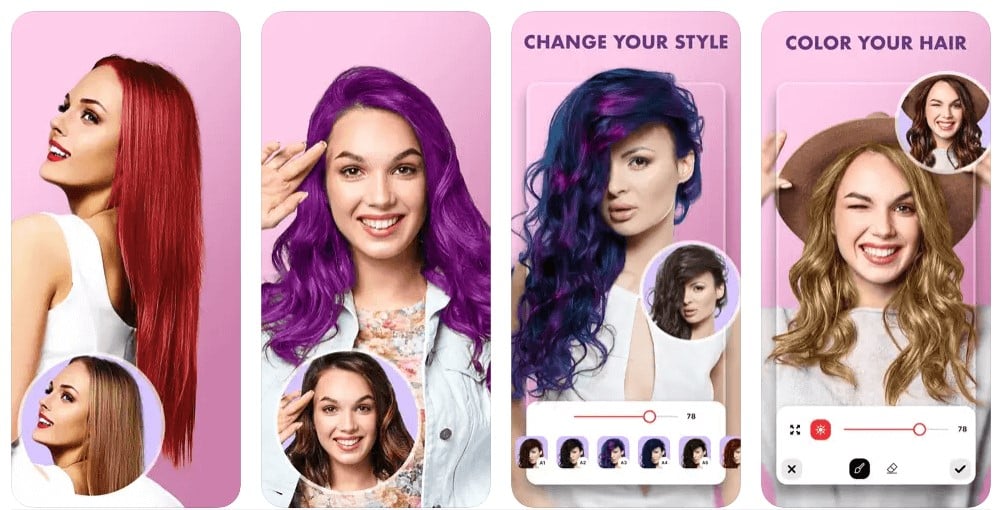 Hair Color Changer is an app that focuses solely on hair color, without any additional features like hairstyles or makeup.
Testing out new hair colors with this app is a straightforward process. All you need to do is take a photo, sketch the outline of your hair, pick your preferred color, and try out various shades.
Additionally, the app offers editing tools that allow you to blur your image, alter the brush size for specific points in your hair, make your strands smoother, comb them, and undo or redo any changes you make. You can also share your new look with friends on social media platforms to get their feedback.
Available: iOS Only
Pros:
Large library of hair colors.
Ability to create more colorful stripes.
Cons:
Hairstyle Try on | Best App for Trying on Hair Colors and Hairstyles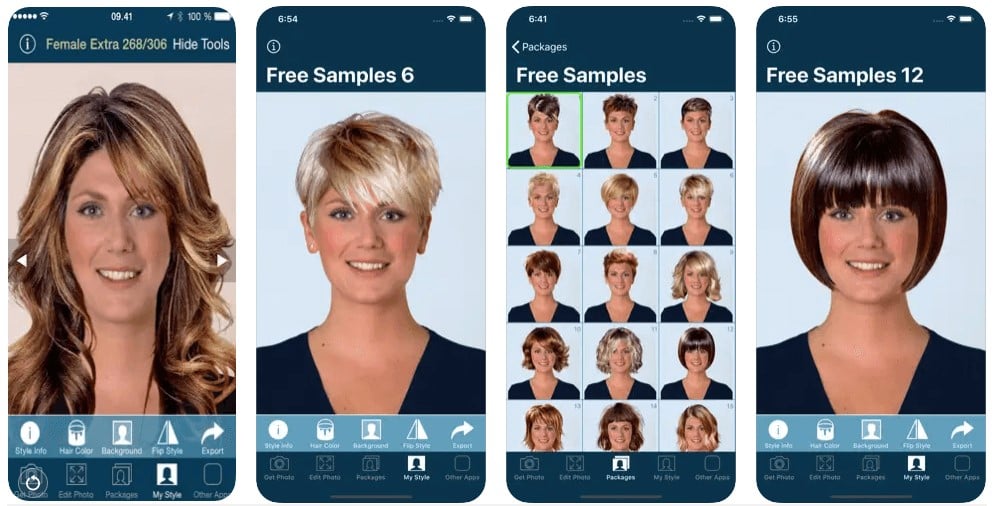 Hairstyle Try on is an app that allows you to test hair color on photos. The app features over 1,000 different hairstyles and over 50 hair colors to choose from.
You can also adjust the brightness and saturation of the color to get the perfect look. Hairstyle Try on also allows you to adjust the length and thickness of the hair to see how the style would look on you. It also gives you information on hairstyles, as well as hair care tips, so your locks stay luxurious even when you're not taking snaps.
Available: iOS Only
Pros:
36 options of hairstyles available.
Provides hair care tips.
Cons:
Makeup Plus | Best for Aesthetic Hair Colors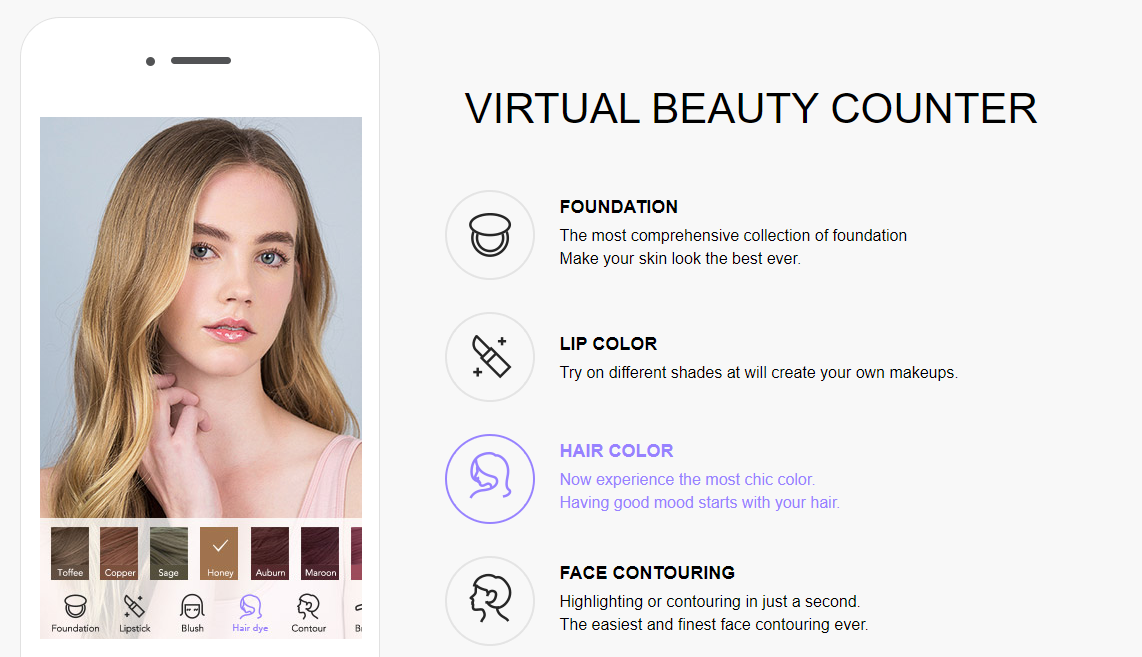 Makeup Plus is an app that enables you to virtually try on an extensive range of styles. Its primary purpose is to allow you to experiment with different hair colors, styles, and makeup before trying them out in real life.
The app offers an extensive variety of hair color options, and once you find the perfect one, you can take a picture of it and take it to your hair salon. Essentially, the app aims to assist you in creating your desired look using your natural hair. Furthermore, it includes makeup features and tutorials that can aid you in applying your preferred makeup looks off-camera.
Available: iOS / Android
Pros:
Includes makeup features and tutorials.
Large library of hair colors.
Cons:
Some colors are available for an additional fee.
Conclusion
In this post, we have discussed about the hair color app and shared 6 best apps to try different hair colors. With these hair color changing apps, you can figure out what would you look like with black hair or blonde hair and which hair color is best for you. Hope you find this article helpful.