Top 11 Free or Cheap Stock Photo Sites
---
After all, "A picture is worth a thousand words". With high quality and attractive images on your website, you can turn a visitor into your customer in a very short time.
Now, getting your hands of high quality and content related cheap stock images is not a cakewalk. You have to be like a gold miner on the web and drill down various stock photo sites to get the appropriate pictures. It will obviously take time, but in the end, your content will be a masterpiece. How to shorten the time?
To make things easier for you, we have compiled a list of cheap stock photo sites loaded with millions of inexpensive, affordable stock photos. Check them out!!!
1.   PxBee (New + Cheap)
PxBee is a new stock photo website where you can get cheap images related to a number of categories. No matter what type of images you want, you will always get something from PxBee.
You can choose images from some of their best collections that include Animals, Architecture, Nightscape, Food, Wallpapers, Abstracts, etc. Apart from these, there are countless other categories to choose from.
PxBee offers its users a number of packages for using the images for their personal and commercial use. You can get their Subscription license or Royalty Free license as per your preference. The pricing of the licenses varies based on the number of images and the validity of the license. You can get 25 images at $60 per month or 350 images at $120 per month. There are yearly subscriptions also on PxBee.
There are multiple choices for the size of the images. It will all depend on your requirement, whether it is for a blog, presentation, or a website. On top of all, if you are a photographer, you can also sell your images on PxBee.
2.   Pexels (Free)
Pexels is another great website that provides its users with amazing low-cost stock images. Everything on the Pexels website is completely free. The unique feature of the Pexels website is that it also has a huge collection of videos along with pictures. So, if you need an attractive video for your business or blog website, you can go to Pexels and search for it.
Pexels categorizes its images based on various ingenious aspects like color, fashion, animals, plants, style, adventure, health, and many more. Some of their popular collections are the community, furniture, cloud, map, etc. You can also become an image contributor to the Pexels platform by signing in and uploading your pictures.
Pexels is not just about uploading and downloading pictures. You can take part in their challenges, upload your pictures, and win prizes. Albeit, there are some crucial guidelines that you need to follow for using the pictures from Pexels.
3.   Adobe Stock (Cheap)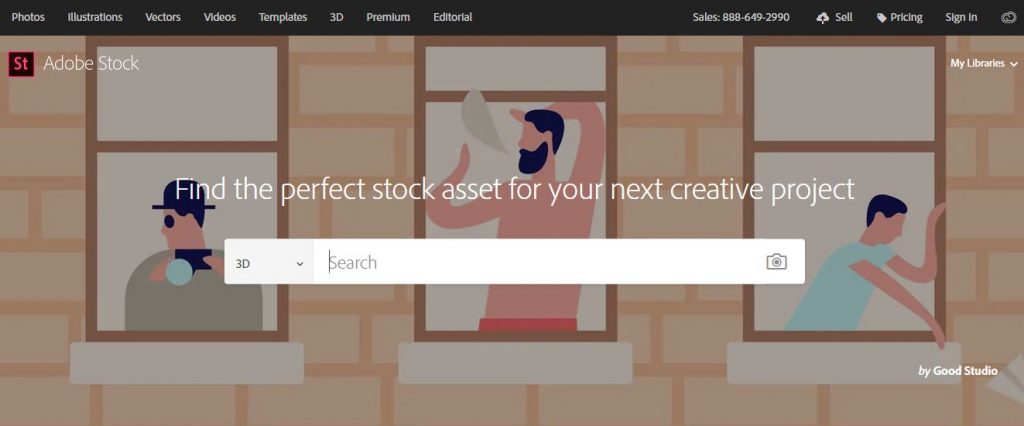 Adobe Stock is one of the prime names in the list of cheapest stock photo sites. And due to this fact, it has a lot to offer to its users. The Adobe Stock website offers you images, videos, illustrations, templates, and even 3d content for download.
From these choices, you can choose the best and appropriate one for your business website or content promotion. All this featured content of the Adobe Stock website is available in various licenses that come for individuals, teams, and even corporates.
The individual license can vary from $30 for 10 images/month to $200 for 750 images/month, provided you buy a yearly license. In case of a monthly license, the prices may vary from $50 for 10 images/month to $250 for 750 images/month. Similar to these are the other team and corporate licenses.
You can also sell your images or video content on Adobe Stock.
4.   Pixabay (Free + Cheap)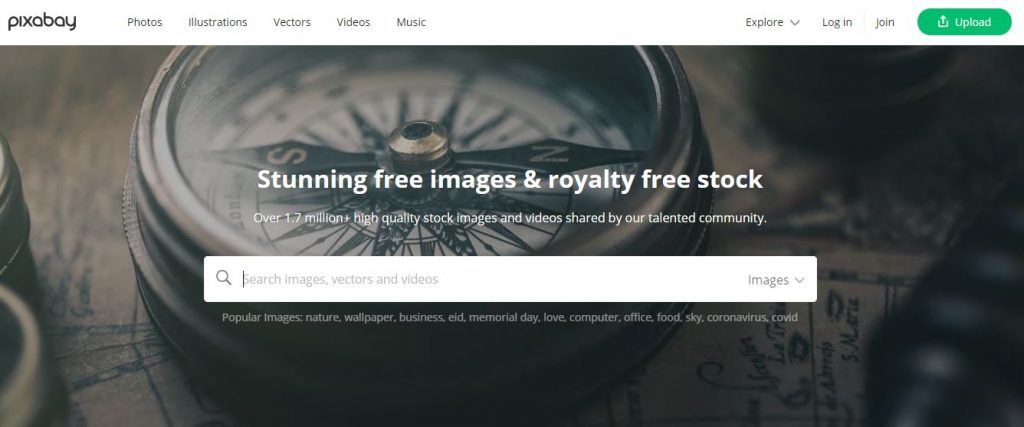 You will be amazed to know that apart from offering cheap stock photos and videos, Pixabay also provides you music.
When you visit the Pixabay Website, you will find a tab named music that will open a number of music choices for you. You can easily navigate through these choices to choose the best one. You can also filter them based on Genre, Mood, and Movement.
If we talk about the affordable stock photos, you can choose from an inventory of over 2 million images that suits your business website. To make it easy for you, Pixabay provides you the feature of filtering the images based on the orientation, category, size, or color.
At last, all of the content on the website is completely free. You can even upload your own pictures for the users to use.
5.   Freepik (Free + Cheap)
The Freepik website is a bit less known, but it has a lot to offer. It has countless free stock images that you can download and use for your business or personal needs.  You can download pictures related to birthdays, babies, lifestyle, music, real estate, interior, spa, etc. Along with this, Freepik even provides PSD (Photoshop Document) files that you may not find on any other website.
No matter what sort of business you have, you will get images for almost all of them. You can get access to all these features through two of their license options. Either you can purchase the 12 months plan at 5 euros per month, or you can opt for the monthly plan at 7 euros per month.
6.   Unsplash (Free)
Unsplash features over a million stock images distributed among a number of categories to choose from. Some of the primary ones that you will see on their website are Nature, People, Business and Work, Technology, Animals, Architecture, Interior, Travel, etc. There is also a featured tab on the Unsplash website that contains all the pictures related to the recent and trending category.
All the images on the Unsplash website are completely free of cost, but they do have some license guidelines that you need to abide by. Other than this, the website neither charges you for downloading the content nor for joining their community. Join the community of over 150,000 photographers that contribute their work to the Unsplash website.
7.    Gratisography (Free)
Gratisography is another great choice in the list of affordable stock photo sites. The website offers you a bit out of the box content as compared to other websites.
Just like the unique names of the image categories, the images on this website are also a bit different. Some of the interesting image categories that the website has are Amusing animals, Funky food, Hijinks hands, Mischievous men, Whimsical women, Virtual backgrounds, and many more.
Other than these, there are more image categories like Fashion, Business, Food, Objects, etc. that you can use as per your preference and need. The best thing is that all of this content is available for free on the website. Albeit, they have some guidelines related to the use and distribution of their website content that you need to take care of.
8.   123RF (Cheap)

Are you looking for some budget-friendly vectors and images for your business or blog website? 123RF is here to serve you well! The website has a beautiful design along with easy to locate tabs on the top.
A unique thing about the website is that you can also get access to audio content along with images and videos. You can choose the audio content based on the type of music, instrument, mood, etc. Their database of images is also wide, which includes categories like Fashion, Success, Party. Romance, Books, Business, and countless more.
The website also offers you tutorials related to editing and painting. Lastly, the charges on the website are also very reasonable. You can get 5 images for $39 or 150 photos for $79/month.
9. Pikwizard (Free)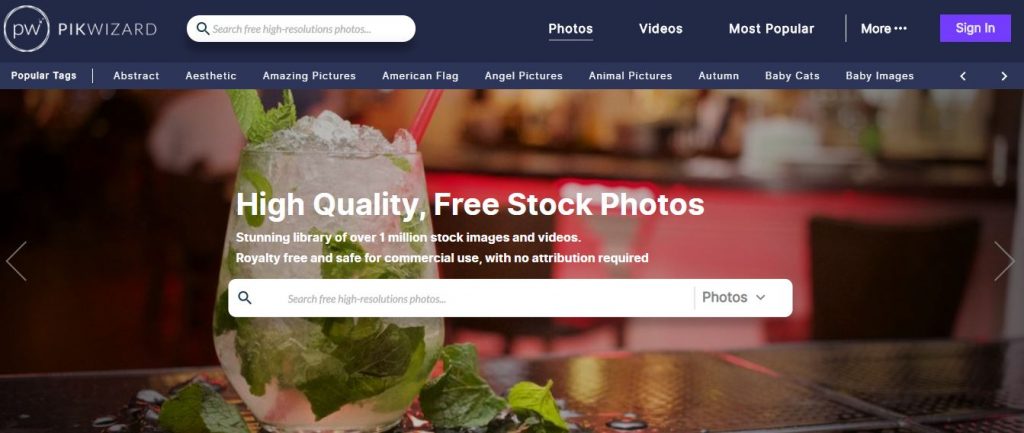 Want to get your hands on some cool videos along with images? Well, Pikwizard has it all!! With their prime focus on every little detail that you need in the picture, they have divided their categories very thoughtfully.
Apart from the basic categories like abstract, aesthetics, animal pictures, etc. they have focussed specifically on backgrounds of the pictures. This is the reason they offer you categories like pink background, floral background, wood background, gold background, and many more. You can download these images free of cost and use them for your projects.
If we talk about licensing, Pikwizard does not allow resale of pictures or their use in products that are for resale. Overall, it has an awesome collection of artistic and commercial style imagery.
10. Foodies Feed (Free)
Foodies Feed is a bit different than most of the websites on the list. While other sources on the list have a huge collection of almost all types of pictures, Foodies Feed has pictures related to food items.
You can find some of their prime categories of images on the Foodies Feed website. There is a huge inventory of images related to coffee, pizza, meat, cake, etc.  You will also get images based on their top view, close up, freshness, etc.
All the images on the Foodies Feed website are completely free, and hey! You can also add images if you have any. All you need to do is register yourself, which is also free.
11. Burst (Free)
The Burst platform of free images is powered by Shopify that offers you a lot more than just images.
Apart from the various image categories, the Burst website provides you with a number of business starter kits. These kits can come handy for you if you are planning on starting a business. If we talk about the primary aspect of the website, the images. There are endless categories, like business, coffee, money, nature, food, fitness, etc.
So, if you are building your own business website, fitness website, or food website, the Burst website can help you a lot in attracting the audience. You can also become a content contributor to the Burst website and join the community of photographers easily.
Conclusion
A super attractive website is recognized by its high definition images. And as we have taken a brief look into some of the top cheap stock photo sites, it will be easy for you to get those images for your website or blog. There are some of them that charge an affordable fee for the pictures like Adobe Stock, but their photos are also a bit different than the free content. So, if you purchase the license, you will also get additional benefits.
Moreover, there are some stock photo websites that also have audio and video content. If it sounds appropriate to you, you can use that also free of cost. Just like an image, a video is also useful for conveying your message to the audience. We hope you get the best image content from all the above-mentioned sites.
About Us: 
Fotor is a free online picture editor and graphic designer, allowing you to use online photo editing tools, such as add filters, frames, text, stickers, and effects…and apply design tools to make creative photo designs and graphics. Online photoshop and graphic design software have never been so easy! Also, if you want to get more helpful and inspirational tips, please visit our blog home page to extend your reading.

---
Related Posts :
Leave a Reply :