11 Best Stock Photo Websites to Improve Your Visual Content
---
Imagine our digital world without content, it will just be a void, listless, and useless world. Content can be seen as the oxygen of the digital world and we have them in various types such as audio, written, and visuals content. The fact is we all share and create various kinds of content daily for either business or personal purpose. For this reason, you will find a lot of content available for everybody to consume. However, there is a way to capture the attention of your audience with your content, and that is by incorporating visuals into your content.
Why you need visual content
It is reported that all it takes to have visitors decided whether to stay on a website or not is just a mere 10 seconds. If you ask, what makes a visitor hang around long enough to get your messages? No, the answer is not just a well-written content. A well-written content lacking a creatively designed webpage with appealing features is very likely to lose tons of visitors. A visually appealing content leaves a lasting impression on the mind of the user.
A picture is said to speak a thousand words. As a graphic designer looking to utilize the digital world to expand and market your craft, making use of a captivating image is seen as one of the best tools to use for your craft. It aids the building of your brand and helps you gain a foothold among your audience.
In addition, the brain captures visual content faster in a matter of seconds, which is why it is an important medium of communicating your message across to your audience. The benefits also include getting your messages across faster than other forms of content.
Best Stock photography websites
Stock photography sites offer great resources for designers to use for creative or commercial purpose. They offer a platform where you can source for images at a cheaper rate than having to hire a photographer and the expenses that come with it.
Getting the right images and sizes is not a walk in the park, you have to know the best place to source for the photos you need. As a result, we decided to compile a list of stock photography websites that offer high-quality images in various sizes including xx-large format.
This is one of the royalty-free photos site that can be used for photo editing on tools like Fotor. Shutterstock offers millions of images divided into simplified categories such as technology, nature, and more.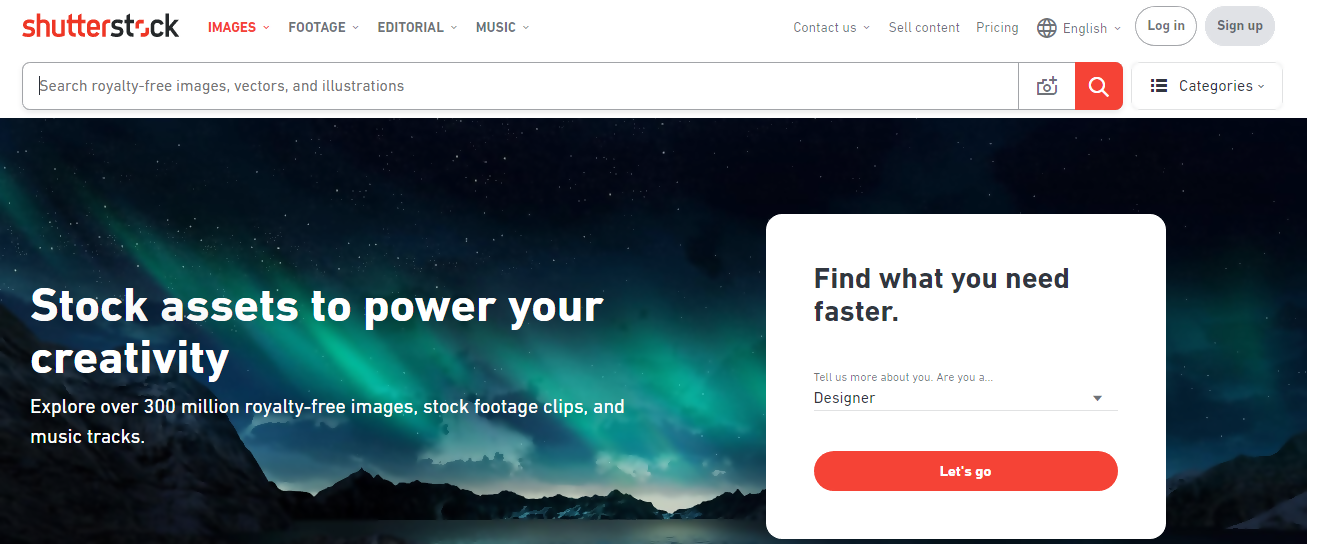 Additionally, you can search for certain keywords to narrow down your search using the search bar available on the website.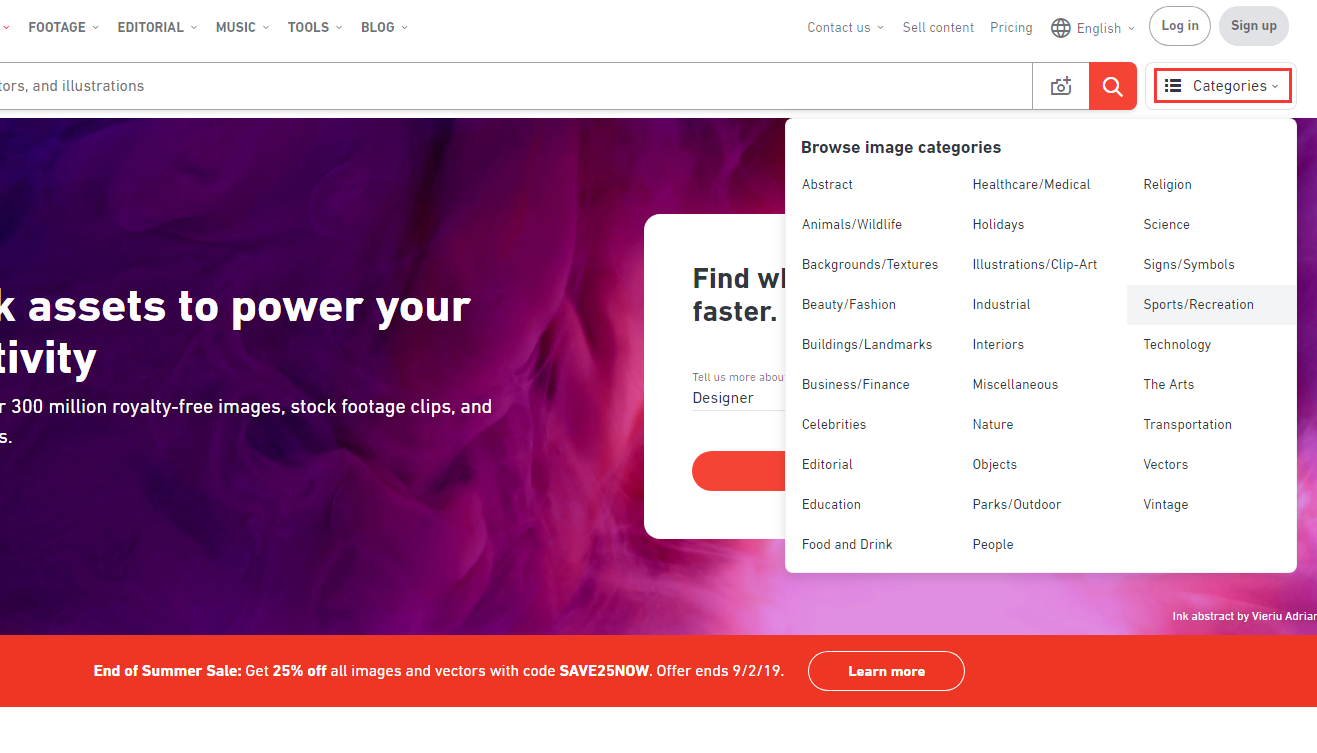 The website feature photos ranging from snapshots to portraits featuring people from all over the world that allow designers to localize their designs. Shutterstock also features an editorial collection that provides exclusive content and images from industry leaders and the site editorial photographers. The website royalty-free photos can be used as indicated in the terms of service without the need for attribution once you have once bought the usage rights. In a few cases, you may need to give credit to the photos before you used them as in the case of editorial content, videos, merchandise, and using Shutterstock content with other credited content. Additionally, photo with the "editorial use only" can't be used for other purposes apart from editorial purpose.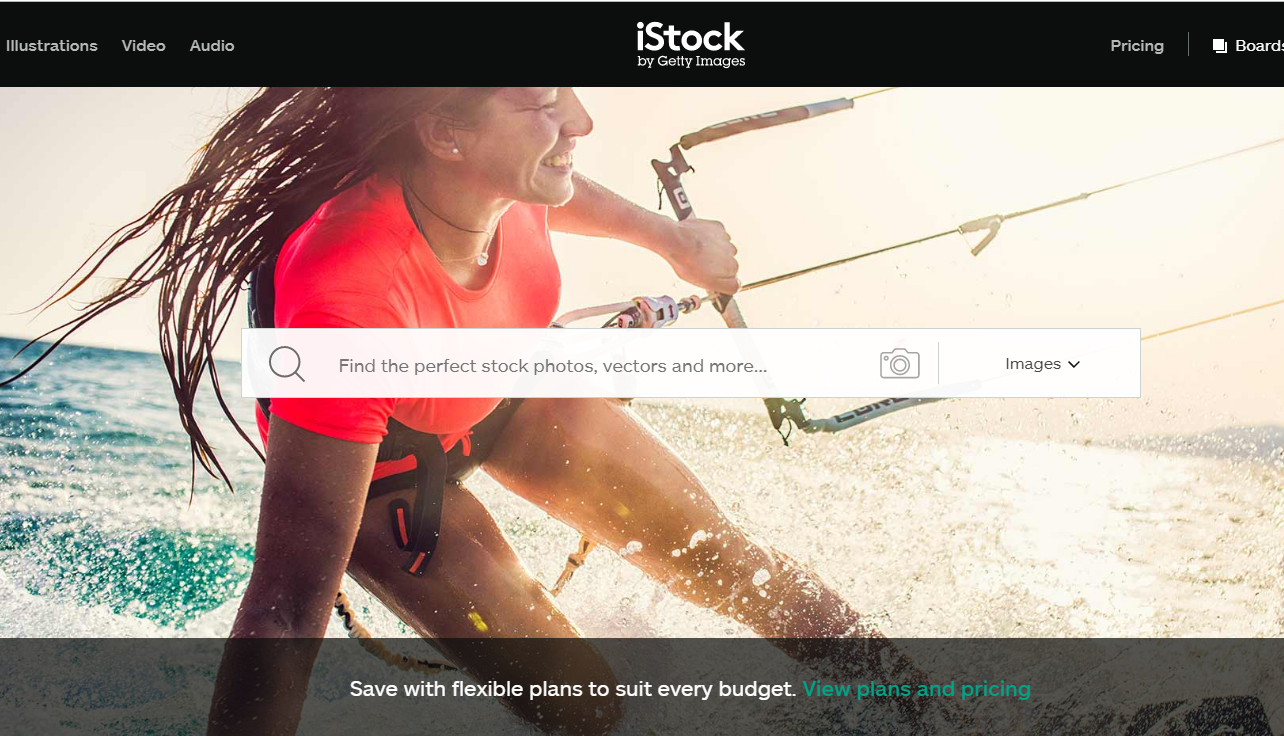 Formerly known as iStockphoto, it is a pioneer of selling royalty-free photos in the stock photography industry. 18 years giant backed by the famous Getty Images. You can buy images on the website via credit packs and monthly or annual subscriptions. The website is well known for its very organized collection hosting millions of images in two primary collections.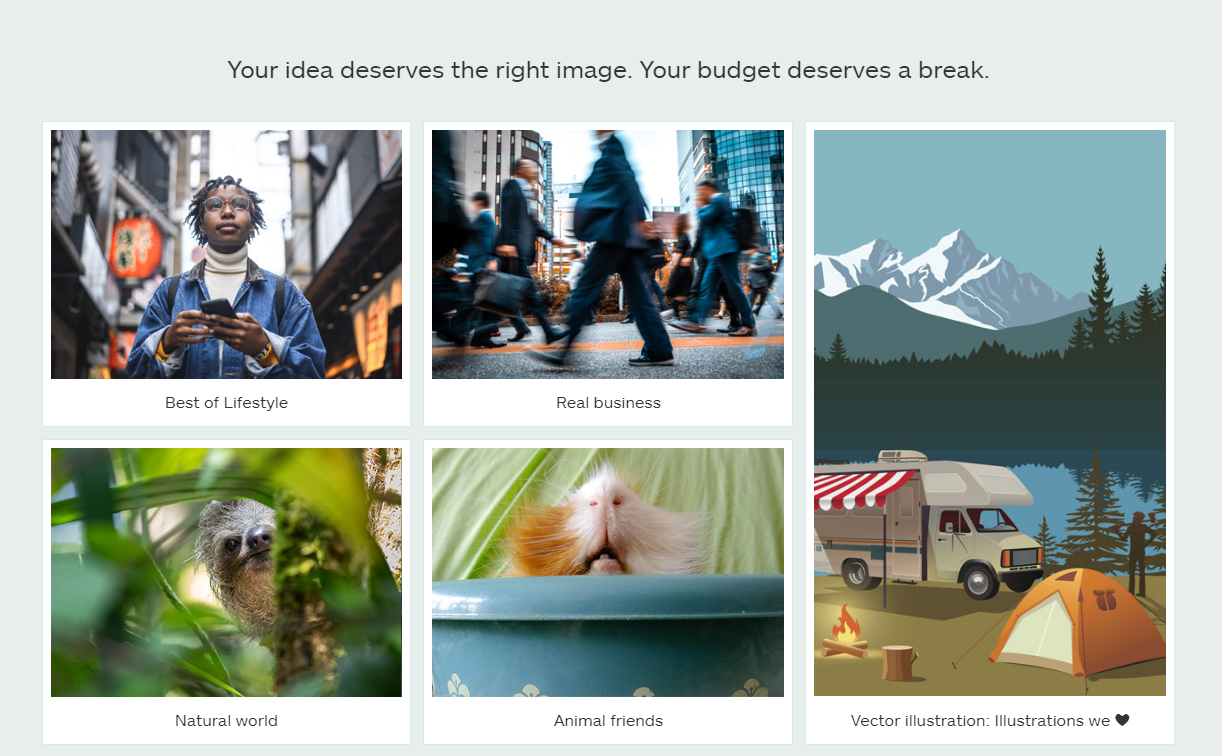 The photos can be used in different types of project such as websites, presentations, video productions, advertising, podcast, blogs, etc. As a royalty-free, you can use as long as you want with the exception of using them in any trademark or logo, pornography or obscene projects.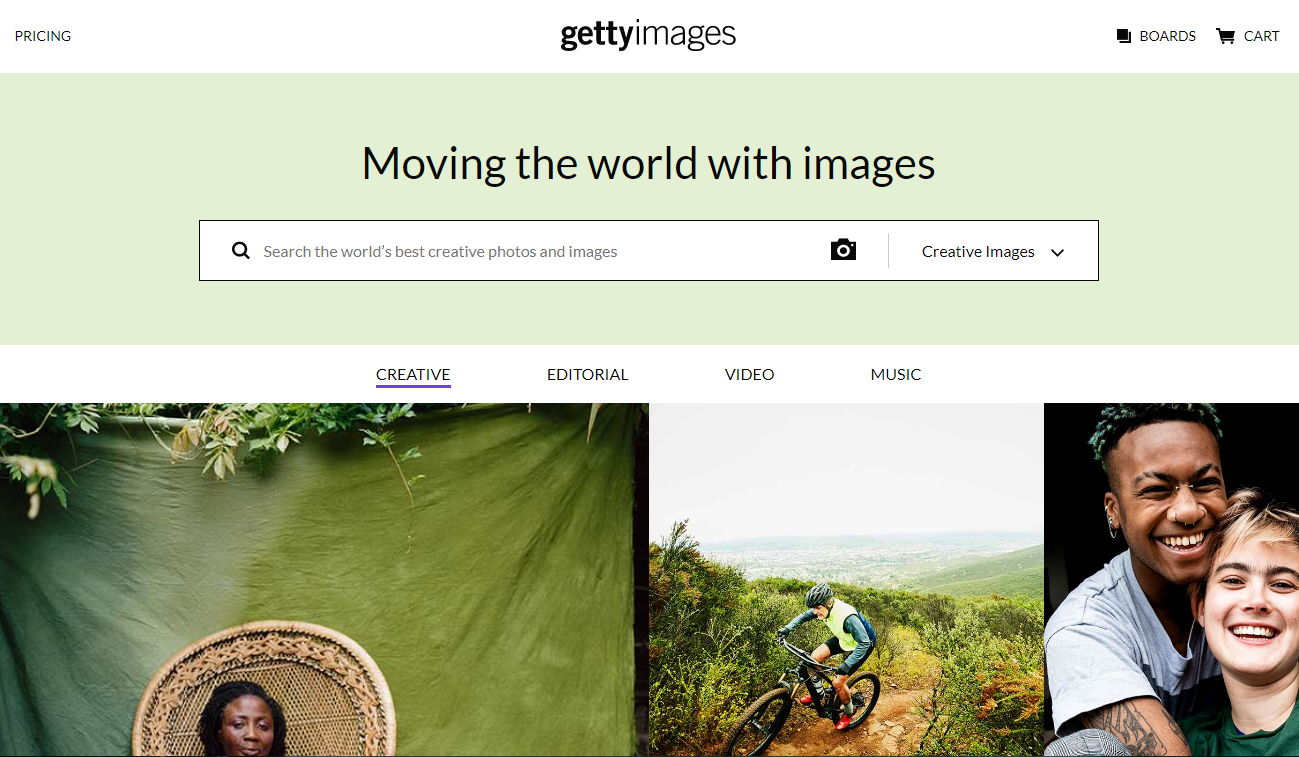 The list will definitely be incomplete without mentioning one of the most prestigious websites for stock photography. Dating back to a time before the internet, the company was quick to embrace the potential of the internet. Getty Images have become synonymous with stock photos that you will be forgiven to think they are what stock photography is all about. Its website boasts of greatly diverse catalog with first-class photos that can be used for commercial purposes as well as exclusives photos from all over the world, in addition to, a diverse pool of editorial material.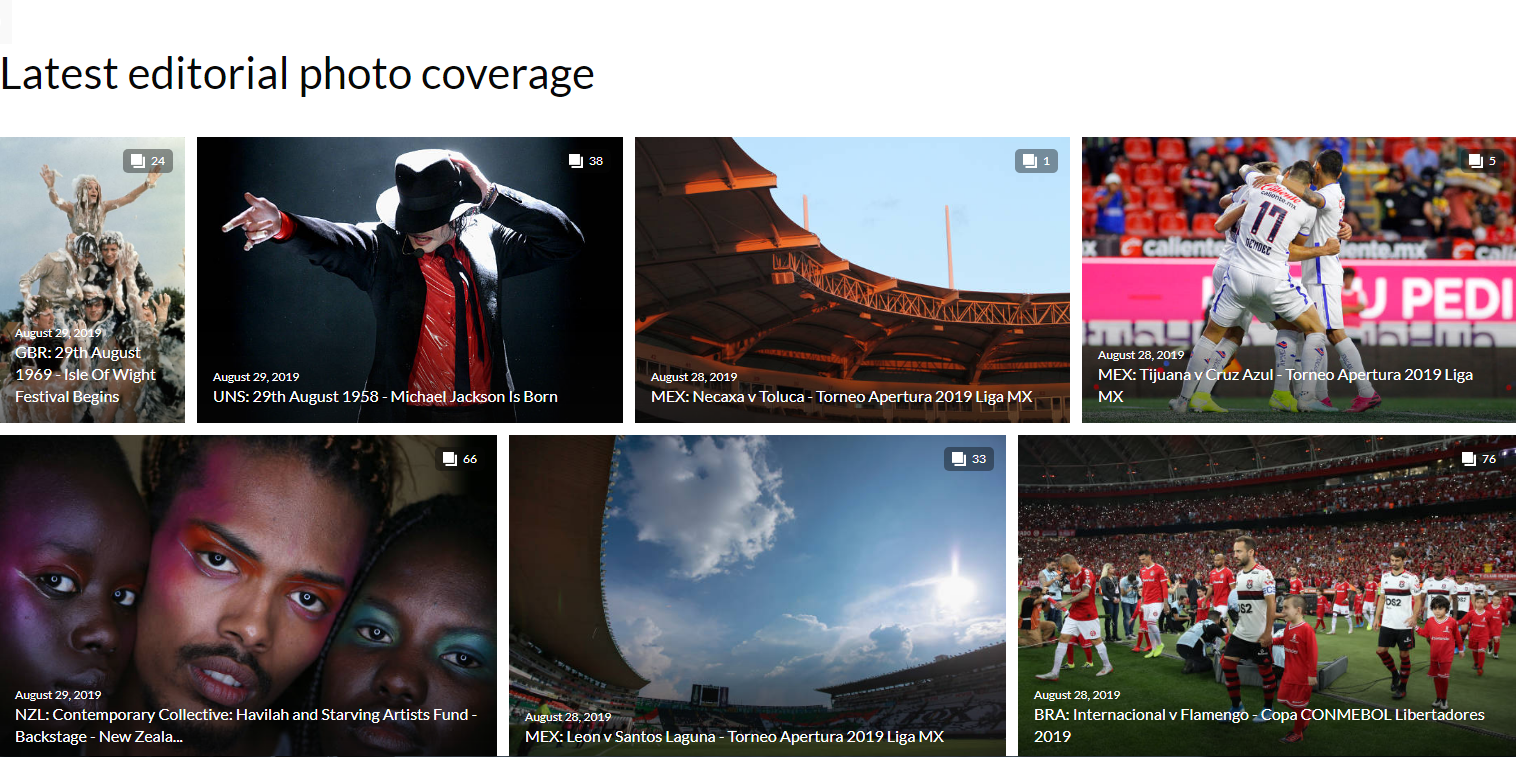 Designers can use photos on Getty Images for both editorial and commercial projects after paying for the license. You can use on social media, corporate presentations, advertisements, websites, marketing campaigns, product packaging, personal use, magazines, newspaper, books, mobile and web applications. There is also an option to use the photos for free using the Embed feature that allows you to use more than 70 million images on non-commercial site.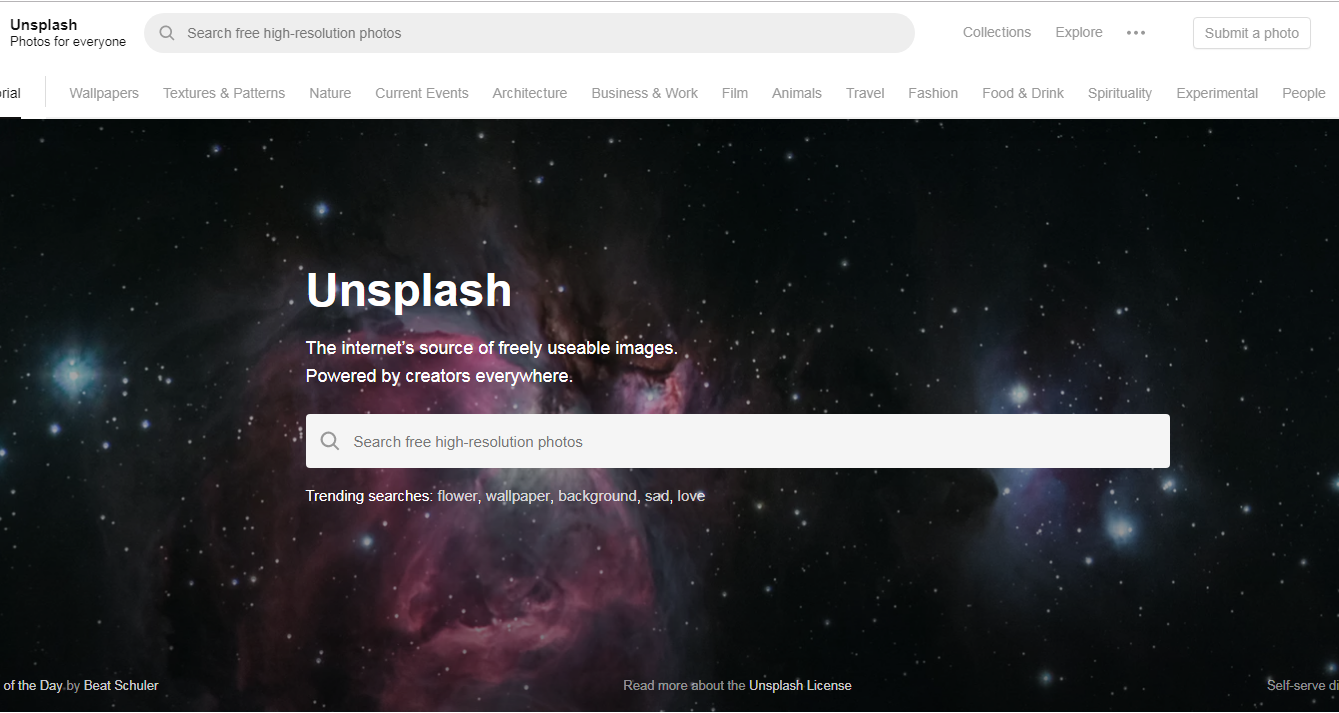 This is the king of free stock images and the website boast of a diverse collection of images. These are no ordinary stock images with collection boasting of unique and top quality images. It gives designers a wide array of inspirational photos to use in online photo editors and design maker. The search feature on the website makes it easy to comb its diverse collection for the specific photo that fits your need. Additionally, you can bookmark photos for future use.
Unsplash offers content in a wide variety of subject and gives you an irreversible, global and nonexclusive license to copy, download, perform, use, and distribute the photos free of charge for commercial purposes without obtaining permission from the Unsplash to the photographer.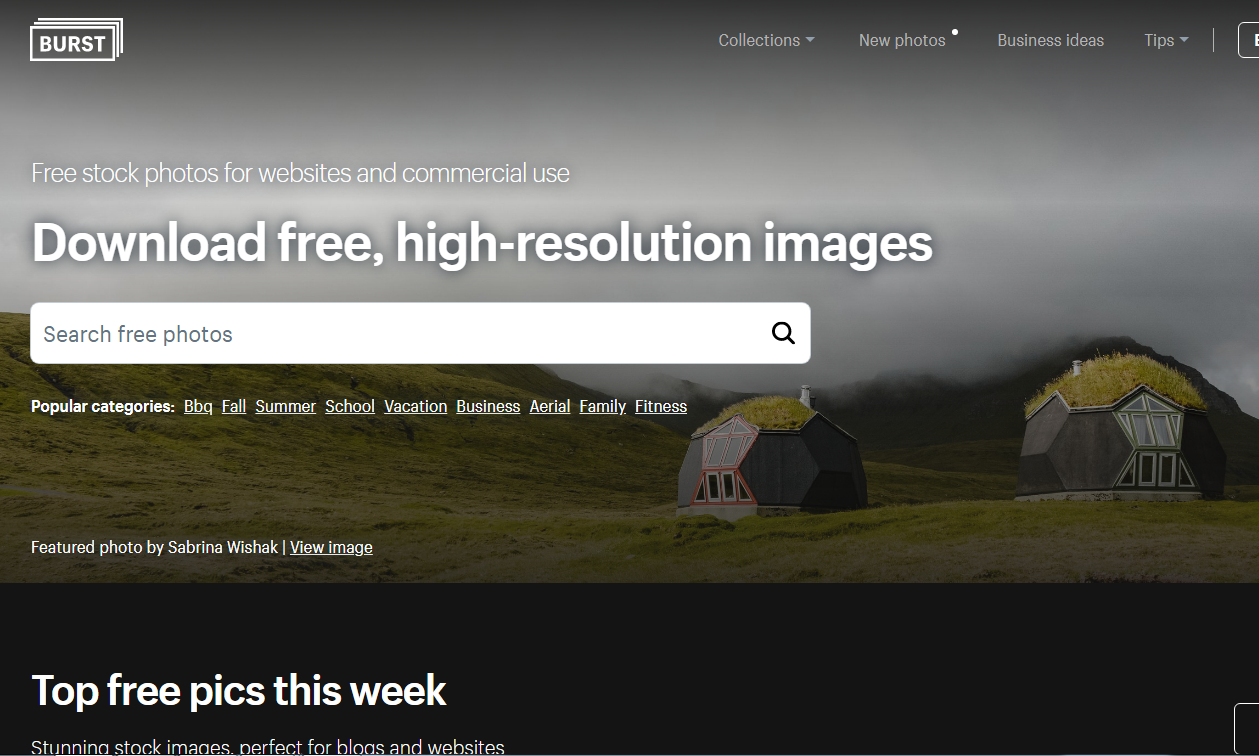 Most stock photo websites target a wide range of end-users but we also have sites that are specific about their service. Burst is a perfect example, the stock photography website powered by Shopify is specifically targeted at entrepreneurs with tons of beautiful non-copyrighted photos. Their royalty-free collection is aimed at making commerce better for business owners. If as a graphic designer, you want to build a design for a brand whether new or existing brand then Burst is a good place to start for inspirational photos.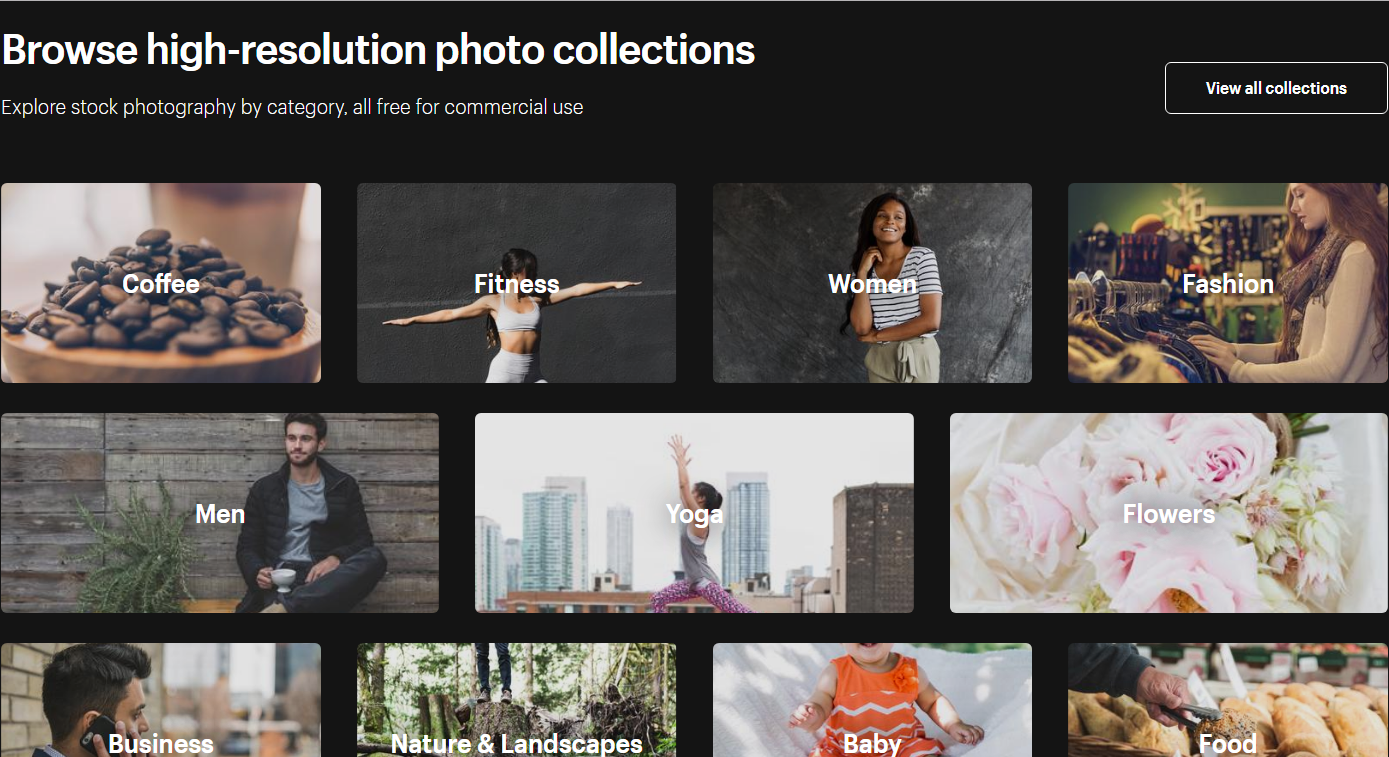 Every image on Burst is free to use and they are high-resolution photos, which allow you to channel your resources into other aspects of your business. The photos are under the Creative Commons Licenses and Royal-Free licenses, which means you can use and edit any photos downloaded from Burst without the need for attribution.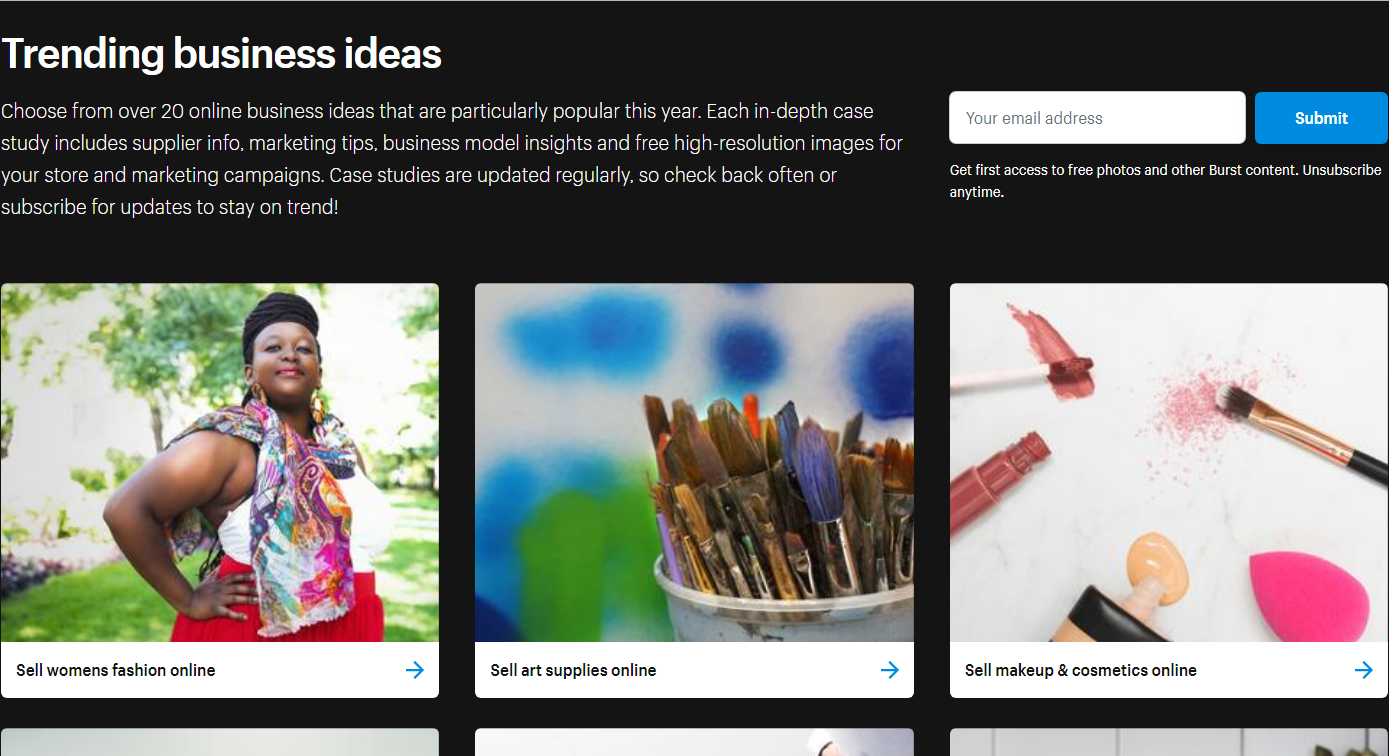 Another interesting feature about Burst is the 'Business Ideas' section where there are different collections of photos for certain types of e-commerce stores such as women fashion, makeup, and cosmetics, etc. They also provide insights, marketing tips, and info about trending online business.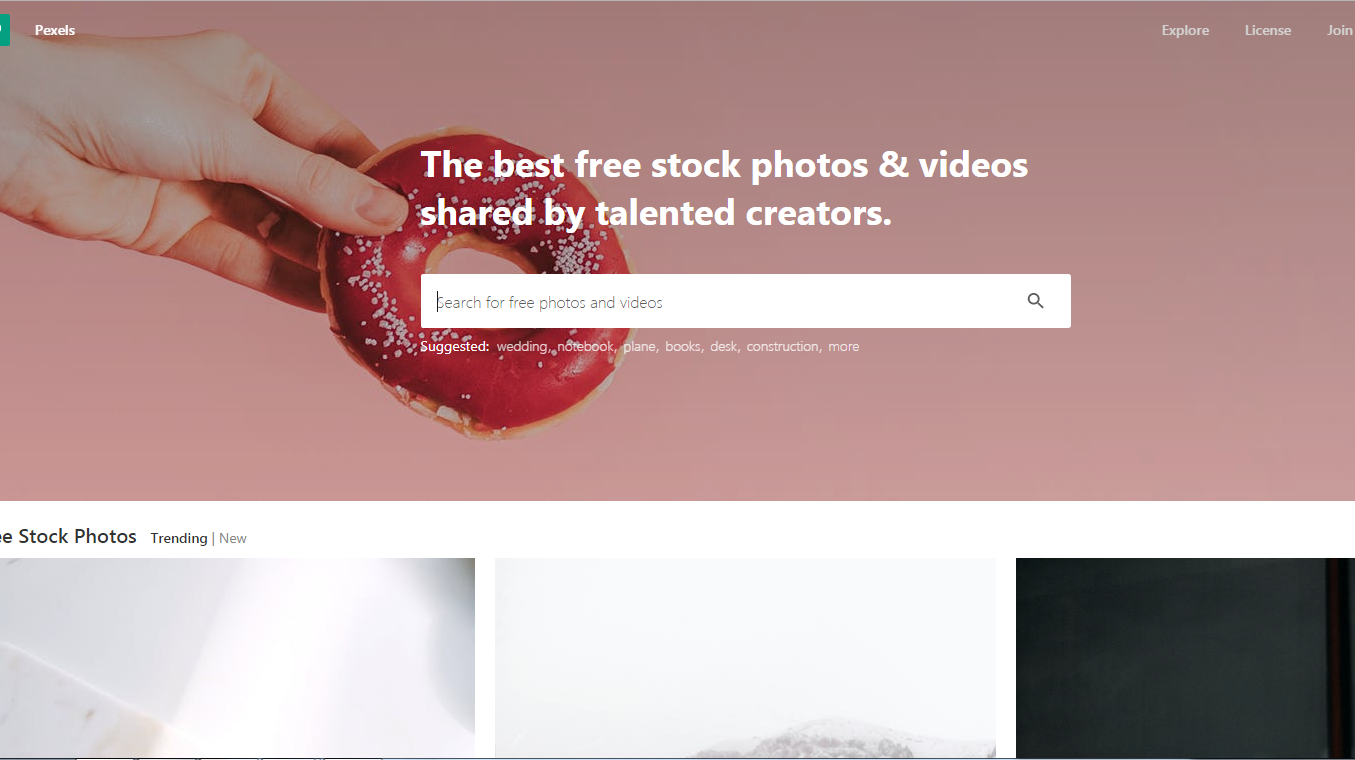 Another popular free stock photography website is Pexels, which offer contents across diverse topics. The website was founded by Bruno Joseph and Ingo Joseph in 2014 and it has progressed to be a huge database of free stock photos for millions of creator worldwide. Pexels features an easy to use the search function with many beneficial parameters making the site very easy to use.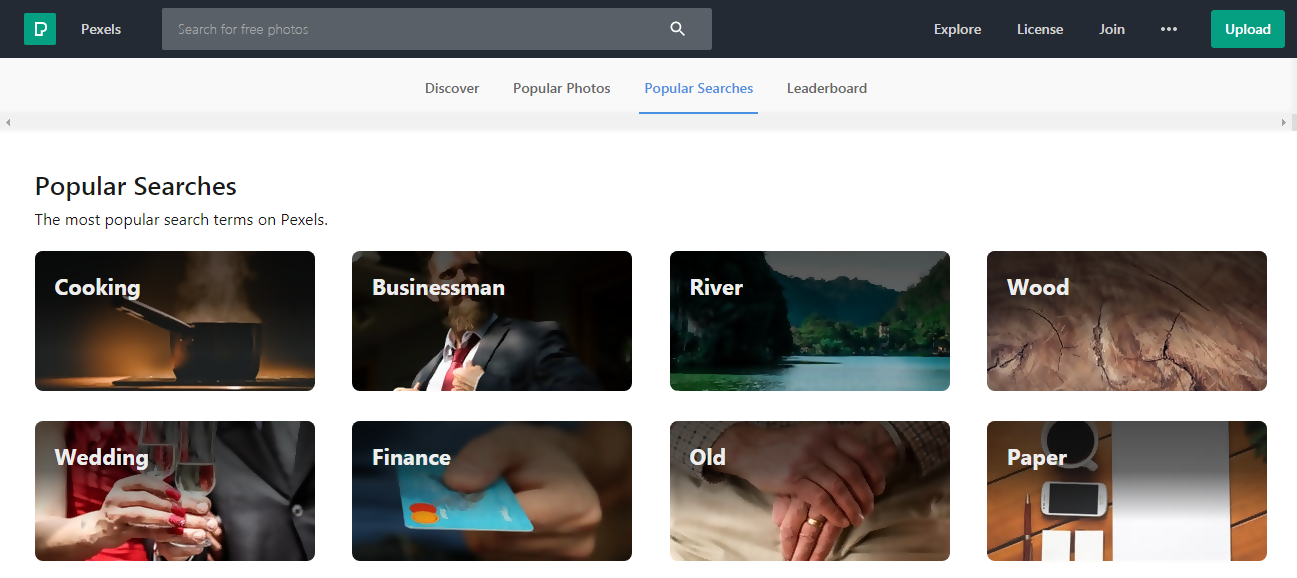 Pexels has a stunning photo collection sourced from its diverse community of photographers, little visuals, Gastisography, Pixabay, etc. All published photos are under the Pexels license. As indicated by the website, Pexels believe in empowering creators by providing access to millions of creative images to design astonishing websites, arts, apps, and many more.
The images can be used without attribution on blogs, websites, app, social media, marketing materials and campaigns, banners, and unique ads. However, photos with identifiable people are not allowed to use in a bad or offensive way, photos are not allowed to be sold unaltered, and you can't sell or redistribute the photos other stock photos platforms.

Another stock photography website that can provide stunning top-quality photos is Pixabay. The free stock photo website is well known for its huge database of over 1 million gorgeous royalty-free images. The photos are under the Creative Commons Zero (CC0) license, which means you are free to edit, copy and distribute as you like without copyright restriction.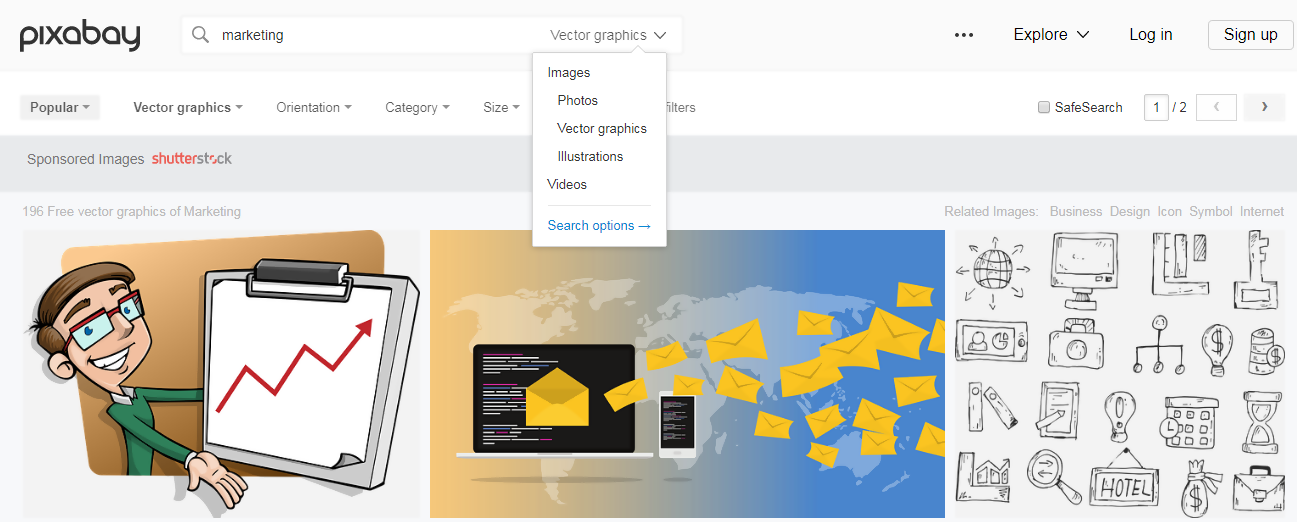 The site has a clean interface and features the main search bar that enables you to narrow down your search. The website tends to be more marketing and business-oriented with its photo catalog. Another important feature of Pixabay is its free illustrations and vectors.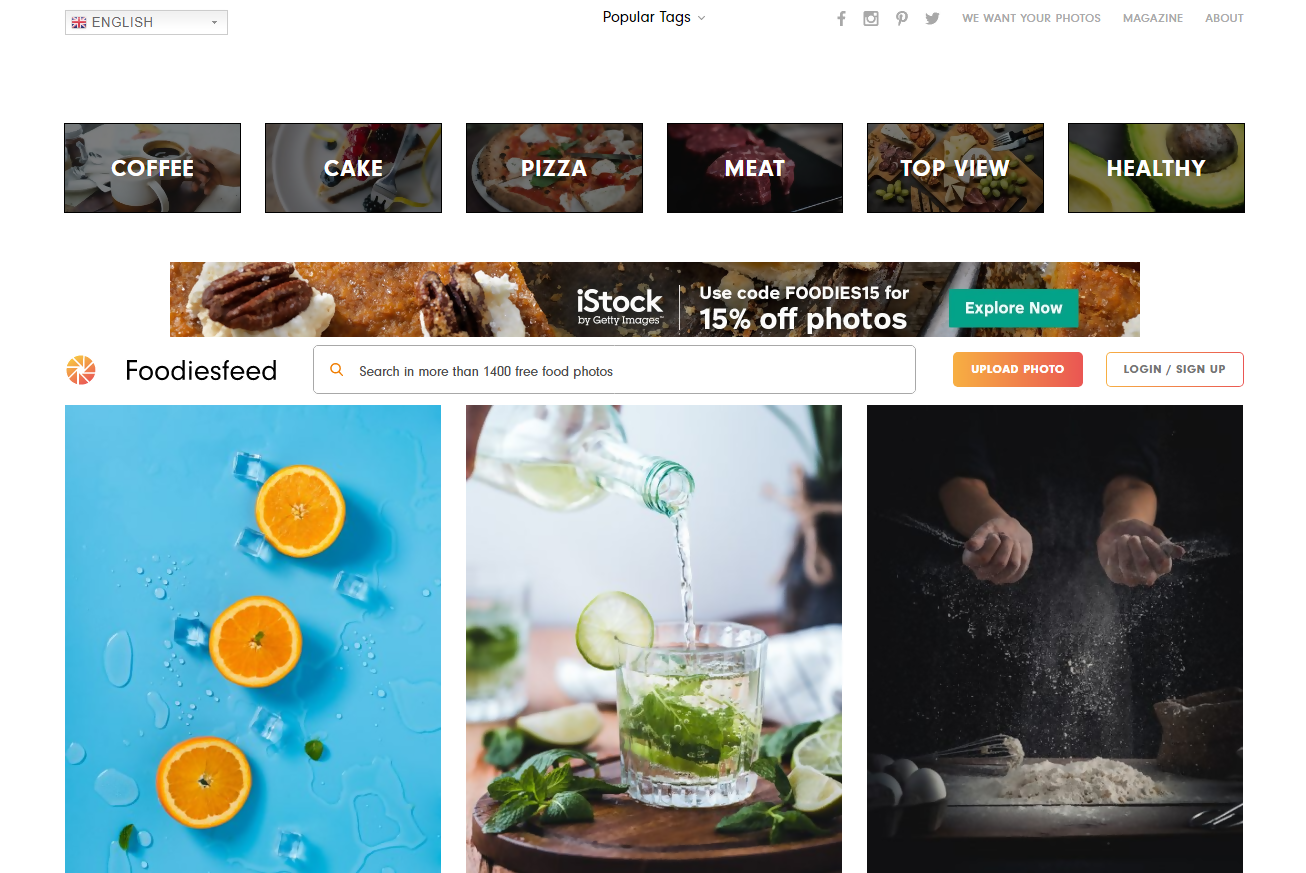 This is free stock photo website food and recipe bloggers will definitely like, Foodiesfeed is a complete package of naturally looking food images. The images are shared by food photographers from around the globe. The royalty-free photos published under CC0 license make the images free to download without any attribution needed.
A project started by Jakub Kapusnak as a personal project has gone on to feature millions of high-resolution food photos in its collection. The website is dedicated to helping business, nutrition bloggers, social media manager, and many others create wonderful designs.

Talking of unique free stock photo website then Gratisography fit the bill. Although it doesn't match up to the like of Unsplash, Pixabay, etc. in terms of a huge collection. It makes up for that with its unique takes on photography. They pride themselves on providing stock photos that don't appear too "stocky" like what you are used to on every other stock photo website.
Every image on Gratisography is captured by Ryan McGuire, describing his collection as the "world's quirkiest collection of free high-resolution photos." All the images are free to use and can be used across a range of topics. The website tends to cover photos relating to people more than any other topic.

What of stock photo website that goes the great length of handpicking the stock photos that appear on their website creating a unique collection of photos you won't find elsewhere. Aimed at makers, freelancers, and startups looking for something different from the usual plain stock images. The photos can be used for commercial and editorial purposes for free without the need for any royalty.

StockSnap boast of a huge selection of high-resolution photos that covers a wide range of categories. The website is well-structured and features an easy-to-use search engine. You can easily find the images you are looking for with its tag-based category system. The website also keeps tracks of downloads and view to compile the popular images in its collection.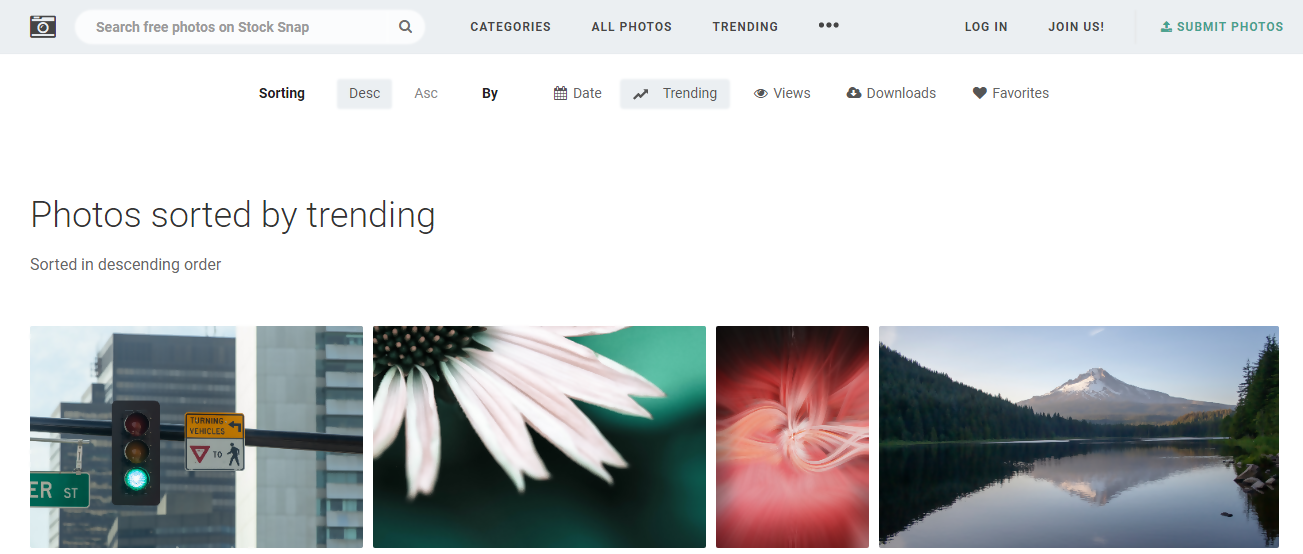 The photos are free to use without restrictions and can be used on social media platforms, websites, brochure, magazine, and other creatives.
No matter the creative project you want to embark on, surely you can find a stock photography website on the list that will fit your need. One with that perfect image to improve your visual content. Once you have your mindset on the photo you want, don't forget to use some photo editing and graphic design tool to help you create professional graphics. You can easily add text, stickers, and more resources, turning them into professional blog titles, social media graphics. Both of these resources can help you improve your website visual contents.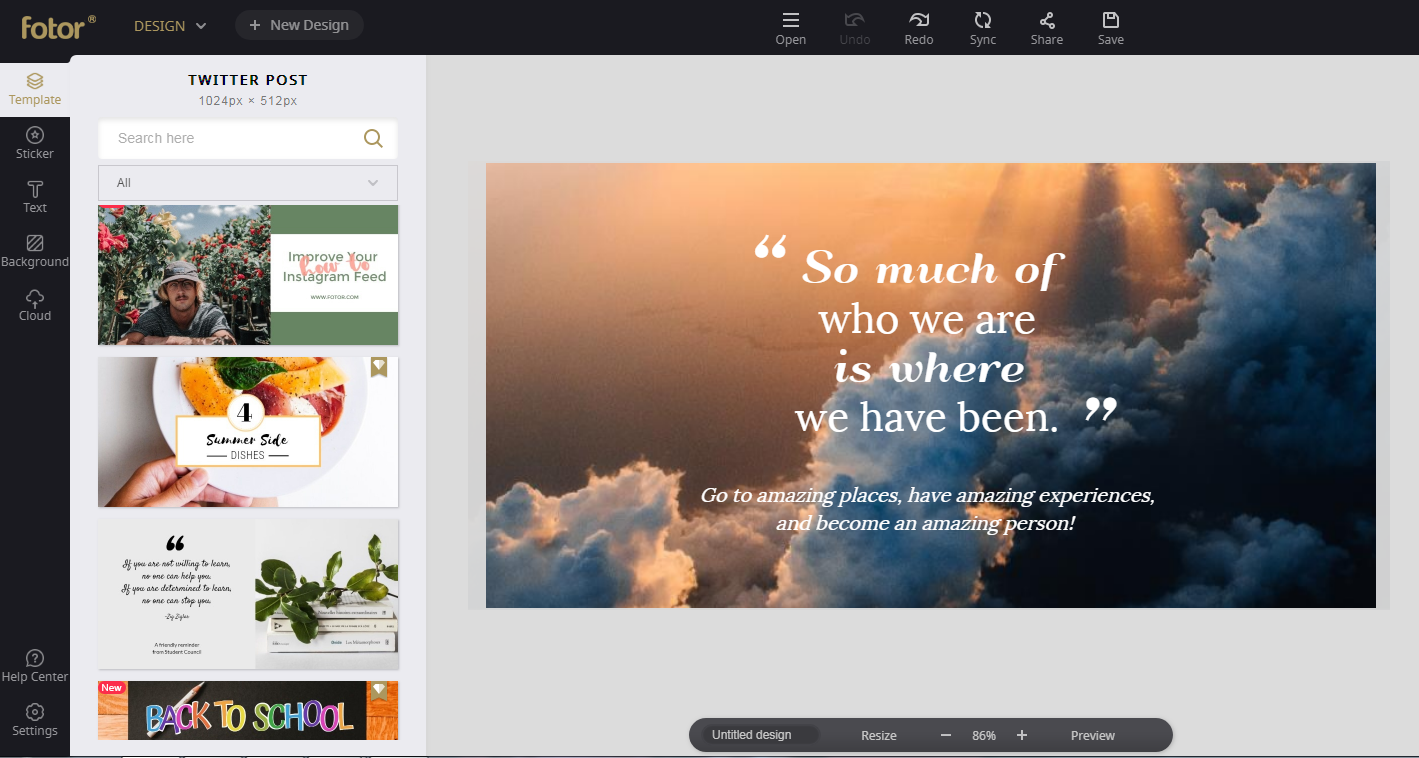 Click the image to edit this template
For top-quality professional work, you can go for premium stock photo website such as Shutterstock, iStock or Getty Images that can offer exclusive images to improve your visual content and make your work unique and exclusive given their large collections of exclusive photos. Their large and diverse library of images means you will find just about any image you seek for your creatives for a reasonable fee.
About Us:
Fotor is a free online picture editor and graphic designer, allowing you to use online photo editing tools, such as add filters, frames, text, stickers, and effects…and apply design tools to make creative photo designs and graphics. Online photoshop and graphic design software have never been so easy! Also, if you want to get more helpful and inspirational tips, please visit our blog home page to extend your reading.

---
Related Posts :
Leave a Reply :