Nothing brings out the Christmas spirit more than an adorable baby in a Christmas dress. Cute babies always bring you joy without realizing it, not to mention their sweet Christmas-themed photos. Whether you want to capture your toddler's first present-opening moment or celebrate your newborn's first Christmas, it's essential to know how to take Christmas photos.
For this reason, we've collected 14 adorable baby's first Christmas photo shoot ideas to inspire your Christmas photo shoot, you can also unleash your creativity to DIY your baby's first photos for Christmas and create your own Christmas cards. So, pick up your camera to capture the precious moments instantly!
Baby's First Christmas Photoshoot Ideas at Home
Every parent likes to take pictures of their baby, but not every shoot goes well because the baby is always uncooperative. Why not try using cute Christmas props to catch their attention? Capture the beautiful moments when they are playing with Christmas decorations. Let's follow these Christmas ideas and do something fun!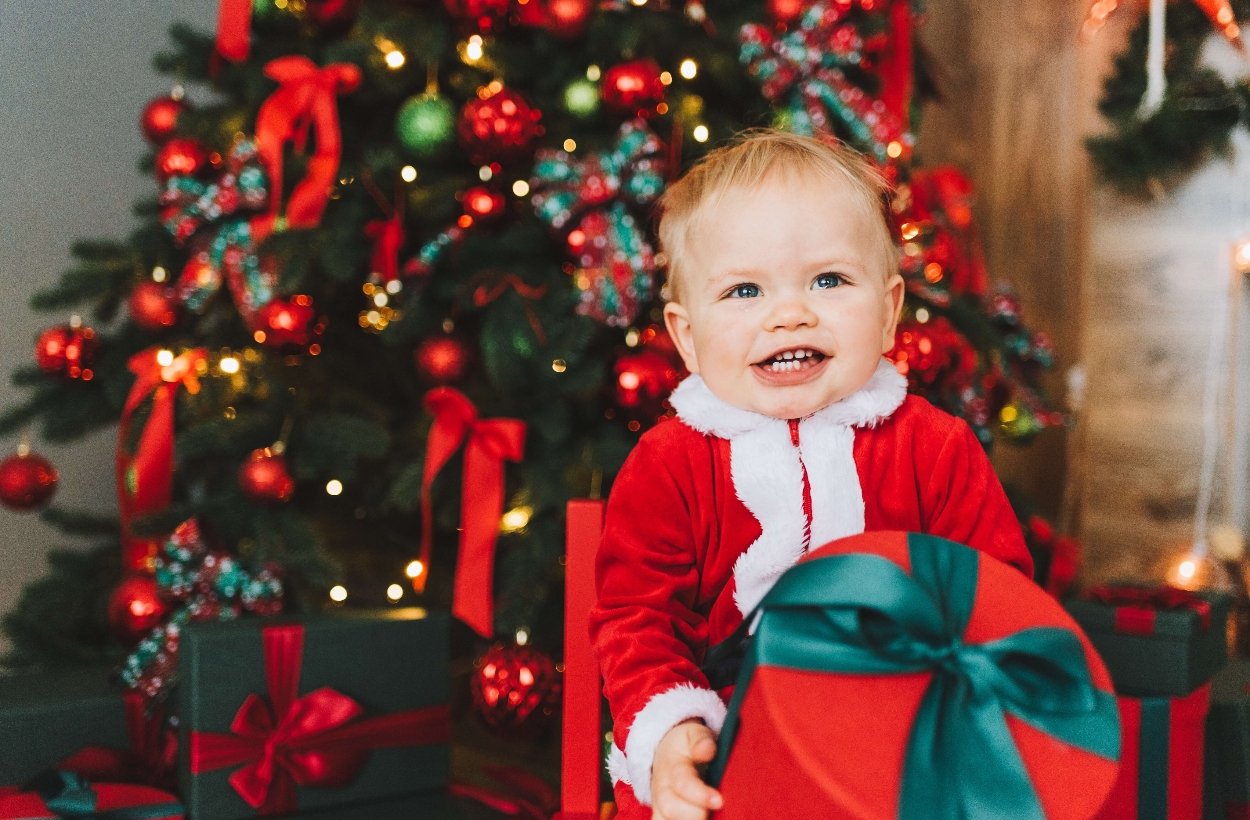 This creative Christmas photo can be easily achieved by anyone, just place your child under your Christmas tree, let him hold the gift box and capture his sweet smile!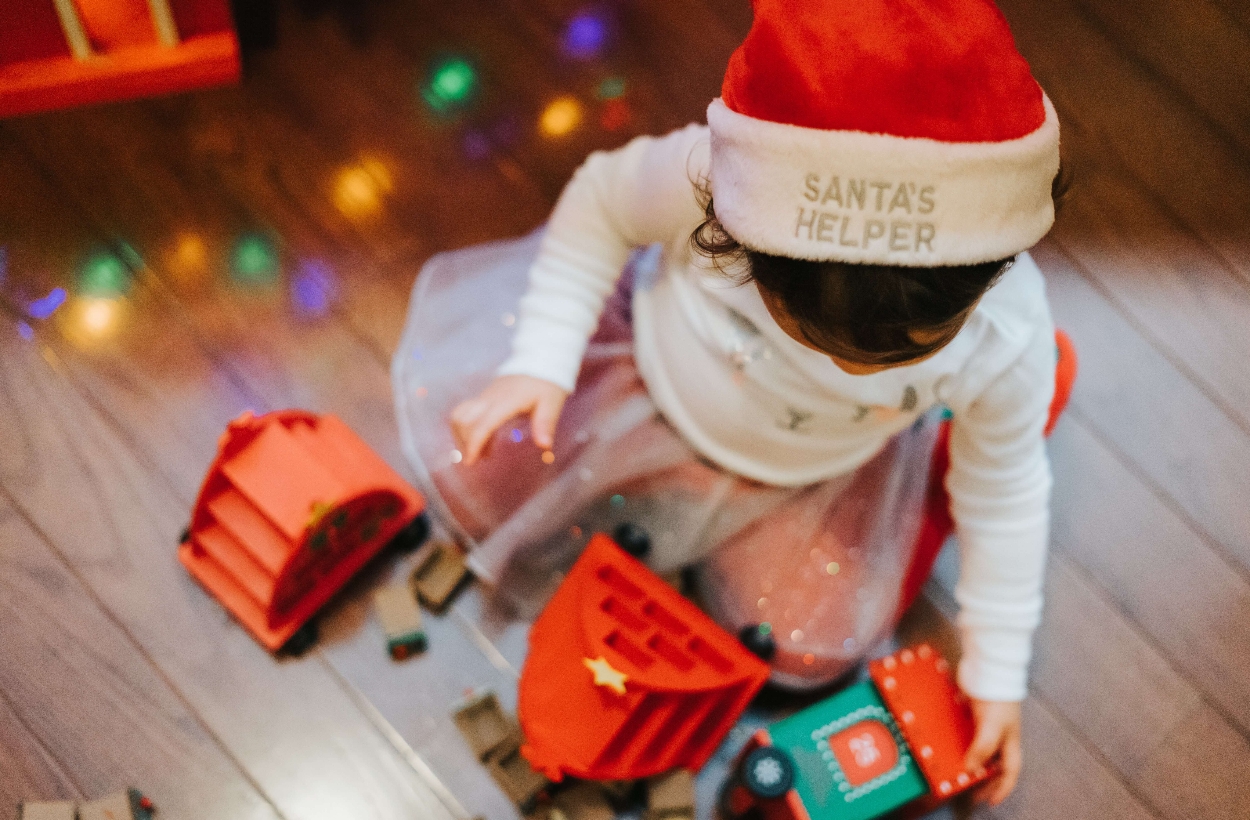 Take a picture of your baby opening holiday gifts, this kind of unintentional capture can best reflect the real and natural sense. You can also put a Santa hat on your baby, there is nothing like a red Christmas hat to bring the holiday spirit!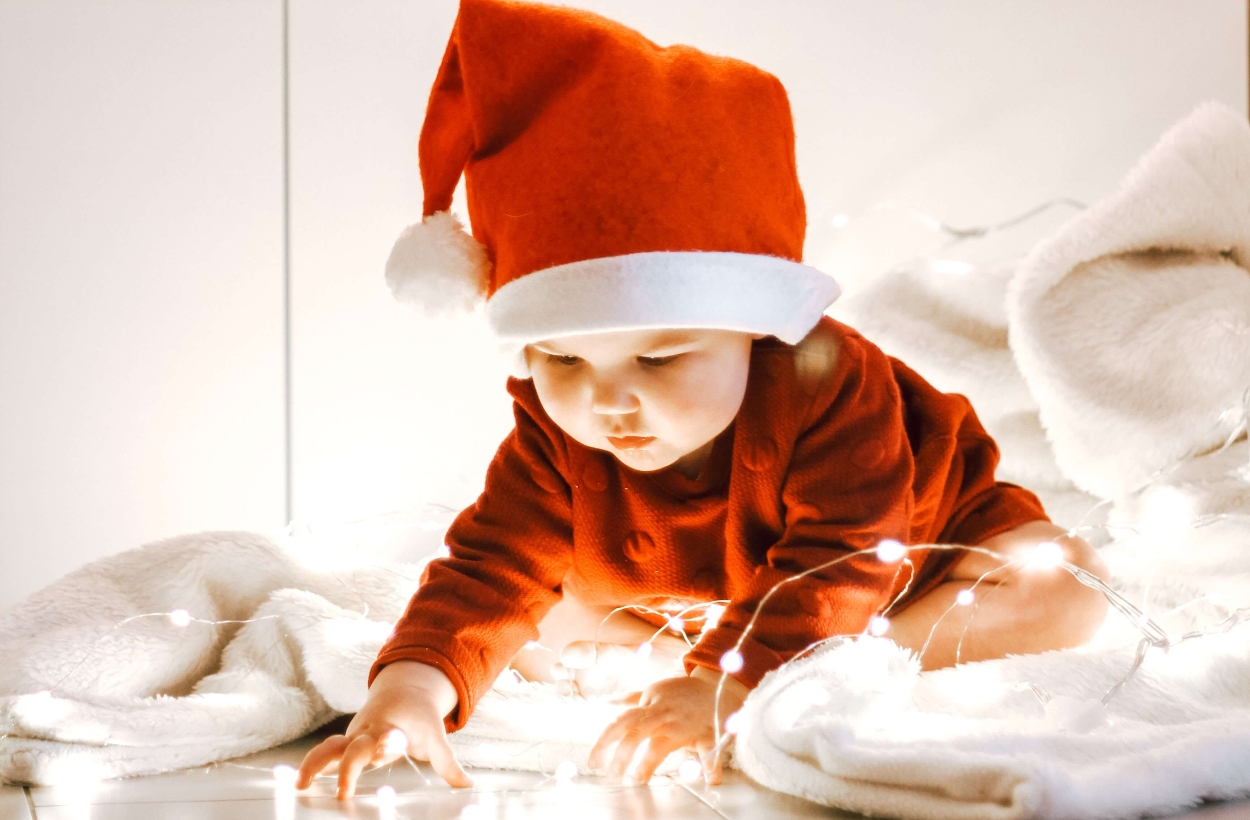 Christmas is not complete without lights! You can use any of these cute props at your fingertips. Put your baby on a plush carpet, and put Christmas lights and other holiday decorations around the baby, it's that easy to create Christmas cheer! (Note: Make sure there is another pair of hands nearby and fast enough to prevent the baby from putting the lights into the mouth.)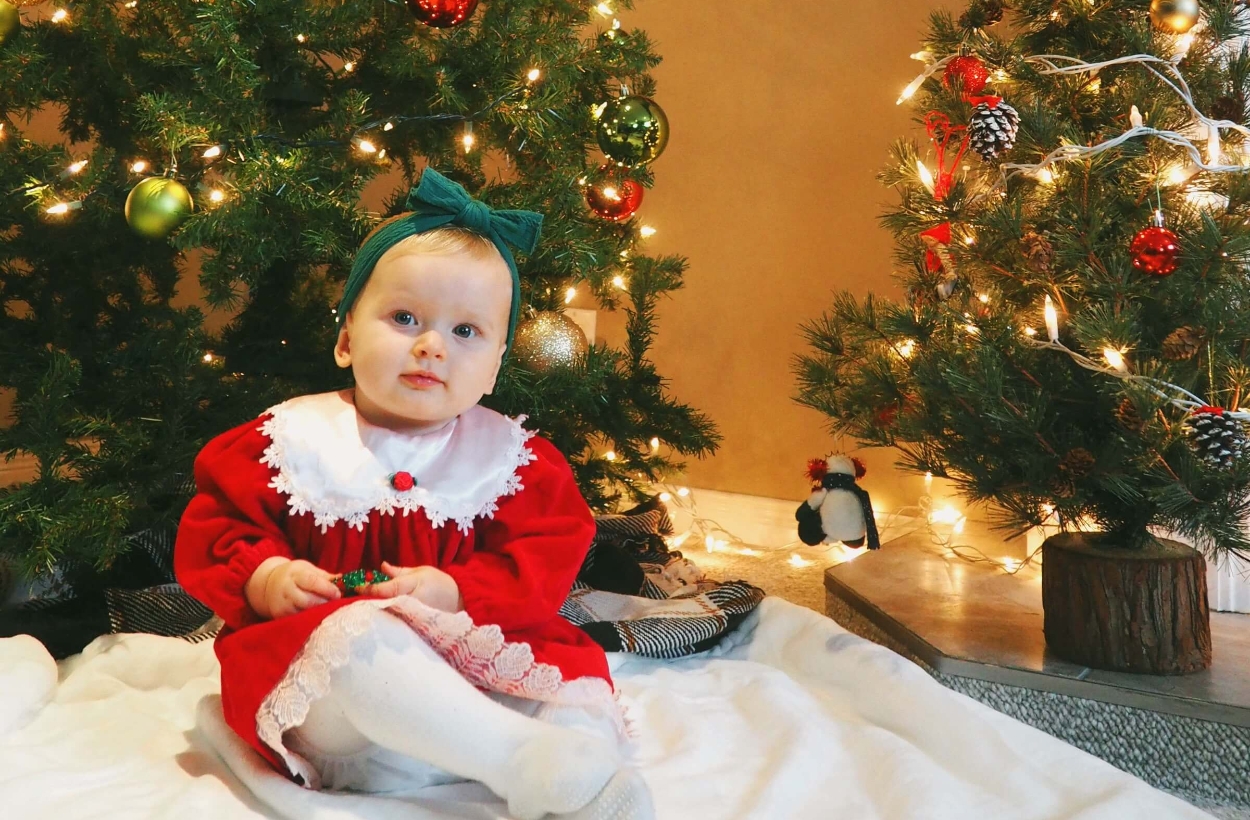 This is an extremely easy baby Christmas photo, all you need to prepare — a Christmas tree full of decorative lights and colorful balls, a cute baby, and a clean white rug (or bath towel). That's it, perfect!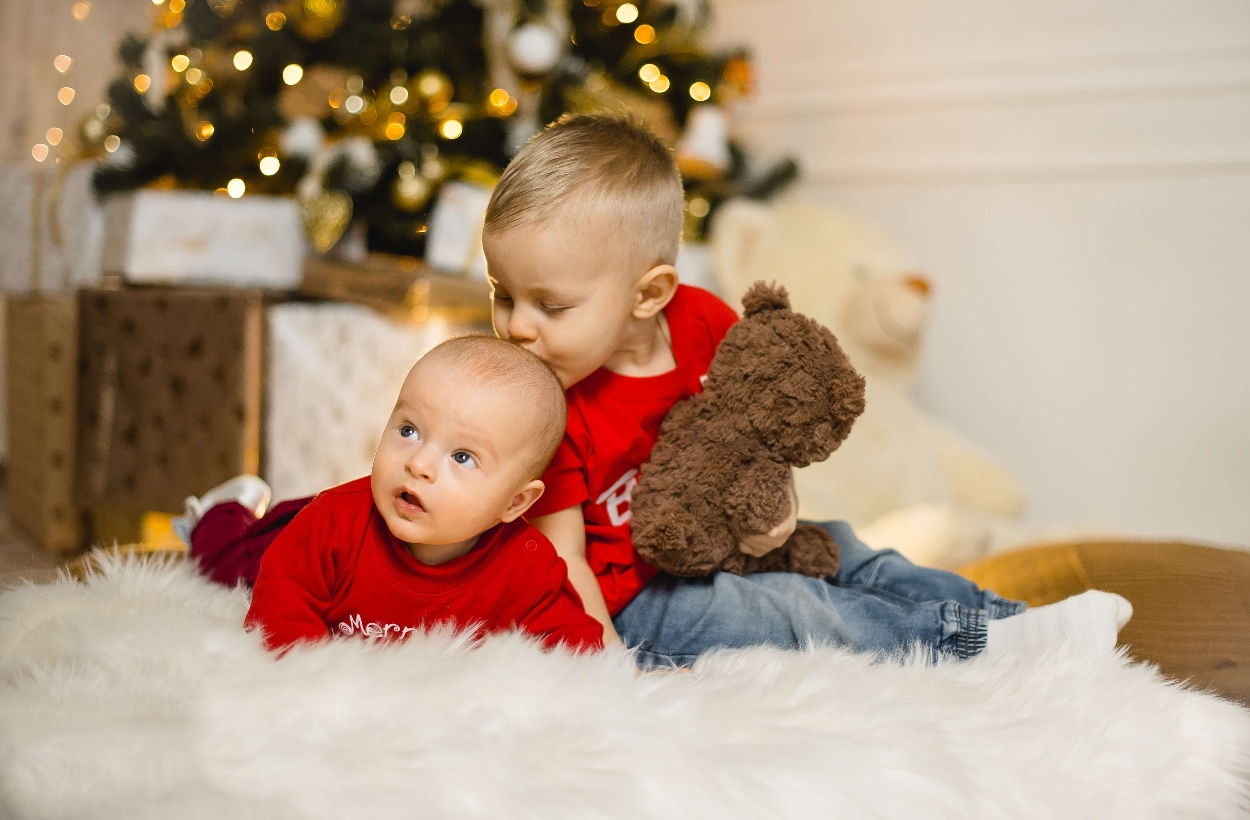 Although this is the baby's first Christmas photo shoot, that doesn't mean siblings can't get involved. Instead, Christmas photos with infants can show the love and connection between family members. Sometimes you don't need to deliberately guide the baby's movements, just take out your camera and wait patiently for a beautiful moment, and then press the shutter! Of course, you can also place their favorite toys around them and take a sweet photo of them sharing toys.
Cute reindeer are an essential element of Christmas Eve, putting them together with a cute baby is a perfect match!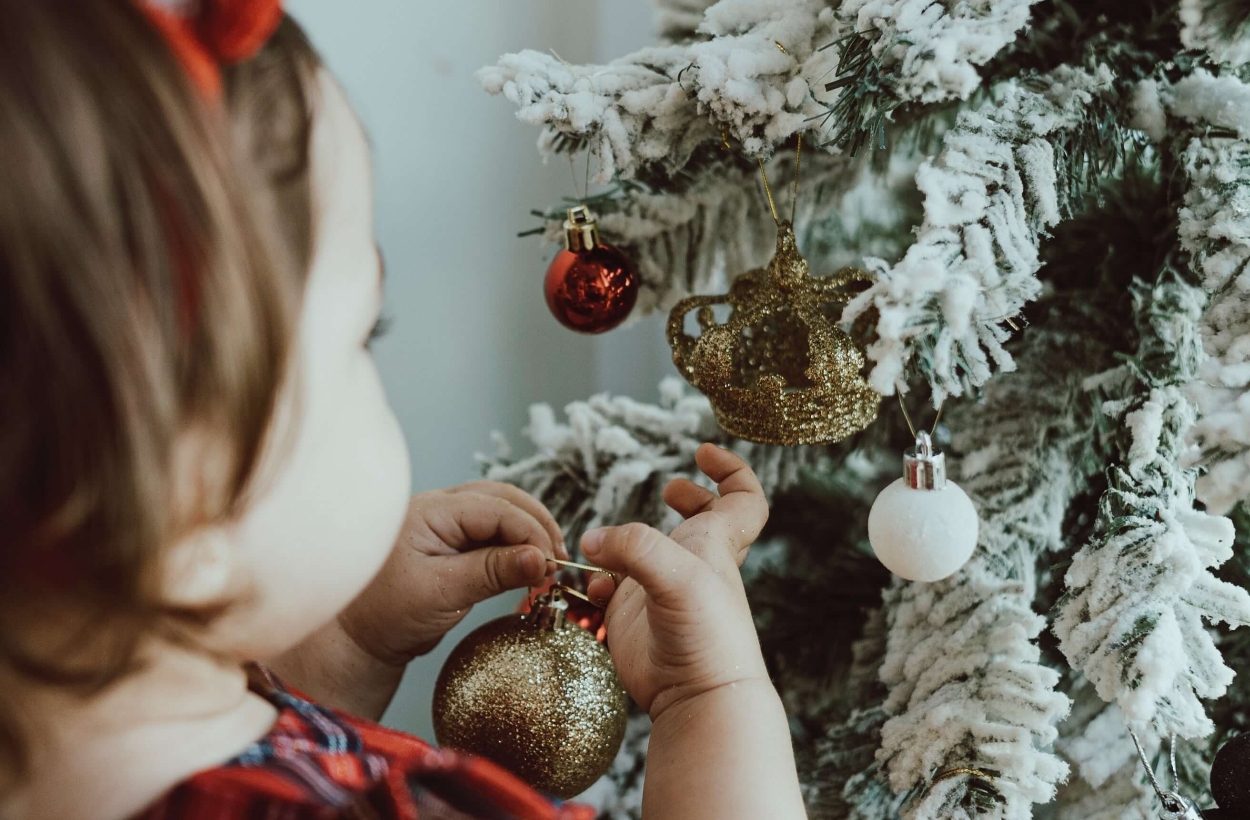 It's a fairly easy shot to capture, just make sure the baby don't overpower the tree or rip off something fragile.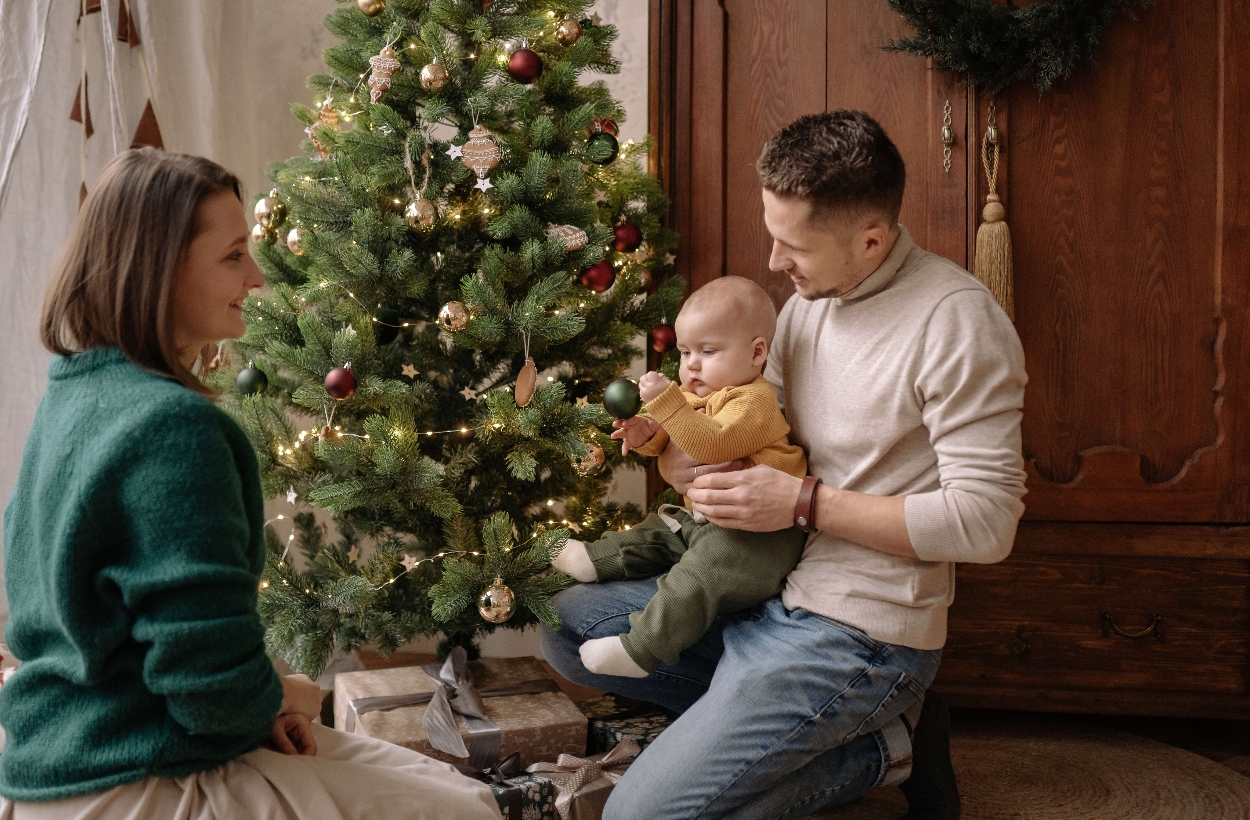 Christmas is a time to come together and spend time with our loved ones, and Christmas family photos capture love and togetherness. Parents can hold the baby and smile as they look on, a traditional Christmas family photo taken next to a beautiful Christmas tree is a good choice for this special day.
Newborn Christmas Photos Ideas
Taking newborns for their first Christmas photos is far easier than taking pictures of babies, because the newborns sleep so often and deeply, which means you can play with their poses however you want.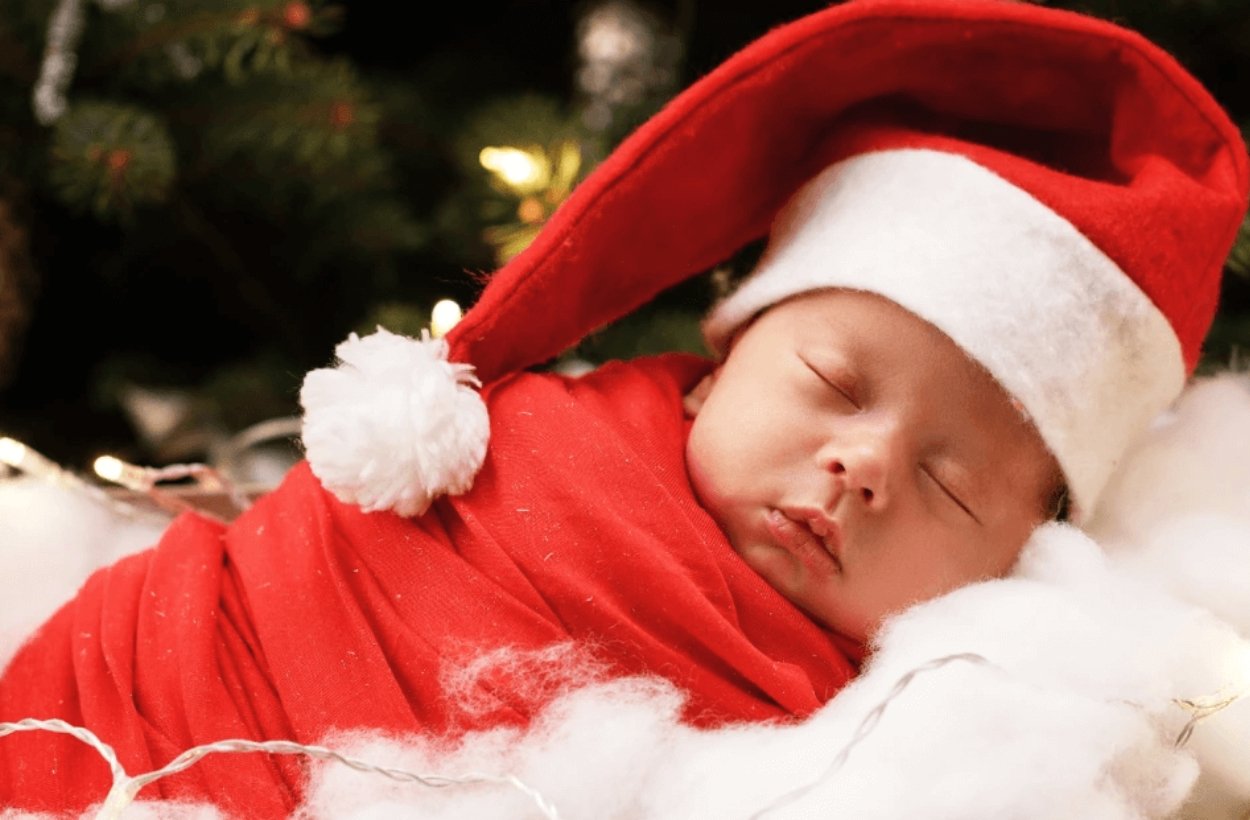 This baby Santa idea is so cute! Try the classic egg pose — use soft fabric to wrap the baby like an egg. What a wonderful pairing of a sleeping newborn dressed as Santa on soft cotton!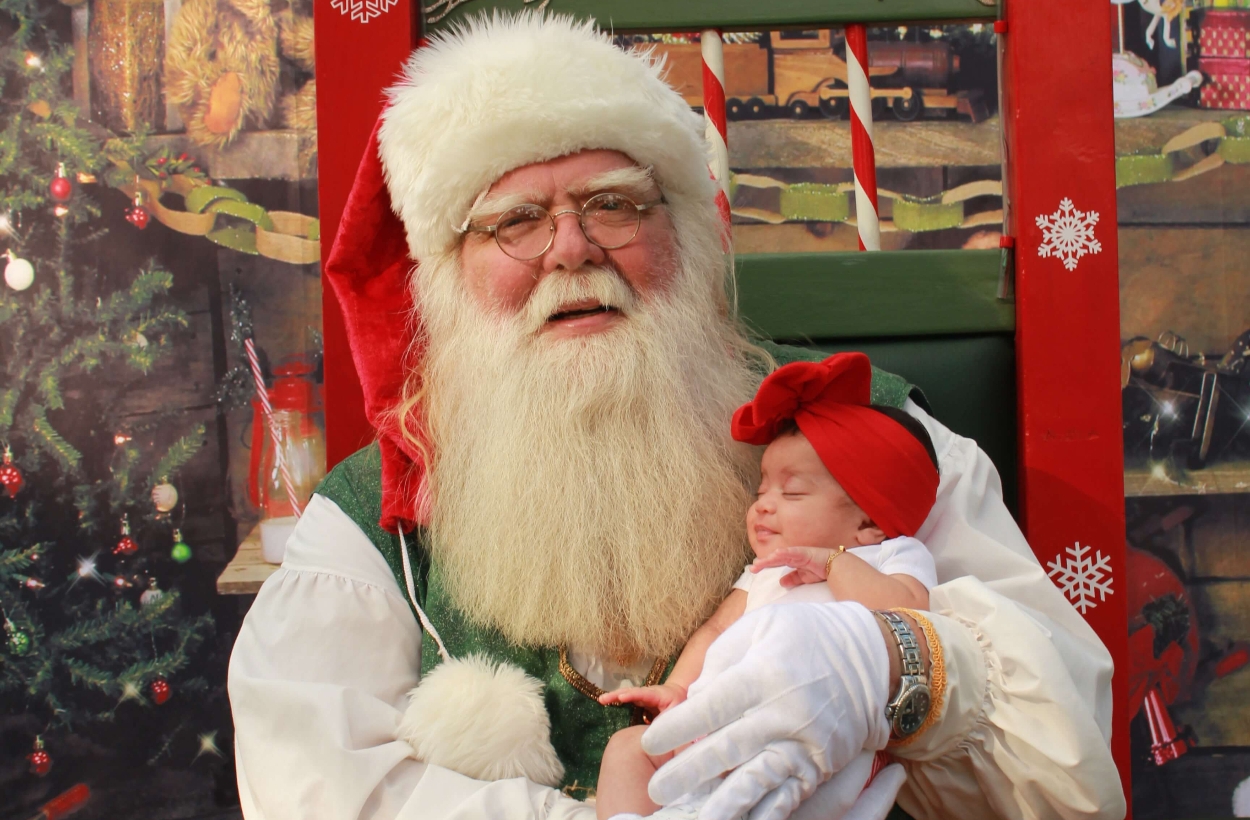 Why not consider dressing up your baby's grandpa or dad as Santa Claus and holding your baby for a photoshoot? It's much easier than dressing up your baby. This is a great win for anyone with a newborn and older children who will get a kick out of Santa's photos.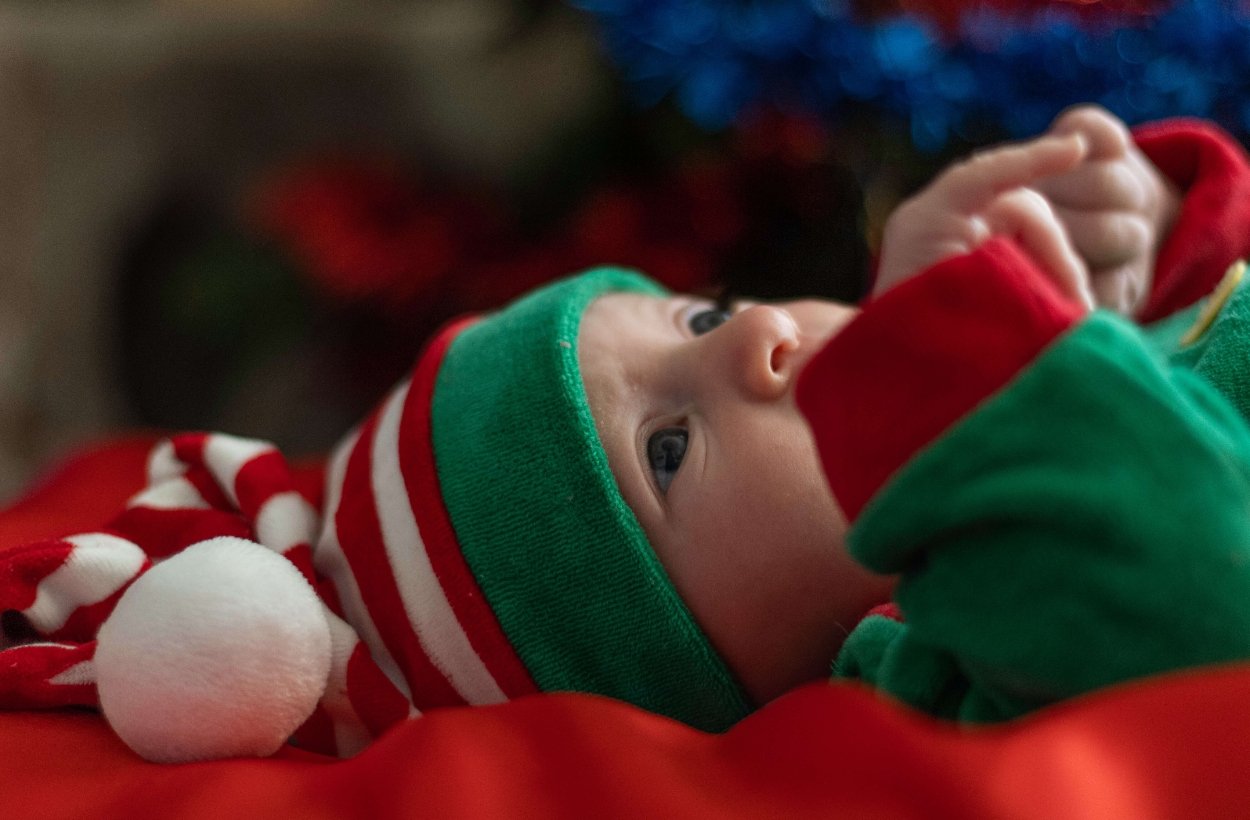 Baby's first Christmas photoshoot doesn't have to be complicated, sometimes just an outfit that reflects the Christmas spirit is all you need. Red and green are the classic colors of Christmas. So, just dress your baby in red and green pajamas, and take a picture of your baby's adorable moment!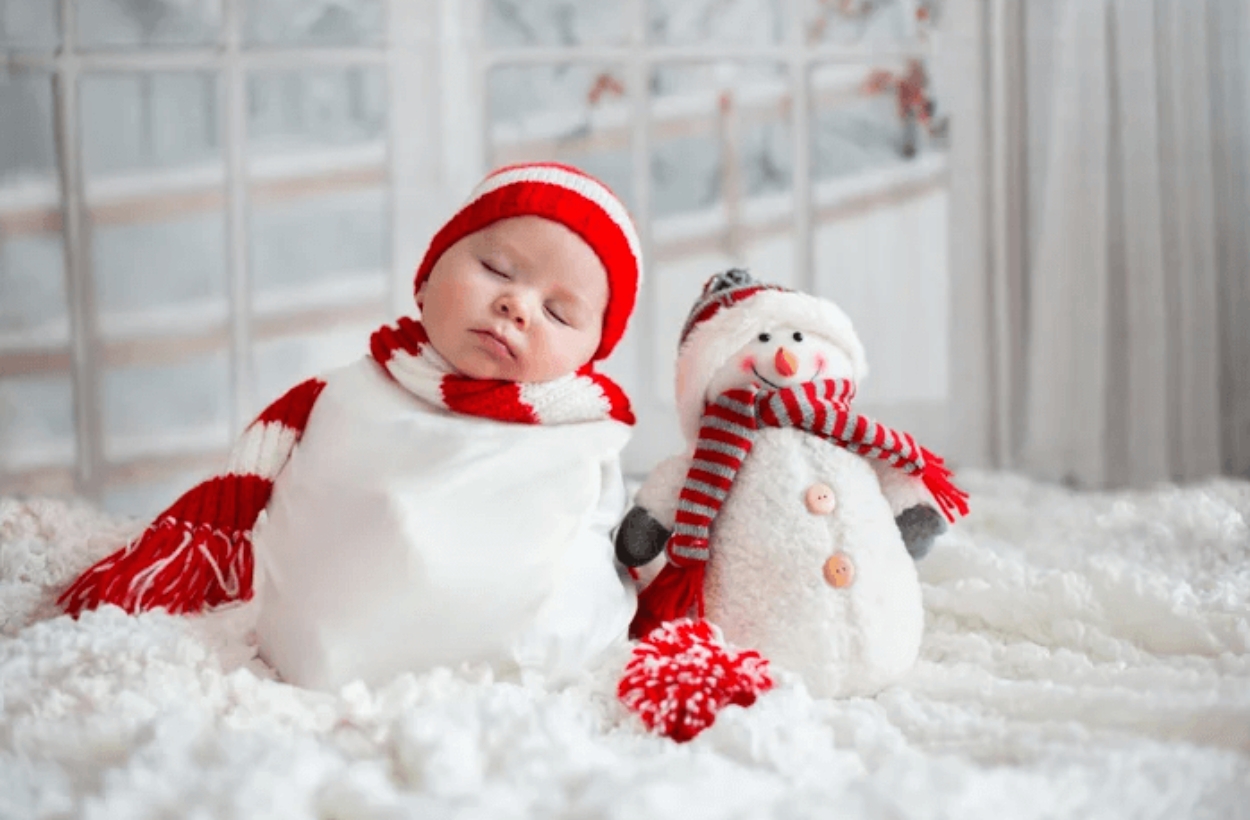 Lovely snowman dolls are always the favorite of babies. Dress your baby up as a snowman while he/she is sleeping and partner with a snowman doll for a Christmas photo shoot. Look, a pair of snowman twins! (The doll can even be used as a scale in the upcoming years' photo shoots.)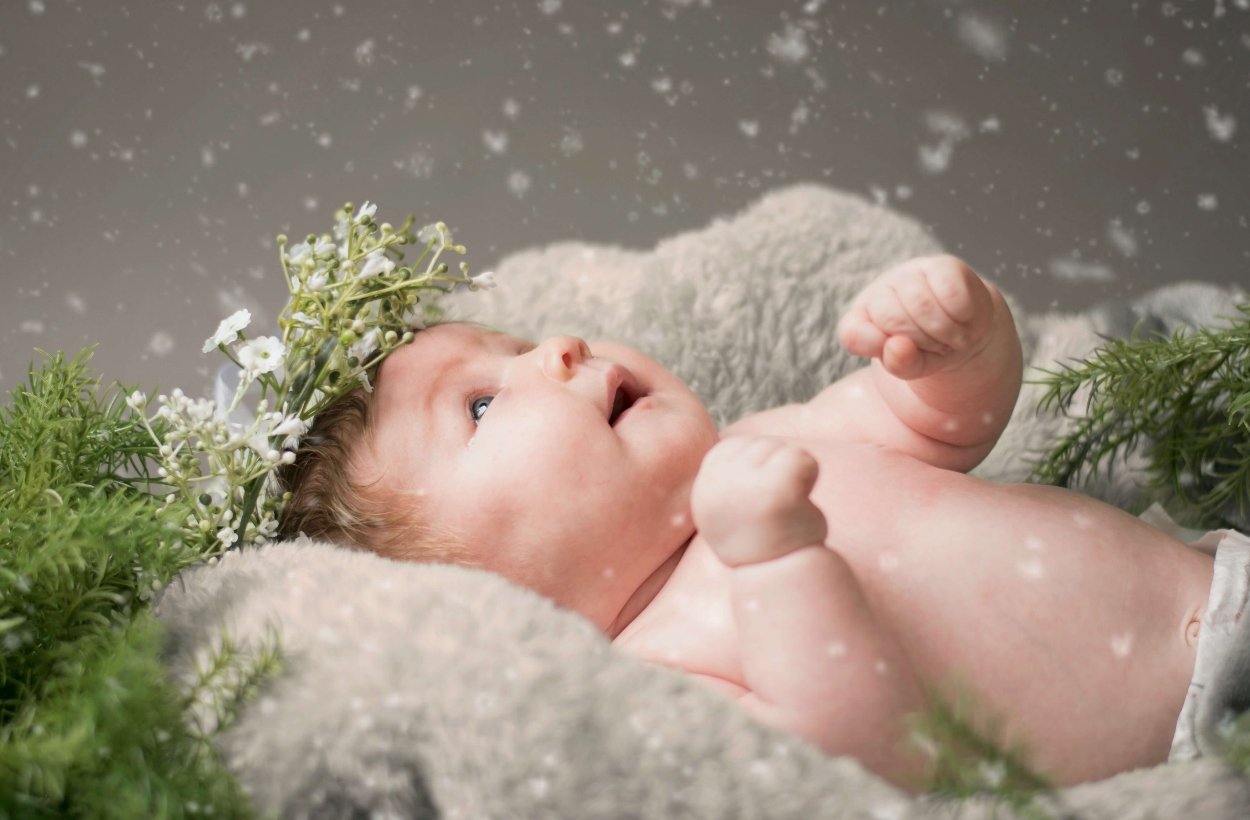 Take a baby Christmas photoshoot with green Christmas tree leaves and a beautiful wreath to make the photo full of life and hope!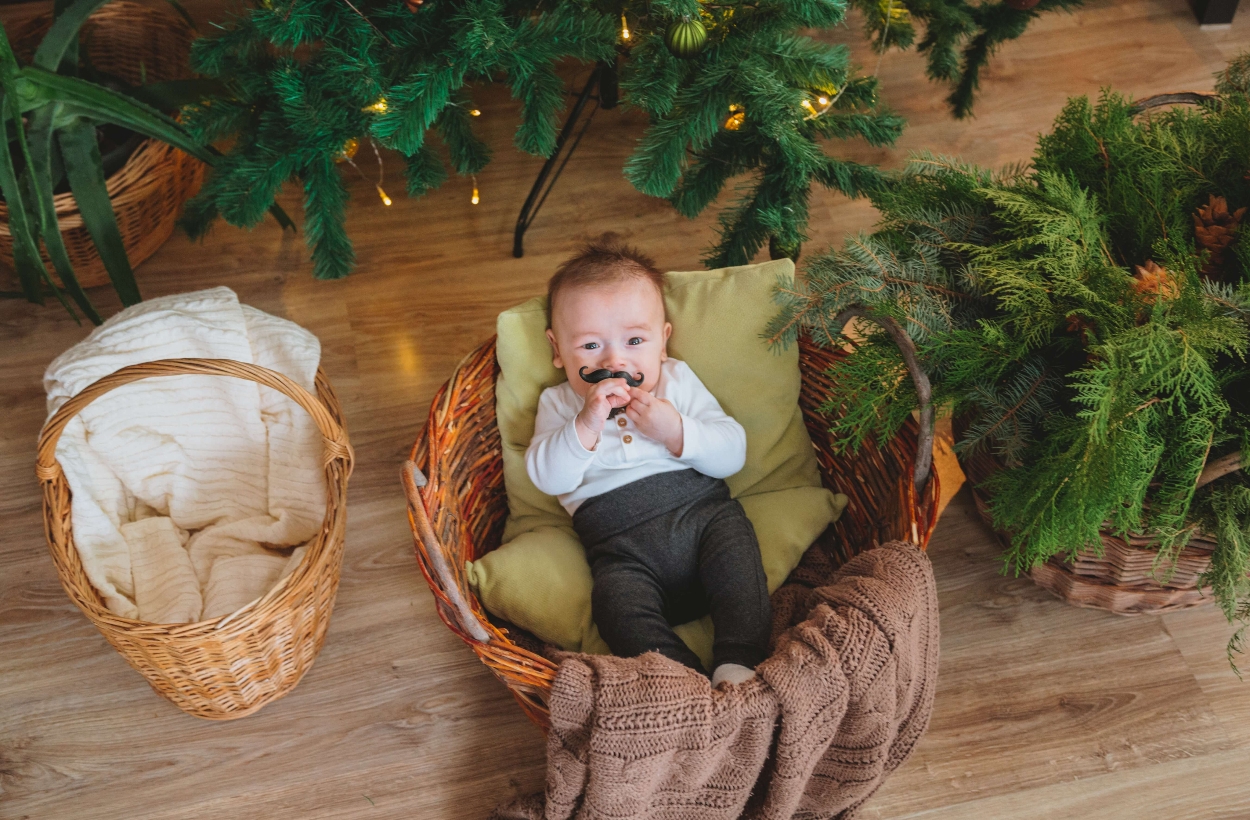 This is a common idea for baby's photoshoot: lay soft pillows and towels in the basket, pair with a mini green Christmas tree.
DIY Baby's Christmas Photos with An Online Photo Editor