Fotor is one of the best photo enhancement tools, it is a easy-to-use online software that magically elevates your images' quality. It employs AI technology to automatically analyze and optimize each element of your photo, from lighting and contrast to colors and sharpness. With just a single click, Fotor's AI photo enhancer will automatically improve your images by highlighting details, boosting vibrancy, and correcting exposure issues.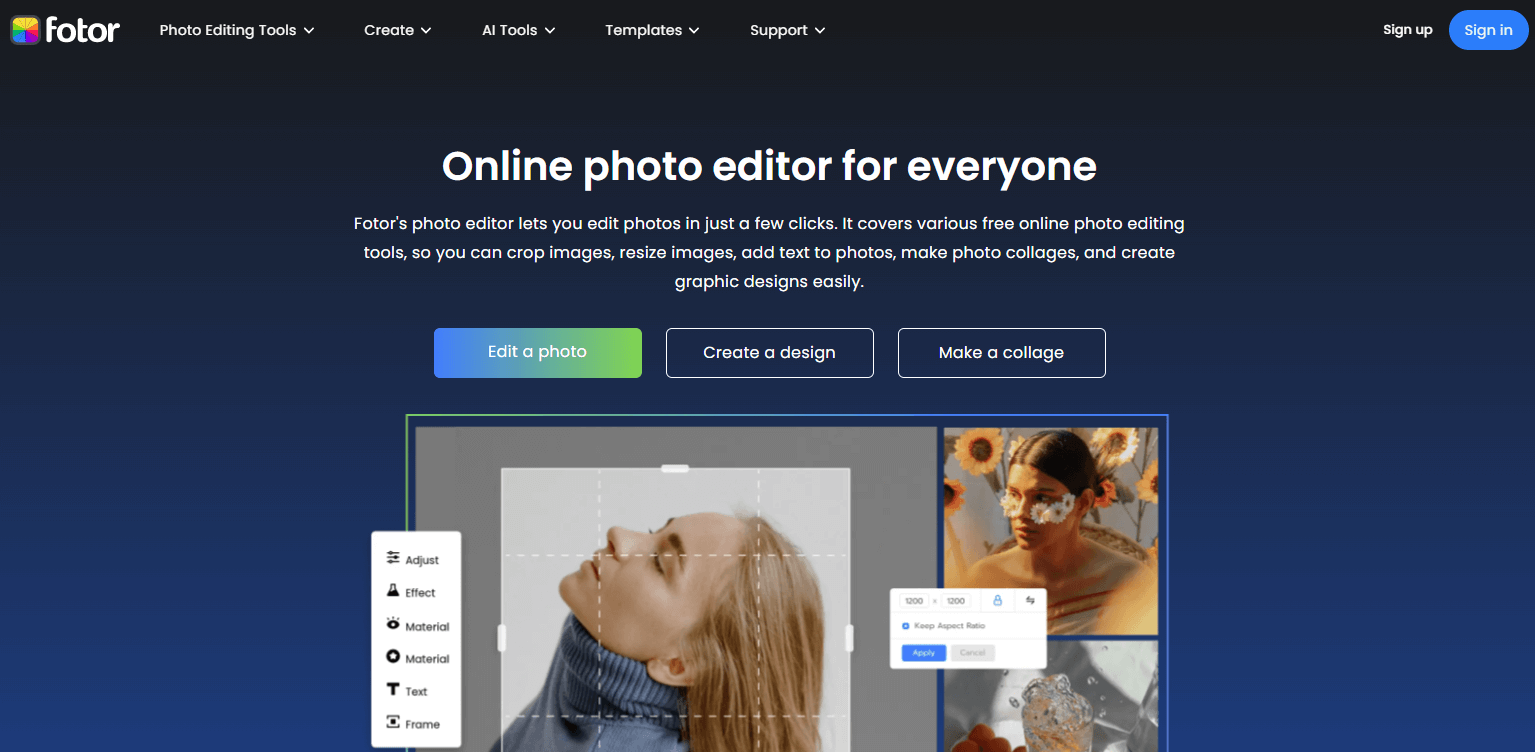 Additionally, it offers retouching options like blemish removal, red-eye correction, and HDR effects, allowing for intricate customizations. Whether you're looking to rescue underexposed snapshots or add a professional touch to your portfolio, enhancing your photos has never been so effortless and efficient.
Key Features:
2. Adobe Express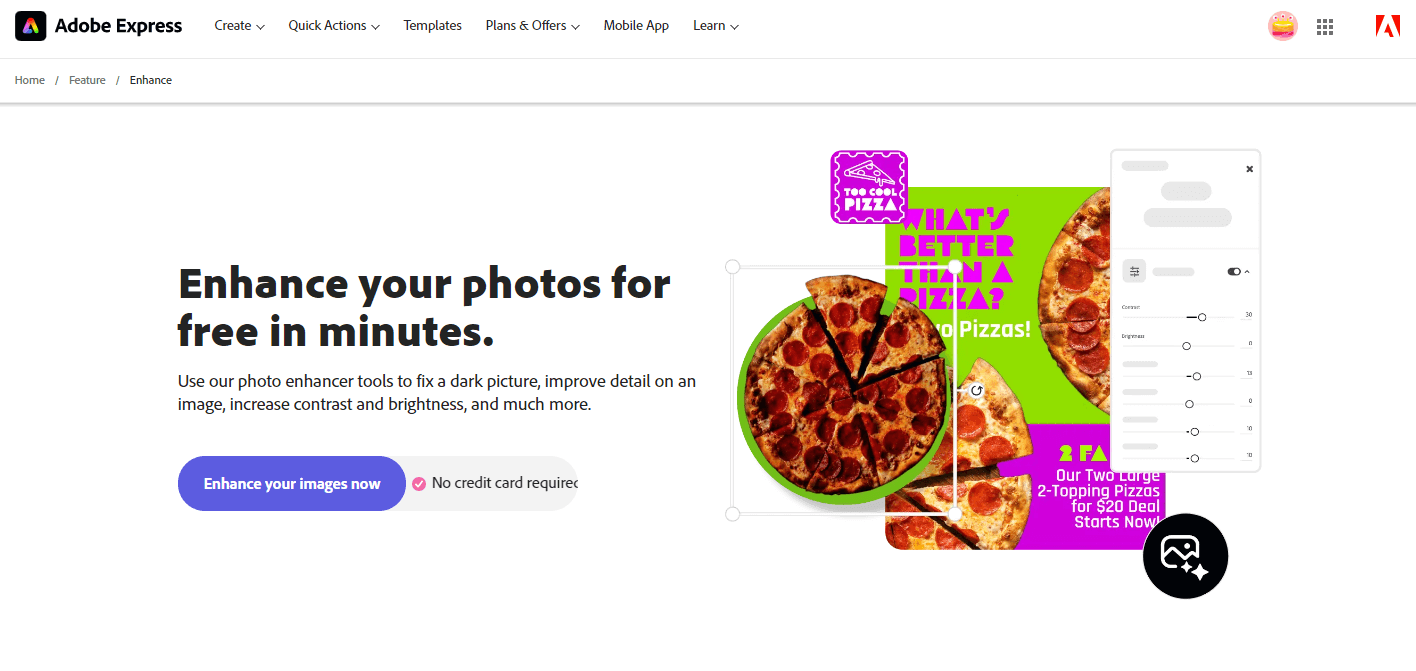 Adobe Express offers numerous advantages regarding photo enhancement and improving photo quality. The difference from Photoshop is that it provides a user-friendly interface that allows both professionals and beginners to navigate the software and access its powerful features easily. Moreover, it employs advanced algorithms and cutting-edge technology to automatically analyze and enhance images, optimizing aspects such as brightness, contrast, color accuracy, and sharpness.
Also, it has the basic editing features of all other photo editors, enabling users to have precise control over every aspect of their photo.
Key Features:
Auto Photo Enhancement
Predefined Graphics and Images
Professional Editing and Design Tools
3. PicWish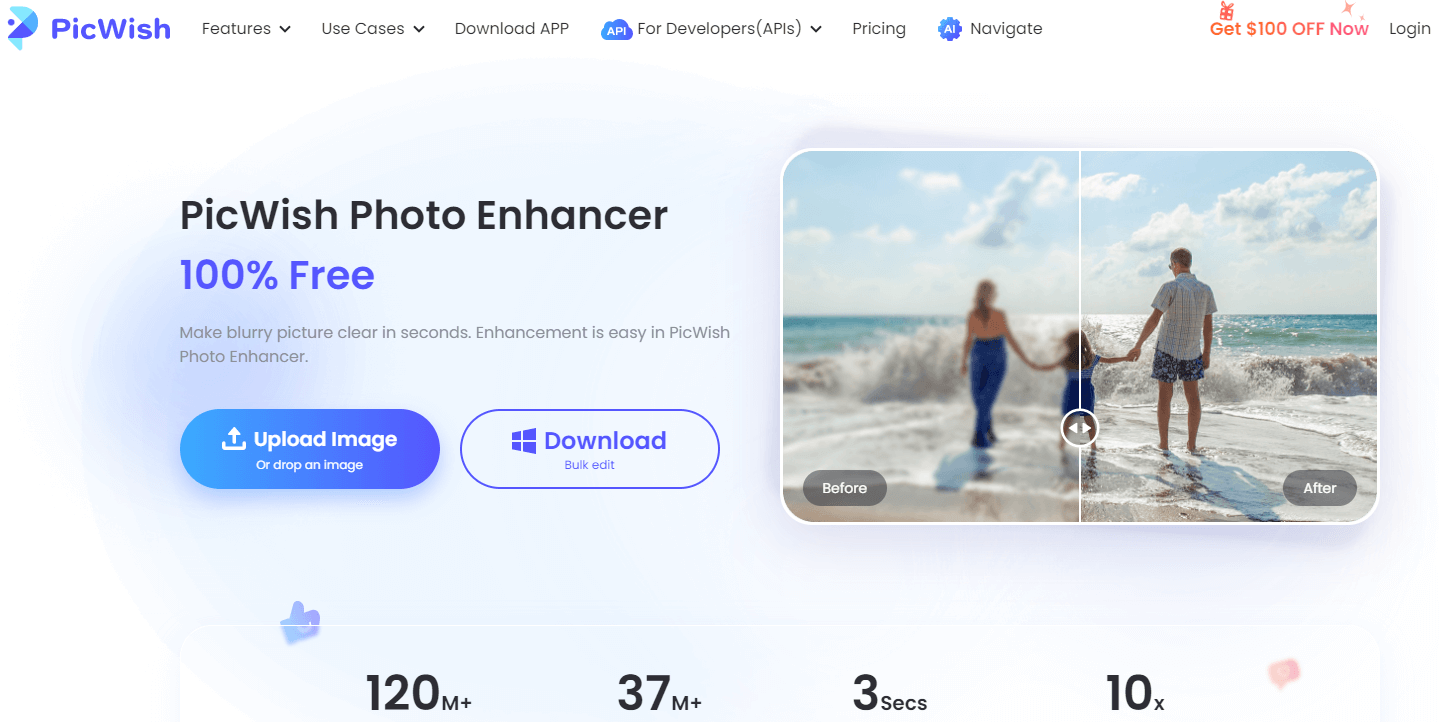 PicWish harnesses the power of artificial intelligence to bring to life a photo editor capable of rapidly and effortlessly deblurring images on the web. This advanced tool is designed to discern and rectify any fuzziness in digital photographs, ensuring superior clarity and detail. In addition to this, it boasts robust color correction functionalities that make it simple to adjust and perfect the color in your photos. It also features noise reduction capabilities that help clean up grainy images, alongside an image enhancement feature to further refine and uplift the overall look of your pictures.
Key Features:
Easy to Use
Pro-Level AI Photo Enhancement
Portrait Retouching
Background Removal
4. Let's Enhance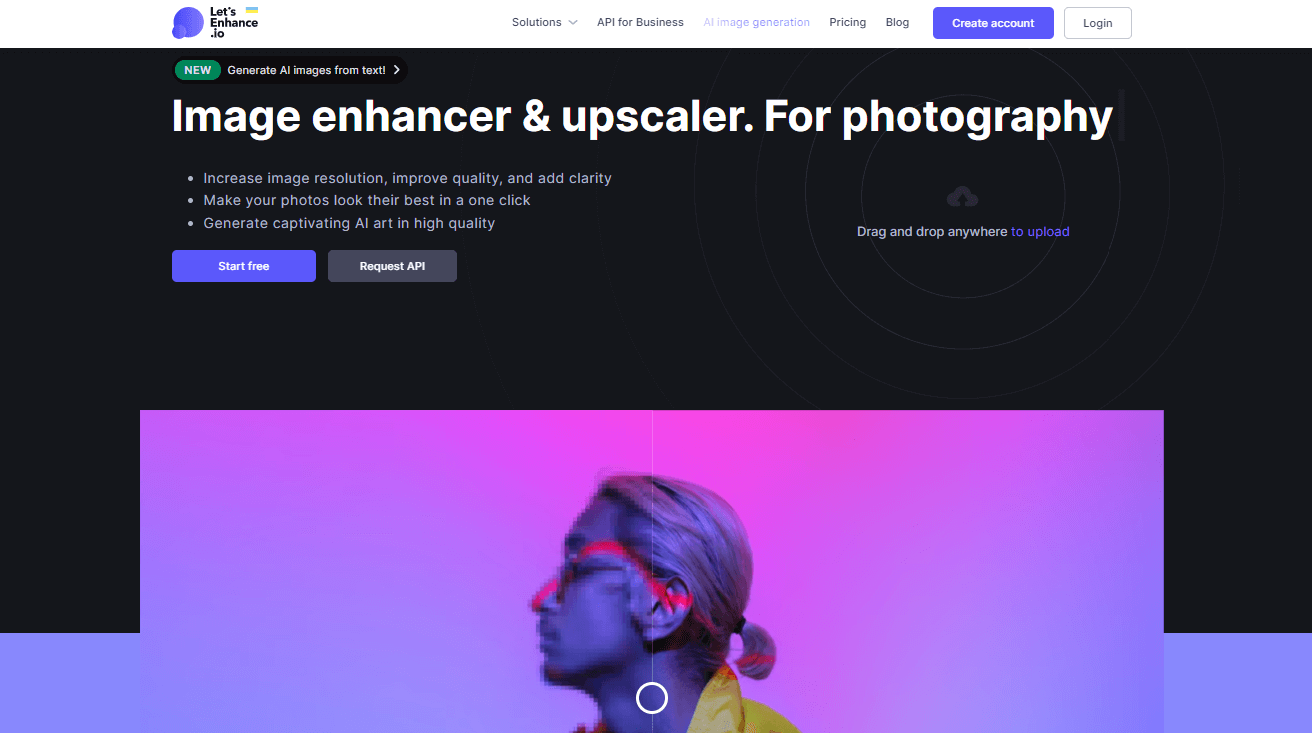 Let's Enhance is a popular AI-powered online photo enhancer that is designed to improve the quality of digital images. The platform employs deep learning algorithms to analyze low-resolution images and upscale them while preserving important details. It can increase the resolution of images by up to four times, resulting in sharper and more detailed visuals. Let's Enhance utilizes a technique known as single image super-resolution, which involves training its AI models on a vast dataset of high-resolution images to learn patterns and enhance low-resolution inputs. Let's Enhance is useful for photographers, designers, and individuals looking to enhance their images.
Key Features:
Enhancement Tools
Object Removal
Batch Processing
Collaborative Editing
5. Cutout Pro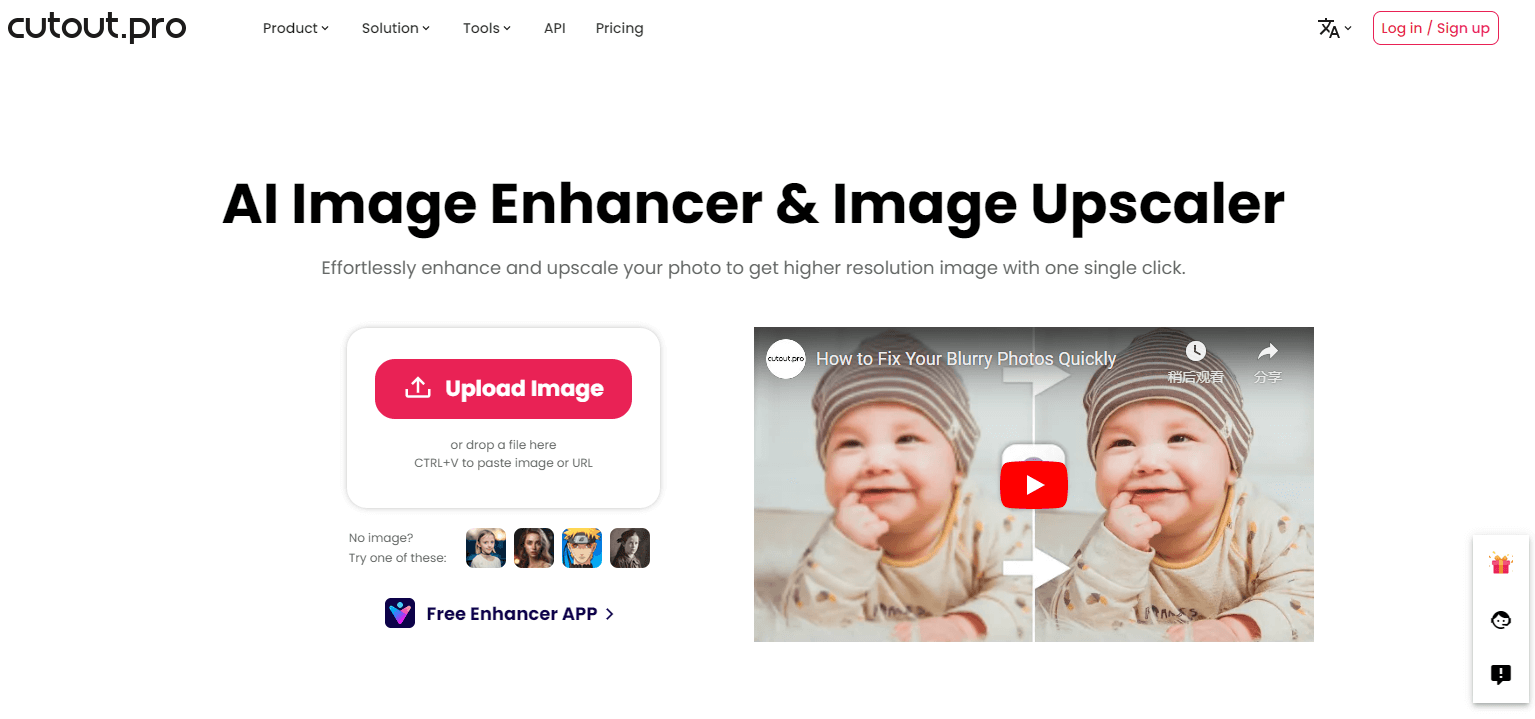 Cutout Pro stands out as an exceptional tool for background removal, catering to professional needs in this regard. However, it's important to note that its capabilities extend beyond just background removal. The software also boasts impressive features as a photo quality enhancer, proving to be a valuable asset in enhancing the overall quality and appearance of images. With Cutout Pro, users can tap into a range of enhancement options to achieve remarkable improvements. Whether you require precise background removal or wish to elevate the visual impact of your photos, Cutout Pro delivers a versatile and effective solution.
Key Features:
Auto Background Erasing
Object Removal
AI-driven Photo Enhancer
6. HitPaw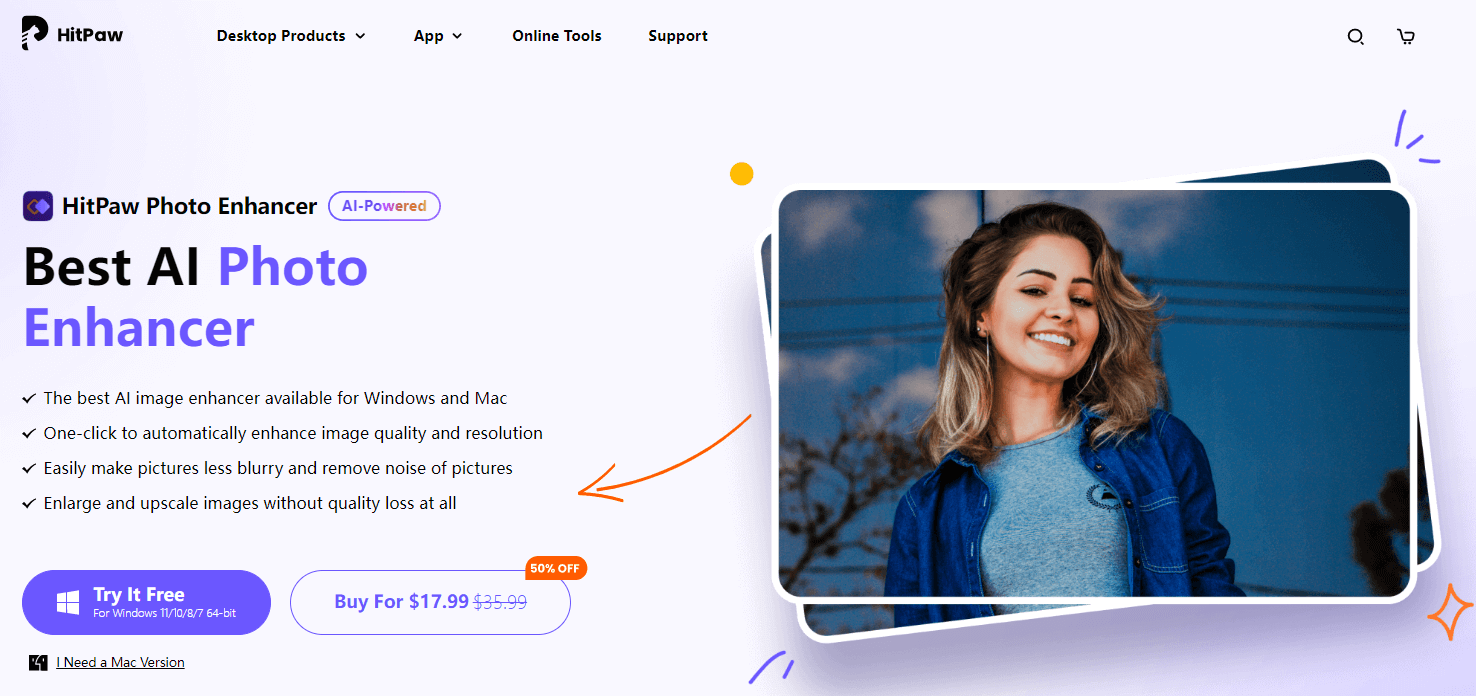 Considered the premier choice for image upscaling, HitPaw Photo Enhancer offers an array of four AI models to cater to various enhancement needs. These models include the General Model, Denoise Model, Face Model, and Colorize Model, ensuring comprehensive and professional-grade enhancements. With the aid of well-trained AI algorithms, this tool elevates your photos to a new level of quality. Moreover, this tool is compatible with both Windows and MacOS operating systems, ensuring accessibility and convenience for a wide range of users.
Key Features:
Auto-retouch Option
Batch Enhancement
Photo Coloring
7. Vance AI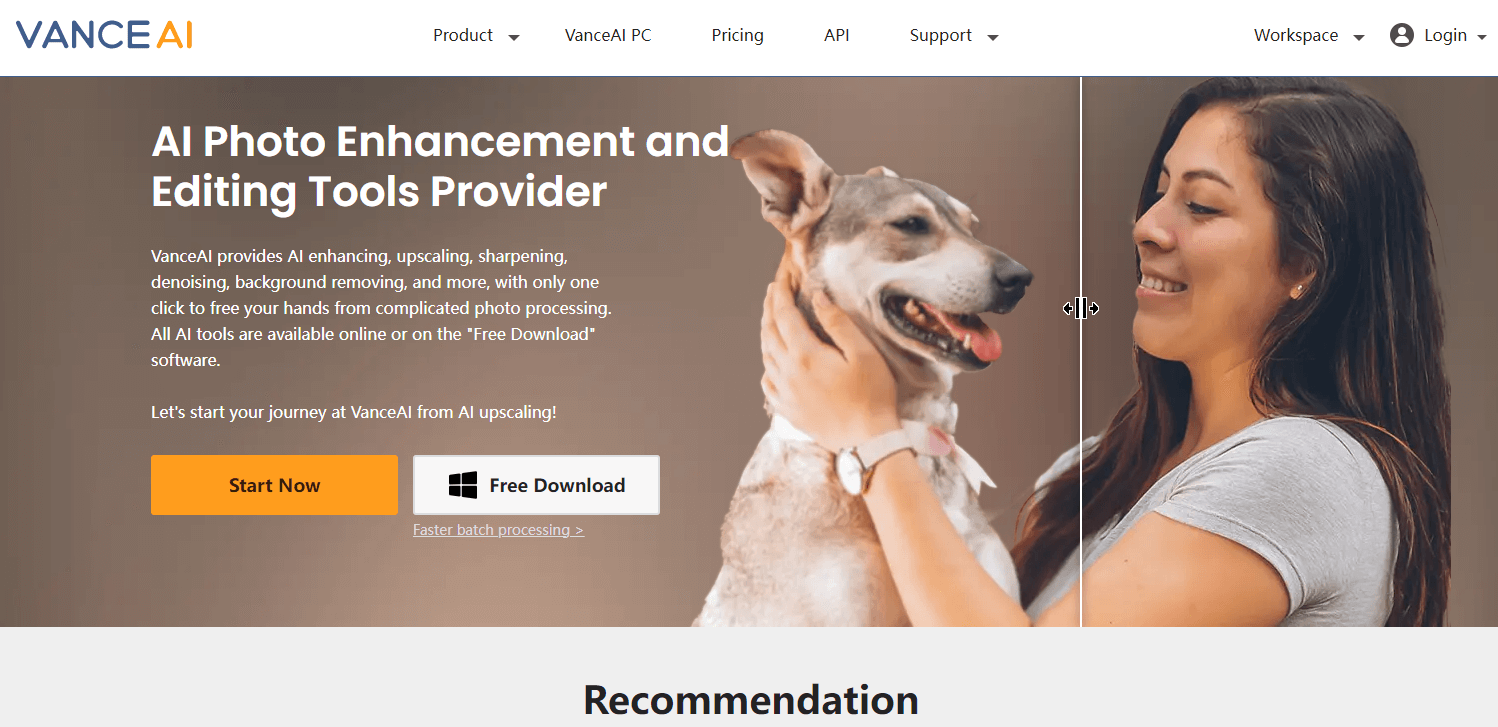 Vance AI is an advanced web-based software designed to enhance images using a comprehensive range of AI-powered tools. With Vance AI, users gain access to a diverse set of image enhancer features that enable them to significantly improve photo quality for a wide variety of projects and tasks. This innovative platform empowers users to enhance their images in numerous ways, providing them with the flexibility to optimize visuals based on specific requirements.
Key Features:
8. Img.Upscaler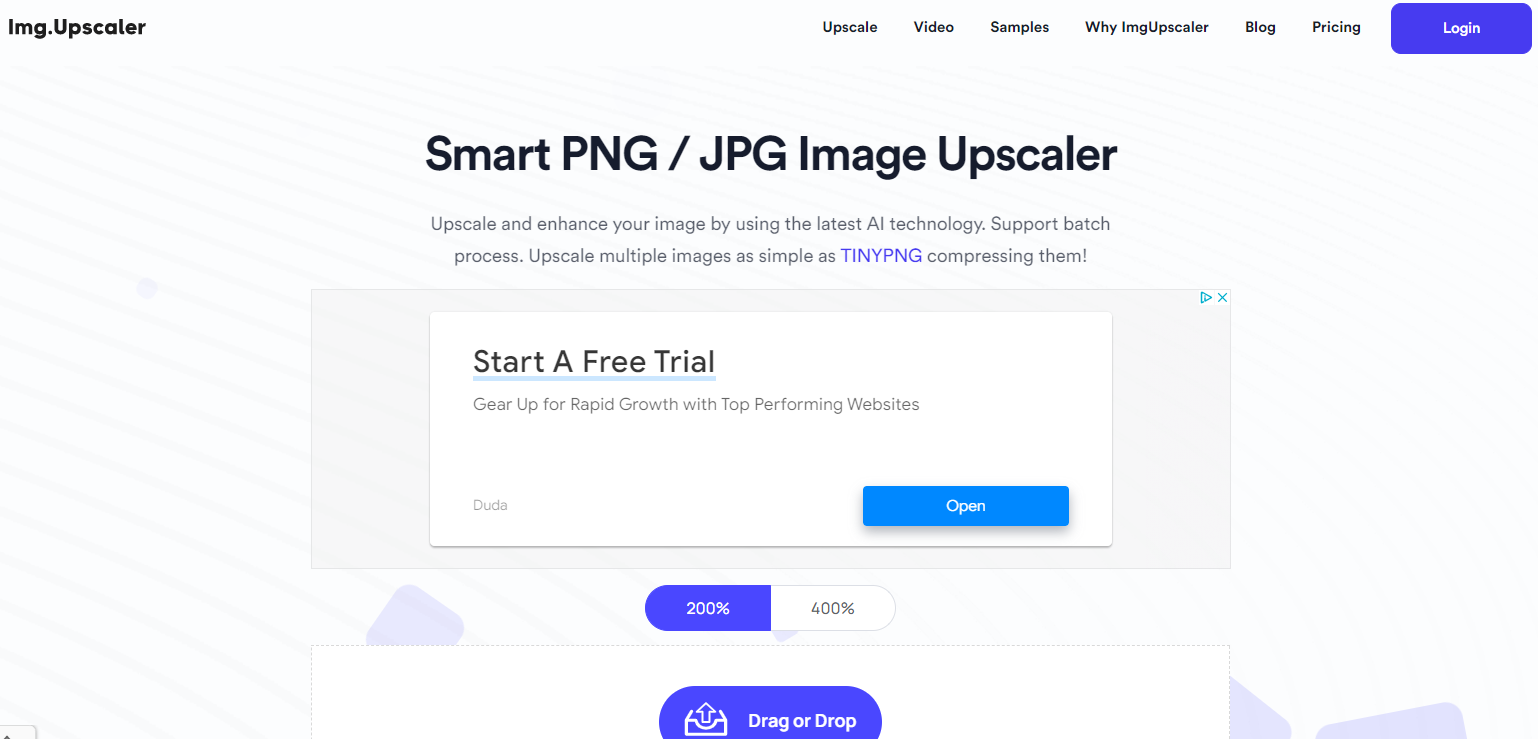 Img.Upscaler utilizes artificial intelligence technology to enlarge images while preserving their quality. It employs advanced algorithms to intelligently analyze and enhance images, allowing users to upscale their photos without significant loss in sharpness or detail. With Img.Upscaler, you can increase the resolution and size of your images, making them suitable for printing, display on high-resolution screens, or other purposes that require larger dimensions.
Key Features:
Customizable Upscaling Options
Fast Processing Speed
User-Friendly Interface
High-Quality Results
Enhance the Image Qaulity with Fotor Online
Having gained knowledge on the 8 best photo enhancers, you might be pondering over how do I improve the quality of a photo? Fear not, we are here to provide a step-by-step guide to help you instantly obtain the ideal photo quality!
Follow these instructions to use Fotor for boosting the quality of your photos:
Firstly, go to fotor.com, and click "Edit a photo".
Upload the image you want to improve the quality.
Next, find the tool "AI Enlarger" on the left tool menu.
Wait for Fotor to enhance your photo, the whole process only takes a few seconds.
After finishing, you can use Fotor's other editing tools and design templates to perfect your photo.
Finally, click the download button to download your photo in HD file format
Conclusion
In this rapidly evolving digital world, having the right tools at your disposal can make all the difference. We've explored some of the best photo enhancer software that can drastically improve the quality of your images. Whether it's through advanced AI, intuitive interfaces, or comprehensive editing features, these platforms offer an array of options to elevate your photo editing skills. Try them now!