As artificial intelligence continues to revolutionize various industries, the world of writing is no exception. Gone are the days when content creation was a time-consuming and laborious task. With the emergence of AI-powered content generators, you can now produce high-quality content faster and more efficiently than ever before.
In this blog post, we'll dive into the top AI writing tools of 2023 that are revolutionizing the way we create engaging, high-quality content. From blog posts to social media captions, these cutting-edge AI tools are designed to save you time, boost your productivity, and ultimately elevate your writing to new heights. So, let's unleash your creative potential and explore the best AI content generators that the industry has to offer!
What is AI Content Generator?
An AI Content Generator is a software or tool that uses artificial intelligence and natural language processing algorithms to automatically create written content. These generators are designed to produce various types of content, such as blog posts, articles, script, product descriptions, and more, based on user input or specific prompts.
AI content writers can save time and effort by generating high-quality, coherent, and contextually relevant content within minutes. They can also help users overcome writer's block, enhance creativity, and maintain a consistent writing style. Many AI text generators rely on machine learning models, such as GPT-3 or its successors, which are trained on vast amounts of data from the internet to understand language structure, grammar, and context.
While AI content creators can be incredibly useful, they may sometimes require human intervention for editing or fine-tuning, as the generated content may not always be perfect or might need adjustments to match the desired tone, style, or specific requirements.
Best AI Content Generators
Let's delve deeper into the 10 best AI content generators of 2023 that are reshaping the content creation industry.
1. Jasper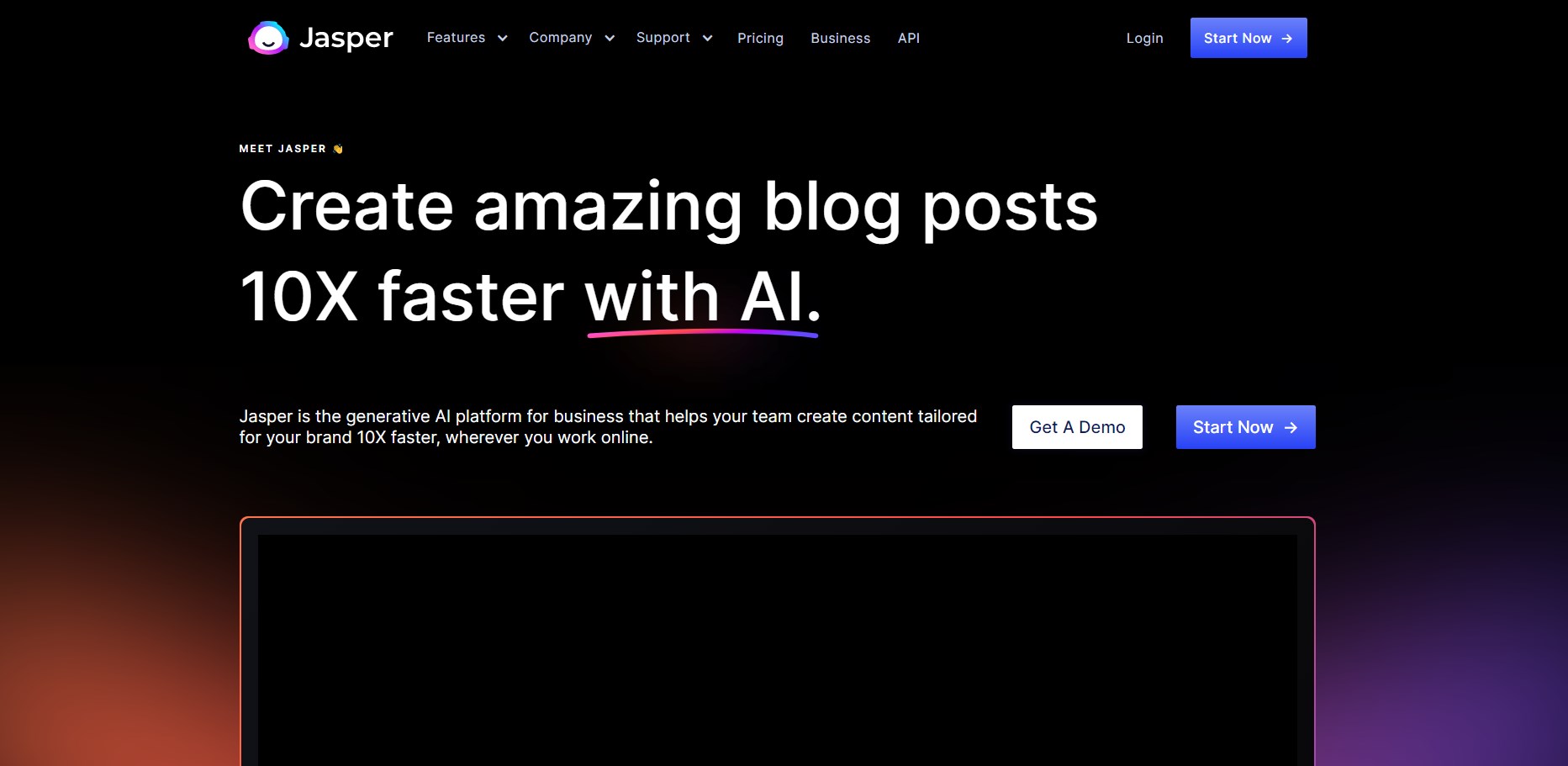 Jasper, formerly known as Jarvis.ai, leads the AI content creation field with its cutting-edge technology. Its prowess lies in generating high-quality content in multiple languages, catering to a global audience. Jasper's range of content includes blog posts, ad copy, and more, offering numerous templates to suit your needs. Its 'Long Form Assistant' is a significant asset for generating comprehensive content, making it an all-rounder in the field.
Key Features:
Grammar correction
Speech synthesis input
Analysis of writing for SEO
Tone settings
2. Rytr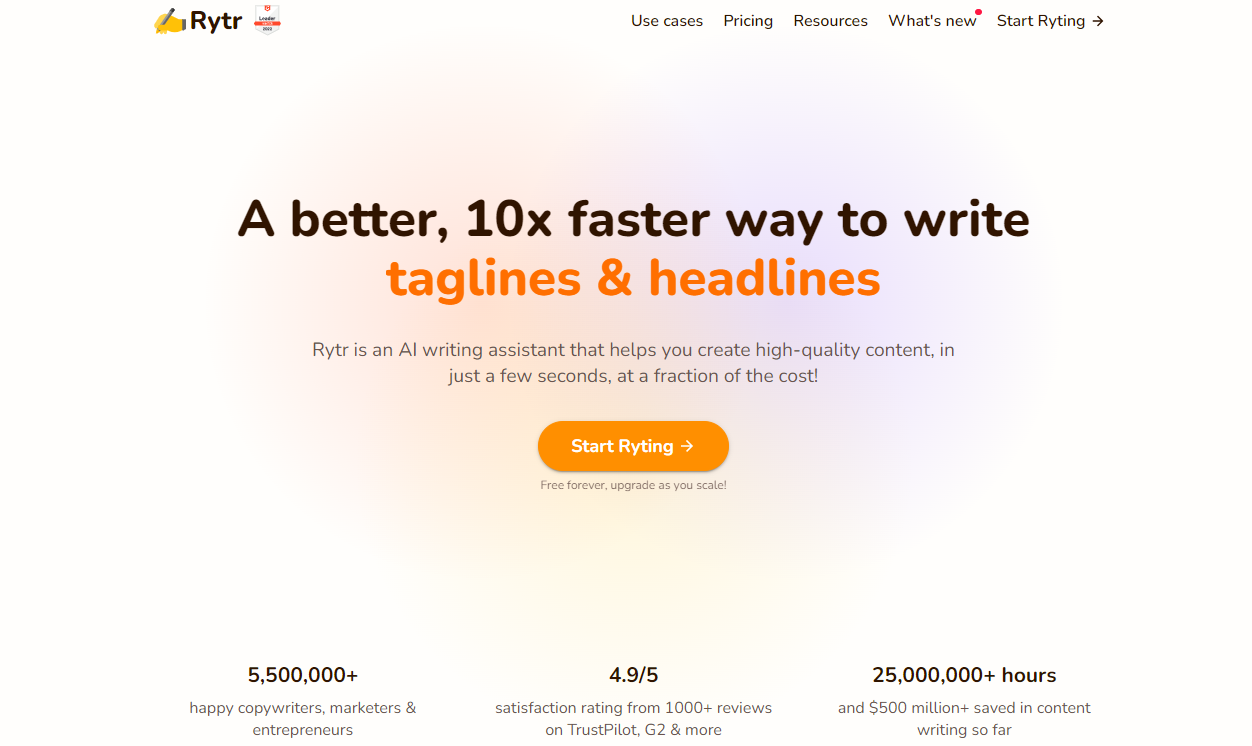 Rytr stands out in the AI content generation arena with its state-of-the-art machine learning algorithms that craft exceptional content. With the capacity to adapt to various tones and styles, Rytr can emulate your brand's unique voice. It supports over 20 global languages, and its intuitive interface makes it a breeze for everyone to use.
Key Features:
Grammar and spelling checks
Content collaboration
Customizable AI models
Image generation
3. GrowthBar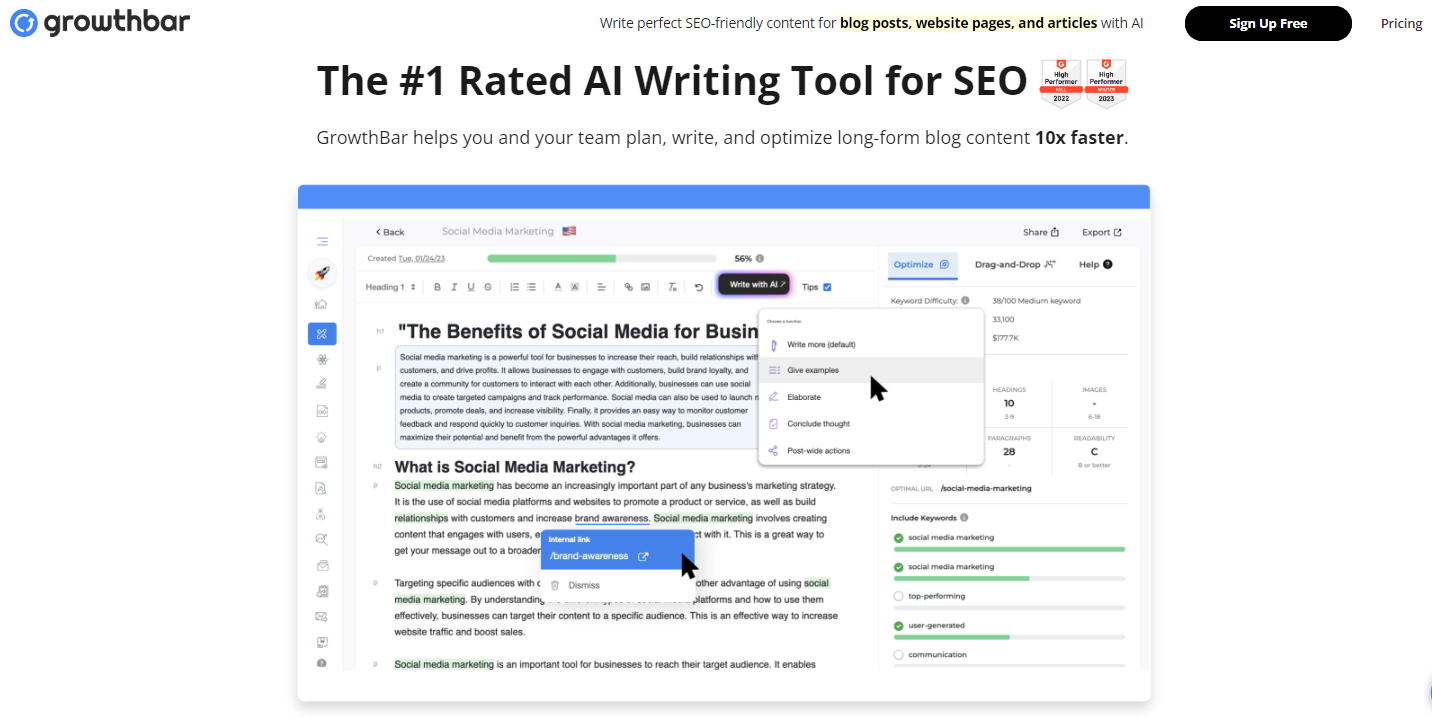 With a distinct focus on SEO, GrowthBar is an AI marketing tool designed to create keyword-rich content that achieves high search engine rankings. A unique feature of GrowthBar is its ability to provide critical SEO insights straight from Google's search results pages. It offers keyword suggestions, backlink data, and competitor analysis, making it a holistic SEO tool.
Key Features:
Lengthy content writing
Seamless integration with WordPress
Tailor-made AI models
Tools for SEO
4. Copy.ai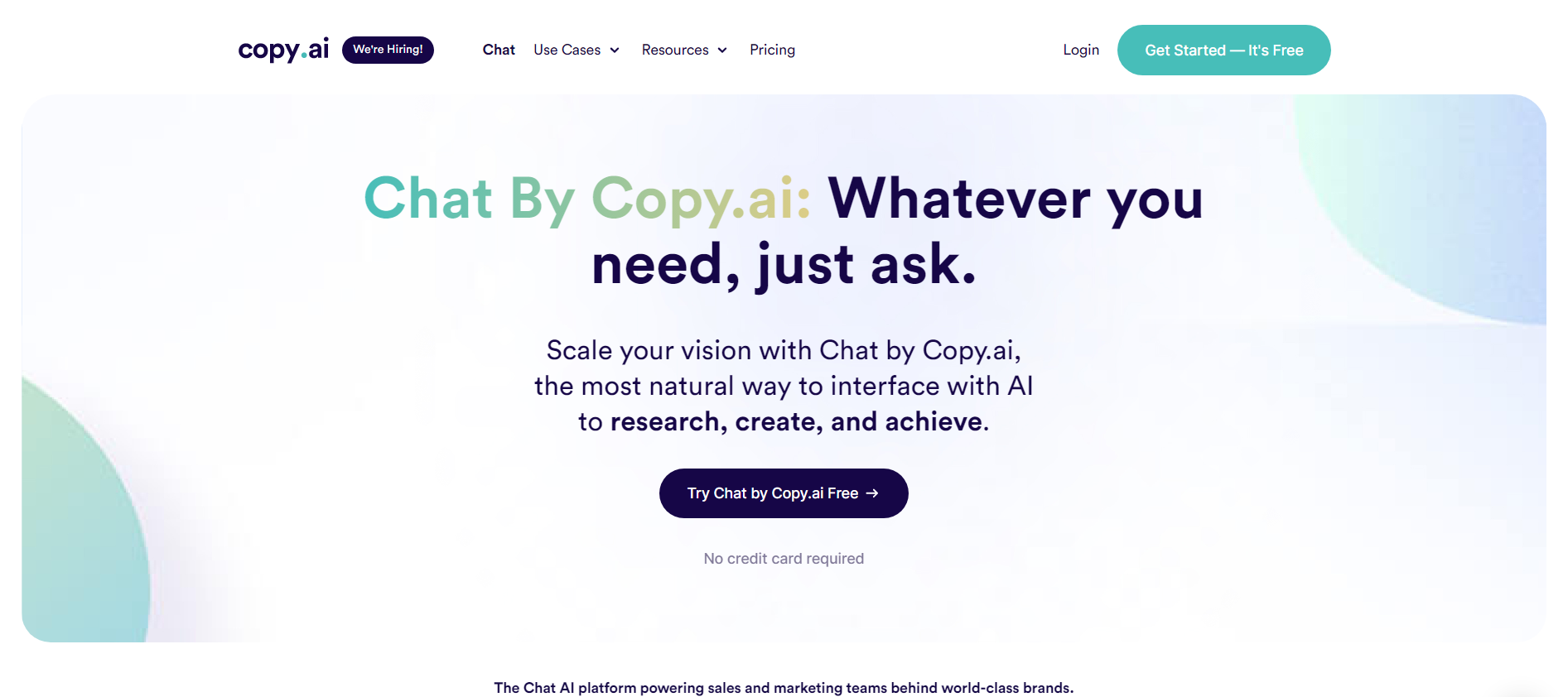 Copy.ai utilizes cloud-based AI technology to specialize in writing compelling copy for various digital platforms. Whether you're crafting social media posts or product descriptions, Copy.ai has you covered. Its 'Brainstorm' feature is especially noteworthy, producing several content variations that can spark your creative process.
Key Features:
Diverse range of templates
Unrestricted project and word limit
AI-powered workflows
5. ContentBot.ai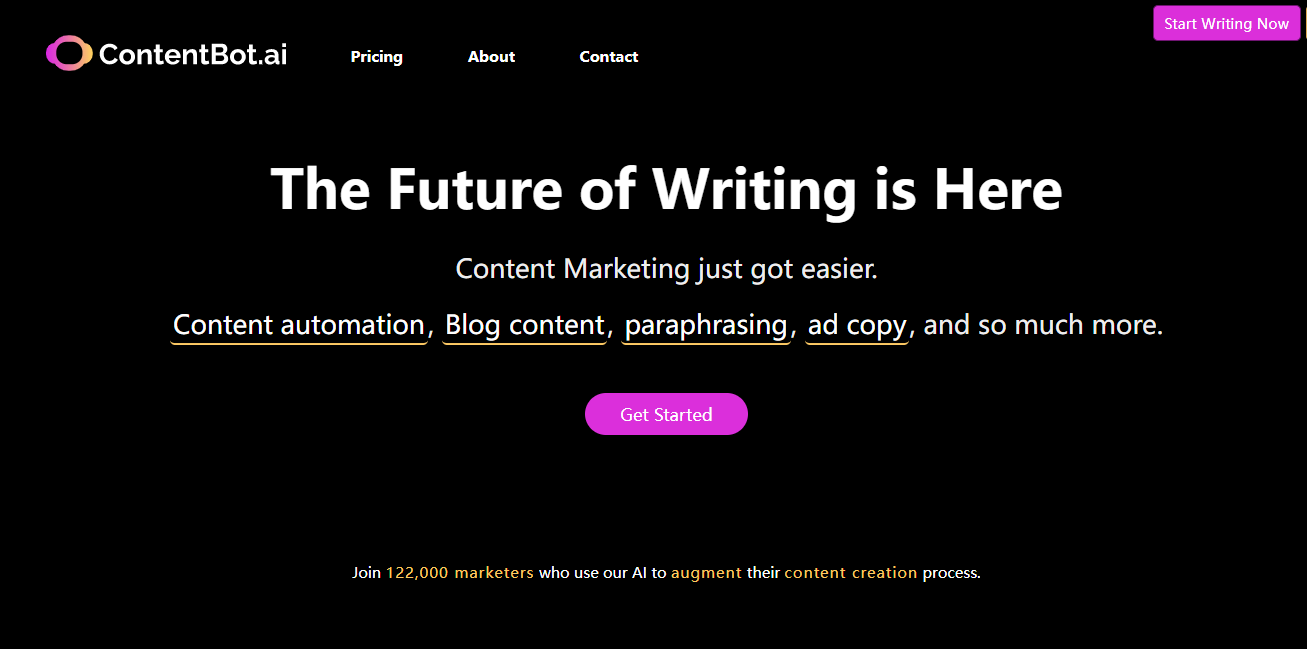 ContentBot.ai serves as your AI-powered writing assistant for creating captivating content. It's adept at a variety of content types, including emails, blog introductions, and bullet-to-paragraph conversions. Its unique 'Deep Rewrite' feature revises an existing article while preserving its original meaning, a valuable asset for content revision.
Key Features:
User-friendly interface
Real-time insights and analytics
Holistic management of campaigns
6. AI WRITER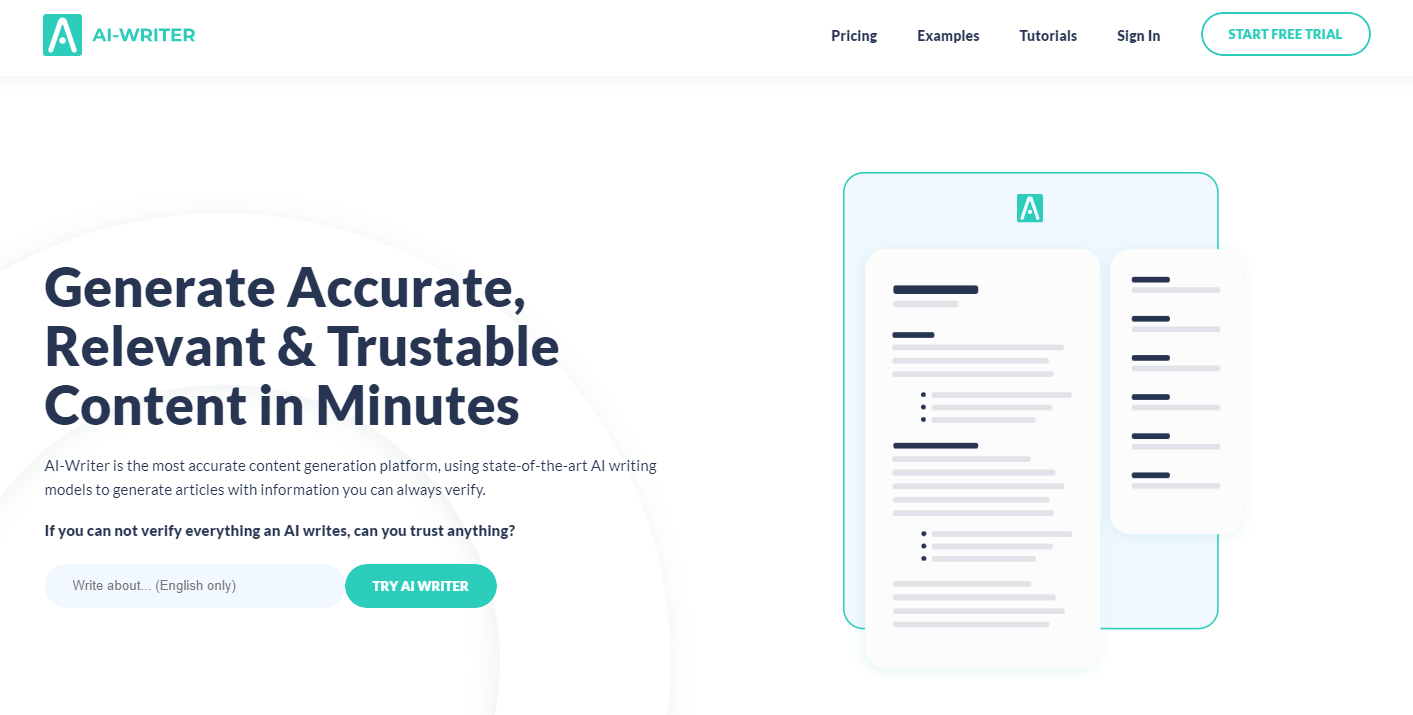 AI WRITER streamlines the content creation process with its robust AI capabilities. It's renowned for efficiently producing long-form content. All you need to do is provide a headline, and the AI will deliver a comprehensive, well-structured draft that you can fine-tune to your preferences.
Key Features:
Multiple content formats
Natural language processing
SEO optimization
Collaboration and workflow management
7. Frase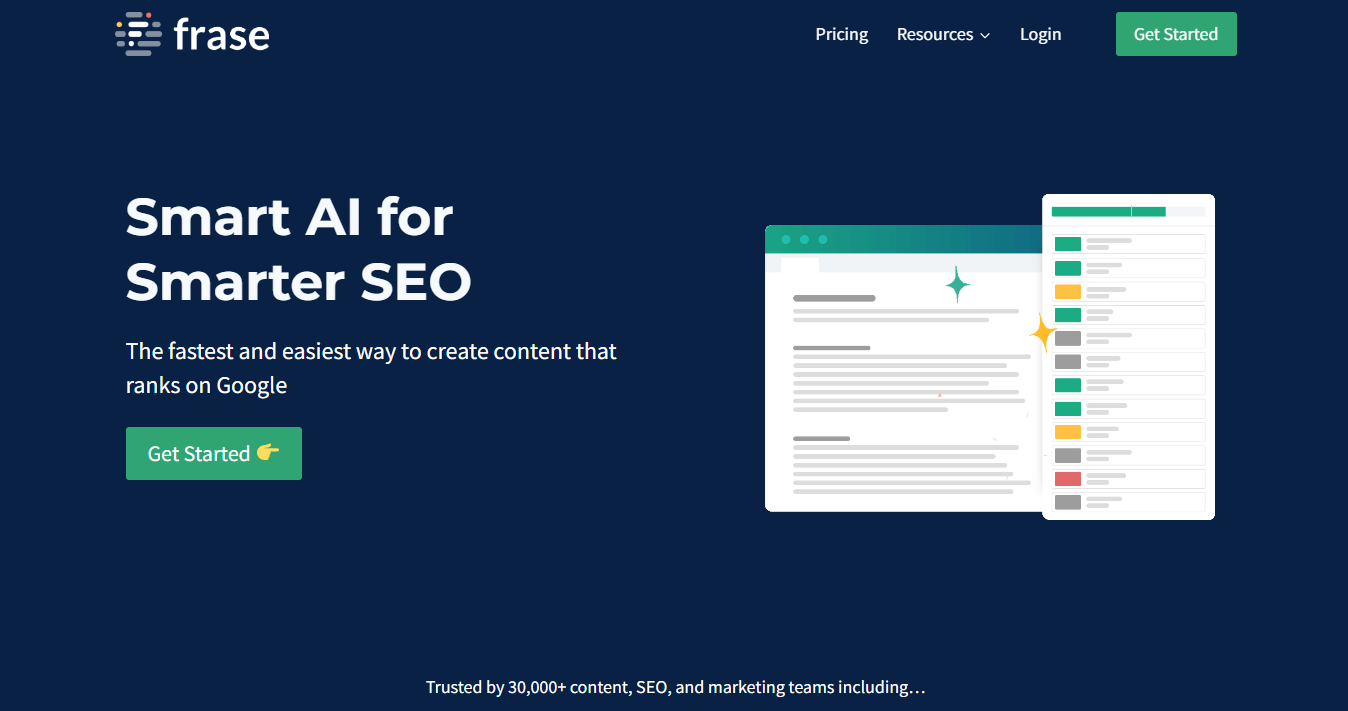 Frase stands out as more than just an AI content creator. It's a complete content optimization tool. Its 'Answer Engine' uses AI to create content optimized for voice search and chatbots, keeping up with the latest trends in digital communication. Its 'Content Briefs' feature offers essential content strategy insights based on competitor analysis and SEO data, making it a powerhouse for content optimization.
Key Features:
SEO optimization
Content research
Content optimization
Analytics and insights
8. Writesonic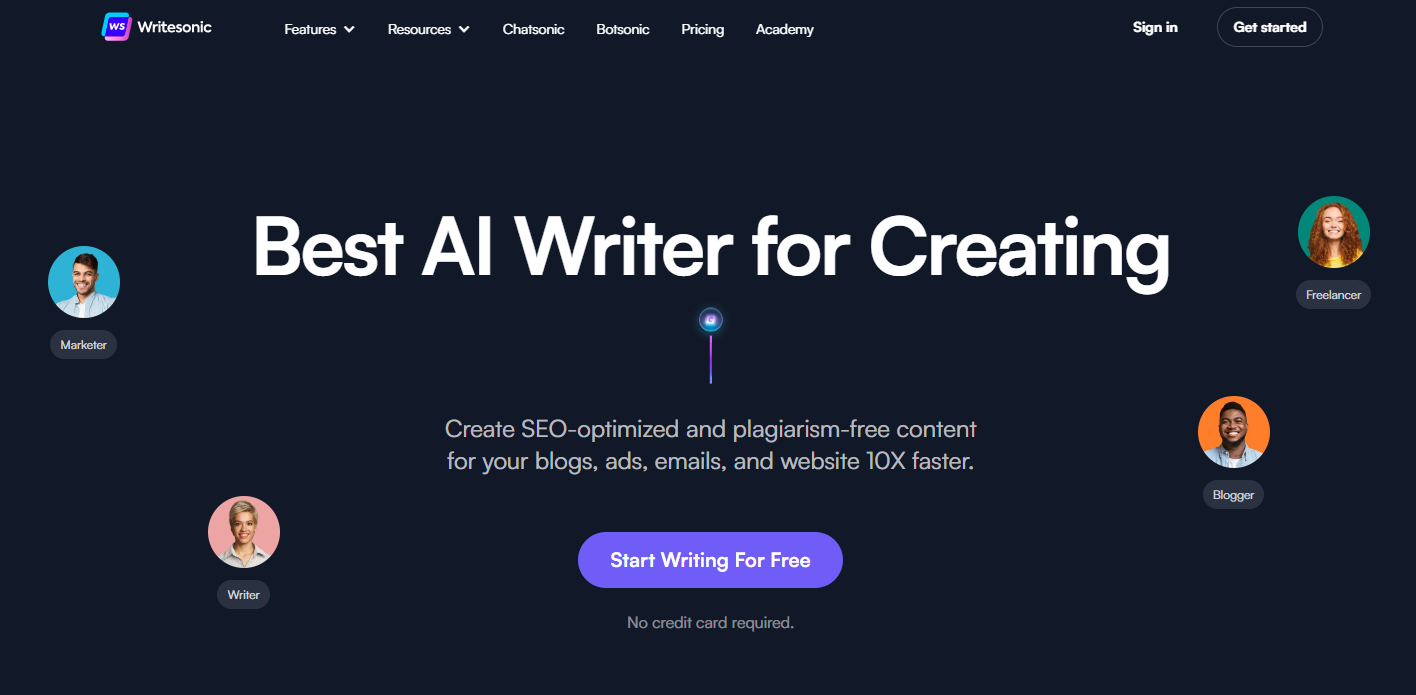 Writesonic employs advanced AI to generate a variety of content, from landing pages and ads to product descriptions. It offers a plethora of templates, but its 'Landing Page Generator' truly shines, crafting compelling landing pages in mere minutes. It's an excellent choice for businesses seeking to enhance their digital presence.
Key Features:
Flexibility in AI content generation
Access to multiple versions of GPT
Integration with Zapier
9. Peppertype.ai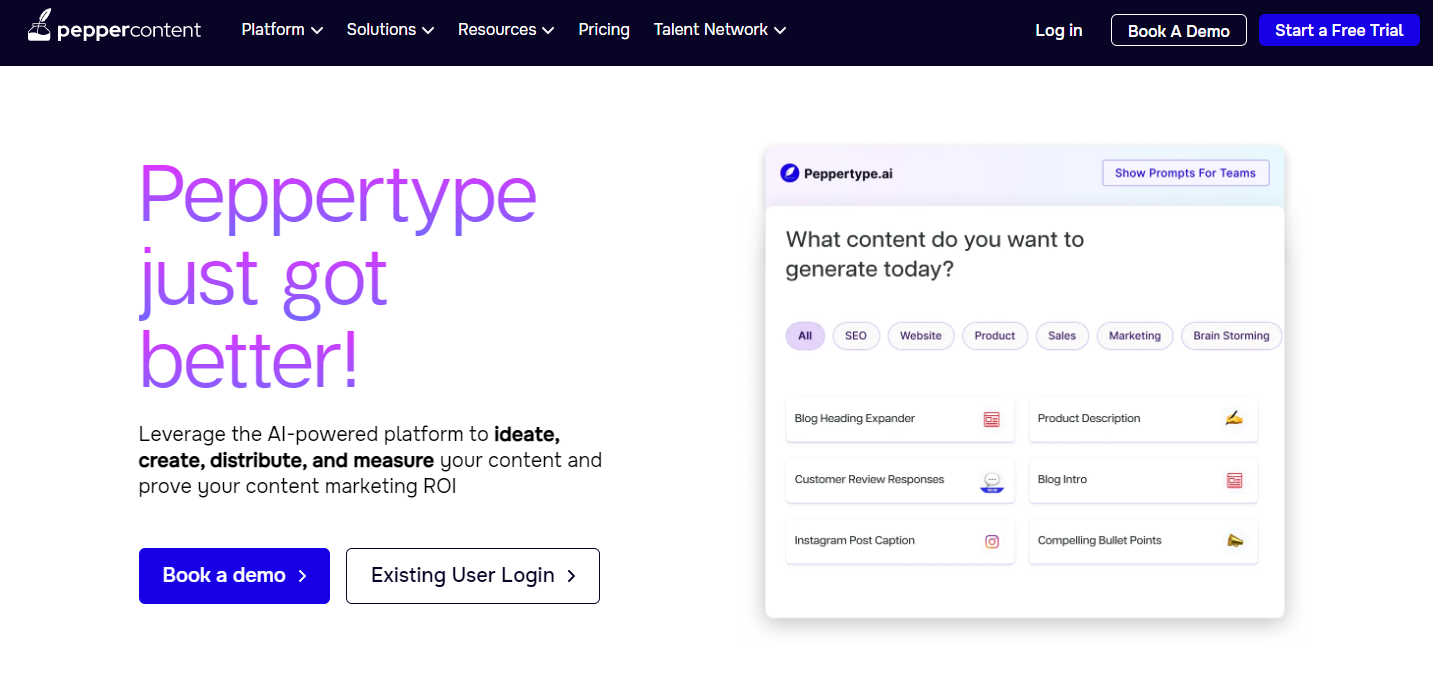 Peppertype.ai is an AI content generator designed to create engaging content swiftly. Focusing on social media, email marketing, and blogs, it's a perfect companion for digital marketers. The 'Social Media Ideas' generator is a standout feature, offering fresh, engaging content ideas for your social media channels.
Key Features:
Fast generation speed
Clean and intuitive user interface
Access to Pepper content marketplace
10. LongShot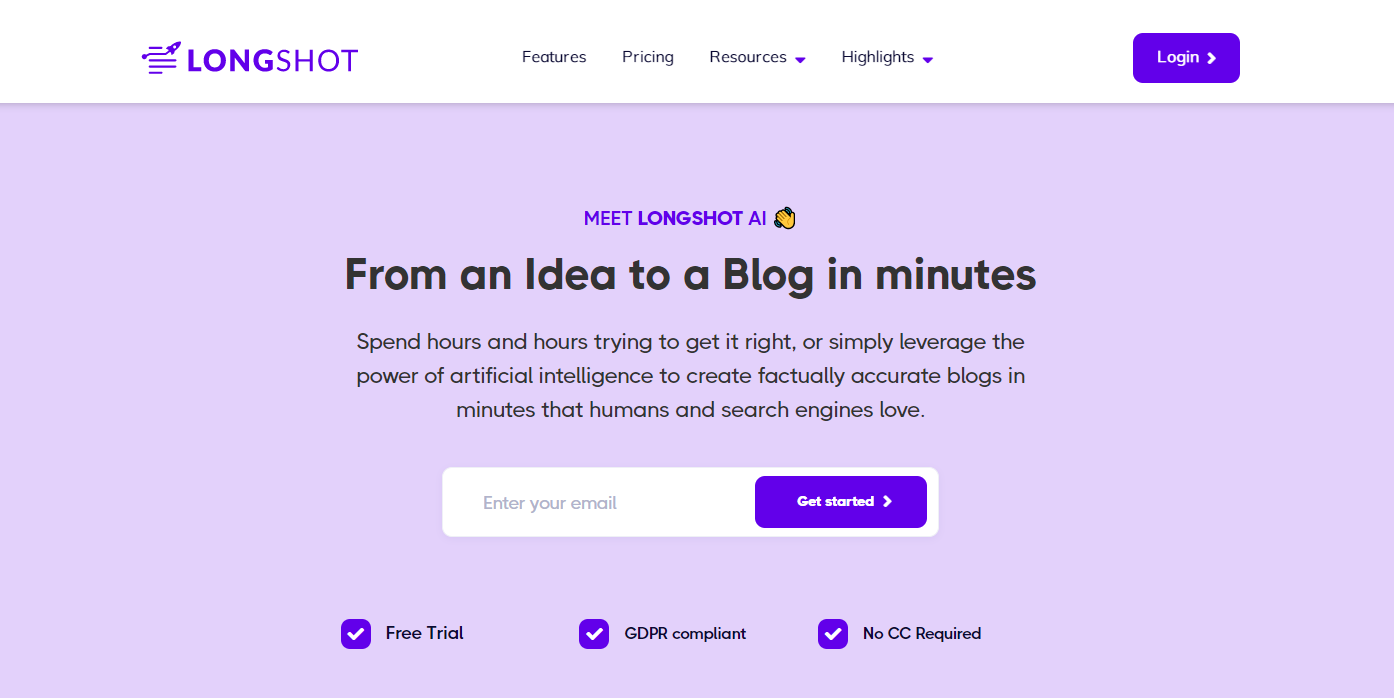 As the name implies, LongShot specializes in crafting long-form content. Its aim is to significantly reduce the time and effort required to create comprehensive blog posts, articles, and reports. It also offers a handy outline feature to structure your content effectively, making it an invaluable tool for bloggers and writers who often deal with in-depth content.
Key Features:
Fact verification tool
Automated fact generation
Personalized template creation
Tips for Choosing the Best AI Content Generator
✔️Identify Your Content Needs
Start by determining what type of content you need: blog posts, social media content, ad copy, or SEO-focused writing.
✔️User-Friendliness
Check the usability of the tool. An effective AI article generator should have an intuitive interface that allows you to easily access all features.
✔️Flexibility and Adaptability
The AI tool should have the capacity to write in different tones and styles to align with your brand voice. Moreover, if your audience is global, ensure the tool supports multiple languages.
✔️Cost-Effectiveness
Evaluate the tool's cost against the features it provides.
✔️Reviews and Ratings
Look at the reviews and ratings from other users to gauge their satisfaction with the tool. This can give you an idea of its effectiveness and reliability.
Remember, the best AI content generator for you depends on your specific needs. Experiment with these tools, understand their strengths and limitations, and find the one that best aligns with your content strategy.
Final Words
As we've seen, AI writing generators have come a long way in recent years, offering impressive capabilities and a wide range of applications. By embracing these innovative tools, you can streamline your content creation process, enhance the quality of your writing, and stay ahead of the competition.
So, go ahead and try out the best AI content generators and unlock your true creative potential.