Writing can be a challenging task, even for experienced copywriters. Fortunately, AI writing tools have come to content creators who want to save time and resources while creating high-quality content.
In this post, we'll discuss the 8 best AI writing tools to solve your writing problems. Whether you're struggling with grammar, clarity, or creativity, AI writing tools can be used to help you take your writing to the next level. Whether you're a professional writer, a student, or just someone who enjoys writing, these ai writing tools can make the process easier and more efficient.
What Is AI Writing Tools?
Artificial intelligence writing tools are computer programs that use AI to assist with writing tasks, such as proofreading and editing. They can help identify and fix typos, grammatical errors, and other common writing mistakes.
AI writing tools are designed to help writers generate ideas, organize their work, and optimize their content for search engines. They can provide personalized services such as grammar correction, sentence structure optimization, and more.
GPT-4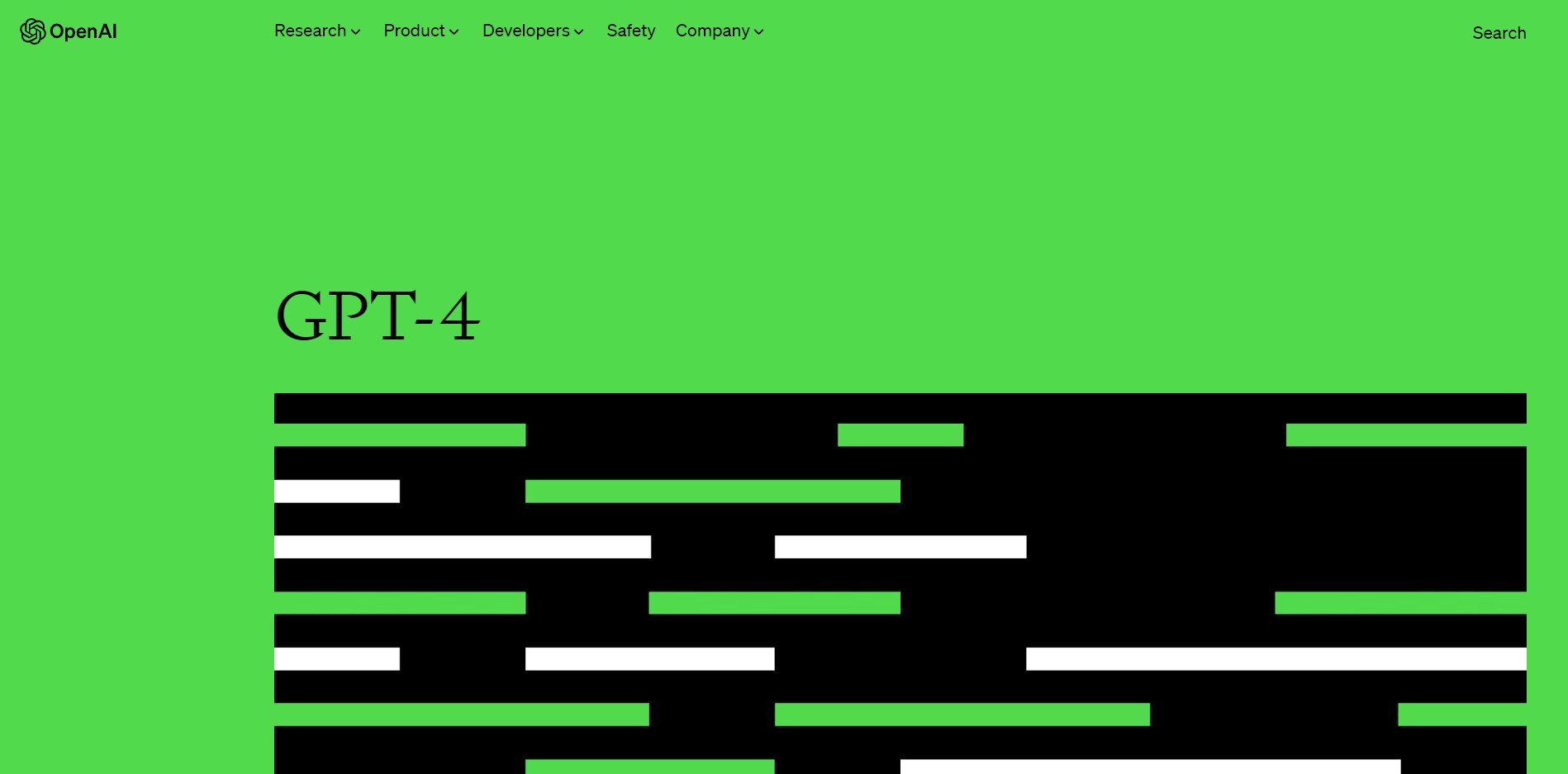 GPT-4 (Generative Pre-trained Transformer 4) is an artificial intelligence writing tool developed by OpenAI, a research lab specializing in artificial intelligence.GPT-3 is an advanced natural language processing model, the latest in the GPT family of models. It is a powerful tool for writers who need assistance in creating content.
Pros:
Can be used for a wide range of content types, including articles, emails and social media posts.
Generate human-like text
Adaptable and can learn from user input to improve its output.
Cons:
cost of using GPT-3 may be higher than other ai writing tools.
take more time to generate text than pre-trained model tools.
Jasper.ai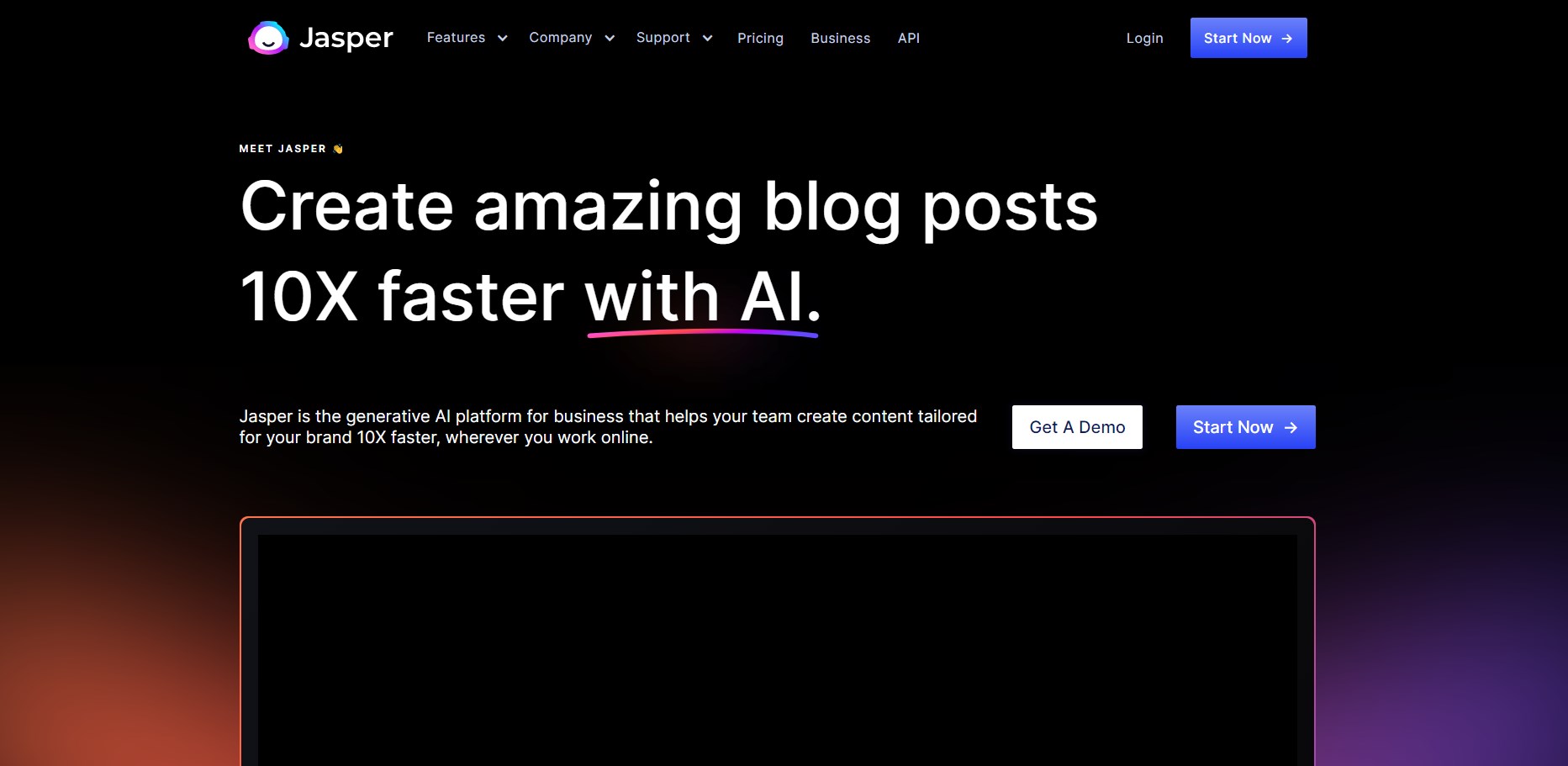 Jasper.ai is an artificial intelligence-powered content creation and optimization platform that offers a range of automated writing tools. It uses advanced natural language processing (NLP) technology to provide an efficient way to create content quickly. The platform includes various features such as automatic content creation, content optimization, text reconstruction, etc.
Pros:
Automatic editing and refactoring tools can help improve the quality of content.
Multi-language support.
Over 50 templates for you create different content types.
Pre-made Recipes.
Long-form assistant is available.
Cons:
Can be a bit expensive.
Inaccurate understanding of context and meaning may lead to unnatural sentences.
Rytr.me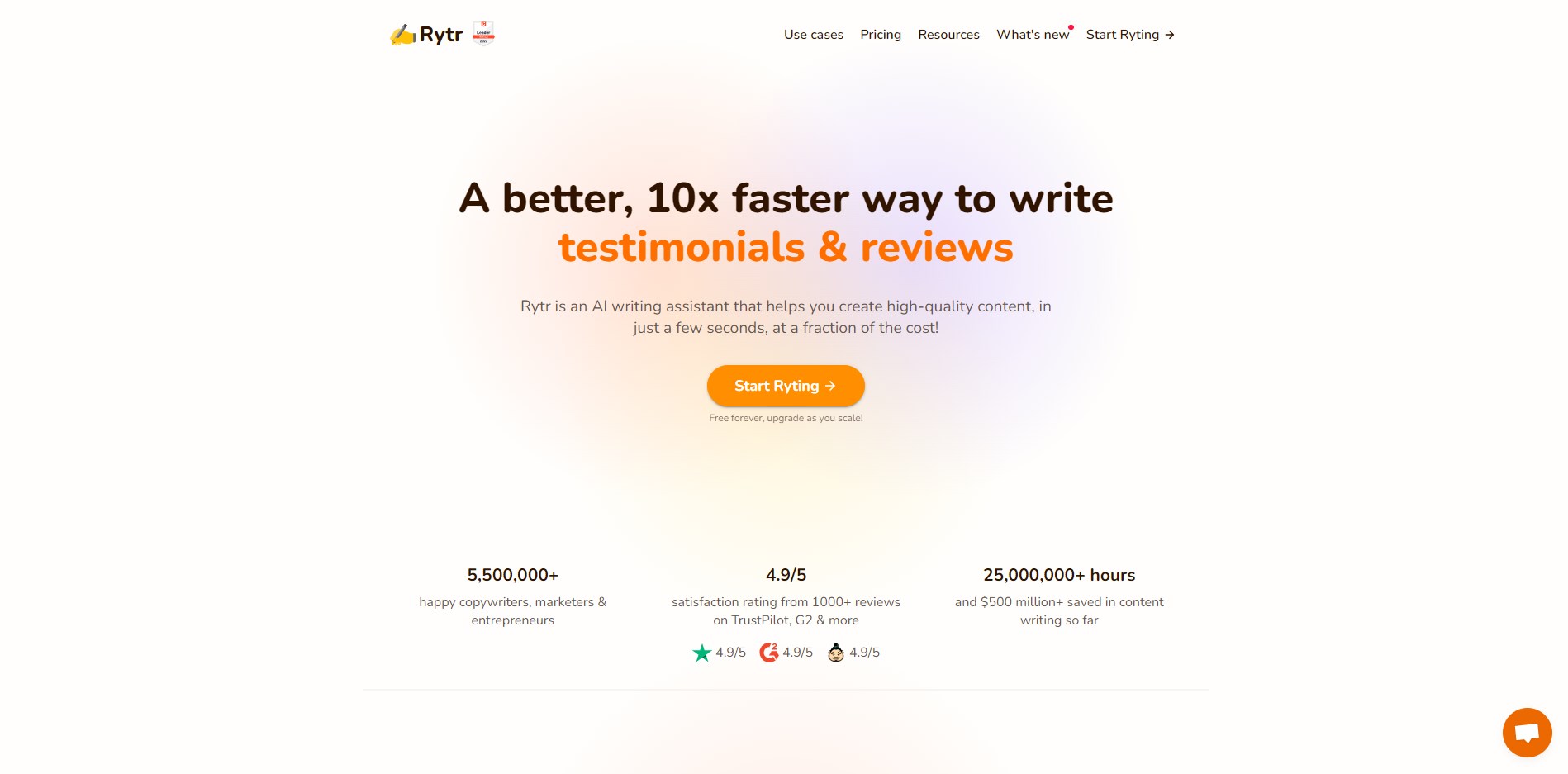 Rytr is an AI-powered writing tool that is perfect for novices. Simply select a use case (template), enter some background information, and the tool does the rest of the content creation.Rytr.AI's use of NLP algorithms will read your text and provide personalized suggestions on how to improve it through grammar, word choice, or improved clarity. It can also identify popular keywords so you can find the best ones to use for SEO purposes and ranking.
Pros:
Easy to use and customize, newbie friendly.
Automatically corrects errors in your writing.
Generates useful suggestions for improvement.
Support for multiple languages.
Good at finding keywords that will help you rank higher in search engine results pages (SERPs).
Cons:
Its output may require some editing or customization to fit specific requirements.
Not suitable for complex content.
The final content still needs some tweaking/editing.
Limited range of features compared to other AI tools.
Quillbot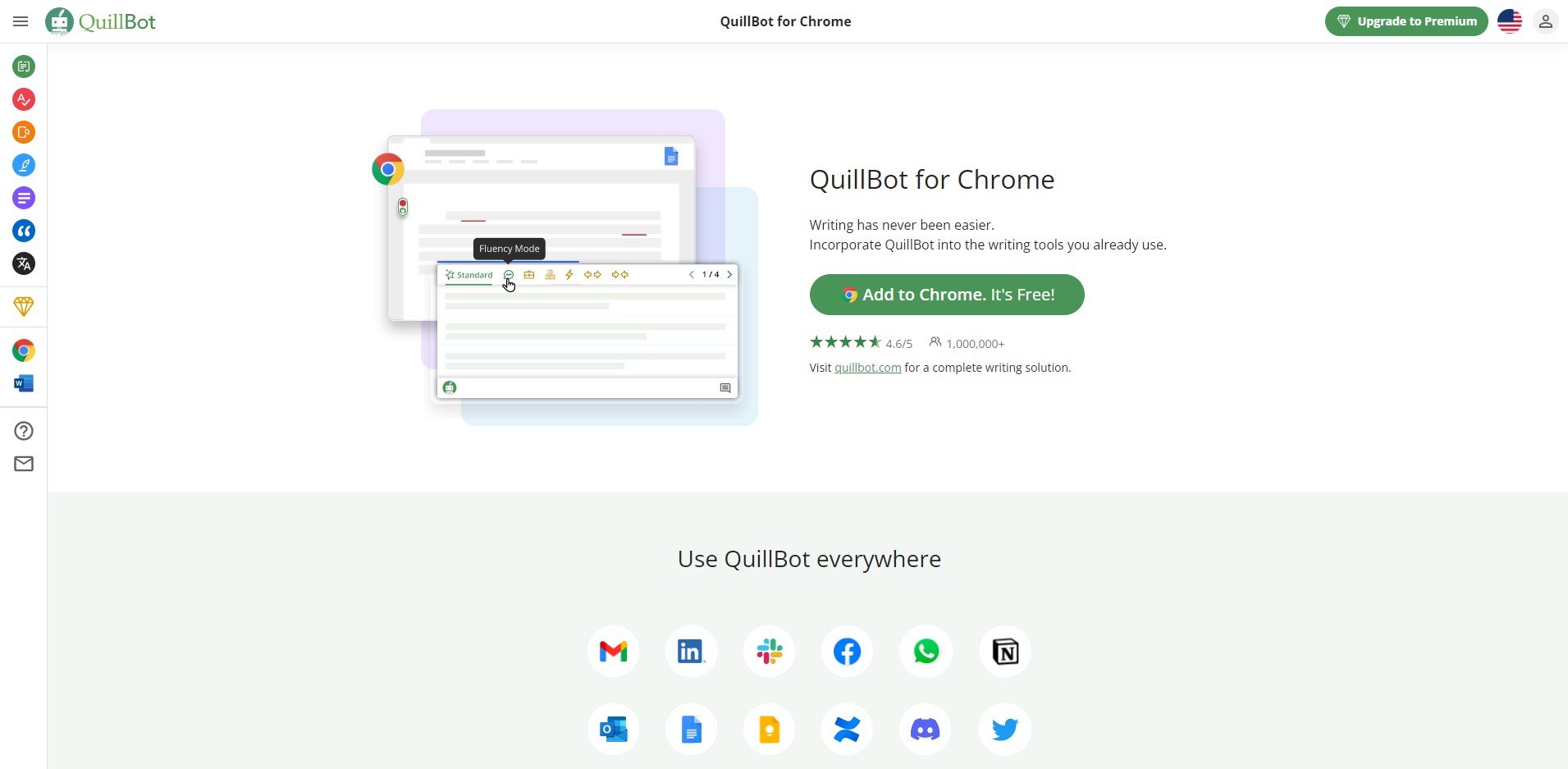 Quillbot is also a very popular artificial intelligence writing tool that takes text input and assists you with paraphrasing, checking grammar, identifying plagiarism, etc.
QuillBot's core function is a paraphrasing tool that helps people rewrite and improve sentences, paragraphs or essays. It can rephrase your thoughts and ideas by changing vocabulary, tone and style to make them more coherent and fluid. Easily customize your text using the slider function as well as the mode selection to adapt the output to your writing needs.
Pros:
help improve vocabulary and language skills.
Integrates with multiple platforms.
Provides additional writing tools and features.
Cons:
Only available in English.
Limited customization options in the free version.
Writesonic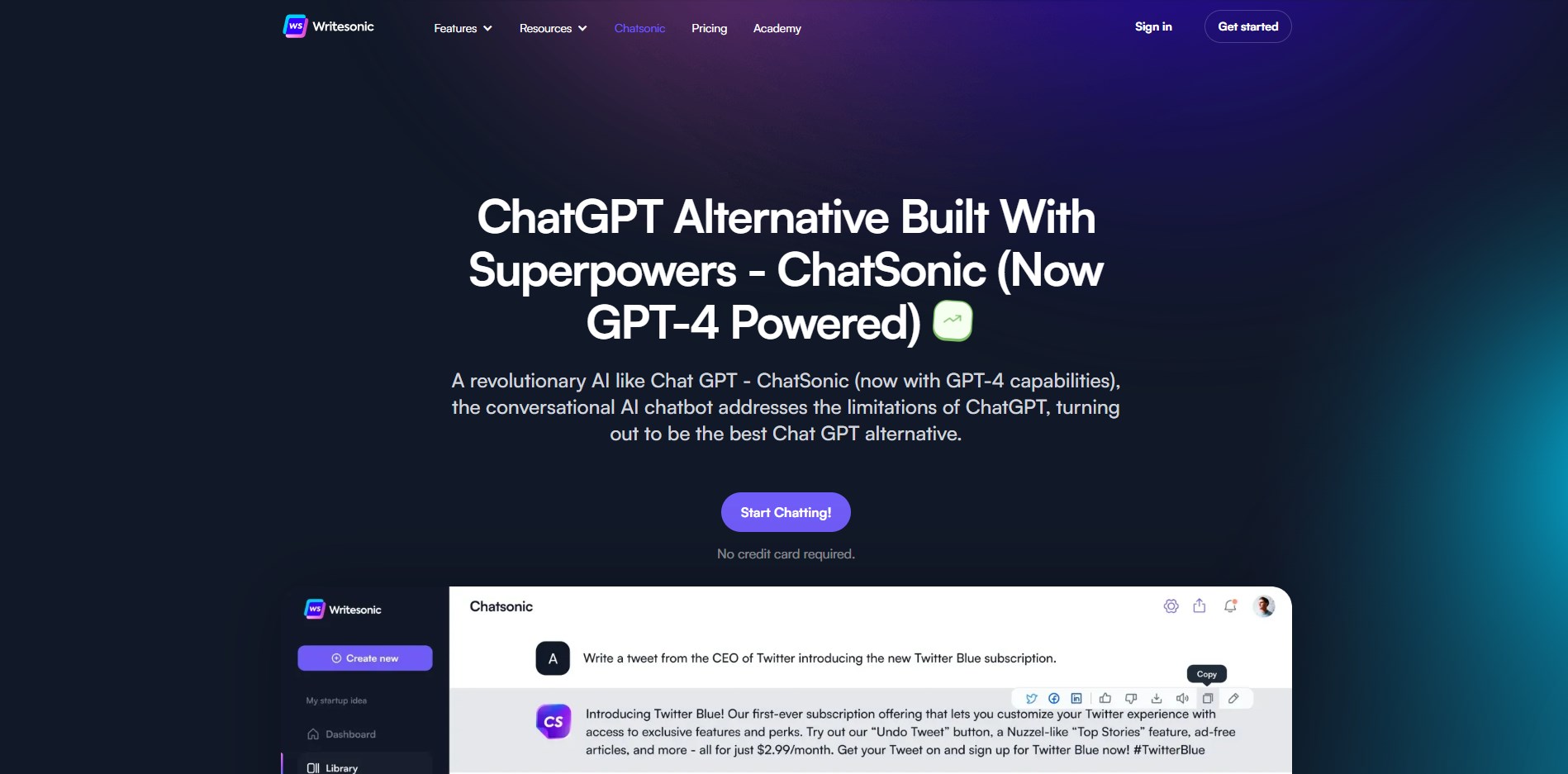 Writesonic is an artificial intelligence writing tool that generates high-quality content quickly and easily. Writesonic can help automate the writing of marketing copy, with a large number of templates that can help you create any content, whether it's advertising copy or product descriptions.
Writesonic is a general automatic article writing software, at least in terms of functionality. It has templates to get you started, a simple content creation process, and support for multiple languages.
Pros:
It offers a range of content creation options, including blog posts, social media posts, and product descriptions.
Advanced machine learning algorithms to generate search engine optimized content.
Simple process for content creation.
Cons:
May not be suitable for more complex content types.
Its output may require some editing or customization to fit specific requirements.
Copysmith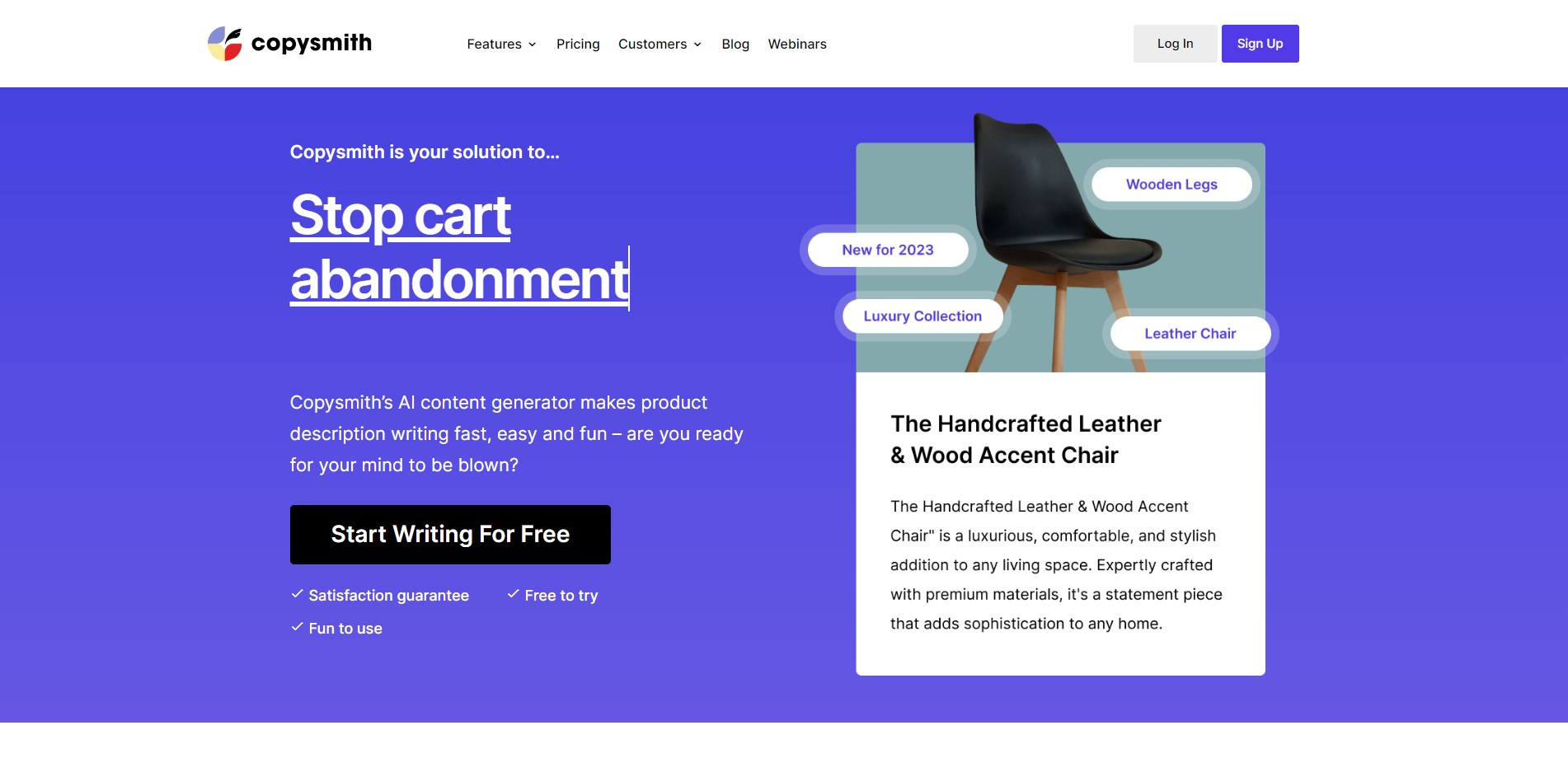 Copysmith is an artificial intelligence-powered writing tool that quickly and easily helps users generate content for their blogs or websites. It also provides an easy way to share and promote the content that has been created.
The platform offers a range of tools to help people generate different types of content, the most popular of which is the Article Builder, which allows users to build articles from scratch. The tool uses artificial intelligence algorithms to create unique texts with the user's writing style. It ensures that your campaigns are effective for both your customers and your business. It offers a wide range of content for customers, including blog posts, landing pages, sales pages and webinars.
Pros:
Uses machine learning algorithms to analyze content and generate similar content in seconds.
Provides a user-friendly interface and templates for a variety of different types of content.
Supports one-stop creation, organization and editing of text.
Cons:
Its output can be limited in terms of creativity and originality.
Requires some editing or customization to make it truly unique.
Ink for all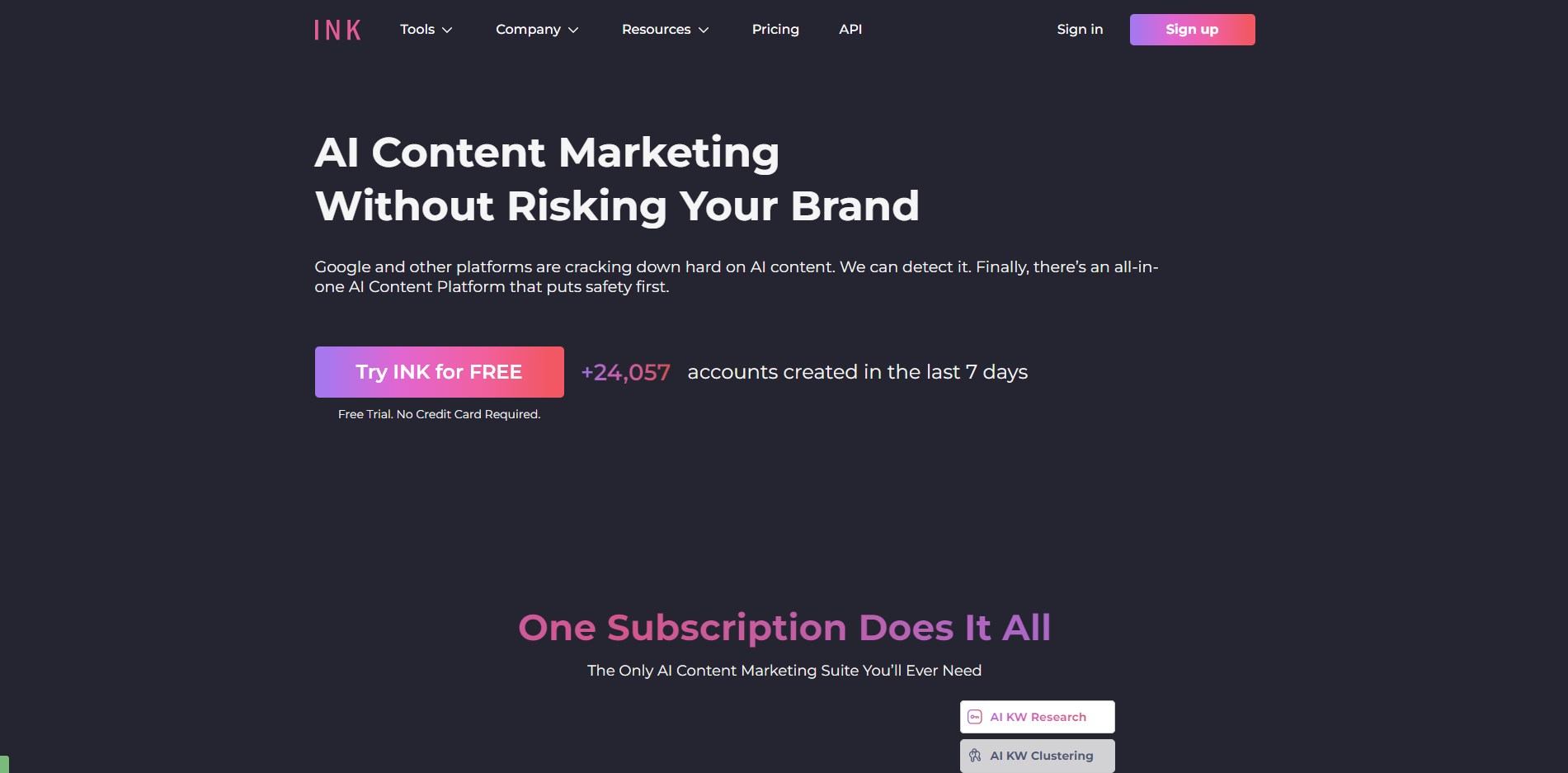 Ink is an all-in-one text editing and SEO writing tool that makes it easy to find and publish quality content. With Inkforall, you can quickly find and curate content from around the web, and then publish it to your website or blog with just a few clicks. In addition, Inkforall's built-in SEO tools help you optimize your content for search engines, so you can write and rank at the same time.
Ink supports instant rephrasing of your content with a single click. And, thanks to a Chrome extension, you can write with Ink from anywhere.
Pros:
PPC copy and landing page text generation.
Built-in SEO-optimized long-form editor.
Writing tools including noun checker, verb finder, part-of-speech checker, paragraph counter, etc.
Image optimization - compression and resizing.
great support for documents and videos.
Cons:
Interface can get cluttered.
No free plan.
Anyword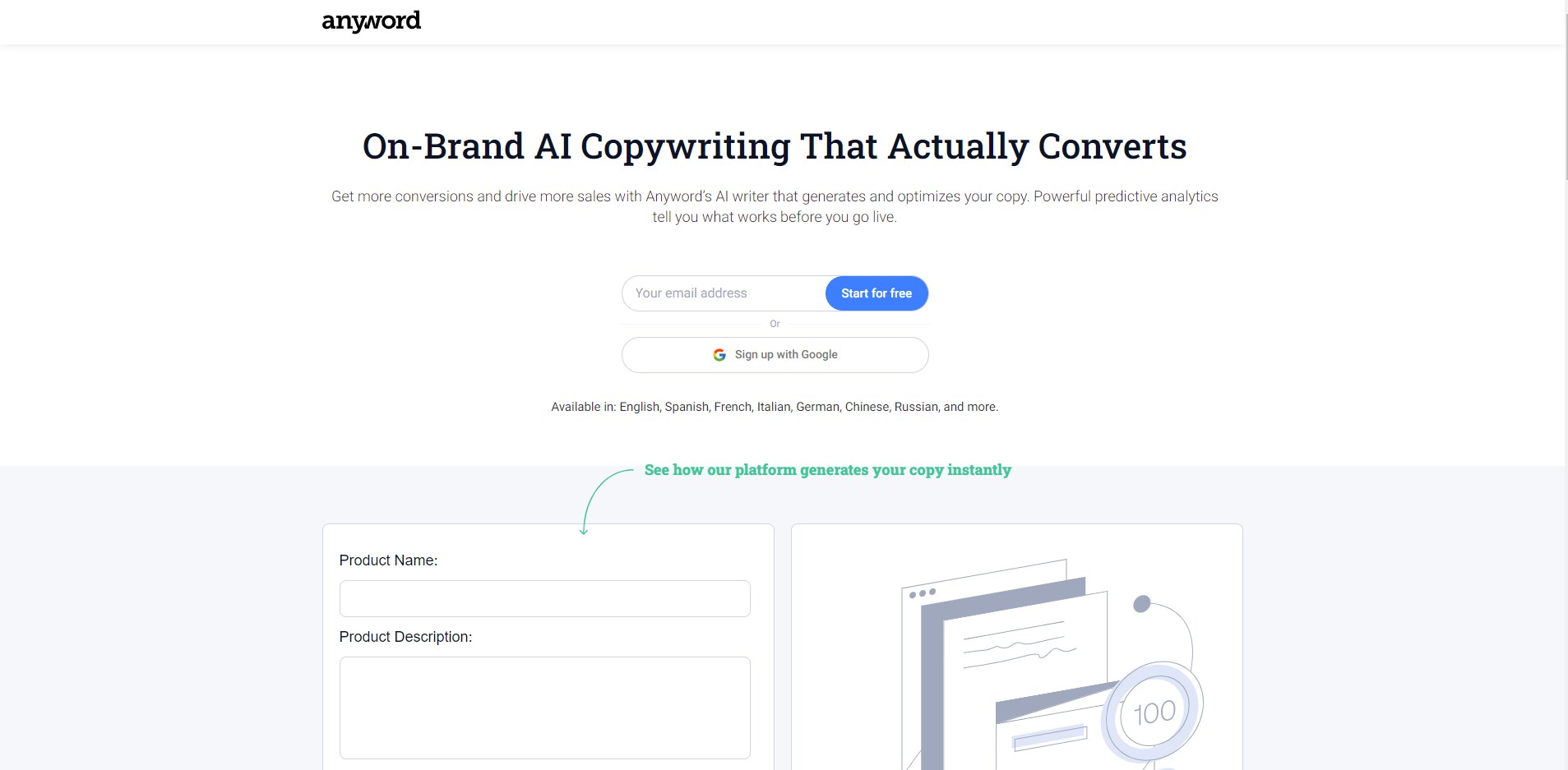 Anyword is a data-driven copywriting tool that is designed for marketers. It generates effective copy for ads, emails, landing pages and content across different platforms. Anyword empowers creative marketers to add data to their toolbox by providing predictive metrics and insights into what part of the message is working and for whom.
If you need an AI writer who can help you convert more, Anyword is a strong choice. If you're self-sufficient, Anyword isn't an affordable option because it requires an investment that isn't cheap.
Pros:
Clean and fast interface.
Customer profiles.
Great support for content templates.
Optimize content on-site.
Conversion-driven approach.
Cons:
A little bit expensive for Infrequently used users.
All the cool features are very pricey.
Conclusion
AI writing tools have become increasingly popular, providing writers with a powerful and effective way to improve their writing.
In this article, we have discussed 8 of the best AI writing tools that can help you solve your writing problems instantly! So, if you are looking for an effective way to improve your writing process and create better content quickly and efficiently - then this is the article for you.