Fotor, a powerful online photo editor, is known as an advanced AI-powered marketing platform. There are various photo editing tools, such as crop, resize or enhance your uploaded image with AI photo enhancer. It is also a fabulous background remover and object remover, automatically removing the background or unwanted objects of images.
In addition to photo editing, Fotor also offers a range of tools for graphic design and marketing, such as logo maker, flyer maker, presentation maker, and Instagram story maker. Making good use of these tools can promote your business well.
What's more, Fotor allows users to generate images with its AI tools, such as AI Image Generator, AI Face Generator and AI Art Generator. The AI Image Generator is designed to provide a quick and easy solution for generating images from text or photo, without the need for any design skills.
Price:
Key Features:
Advanced image-editing options.
ChatGPT (AI Marketing Tool For Content Writing)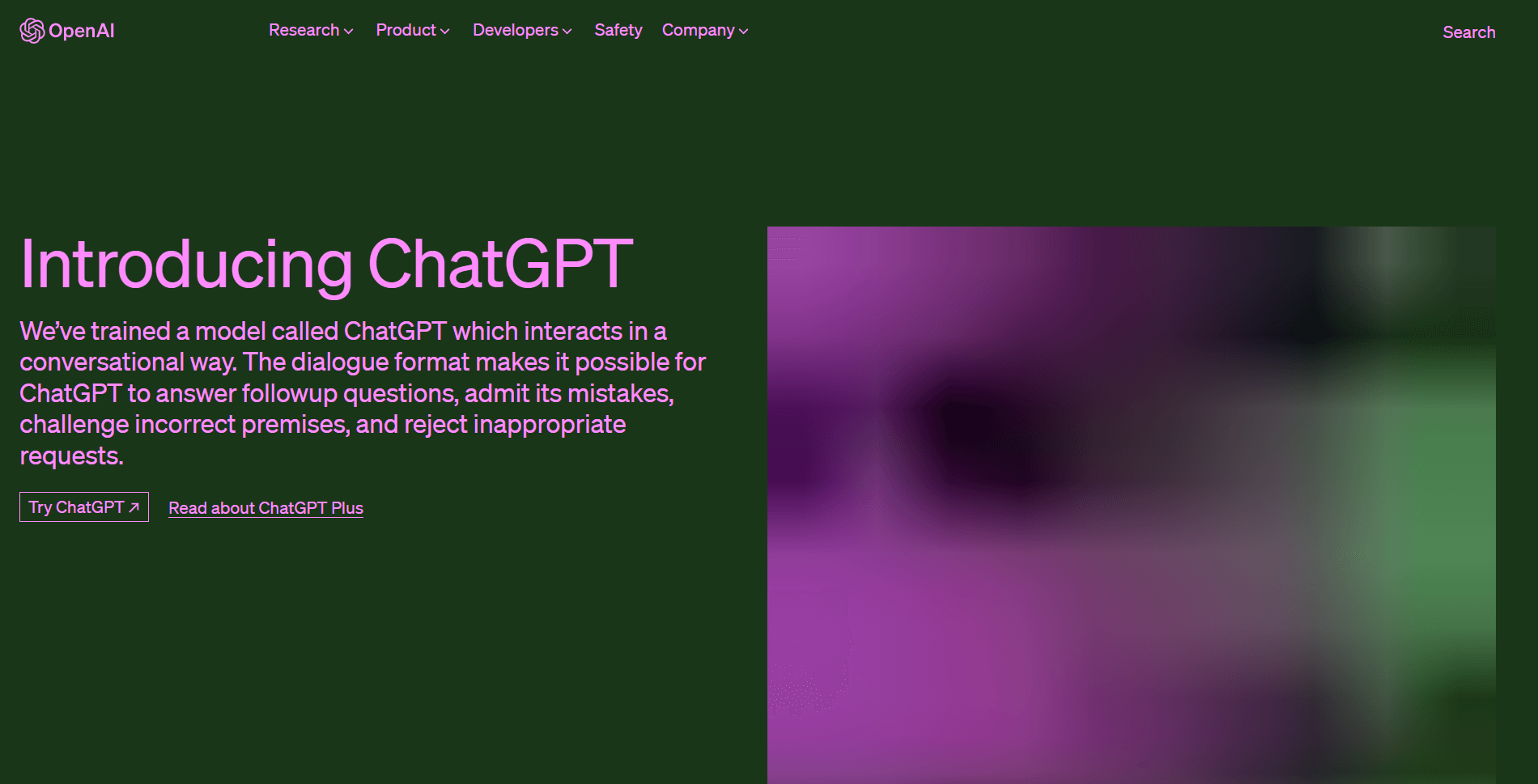 ChatGPT (Generative Pre-trained Transformer) is an advanced language model developed by OpenAI. It can understand and generate human-like conversations with deep leaning algorithms. With a massive conversation dataset, ChatGPT is allowed to complete text, generate response and converse with users in a natural way, just like a real person.
You can use it to assist agency in customer service, find content marketing ideas, summarize marketing research, write product descriptions for ecommerce, and conduct keyword analysis for SEO.
Price:
Key Features:
Offers some of the most thorough grammar, spelling, and punctuation tools available on the market
Helps you ensure your content is totally original by detecting duplicate content and potential plagiarism across the web
Provides suggestions for ways you can improve the overall tone and clarity of your writing, leveling up the quality of your content
Surfer SEO (AI Marketing Content Tool For Marketers & SEOS)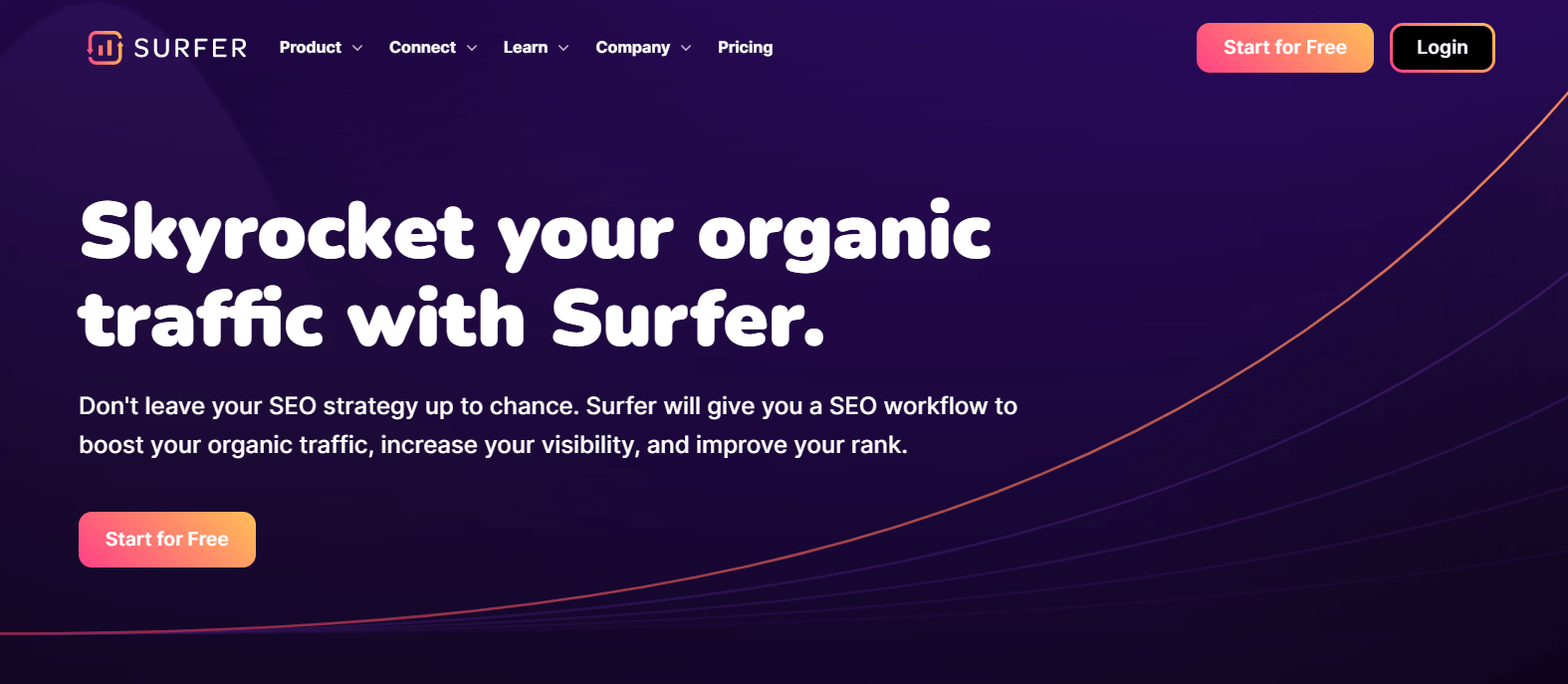 Surfer SEO is an easy-to-use marketing AI tool that helps you with search engine optimization by auditing existing copy, comparing it with the competition and picking keywords for you to use. It allows you to see which effective methods your competitors are using and apply them to your own strategy.
As you write, Surfer evaluates and scores your content based on keyword density, readability, length, use of headings, and other aspects that drive content rankings.
You can use it to monitor your competitors' SEO performance, complete your content optimization to rank better in search engines, identify valuable keywords, and increase the website's visibility and drive more traffic to the website.
Price:
Key Features:
Provides AI-powered content outlining, editing, and optimization to help marketers rank higher in search results
Offers advanced keyword research tools to help you identify the most relevant and valuable keywords in your content planning
Gives marketers real-time feedback on content structure, keyword usage, and other on-page SEO factors
Grammarly (AI Marketing Tool For Language Processing)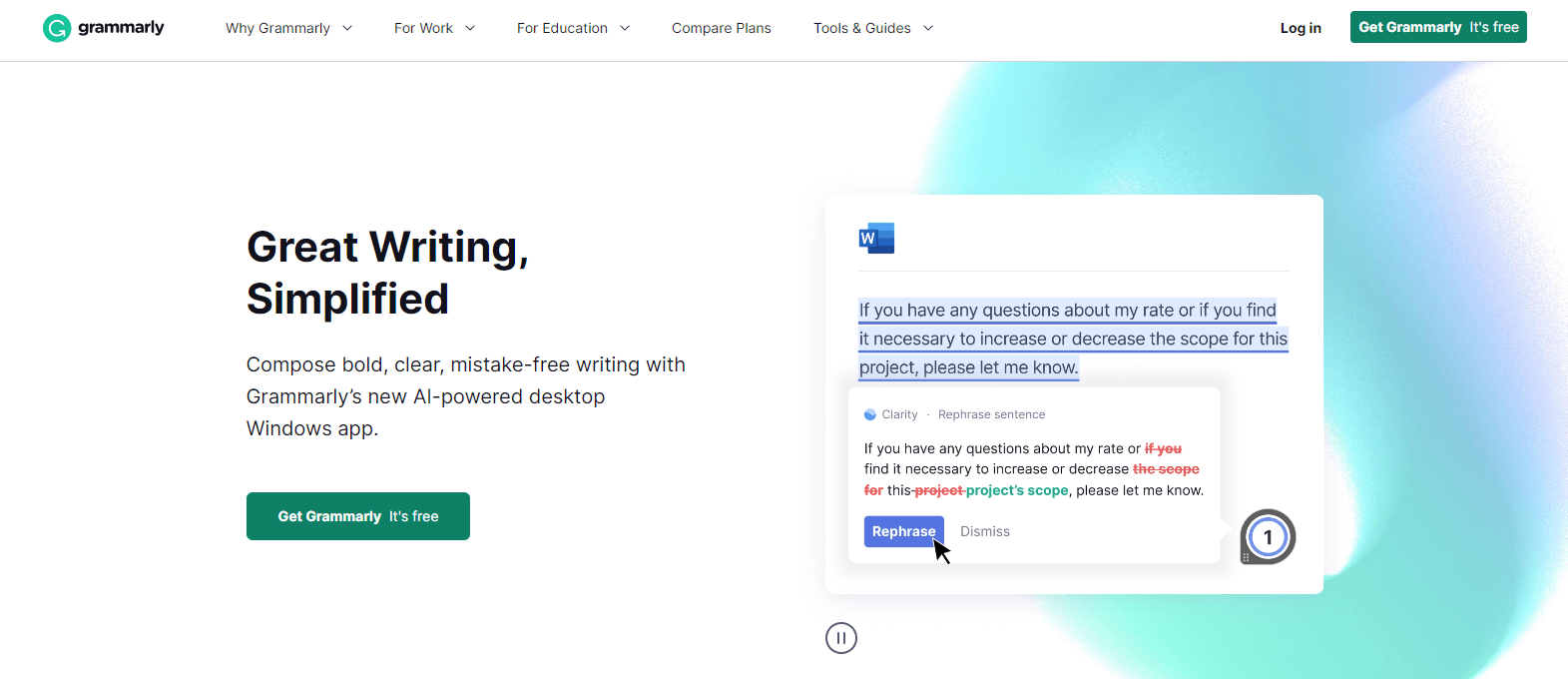 Grammarly, a powerful grammar and spell checker, is one of the best free marketing tools for any business. This AI content marketing platform checks spelling and grammar accurately in real time online, focusing on traditional rules of syntax and grammar.
It scans your content to identify grammatical, punctuation, contextual, and structural errors to improve your messages, emails and basically any text that you're writing. Grammarly also explains the rationale for each correction to help you decide whether (and how) to correct the problem.
You can use it as a proofreading tool to refine your text tone for every type of communication and speed up the writing process by inserting snippets. And it is available in many different apps, including Gmail, Word, Twitter, Facebook and more.
Price:
Custom Quote for Premium and Business
Key Features:
Brand 24 (AI Marketing Tool For Media Monitoring)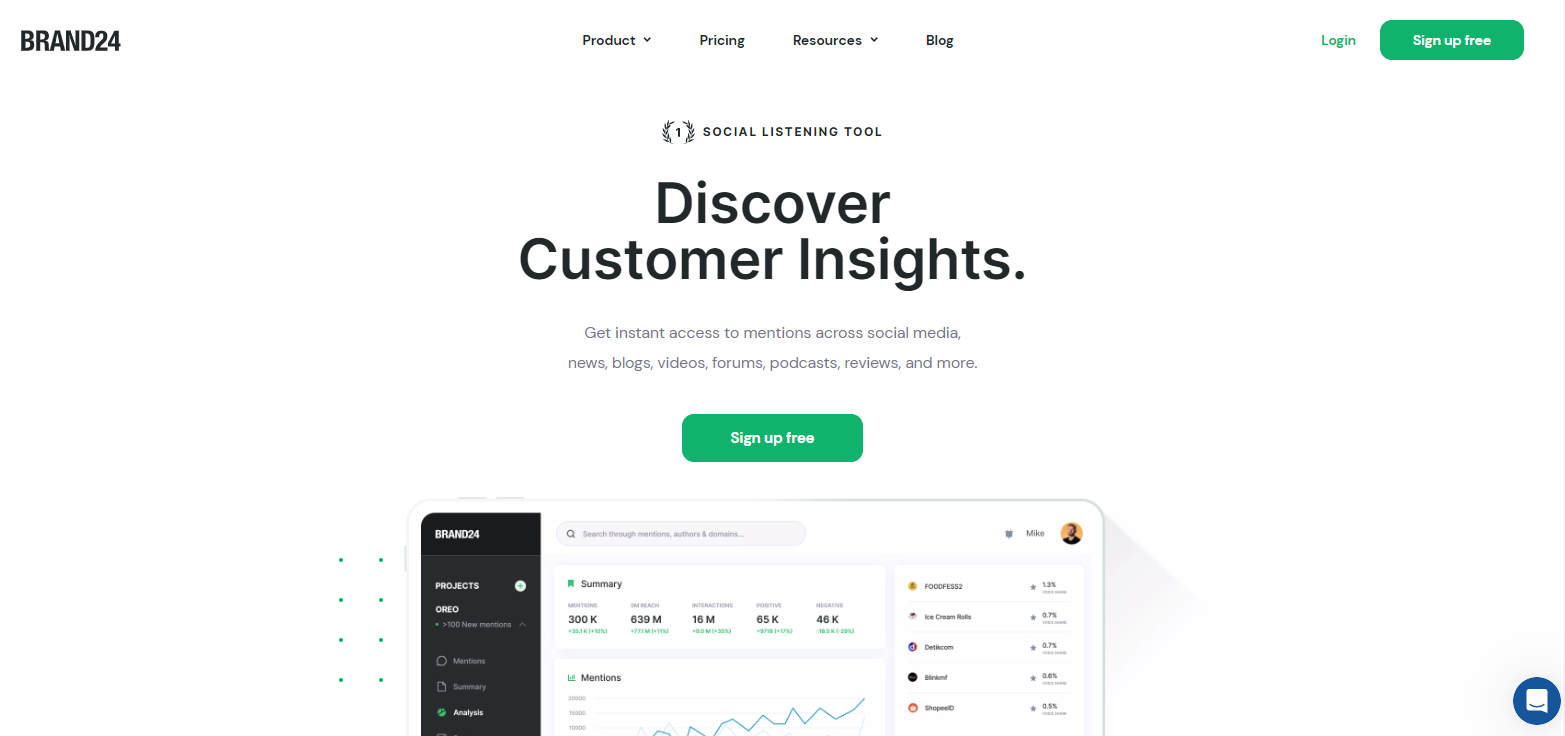 Brand24 is an online brand reputation management AI tool that monitor your company's reputation on the social media, news, blogs, videos, and more. For any business, reputation is essential.
Brand24 can keep track of where your brand is mentioned and let you respond to the positive and negative feedback about the company in real time. It also allows you to evaluate marketing campaigns and address potential problems before they get out of hand.
You can use it to monitor your business reputation, get report of competitive analysis, and sharpen your marketing strategy and customer service skills.
Price:
$39 for Individual (Monthly)
$249 for Enterprise (Monthly)
Key Features:
Engage discussions relevant to your business with one click of the mouse.
Identify sudden changes in the discussion volume to protect your company image.
Be the first to discover changes in the volume of discussion around your brand.
Turn your data into automated PDF reports, .xls files, and infographics.
Zapier (AI Marketing Tool For Automating Tasks)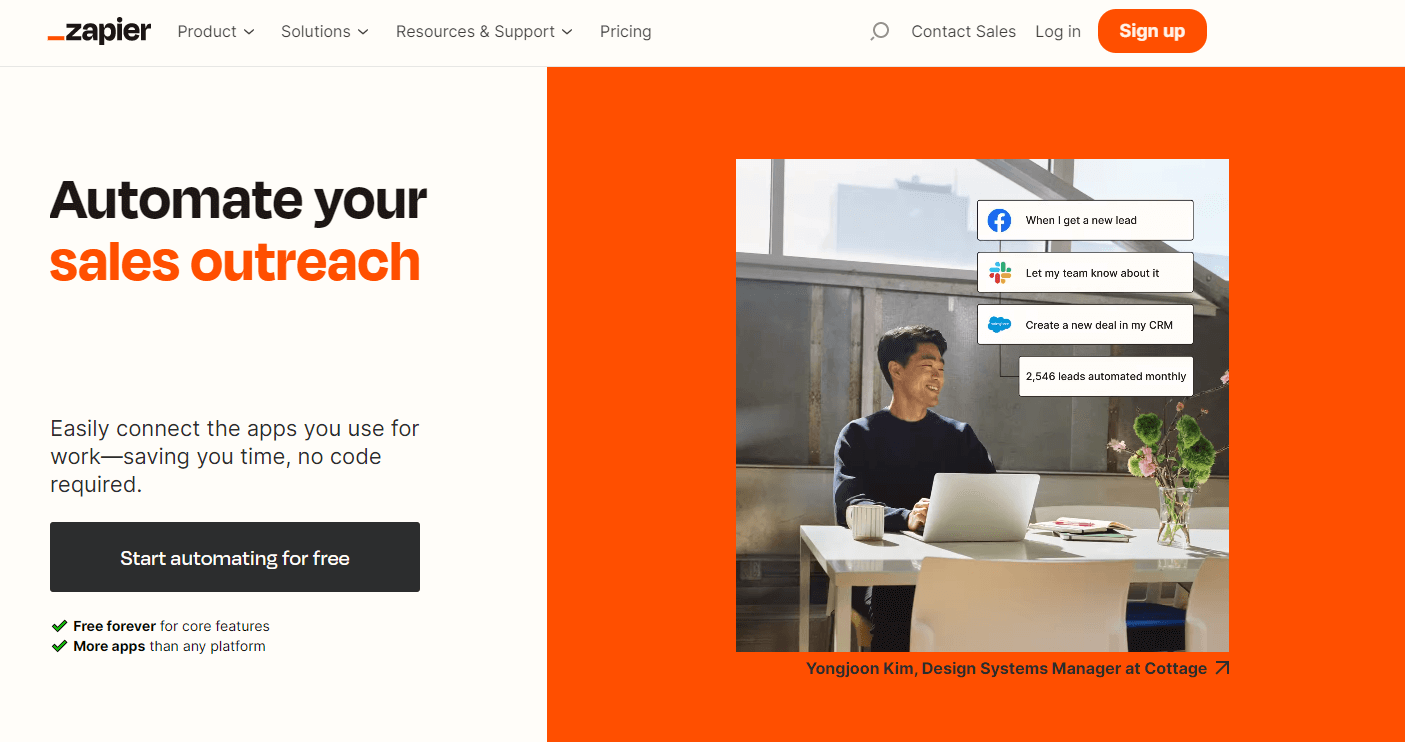 Zapier brings together technology stacks and process integration. With it, you can create connections and marketing automation between thousands of disparate systems. This not only saves time and increases efficiency, but also results in significant cost savings.
You can customize your own workflows, linking actions in one system to automated processes in one or more other systems. These automated processes can be written without coding, and having templates also speeds up the work process.
Artificial intelligence can trigger processes with a speed and efficiency that human teams can't master. And all of this is possible without the strong support behind it, including blogs, webinars, online codeless communities and training from Zapier University.
Price:
$19.99 for Starter (Monthly)
$49 for Professional (Monthly)
$799 for Company (Monthly)
Key Features:
No compromises on your data safety.
Top choice for businesses worldwide.
Ability to integrate with nearly every solution on the market.
Albert.AI (AI Marketing Tool For Digital Advertising)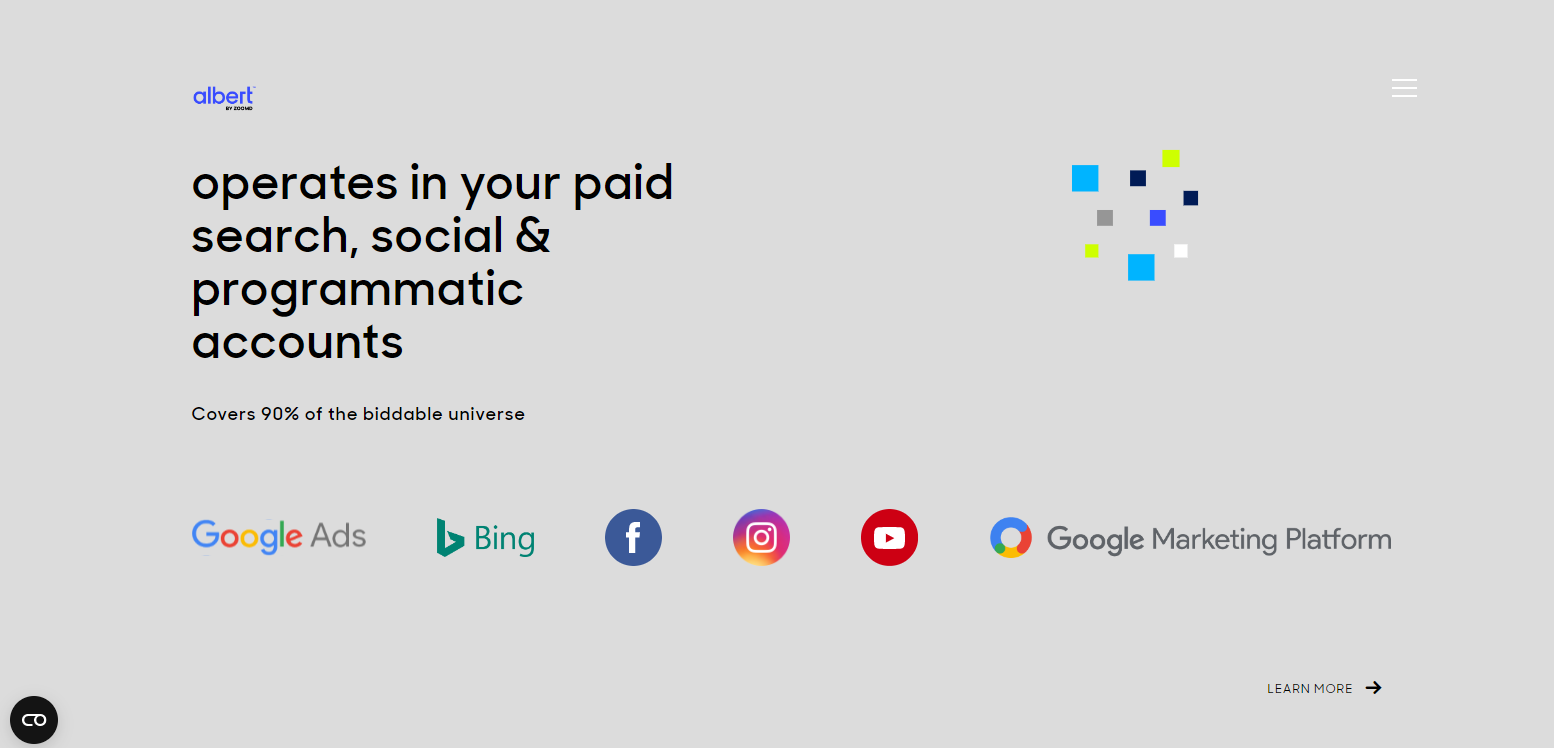 Albert.AI is an AI-powered tool used for marketing. It is a self-leaning software that automatically generates marketing campaigns for your brand. It analyzes large amounts of data and runs optimized campaigns autonomously.
Albert personalizes and optimizes ad content on social media and paid search platforms at scale, including Facebook, YouTube, Google Ads, Bing, and more.
It functions as a lab for testing and tweaking campaigns to take advantage of unseen channel opportunities and new markets. It helps make ad campaigns more targeted and less wasteful.
You can use it for commerce as it can analyze data from e-commerce platforms to optimize product recommendations and ad targeting. And it can also identify potential leads and automate the lead generation process.
Price:
Paid (Unspecified), according to your specific needs and budget.
Key Features:
Breaks down large amounts of data to help you customize campaigns
Plugs into your marketing technology stack and can be used across diverse media outlets, including email, content, paid media and mobile
ManyChat (AI Marketing Tool For Chat Management)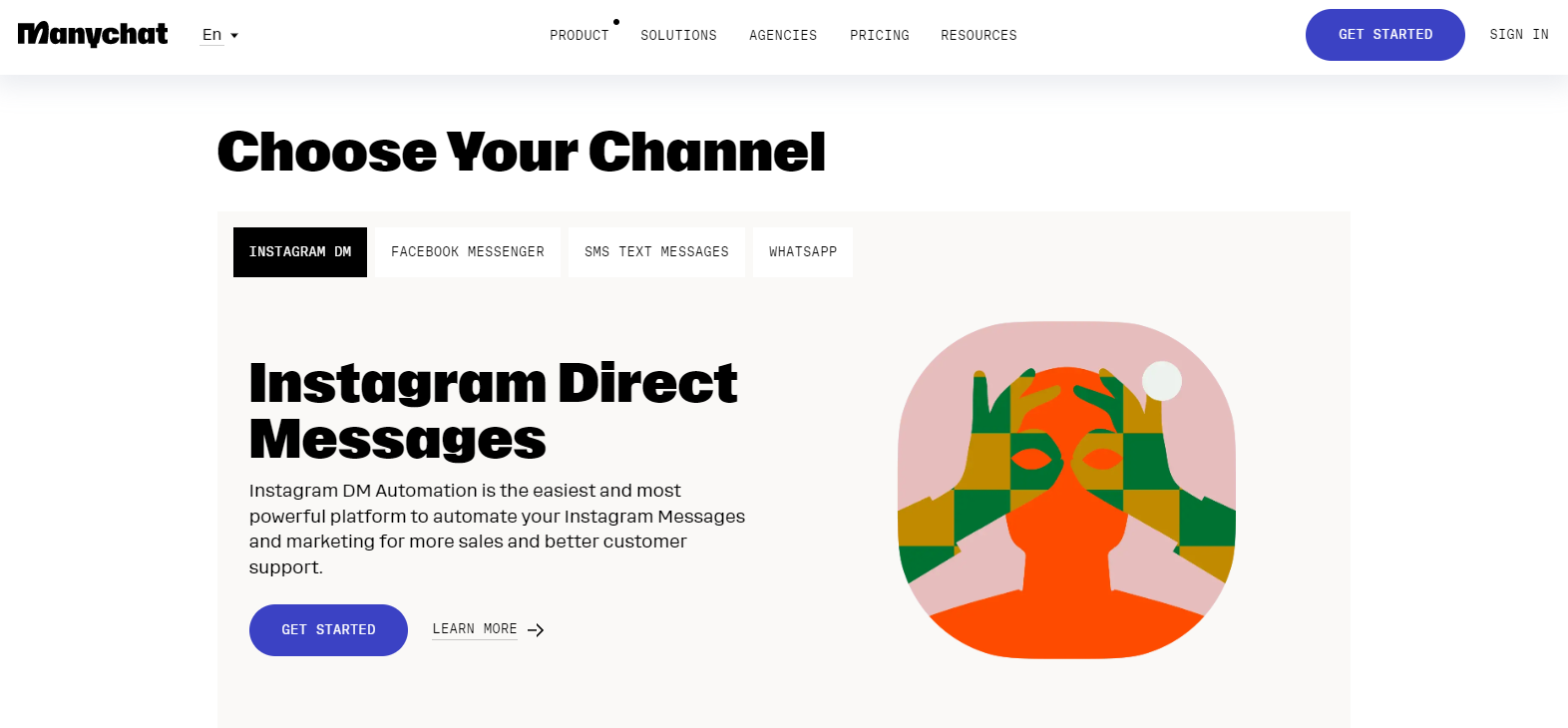 ManyChat is a chat management tool that creates personalized conversations on social media platforms such as Facebook Messenger and Instagram Direct Messages. Users are able to easily create complex conversational experiences without the need for technical skills or knowledge of programming languages.
As chatbot marketing becomes increasingly popular, ManyChat's platform helps simplify the process. It can be optimized for almost any business goal (collecting lead information, sending coupon codes, remarketing, etc.) and also provides a powerful analytics platform to track success.
You can use it to send automatic welcome messages to new subscribers, create custom bots to answer FAQs, and send out promotional messages and discounts to your customers.
Price:
Key Features:
Automate conversations.
Conclusion
In this article, we have talked about what is an AI marketing tool and listed 8 powerful AI marketing tools for you to promote your businesses, including Fotor, ChatGPT, Grammarly, ManyChat and so on. They can be used for graphic design, media monitoring, digital marketing and more. Hope you find this blog helpful!