In addition to the 3D architecture model, users also have access to our AI interior design tool and real estate photo editor. You can explore a vast library of AI-generated images, including furniture arrangements, color schemes, lighting setups, and more. This serves as a valuable source of inspiration, helping you to generate fresh ideas, experiment with different styles, and create captivating interior spaces.
Pros:
It can be accessed for free.
Iterative design architecture.
Integrated effects, color grading compositor.
Powerful build-in photo editing tools and graphic elements help you customize your architectural design.
SketchUp | Free Architectural Design Software For 3D Designs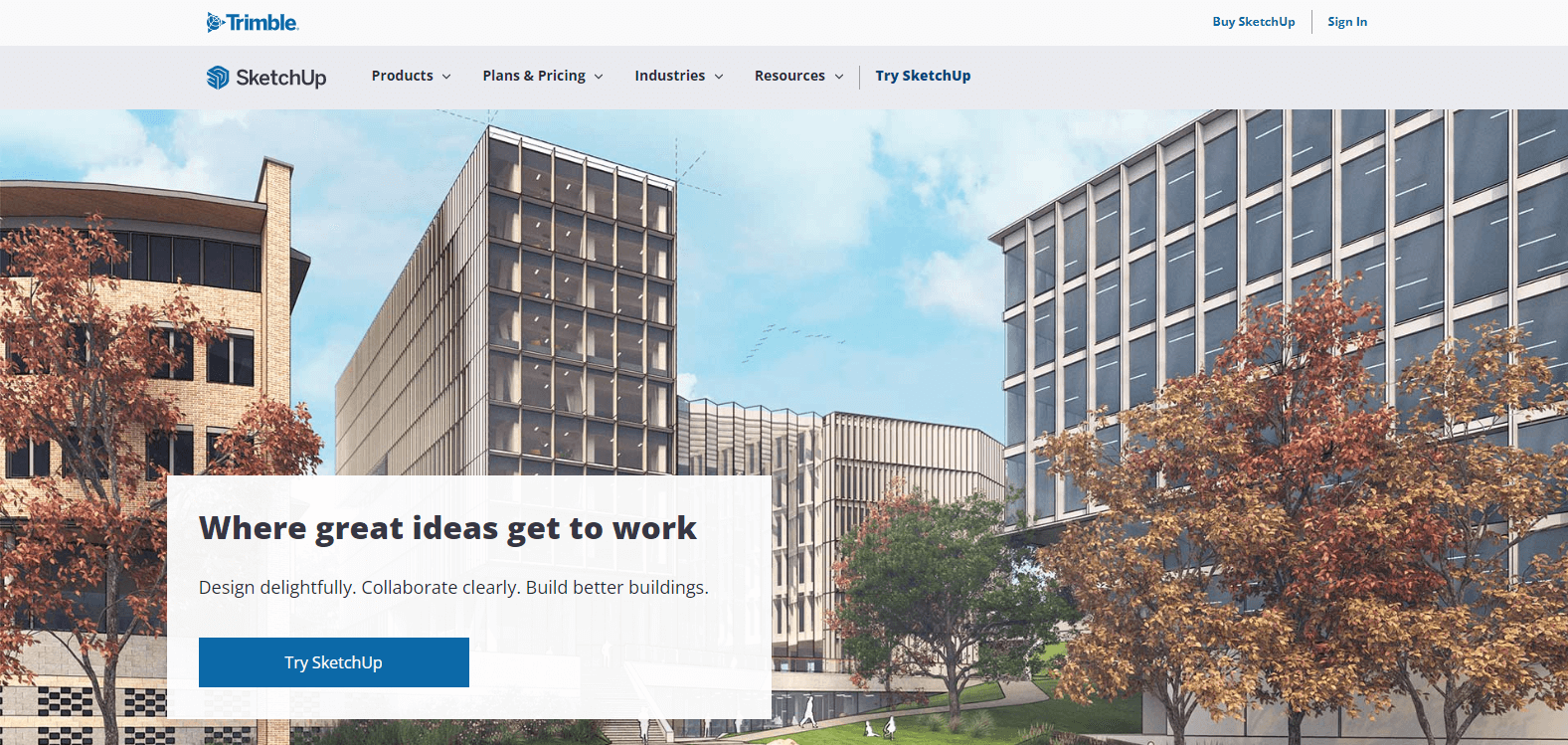 SketchUp is a free architectural design software that can be used to create and edit 2D and 3D architectural projects, interior models, furniture, and landscapes. It provides a user-friendly interface and a wide range of tools for creating architectural designs. Users can use the title blocks to draw plans, facades and sections, building details, and complete them.
SketchUp offers a range of architecture design tools for modeling, texturing, and rendering, making it a valuable resource for both beginners and experienced architects. It isn't difficult to learn and generates clear 3D pictures. Each object, surface and material has a unique texture. Its straightforward interface will appeal to architects, designers, builders and engineers at any stage of architecture design.
Pros:
It assists you with layer management animations and 3D models.
Layer management, animations and 3D models.
Lighting effects, textures, customizable palettes
Offers exchange repository
Cons:
The free version is only offered on web browser.
Recognition of uneven shapes and rendering.
Blender | Free Architecture Software For 3D Modeling and Compositing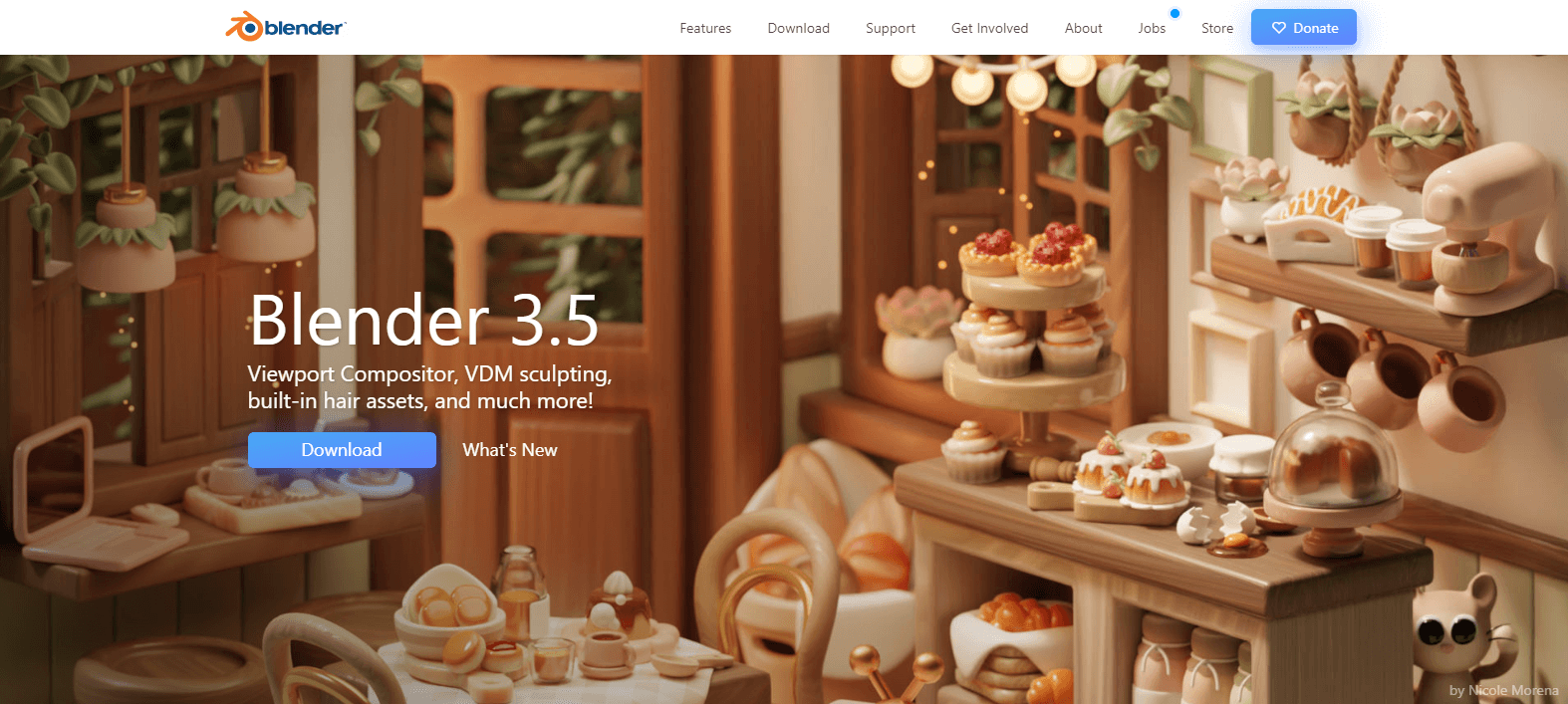 Blender is a powerful open-source free architectural design software that provides comprehensive 3D modeling and compositing capabilities. While it may have a steeper learning curve compared to other software, Blender offers advanced features for architectural design visualization. It allows for precise modeling, realistic rendering, and even animation of architectural design. With its vast array of tools and plugins, Blender empowers architects to create stunning and immersive visualizations.
This flexible tool will work well for both bigger architecture design firms and self-employed professionals and students. It is highly customizable and can be enhanced with a variety of free community-developed extensions.
Pros:
Free, cross-platform, open-source
Geometric modeling as per 3D architectural design models
Animation toolset, simulation and compositing
Cons:
FreeCAD | Modular 3D Parametric Modeler with BIM Tools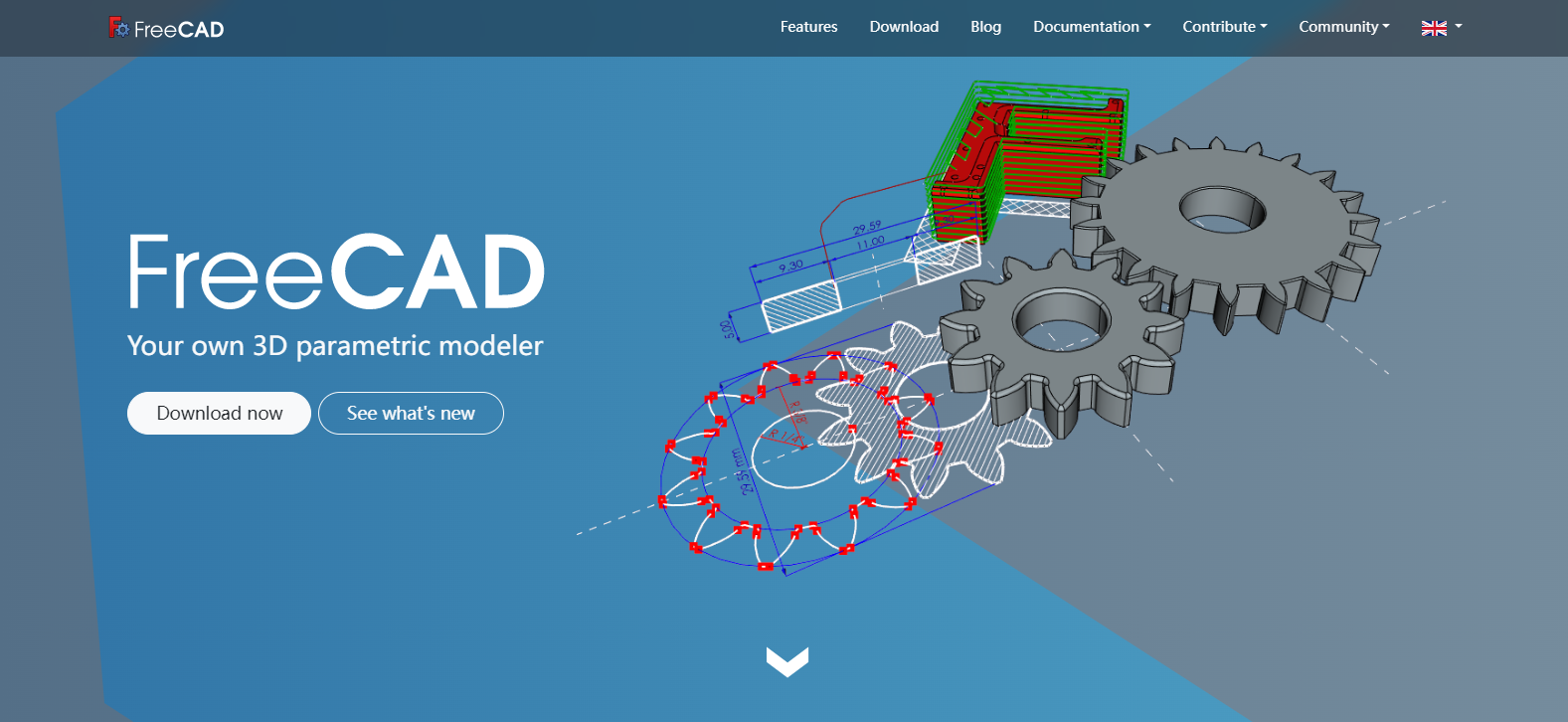 FreeCAD is a parametric 3D modeling software that offers a wide range of features for architectural design. It utilizes a modular approach, allowing users to customize the software with various plugins and workbenches. FreeCAD supports Building Information Modeling (BIM) tools, enabling architects to create intelligent 3D models with accurate measurements and data. It is particularly useful for designing complex architectural structures and visualizing how different elements interact.
FreeCAD is a great tool for both professionals and hobbyists and can be used in design, architecture, construction, mechanical engineering, and other fields.
Pros:
Customizable modular architecture.
Geometry kernel, parametric model.
It is free and open-source with cross-platform.
Cons:
Need to open bluetooth all the time.
IFC export isn't fully implemented
SweetHome 3D | Easy-to-use Open-source Interior Design App

SweetHome 3D is a free architecture software specifically designed for interior design. While it may not have the same level of architectural modeling features as other software, it excels in creating detailed interior spaces. SweetHome 3D offers an extensive library of furniture, textures, and objects, allowing users to quickly and easily design and visualize interior layouts. It also supports 3D rendering, providing a realistic preview of your designs.
Users can import a property plan or start drawing a new one, enjoy drawing walls or edit existing ones, add doors, windows and furniture. Besides, the free architectural design software enables users to import additional 3D models from other sources and export plans to various widespread formats.
Pros:
Multilingual, open-source, expandable via plugins.
One can be able to print and export PDFs,bitmap and videos.
Update colors, texture, size, orientation of furniture.
Cons:
The scope and development of environments are restricted.
AutoCAD | Free Architectural Design Software For Creating Representative Drafts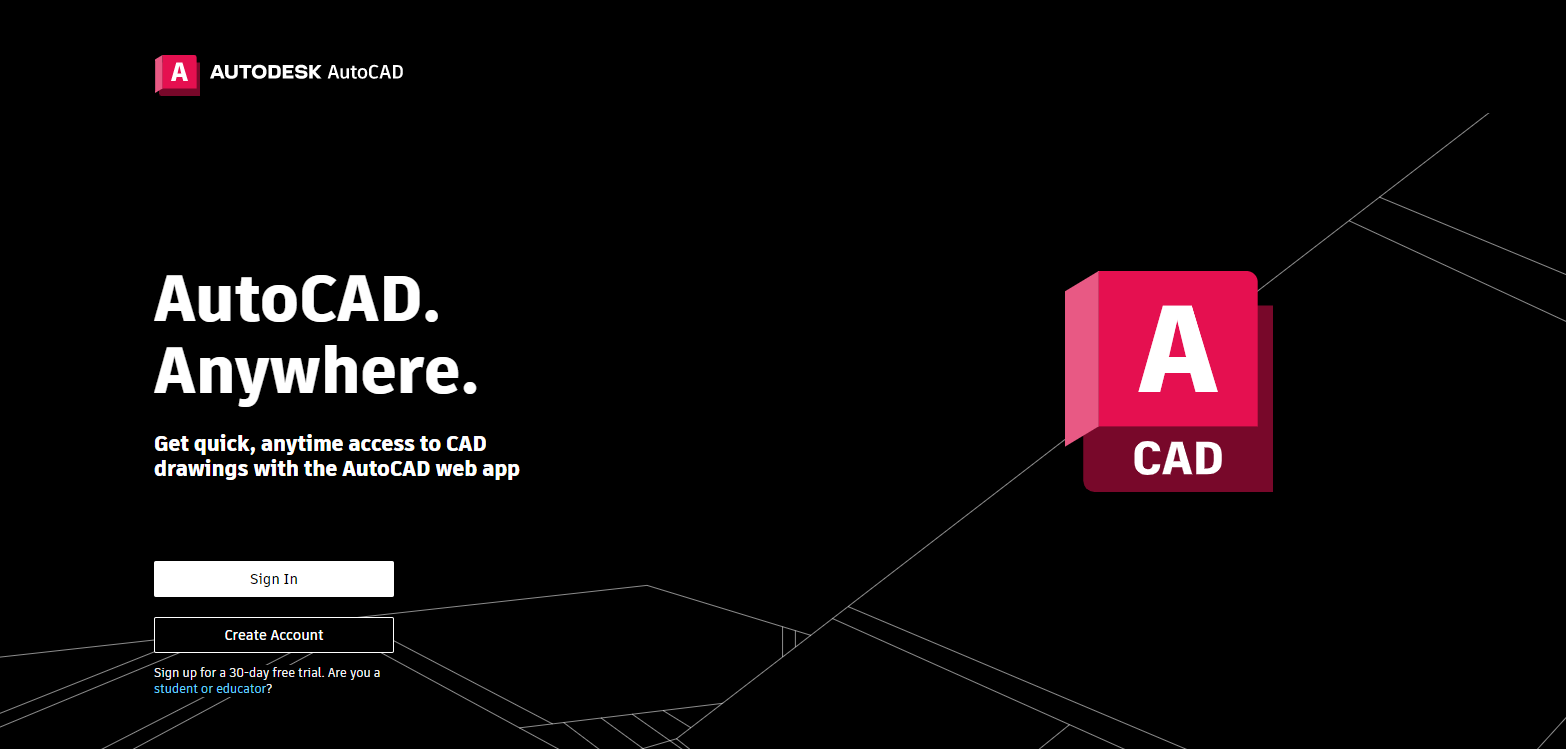 AutoCAD is a renowned free architecture software widely used in the architecture, engineering, and construction industries. While the full version of AutoCAD comes with a price tag, AutoCAD offers a free web-based version known as AutoCAD Web App. This streamlined version provides essential drafting and editing tools, allowing users to create representative drafts and precise technical drawings. It's an excellent option for architects who require professional-grade drafting capabilities without investing in the full software.
This free architecture design software uses AEC objects such as windows and doors as design elements to create realistic and spatially oriented 3d floor plans.
Pros:
It allows user to style the browser and tool palettes.
It supports import of Revit grids.
Import of Revit grids is supported by this software.
Cons:
It is only free to students and teachers.
SmartDraw | Free Architecture Software For Building Diagrams and Schemes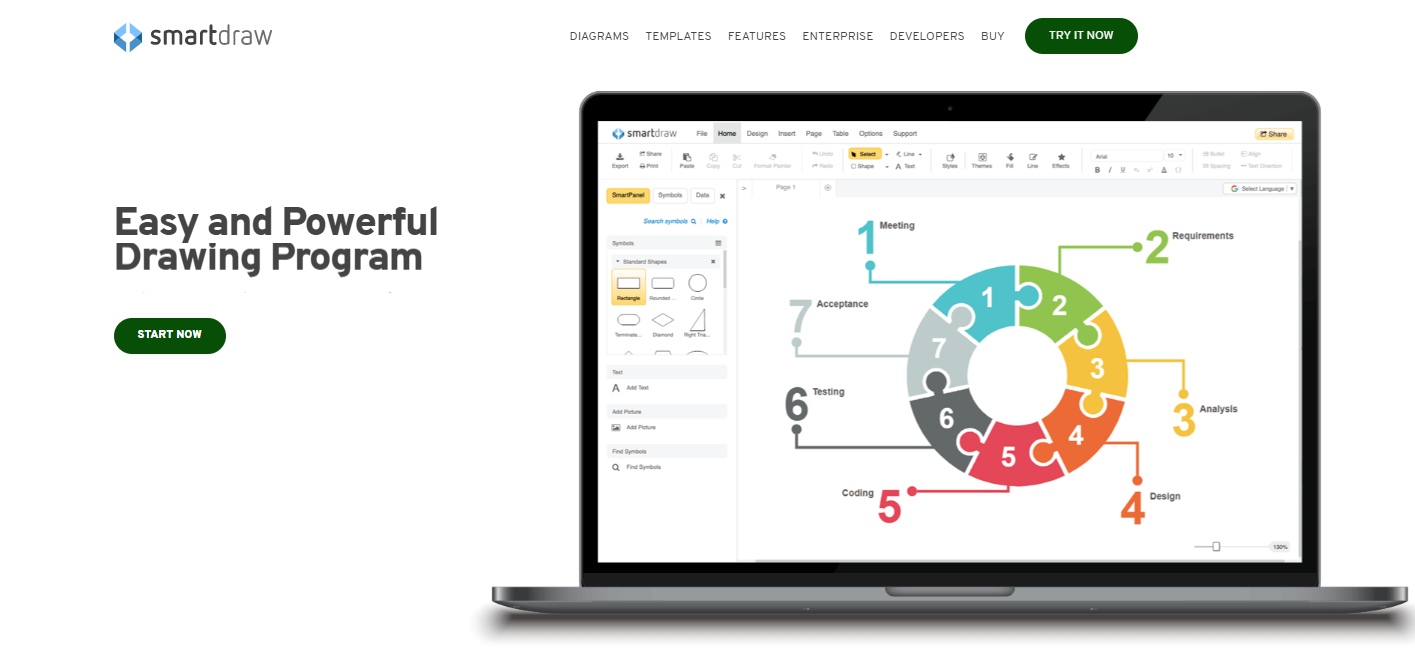 SmartDraw is a versatile architectural design software that specializes in creating diagrams, floor plans, and schematics. The emphasis in this free architecture software is on a quick and simple structural design process. It supports integration with a variety of well-known tools (Trello, Visio, Jira) for workflow optimization, as well as exporting drawings and plans to various formats for printing.
SmartDraw provides a vast library of templates and symbols specifically tailored for architectural design. It's an ideal tool for creating architectural design plans, electrical layouts, and landscape designs.
Pros:
Powerful architecture design toolset.
Easy quick start architecture design templates.
Rich architectural symbol library.
Cons:
Open license for Windows only or via a web browser.
FloorPlanner | Free Architectural Design Software for 2D and 3D Floor Plan Drawing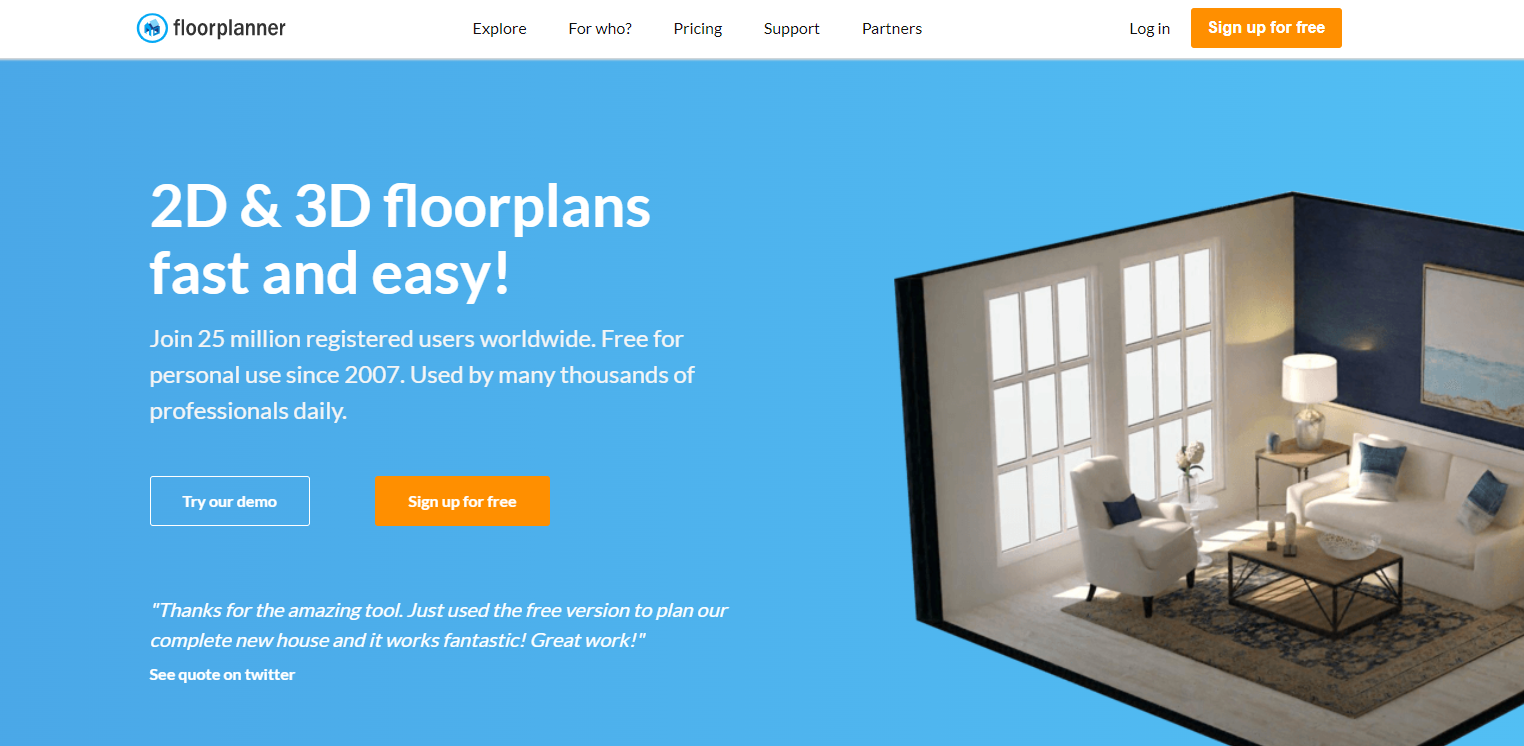 FloorPlanner is a free architectural design software, which allows you to create 2D and 3D floor plans and then share interactive versions of these plans online. It comes with a "automatic finishing" function that makes it simple to decorate rooms according to the plan. The planner's finished floor plans appear professional and polished, ready for presentation.
With its numerous capabilities, this free architecture software will aid in quick and easy design. Its Google Chrome and iPad apps are a great addition to the web tool. The drag-and-drop functionality in the design view is useful. Navigating between design elements, floors, and viewing options is unquestionably advantageous.
Pros:
3D, 360°panorama, VR walkthroughs
Interactive 2D and 3D floor plan
Cons:
The free version only supports one project
Conclusion
In this article, we have discussed the architectural design and shared 8 best free architectural design software to help you finish the architecture drawing more efficiently. Start exploring these architectural design tools, experiment with different features, and let your architectural visions take shape with the power of these accessible and feature-rich software solutions.