In recent years, artificial intelligence has made remarkable progress in the field of art. The popularity of artificial intelligence has led to the creation of a large number of websites and services that are able to create an image from a text description or a prompt. One option worth trying is Stable Diffusion.
This new model has become increasingly popular due to its ability to generate realistic images from even the vaguest of textual inputs. In this post, we will explore what is Stable Diffusion and how to use Stable Diffusion locally or in the cloud, for free.
What is Stable Diffusion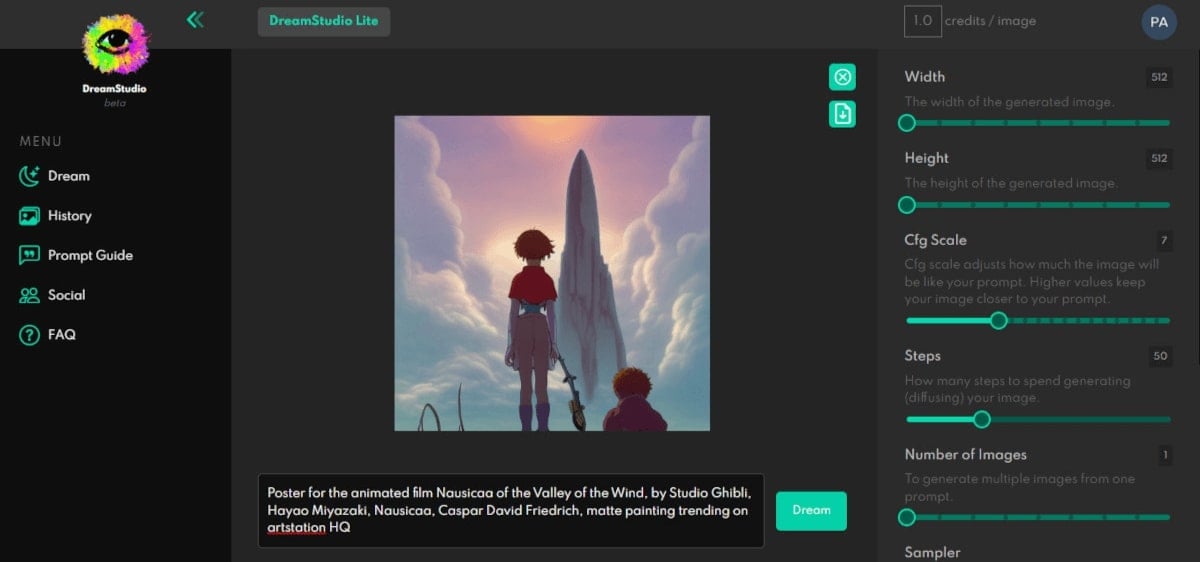 Stable Diffusion is a deep learning model that utilizes diffusion processes to generate high-quality artwork from input images. Simply put, when you give a prompt to Stable Diffusion, the model is trained to generate a realistic image of something that matches your description.
It is a significant improvement over previous text-image generators, as it can handle complex and abstract text descriptions. It achieves this by utilizing a new method called stable training, which allows the model to generate high-quality images that are consistent with the textual input.
Stable Diffusion can produce a wide range of artistic styles, including photorealistic portraits, landscapes, and abstract art. The algorithm has been used in various applications, including generating images for scientific research, creating digital art, and developing video games.
For example, game developers can use the model to generate game assets such as characters and game scenes from text descriptions. And e-commerce sites can enter a description of a product to generate a product design.
Start with Stable Diffusion
Depending on your needs and resources, Stable Diffusion can be run in different ways, including in cloud drives, online and locally.
Use Stable Diffusion in the Cloud
One way to use Stable Diffusion is through cloud-based services. Many companies offer cloud-based Stable Diffusion services that allow you to generate artwork on demand. These services typically require you to upload your input image and then choose the artistic style you want to apply. The service will then use Stable Diffusion to generate the output image, which you can download or share online.
Using Stable Diffusion in the cloud has several advantages. First, it is often faster than running the algorithm locally. Second, cloud-based services can handle large-scale processing and can generate high-quality images quickly. Finally, using Stable Diffusion in the cloud is often less expensive than running the algorithm locally, as you only pay for the resources you use.
Use Stable Diffusion Locally
Another option is to run Stable Diffusion on your local computer. This requires you to install the Stable Diffusion software on your computer. Once installed, you can use the software to generate artwork using Stable Diffusion.
Running Stable Diffusion locally has several advantages. First, it gives you more control over the process and allows you to fine-tune the algorithm to your specific needs. Second, running Stable Diffusion locally allows you to generate artwork offline, which can be useful if you don't have access to an internet connection.
Use Stable Diffusion Online
Many websites also offer Stable Diffusion as an online service. These websites allow you to upload your input image and then apply various artistic styles using Stable Diffusion. Once the algorithm has finished processing, you can download or share the output image.
Using Stable Diffusion online has several advantages. First, it is often free or low-cost, making it accessible to everyone. Second, using Stable Diffusion online is easy and requires no technical expertise. Finally, many online services offer a wide range of artistic styles to choose from, allowing you to experiment with different styles and techniques.
No matter which option you opt for, it's essential to keep in mind that better hardware will lead to faster model execution and more detailed outcomes. It's also crucial to consider the restrictions and policies of cloud providers, as they can differ considerably.
Assessing your hardware is the simplest way to determine whether to run Stable Diffusion locally or in the cloud. For running the model on your computer, a minimum VRAM of 4GB is suggested, but this may not be enough for some users.
Therefore, if you're looking for a quick and straightforward way to begin using Stable Diffusion, cloud services might be suitable. However, if you're willing to invest in hardware, running Stable Diffusion locally offers more power and control over your generated images.
How to Run Stable Diffusion for Free
Once you have selected the path you want to take, you may be curious about how to use Stable Diffusion for free. Fortunately, there are several ways to accomplish this. In this article, we will discuss the best option for beginners to initiate their journey with the Stable Diffusion model.
Fotor: Best AI Art Generator You Should Try
One of the best ways to run Stable Diffusion for free is to use Fotor, an online AI art generator. It is a platform built on the foundation of Stable Diffusion model, which can generate images based on natural language descriptions, also known as "prompts."