Artificial intelligence has revolutionized various industries, and the world of art is no exception. Midjourney, a powerful AI art generator from text and photo, enables artists and enthusiasts to create stunning AI-generated artwork effortlessly.
Unlike Stable Diffusion and DALL·E 2, Midjourney cannot be installed on your personal computer or accessed through a user-friendly web application. The exclusive method of accessing Midjourney is through the Discord. Some people may be confused about using Midjourney in this way.
In this article, we will tell you how to use Midjourney effectively. Whether you're an experienced artist or a curious beginner, this step-by-step guide will walk you through the process of using Midjourney to unleash your creativity and produce mesmerizing AI art.
What is Midjourney
Before diving into the steps, let's first understand what exactly Midjourney is. Midjourney is one of the best AI art generators online that leverages the power of deep learning algorithms to generate captivating artwork. It utilizes a technique called StyleGAN, which allows the AI to learn from a vast range of artistic styles and create unique pieces inspired by those influences. With Midjourney, you can transform ordinary images into extraordinary art and explore your artistic potential.
How to Use Midjourney AI on Discord
Now that we have a brief understanding of Midjourney, let's see how to use it efficiently and easily. A step-by-step instruction about how to use Midjourney will be listed as follows.
Step1: Sign Up for Midjourney Discord Server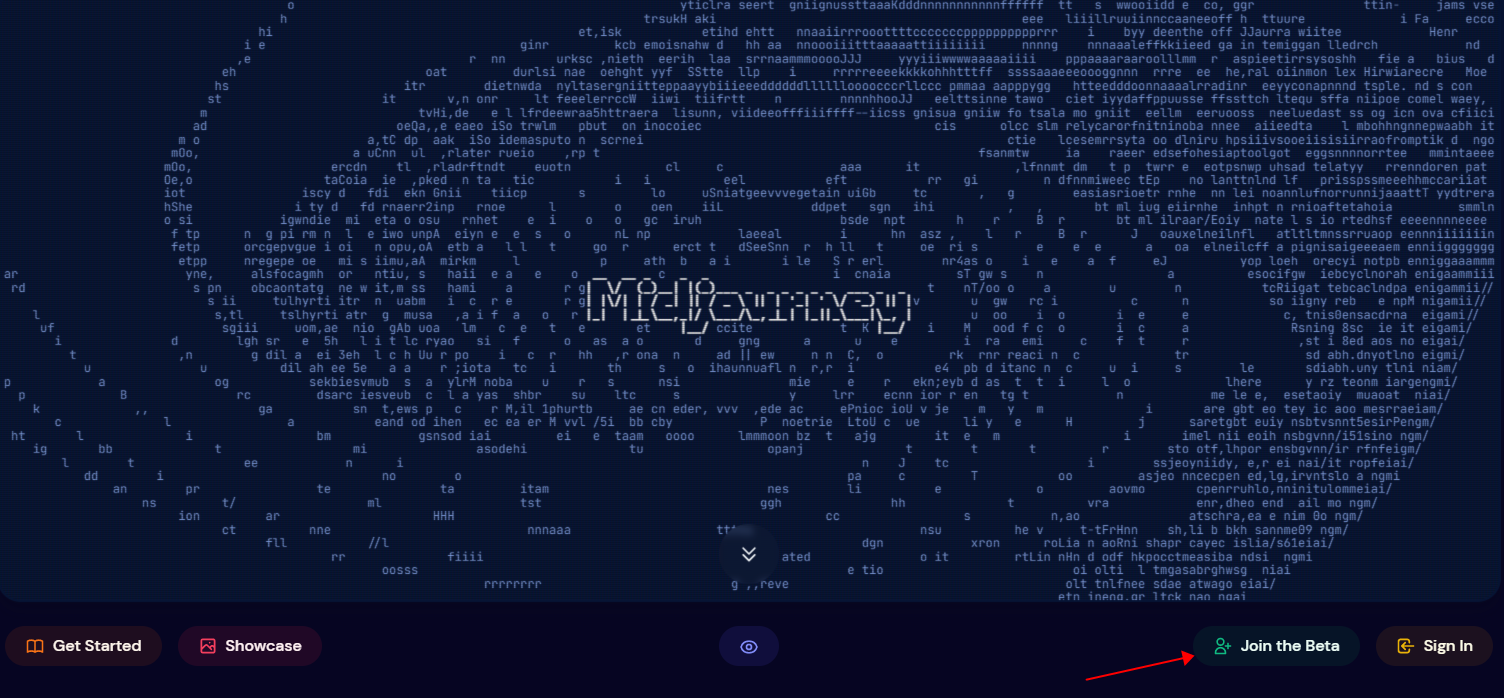 To get started with Midjourney, you'll need to make sure you have a Discord login. Discord is a popular communication platform, and Midjourney has integrated its AI functionality within it. Sign up for a Discord account if you don't have one already, and then search for the Midjourney server. Joining the server will grant you access to the Midjourney AI features.
Visit Midjourney homepage and click the "Join the Beta" button. This will take you to a screen where you can continue to Discord and register for the service. Remember to select "Accept Invite." Once registration is complete, you can choose to access the web-based Discord or download the desktop application.
Step2: Buy a Midjourney Subscription

Now that Midjourney no longer offers a free trial, you must subscribe to a paid plan before you can use Midjourney's services. In the message field at the bottom of the screen, type /subscribe and press enter. Click the button that opens the subscription page.
On the subscription page, select either annual billing or monthly billing. Click the subscription button for the plan you want and fill out the payment form. After the payment goes through, return to the Discord page. Purchasing a subscription will give you the ability to use the Midjourney AI extensively and unlock additional customization options.Midjourney pricing can be seen above.
Step3: Join A Newbies Channel
After joining the Midjourney server and obtaining a subscription, it's time to familiarize yourself with the platform. After you join, select any general or newbie channel visible in the left sidebar. Click on one of the rooms to enter. Scroll up and down the page to see pictures created by the Midjourney AI bot for other users.
Join one of the designated newbie channels where you can ask questions, interact with other users, and receive guidance on how to make the most of Midjourney. This channel will be invaluable in helping you understand the tool's capabilities and connect with a supportive community of artists.
Step4: Use the /imagine Command

Once you feel comfortable navigating the Midjourney Discord server, it's time to start generating AI art. In the channel where you want to create your artwork, use the /imagine command. Commands are used to create images, change default settings, monitor user info, and perform other helpful tasks. The /imagine command generates a unique image from a text description (known as a Prompt).
In the Message field at the bottom, type /imagine prompt or select the /imagine command from the menu. Then a prompt field then appears.
Type a description of the image you want to create in the prompt field and send your message to Midjourney. Wait a few seconds, the images will be fully rendered.
Step5: Customize the Midjourney AI Art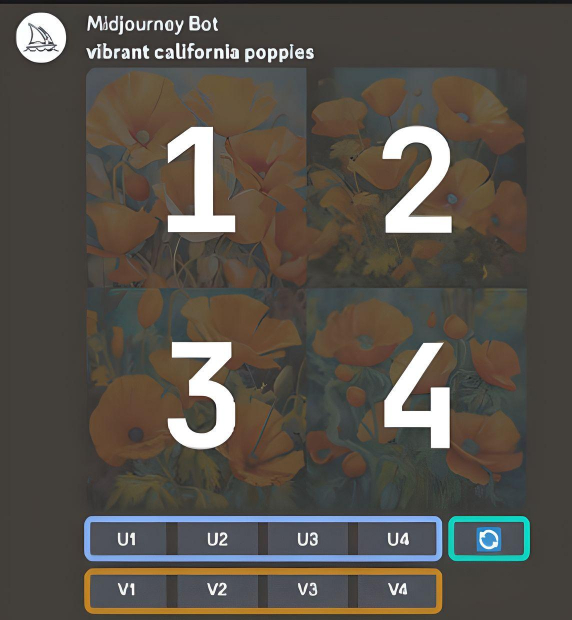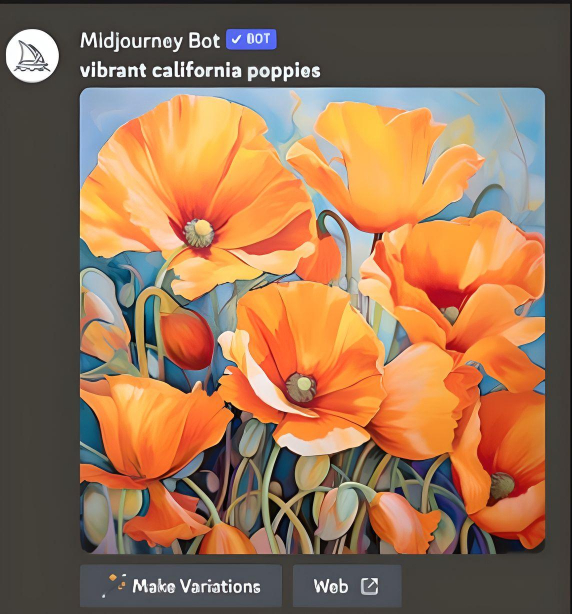 After the AI art generator creates the initial artwork, you can begin customizing it to align with your artistic vision. Midjourney generates four images by default. Under the images are buttons -- U1, U2, U3, and U4 along with V1, V2, V3, and V4.
U buttons upscale an image generating a larger version of the selected image and adding more details. And V buttons create slight variations of the selected grid image. Creating a variation generates a new image grid similar to the chosen image's overall style and composition.
After upscaling the image, three options will appear.
Make Variations: Generate revisions to the image.
Web: Open the image in your Midjourney gallery.
Favorite: Tag your best image to find it better.
Light/Beta Upscale Redo: Performs upscaling using different upscaling models
Step6: Save Your Image
Once you're satisfied with the final result of your AI-generated artwork, it's time to save it. Click on the image to open its full size, then right-click and select Save Image. If you are using it on your phone, long press on the image and then click the download icon in the upper right corner
Tips for Perfect Prompts to Create Stunning Midjourney AI Art
As with all AI, the key to getting good results is learning how to write the most effective prompts. If you're trying to figure out how to make Midjourney generate the best AI art that it can, then you want to make sure you give it the right information. Next, we'll give you some tips for writing better prompts to create stunning Midjourney AI art.
Start with a clear, concise problem statement
A good Midjourney prompt should begin with a clear, concise problem statement. Your prompt should clearly state the problem you want the model to solve. Make sure it is specific enough that the model can generate a relevant and insightful response.
Be as specific as you can
A good prompt needs to be detailed and specific. MidJourney needs specific prompts for the best results. Therefore, you need to provide it with the exact thing that you need. Specific prompts can help guide its creativity and ensure that the resulting piece of art meets the desired goals. For example, a prompt could ask the artist to use a specific medium or style in the art work.
Avoid biased language
It's important to avoid biased language when writing a Midjourney prompt. Biased language can limit the artist's creativity and make the prompt feel restrictive. Instead, use neutral language that encourages exploration and experimentation.
How to Make AI Art for Free
As you know, Midjourney is no longer offering free trials. So besides Midjourney, what other platforms are available to create AI art for free? Today, we will recommend one of the best Midjourney alternatives for you. That is Fotor.
Fotor: Best AI Art Generator