20 Stunning YouTube Banner Ideas & Samples to Inspire You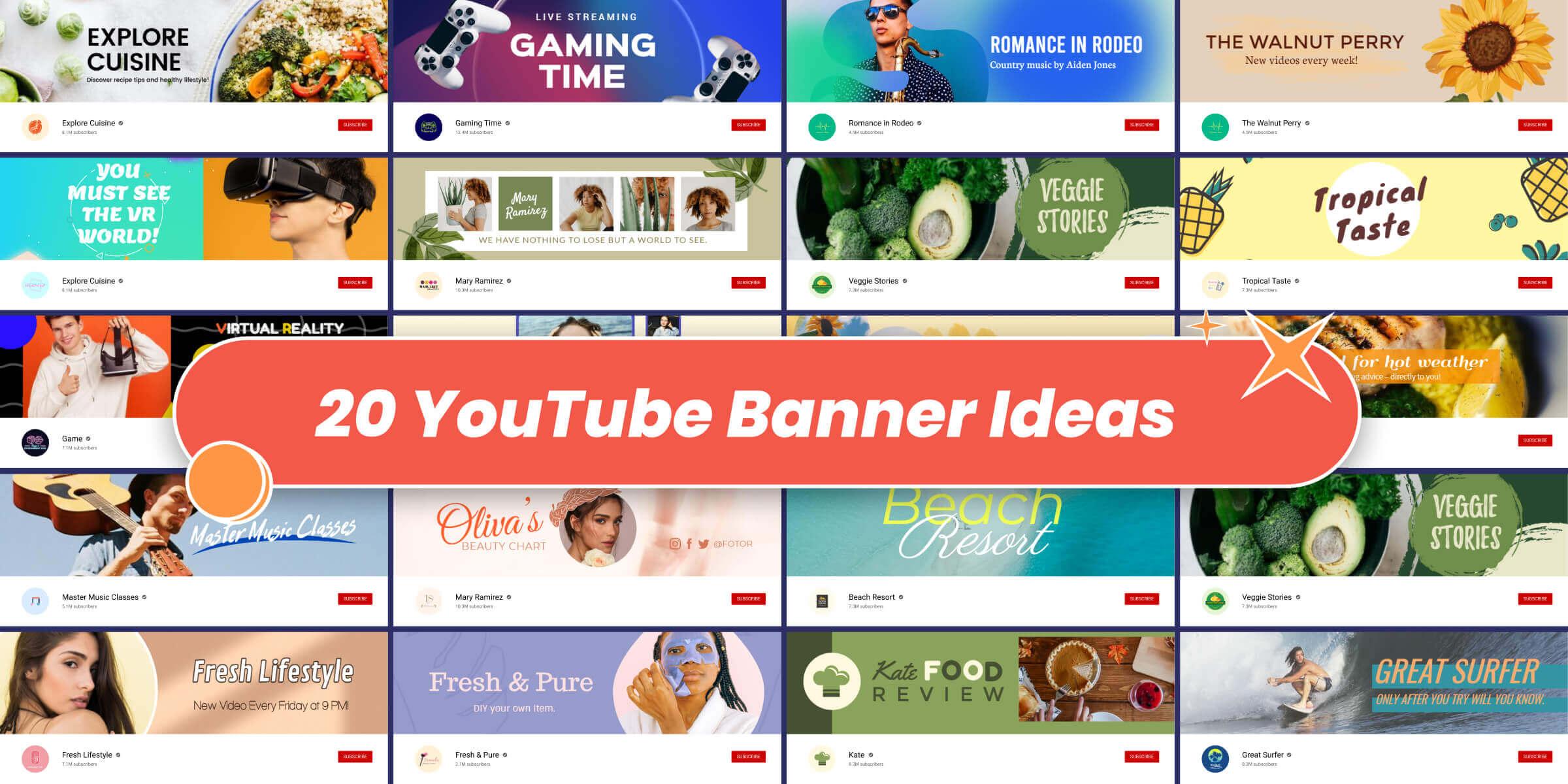 Your YouTube banner is a great invitation for catching people's attention at first sight and making them scroll down to your videos Instantly. Moreover, it can give a lasting impression on your YouTube channel, or even turn one-time visitors into your subscribers. So it plays an important role in solving your question about lacking fans.
Here we will dig into more detail about YouTube Channel art to help you boost your YouTube channel immediately. For example, what are the best YouTube banner ideas? How to make an eye-catching YouTube banner quickly by yourself? How to increase your subscribers? Follow us to get more inspiration about YouTube banner design.
What is the YouTube banner?
A YouTube banner, also known as Channel Art or Channel Header Image, is the large banner at the top of your channel page. The size of the banner is usually 2560*1440px. It not only offers digital real estate to deliver the core message of your channel but also showcases your brand and personality.

The Advantages of an Attractive YouTube Banner
As the first thing people notice when they visit your channel, an excellent YouTube header has lots of significance. Here are some key advantages.
1. Convey What Your Channel is All About
YouTube banner in the most prominent position of your channel. At a glance, people can be sure if your channel is what they're looking for or not.
2. Marking You Apart from Competitors
Adding your logo, brand colors, and core message to your banner for YouTube can display your personality and brand identity and distinguish your brand from others in the space.
3. Showcasing Your Business and Services
Stretching the entire width of your screen, YouTube cover photos offer quite a lot of space for branding and marketing. Besides your branding assets, your YouTube banner is a good place to showcase new releases, flagship products, and services.
4. Keeping Subscribers Hooked
Banner art can play a significant role in stimulating subscriber interest. With evocative, memorable YouTube banner design ideas, your channel will likely come first to mind when your subscribers think of watching something in your niche.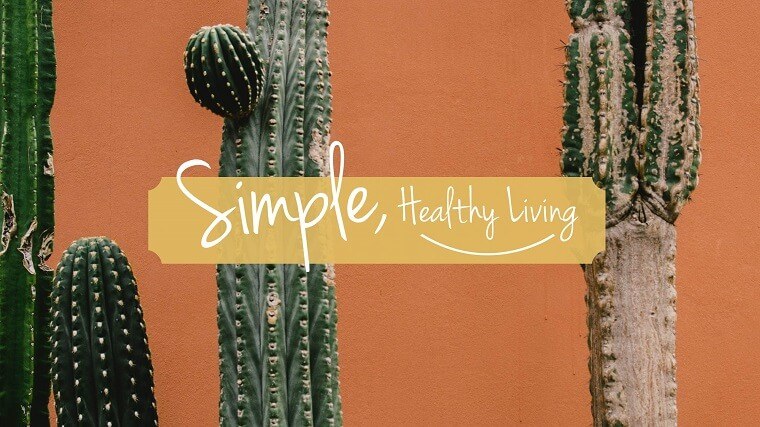 Use This YouTube Banner Template
7 YouTube Banner Ideas for Different Industries
Here are some of the most exemplary YouTube channel arts in some select industries.
1. Aesthetic YouTube Banner Ideas

Sadie Aldis is an out-going aesthetics influencer who shares aesthetically pleasing things, good music, her life, and making memories. Use 7 aesthetic pictures to create a photo collage as the banner background, and show the white channel name on it. Her YouTube channel art is comfortable and beautiful, which can leave a deep impression on all subscribers.
2. Gaming YouTube Banner Ideas

Here's an excellent example of a banner with an intense, spell-binding vibe. VanossGaming places its logo in golden color in the center of a black background. A straightforward, no-frills design that displays the brand's personality in an intriguing way.
3. Cool YouTube Banner Ideas

Trend Central's YouTube Banner
Trend Central creates weekly entertaining videos on all different kinds of topics, from unusual people to cool inventions. Its YouTube channel art is mainly composed of red, black, and white, forming a strong color contrast. At the same time, the irregular graphics and the special channel name design in the middle make the entire banner look cool.
4. Cute YouTube Banner Ideas

Funny TV mainly shares funny animal videos. To convey this message, the banner consists of a cartoon cat and channel name. Besides, no extraneous information. The cute YouTube background is so popular. Everyone who comes here focuses his attention on it.
5. Simple YouTube Banner Ideas

Abbey Bankson's YouTube Banner
Abbey Bankson has a simple but stunning banner for YouTube. The fashion and lifestyle influencer chooses to display just her YouTube channel name on her banner. But combining a stylish and colorful font and a white backdrop makes for a simple yet funny design.
6. Travel YouTube Banner Ideas

Nadine is a globetrotter who loves sharing stories of fascinating places and cultures around the world. On her channel, there are some travel tips and advice. Her YouTube banner features stunning landscapes and a picture of Nadine herself in the middle, which displays the subject of the channel.
7. Marketing YouTube Banner Ideas

Think Media is one of the most popular digital marketing YouTube channels. It has a content creation team that brings tech reviews, camera tutorials, and YouTube growth videos to its subscribers, helping content creators take their channels to the next level! Think Media's YouTube banner image contains everything about the channel, from the main content of the video, a sentence describing the channel, and the channel name to photos of team members.
13 Outstanding YouTube Channel Art Templates from Fotor
Here are some examples of what's in store for you. Before you set out to create your own unique banner art, enjoy browsing these cool YouTube banners, which inspire your creativity and ingenuity.
1. YouTube Banner for Tech Channel
You'll be spoilt for choice with Fotor's massive collection of really cool tech YouTube banners. Whether you're reviewing tech gadgets, software, or other types of tech stuff, you'll find a befitting YouTube channel banner template on Fotor.
Our pick of the bunch is this template that reflects the magic of technology with optoelectronic elements and is full of unknown temptations. It can make the audience have a strong desire to discover the channel.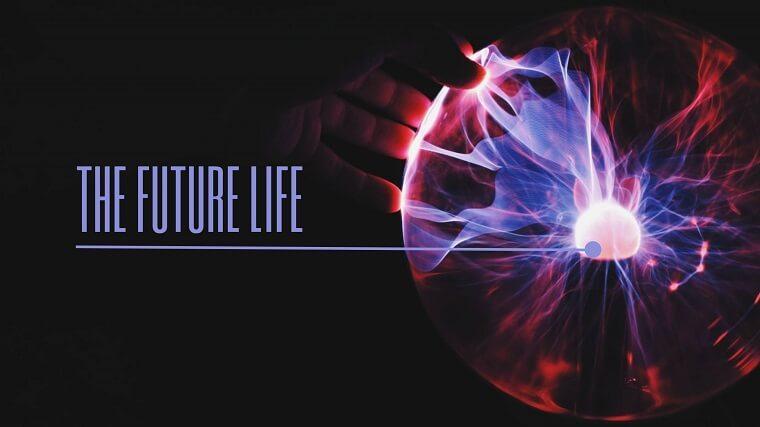 Use This YouTube Banner Template
2. YouTube Banner for Cooking Channel
Use This YouTube Banner Template
3. YouTube Banner for Education Channel
Here's a simple but evocative YouTube channel art template from Fotor for education channels. It simply features small icons and a large tag. The icons quickly evoke imageries associated with learning. The large tag in the middle is a cheeky place to insert some important info on your channel.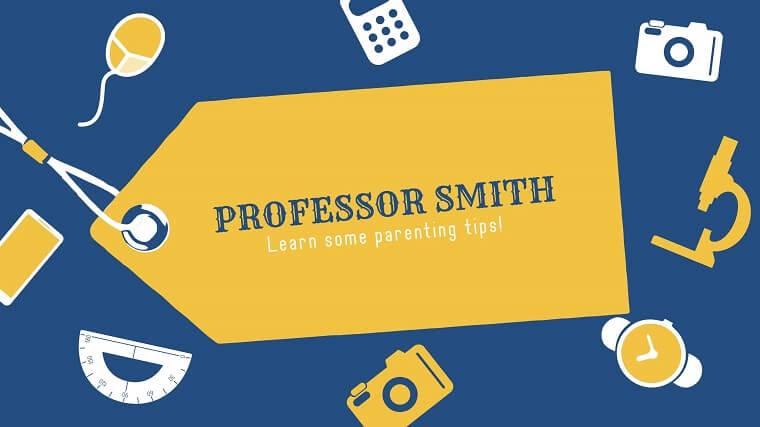 Use This YouTube Banner Template
4. YouTube Banner for Music Channel
Fotor's YouTube banner maker free also has many stunning templates suited to different music genres. This template uses a combination of characters and electric guitars to show that this is a music channel. The Facebook and Twitter account information is on the right, which can increase follower stickiness.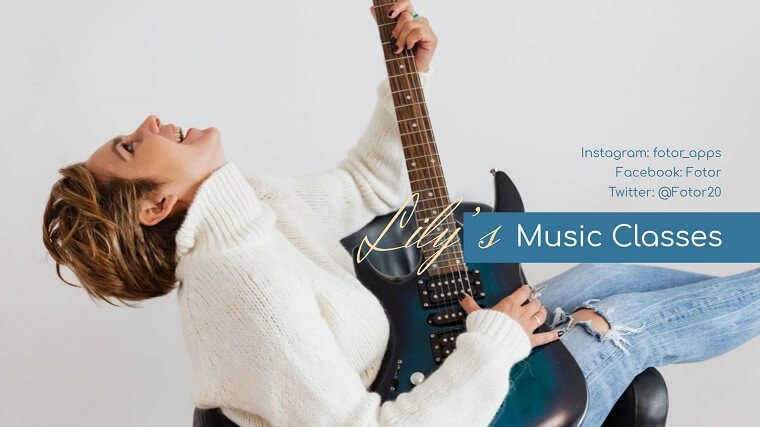 Use This YouTube Banner Template
Use This YouTube Banner Template
5. YouTube Banner Ideas for Gaming
Providing a lot of gaming YouTube channel art templates is our specialty. This one we recommended can grab the viewer's attention right away with the combination of the game background and the channel name. Use it in your channel to leave a deep impression on people.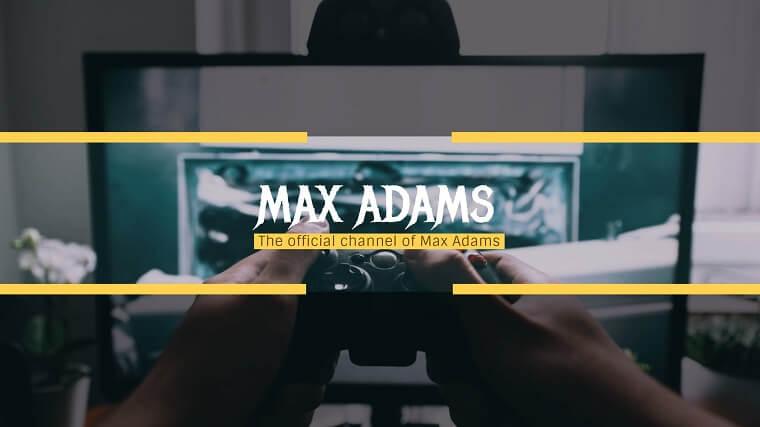 Use This YouTube Banner Template
6. YouTube Banner Ideas for Travel
The banner "Tanya on the Road" not only showcases the theme of the entire channel - travel but also puts the spotlight on the blogger. She travels the world and explores different cultures. In addition to showing a photo of herself and the travel bus, there is also an update time for the video. Make it easy for visitors to revisit the channel for the latest travel videos.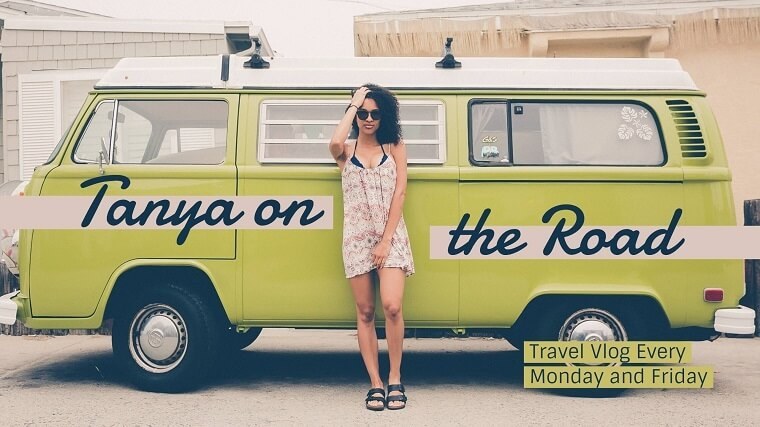 Use This YouTube Banner Template
This travel channel art is pretty simple. It consists of 4 different tourist scenes. Highlight the characteristics of the travel channel. This color theme and font match the channel's tone, thereby keeping them consistent.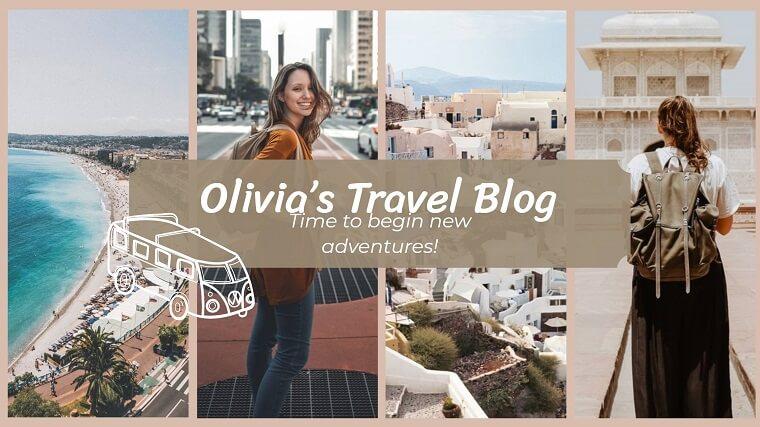 Use This YouTube Banner Template
This channel art is raw and to the point. It includes the YouTube channel's name and a short slogan. And using an entire sea as a background photo for a YouTube banner reflects the determination to explore the world.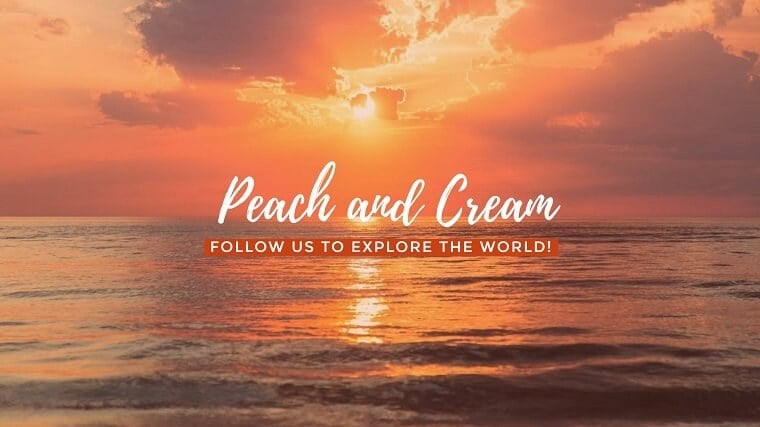 Use This YouTube Banner Template
7. YouTube Banner Ideas for Fashion
This banner features a collage of photos of various makeup products, indicating that the channel is primarily about makeup. "Beauty and self-care advice for you!" in the center emphasizes the channel's theme again. The pink title contrasts with the white background. Get the visitor's attention immediately to the channel banner.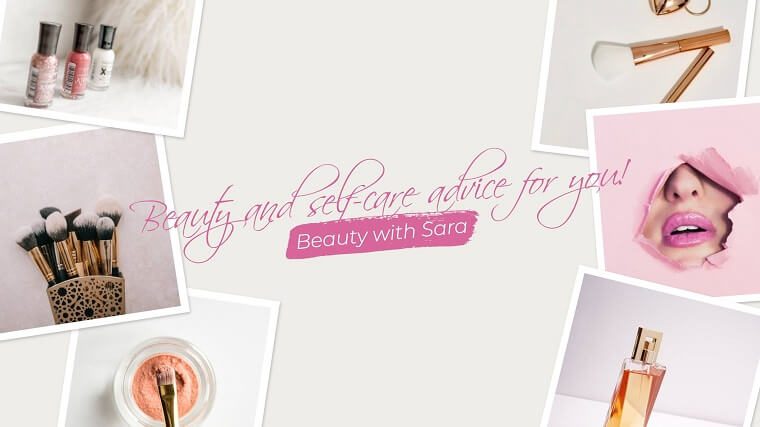 Use This YouTube Banner Template
This banner focuses on clothing fashion. It shows that the channel mainly explains how you can transform everyday apparel into fascinating fashion. Use orange tones in the overall style to let people fascinate.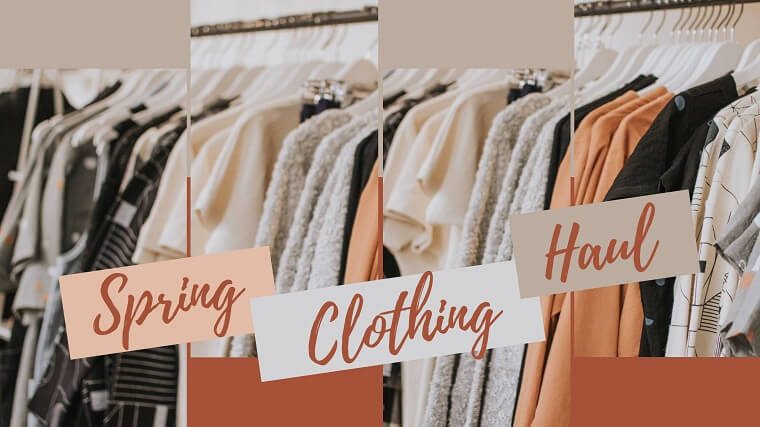 Use This YouTube Banner Template
8. YouTube Banner Ideas for Marketing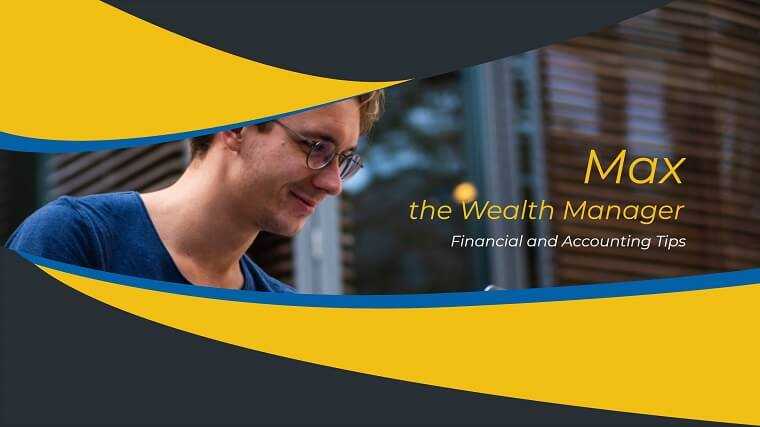 Use This YouTube Banner Template
This banner features black and white digital background, which suggests that the channel is related to the business and the stock market. The green curve overlaps the channel name, making the design even more eye-catching. Concise, clear, and self-explanatory. Bring your business to the next level.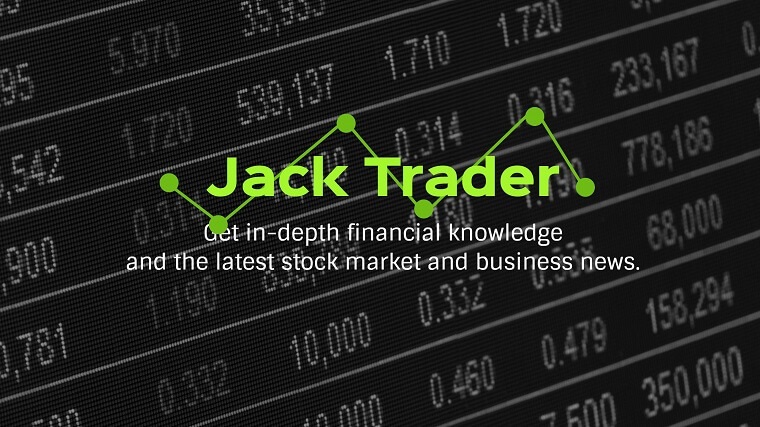 Use This YouTube Banner Template
How to Make Your Own Stunning YouTube Banner?
1. Start from Pre-made Templates
Browse our thousands of pre-designed YouTube channel art templates, and choose one to start. Don't need to start from a blank canvas.
2. Add Beautiful Images
Upload image that match well with your overall branding. Then, you can use our photo background remover to remove background in instant, place the transparent background image to shape, use special image to evoke a particular feeling in your audience.
3. Use Eye-popping Background Colors
Combine your banner imagery with a lively background. Select a YouTube banner background color that conveys your personality and preferences from the color palette.
4. Add Icons to Your Banner
There are rich icons and stickers in Fotor's YouTube banner maker for free. Browse them and select the one that can convey your powerful messages, and add them to your banner image.
5. Add your Brand Tagline and Slogan
Add your tagline and slogan to convey your channel's purpose and brand message in your banner art. Browse the YouTube banner quotes, and choose one to add to your banner.
6. Use Text Effects
Text effects like shadowing and outline can have a dazzling effect on your visitors. Use text effects to make the slogan more evocative. You can experiment with our special fonts and text styles. Choose eye-catching fonts. Also, you can even combine multiple effects to make your texts more eye-catching.
How to Add Social Media Links to Your YouTube Banner?
Lastly, here's how to add more punch and pizzas to your YouTube banner by inserting your social media links.
Step 1: Hop your YouTube channel dashboard, and go to Profile Picture > Channel > Customize channel.
Step 2: On the Channel Customization page, go to Basic Info > Add URL to websites and social media pages, and then add your social links in the fields below.
Step 3: Next, select which links go up on the banner itself and which ones are tagged under it.
Step 4: Once done with all of that, click Publish, and that's it.
Summing Up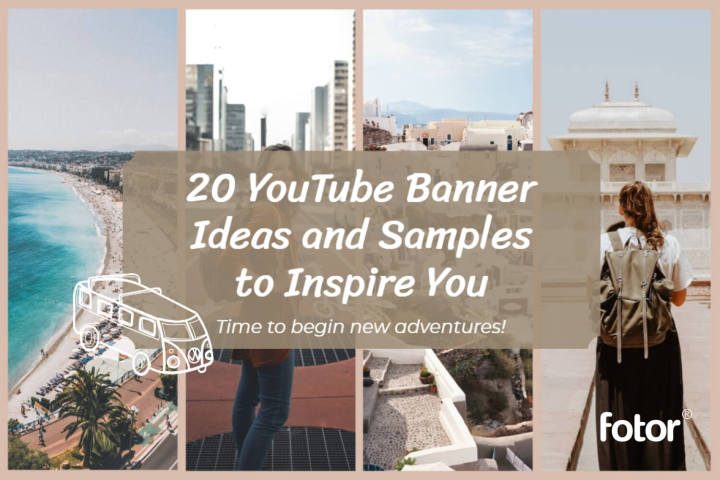 YouTube banner designs don't need to be complicated. All you need are design elements that show your brand identity and move your audience, from imagery to texts and background color. We've shown you all the tips, templates, and inspiring samples you need to whip up a YouTube channel art that's the hotspot for your marketing and branding campaigns.
As a free YouTube banner maker, Fotor offers various YouTube channel art templates for you. Choose one, and use all the tips above mentioned to create a banner art. Now, over to you.