Have you ever seen the lunar eclipse? It is an exciting moment you can't help to take the moon pictures and share them with my friends. But when you hold up your phone to take pictures of the moon, it's so dark and you can see nothing.
In this blog, I will walk you through how to take pictures of the moon with iPhone in easy steps. Then I will introduce night mode and focus features in iPhone and tell you why is hard to take moon pictures. For better moon photos, apps for night sky photography I will recommend for you.
How to Take Pictures of the Moon With iPhone?
For years, iPhone camera has been updated multiple times. For its steady performance and easy interface, the iPhone camera has got a lot of good comments. And these days, iPhone night mode has been updated to shoot on dark nights. With this new technology, you can shoot a night photo as if it is in bright day.
What Is Night Mode?
When you are shooting in low light situations, the night mode will automatically turn on and it will obviously level up your night photos in detail and brightness. When you turn on the night mode to shoot, the iPhone camera will detect the light situation and estimate how long you will stay still for shooting (range for 0-30s). After shooting, it will show you the night pictures processed.
How to Take Pictures of the Moon With iPhone Night Mode?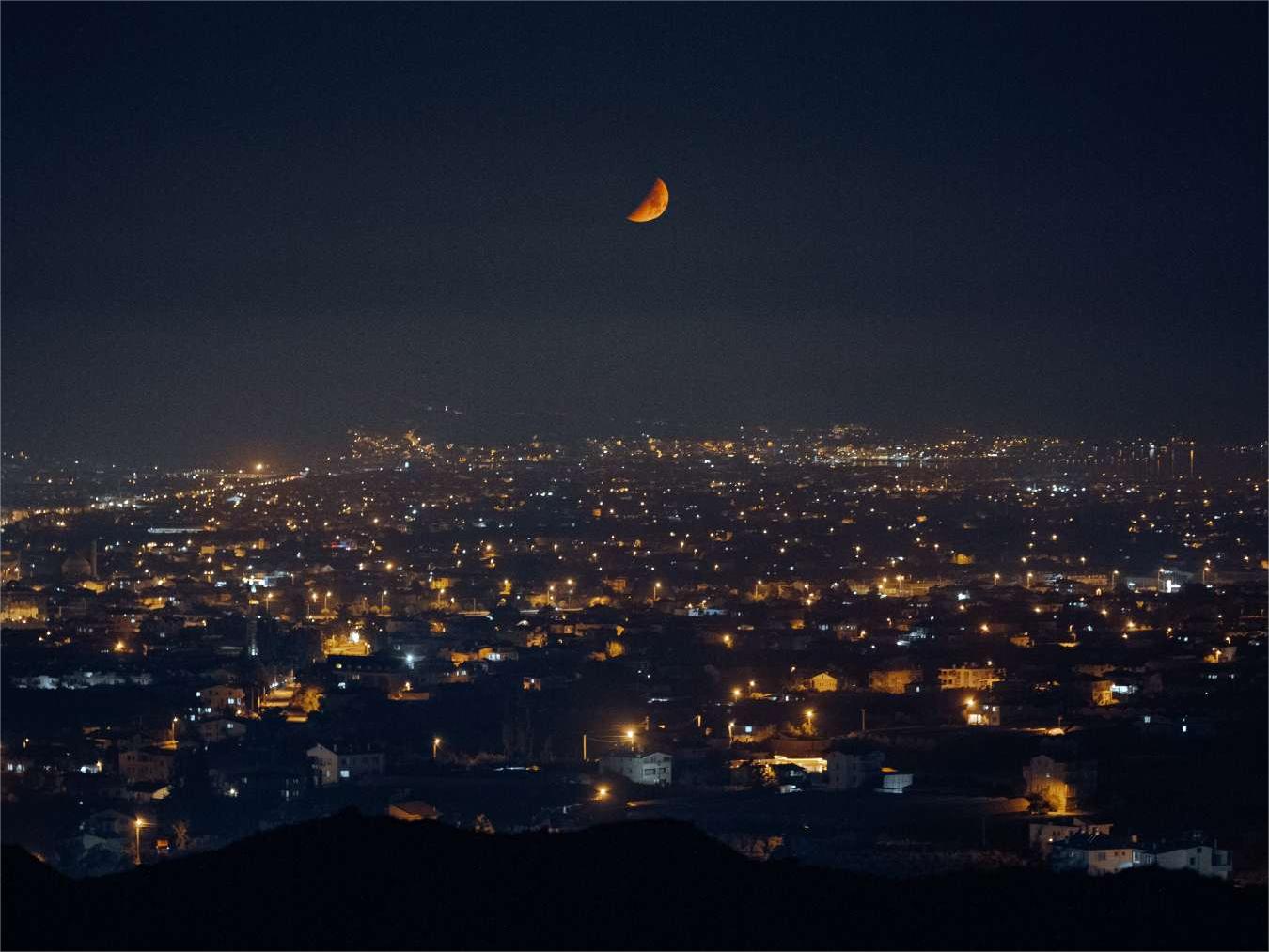 When you are in a low light situation, open your phone camera, there is an icon next to the flash icon in the upper left corner.
If the night mode is on, the icon will turn yellow with seconds. If off it will disappear or be in white.
You can tap the icon to turn it on or off.
When you start shooting at night, you must stay still for seconds to make sure the camera captures details at night.
How to turn off night mode on iPhone? When the night mode is on, the yellow icon will appear, Tap it to turn it off it and will turn white.
Advanced tips: you can swipe up the screen, and find the night mode icon. Tap the icon, you can move the slider to change the shoot time from 0-30 seconds. More seconds means you need to stay still for more time.
iPhone Night Mode Adaptation List
iPhone Night mode is available on the following iPhone models and cameras:
iPhone 14 Pro, iPhone 14 Pro Max, iPhone 13 Pro, and iPhone 13 Pro Max: Ultra Wide (0.5x) camera, Wide (1x) camera, Telephoto (3x) camera, and front camera
iPhone 14 models, iPhone 13 models, and iPhone 12 models: Ultra Wide (0.5x) camera, Wide (1x) camera, and front camera
iPhone 11 models: Wide (1x) camera
How to Take Pictures of the Moon With iPhone Without Using the Night Mode?
If your iPhone cannot use night mode, there is also another method for you. You can use AE/AF Lock to take better photos.
Open your phone camera.
Hold your iPhone to point it to the moon. and long-press the screen. You will find a yellow square appearing.
Tips: Swipe up the shooting screen, and you can adjust more camera settings, flash, night mode, live photos, exposure, and more. Also, you can touch and hold the zoom controls (between 0.5x, 1x, 2x, 2.5x, and 3x) and move the slider left or right to zoom out and zoom in.
Why Is the Moon So Hard to Photograph?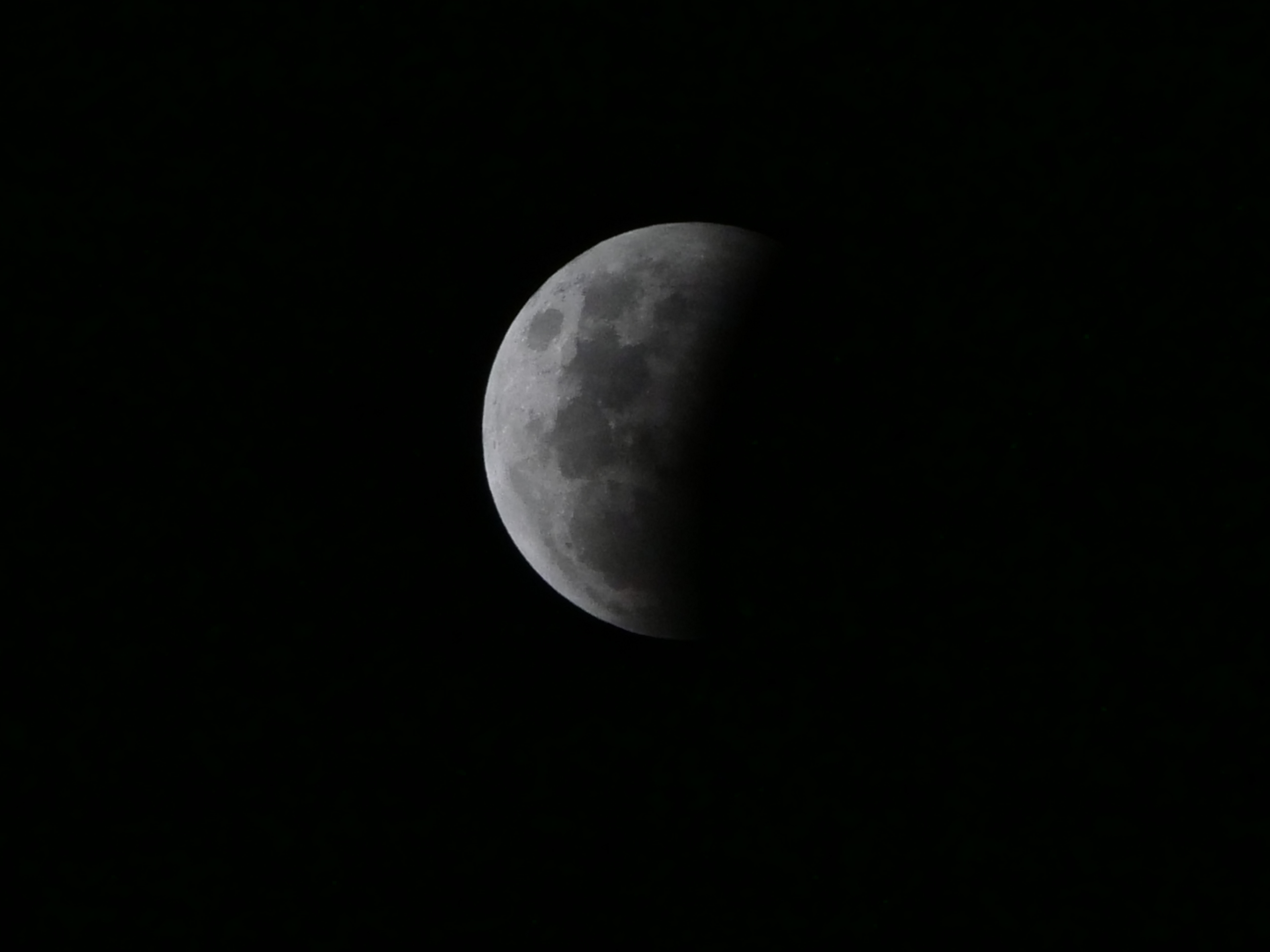 Far distance
The distance between the moon and the Earth is 384,400 km (238,855 miles). The phone cameras are not good enough to capture the moon photos. You can find stunning and clear moon photography actually shot by professional telephoto cameras and professional photographers. You cannot use the phone camera to focus on the moon easily.
Difficult to Shooting at Night
By the way, the night environment is not beneficial for a phone camera. Limited phone camera functions make it hard to take good pictures at night, especially for moon photography. Although you can use night mode or dark mode in a phone camera, these phone camera technologies are computational photography.
That is, computational photography does have a high probability of making up for the shortcomings of optical systems. So, if you want to take pictures of the moon, try to buy a professional camera. You can get a surprise from it!
Apps for Night Sky Photography on iPhone
If you want to get better night sky photography on nights, try to download some apps to level up your night photo quality. Here are the apps list.