Unfamiliar with these tools? Urgent mission without much time? Why not try an online background remover?
You can get your image background removed with one click and download images that you want within several seconds. With this image, you can upload and apply these removed images directly to your PowerPoint making, which makes your operation time-saving, convenient and efficient.
Here I am going to recommend one online editor that is not only powerful and remarkable but also free for you to use.
Fotor AI background remover can automatically detect the subject at once from any photo, remove background in smooth cutout way without any manual work. With artificial intelligence tool, it's easy to handle with hair, animal fur or any complex edges in a few seconds. No matter you want to make high quality transparent PNG, change photo background or add a white background to a photo, you'll just be covered.
How to remove image background with Fotor AI background remover?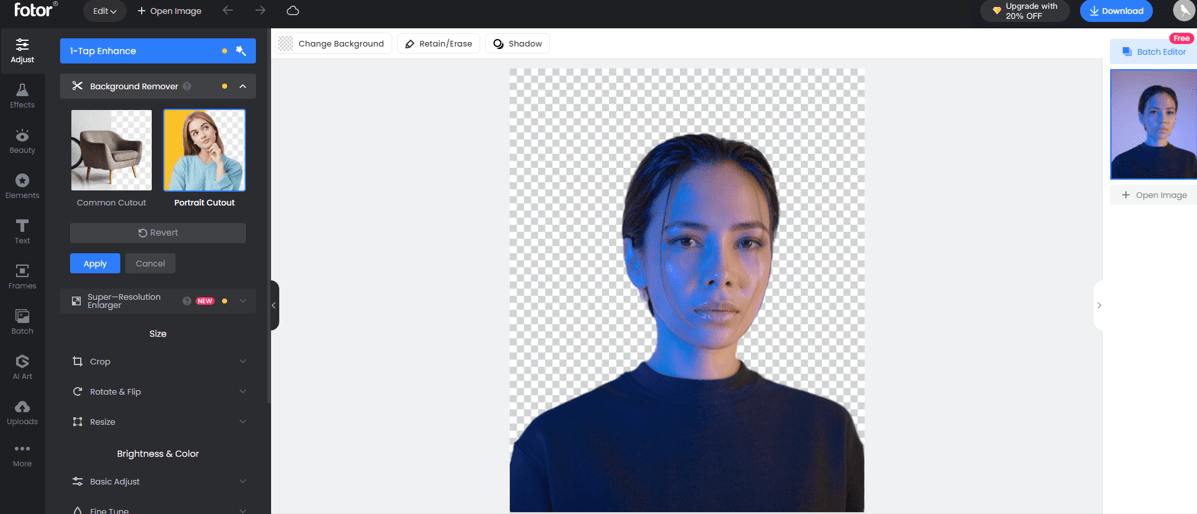 Click the button "Open image" to upload image or drag or drop image to start remove background.
Automatically remove background in an instant.
Download the image in PNG format and keep a transparent background to keep editing
Conclusion
Here we have shared tips about how to remove image background in PowerPoint. With these quick tools, background removal becomes easier for you. Hope these can help you and you will enjoy them, and if you have better solutions, please comment and share with us!
F&Q
1. How do I make a logo background transparent in PowerPoint?
Double-click on the image, then from "Picture Tools" select "Picture Tools Format", then "Color." Select "Set Transparent Color", then once the pointer changes, click on the color you wish to make transparent.
2. How do you remove the background of a picture in PowerPoint Mac?
Go to Picture Tools Format and select Remove Background. In PowerPoint for Mac, go to Picture Format and choose Remove Background.
3. How would you change the background and shading of current slide?
Right-click on the current slide background (Ctrl +click on a Mac) and select "Format Background." Select "Fill" from the left panel to view your options. Create a solid background. To make the background a single color, choose Solid fill.