Fotor is the best Canva alternative. It offers design makers similar to Canva, such as Logo Maker, Flyer Maker, Poster Maker, Graphic Maker, etc.
It supports you to add filters to the images on the templates. Remove backgrounds from the template images is also possible. Then you can use your favorite backgrounds.
Besides, Fotor offers you some editing features. photo enhancer, ai art generator, add frames, add elements. Perfect your design details!!
Rating: ⭐⭐⭐⭐⭐
Free Trial: Yes√
Pricing:
Fotor Pro:
$8.99/Month
$39.99 Billed Annually=$3.3325/Month
Fotor Pro+
$19.99/Month
$89.99 Billed Annually=$ 7.49/Month
Pros:
Cheap
Professional design features
Simplified process
Details ensured
Time-saving
Cons:
Downloading high-resolution png may need to wait for a while.
How to Create a Design with the Best Canva Alternative Fotor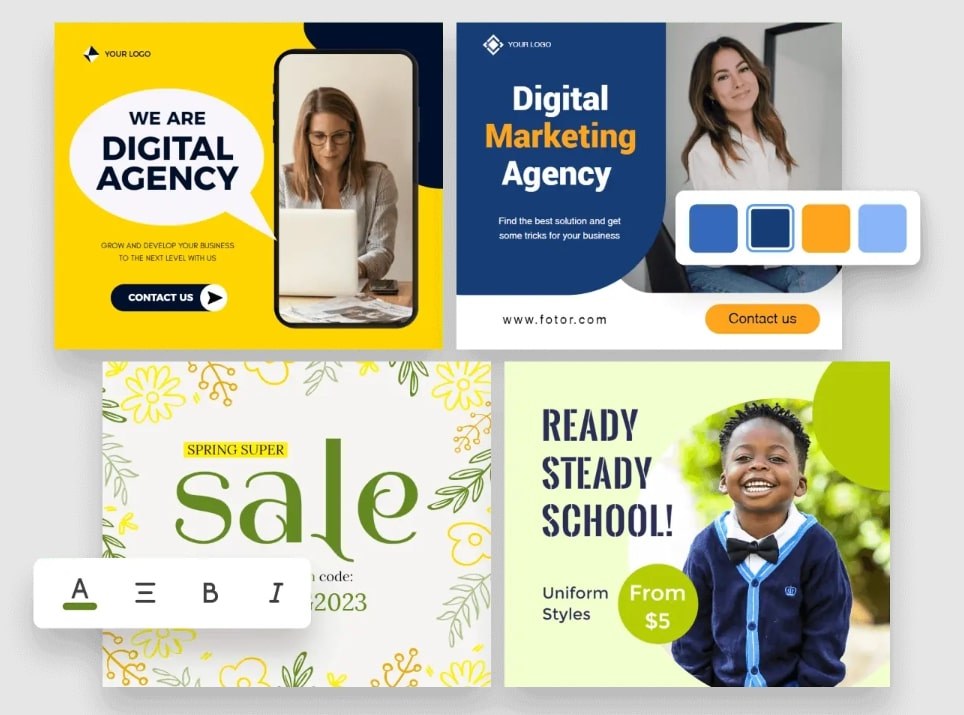 Fotor provides you with a huge number of design templates. And it allows you to create eye-catching work in just a few minutes. Thrust your designs into the spotlight. Follow the steps below to create one:
Click the button "Create a Design Now".
Click All Templates to choose your desired template size.
Search for the series you want to design.
Pick one design template you like and click it.
Adjust pictures or texts on the template.
Download your design or share it with your friends and family.
Design Wizard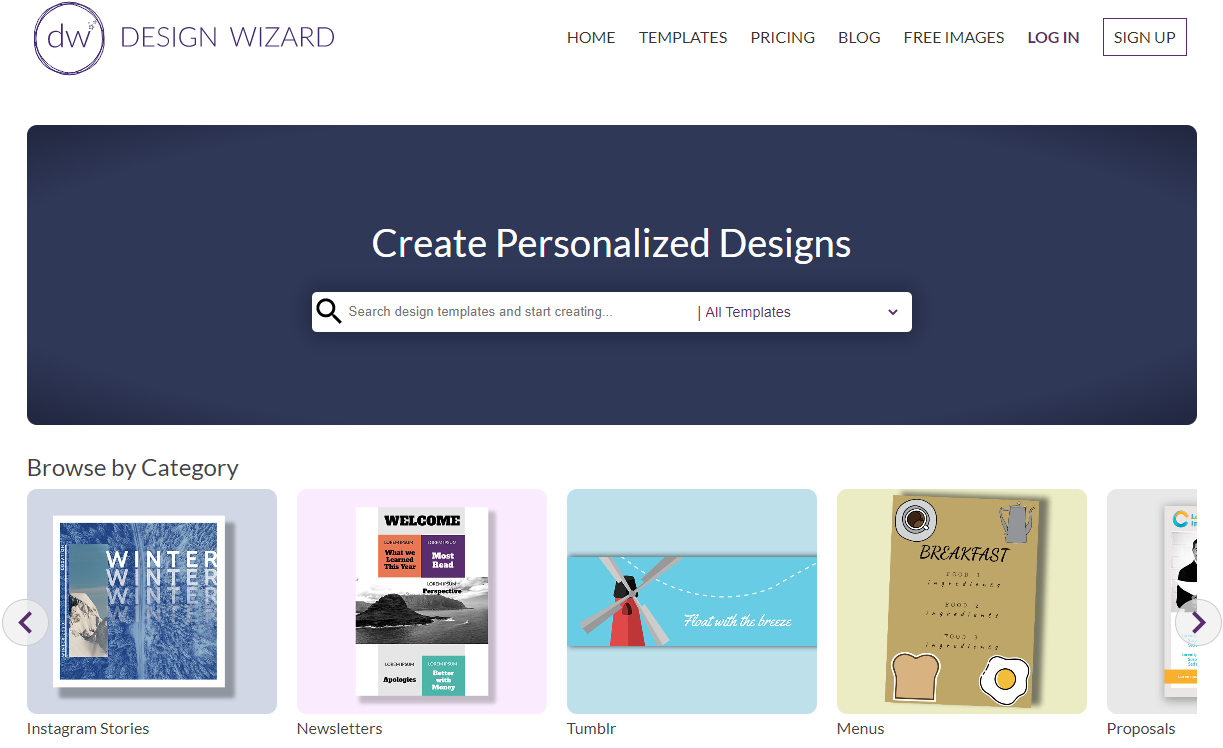 Design Wizard is a very simple and easy-to-use design tool. It is one of the Canva alternatives free to use. It also offers various types of templates that are similar to Canva. It also provides you with some editing features. For example, editing images on posters and adding filters to them. But it has only six filters, not as many as Fotor offers you.
Rating: ⭐⭐⭐⭐
Free trial: Yes√ (features limitation)
Pricing:
Pro: $9.99/Month
$89 Billed Annually=$7.42/Month
Business: $49.99/Month
$449 Billed Annually=$37.42/Month
Pros:
Easy to use
Cons:
Cost some loading time.
Adobe Express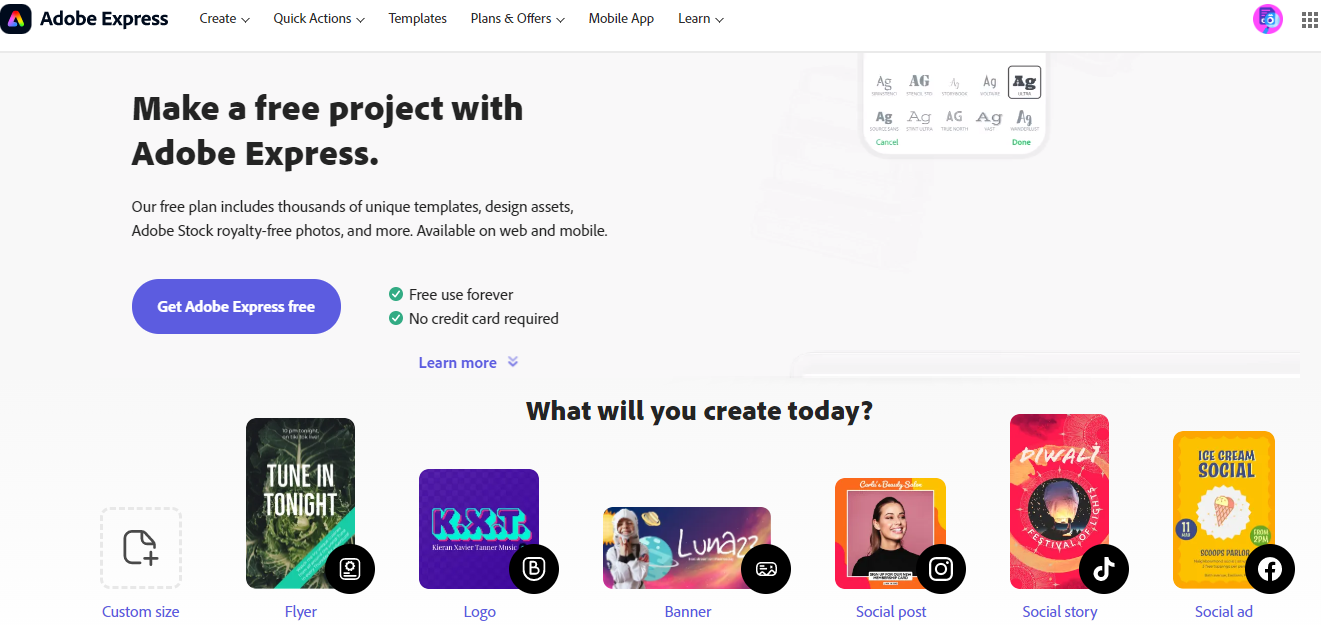 Adobe Express is a useful and popular design tool. It is designed for beginners who want to express their creativity easily. It allows you to edit photos, design graphics, and flyers, make videos and more. Easily create awesome social graphics, short videos, and web pages for your social media and other situations. If you are a long-time user of adobe, then you may like to use it.
Rating: ⭐⭐⭐⭐
Free trial: Yes √
Pricing:
$9.99/ Month
$99.99Billed Annually=$8.33/Month
Pros:
Adobe ecosystem
Cons:
Sometimes your design may not be saved successfully
Easil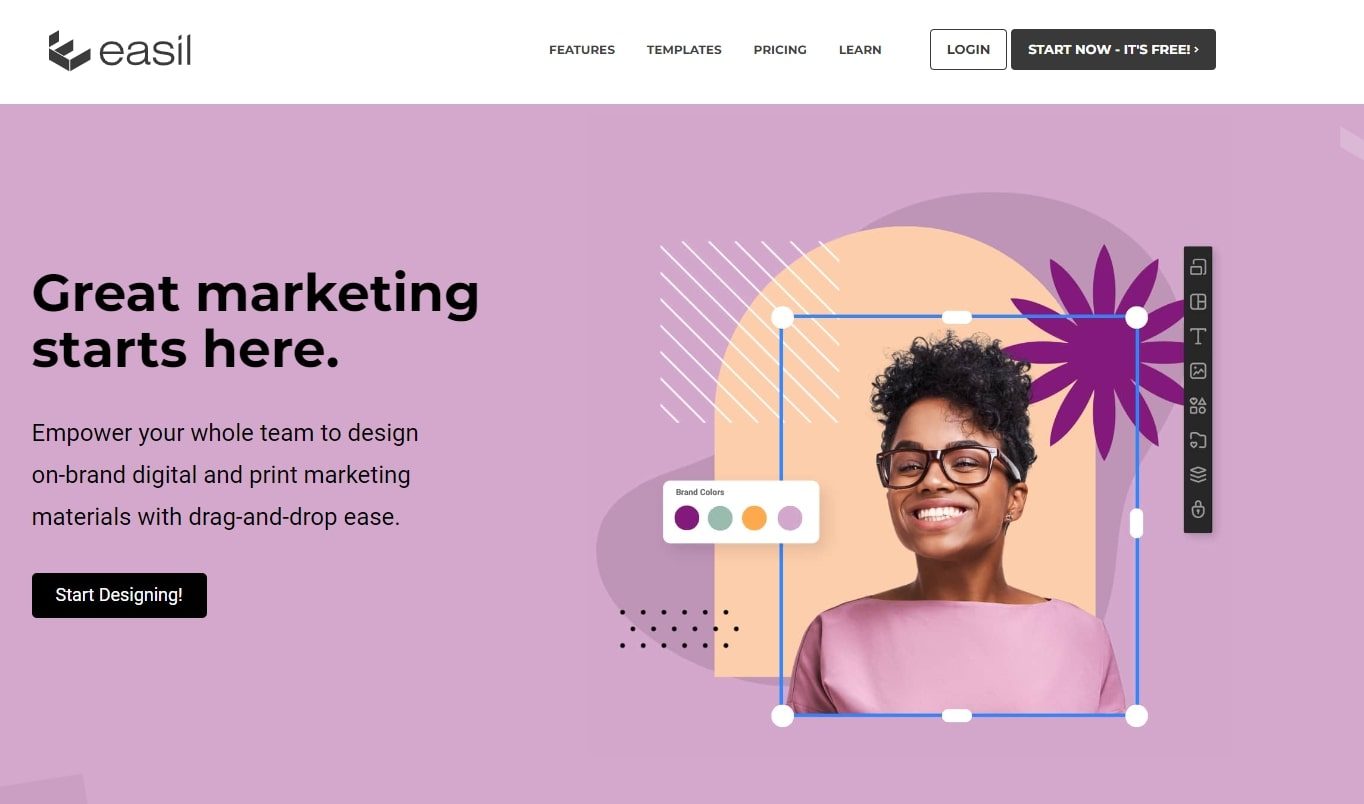 Easil is a very popular design tool. It offers you a wealth of avant-garde design templates. Many of the images on the templates are very stylish. It also provides you with some gif and video design templates. And It allows you to make such eye-catching digital templates. Such gif and video templates will create a 3d sense of your designs. It is one of the best free alternatives to Canva.
Rating: ⭐⭐⭐⭐
Free trial: Yes √
Pricing:
Plus:
$7.5/Month
$75 Billed Annually=$6.25/Month
Edge: $59/Month
$588 Billed Annually=$49/Month
Pros:
Cost-effective
Brief interface
Allowing videos upload
Cons:
Looking for specific designs might take a long time
Pixlr X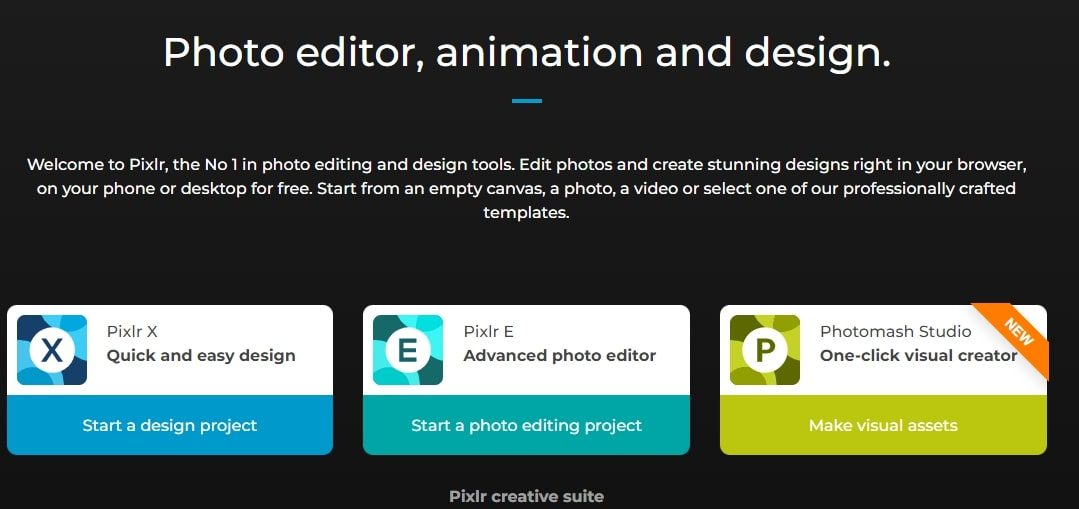 Pixlr X is a great design tool for beginners. It is easy to operate. It also provides you with a wide range of design templates similar to Canva. You can also edit the various components of the poster. Besides, it also provides you with the ability to add effects. However, the number of effects is limited and not as many as those provided by Fotor.
Rating: ⭐⭐⭐⭐
Free trial: Yes √
Pricing:
Premium:
$7.99/Month
$ 58.8 Billed Annually=$4.9/Month
Team:
$12.99/Month
$ 118.92 Billed Annually=$9.91/Month
Pros:
Cheap
Cons:
There are Ads in the right column in the operating the interface.
Which of the Best Canva Alternatives is Right for You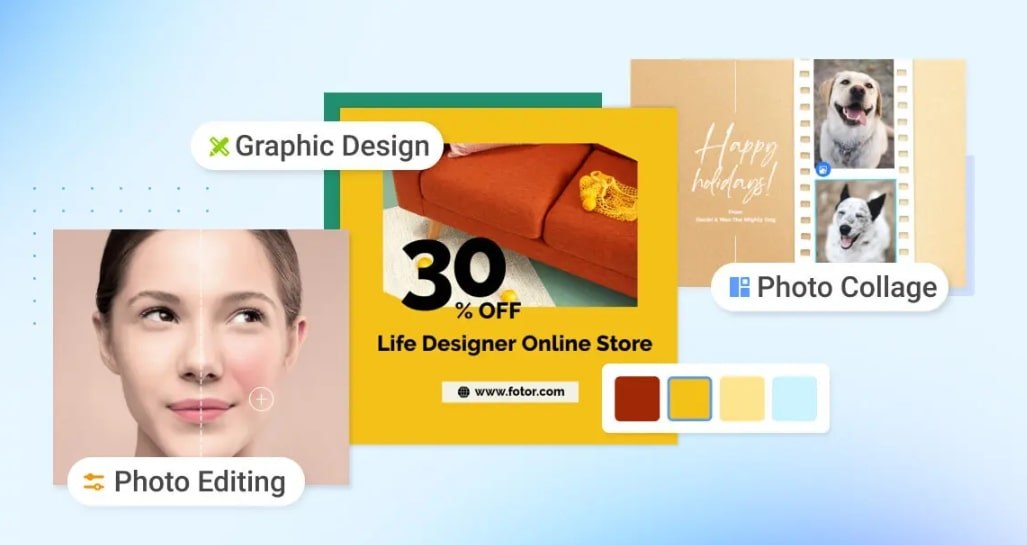 Fotor is a powerful Canva competitor. And it is definitely the best alternative to Canva right for you. Its design and editing features are very powerful. And its price is very cost-effective.
Whether you compare it with Canva or the other four alternatives to Canva, Fotor wins with the cheap price and better experience. It is $4 cheaper than Canva.
Whether you are looking for an alternative to Canva for mac or pc, you can try Fotor.
In terms of design features:
Canva vs. Fotor
(1) Add image filters to the template: Fotor√ Canva×
(2) Image background remover on the template: Fotor√ Canva×
Fotor provides you with more freedom for customization and quality design templates.
Finally, Fotor also provides you with more poster-editing features. After designing your work, optimize your design is available. For example, add a poster border. And it is not available in Canva.
Conclusion
In this article, we compare the 5 best websites like Canva for you. We compared their price as well as pros and cons. They provide you with some design features that are better than Canva. Meet your multiple needs. But among them, Fotor offers you more editing surprises. Discover more with Fotor now!