There's no secret that you have many AI image enhancers to choose from. But if you are looking for a powerful image upscale tool that is very easy to use and can be used online without downloading, look no further than Fotor.
Fotor is a one-stop photo editor that combines image editing and design, where you can completely upscale your images from portrait retouching to Instagram post design... AI Image upscaler is one of its many tools featured. Just drag and drop your image and apply this tool, and you will get a perfect quality image in seconds.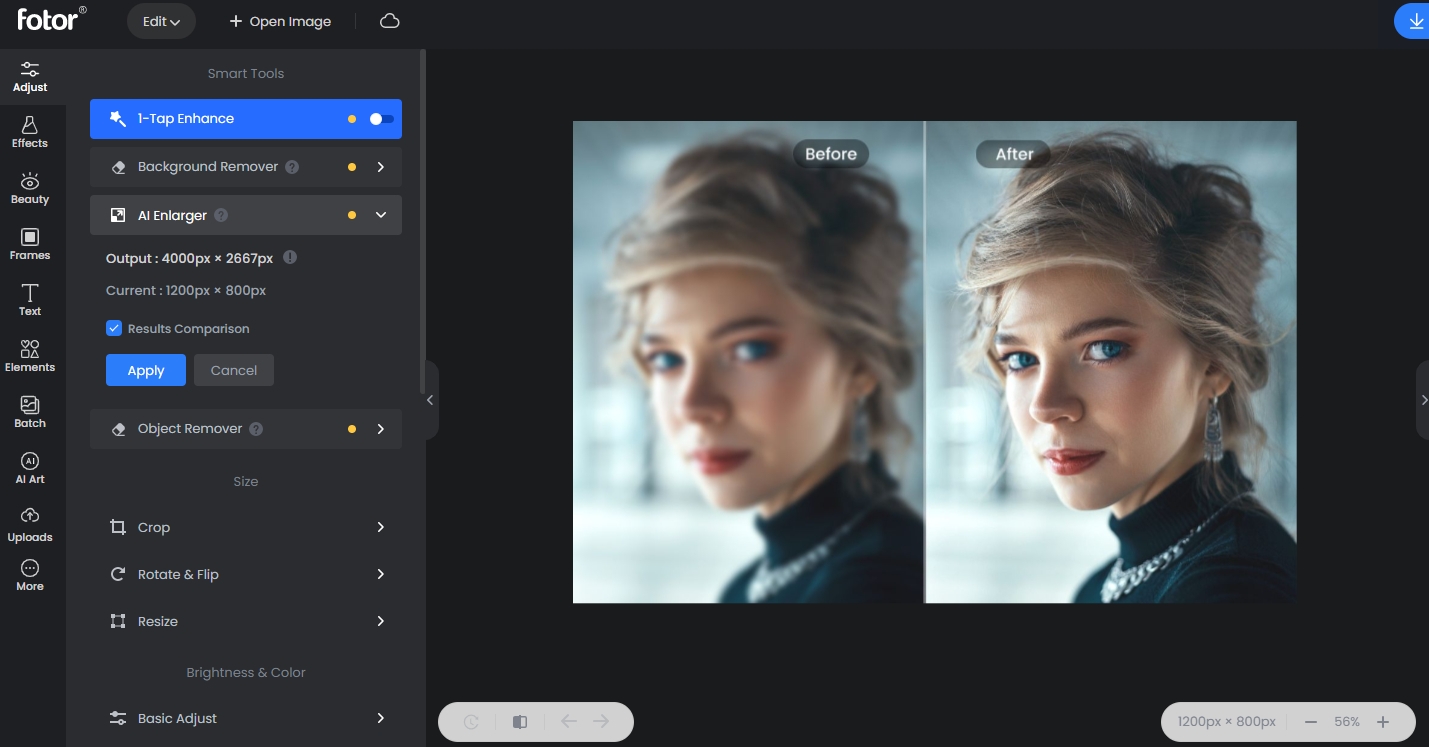 Pros:
Instant image quality improvement.
High quality image output.
It is worth mentioning that in addition to this AI-based image updater, Fotor has another AI product- AI image generator, which is capable of converting text to images in seconds. Try creating something new with Fotor's AI image generator!
VanceAI image upscaler is an online effective photo enhancer that focuses on enhancing details and helps enlarge images up to 800% without losing quality. This AI image enlarger also includes other basic editing tools such as cropping and resizing. To enhance your image, all you need to do is upload an image, choose the right magnification, and then you can download the enlarged image in high resolution.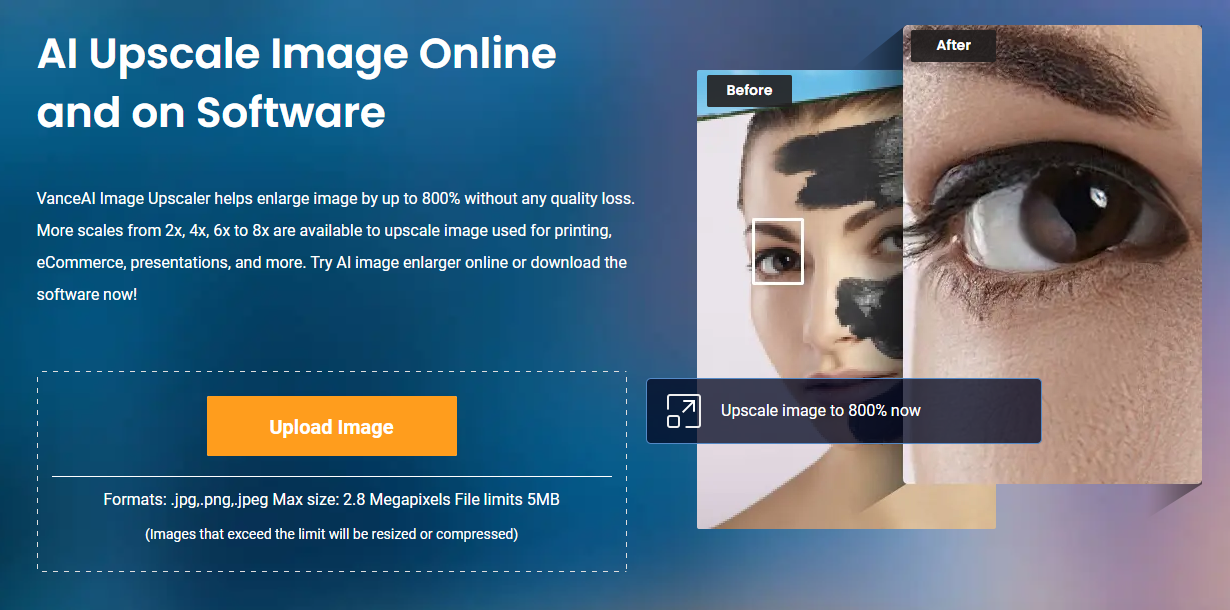 Pros:
Upscaling image up to 800% without losing quality.
Cons:
When using the free version, there are watermarks on the upscaled images.
Editing tools are not comprehensive and not suitable for professional photo editing.
Let's Enhance is an online photo enhancer. With AI technology, Let's Enhance reduces noise and blemishes in images, resulting in high-quality images. In addition, it enables 4K upscaling without loss of quality. This tool is perfect for enhancing the colors of your photos and restoring lost textures and details. It supports up to 16x enlargement of your photos.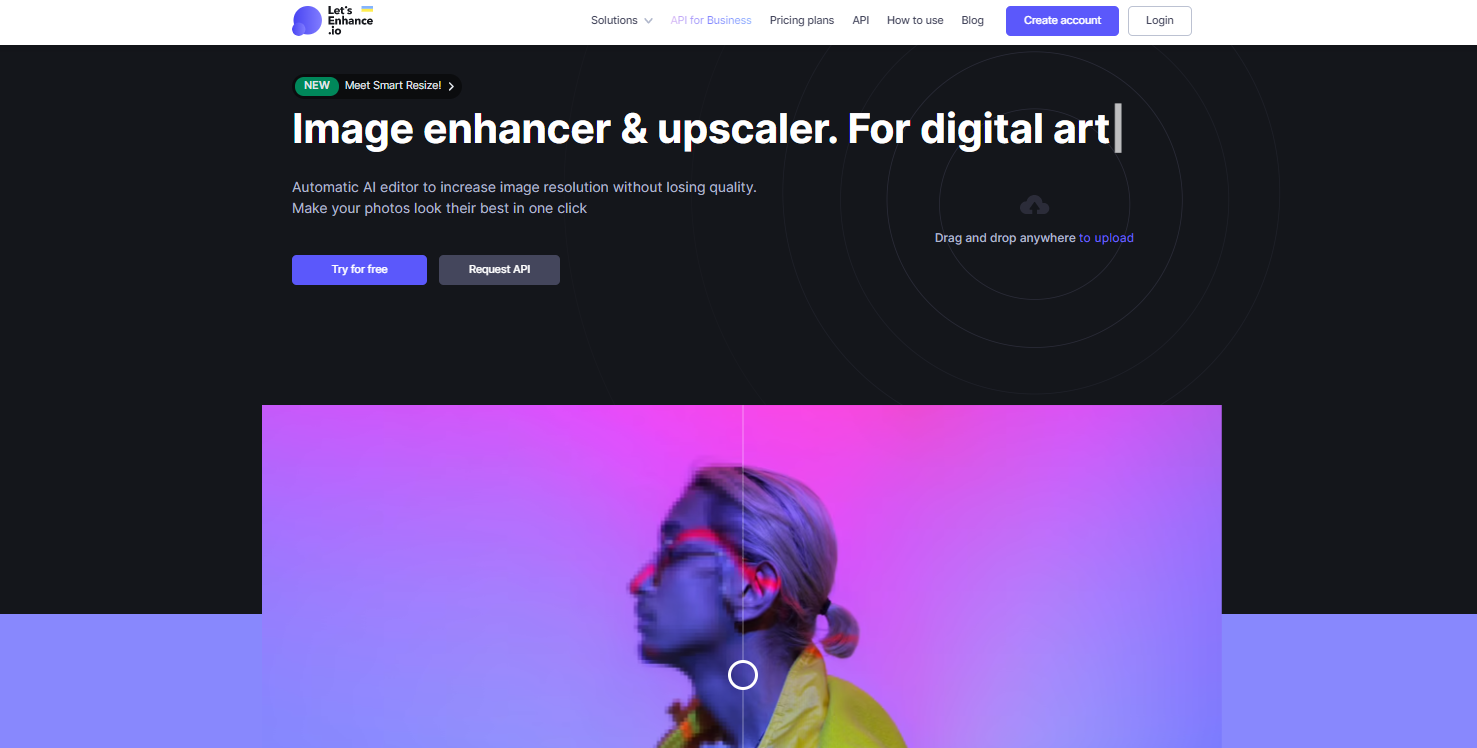 Pros:
4K upscaling without losing details.
Cons:
It has no built-in editing capabilities. So, it's only suitable for picture upscaling but not image editing.
Upscale is an online AI upscaler that allows you to upscale and enhance your images on a web-based program for free and with no registration required. This tool improves image resolution and quality without degrading the image, and can enlarge your image quality by up to 4 times. Through AI algorithms, it can enhance the resolution while keeping the original details of the image, and making it look more professional and clearer. The tool is very easy to use and offers a batch editing feature.
Pros:
Image upscaling up to 4x.
Bulk upscaling for saving time that most tools can not provide a feature like this.
Keep natural image detail.
Cons:
Unexpected errors occur when processing. (When your images scale up too big.)
Deep Image AI is designed to make it easy to upscale images and enhance quality, you can also easily upscale photos on your mobile device, and this tool is also perfect for those who want to enlarge images in bulk. Through precise AI algorithms, Deep Image AI is able to enlarge image pixels while maintaining a natural look, which means you won't lose any image detail.
In addition, it supports an API, which enables you to integrate the enhancement tool into your own projects. One thing to note is that the platform has a size limit for ai upscaling, which is 5000 x 5000 pixels.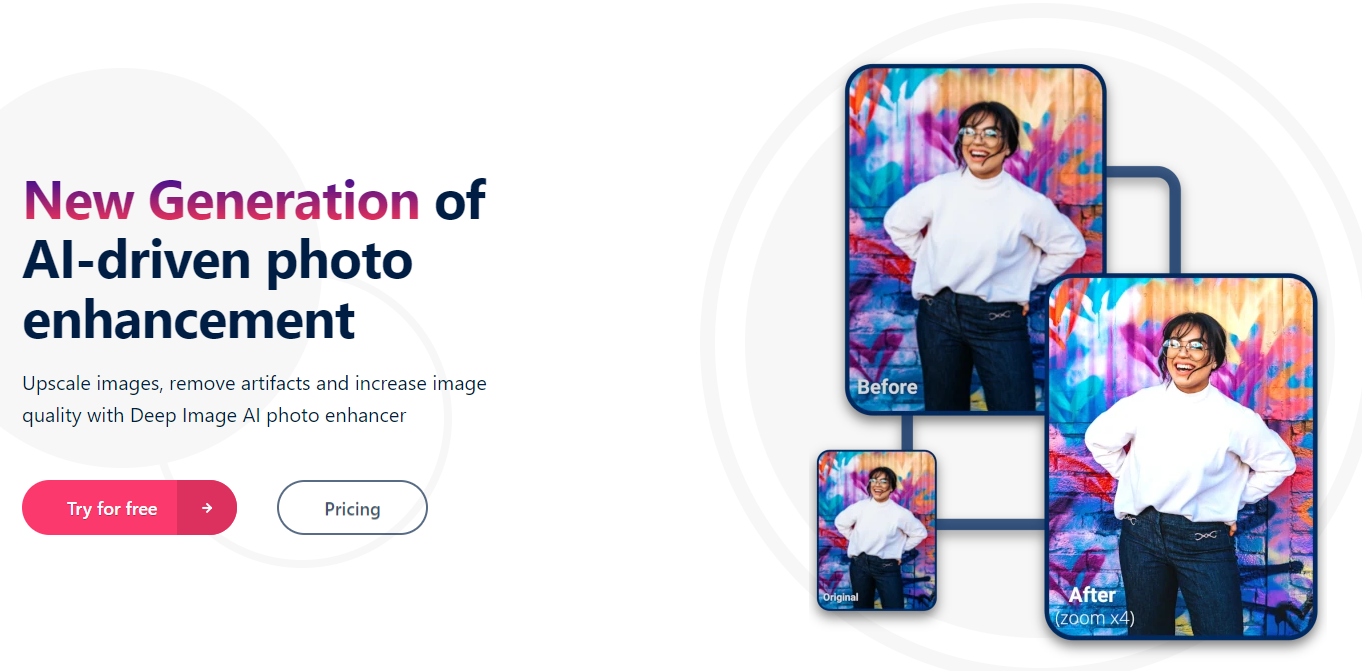 Pros:
Cons:
Registration is required to use this tool, otherwise it will not be accessible.
The free trial has limitations and you will not be able to fully understand the tool.
Icons8 is also one of the top-rated AI image upscalers, you can use Icons8 to upscale images online for free (but there will be a watermark in the result). Icons8 is a great AI tool that will automatically fix imperfections in your images when you enhance their resolution.
This tool's smart algorithm will allow you to enlarge your images 2x or 4x without losing any detail or quality. And you don't have to worry about storing your images at all, the enlarged images are stored safely and they are not shared or displayed. You can even view the history and re-download the enlarged photos.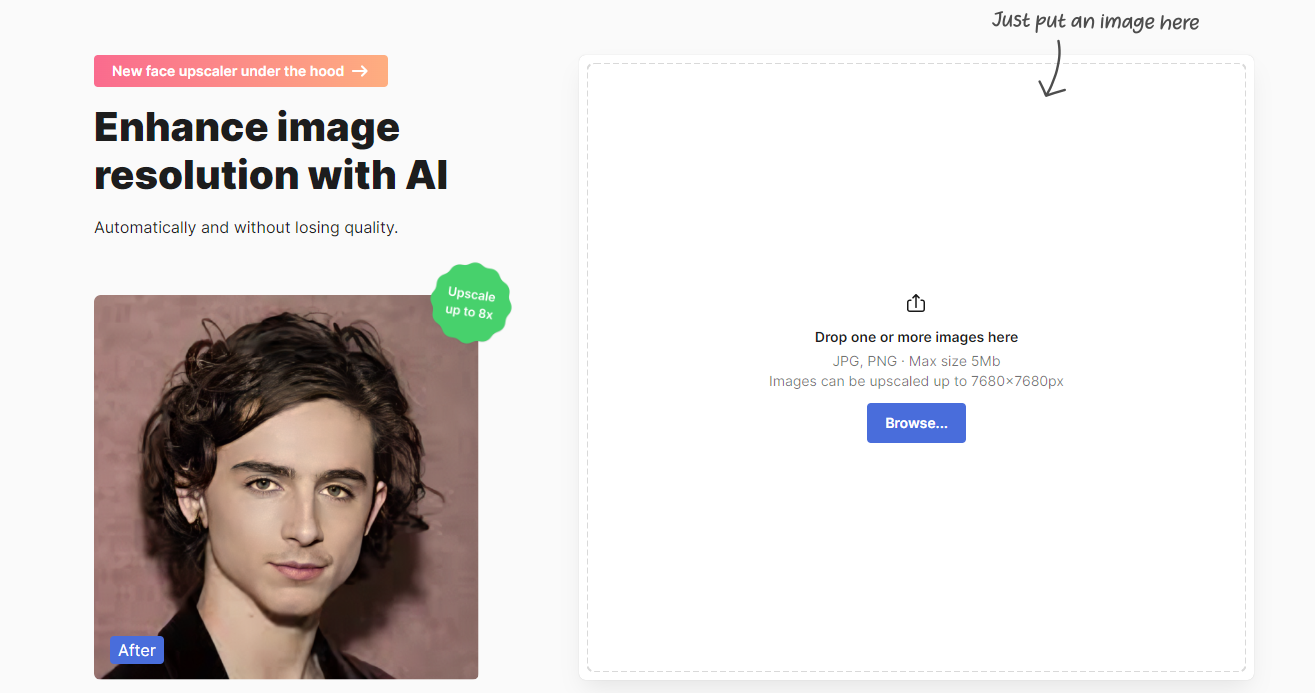 Pros:
Automatically correct photo blemishes.
Cons:
Watermarks in the upscaled images when you use the free version.
This tool is a user-friendly AI image upscale software, it can enlarge the photo quality up to 8x. You can enjoy 3 free images upscaling. Enhance the resolution, smoothness and contrast of your photos with just one click to get awesome professional results. And it maintains the original texture of the image while enlarging it and supports batch processing.
In addition to that this tool has a very powerful and effective feature built in, which is social media cropping, with its cropping tool you can resize your photos according to the standards of social media platforms.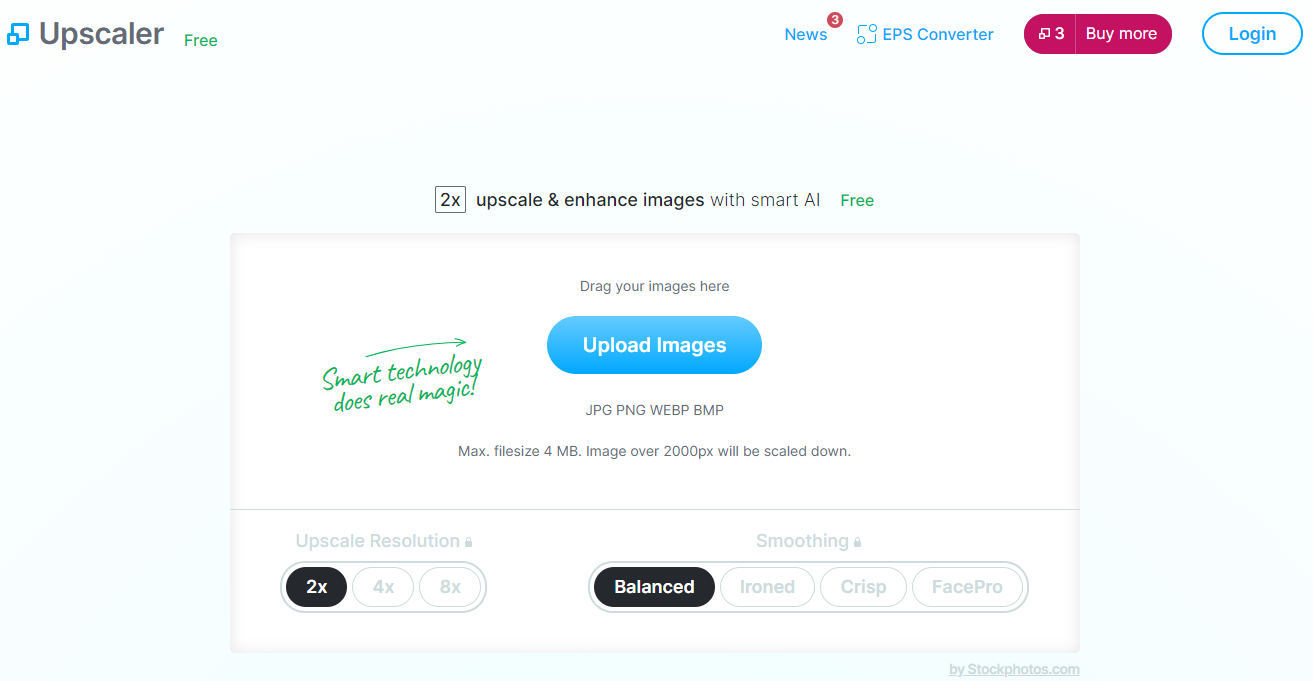 Pros:
Image upscaling up to 8x.
Cons:
Can not enhance images with low pixels well.
Summing up:
Whether you're using normal image enhancement techniques like Photoshop or other professional image editors, or powerful AI upscaling tools, enhancing the detail and quality of your photographs is always the ultimate goal. Now, you know about the 7 best AI image upscalers for making your low-resolution images high-quality. We hope that this guide will assist you in choosing the ideal image enlarger tool to further enhance the quality of your images.