Common Applications of Ivory Color
Ivory Color for Interior Design
As a neutral color, ivory can be used well as an interior background and it is sure ivory is a color you can find in most homes. Because it is very light, it can complement any environment and any style. The ivory color goes well with anything from bohemian to industrial design.
Ivory Color for Clothing
In terms of clothing, ivory is a popular color, especially for wedding dresses. White can sometimes be too cold and bright, so today ivory color wedding dresses are more popular than white. Ivory is a more elegant color that offers the same clean feel as pure white but is warmer, calmer, and more luxurious than white.
Ivory Color for Graphic Design
Ivory is also widely used in graphic design, most commonly in wedding invitation design. Ivory symbolizes holiness, elegance, and luxury, and it is perfect to combine with gold to design wedding invitations.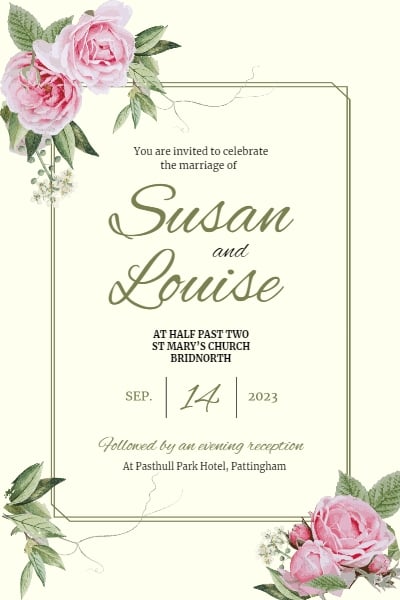 Fotor graphic designer helps you design a unique wedding invitation effortlessly. In addition to preset wedding invitation templates in various styles, Fotor also offers many stickers and fonts.
Moreover, Fotor features a thoughtfully integrated color wheel that makes it simple to change the backdrop color of your invitation to ivory color. Alternately, any font can be adjusted to ivory color. In conclusion, creating an cream ivory color wedding invite is simple.
In addition to wedding invitation templates, Fotor has thoughtfully preset many other templates. Whether you want to design a creative photo for your Facebook cover or create a card for an upcoming birthday, Fotor has you covered. Try it out!
Conclusion:
You should now have a greater grasp of ivory color with this post, including its meaning, contrasting color, the graphic design used in Fotor, and more. Hope this post will be useful to you and inspire you on your projects.