Instagram has become a powerful platform for visual storytelling in the fast-moving world of social media. To make the most impact, it's crucial to know the best sizes for different types of Instagram posts. Whether you're sharing a photo, video, or story, the right size ensures that your content looks professional and visually appealing.
In this article, we will introduce all types of Instagram posts, including three types of photo post sizes, Instagram video post size, Instagram story size, and Reel video size. We'll also share how to resize image to suitable Instagram post size and create stunning Instagram post. Please read on for your Instagram post design ideas.
Instagram Post Size
There are three types Instagram posts and they are in different sizes and ratio. Square, landscape and portrait size post are here for reference.
Square pos size: 1080 pixels x 1080 pixels
Landscape post size: 1080 pixels x 608 pixels (aspect ratio of 16:9)
Portait post size: 1080 pixels x 1350 pixels (aspect ratio of 4:5)
It's worth noting that Instagram's image processing may compress and resize images to fit its requirements, so using the recommended sizes will help maintain image quality. Here we recommend online Instagram post maker for you to easily create Instagram post in any size. Fotor also provides multiple stunning Instagram post templates for you to fully customize and create a unique post design. Millions of stickers and photos materials are also covered in Fotor.
Instagram Video Post Size
video size does not exceed 4GB.
Video posts are a maximum of 60 seconds long.
You can upload a video that is the same size as the image post above, with an aspect ratio between 1.91:1 and 4:5.
The video will look most natural when you keep it as its original size, which usually be 16:9.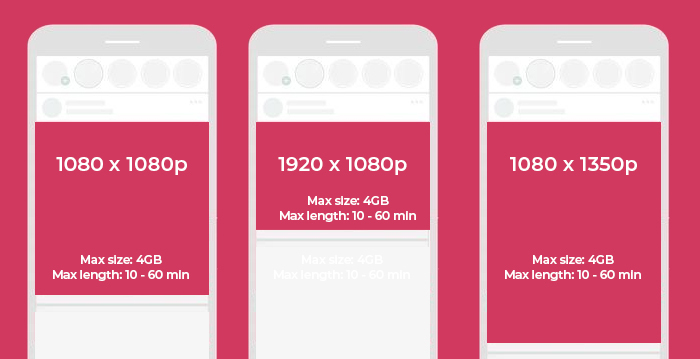 Instagram Stories Sizes
Instagram story image can be sized to fit full screen, but the recommended size is 1080px by 1920px (a 9:16 aspect ratio). The photo and video story are both applied. This ensures that your visuals are crisp and clear on any device. By adhering to these dimensions, you can ensure that your story effectively fills the screen and engages your followers.
Knowing the right size for Instagram stories is essential for maximizing audience engagement. By using the recommended resolution, you can create visually appealing photo story with stunning Instagram story templates that stands out from the crowd of social media posts.
Reels Video Sizes
Similarly, size plays a crucial role when creating Reel videos on Instagram, the platform's answer to short-form content, which can be up to 30 seconds long and have a resolution of at least 720 pixels wide by 1280 pixels high. Keep these dimensions in mind when shooting or editing your Reel to ensure your content looks polished and professional.
How to Resize Your Image to Instagram Post Size?
For the average user, remembering all ins post sizes for a better visual experience is not necessary, you can try an online resize tool for help. Here we recommend Fotor's Instagram photo resizer for you.