Nowadays, visual content is becoming increasingly popular, and static images are no longer enough to capture attention. Animation brings pictures to life, adding a dynamic and engaging element to your visuals. Whether you want to create eye-catching social media posts or enhance your personal projects, knowing how to animate pictures can take your creativity to the next level. With these image animators, you can easily breathe dynamic life into your immovable images, adding movement and filter effects.
In this article, we will talk about how to animate pictures and explore the best image animators available online and on your phone in 2023, providing you with a range of options to suit your needs.
How to Animate Pictures Online For Free
The online realm offers a plethora of tools and image animation software that allow you to animate photos online without the need for downloading and installing complex applications. Here are three popular online image animators you can try.
Adobe Express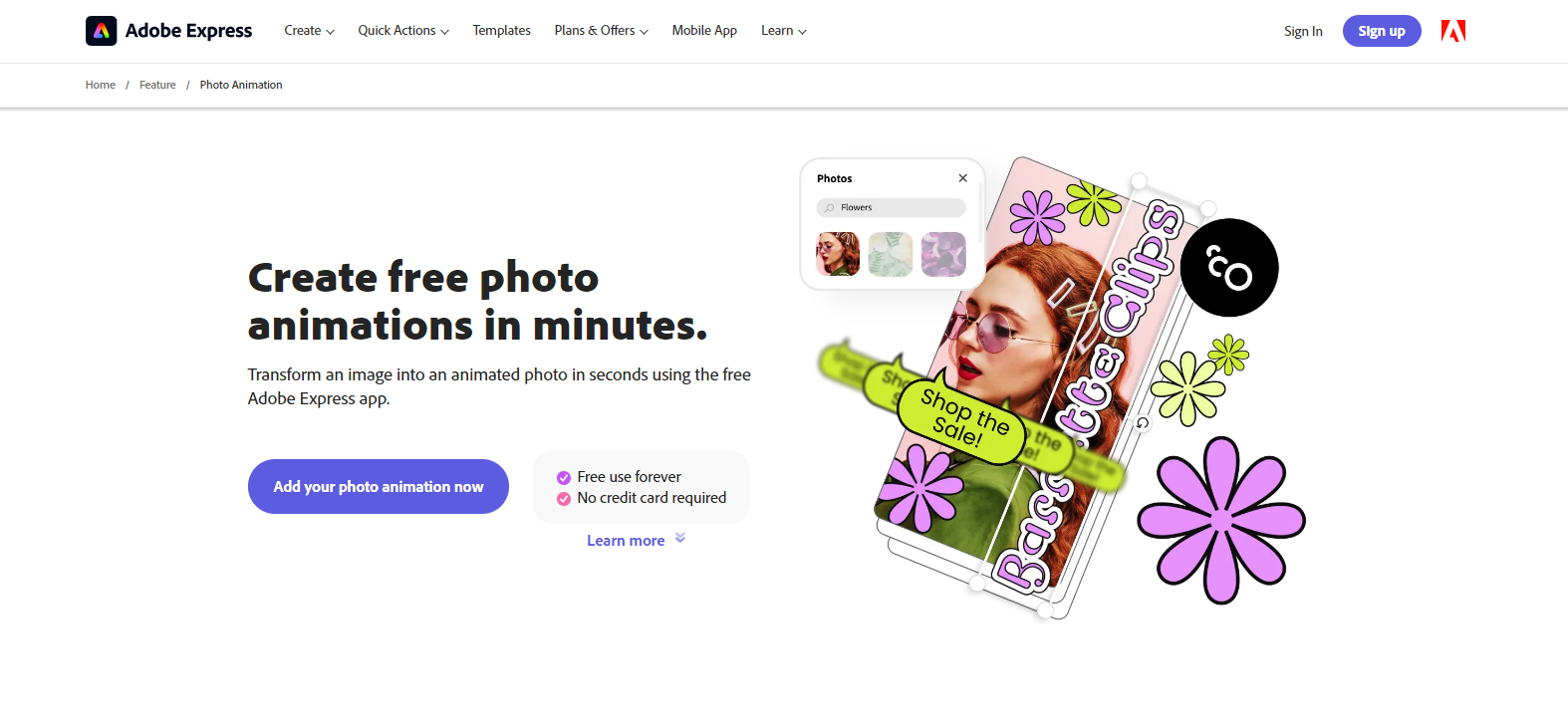 Adobe Express, previously known as Adobe Spark, has plenty of animation tools. They are pleasantly simple to use, as CC Express is one of the best photo editing software for beginners. You can leverage this power of animation to make a design that stands out among the rest. Select from photo animation options, including zoom, pan, blur, or fade, to highlight your photo in a captivating way. If you find yourself short on ideas, explore the Adobe Express template library, loaded with thousands of professionally designed examples to kickstart your creativity. Choose a template, remix it with your own photos and personal touch, and publish it in minutes.
Here are steps to animate pictures on Adobe Express.
Step1: Upload your image. Open the image that you're going to work with. You can upload a photo from your photo library or pick an stock image from the software's expansive library.
Step2: Animate your photo. Select the Animation tool and choose from a handful of creative animation options. Browse through each one to find the effect that best fits your aesthetic.
Step3: Save and Download. Once you're done editing in this convenient photo animation software and are satisfied with the finished animated picture, press the Start Download button. Pick the suggested MP4 format from the option list and download the animated image onto your device.
Picsart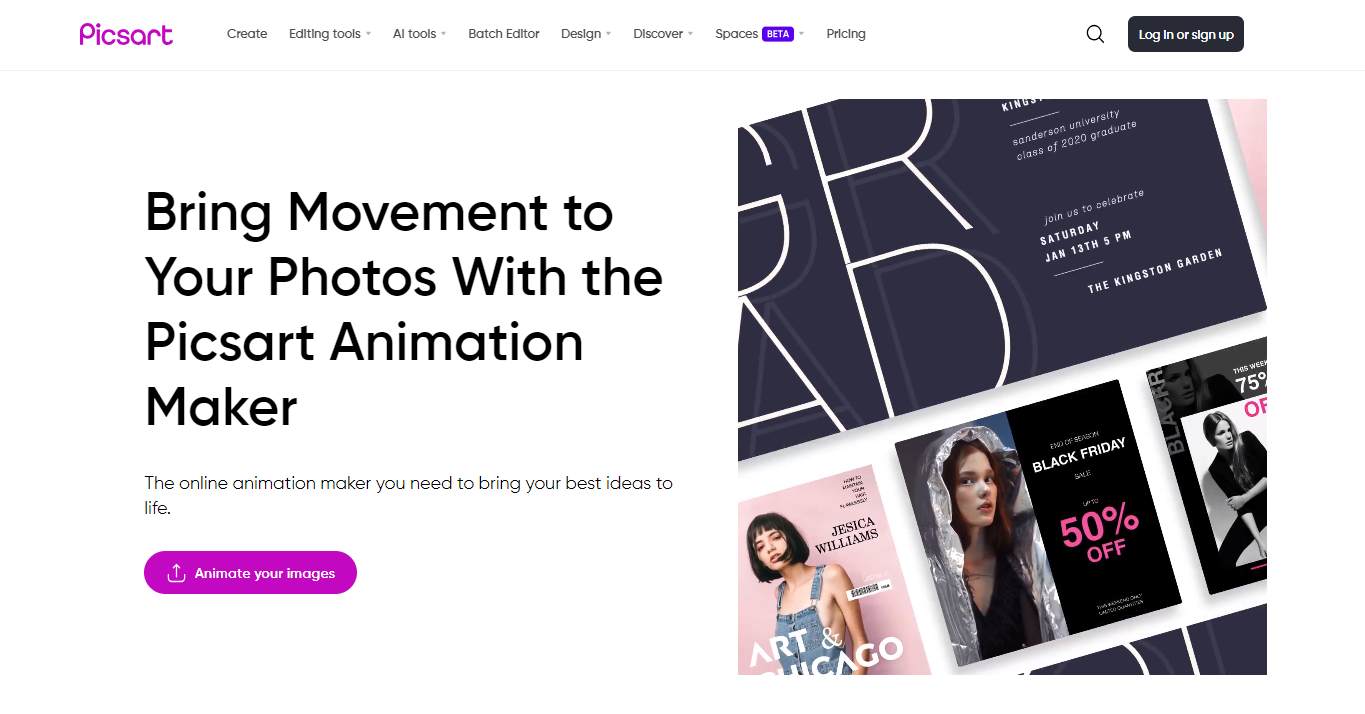 Picsart is a powerful online animation maker you need to bring your best ideas to life. Adding animations to photos with Picsart is effortless. The animations are simple, satisfying, and super effective. It offers a wide array of tools and effects, enabling you to bring your pictures to life in creative ways. From basic animations like moving text and objects to more advanced techniques, Picsart provides an extensive library of resources to experiment with. You just click the object you want to enhance (photo, sticker, text, shape), click the animation button at the top, and apply your desired effect. If you want to take it a step further, click it again. Additionally, it has a vibrant community where you can share your animated creations and gain inspiration from others.
Here are steps to animate pictures on Picsart.
Step1: Open the Picsart online editor and click New Project. If you already have a platform or template in mind you can select that instead.
Step2: Upload or select the assets you want in your design from photos, text, stickers, and shapes. Click on each asset and select the Animation tool at the top.
Step3: Select the specific animation you want to apply to the object.
Step4: Click the animation again to access its settings and set its Duration and Delay.
Step5: Preview Animation to see how it all gels together and click Export in the top right corner to Download your work.
How to Animate Images with Animation Apps on Phone
In addition to online tools, animation apps for smartphones have gained significant popularity due to their convenience and accessibility. Let's explore some of the top animation apps available for your phone.
ImgPlay: Free GIF Creator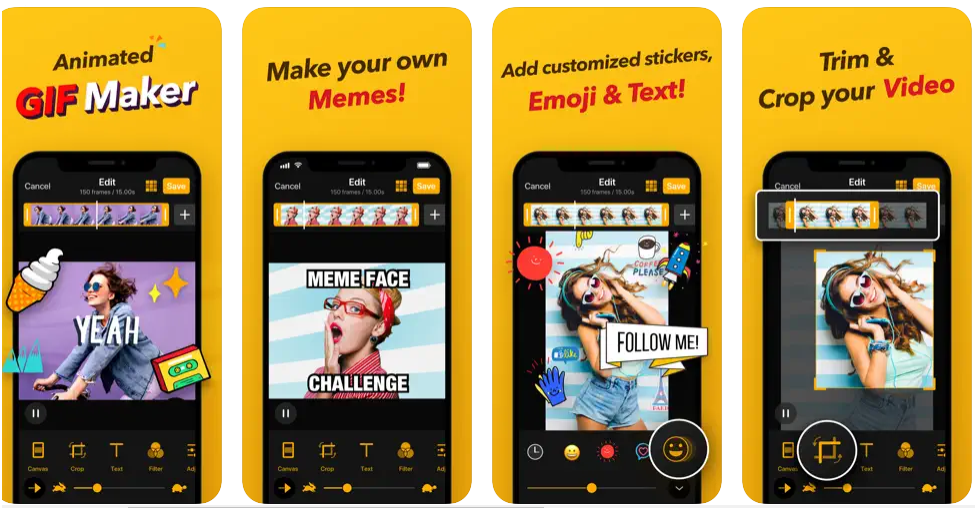 ImgPlay is best for creating cool GIFs using photos and videos. This super easy-to-use app is a must-have for anyone who loves making funny GIFs. With ImgPlay, making animated GIFs is easier than ever. Try one of the tons of filters available to edit your photos a little bit. Merge photos and videos to turn them into the most amazing GIFs ever. You can also import existing gifs from other sources. Or, you can use the in-app camera to shoot videos. In ImgPlay, the process of making animated photos and GIFs can be done a couple of different ways. You can lay out still photographs side-by-side, use burst photos, or videos.
Available: Android / iOS
Movepic: Photo Motion Animator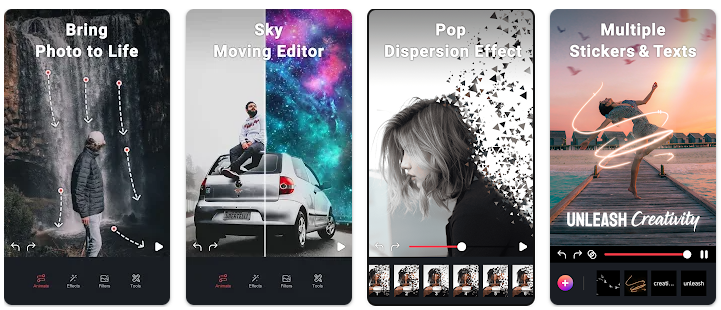 The animation picture app Movepic is an ideal solution for adding movements to people or objects that you have fixed in the photo. It includes directional animation, camera motion, speed controls, and other features. Also, this app allows making basic changes in your image before adding animation with editing tools, for example, cropping it to get an optimal option for your social network: original, 16:9, or 1:1.
The only thing is that processed content is stored as a video file and not the usual GIF. And along with the animation, you'll get a watermark overlay that can be removed in the paid version. In general, this picture animation app is great for Android and iPhone users.
Available: Android / iOS
YouCam Perfect: Fun-to-use Image Animator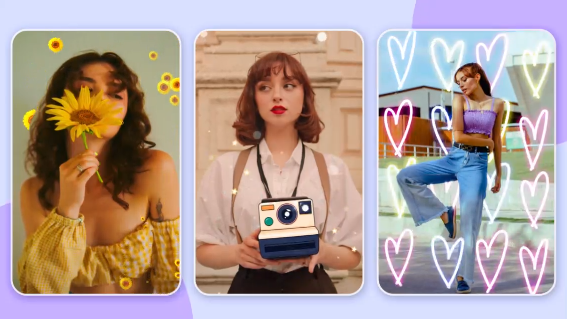 YouCam Perfect is a free photo animation app for anyone who wants to animate a photo and create a stunning selfie. You can animate your photos to add a stunning sparkle, falling leaves, flowers blowing in the spring breeze, or even wings. There are animated effects, animated stickers and animated wraparounds.
And it is also a face animator app. You can give yourself a face full of fun and cuteness with animated face stickers! They are super easy to use - just install the app, find the stickers that matches your mood or style, and then apply them to your selfie. With these animations, everyday life just got a little more animated
Available: Android / iOS
Vimage 3D: 3D Live Photo Animator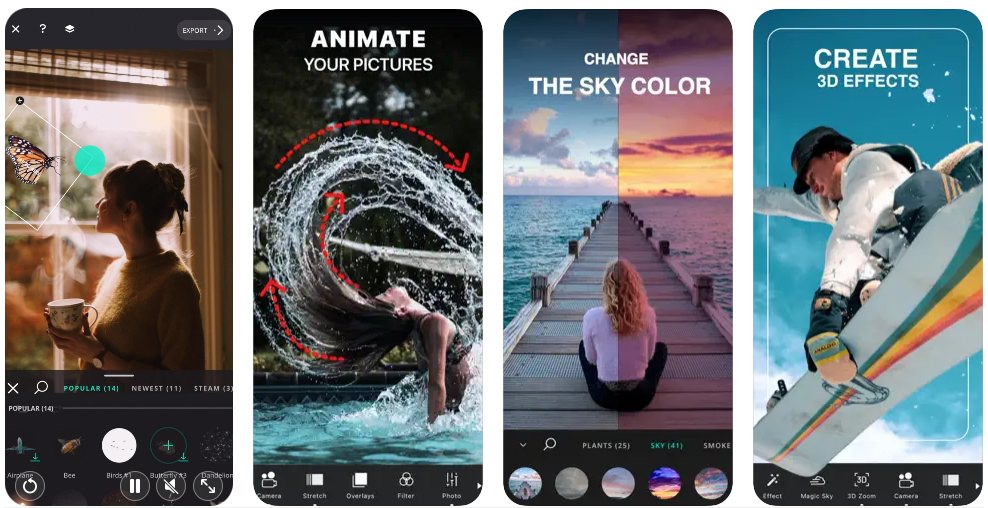 It is one of the best photo animation apps will help you to open your creativity thanks to the ability to create realistic 3D illusions without much effort. It has a lot of filters, stickers, animation effects, and sounds that you'll use for realizing your ideas. You can make your hair, water, clouds, or other objects move. Vimage lets you animate your photos by adding hundreds of moving photo effects, filters, and overlays to turn them from static images into animated artistic compositions.
Available: Android / iOS
Mothionleap: Still Image Animation App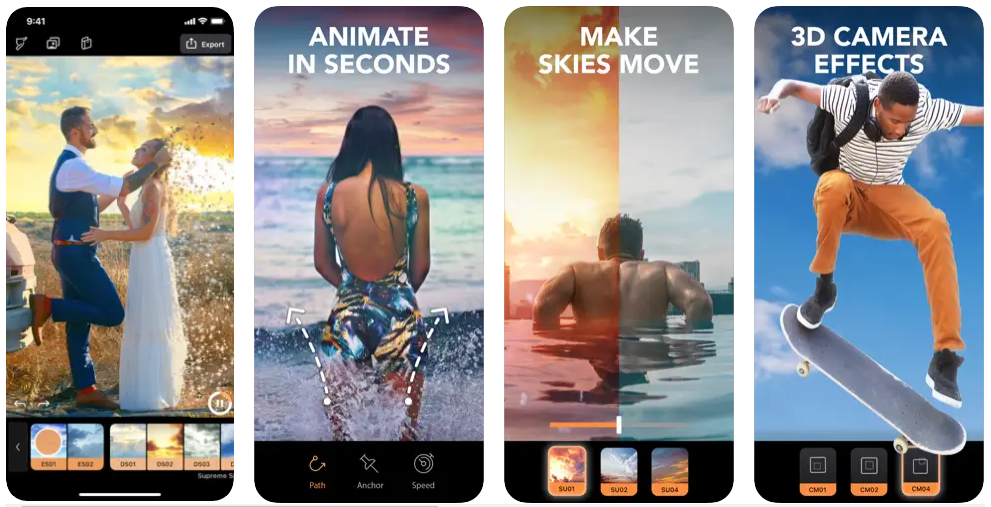 Motionleap, formerly known as Pixaloop, is a popular animation app for adding movement to still images. It offers various tools to animate different elements of your pictures, including skies, water, or hair. With Motionleap, you can create mesmerizing and realistic animations that breathe life into your static photos.
Freezing parts of the photo is one more interesting function of the program. It allows you to create a specific atmosphere within the image, overlaying a particular filter on the top of your picture.
Available: Android / iOS
Conclusion
In this post, we have talked about how to animate pictures online or on phone with animation apps. Animating pictures online or on your phone provides a creative and engaging way to enhance your visual content. Whether you prefer online tools or mobile apps, there are numerous options available to suit your needs and level of expertise. Go ahead, and bring your images to life with these best image animators.