How to Use Discount Strategies to Make More Sales During Christmas Holiday
---
According to holiday shopping statistics, consumer confidence is the highest in the US it has been since 2000. That could mean a high holiday shopping season. But customers still want their deals. Who doesn't love a great deal?!
A trick to increase holiday sales?
Discount pricing strategies. Discounting your merchandise can bring in more sales and customers while also reducing old inventory and making way for new.
Discount to:
Eliminate old inventory
Free up floor space
Bring in old customers
Attract new customer
But before you just start slashing prices, there are some things to know and consider. In this post, we will cover types of discounts, alternatives, and some ways to share those discounts with the world or at least your part of it.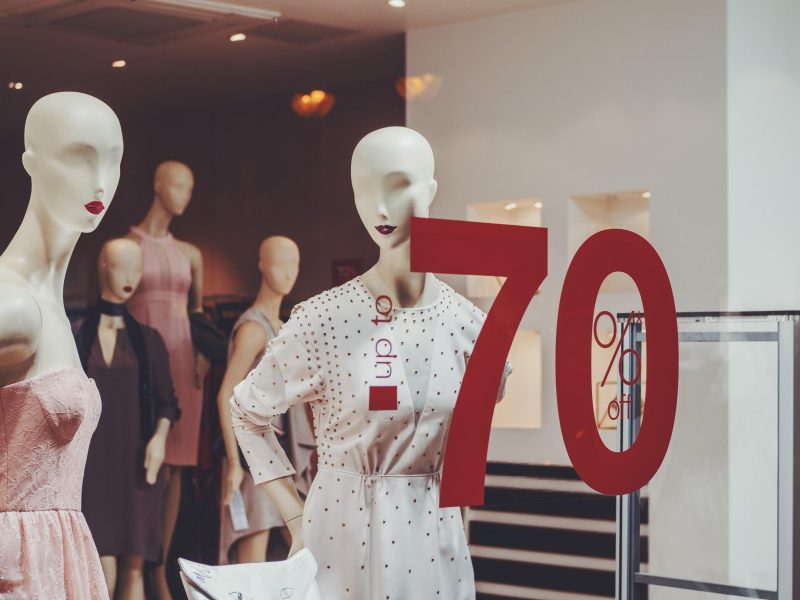 Photo by Daniel von Appen on Unsplash
First,
Calculate Your Minimum Price
Do the holidays lower your costs? Do you get discounted items? Before you discount your prices (discount rate) you need to make sure that you are not losing money by offering discounts on the wrong items or discounts too large. If you really need to move inventory, it could be worth taking a loss in order to gain more customers later and eliminate what may not sell into the new year. But calculate your costs and what your minimum can be.
You can do this with your gross profit margin.
What is your gross profit margin?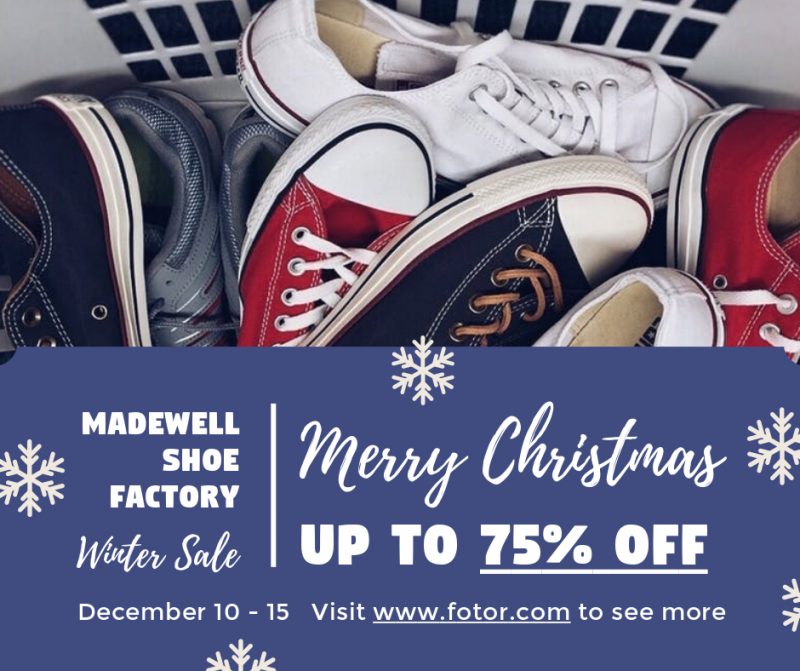 Click the Photo to Edit
"Gross profit margin is "a financial metric used to assess a company's financial health and business model by revealing the proportion of money left over from revenues after accounting for the cost of goods sold (COGS)." Woo Commerce
Know Your Objectives
Could discounting prices over the holidays hurt not only your bottom line but the perception of your products and services? It depends on the business. You know the saying, "You get what you pay for."
Lowering your costs could lower the perceived value. But it may not as many customers expect things to be discounted around the holidays. If you are concerned that lowering the price could lower the perceived value, there are still some pricing strategies you can use below that do not include lowering the cost of the product – like offering a gift with a purchase instead.
Remember that your pricing strategy is just one piece in your overall marketing strategy and needs to fit in with your business goals and objectives.
Some overall business goals may be to:
Increase Sales
Engage old customers
Bring in new customers
Build brand awareness
Enhance customer relationship
How does your holiday discount pricing strategy fit in with those overall goals? Increasing your sales could help you move old inventory to bring in something new.
Enhancing customer relationships could help you get more foot traffic in store. Building brand awareness can help you create bring in new customers and increase your bottom line throughout the year.
Choose an overall business goal and figure out how you can use your holiday sales goals and marketing strategy or marketing plan to achieve it. Or you may decide that holiday discounting does not fit in with your overall strategy. Weigh the pros and cons.
If it is a great strategy for you to discount your prices and offer deals here are some tips to make it work to bring in more business…
Practical Tips
You are going to want to share with your online audience that you are offering deals and discounts everywhere you can. Holiday sales graphics are a great way to draw your audience to your store or website, engage old customers, and capture the attention of a new audience.
If you do not want to offer a price discount, why not try a temporary Buy One Get One deal. Create a graphic that draws them in store or in this case in a cafe.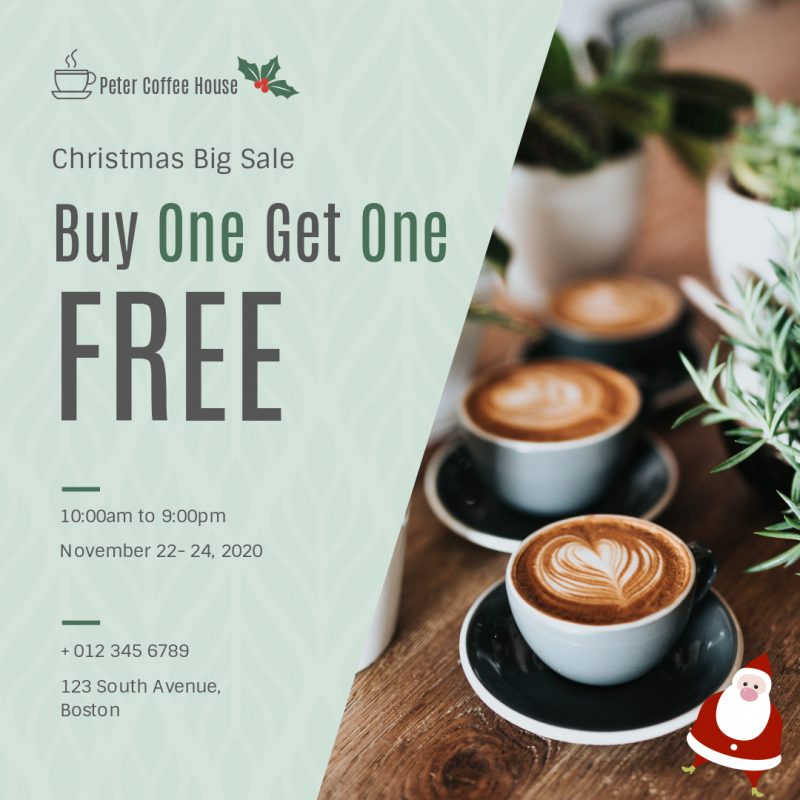 Click the Photo to Edit
You can create new banners for your social media platforms to share in-store discounts also. Headers, banners, and covers are prime real estate to capture online attention.
Click the Photo to Edit
A cover like this is even better if you add a CTA. The CTA on the cover above is "Come On In" encouraging store visits. But you could also have your audience visit the website, sign up to your email list for more discounts, download a coupon, share with a friend, etc.
Add a clear, easy to follow CTA to your social media posts and graphics. Getting new customers on your email list allows you to stay in touch with them to encourage more sales during the holidays and beyond so consider making that your number one CTA.
A bonus strategy for your social media profiles, to get more eyes on your sales and products, is to host a giveaway. A fun idea: 12 Days Of Christmas!
Every day right before Christmas give something away to one lucky winner who visits your social media page and completes a task. The task could be to leave a comment on one of your sales posts, caption a photo, or to sign up for your email list. This creates engagement and helps more people see your posts reaching a wider audience.
Or you could run it like a raffle. With a raffle, you give away numbered tickets and one or more are drawn at random with the holder or holders of the drawn ticket number winning a prize. It is a fun way to gain attention and participation.
"Hosting a 12 Days of Christmas giveaway is not only a prime time to give back to your followers, it's also a perfect setup for a successful holiday season." RaffleCopter
RaffleCopter allows you to run and manage online giveaways with a simple copy and paste method. They have different themes so you can customize the look and feel of your giveaway for the holidays.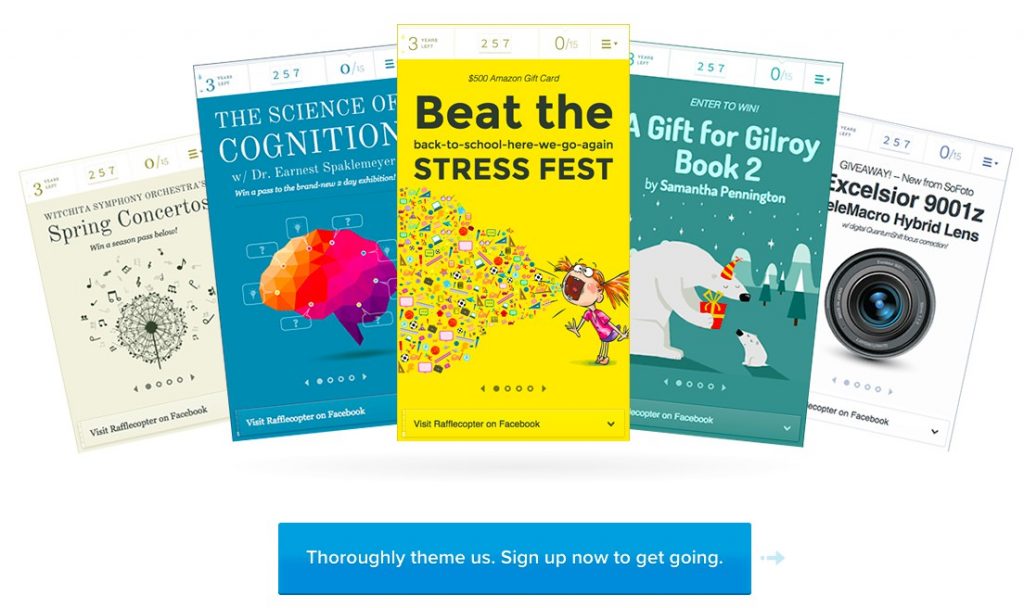 Some other options to make online giveaways easy is WooBox and Gleam.
These types of software will get you up and running fast and help you keep track of entries and choose the winning one randomly.
When running a contest or giveaway on social media, be sure to check each platforms guidelines as they have rules retailers must follow. Check the terms of service of Facebook, Twitter, and Instagram!
To get more foot traffic, you could take the raffle in store and handout real tickets. You can use the new Fotor ticket maker to create beautiful holiday tickets for your raffle.
You could even give away raffle tickets that lead up to a big prize with purchases of a certain amount to encourage higher spending. Two entries if you spend $50 or three if you spend $100 for example.
Click the Photo to Edit
As for the prize, think about what your customers would love. A product or basket of products from your store? A mini vacation? A behind the scenes experience? Make it worth it for them to want to participate and invite others.
We have talked about social media engagement tips for discount pricing strategies, what else can you do?
You could offer special discounts only if an order totals a certain amount, like spend $100 get $10 off. Or a percentage, spend over $100 and save 15%. Or you could offer a "Buy This Get This." You see these often around the holidays, purchase this handbag and get this change purse free!
And do not forget the power of gift certificates. If shoppers are exploring the store and cannot decide what to get everyone on their list they will often consider gift certificates so their friends and loved ones can choose for themselves. This is a great way to get new people in the store too.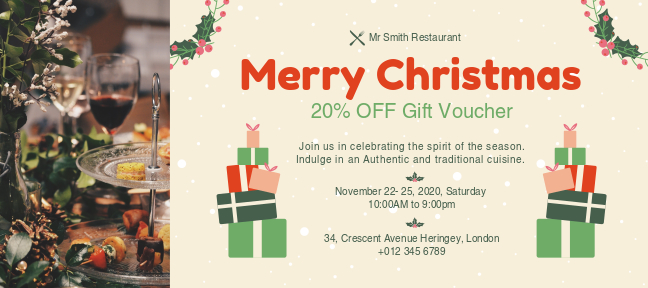 You could also host a sweepstake to win gift certificates as LandsEnd did for their eGiftCards.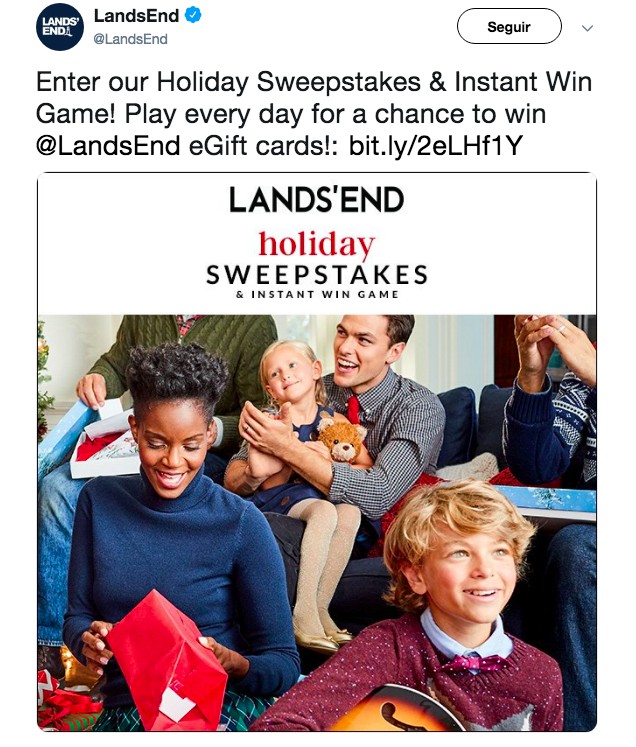 To increase your online sales why not offer free shipping. Everyone loves free shipping. They still feel like they are getting more value without you actually discounting your products. You could set a spend minimal for free shipping. "Free shipping if you spend over $200."
Do you have loyalty cards? Give a percentage off to loyal members that will encourage others to sign up too. If you get new signups around the holidays and they have their cards, visitors are more likely to keep shopping after the holiday season.
As you can see, pricing discount strategy is not just about offering a price cut on an item but can include many forms of offering more for less to increase your holiday sales. Offer your customers value while making extra sales and bringing in new customers. This holiday season looks to be a big one.
"Deloitte's annual holiday economic forecast projects total retail sales will increase 5 –5.6 percent, with online sales likely rising 17–22 percent during the 2018 holiday season." Deloitte
And do not discount the power of offline marketing too!
Posters and flyers still work. Design eye-catching ones and pass them out to window shoppers on the sidewalk. Put them up on community cork boards. Even post some in your store window to draw in those on the outside. Highlight the range of items you have on sale.
Click the Photo to Edit
When you are designing both your online and offline marketing materials it's great to experiment during the holidays but make sure you are staying true to your brand too. Otherwise, you can create an un-authentic experience that can backfire later.
You can partner with other non-competing businesses in your area for discounts and Christmas giveaways. Maybe a few retailers supply something for a gift basket together. Or one store offers a discount to another store that is a complementary product or service. This can work great for bringing in new business and brand awareness.
Don't have another business to partner with? Don't forget about influencer marketing. You can find influencers online that have followers who are in your target market and partner with them to share discounts and giveaways.
"Influencers, unlike celebrities, can be anywhere. They can be anyone. What makes them influential is their large followings on the web and social media. An influencer can be a popular fashion photographer on Instagram, or a well-read cybersecurity blogger who tweets, or a respected marketing executive on LinkedIn. Within any industry, there are influential people—you just have to find them." Influencer Marketing Hub
Find influencers that create content in line with your brand and enlist some to get the word out about your discounts. You can even offer discounts that are specifically for a certain influencer's audience that you do not offer to anyone else. People love to feel special.
Conclusion
On that note, think bigger picture. Remember to create an experience around your discounts. Help them see your products as inspiration not just a red sticker with the highest discount.
"During the holiday season, people are bombarded with deals on everything, from monstrous TVs to dog beds. While there are some shoppers who have meticulously picked out the perfect gift for all the people on their list, many shoppers look for inspiration and ideas until Dec. 24. Marketing should go further than a mass distribution of deals." Puneet Mehta, CEO mobile-marketing automation platform MobileROI on offering customers differentiation and inspiration through holiday digital marketing efforts. Entrepreneur
You can stick to one of these ideas or try a few. Many of these strategies work great together. Whatever you choose be sure to keep track of what works best for future sales and holiday seasons.
The holidays are busy but make sure you have a plan to keep up your marketing after the season is over. You do not want to lose all the new customers and momentum you have gained. Extend the holiday spirit throughout the New Year as much as you can. Earn trust and loyalty by delighting your customers during the holiday season and beyond. The return on investment of delight cannot be measured.

---
Related Posts :
Leave a Reply :