In the fast-paced world of business, where connections and impressions matter more than ever, a small piece of paper holds immense power – the business card.
Whether exchanged at networking events, meetings, or chance encounters, a well-designed business card can leave an indelible mark on potential clients, collaborators, and contacts.
But in this sea of creativity and possibilities, what size should your business card be to strike the perfect balance between uniqueness and professionalism?
In this article, we wll walk you through how big are business cards and what is the standard business card size in pixel and inches, and tips for designing standard-sized business cards. Also, we're going to share some free business card templates that are bound to spark your imagination.
What is the Standard Business Card Size?
There isn't a universally accepted "standard business card size" that applies worldwide. Instead, different regions across the world have their own commonly recognized business card dimensions referred to as "standard."
However, this doesn't imply that businesses in those regions exclusively use these sizes.
For instance, in the United States, the established standard business card size measures 3.5" x 2" in inches, and European business card dimensions is 3.346" x 2.165" in inches.
The following are the standard business cards dimensions we collected in various regions and countries:
| | | | |
| --- | --- | --- | --- |
| Region | Inches | Pixels | Aspect Ratio |
| US and Canada | 3.5 x 2 | 1050 x 600 | 1.75 |
| UK | 3.35 x 2.17 | 1005 x 651 | 1.75 |
| Japan | 3.58 x 2.17 | 1074 x 651 | 1.65 |
| South America | 3.54 x 1.97 | 1062 x 591 | 1.8 |
| China | 3.54 x 2.12 | 1062 x 636 | 1.67 |
| India | 3.54 x 2.16 | 1062 x 648 | 1.64 |
What is the Business Card Size in Inches?
The average business card size in the United States is typically 3.5 inches in width and 2 inches in height. This is the widely recognized and commonly used dimension for business cards in the U.S.
It provides a compact yet practical format for including essential contact and branding information while remaining easy to carry and store.
What is the Business Card Size in Pixels?
The standard business card size in pixels can vary based on the desired resolution for printing. A common print resolution is 300 dots per inch (DPI).
In this case, if you want a business card that is 3.5 inches wide and 2 inches tall (the standard dimensions in the United States), you would calculate the pixel dimensions as follows:
Width in pixels = 3.5 inches * 300 DPI = 1050 pixels
Height in pixels = 2 inches * 300 DPI = 600 pixels
So, for a standard business card size of 3.5" x 2" at 300 DPI, the pixel dimensions would be approximately 1050 pixels wide and 600 pixels tall.
Business Card Size Types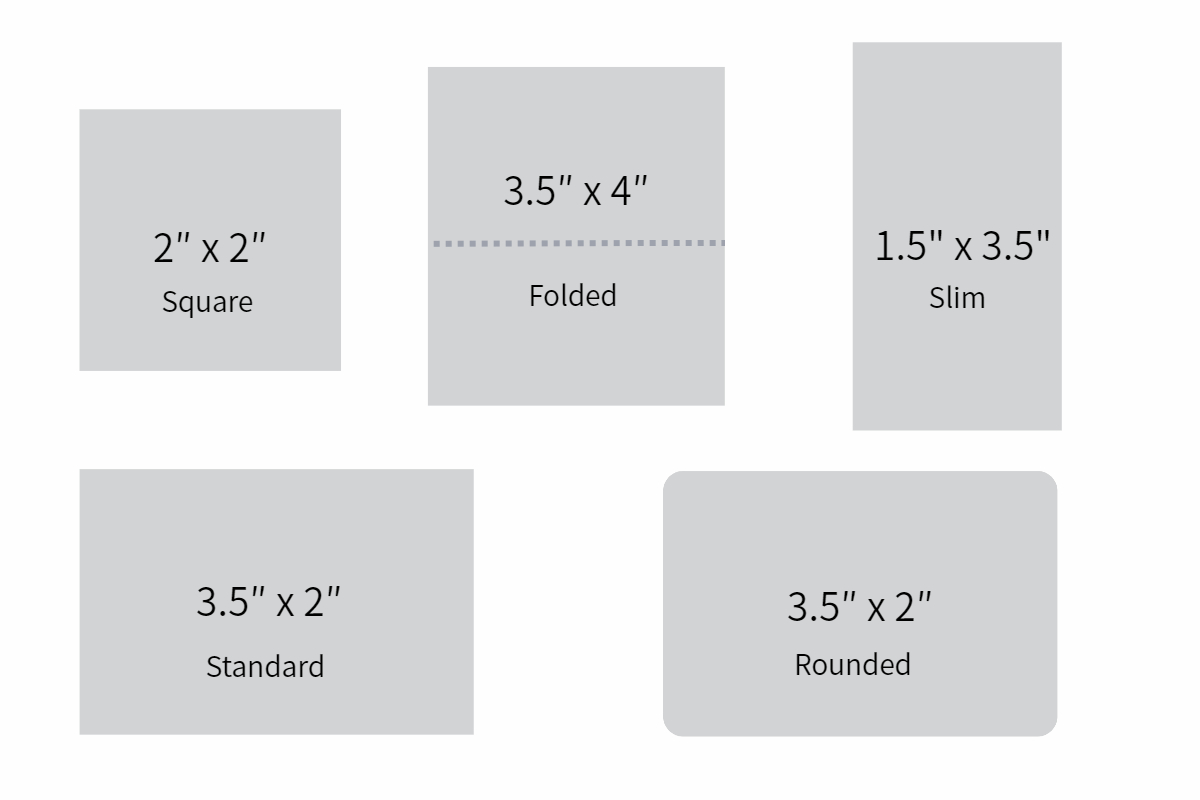 Business card sizes and types vary due to regional standards and industry practices, as well as design preferences. Here are some common business card size types:
The standard business card hold timeless appeal. Ideal for corporate environments, professional services, and a traditional audience, the standard dimensions of 3.5" x 2" speak of reliability and conventionality.
It is popular among artistic professionals and exudes sleekness.
Curves have a magnetic allure, drawing our attention effortlessly. Enter the rounded business card, maintaining the classic dimensions of 3.5" x 2" but with softened edges. This subtle alteration adds a touch of modernity to your design.
These cards have a fold, essentially doubling the available space. When folded, they can have the standard size or slightly larger dimensions.
These cards are narrower than the standard size, making them stand out due to their unique proportions.
Design a Professional and Standard Business Card with Fotor Online