The rise of artificial intelligence (AI) has led to a wide range of incredible text to speech (TTS) generators and tools, which can be useful for a variety purposes and fields.
For example, TTS tools are used as an assistive technology for people with learning difficulties, and by businesses and creators as voice-overs.
Imagine that you receive an important email or text message while you are driving. And reading while driving can distract us, which is very dangerous. In this case, text-to-speech tools would work well.
Next, let's explore more information about TTS and find the best text to speech software.
What is Text to Speech
Text to speech (TTS) is a specialized speech synthesis application that reads digital and written aloud. It is used as an assistive technology capable of reading digital text.
Text to speech allows your android or iOS device to read out loud any text visible on the screen. The text can be anything, from an SMS you've received or a news article. It can read different text formats such as PDF, Word, Doc, Pages, etc., and works on various digital devices.
There are lots of benefits to use TTS generators, both for businesses and end-users.
For businesses, text to speech tools can help them reach people worldwide and improve user experience. Enabling voice minimizes the workload of human agents, provides personalized service, and can reduce operating costs.
While end users like online learners, researchers, teachers, website visitors, etc. can also benefit from text-to-speech solutions well. For instance, text to speech generators can help people with reading difficulties or literacy difficulties understand the document more.
Best Text to Speech Generators
With multiple text to speech generators available in the market, how to choose the best one that meets all your requirements? To make your life easier, we explored a number of text-to-speech tools along with their features, pros and cons, and pricing details.
Murf: Best User-Friendly AI Voice Generator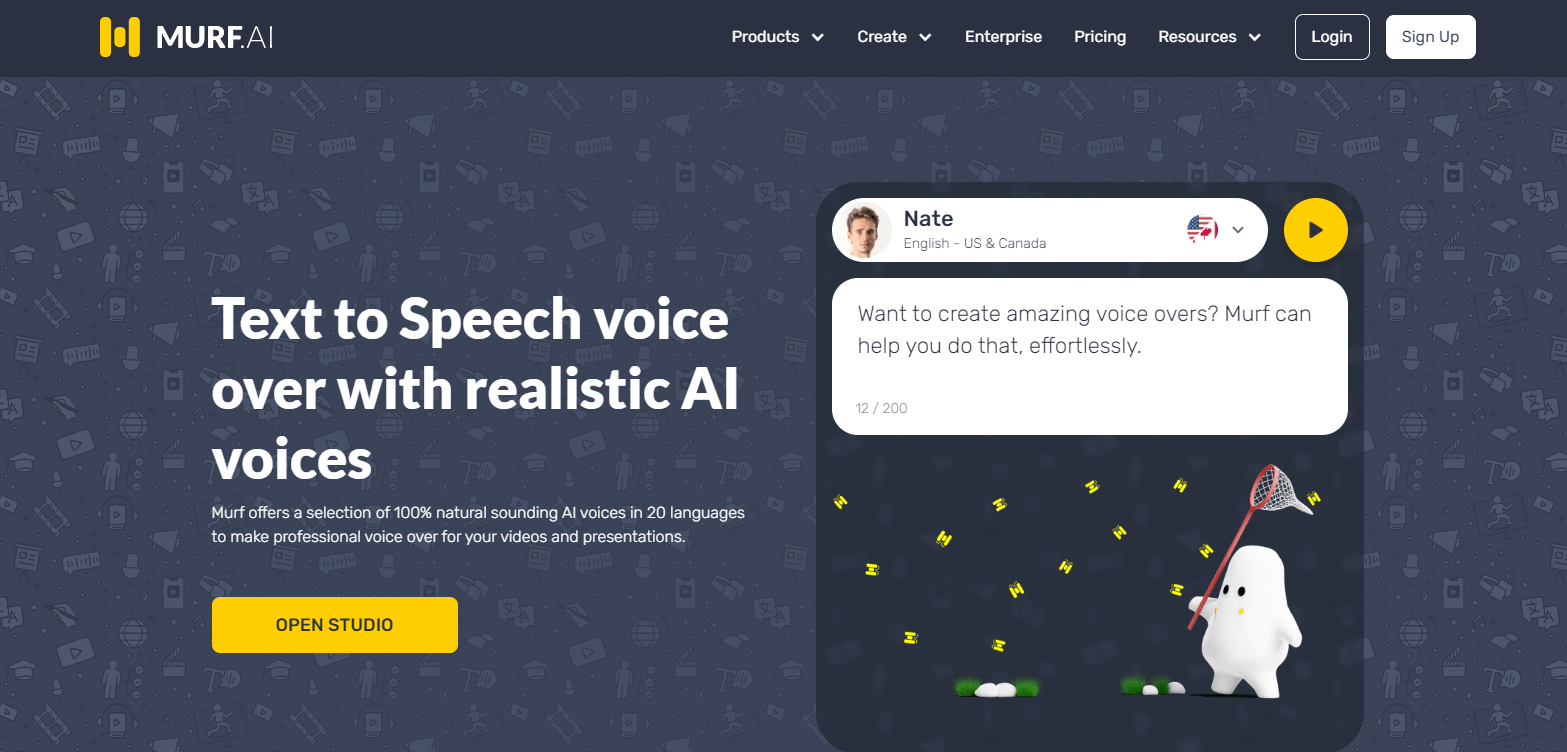 Murf is a text to audio software with realistic AI voices. It is one of the most popular and impressive AI voice generators on the market, which enables users to convert text to speech, voice-overs, and dictations in two ways: enter, paste, or upload a text document.
Murf provides many customization options to help you create the best natural sound. It has a variety of sounds and dialects for you to choose from and an easy to use interface. And it is used by a wide range of professionals like product developers, podcasters, educators, and business leaders.
Pros:
1. Large library offering more than 100 AI voices across 19 languages.
2. Customizable through tone, accents, and more.
3. Expressive emotional speaking styles.
Cons:
The free trial has limited features.
Pricing:
There are four plans:
1. Free: $0/month
2. Basic: $19 per user/month
3. Pro: $26 per user/month
4. Enterprise: $59 per user/monthSpeechify
Speechify: Best Text To Speech Reader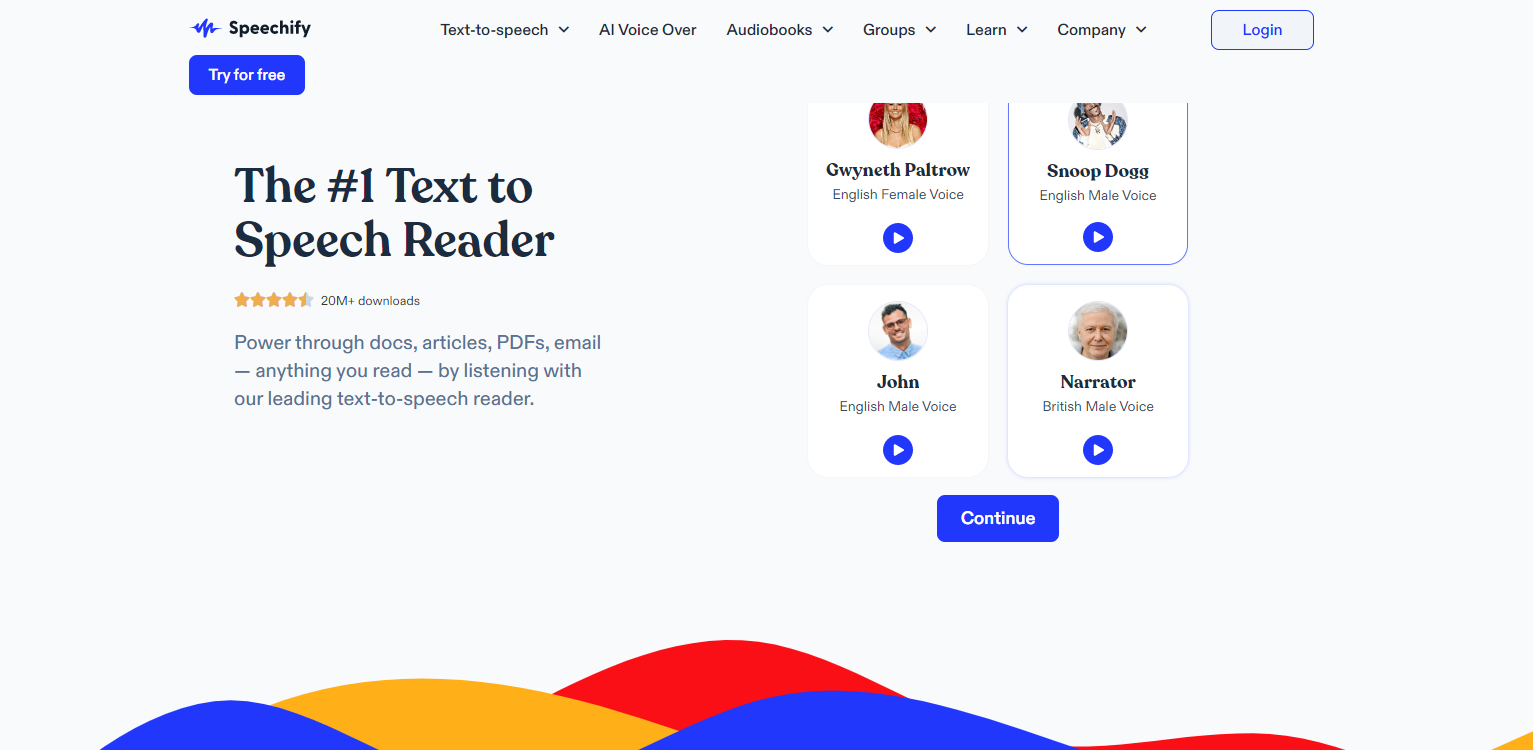 Speechify is a versatile text to speech app that can turn text in any format into natural-sounding speech. The platform can take PDF files, emails, documents or articles online and turn them into audio that can be listened to rather than read.
Users are allowed to control the reading speed. And it has over 30 natural-sounding voices cross 15 different languages to choose from.
Pros:
1. Supports multiple accents and languages.
2. No ads.
3. Web-based with Chrome and Safari extensions.
4. Scan and convert printed text to speech.
5. 30+ natural, human-like voices.
6. Advanced highlighting, note taking, and importing tools​.
Cons:
Only a yearly payment option is available.
Pricing:
You can try it for free or get the full Premium experience.
1. Speechify Premium: $139 /year
2. Speechify Audiobooks: $199 /year (or bundle with Text to Speech for $249/year)
Synthesys: Best Natural Sounding Voices Generator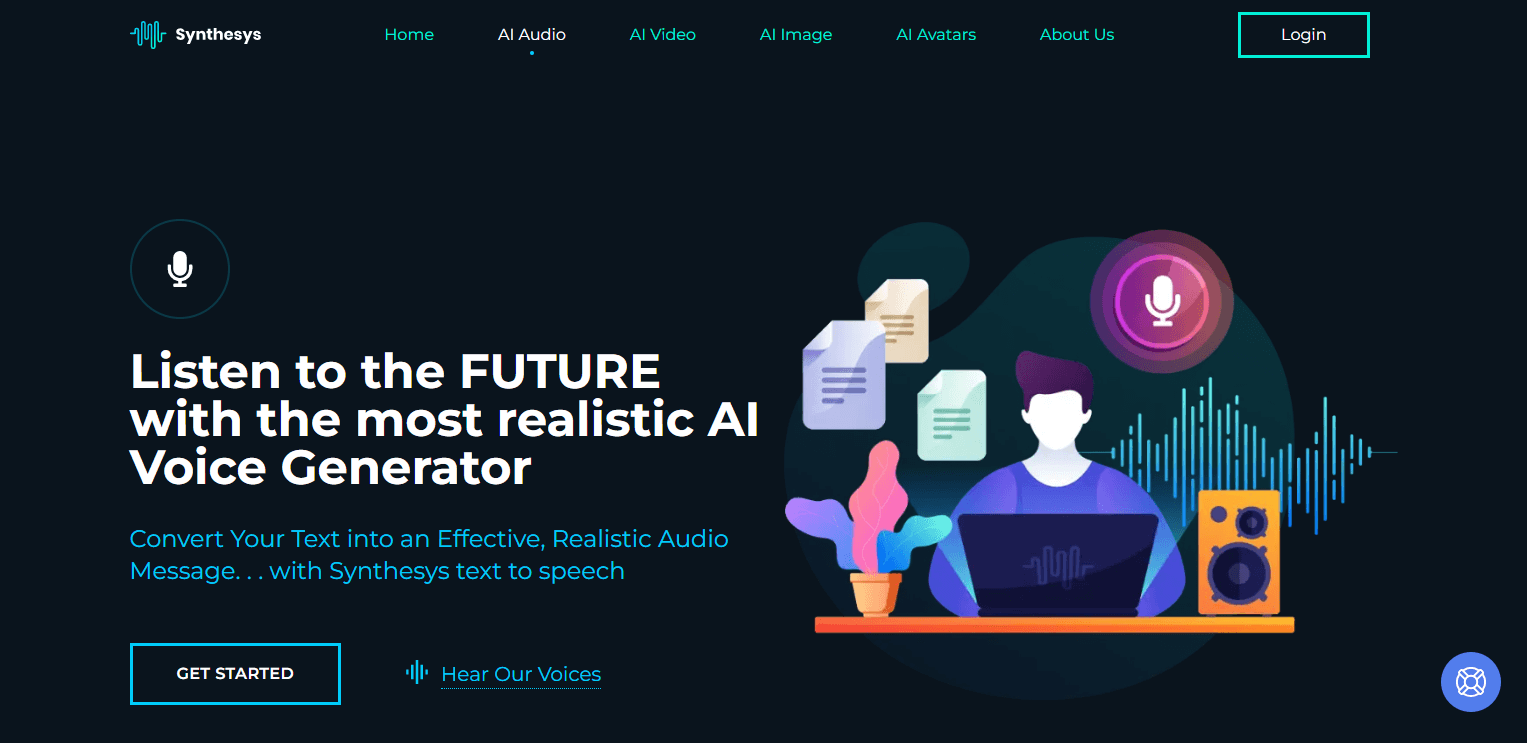 Synthesys is one of the most popular and powerful AI text-to-speech generators, which enables users to create natural-sounding speech from texts in a few clicks.
It offers various tones, languages, male and female voices, languages, and reading speeds to choose from. This platform also has advanced technology in developing text-to-voiceover and video algorithms for commercial use.
Pros:
1. Choose from a large library of professional voices: 35 Female, 30 Male.
2. Extremely user-friendly interface.
Cons:
Needs more diversity. Racial and ethnic actors, and voices, are severely lacking.
Pricing:
1. Audio Synthesys: $27 per month
2. Human Studio Synthesys: $36 per month
3. Audio and Human Studio Synthesys: $52 per month
Lovo.ai: Best Text-To-Speech Tool For Foreign Language Learners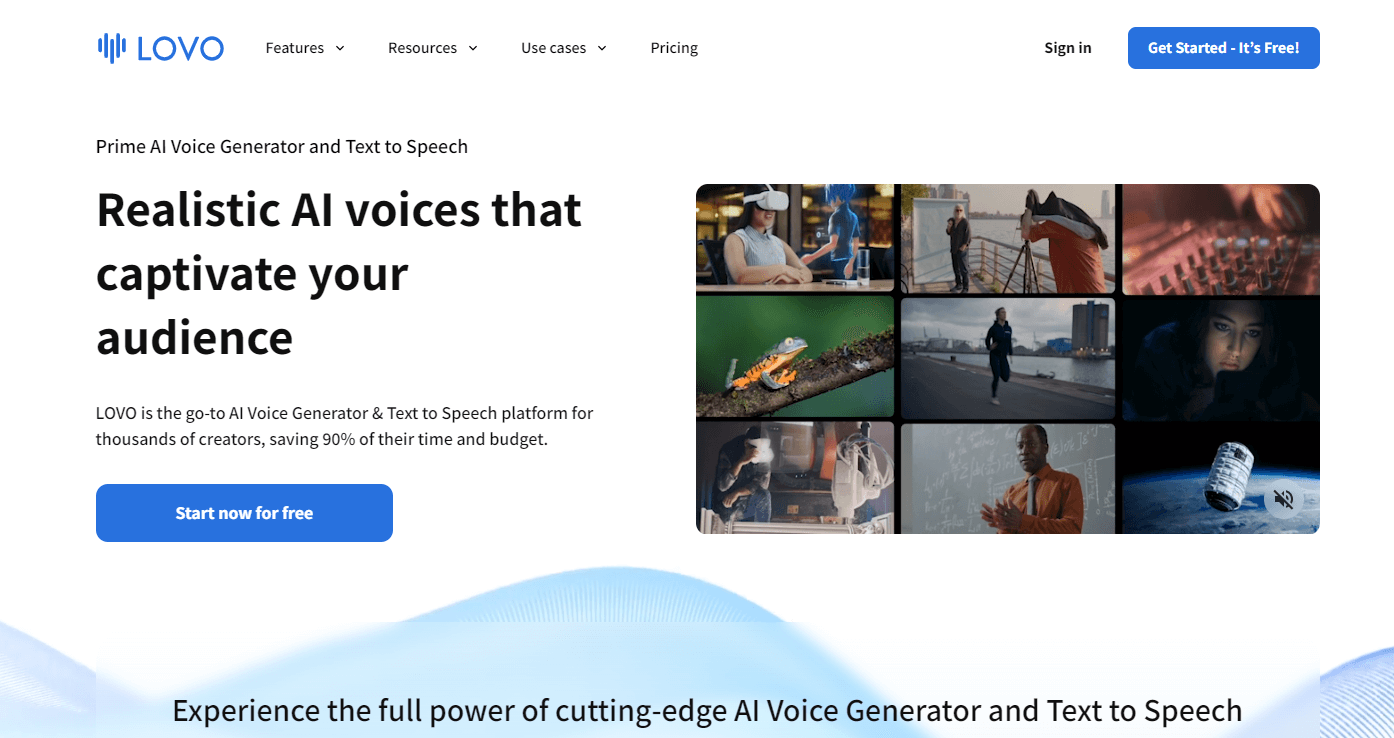 Lovo.ai is an artificial intelligence-based voice generator and text-to-speech platform. It is one of the most powerful and easy-to-use platforms that generates voices similar to real human voices.
It offers a wide range of voices by continuously refining its speech synthesis models to serve multiple industries, including entertainment, banking, education, gaming, documentaries, news and more. You can also refine your voice and customize the sound you want.
Pros:
1. World's largest library of voices of over 500+ AI voices.
2. Easy-to-use interface.
3. Granular audio control.
4. Video editing capabilities.
Cons:
The choice of voices for each language is little limited.
Pricing:
1. Free: $0/month
2. Basic: $19 per user/month
3. Pro: $36 per user/month
Listnr: Best AI Screen Reader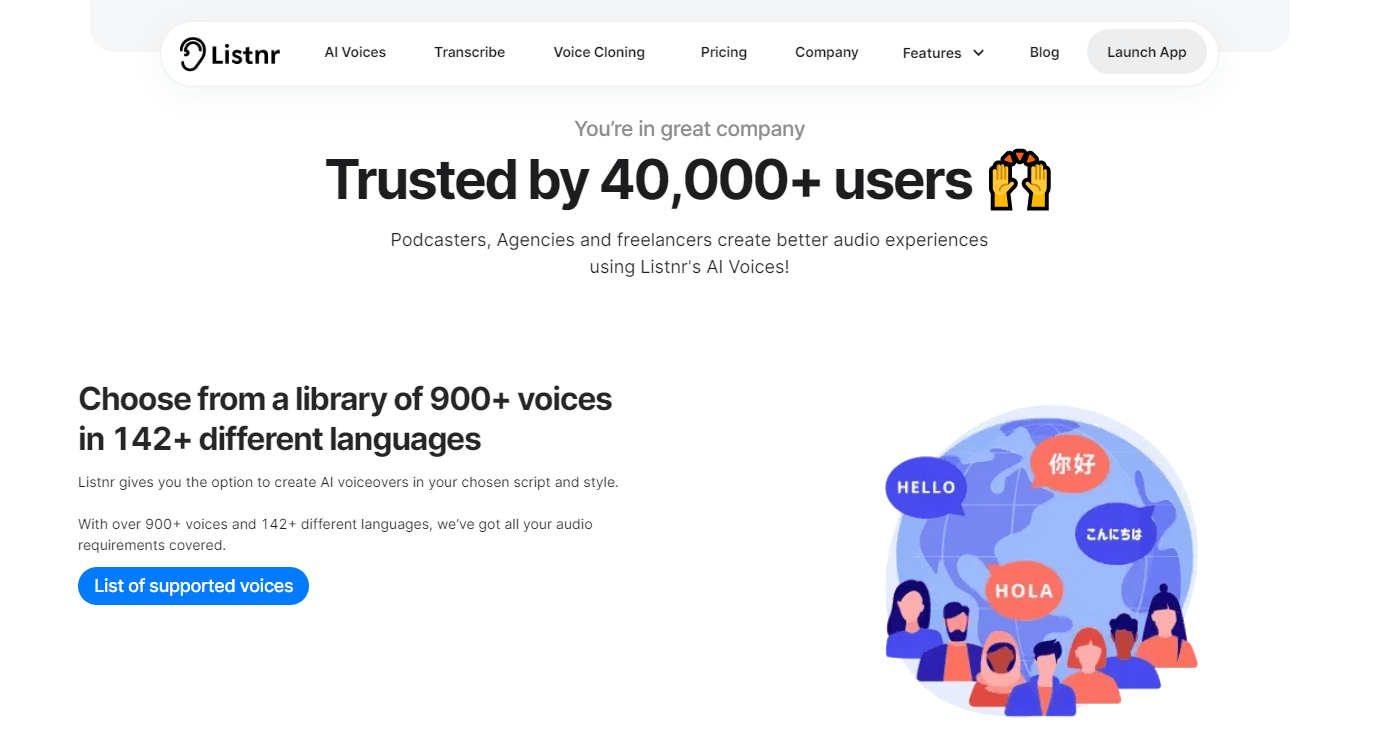 As an AI text to speech generator, Listnr can convert text to speech in various formats such as genre selection, accent selection, pauses, etc. And it can be highly personalized to each listener's preferences.
Listnr supports over 17 languages and it can convert blog posts into various languages and dialects.
Pros:
1. Various formats like genre selection, accent selection, etc.
2. Highly personalized to each listener.
3. With over 600+ voices and 75+ different languages.
4. Embeddable Audio Player.
Cons:
1. Individuals: $19/month
2. Solo producers: $39/month
3. Startups: $59/month
Woord: Best Audio Creator From Text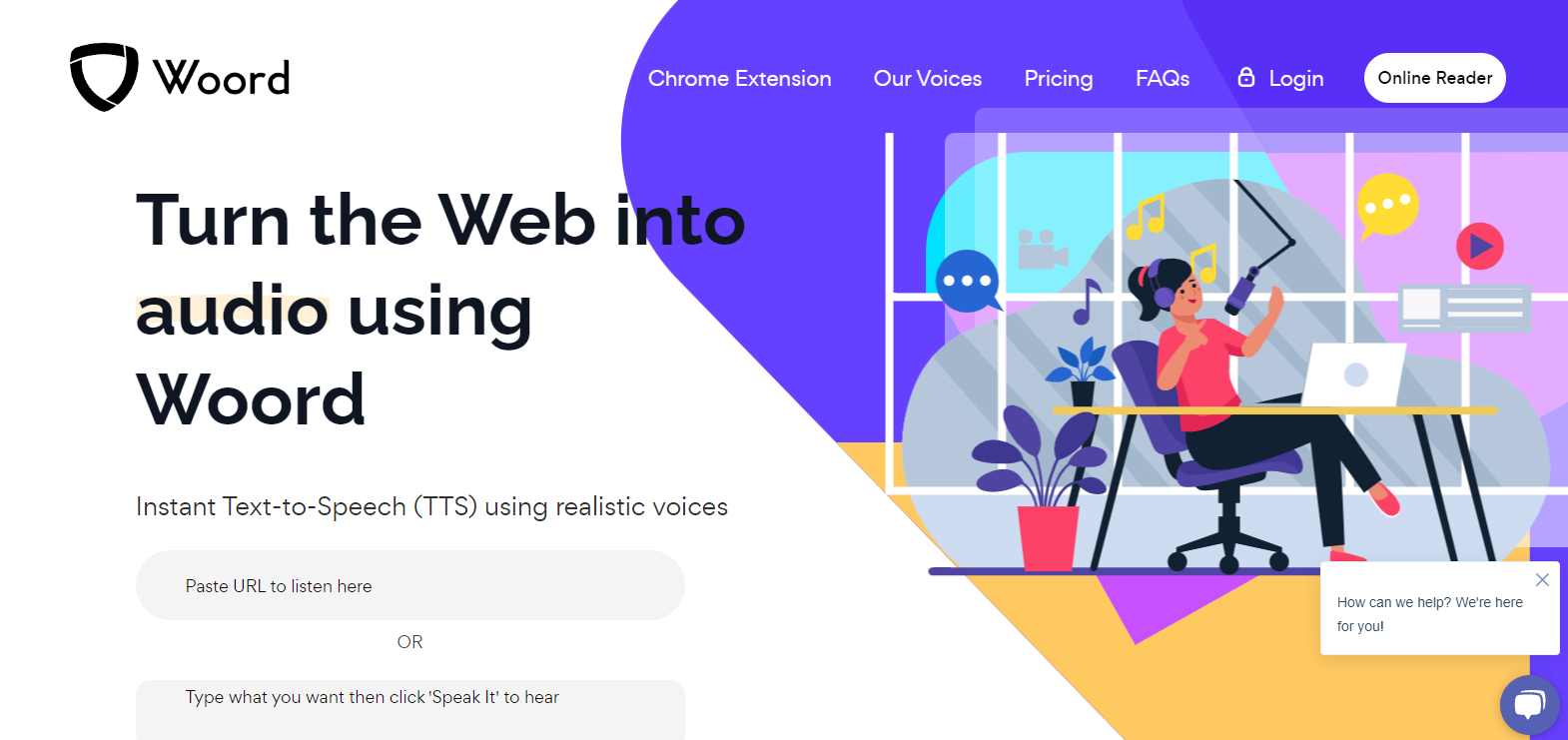 Woord is a web-based text-to-speech tool, which can help you convert blog posts or web pages to voice quickly. You can paste the URL of a web page you want to turn into a voice, or copy and paste the text into the Woord editor.
It supports many different languages and there is no character limit, which means you can generate as many voices as you want in a variety of languages.
Pros:
1. Quickly turn blogs into speech.
2. Various languages and voices to choose from.
3. Used as Chrome Extension.
Cons:
1. Poor customer service.
2. Editing a text is not allowed.
3. Expensive.
Pricing:
1. Starter: $9.99/month
2. Basic: $24.99/month
3. Pro: $99.99/month
Fliki: Best TTS And TTV software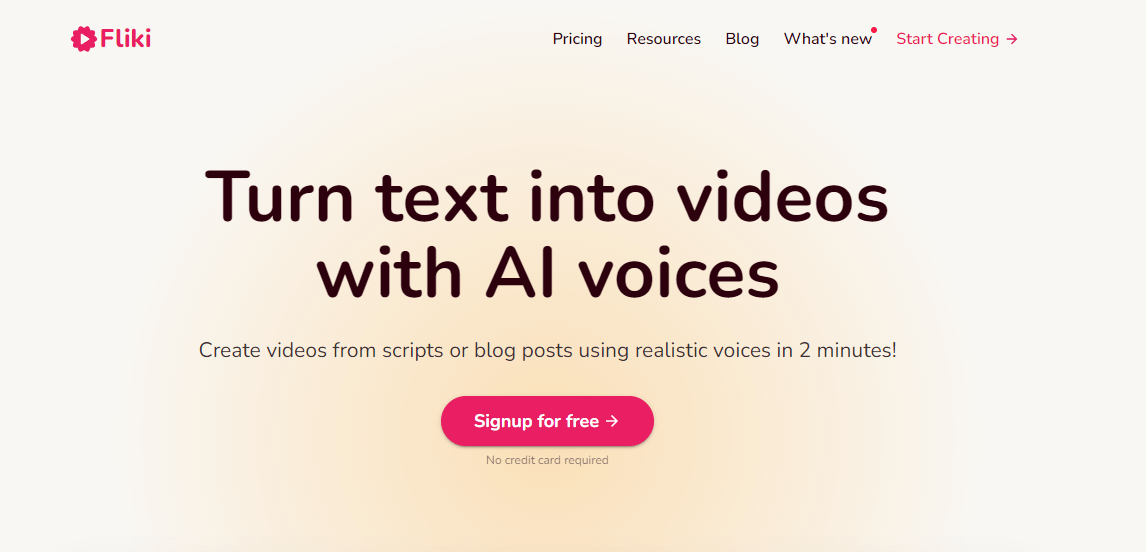 Fliki supports more than 75 languages and 100 dialects, and has more than 900 artificially intelligent voices that make audio sound as natural as a human.
But where it gets powerful is in the text-to-video feature. Just paste the text or import it via URL, and you get a ready-made video to share.
You can use Fliki's features for conversions including blog to video, podcasts, audiobooks, voiceovers, and more.
Pros:
1. With over 900+ voices and 75+ different languages.
2. Text-to-video is supported.
3. Cheap
Cons:
No credit-card free plan
Pricing:
1. Free to use
2. Basic: $8/month
3. Standard: $28/month
4. Premium: $88/month
Natural Reader: Best Text-To-Speech For Dyslexic People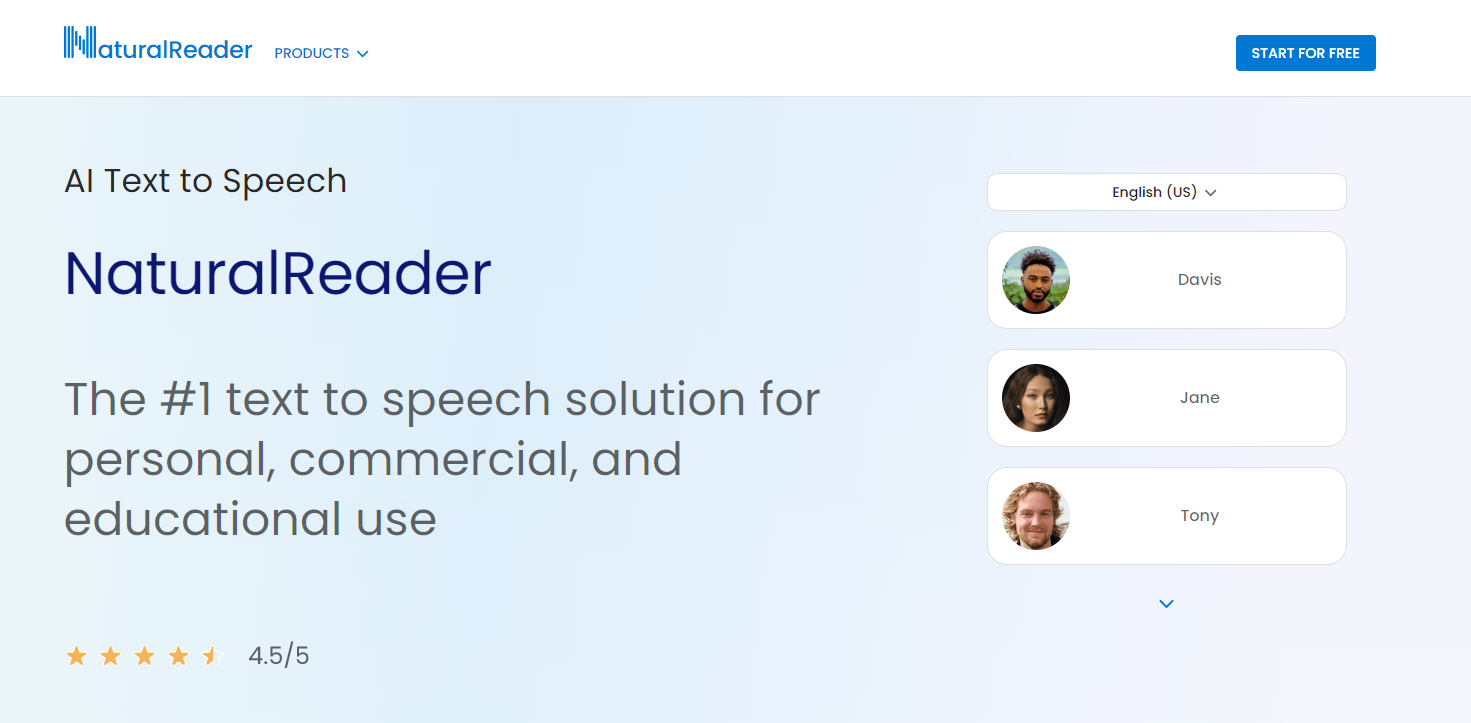 Natural Reader is a powerful TTS generator with a variety of natural-sounding voices. You can upgrade for features like OCR for scanned documents, higher quality voices, licensing so you can use the voices in public and commercial projects, and the ability to create MP3 files.
Pros:
1. It can read images, PDFs, TXT files. Google docs and other documents.
2. No ads in the free version.
3. Easy access.
Cons:
1. The free trial has limited features.
2. Users must create an account to use the application.
Pricing:
1. 7-day free trial
2. Premium: $9.99/month
3. Plus: $19/month
Conclusion
In this post, we have discussed the text to speech (TTS) and listed 8 best text to speech software for you to select from. These tools can help you convert any text to voice easily and quickly. Choose the tool that best suits your needs and start working efficiently!