Halloween is just around the corner, and it's time to start planning your spooktacular look for this year's festivities. While costumes play a significant role in the Halloween experience, it's the makeup that truly elevates your transformation.
Whether you're aiming for a classic and eerie appearance or looking to make a bold statement with a creative twist, we've got you covered. In this article, we'll explore the best Halloween makeup ideas to try in 2023, from the timeless classics to the most innovative and trendy options.
Classic and Easy Halloween Makeup Ideas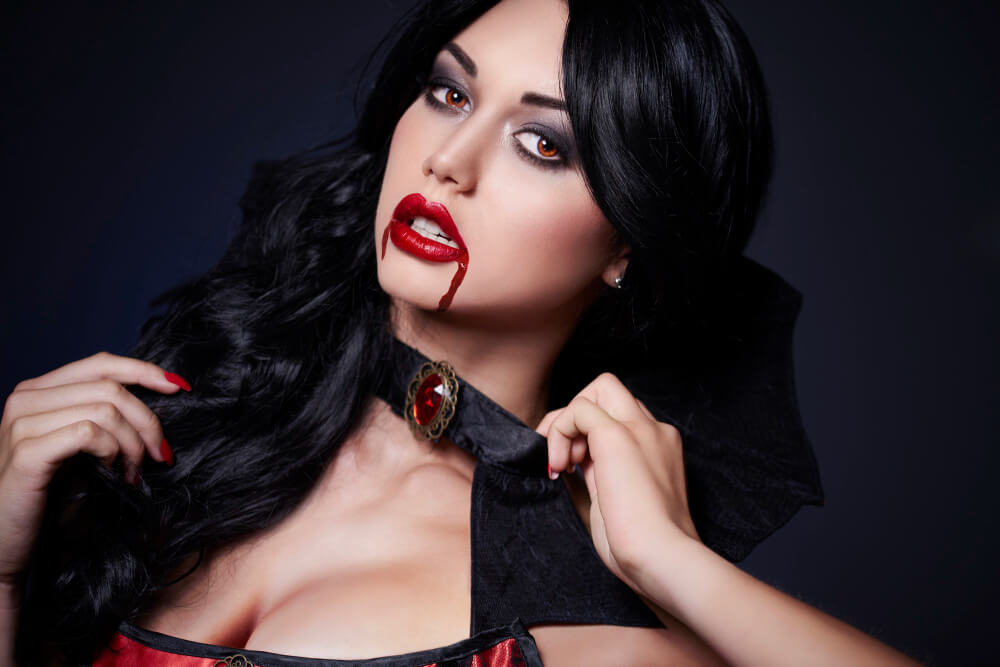 When it comes to Halloween makeup, sometimes sticking to the classics can be a winning choice. Classic Halloween makeup looks not only stand the test of time but are also easy to recreate.
1. Zombie
Create the illusion of the undead with minimal effort. Apply white face paint to give your skin a lifeless, pale appearance. Add dark circles under your eyes using black or gray eyeshadow and smudge some fake blood for a freshly risen-from-the-grave effect. The disheveled hair and tattered clothing complete the look.
2. Vampire
Transform into a classic vampire with ease. Focus on achieving pale, porcelain skin using foundation. Define your cheekbones and contour your face for a dramatic effect. Paint your lips blood-red and add some fangs to complete the iconic look. Don't forget a touch of dark, smoky eyeshadow for that alluring vampiric gaze.
3. Witch
Embrace your inner sorceress with this classic Halloween choice. Use green face paint to give your skin a wickedly green tint. Enhance your nose with a prosthetic or makeup to achieve that classic witch look. Add dark, enchanting eyeshadow, and don't forget the iconic pointy witch hat and broomstick.
Scary Halloween Makeup Ideas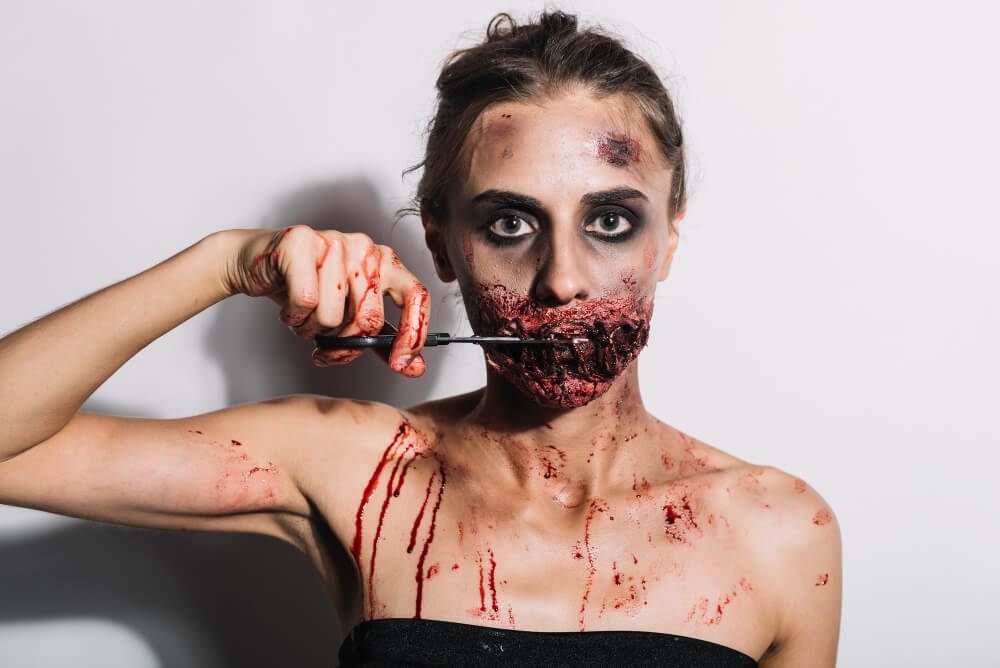 If you're looking to send shivers down spines and evoke genuine fright, consider these scary Halloween makeup ideas.
4. Sliced-open Face
Create the illusion of your face being sliced open to reveal gruesome details using makeup and latex.
5. Demon or Possessed Look
Use special effects makeup to craft a terrifying demonic visage, complete with red eyes, sharp teeth, and contorted features.
Creative and Trendy Halloween Makeup Ideas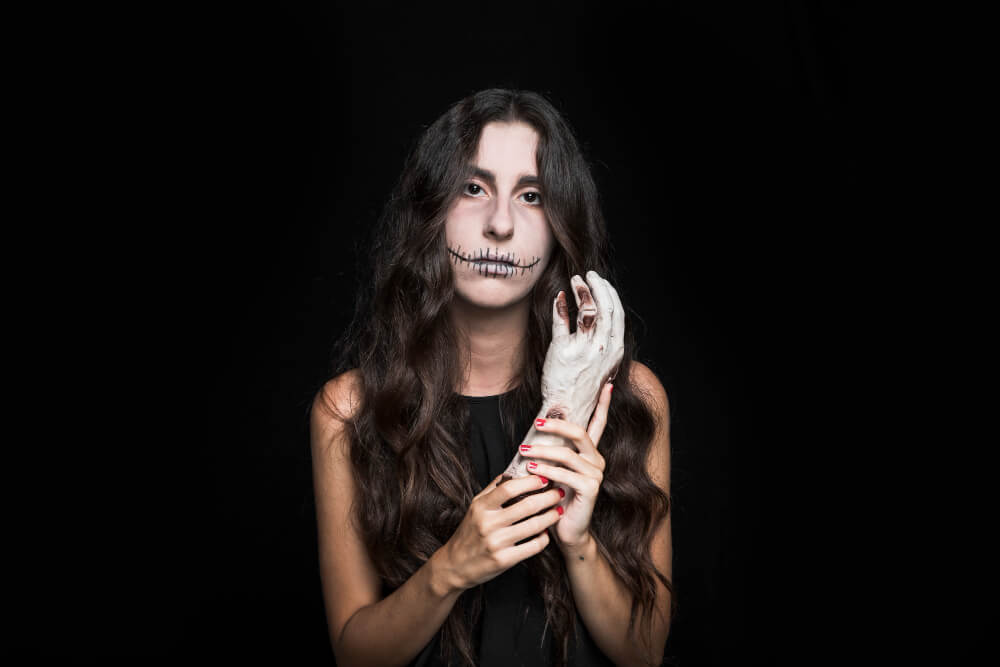 Halloween offers an excellent opportunity to showcase your imaginative side. Don't confine yourself solely to traditional Halloween styles, instead, let your creativity shine by exploring the realm of technological and artistic makeup, which can equally help you stand out.
6. Pop Culture Icons
Emulate your favorite pop culture characters from movies, TV shows, or music. Whether it's a superhero like Wonder Woman, a sci-fi character like a Star Wars Jedi, or a rockstar like David Bowie, pop culture-inspired makeup allows you to pay tribute to your idols and make a trendy statement.
7. Cyberpunk
Dive into the futuristic world of cyberpunk with edgy makeup. Use metallic and neon colors, create bold geometric shapes, and add metallic accents for a look that's straight out of a dystopian sci-fi novel or video game.
8. Glamorous Halloween Makeup
When it comes to glamorous Halloween makeup, there's no era quite like the 1980s to draw inspiration from. The '80s were known for their bold fashion choices, dramatic makeup, and over-the-top glamour. Make your Halloween look truly stand out with bright and bold outfit and retro makeup.
Cute Halloween Makeup Ideas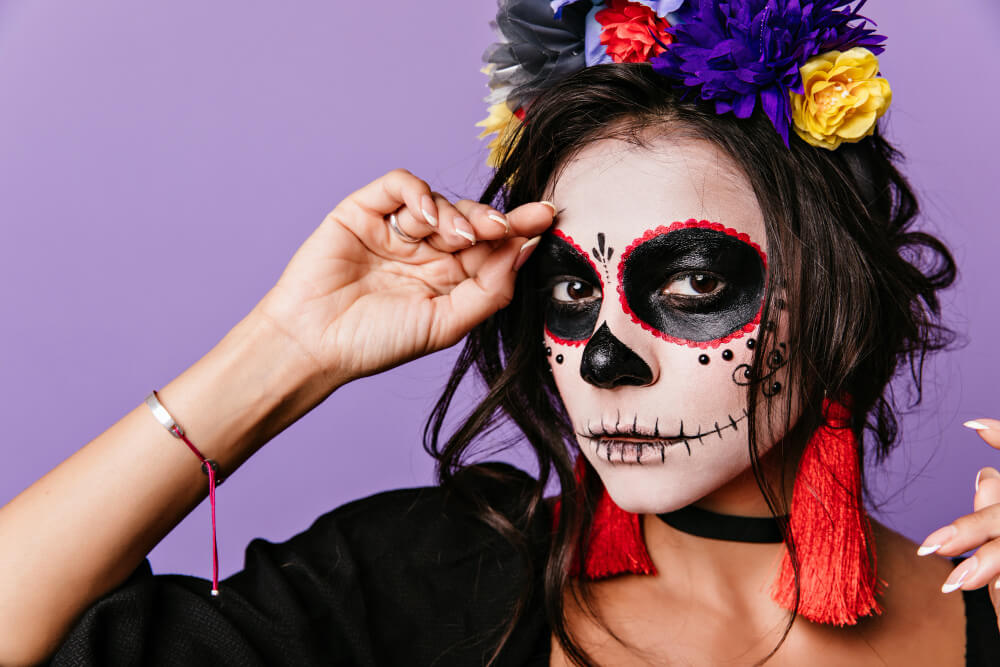 Halloween is all about embracing the spooky and the supernatural, but it doesn't always have to be terrifying. If you're looking to bring a touch of sweetness and whimsy to your Halloween look, consider cute Halloween makeup looks.
9. Disney Princesses
Bring your favorite Disney princess to life with a Disney-inspired makeup look. Whether it's Cinderella's soft blue hues, Belle's rosy cheeks, or Ariel's vibrant red hair and shimmering scales, Disney princess makeup allows you to embrace your inner royalty.
10. Emoji Fun
Emojis are the modern way of expressing emotions, and they can also be a cute Halloween makeup idea. Pick your favorite emoji, like the heart eyes, the crying laughing face, or the winking face, and recreate it on your cheek.
11. Kawaii Kitty
Transform into an irresistibly cute kitty with this makeup idea. Paint your nose and upper lip with a cute little cat nose, add whiskers, and create oversized, round eyes with dramatic eyeliner and large false eyelashes. Finish the look with pink blush on the cheeks and a pastel headband with cat ears.
Fun Halloween Makeup Ideas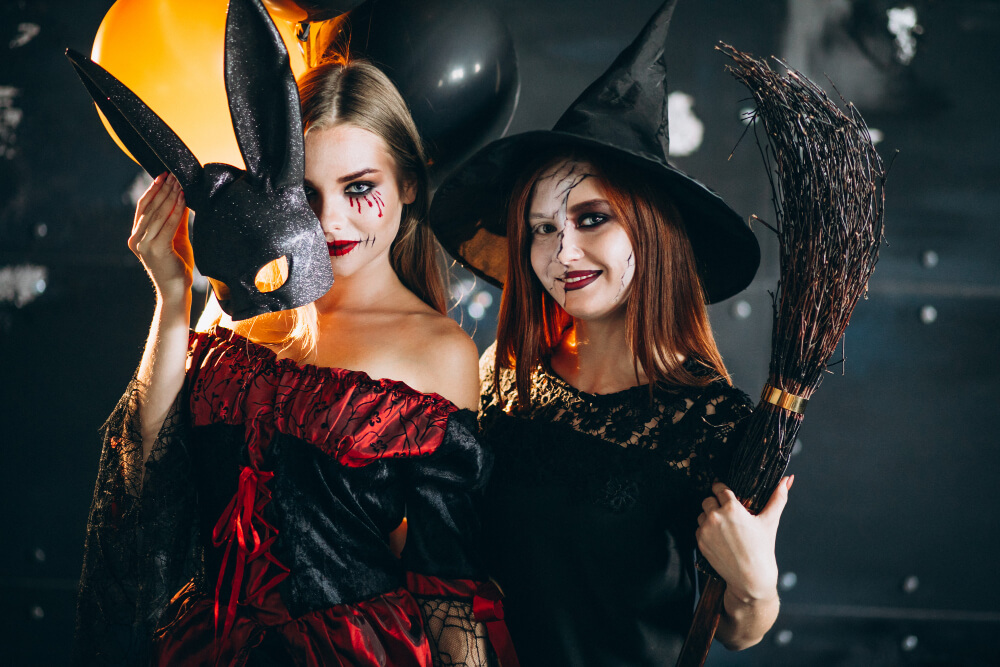 Fun Halloween makeup ideas allow you to express yourself and transform into something truly unique. Here are some exciting and entertaining makeup concepts to consider for a fun-filled Halloween.
12. Glow-in-the-Dark Skeleton
Take your skeleton makeup to the next level by using glow-in-the-dark makeup. Create a spooky skeleton face during the day, and then enjoy the eerie glow at night when the lights go off.
13. Day of the Dead (Dia de los Muertos)
Celebrate the Mexican holiday with a vibrant and intricate Day of the Dead makeup look. Use colorful sugar skull designs, intricate floral patterns, and rhinestones to create a visually stunning and festive appearance.
14. Circus Performer
Step right up and become a circus performer. You can choose to be a strongman with drawn-on muscles, a glamorous ringmaster with a top hat, or even a trapeze artist with a colorful leotard and glittery makeup.
Transform Your Look Online with Fotor's Halloween Filters
One of the classic Halloween activities is to post Halloween makeup looks on your social media platforms! Dive into the excitement by using popular Halloween hashtags to connect with fellow Halloween enthusiasts.