In an age of remote work and an increasingly important online presence, having a professional headshot has never been more important. While hiring a professional photographer may be ideal, it's not always feasible or affordable. However, with the right guidance and equipment, you can produce stunning headshots in the comfort of your own home.
In this article, we'll introduce the detail steps and tips on how to take professional headshots at home including the preparation, shooting and photo editing. By following this comprehensive guide to professional headshots at home, you'll be able to create captivating image that will leave a lasting impression in your personal and professional life.
Preparing the Photoshoot
Choosing the right location
Choosing the right location for your photo shoot is critical to getting the desired look and feel of your headshots. Look for places with plenty of natural light, avoiding harsh direct sunlight as it can create unattractive shadows. Using a blank wall, a solid color backdrop, or even a clean sheet or fabric to hang behind your subject to avoid any distractions in the background.
Choose appropriate clothing and Prepare hair and makeup
Encourage them to wear clothing that represents their professional style and is consistent with the intended purpose of the headshot (e.g., corporate, creative, casual). Some people may prefer to have their hair and makeup professionally done when having their professional headshots taken.
Create a comfortable atmosphere
Make your subject feel at ease during the photo shoot. Make friendly conversation, offer encouragement, and provide clear instructions for posing.
Camera
Use a camera with manual settings and good resolution for better control over the final image quality.
A portrait lens with a large aperture (such as the 50mm f/1.8) creates a pleasing background blur and highlights your subject's face.
For the average person, it's no problem to use your cell phone's camera. Many cell phone cameras support portrait mode can help you focus more on facial features and capture more facial details, which provides you a great help to exclude professional portrait photos at home. It is also important to note that you should try not to use a beauty camera, as it may lead to blurred photos or distorted portraits, among other possibilities.
Posing and Expression
When taking your own headshots at home, posing and expression can be more challenging than when directed by a photographer. However, with practice and attention to detail, you can still achieve good results.
Relaxation is the key to take perfect headshot
Straighten up your posture
Face the light for whole face shooting
Try different angles
Expressions are natural
Eyes should Focus on the lens
Multiple shots for the best one
Headshot take practice, so be patient with yourself. With each shoot, you will gain more experience and improve your posing and expression skills. Don't be afraid to experiment and have fun during the shoot!
Taking the Shots
Shooting
Place the camera on a stable tripod to avoid camera shake and to ensure a sharp image. Or, you can ask friends to help you to take the headshot.
Composition
When framing, leave enough space around the head and shoulders while keeping the face as the main focus. Pay attention to the headspace (the space above the head) and make sure you are not too close to the top of the frame.
Focus and sharpness
Set the camera focus point on your eyes to make sure they are in sharp focus. If you want more of your face in focus, use a narrow aperture (the larger the aperture value).
Dress and grooming
Dress appropriately for the purpose of the headshot. Solid colors and simple clothing are preferred. Make sure that your hair is neat and you are well-groomed.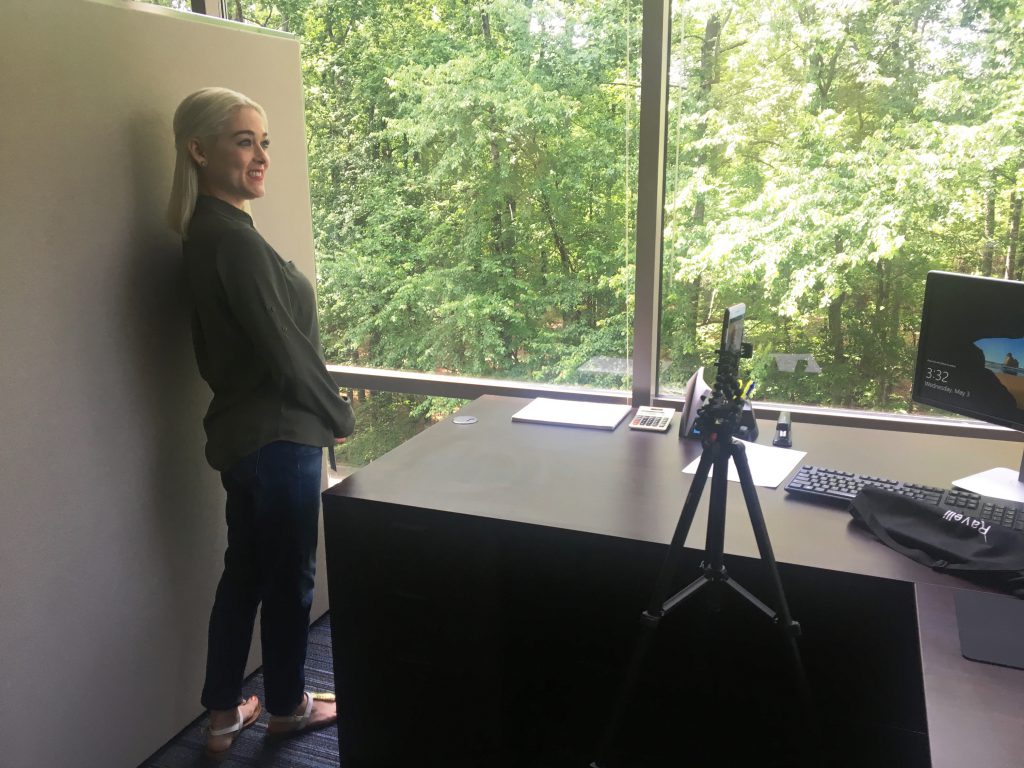 Editing and Post-Processing
After the shoot, perform some basic post-processing, adjusting exposure, contrast, and color balance if necessary. The photo editing also can be done without any skill with the best online photo editor Fotor.