You do not have to snap everything that's on the plate, and that's the first step to make sure people start liking your content. It also means that the food should be arranged aesthetically. If you are looking for a guide on creative food photography ideas, we got you! Here are some fantastic tips for food photography that will help you enhance your skills and bring out the best in you!
Before Taking Photos
Before taking a picture, you need to make sure your food and props are kept in an orderly fashion. Even if you are new in this field and are taking baby steps, it will make you look professional. The below-mentioned steps will assist you just when you are ready to press the button!
1. Take Care of Color Composition
While clicking pictures of food, you have full authority to play with the colors. It can ultimately affect the feel of the image and have a significant impact on its overall composition.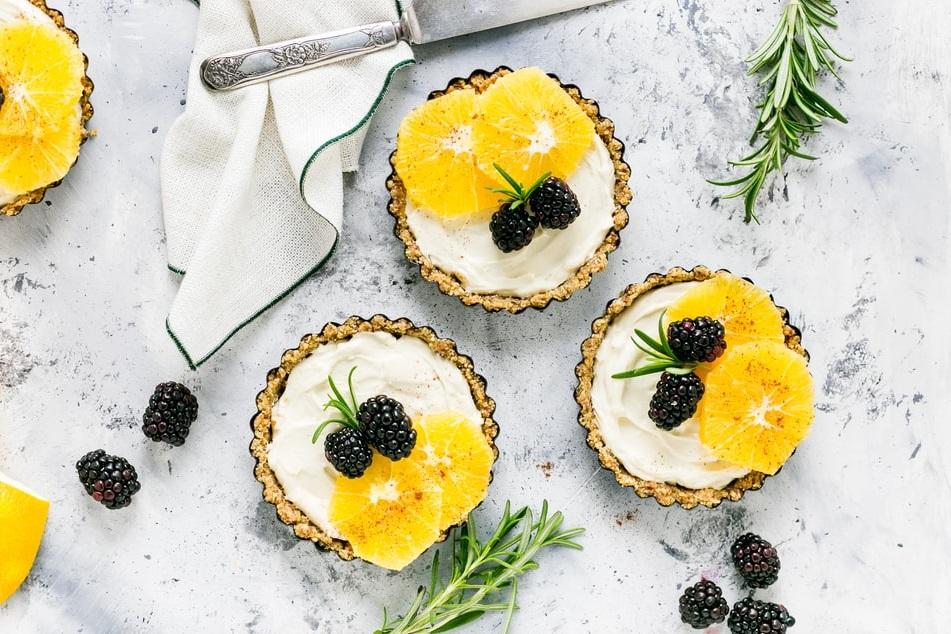 The image is clicked using similar colors to create a harmonious composition. It gives the viewers a sense of comfort with the even use of colors and looks soothing.
On the other hand, you could also create a dramatic and vibrant effect using contrasting colors. These tend to have an opposite impact on the viewers and stimulate emotions.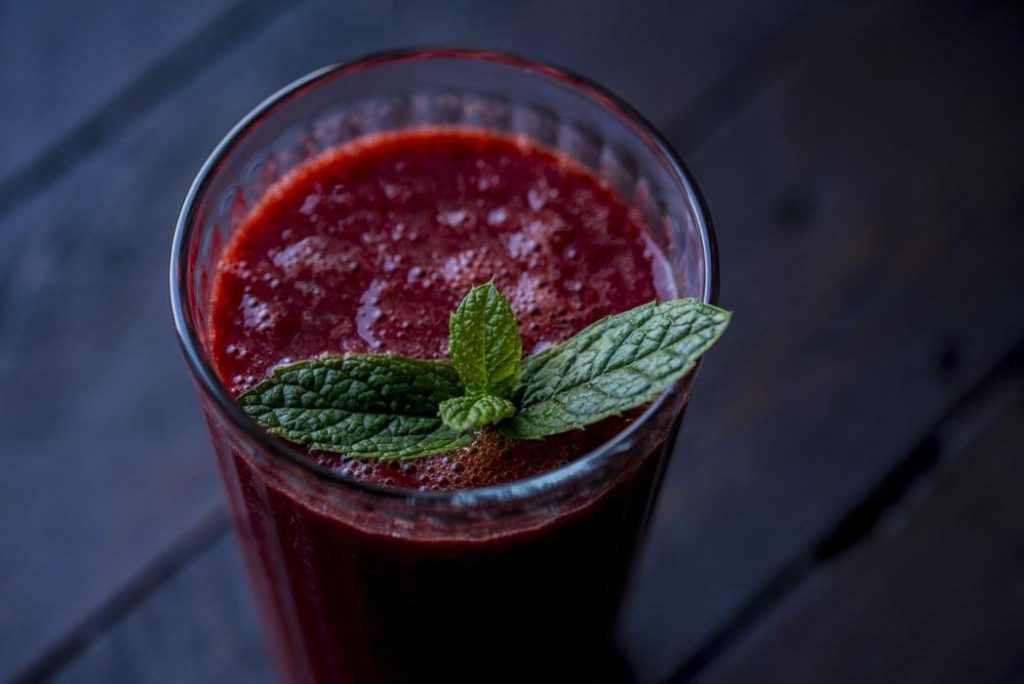 Take this image; for example, the colors look bright while the elements give intense competition to each other. You can create a contrast between the food and the background as well.
2. Bring a Balance with Neutral Background
The background of a picture is essential. It implies to food photography as well. There are various food photography backdrops, so try to keep the picture as simple as possible. It helps the viewers to focus just on the food and not on the background. A neutral background doesn't necessarily have to be dull; rather, it should complement the subject.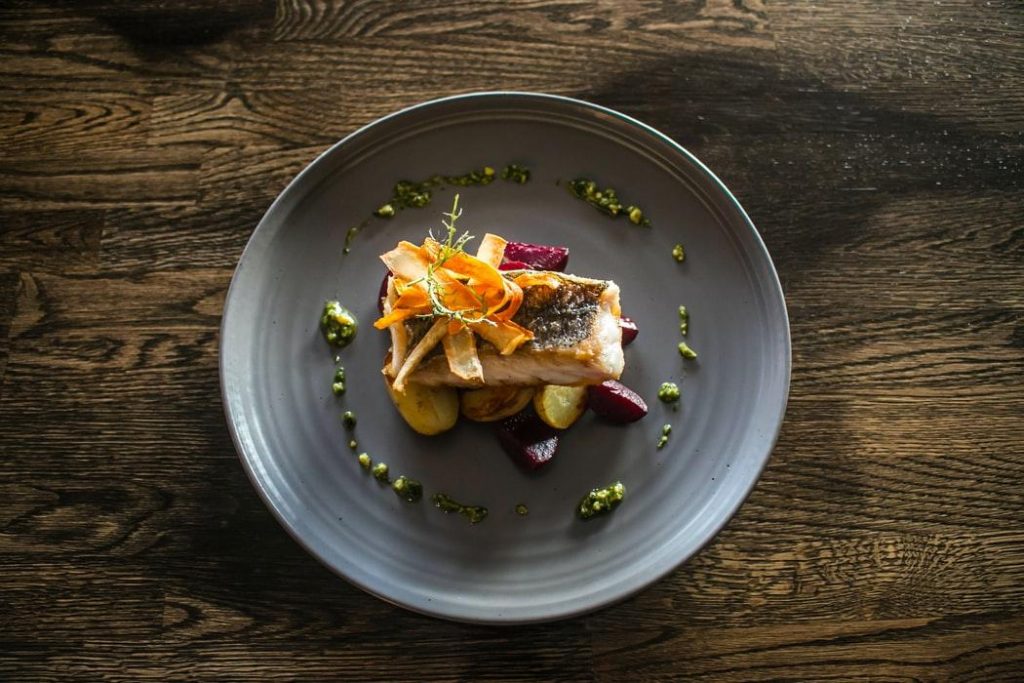 Here in this picture, a wooden backdrop has been used. There are three different types of backgrounds that can be used. These can be light, dark, and wooden backgrounds. Light-colored food looks great on a light background, whereas dark food looks good on a dark background. However, to create special effects, you can use different backgrounds like a rug or tiles. You can also create a DIY backdrop using food photography background ideas and make your way smoothly!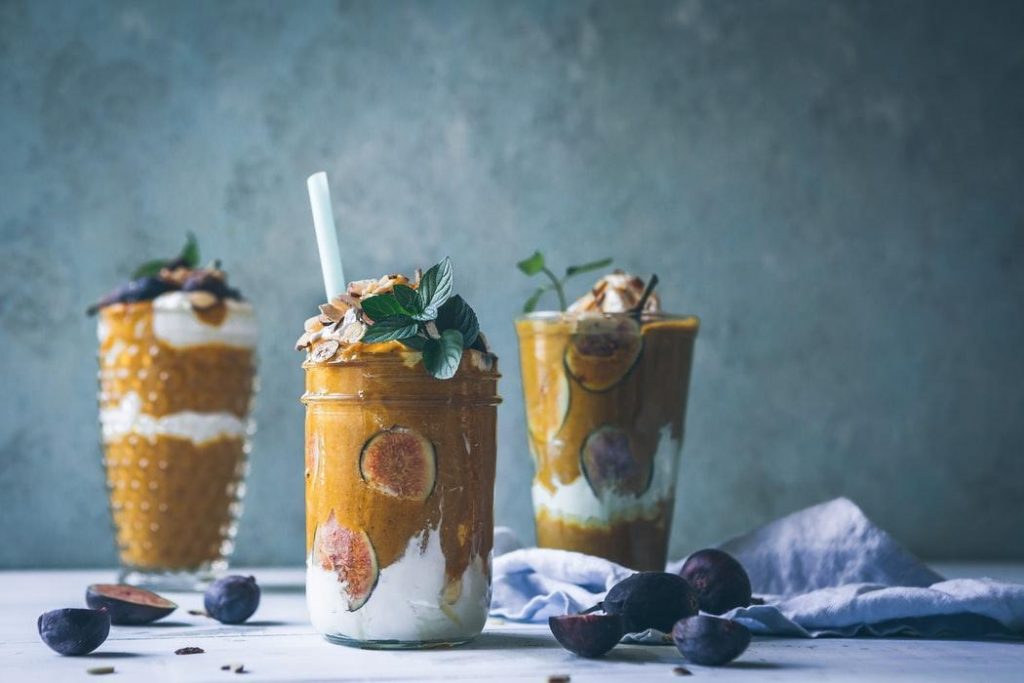 Apart from that, you could also use a neutral wall if you want to click a picture from one side. You will surely find plenty of objects in your house which can be used as beautiful backgrounds.
3. Decorate the Scene to Create Some Drama
A simple picture with a plain background sure looks great. However, you can make the image more aesthetic and the food more tempting by decorating the scene. Now, this step can be done in plenty of ways. You can add a few flowers or even some chunk of food that is being used in the dish.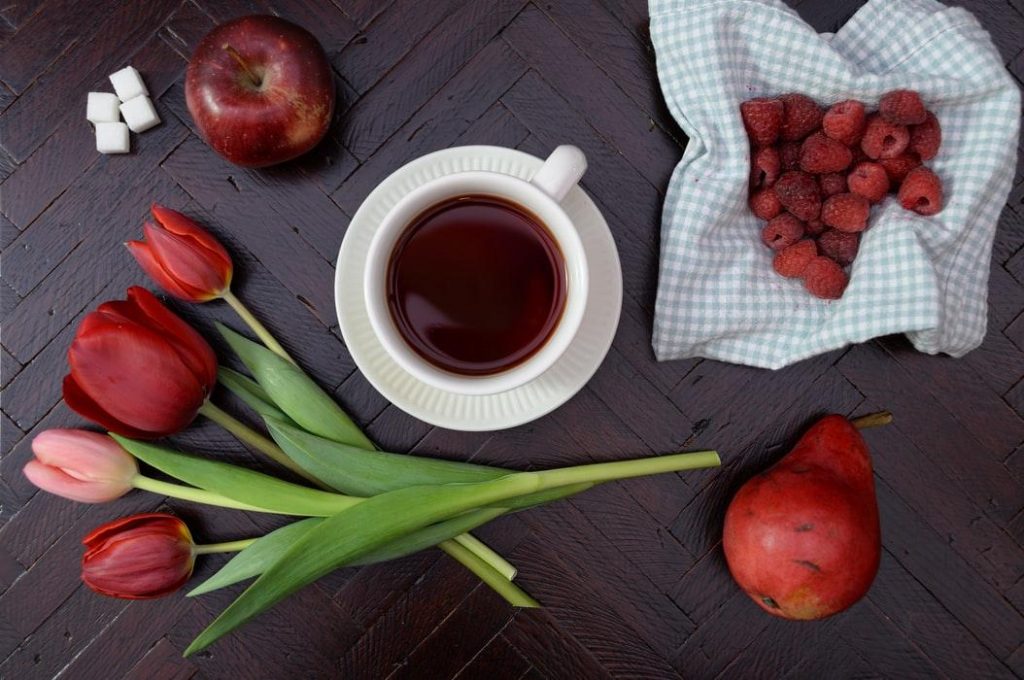 In this picture, you will see how beautifully the photographer has arranged the items. It is a simple picture with a cup of tea surrounded by fruits and flowers. What makes it different is the decoration and placement. If the photographer had clicked the picture with only the cup, it wouldn't have looked this pretty.
4. Add Different Props
Apart from decorating the scene, you can also add a few props. It can be your laptop, just to show how busy you are! Apart from that, you can also add a few books to create a story.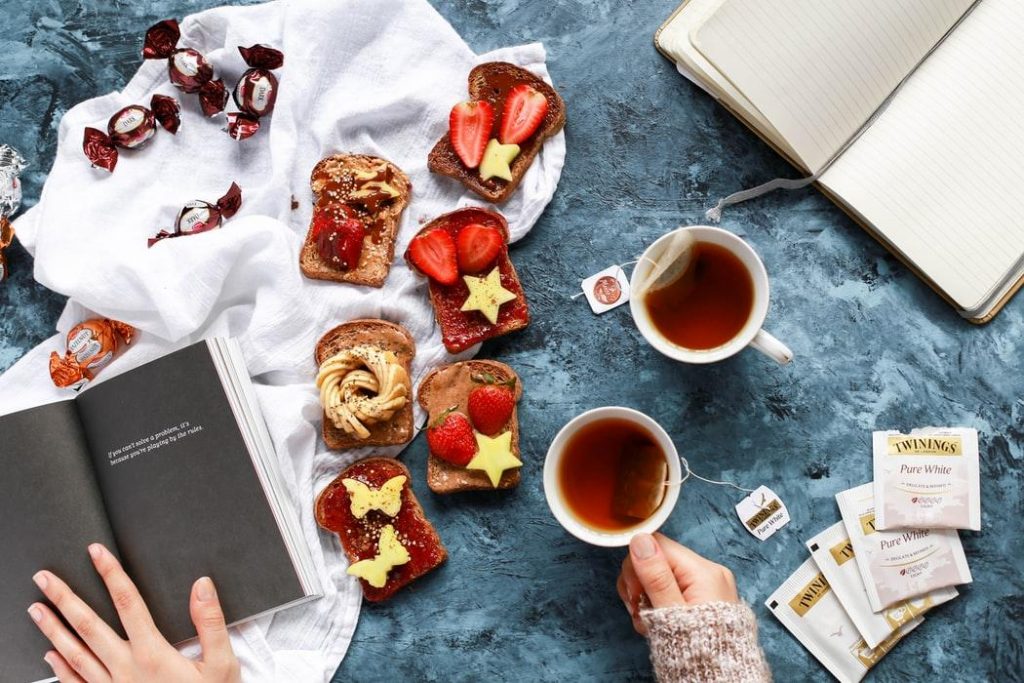 In this picture, you will see multiple items that act as a prop. A book, some teabags, and candies all make this picture highly aesthetic and warming. Everything about this image looks really great without even compromising on the subject.
5. Try Some Food Acrobats
Want to experiment with food acrobats? Try arranging your food in a way that makes it stand out of the rest!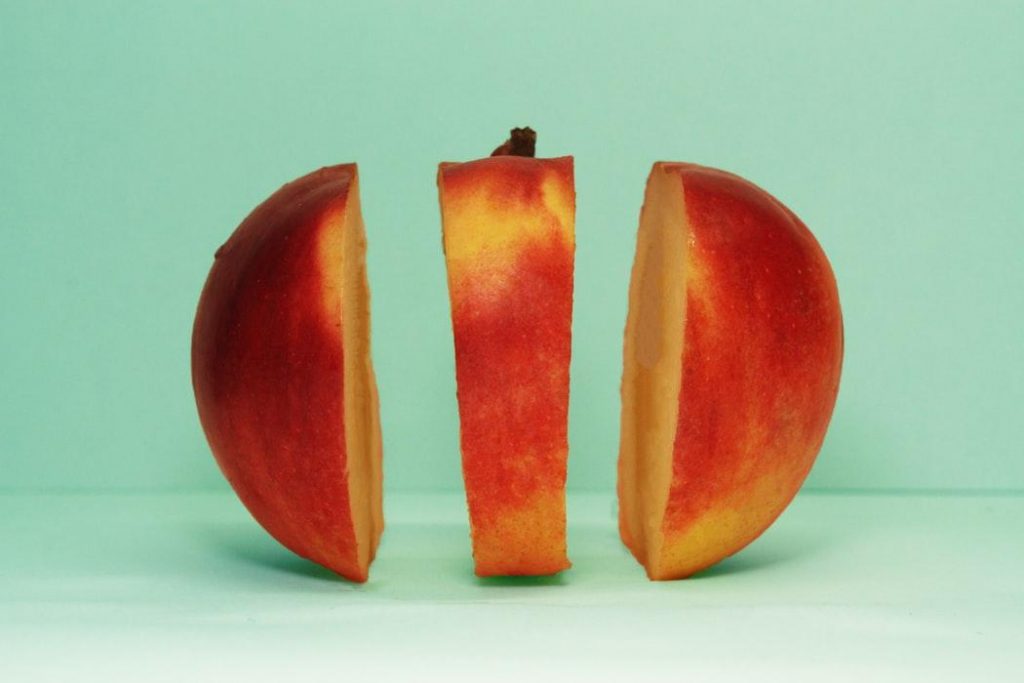 The image displays three pieces of a peach kept upright on the table. The trick is to level the bottom of the peach or attach it with a string that can be edited later. This experiment can be used on different fruits and vegetables. Well, you better ace the game!
6. Simple is Pretty
Simple pictures make your food look delicious without having to make a considerable effort. All you need is a creative eye and a yummy bowl of food.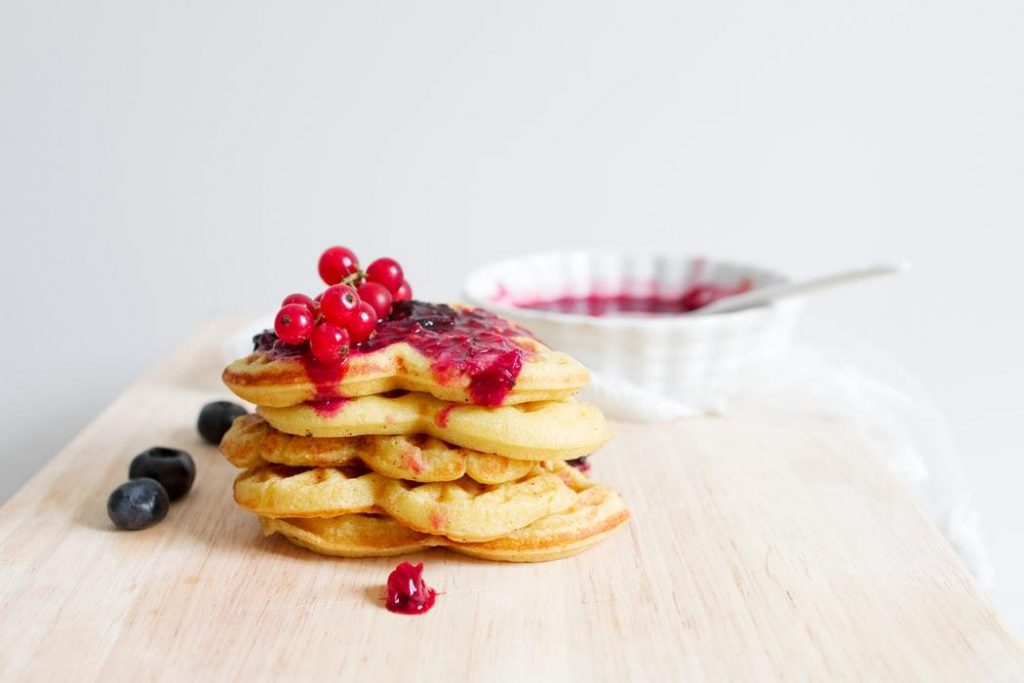 In this picture, the subject has been decorated in a very smart way. Apart from that, a faded bowl of syrup is added in the background, which makes this image even neater. You do not have to stuff the frame with different things to make it more impactful, and this picture is a true example.
How to Click a Picture?
Clicking a picture while keeping certain angles can impact a lot on the final result. You need to put a little emphasis on how shadows work and when to control them. Apart from that, here is everything you need to know how to click a picture.
1. Experiment with Different Heights
While clicking an image, you can experiment with different heights. You can use a cutting board to create some height and raise the subject. Use a cake stand to place your cake. Apart from that, you can stack your food and create a visual difference.
Here is an example.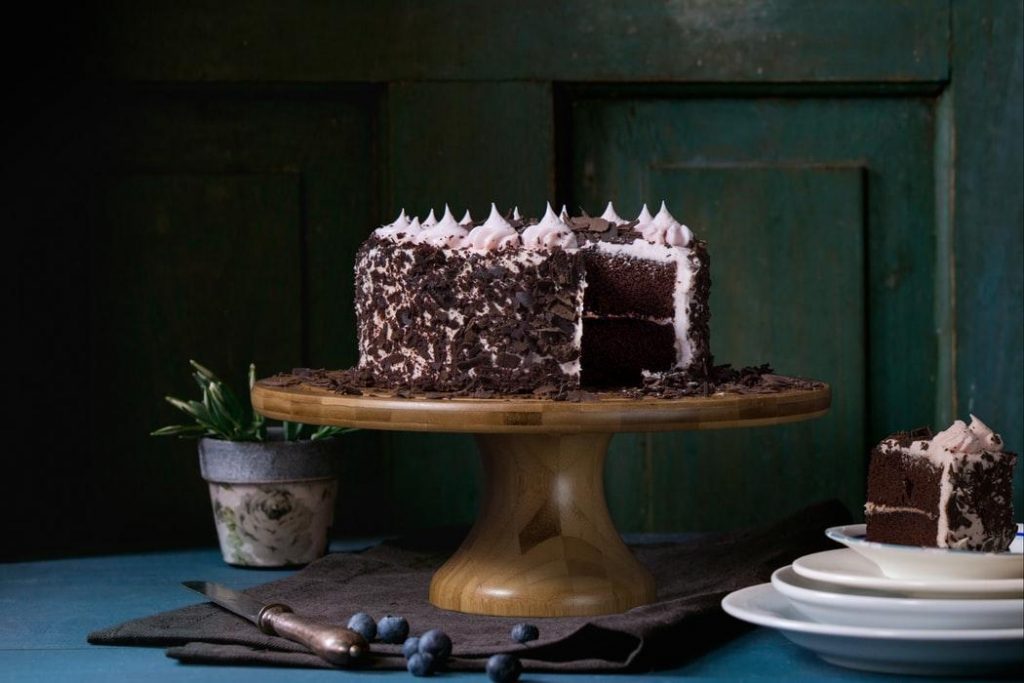 2. Know When to Use Natural and Artificial Lights
Light is the main key that adds life to a photograph. Make sufficient use of natural light whenever the weather outside is great. However, it doesn't mean while clicking a picture inside a cafe or your house; you can't use artificial light. You just have to make sure that the light isn't very harsh, as it can create an orange or yellow cast in the picture.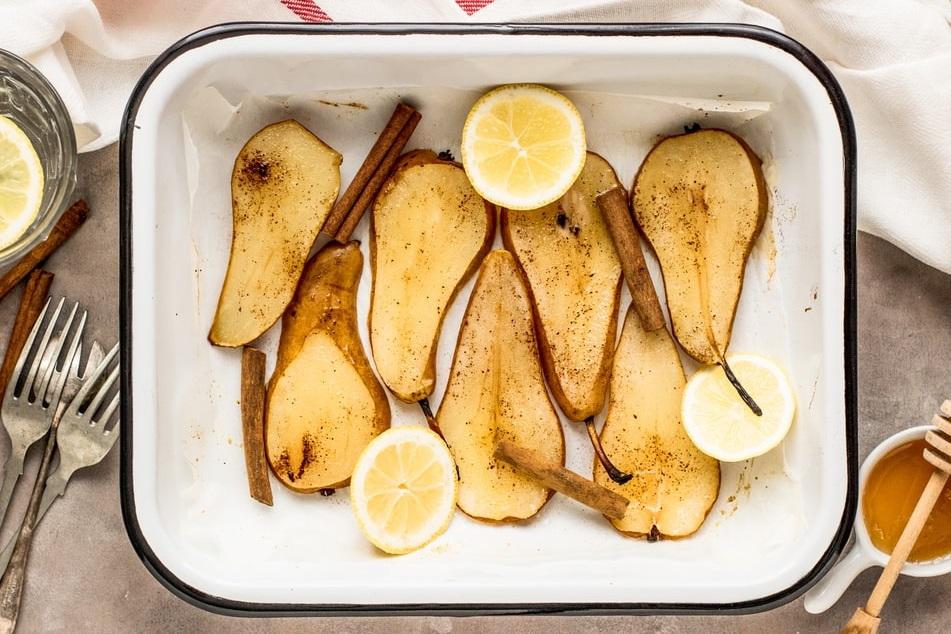 The picture above is taken in broad daylight, and the colors appear neutral and soothing. Other elements like fork and honey also make the picture look more pretty without overshadowing it.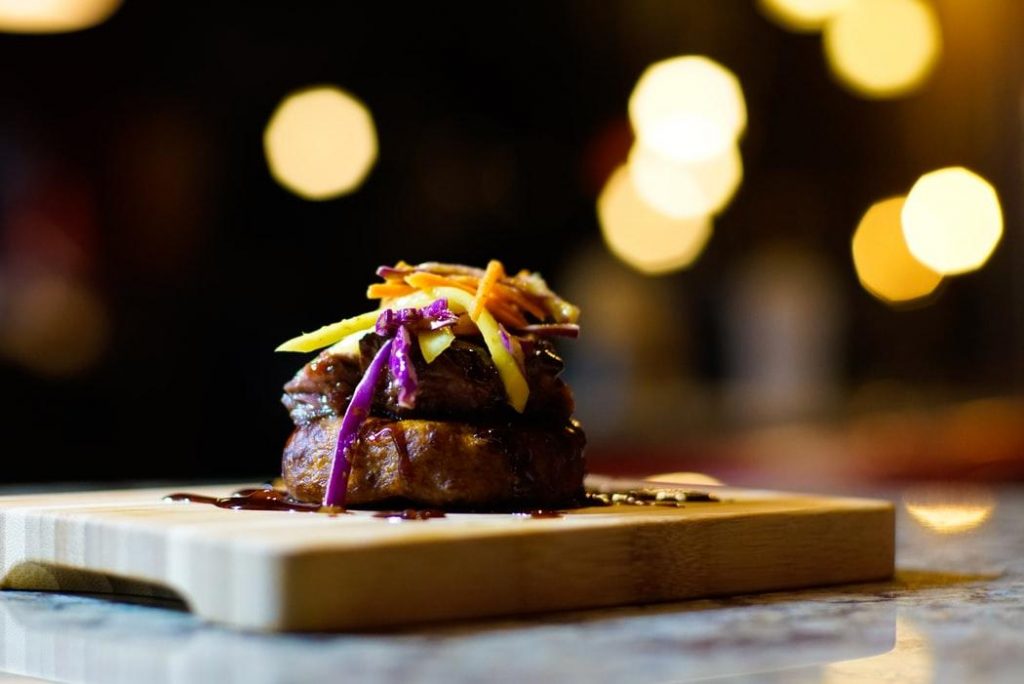 In this picture, a little artificial light is used, which doesn't create any cast but further enhances the quality of the image. Focusing on the subject here has played a significant role as well.
3. Make Use of Different Angles
Angles make a huge difference in a picture. Whether it is a close-up or a wide-angled shot, you will have to master the technique to get the best result. When you keep clicking the pictures in the same manner, it creates a sense of monotony. Therefore, try to mix and match different angles.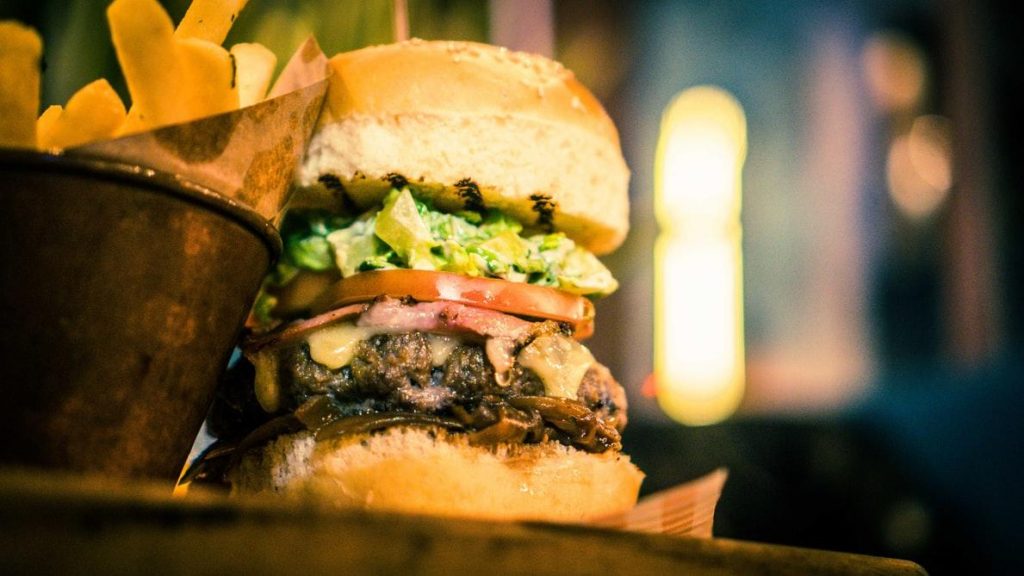 The image here is taken, keeping the camera or phone at a low angle. It has given a dramatic effect adding a story to the picture.
Another example of a different angle is the picture below. It is a close-up denoting a cute little hello!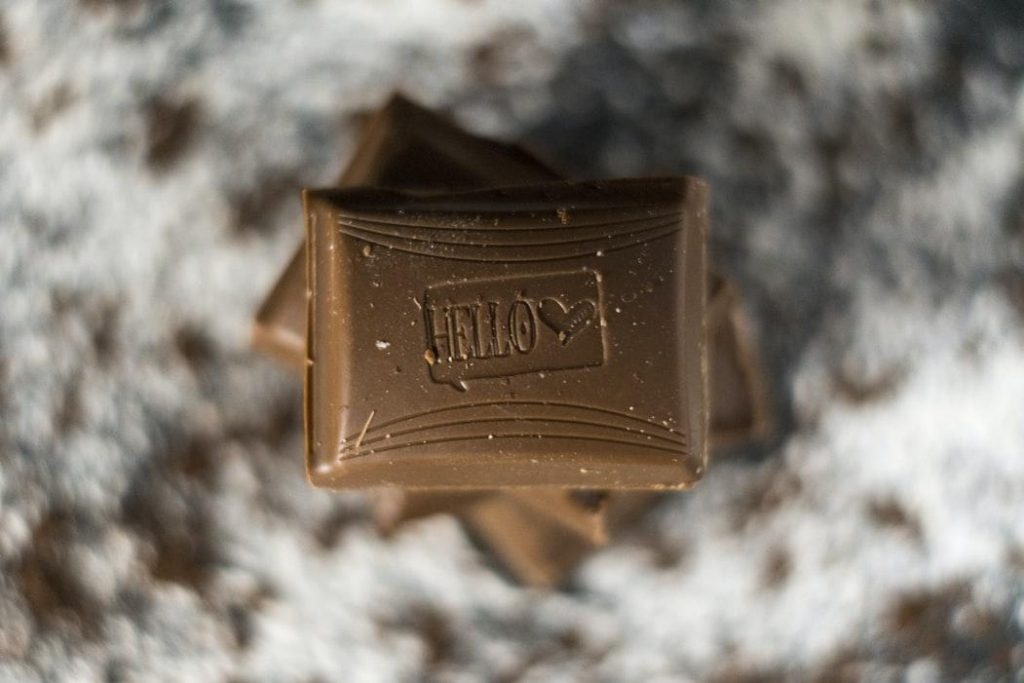 4. Leave Some Breathing Space
It is essential to leave some room for the subject. It is done by adding a negative space, also known as a breathing space. Overcrowding a picture can leave the essence blurred. While close-ups in food photography look great, you need to make sure that the composition of a picture adds a pleasant effect.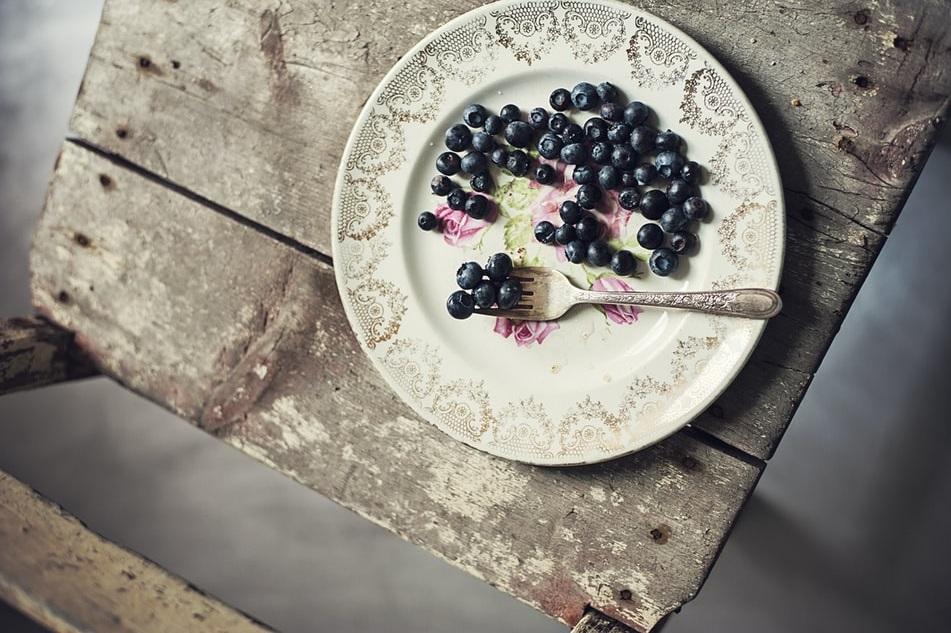 The image has enough breathing room to show the composition as well as the background. The fancy plate and an old chair complement each other, making this picture look very pleasing.
5. Correct Use of Shadows
While clicking pictures in natural light, you need to take control of the shadows. There are times when shadows add a unique effect to the image, whereas these can even ruin a picture. Therefore, be very careful while adding shadows so that they don't affect the essence of the picture.
In the above picture, there are very soft shadows. Such shadows are more flattering to the subject and do not dominate the scene. However, in the next image, you will see that the shadows are powerful. It, in turn, enhances the image while creating interesting shapes adding more to the composition.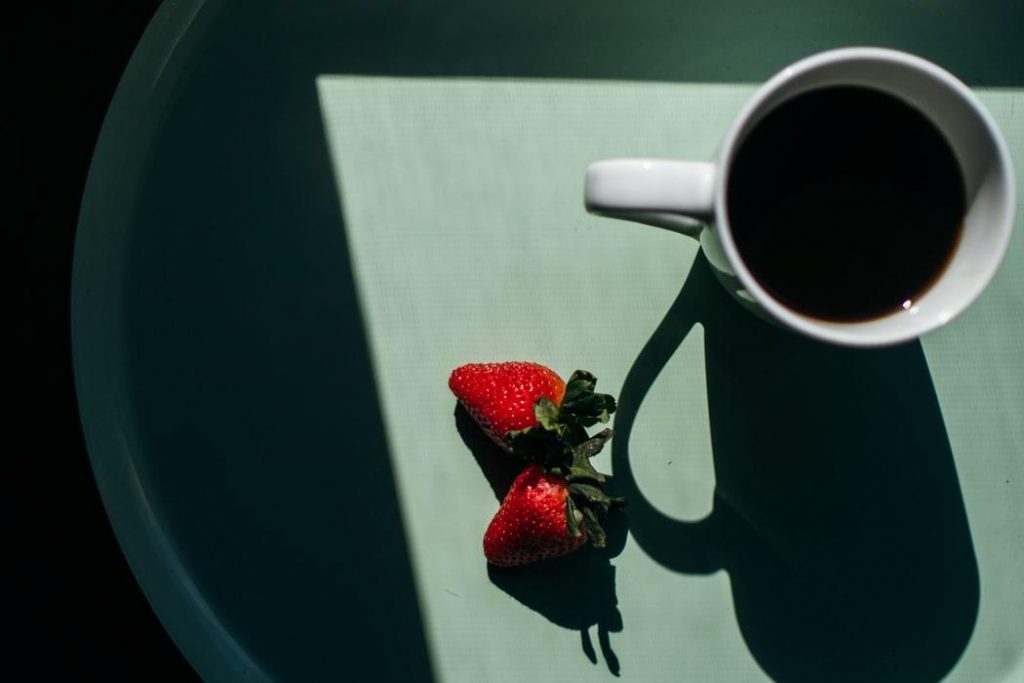 6. Enhance the Colors with the Help of Editing
Editing helps enhance the colors of a photograph. There are many mobile apps for editing which come handy if you click pictures on your mobile. Here are some of the perfect ways you can add more beauty to your pictures.
7. Creating Balance with Brightness and Contrast
Add brightness and contrast to your picture to correct the color. If you have clicked a picture in natural light, there may be a chance that the picture might appear a little dark. Brightness can add some shine and make your picture look just as you want it to look!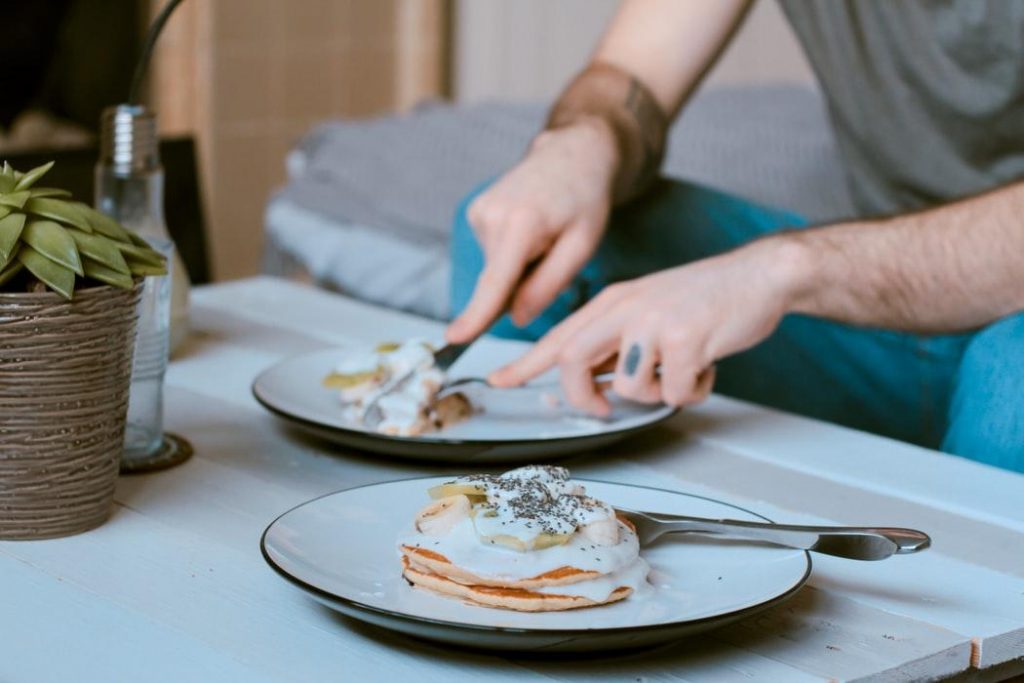 8. Add a Filter
Adding filters to your photos is a good way to make your photos look even more stunning. There are many filters that you can add from black and white to a more vibrant filter. Choose any and share the picture with your friends and family.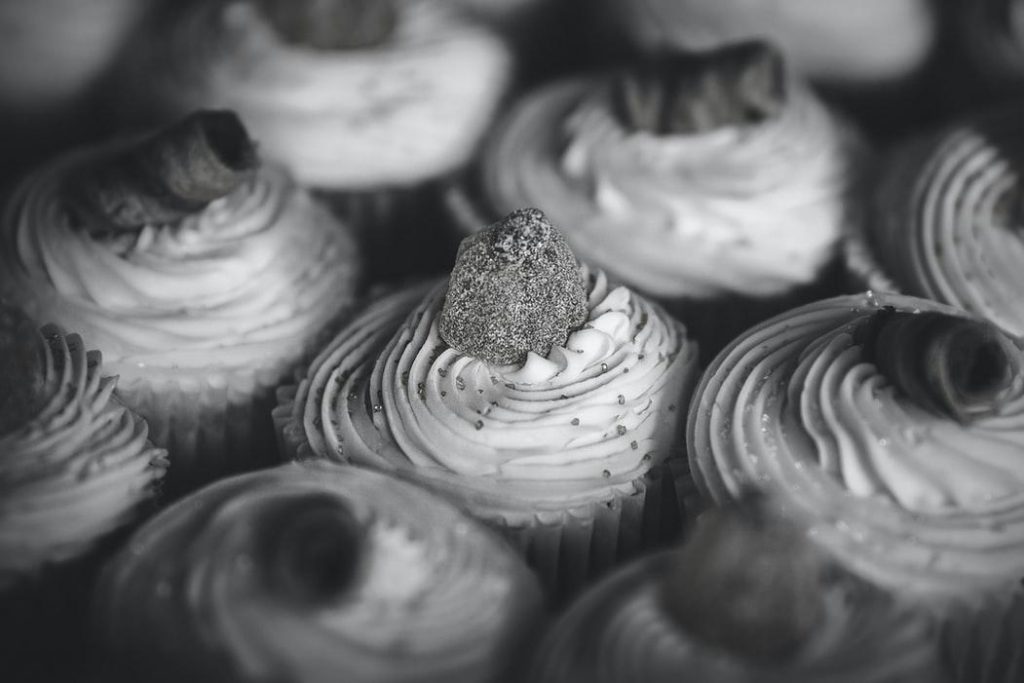 You can see, in this picture, the photographer has applied a black and white filter while focusing on the cupcake in the middle.
Frequently Asked Questions on Food Photography
Food photography has recently gained a lot of popularity. The moment you open your Instagram or Facebook, you see your friends posting pictures of food. Well, sure everybody is a food blogger nowadays, but it requires a certain skill set to stand out! Here are some frequently asked questions to give you an insight into the food photography industry.
What do you need for food photography?
Most of the time, people use their phones to capture images of food. Using some photo editing apps can make a huge difference and make it look like it's captured by a professional. However, if you want to take your food photography to another level, you will require something more. A camera body, macro lenses, a tripod, props, and reflectors are the essential items.
In my opinion, what a person needs is a skill set. Even if you feel like you aren't very good in this field, you must try to polish your skills. Look at the subject with creativity in your eyes and make it come alive with your pictures. Some food bloggers carry food photography on iPhone since the cameras are getting better day by day.
How do you improve food photography at home?
You can easily improve food photography at home. Try incorporating different backdrops and props in the frame. Apart from that, use natural lights so that you do not have to add filters or correct the colors. You should try and keep your picture neat with only a single subject at first. When you get a good hold of angles, then you can experiment with different styles.
How do you do a food style?
It isn't necessary to click the pictures in one single style. You should try to mix and match. Use different garnishes and compositions, along with some serene backdrop. How you assemble everything in the frames makes a huge difference. You need to be careful while adjusting the props so that the focus doesn't shift from the food.
How do you copyright your photos?
Filing for copyright is a tiring job but equally essential. You will have to find your country's Copyright Office or a website to register. A person should ideally copyright the images before publishing them. However, after discovering the illegal use of your image, you can still copyright it. The cost varies from country to country; therefore, get ready to spend a few bucks!
Outro
There is not a foolproof guideline that tells you how to capture food. However, you can only excel if you keep on working on your skills. Apart from that, experimenting is the key! Use creative food photography ideas and bring your pictures to life.
About Us:
Fotor is a free online photo editor and graphic designer, allowing you to use online photo editing tools, such as add filters, frames, text, stickers, and effects…and apply design tools to make creative photo designs and graphics. Online photoshop and graphic design software have never been so easy! Also, if you want to get more helpful and inspirational tips, please visit our blog home page to extend your reading.