Finding the perfect images for your flyer, poster or document can be a daunting or even tedious task. Flipping through page after page, not only looking for something that will fit your project but also having to look for ones that are free and legal to use. Luckily there are a few free clipart websites that offer both high quality and free clip art designs, so let's take a look at the top 15 free clipart websites below and guide your design!
1. 15 Best Free Clipart Sites
Let's get started! Here is a list of the top 15 best free clipart sites for free vectors that are not only free to use but also easy to navigate and have a large variety to choose from! I recommend browsing through all of them and bookmarking the ones you might need.
While many of these sites would work great for most people, I'll also talk about what sites offer the best options for certain different people, so you can find your perfect clip art even faster!
1. Fotor.com – Best Friendly Clipart Website
Fotor.com is an online graphic design and photo editing platform, ideal for sales posters, flyers, and social media posts not only due to their massive ready-made templates but because they also offer various themed clipart! The best part being it's all customizable. However, if you are looking to add some stickers to your own image, you can do that on this site directly! Making it one of the best websites that offer free clip art.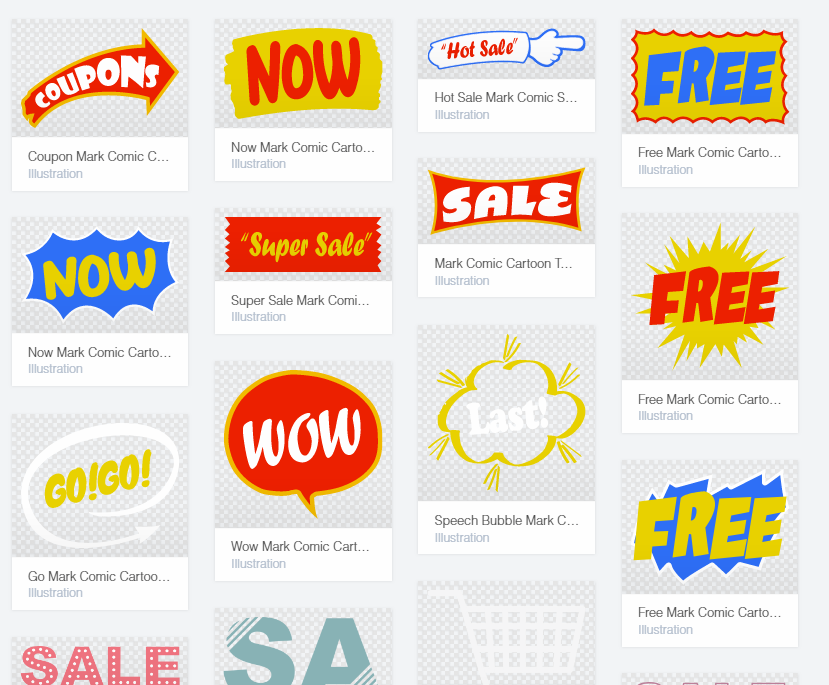 fotor.com/Sale Clipart
fotor.com/Social media Clipart
2. Freepik.com – Best Overall Clipart Website
Freepik one of the topmost resource sites for vector graphics for graphic designers. Freepik offers a slew of graphics including free vector art, illustrations, icons, PSD and photos for use in websites, banners. Making it ideal for both businesses, graphic designers and digital artists!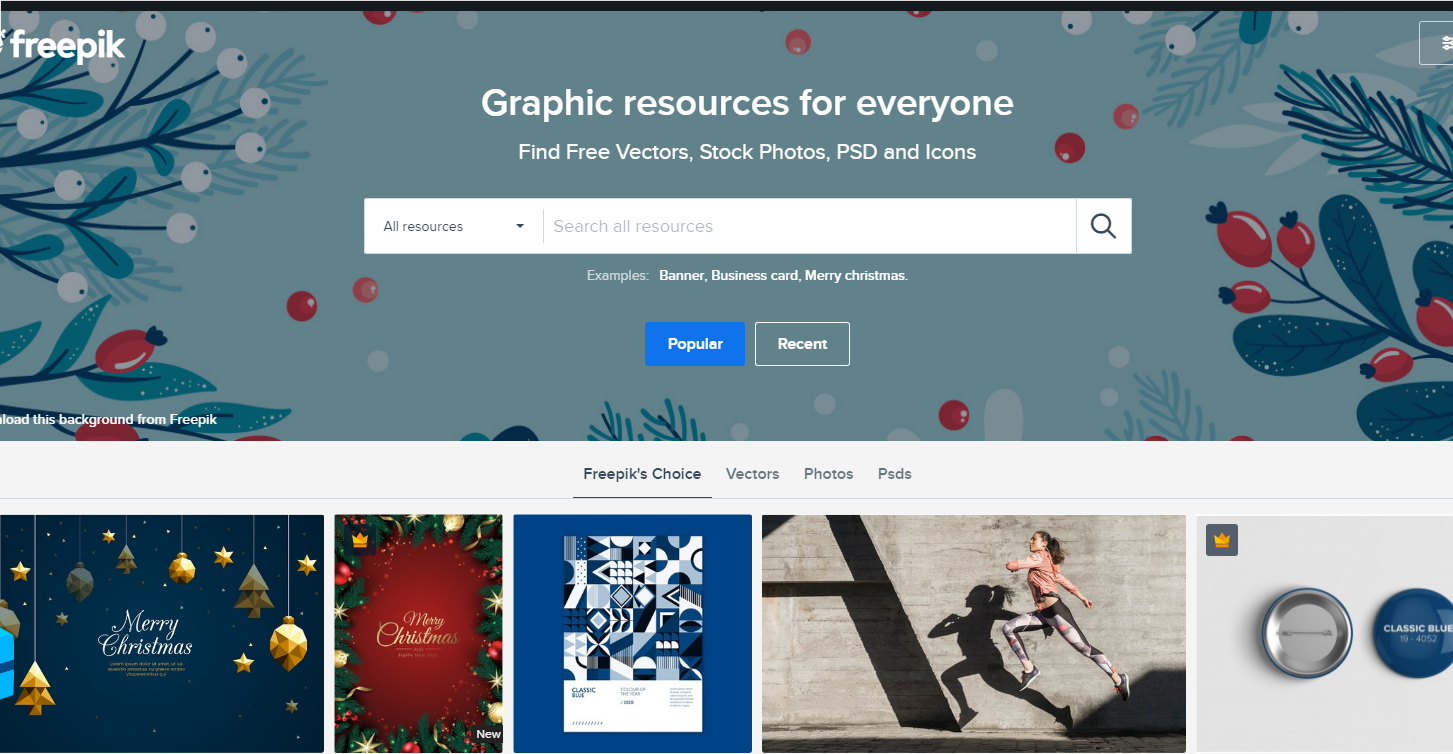 3. Etc.usf.edu – Best Educational Clipart Website
ClipArt ETC provides students and teachers with over 71,500 pieces of quality educational clipart. Every illustration comes with a choice of image size as well as complete source information for proper citations in school projects. All images are appropriate for classroom use. You'll find no advertisements, pop-ups, or inappropriate links here. This is one of my favorite sites for finding historically accurate images or more sophisticated subjects of images.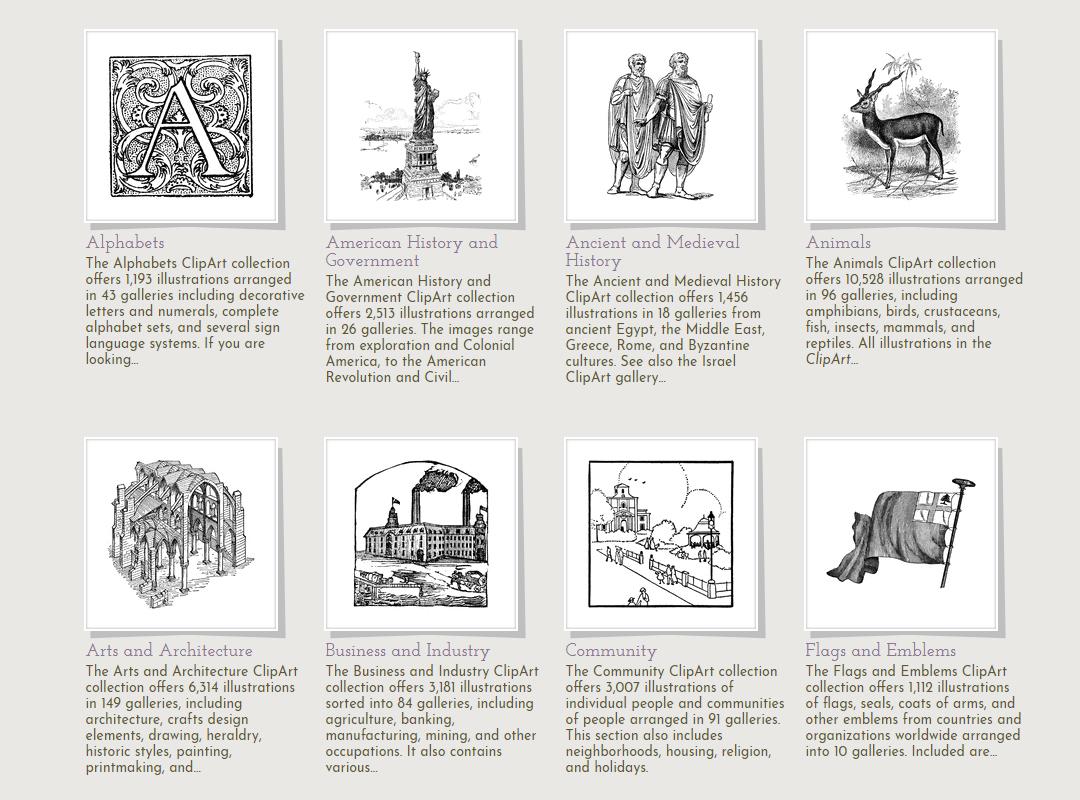 4.Vecteezy.com – Best Vector Graphics Website
Vecteezy is a site like Freepik and is one of the largest and best websites for vector graphics in the world. Here you can find that perfect little freebie for your next project. Vecteezy vector art covers the gamut of images – from vector icons to vector patterns, making it easy to explore thousands of graphics created by vector artists from all over the globe. Vecteezy vector art files are free to download and free to use in your projects! Making it the best place for free vectors!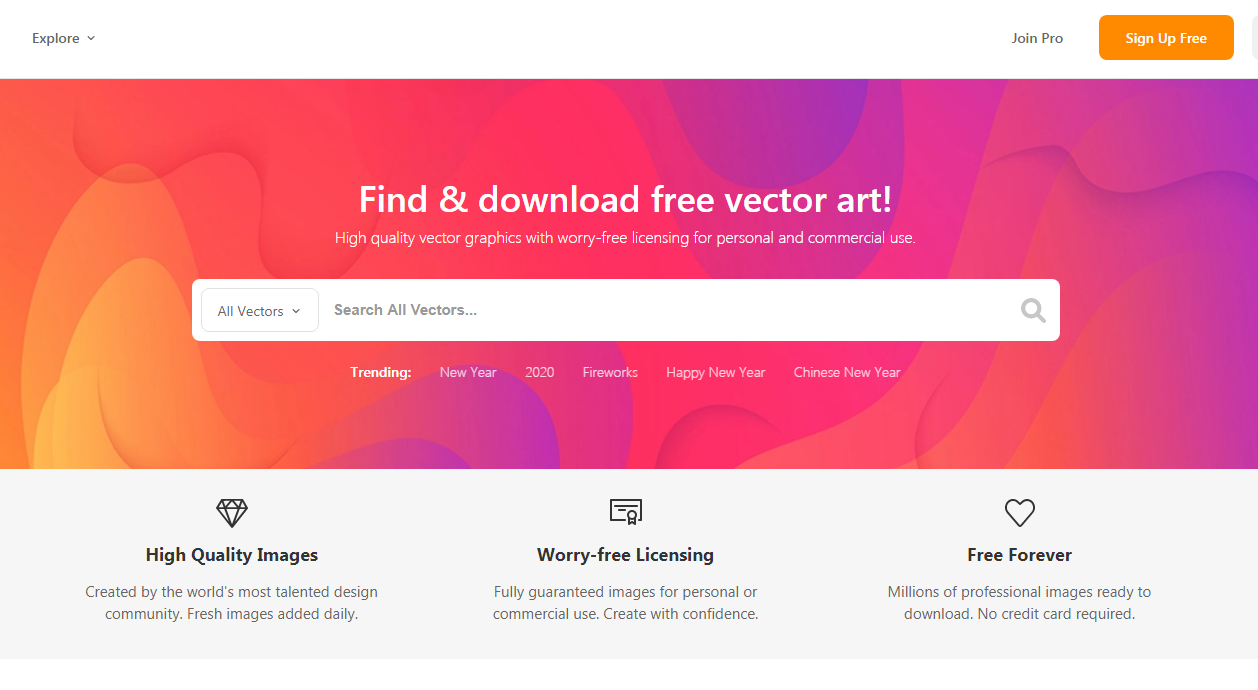 5. All-free-download.com – Best Commercial Use Clipart Website
With more than 20000 clip art choices organized in all-free-download.com, there should be more than enough clip art to keep your designs looking fresh! You don't have to rummage around as all files are organized around tags, with most files even being in the Adobe Illustrator file format. Any download is free for commercial use!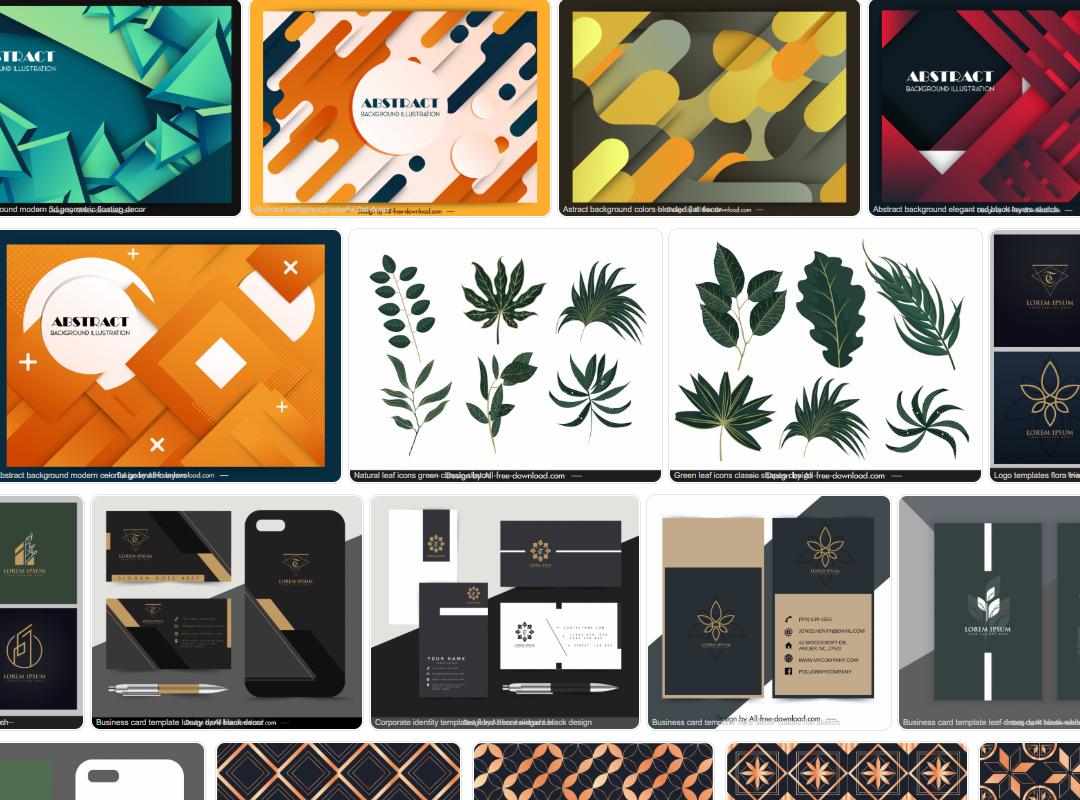 6. Freepngimg.com – Best PNG Clipart Images with Transparent Background
Freepngimg.com is one of the biggest collections of high-quality PNG in the world. Freepngimg is ideal for graphic designers as all of the images on this site are on a transparent background, making designing with them a breeze! My favorite section is by far the tree section, as trees are some of the hardest images to extract from their background.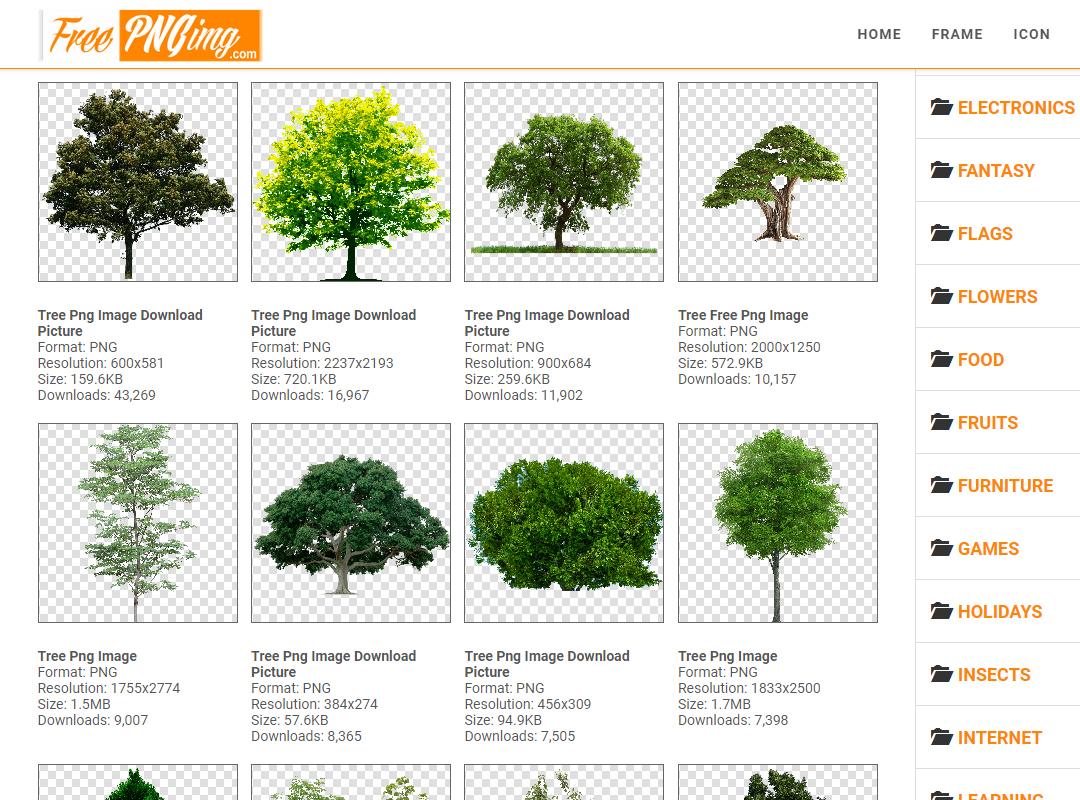 7. Vexels.com – Best Clipart Stock Website
Vexels is the design stock where everyone can find whatever they need – whether you're a Graphic Designer, a Merch-Seller or an Agency, they have got something for everybody! On Vexels you can explore and discover the best ready-made graphics for personal or commercial projects – from versatile backgrounds, trendy icons and fantastic logo templates to print-ready designs and everything in between.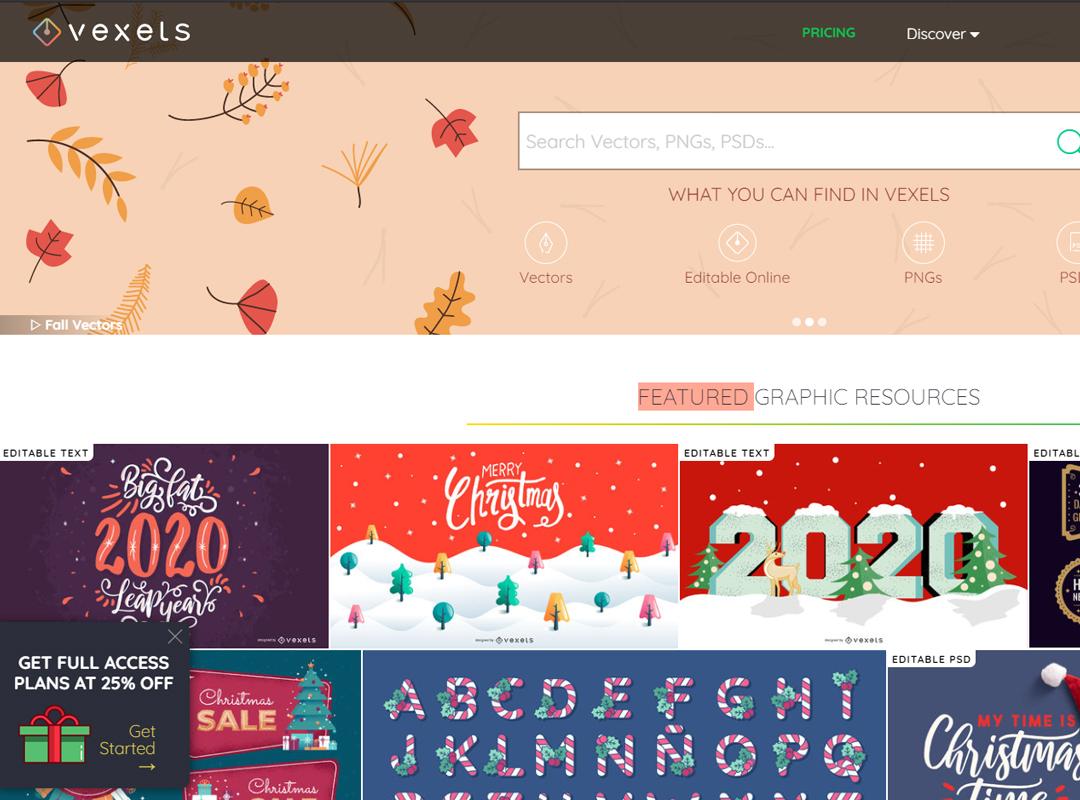 8. Vector.Me – Best Clipart Website with an Extensive Database
Vector.me features an extensive database of free vector graphics. It enables you to quickly find the vector files you need by browsing or searching through the entire collection of more than 150,000 vectors. You are allowed to use the vectors you downloaded for both personal and commercial purposes!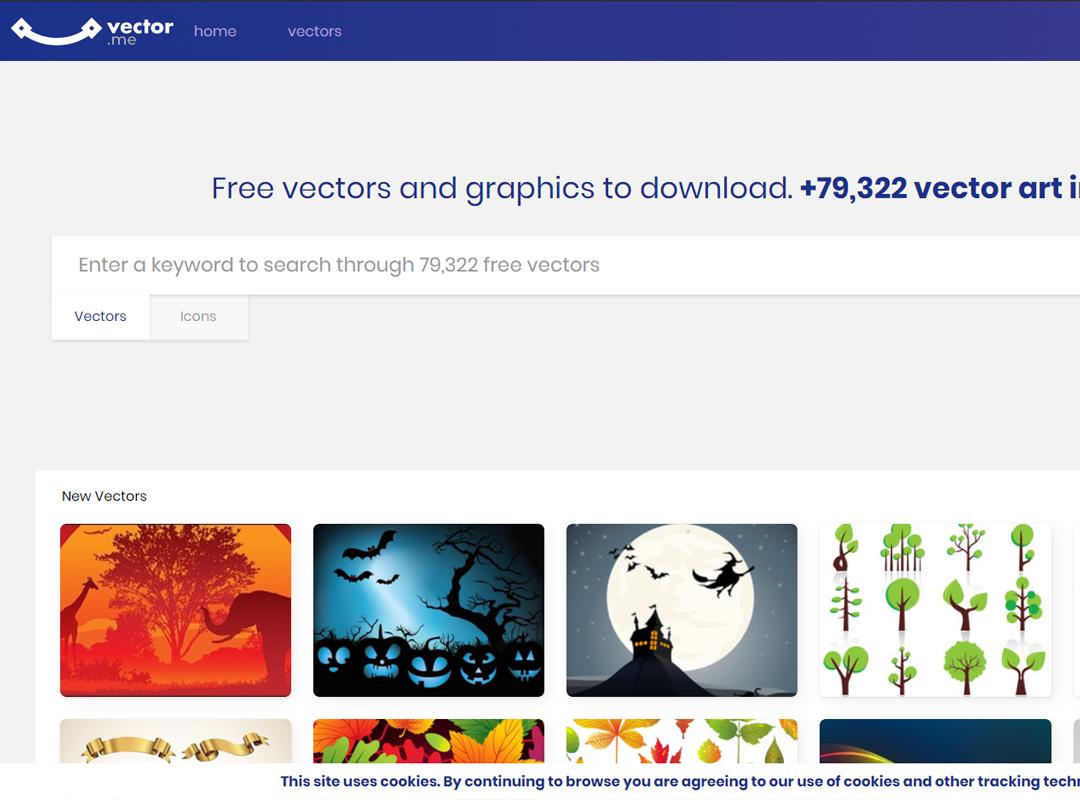 9. 365PSD.com – Best Strict Clipart Website
365PSD.com is also another community-driven website, but the content is not limited to vectors! You can also get PSD files for free! However, all contents are locked until you perform a certain action like giving a Facebook like, tweeting or following the 365PSD.com official Twitter account. Once that is done, all the images are free to use!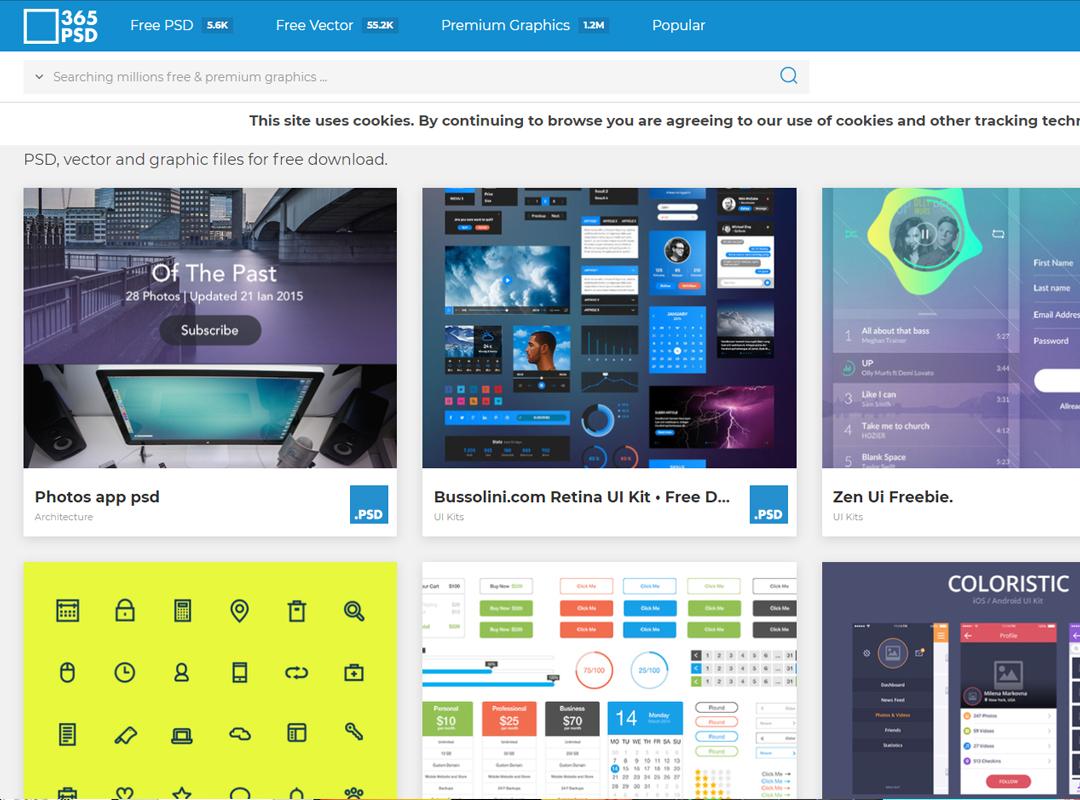 10. FreeVectors.net – Best Community Clipart Website
FreeVectors.net is a community of vector lovers who share free vector graphics. All the images on this site are free to use for personal use and most of them can be used commercially. The most recently added vectors are displayed right on the front page, to find the newest images easiest.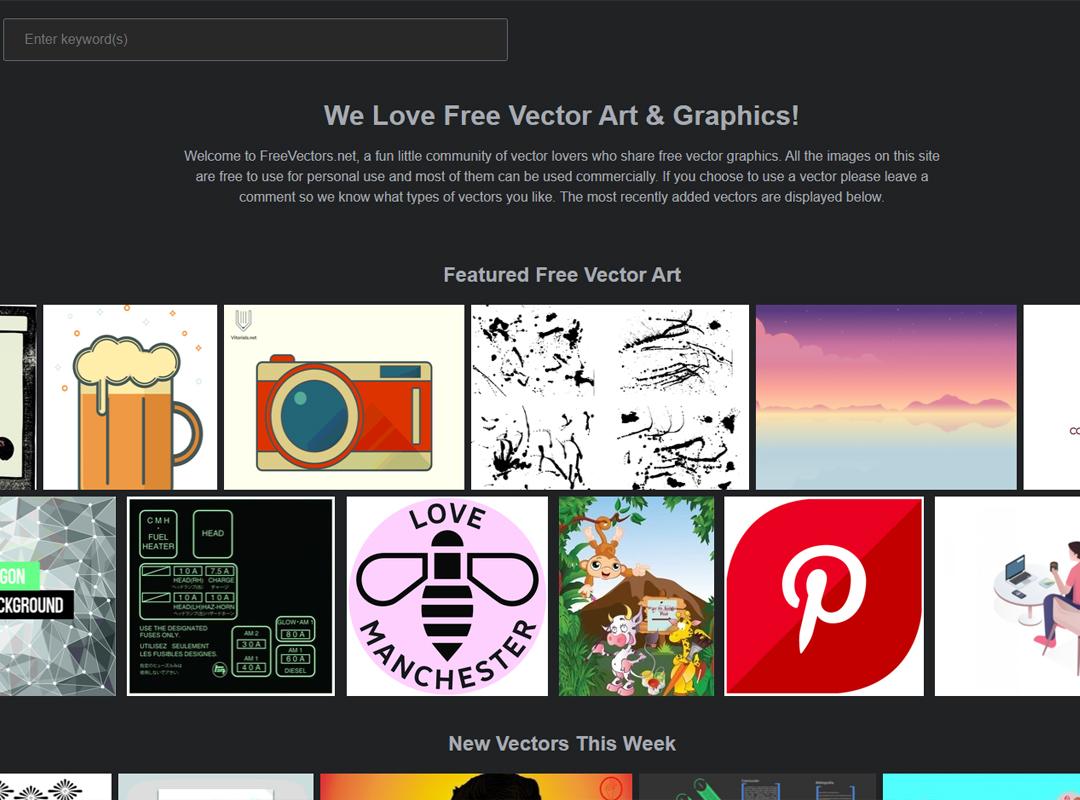 11. 1001FreeDownloads.com – Best Attractive Clipart Graphic Website
1001FreeDownloads scours the web in search of the best and most attractive free graphics for designers. They currently feature thousands of free vectors, photos, brushes, gradients, fonts and claim to have much more to come. They also produce their own exclusive graphics that are available.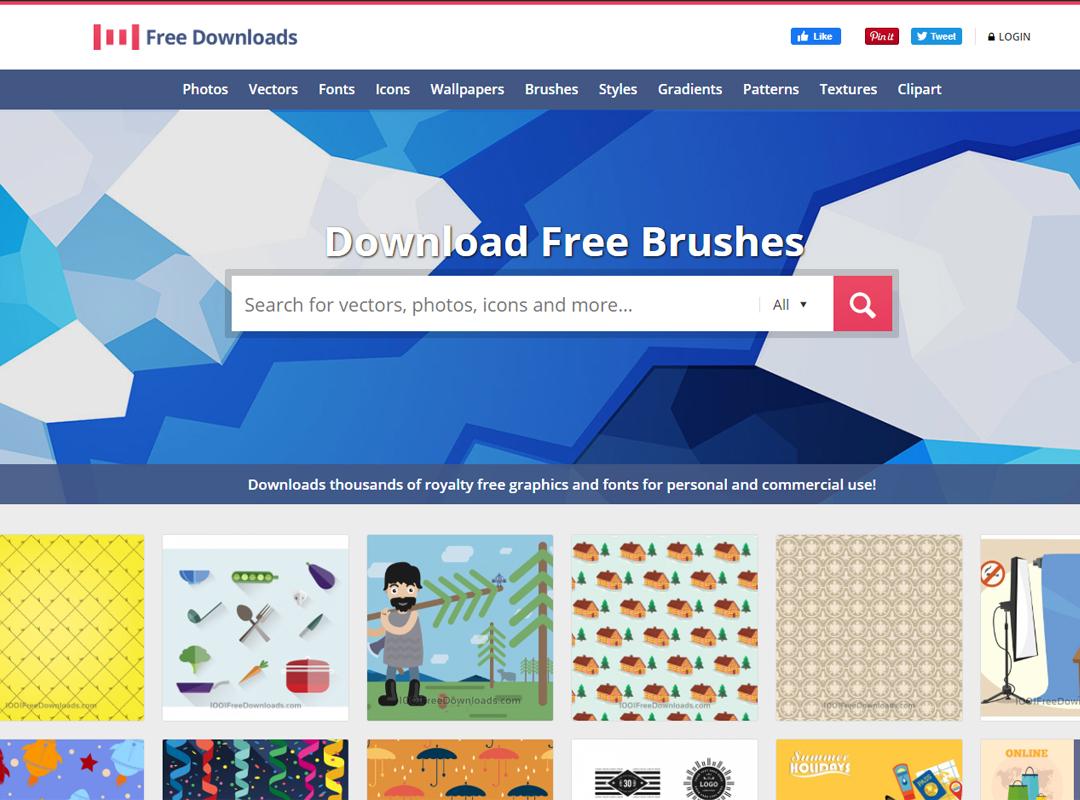 12. School-clip-art.com – Best Helpful for Education Clipart Website
School Clip Art is just one of the amazing free clipart sites for teachers, student or educators. Offering education-specific images covering every school subject, holiday and even sport and athletic-related clip art. And you don't have to worry about your budget, as School Clip Art is completely free to use!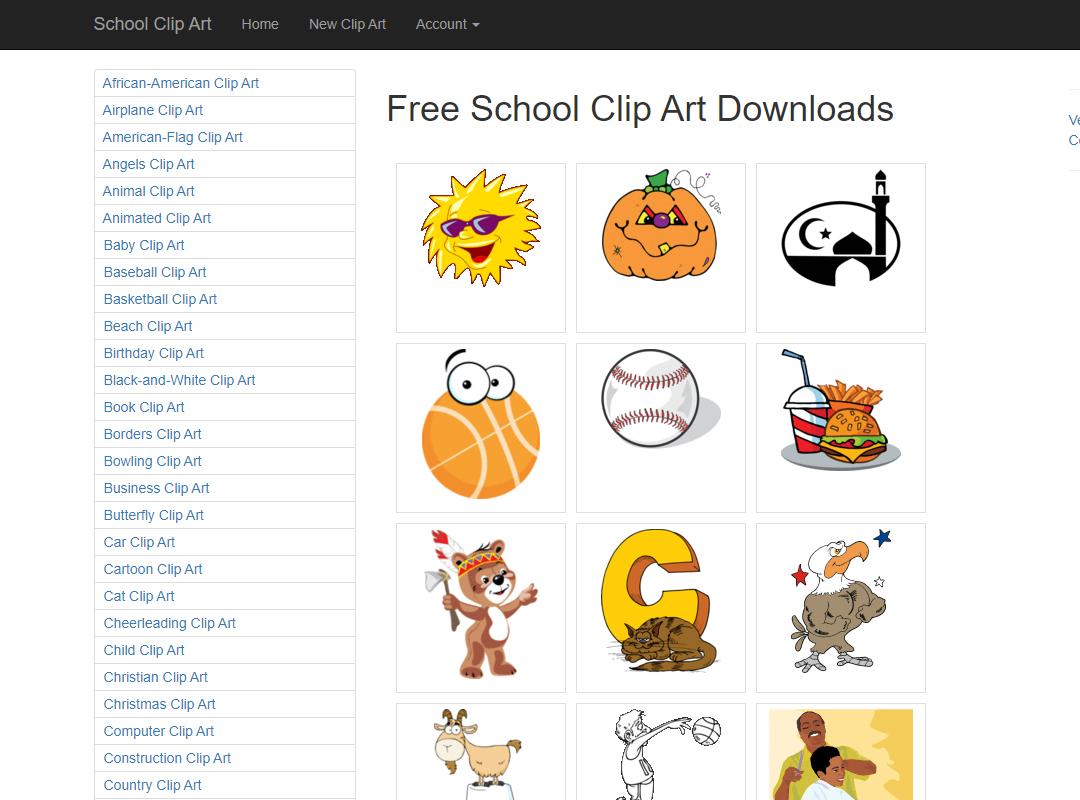 13. Classroomclipart.com – Best Abundant Clipart Resource Website
Classroomclipart is another fabulous free clipart sites for teachers. Including political, geographical and science-related images. All in fun colors and cartoon-like shapes. They even have a great selection of black and white outline clipart that you can choose to have your students color in!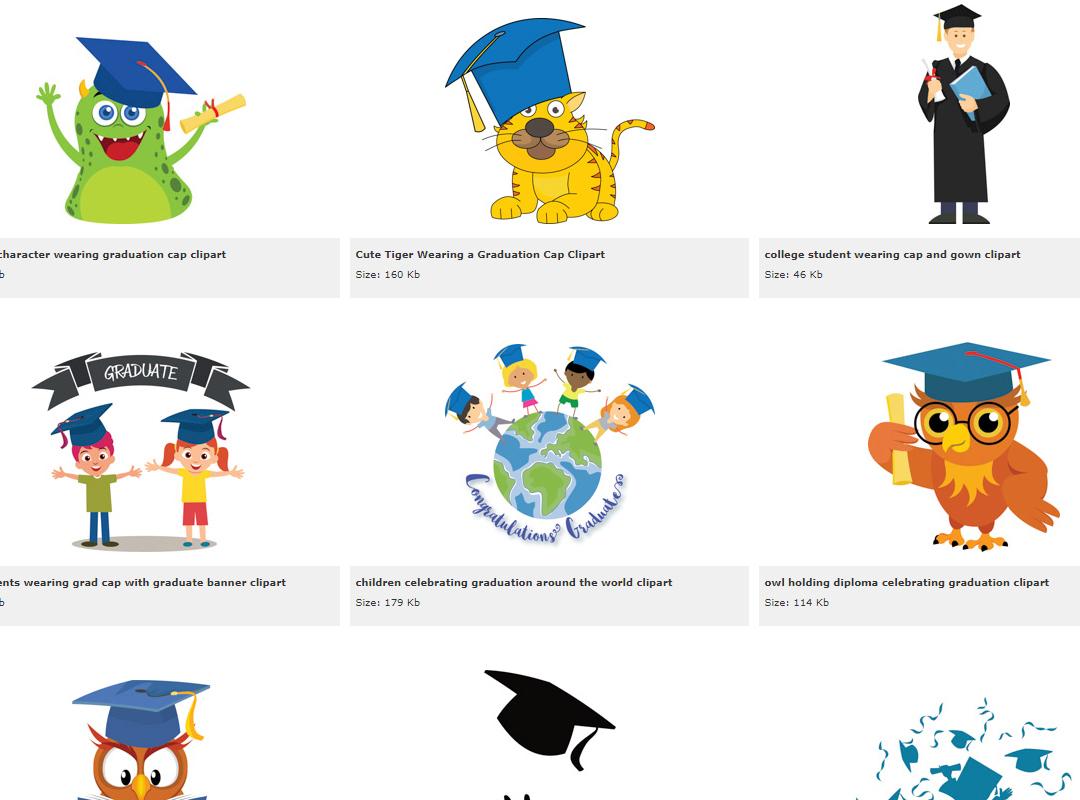 14. Vectorportal.com – Best Clipart Website for Designers
Vector portal was created specifically to provide free stock vectors which designers can use in commercial projects. They also distribute free website vector art from other artists who want to showcase their work to Vectorportal!. Vectorportal has even been repeatedly voted as one of the top 10 free vector resources by various graphic design sites making it one of the best sites for vector graphics around.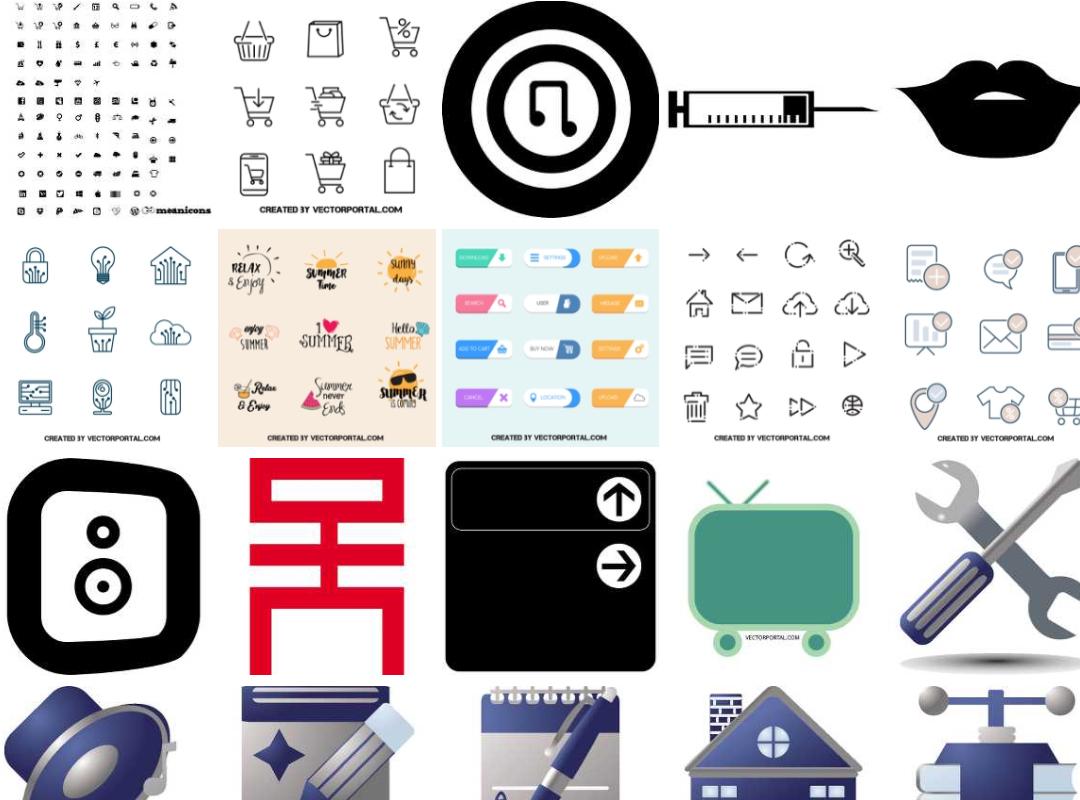 15. Clker.com – Best Daily Usage Clipart Website
Clker is a great resource for free vector images for personal in everyday life use as it's one of the more organized, yet expansive vector stock pictures sites there is. You can even make your own graphics and upload them to the site, creating your very own clipart you can share with people!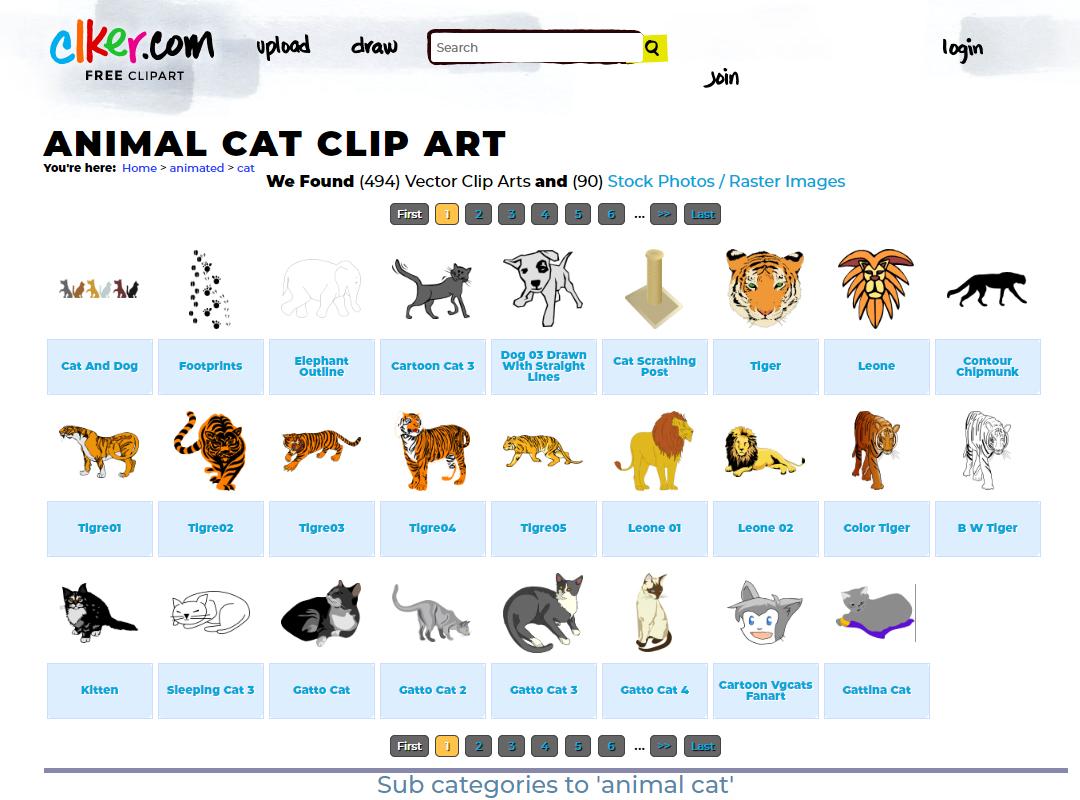 2. How to Create Stunning Sale Poster with Fotor's Clipart
1. Choosing a Premade Template
If you'd like to get a head start on your design, you can use one of the dozens of poster templates Fotor has to offer. Let's take a look at this Summer Sidewalk Sale poster.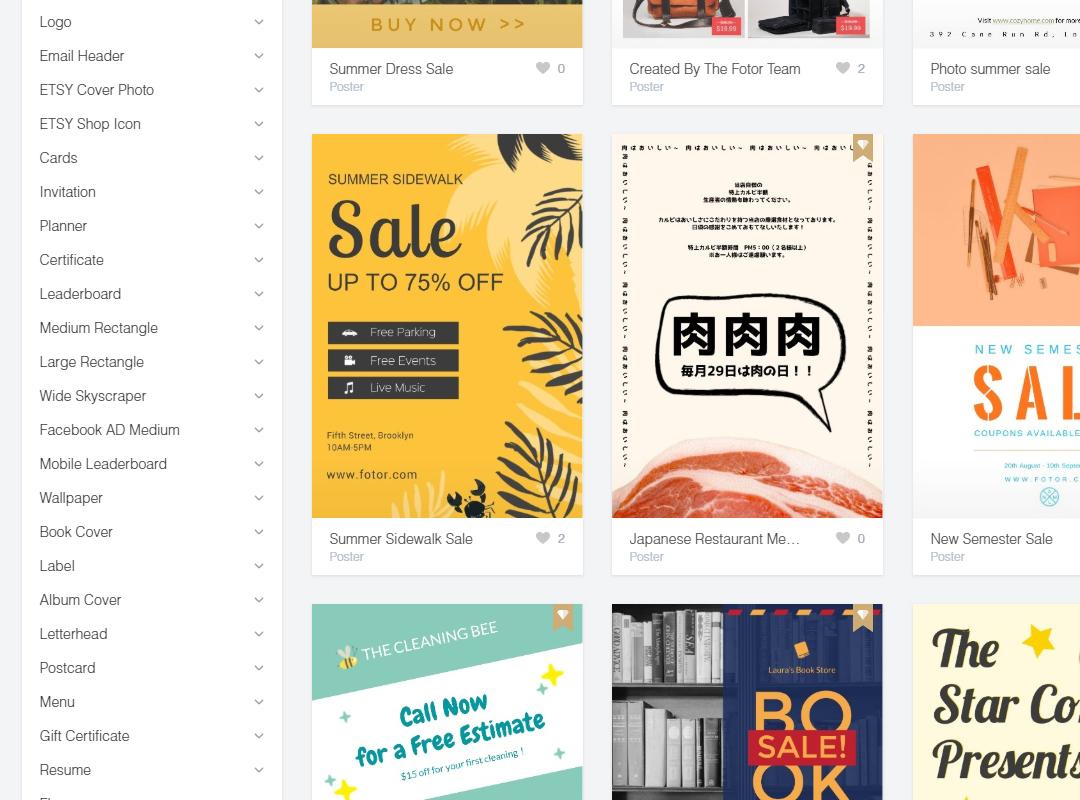 Each one of the leaves is its own clip art! You can change both the color and reposition or move the leaves ant place you'd like. It's all 100% customizable!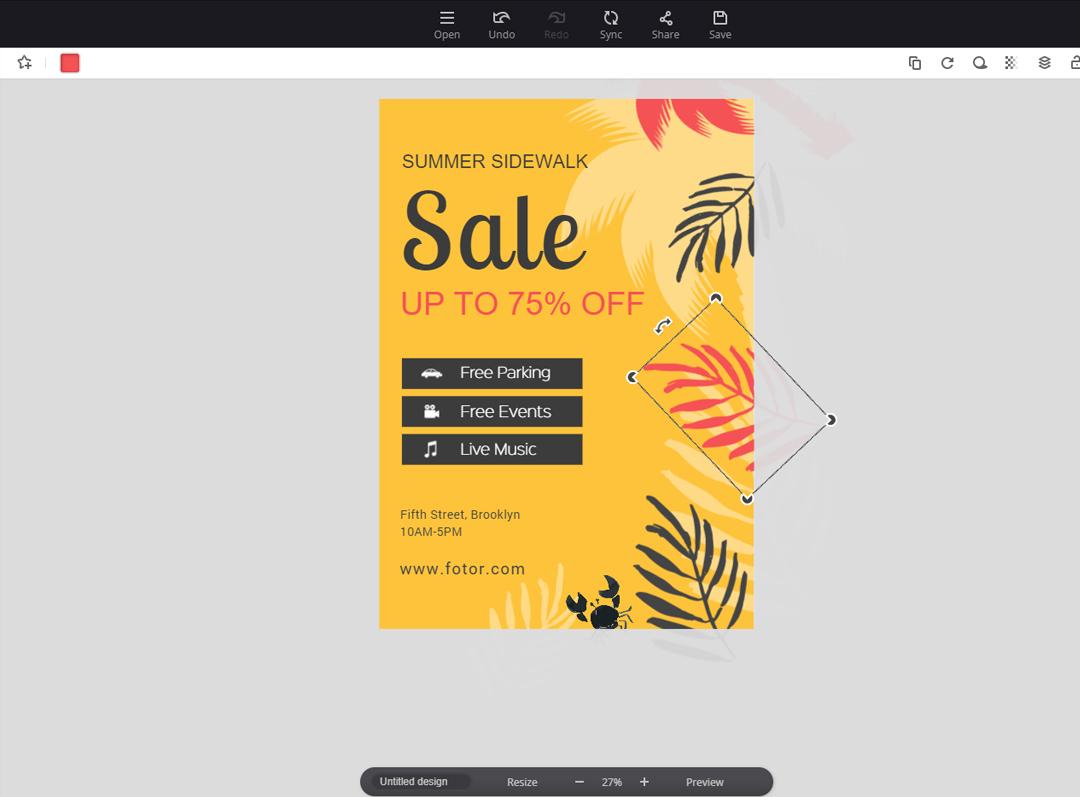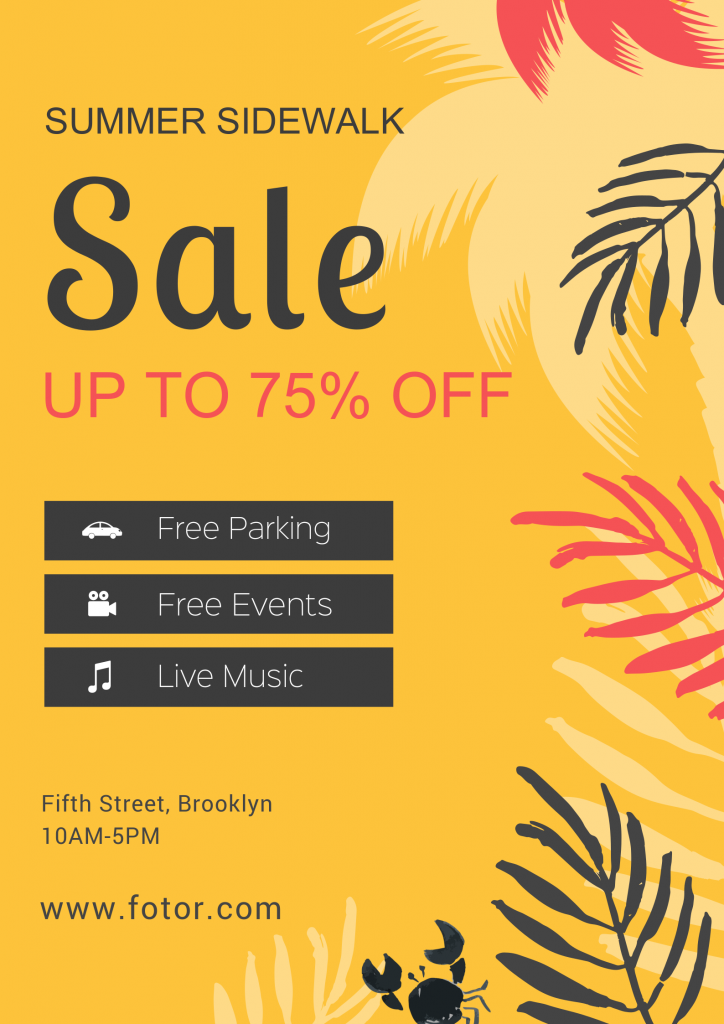 2. start from scratch
What if you want to create something completely from scratch. Well, you can do that too!
First, let's upload an image onto our canvas by clicking the import button. Next, drag and drop your image onto the canvas. Finish up the background by changing it to a pale yellow color.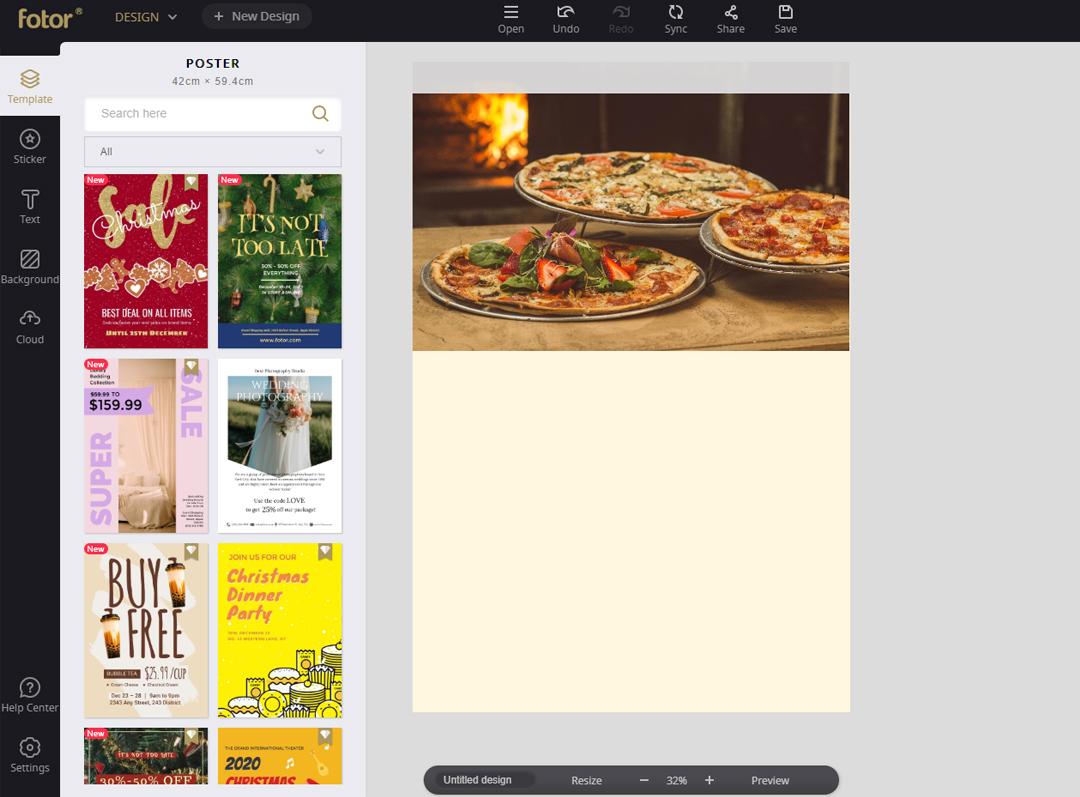 Now, to add some text by clicking the Text tab found on the left-hand side of the screen. Drag and drop a Heading, subheading and somebody text onto the canvas, filling in your posters information. You can check more information about how to add text to your photo here.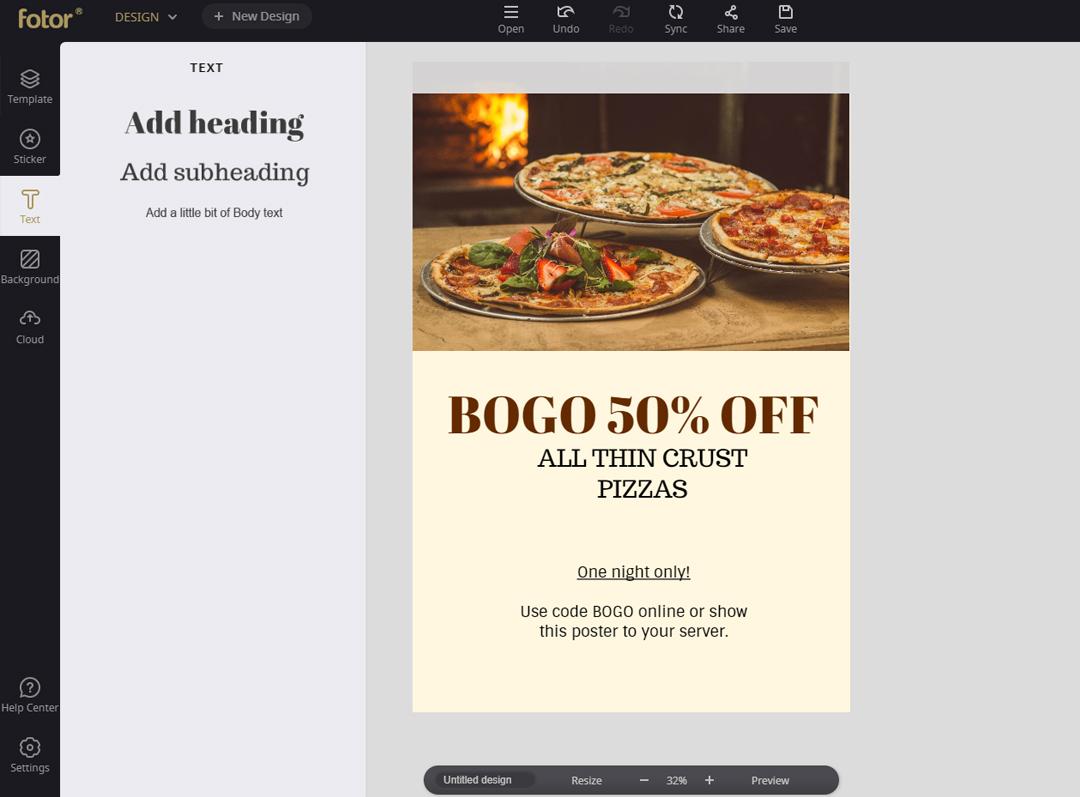 Add Some Decorative Clipart
Finally, let's click on the Sticker tap to see all of the Fotor's clipart! To find what you need quickly you can type it into the search bar. Once you have found the perfect clip art, you can simply drag and drop it onto your canvas! You can do it with as many pieces of clip art as you want. Here I did two, the pizza and the rectangle at the bottom.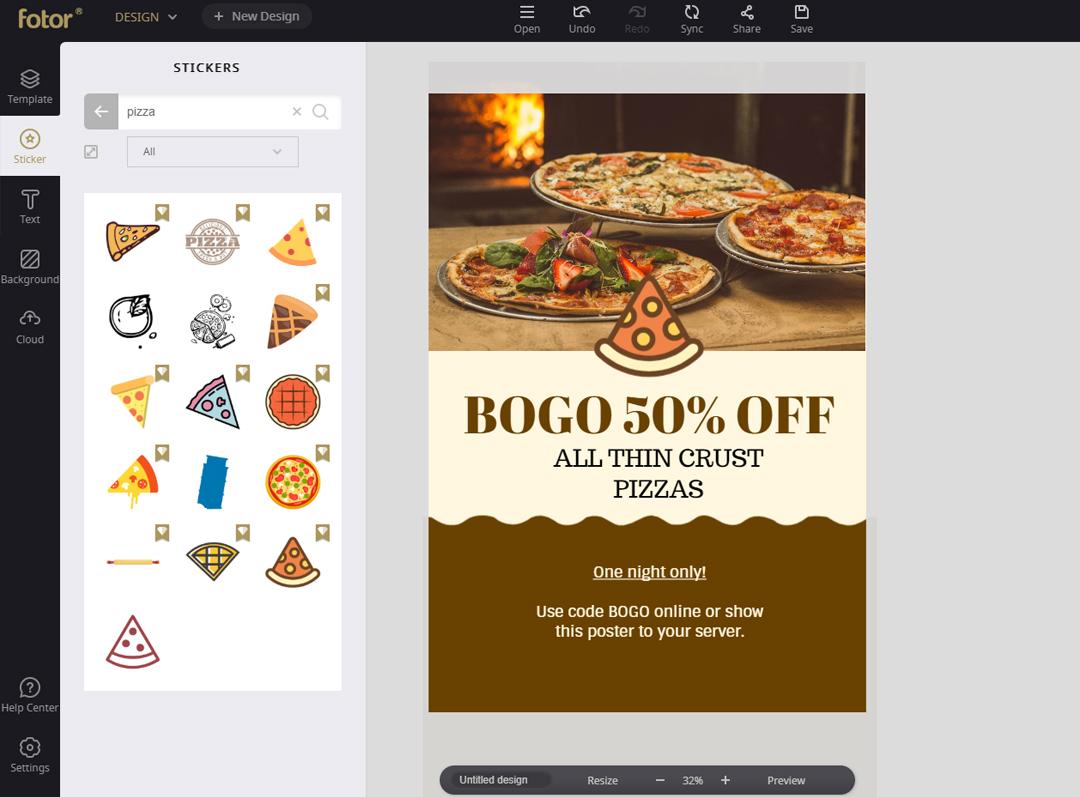 And we are done! Go ahead save and share your new poster!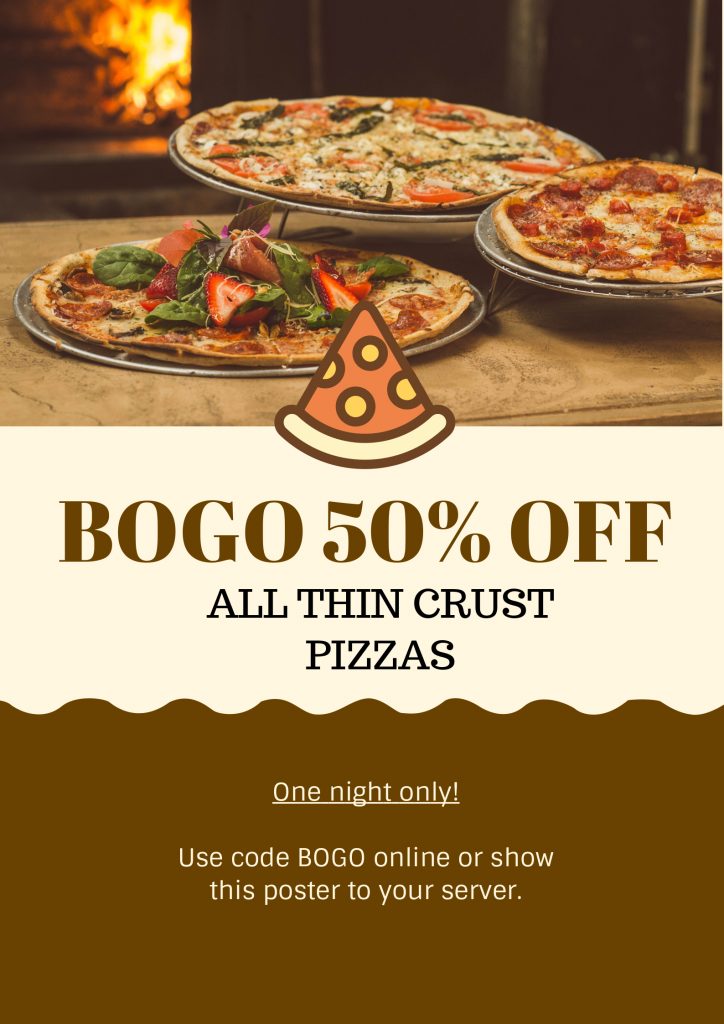 3. FAQ
Can I use stock clipart as my logo?
Yes, as long as they allow commercial use! Though my advice is to edit it first, so it will be more unique to you and your business. I'd recommend using Fotro for any logo making, as all of their clip art and stickers come with customizable color along with other ways to make the logo yours!
Can I use clipart for commercial purposes?
Normally yes! You will find a large number of clipart images are free to use both personally and commercially, however, make sure to double-check each individual clip art image just to make sure.
What file format is clipart?
It will normally be .png or .jpg. However, you can also find them as Illustrator file formats for those of you who use Adobe Illustrator.
How can I add clipart to a photo?
There are many ways. For the quickest and easiest way, I recommend Fotor as it allows you to drag, drop and edit a piece of clip art onto an image all inside your browser. No program needed!
How do I make clipart transparent?
When using Fotor the process is just four steps:
Open Fotor and click the "Edit" button.
Upload the photo you wish to edit, then click "Magic Clipper".
Using the retain brush and removal brush, color the parts you want to keep and remove.
Click "Apply", then save and format it as you want.
4. Outro
And there you have it! 15 best free clipart websites that are completely free to use no matter what your profession might be, and the top clipart sites sites sites that the internet has to offer. Using clip art is a great way to add interest to any document, big or small, so go out and explore the thousands of clip art options you have out there!
About Us:
Fotor is a free online picture editor and graphic designer, allowing you to use online photo editing tools, such as add filters, frames, text, stickers, and effects…and apply design tools to make creative photo designs and graphics. Online photoshop and graphic design software have never been so easy! Also, if you want to get more helpful and inspirational tips, please visit our blog home page to extend your reading.