9 Resume Design Tips to Make Your Resume Stand out
---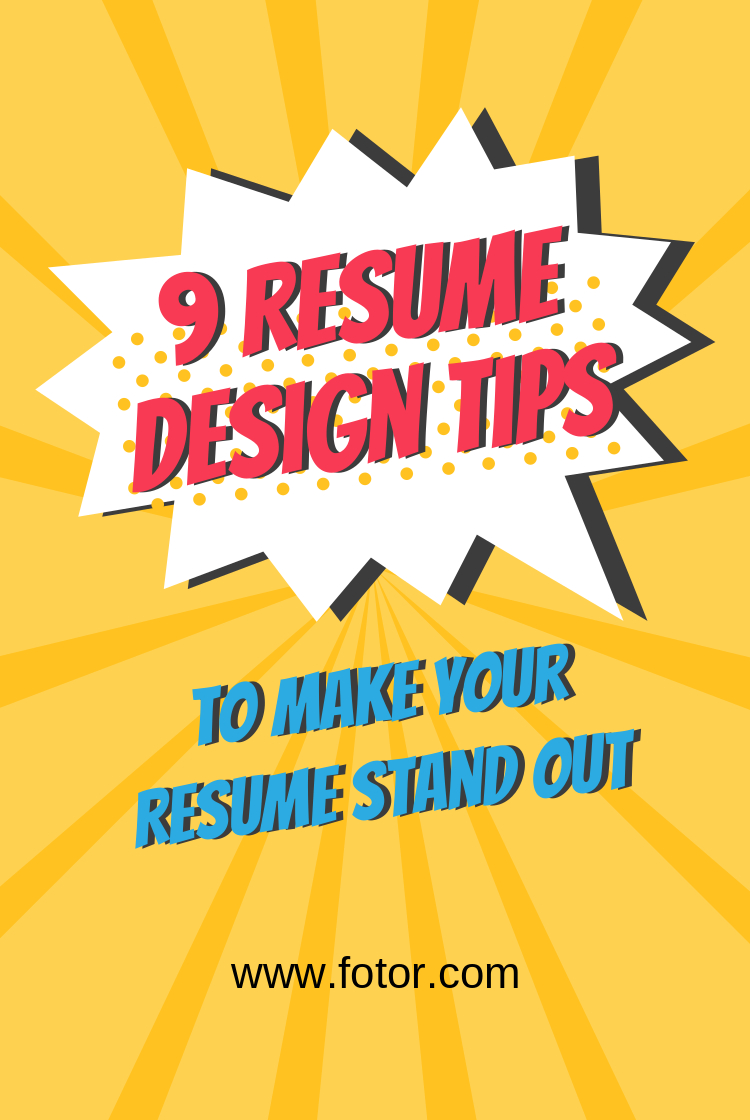 Is anyone really up for job hunting? I know it takes quite a bit of effort to secure a job in this cut-throat environment. The quality of your resume will be the very first threshold to determine your chances of getting an interview. You may get passed on even if you have plenty of relevant experience simply because your resume is not eye-catching enough. Or you are not fully qualified for that position but you take a risk and apply for your dream job – so you may need the aid of a well-designed cv.
How information is presented is no less fundamental than the content as employers are more aware of resume design before they even start reading. HR will immediately form a first impression, and they may have a sense of how the applicants are like. Feeling pressured? Why don't you see this as an opportunity to outshine others? You just have to refine your resume to stand out from the rest. Let's go through the 9 resume design tips to help you make a professional resume and get hired easily.
1) Use a memorable but clean font
As most people stick to defaults like Arial and Times New Roman, using other fonts is considered to be unique and can easily grab a reader's attention. What are the principles for selecting a font?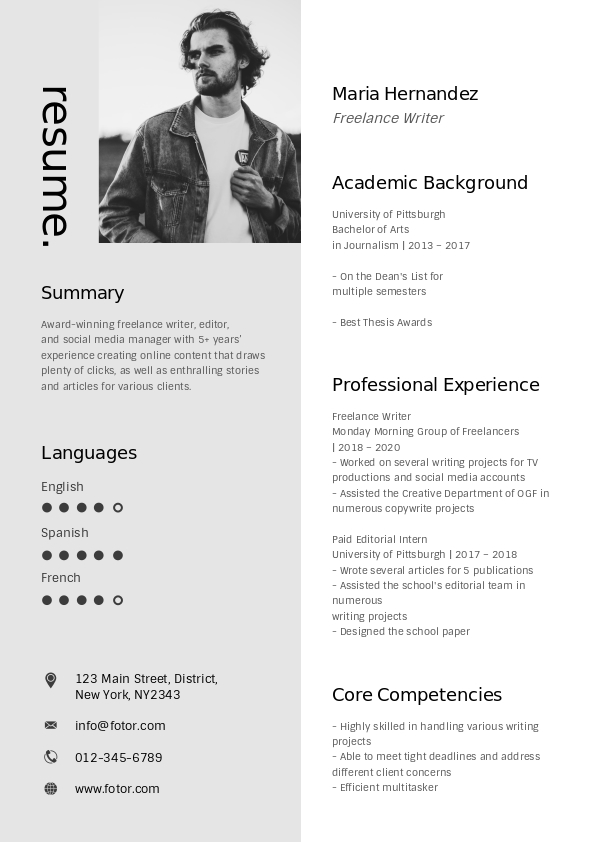 Click the image to edit
Use Simple Fonts: some fonts, usually scripts, maybe creative but are hard to read. For instance, Blackadder ITC, Brush Script MT and Edwardian Script ITC  are the worst choices for a cv because people have to take more time to figure what it's saying exactly. I'm not telling you to go back to basics but step out of your comfort zone and try some other readable fonts.
Use texts that are not childish: Fonts like Comic Sans and Papyrus that evoke a childish vibe should be avoided because no one would like to hire a kiddy adult to work right? Even if you are one, try to pretend that you're not until you get hired, okay?
Use no more than 3 font types: It is best to have 3 or fonts on your cv. Going over this will make you seem excessive and messy. Consider consistency, and use only one font type and the same size for the headers and another font and size for the body text.
Examples of good font types:
Abril Fatface, Neuton, Sintony, HammersmithOne, Kollektif, Roboto Condensed, Trocchi. All of these fonts can be found on fotor.com.
Finally, remember to keep fonts size between 11 to 13 points. Make sure you can have enough lines for enough detail on your resume and be legible both on screen and in print.
2) Add visual emphasis to your contact info
After a lot of hard work refining your resume, you've only got 6 seconds to impress the judges. What's that? Only 6 seconds? Yeah, as recruiters spend a mere 6 seconds to read your profile. Thus, adding visual emphasis to your contact info can enhance your chances for getting picked out from a bunch of resumes.
-Use white space: suitable for a professional and minimalistic approach when the appropriate usage of white space could its use as a breaker to divide content, making your contact info more prominent to the readers.
-Social Media icons: effective enough as we know which icon belongs to which social media platform at first glance. Fotor.com has resources for all the common icons in the sticker section.
Click the image to edit
Sofia used icons for her social media platforms.
-Add live links to your email address, social media, and LinkedIn accounts. (for the digital version of resume)
-Let color work for you: You may alter the text color or change the background for the whole contact section to stand out.
3) Use Columns
It's better to use columns to organize different parts of your resume to make it look neat and easy to read. Experiment with columns of different sizes to find out which one suits your resume the best.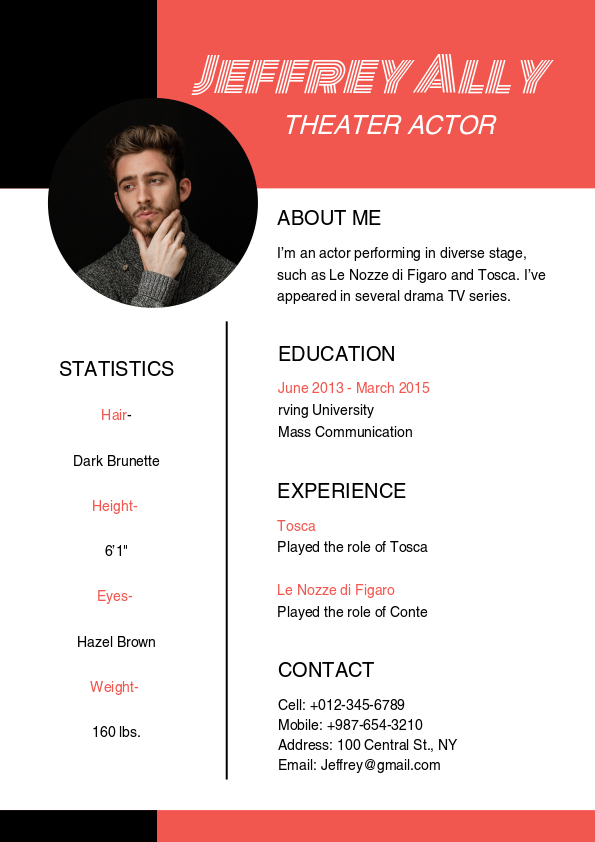 Click the image to edit
Resume arranged in columns.
4) Format your content
Headings, subheadings, and bullet points are your friends to demonstrate well-formatted content and present it in an organized manner.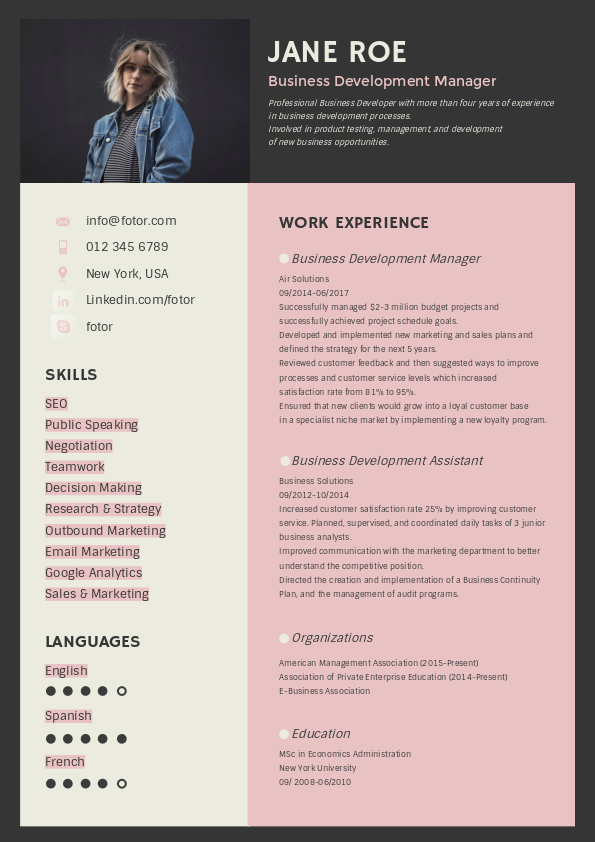 Click the image to edit
5) Keep it simple
A clean and minimalistic resume appears more professional than a bold resume with unique designs. If you want to get hired by a non-artistic company, be sure to keep it as simple as possible. Of course, if you are aiming for a position that requires artistic talent, be as creative as you want while your presentation is still easily illegible.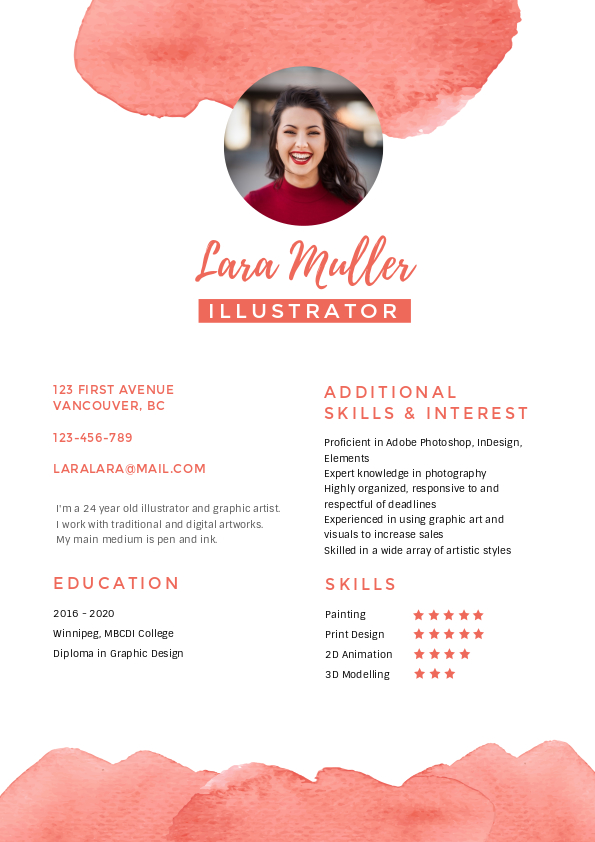 Click the image to edit
6) Add a personal touch/personal branding
Maybe tattooing a dumb joke that stopped being funny a decade ago is not the right way to brand yourself, but a personal design doesn't mean you can add whatever you like. Here are the following appropriate items that you may add:
1. Your own Logo: if you have created your own logo for other social media platforms, don't be shy to use it in your resume.
Click the image to edit
Marvin has a customized logo for himself.
2. One or two friendly phrases: utilizing friendly goodbye phrases like "Good luck and have a nice day!" or "Thanks for reading." Again, it is another small detail that improves people's first impression.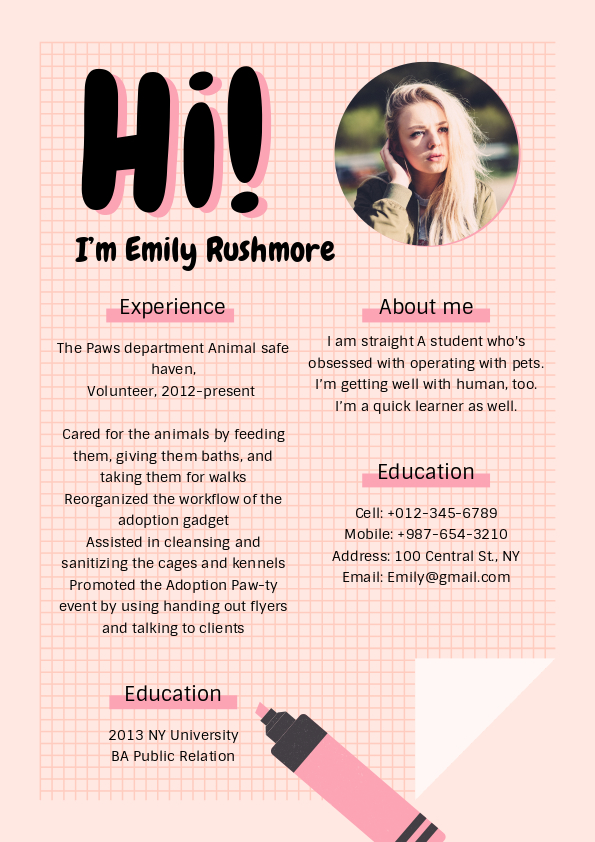 Click the image to edit
"Hi I'm Emily Rushmore" is a simple short phrase to show your friendliness.
3. Utilizing a custom typeface, borders, and shading would be a minimal personal touch to your resume.
4. Colors can be used when submitted electronically but be aware that some companies will print it out for better scrutiny. Preview in black and white on Fotor's Preview panel to check whether it still looks good and is easy to read despite a lack of colors.
5. Add social media account links: Ever heard of the term "personal brand"? It is a way to promote yourself through a number of avenues which can be done with social media channels like Facebook and Quora. A cohesive persona is created online for your boss to have a sense of who you are. For instance, every question you answered on Quora, and any of your posts on Facebook are perceived as part of you. Show off the perfect you and avoid any sensitive topics answers and posts that may hinder your success. If you have any useful social media accounts like if they are your portfolio, put them in the resume with direct links to the website. Your recruiter can understand you better and is more likely to pick you for an interview.
7) Use the right file type and file name
A wrong format can ruin a perfectly designed resume as it may be a bit jostled when your potential hiring manager opens the file. It is recommended as a way to save your file as a PDF, so you won't take such a risk. Never let the wrong file type undermine your professionalism.
Here you can click to save as a PDF on Fotor. (Photo)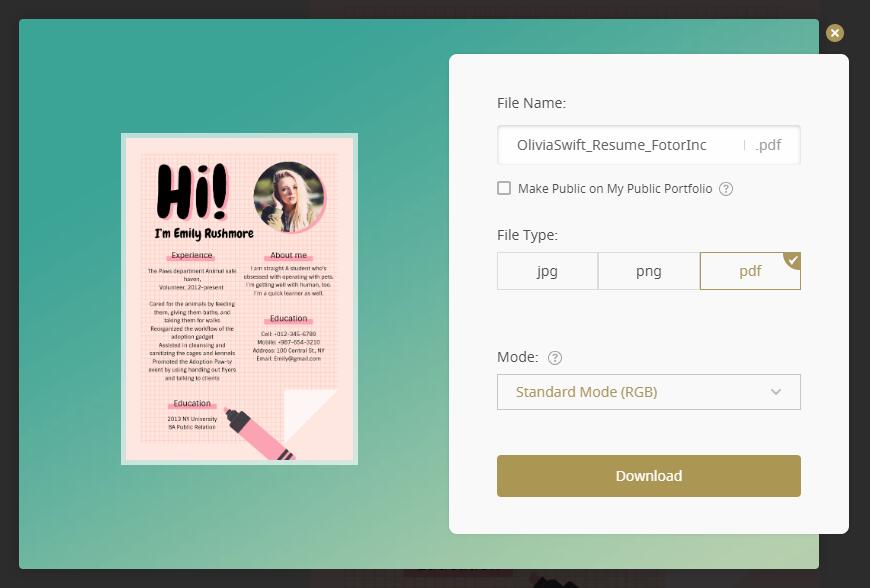 Another notable detail is having a good file name. You wouldn't expect a person who names their resume just "resume" to be detail-oriented, quite the opposite actually. You should include your first and last name," "resume", and the company's name. Just like "OliviaSwift_Resume_FotorInc.pdf" You will appear to be more thoughtful to the hirer as they would know who this file belongs to even without opening the file.
8) Mobile friendly
As technology nowadays is so advanced, most people would prefer to use a smartphone with a touch screen. So, you can't always be sure that your contact would use a phone instead of a computer to open your resume file. In this case, here are a few tips for making a mobile-friendly version of the resume.
8.1) Preview on your phone
After you finish designing your resume, don't send it out immediately but take your time to preview the file on your phone. Is it clear enough to read? A little fix is needed if it appears to be too crowded.
8.2) Find examples
Surf to find examples of simplified versions for mobile. Find out what common elements they possess.
8.3) Start Simplifying
Highlight keywords by emboldening or italicizing them to make sure you convey the most important information, like relevant experience and education. Try simplifying long sentences into short bullet points, just like "Summa cum laude from XXX University".
8.4) Only the most necessary elements remain
Remove sections like "References", "Objectives", "Ending sentences", that do very little help with your recruitment to get more space. Take away any fancy elements like stickers that contribute nothing to the content itself. More space should be to enlarge texts and make them more readable on mobile devices.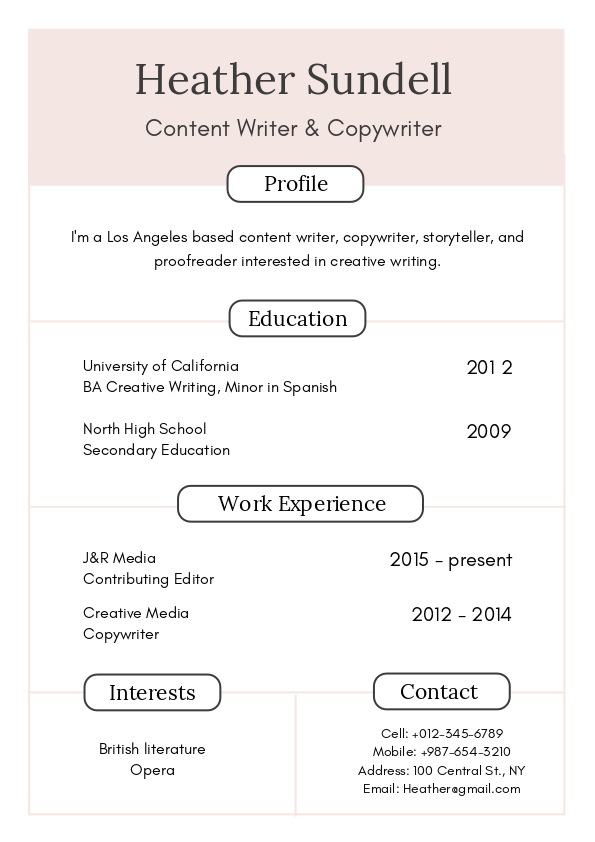 Click the image to edit
Simplified version for mobile.
With the above tips, you should be able to simplify your resume into a mobile-friendly form. Your hirer might think: "This candidate is so considerate!"
9) Read the job description before and after you design your cv
Many people overlook the importance of reading the job description and only spend an average of 76 seconds to do so. They may have applied for a job that they are not capable of or have no related skills for, and that's why employers find almost half of applicants are unqualified. Only focus on relevant skills that you possess for the industry and position even if you aren't a master of this one. When your resume design is done, double-check to see whether the content fulfills the job requirements.
Conclusion
In a sea of resumes, hiring managers judge them not just based on education, past experience, and skills but also the Details. Paying attention to details is how you can stand out among other applicants with similar skills or backgrounds and win recruiters' hearts. Excellent resume design will help you stand out quickly. You can use templates, fonts, and stickers on Fotor.com to help you get started with the design. Also here are steps for design resume. Good on applying!
About Us:
Fotor is a free online picture editor and graphic designer, allowing you to use online photo editing tools, such as add filters, frames, text, stickers, and effects…and apply design tools to make creative photo designs and graphics. Online photoshop and graphic design software have never been so easy! Also, if you want to get more helpful and inspirational tips, please visit our blog home page to extend your reading.


---
Related Posts :
Leave a Reply :