Glaze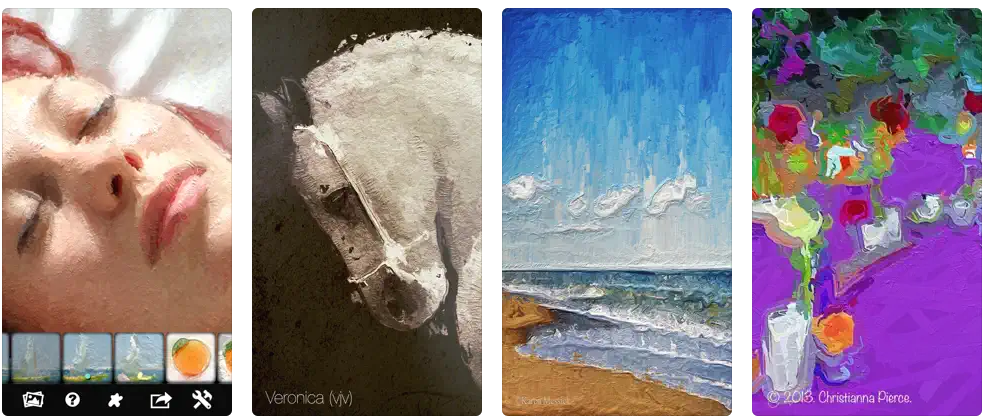 Glaze is a dedicated photo to painting app that specializes in simulating real brushstrokes to create authentic-looking paintings. With a unique brush engine and a vast selection of painting styles and palettes, Glaze can turn your photos into vibrant and expressive paintings. The app offers various customization options, allowing you to adjust the brush size, style intensity, and color combinations to achieve the desired painting effect. Whether you want to mimic the works of famous artists or create your own signature style, Glaze provides an immersive painting experience on your smartphone.
There are a number of picture filters that you can apply with one touch. More than 30 styles come free with the app, and you can unlock more for a low fee. You can also stack styles to create presets.
Available for: iOS
Key Features:
Create beautiful paintings without the mess.
Impress your friends with unique holiday cards.
Create unique avatars and profile pictures.
Save full-resolution images for poster prints, up to 21 megapixels.
Combine results with other apps using transparency features.
Pricing:
In-App Purchases: $0.99 – $2.99
Brushstroke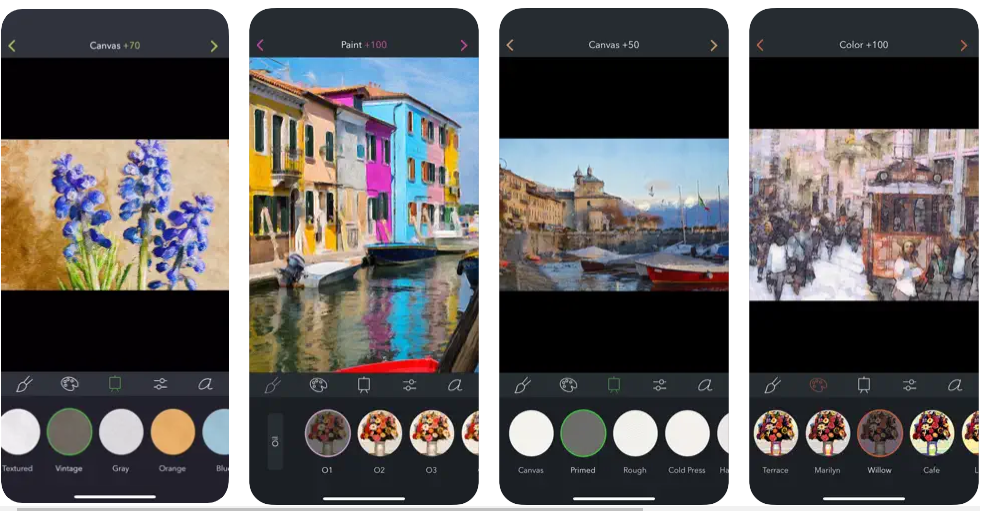 Brushstroke is an app designed explicitly for turning photos into paintings. With a focus on realism, the app uses advanced algorithms to recreate the texture and brushstrokes of various painting styles. Users can choose from an extensive library of painting effects, including oil, watercolor, acrylic, and pastel. Brushstroke also offers several customization tools to refine the painting effect, such as brightness, contrast, and canvas texture adjustments. With your creation complete, you're free to share your painting directly on social media. Whether you're an art enthusiast or a photography lover, Brushstroke can breathe new life into your digital images.
Available for: iOS
Key Features:
Load photos from your Camera Roll and other Albums
Experiment with different color palettes
Select from a variety of canvases and surfaces
Share your art on Instagram, Twitter, and Facebook
Transform your videos into art with Video Paintings (requires iPhone 5S, iPad Air, iPod touch 6 or later)
Pricing: $5.99
Waterlogue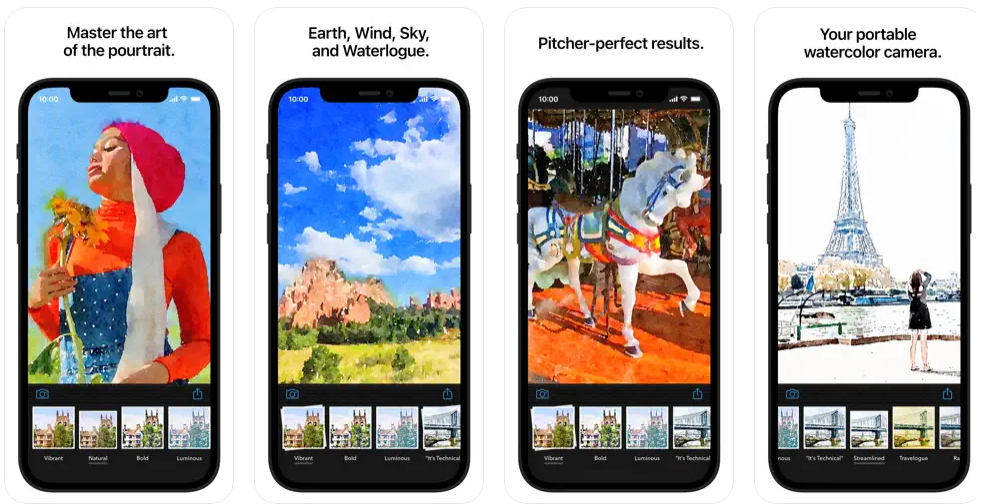 Waterlogue is a unique photo to painting app that specializes in watercolor transformations. With its sophisticated algorithms, Waterlogue can create stunning watercolor paintings that evoke a sense of nostalgia and tranquility. The app allows users to choose from different watercolor styles, each offering a distinct artistic look. The app uses 14 different presets. Each one has different colors and pen outlines.
Plus, the presets also change the consistency of the "paint." So it allows you to make those colors run together or keep shapes more distinct. Whether you want to transform landscapes, portraits, or everyday objects, Waterlogue provides an enchanting way to turn your photos into captivating watercolor masterpieces.
Available for: iOS
Key Features:
Preset styles to customize your watercolors by controlling wetness, pen outlines and color
Image export at high resolution
Control of borders, lightness, and detail
Pricing: $3.99
Picsart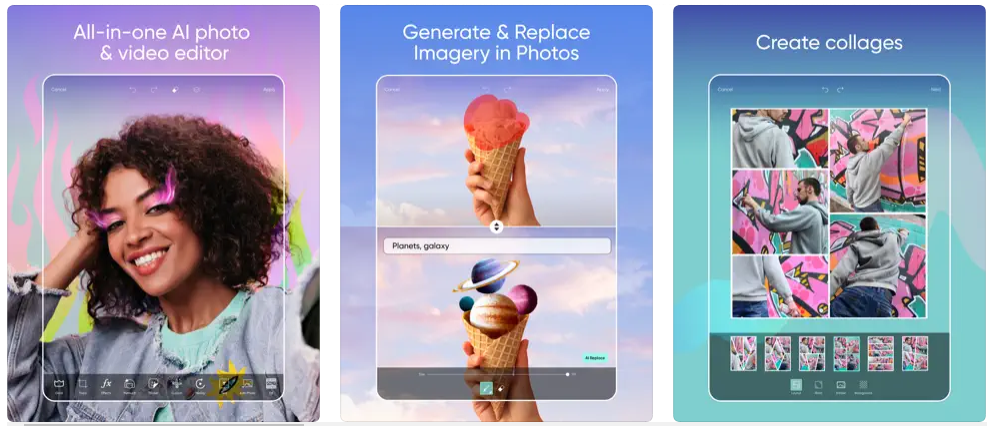 Picsart is a popular all-in-one photo editing app that also offers a wide range of artistic filters and effects, including painting filter. With Picsart, users can turn pictures into paintings, such as oil paintings, sketches, and cartoons. The app's intuitive interface and comprehensive editing tools allow for easy customization and experimentation. Whether you're looking to create a playful cartoon version of yourself or a sophisticated oil painting, Picsart offers creative possibilities to explore.
Available for: iOS/Android
Key Features:
Supports creating stickers
Featured recreating edits
Edit images collaboratively
It is also a video editor
Pricing:
Gold, starting at $11.99 per month
Team plan at $14.99 per month
Portrait Painter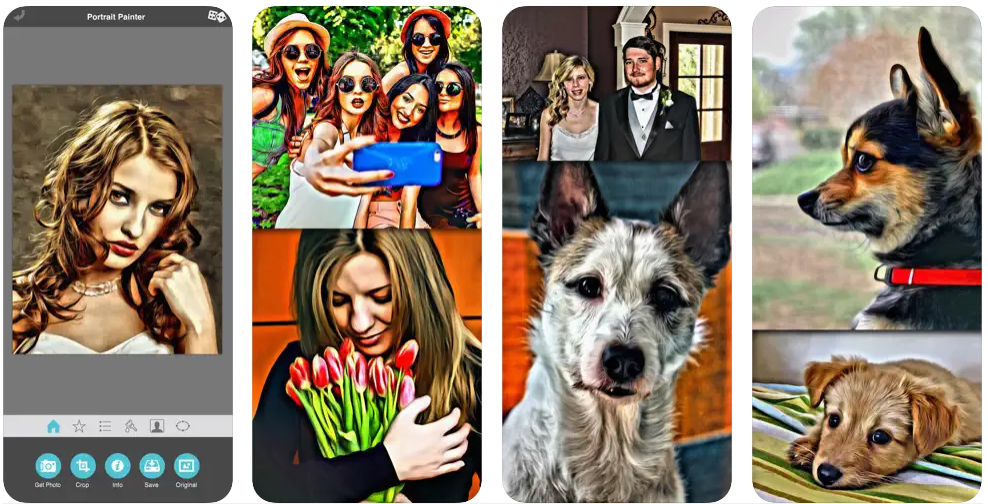 Portrait Painter is a specialized app to turn pictures into paintings. With its advanced facial recognition technology, the app can accurately detect facial features and apply realistic painting effects. Portrait Painter has several options to customize the look. You can use the image's original colors or a brighter palette. Users can also adjust the brush and canvas types. This leaves a subtle texture in the final image. Once you're satisfied with the painting style created you can share your images directly to social media for the world to enjoy.
Available for: iOS
Key Features:
Change skin tone or even add freckles for eye-catching portraits
Choose default presets or design your own
Get creative with graphic art and digital painting
Pricing: $3.78
Prisma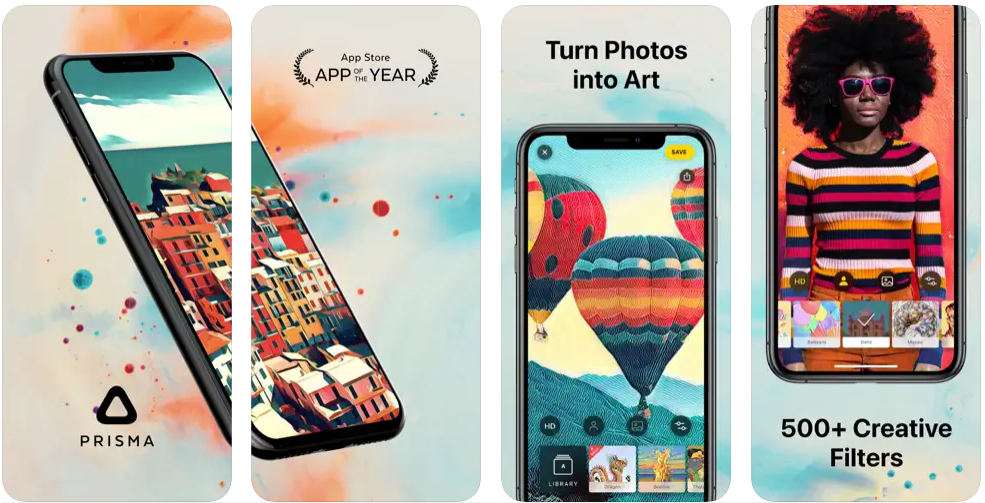 Prisma is a popular photo to painting app that uses artificial intelligence and neural networks to transform photos into impressive paintings. Prisma now has more than 300 painting styles to apply to images. The app offers a wide selection of artistic filters inspired by famous artists, such as Van Gogh, Picasso, and Mondrian. Prisma's algorithms analyze the photo's content and apply the chosen filter in a way that simulates the artist's style and brushwork. With Prisma, you can create stunning paintings that pay homage to the great masters of art.
Available for: iOS/Android
Key Features:
Extensive Library with styles. More than 500 various styles are waiting for you to be tried out in Prisma's library.
Top-notch functionality. Segmentation feature---the essential tool for selfies is set to not only add the style to the whole image but also be applied either to the person or the background separately.
Pricing: Free
Tangled FX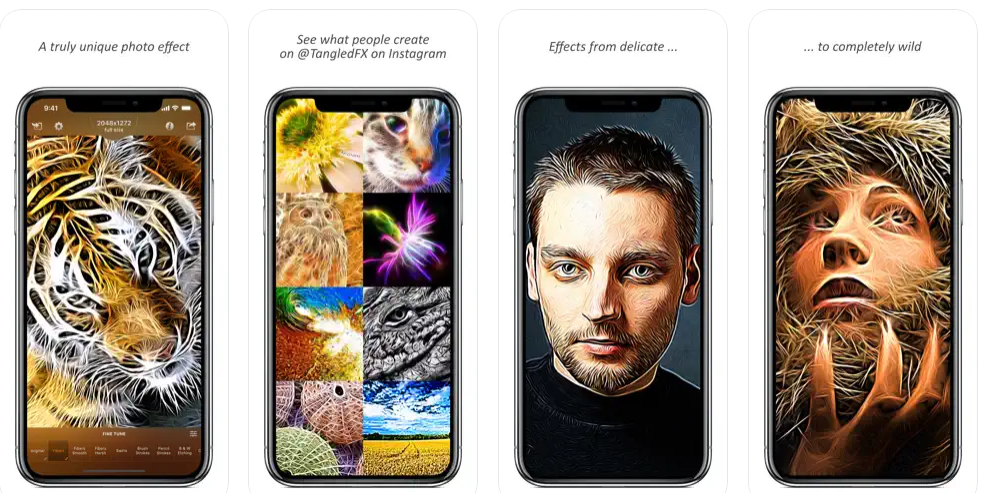 Tangled FX is an excellent photo to painting app that produces remarkable results. It combines painting effects with abstract and surreal elements. With its intricate patterns and vibrant colors, Tangled FX can turn your photos into mesmerizing and dreamlike artworks. Apart from being an excellent app to turn photos into paintings, Tangled FX also is great for upscaling small photos. It automatically transforms your image into a higher resolution when making its edits. Whether you're looking to add an artistic twist to your travel photos or create captivating abstract compositions, Tangled FX provides a creative and unconventional approach to photo to painting transformations.
Available for: iOS
Key Features:
Brand new effects released regularly
Over 15 different presets
Simple sharing on social media
Pricing: $3.78
Conclusion
Int this blog, we have talked about how to turn photos into paintings and shared the best 8 photo to painting apps for image painting. With these photo to painting apps, anyone can unleash their inner artist and transform their digital photos into stunning painted artworks. Now, grab your phone, choose your favorite app, and embark on a creative journey to turn your pictures into captivating masterpieces.