Available: Windows, macOS, IOS, Android
Pros:
Easy to use interface; Good for beginner
Excellent image quality and accuracy
Various image generation styles to choose from
Text-to-image and image-to-image conversions
Built-in image editing tools
Cons:
Fast generation mode is fee-based
Pricing:
Adobe Photoshop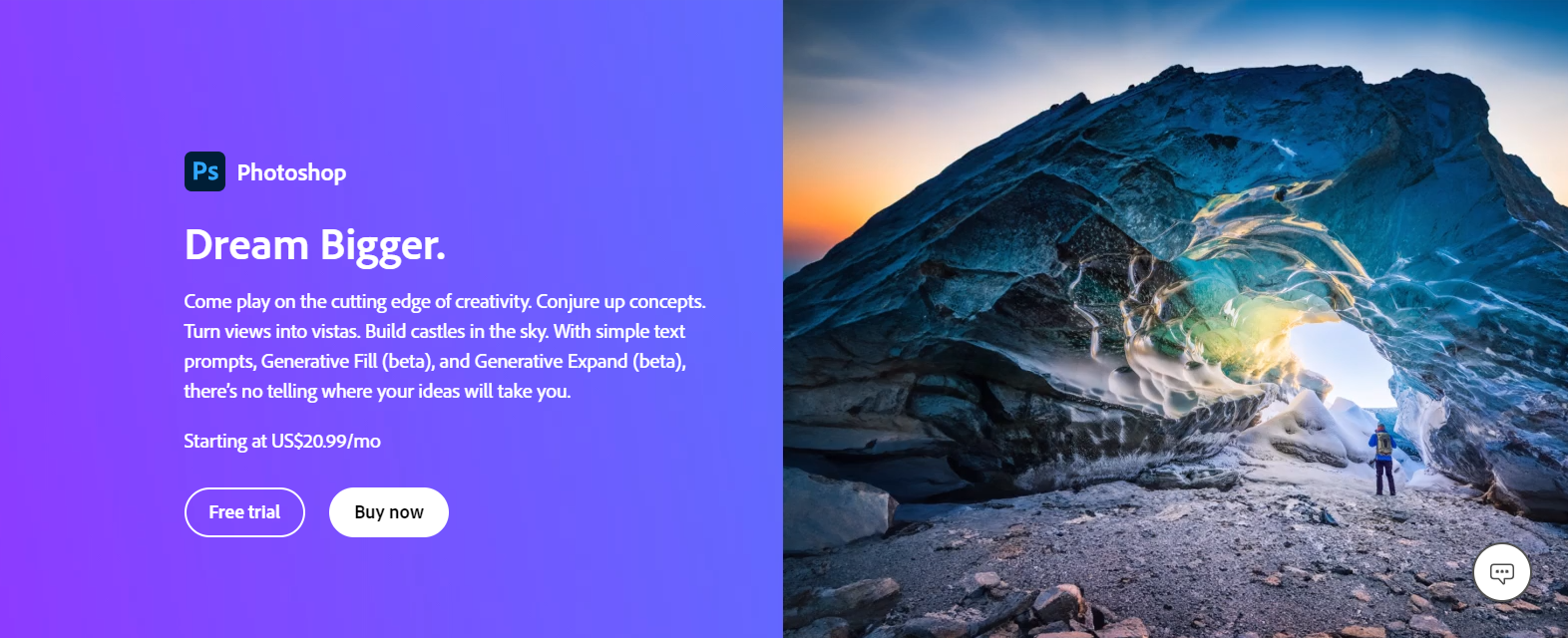 No list of digital art software is complete without mentioning Adobe Photoshop. A powerhouse in the creative industry, Photoshop remains a staple for both photographers and digital artists. Its unparalleled versatility, extensive brush library, and comprehensive editing capabilities make it a top choice for professionals. While it comes with a subscription cost, the wealth of features and resources available in Photoshop justifies the investment for serious artists. Additionally, Adobe Photoshop integrates with Adobe Creative Cloud so users can share their digital art with others and collaborate in real-time.
Available: Windows, macOS, iOS
Pros:
Provides helpful tutorials and guides for beginners.
Wide selection of digital filters and effects.
Integrated with Adobe Creative Cloud.
Available for Windows, Mac, and iPad.
Cons:
Expensive subscription fees if you want access to all features.
The interface can be quite intimidating for beginners.
Pricing:
Affinity Designer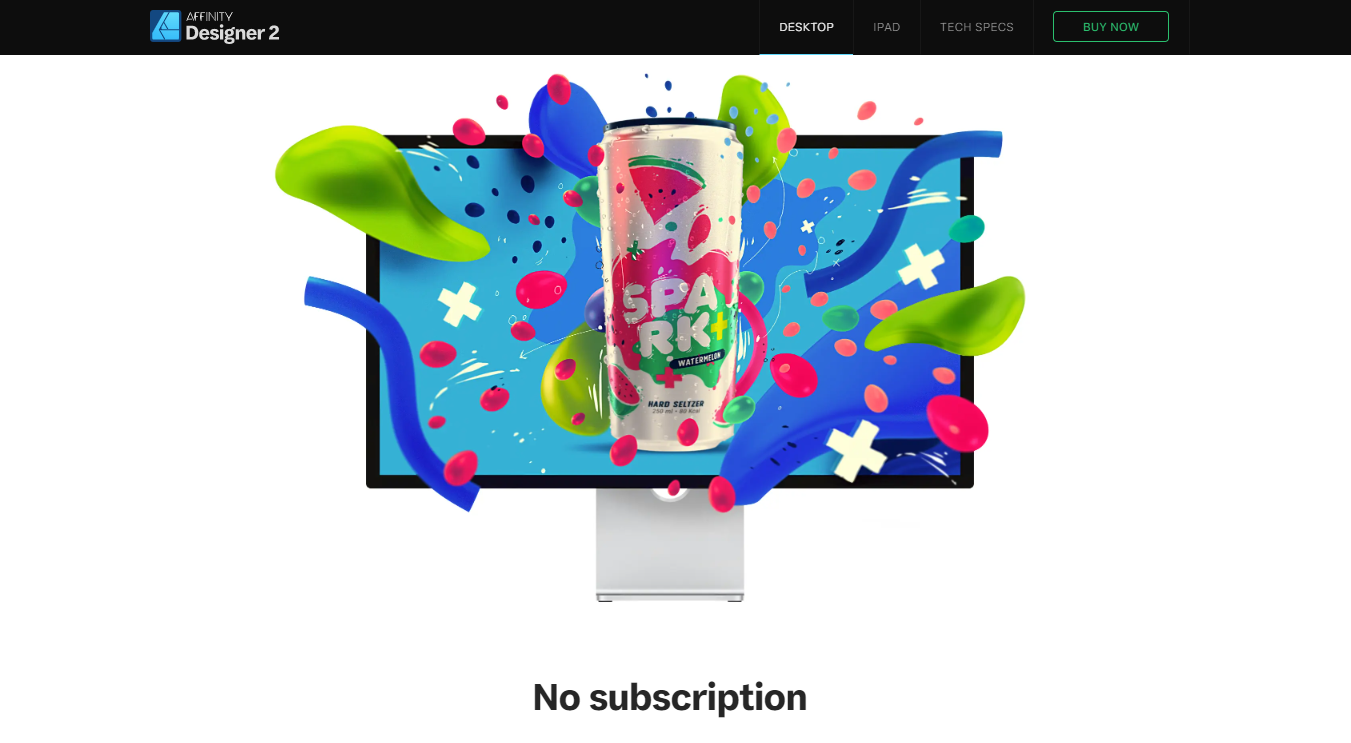 Affinity Designer is a professional digital art software, that artists use to create concept art, print designs, logos, mock-ups and much more. The digital drawing software is fast and responsive, making it feel smooth and enjoyable to use. It has gained a strong following in recent years for its impressive vector-based capabilities. As an alternative to Adobe Illustrator, this software offers a seamless blend of precision and artistic freedom. With a one-time purchase fee, Affinity Designer provides a cost-effective solution for creating intricate digital illustrations and designs.
Available: Windows, macOS
Pros:
Professional-grade features
Supports various colour spaces
Cons:
Less intuitive for beginners
Pricing:
Desktop apps: one-off payment $69.99
iPad apps: one-off payment $18.49
Corel Painter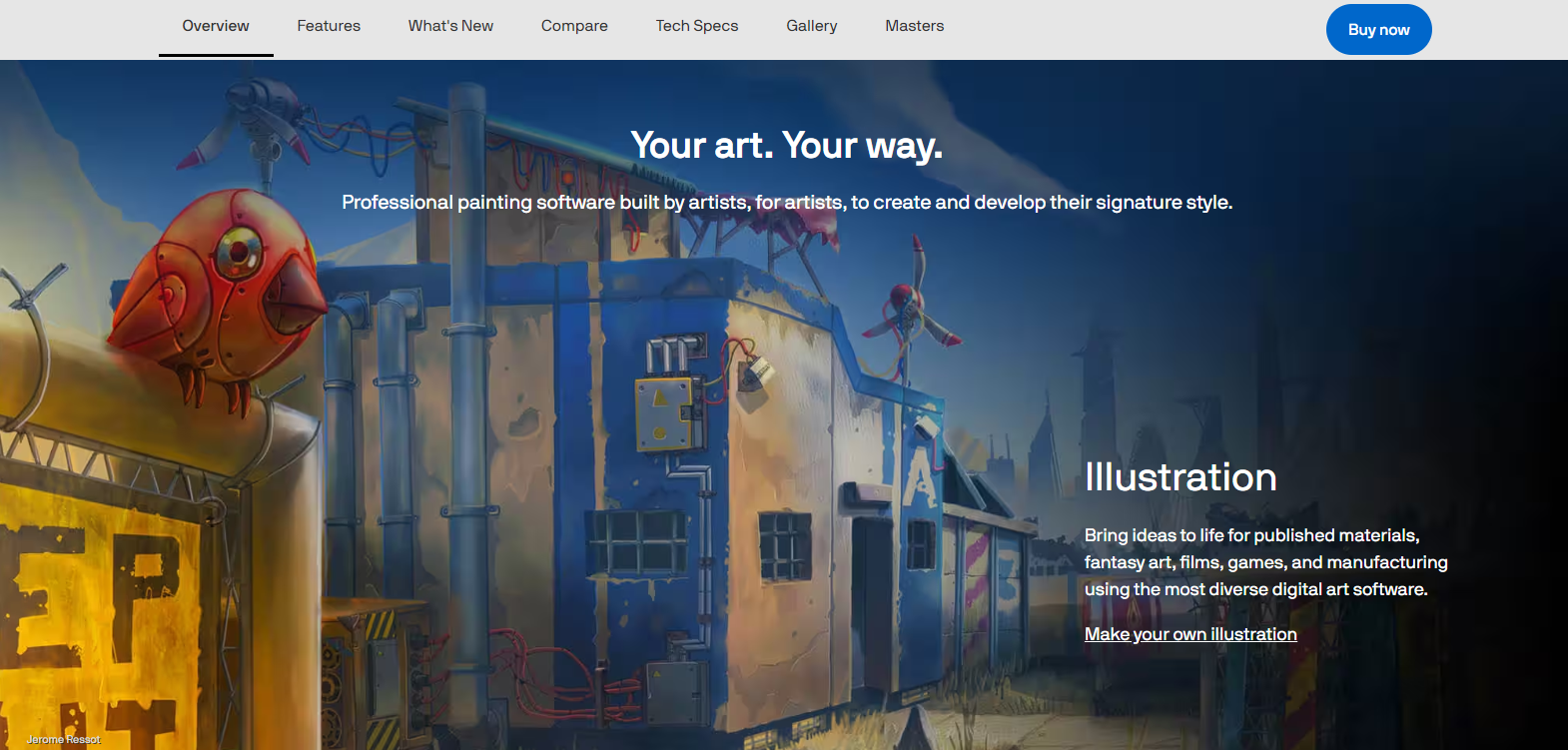 Corel Painter is a digital painting and illustration software that's available for Mac. It caters specifically to digital painters, replicating traditional painting techniques in a digital environment. Its vast array of brushes, textures, and customizable palettes empowers artists to create lifelike artworks with remarkable depth and detail. Corel Painter's unique focus on emulating traditional media sets it apart from other digital art software options. This drawing program is intuitive and feels easier to learn and use compared to Photoshop. It was designed to emulate the look and feel of traditional painting media. Drawing and painting techniques can be recreated with Corel Painter.
Available: Windows, macOS
Pros:
Revolutionary digital painting software
Natural media tools for realistic results
Customizable brushes, palettes, and textures
Easily transition from traditional to digital art
Powerful drawing and painting capabilities
Cons:
Tablet or mobile apps are not available.
Performance issues on less powerful computers.
Pricing:
Procreate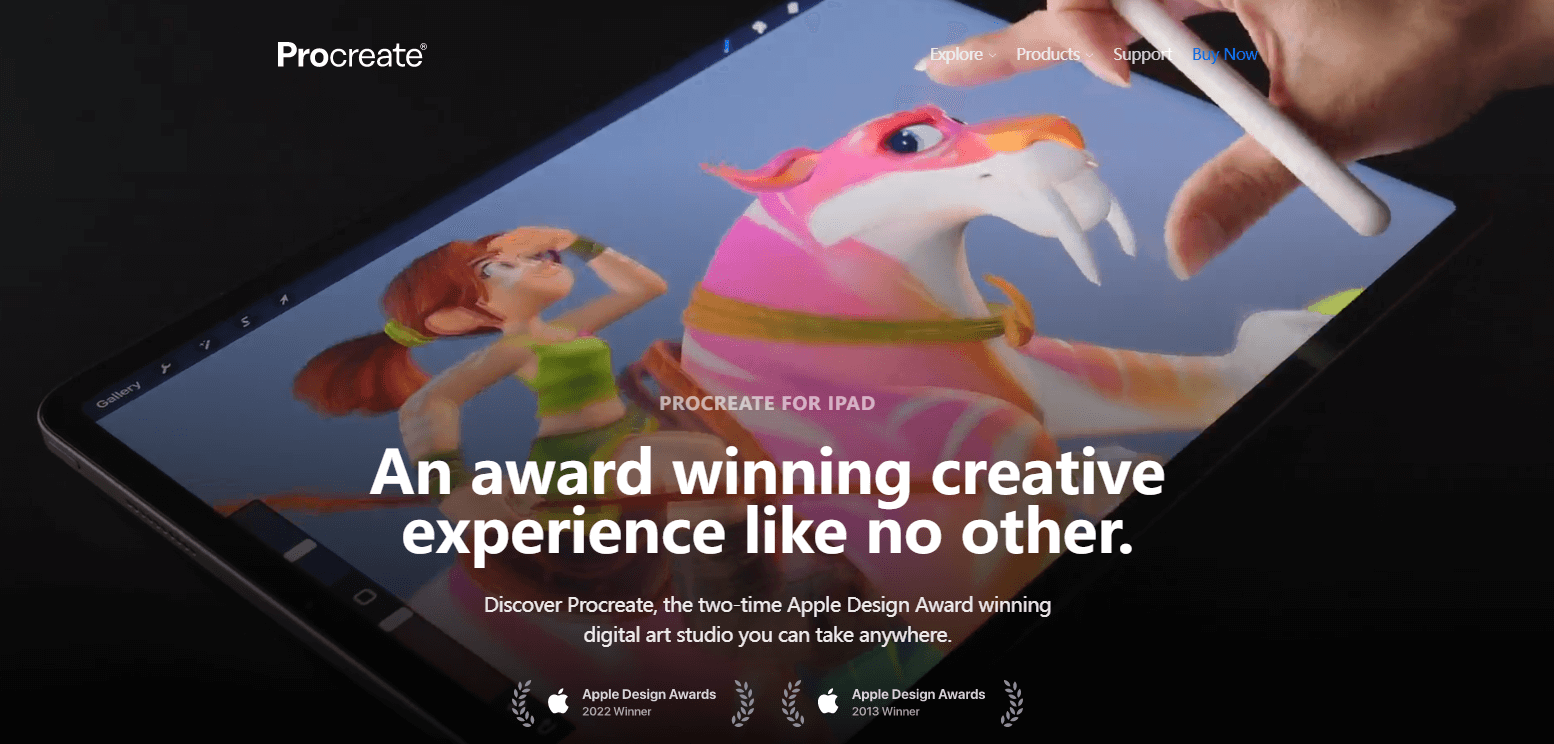 Procreate is an incredible digital art app packed with features to help you create your masterpiece. Exclusively available on iOS devices, Procreate has established itself as a favorite among iPad users. Its intuitive interface, fluid brush engine, and extensive layer management system contribute to its popularity. Procreate's ability to handle large canvases and offer real-time performance makes it a valuable tool for on-the-go artists seeking professional-grade results.
Available: iPad
Pros:
Professional-quality painting and drawing
Intuitive and responsive brushes
Customizable canvas and layers
Easy sharing and export options
Cons:
Available only for iPad and iPhones.
Pricing:
One-time purchase of $12.99
Clip Studio Paint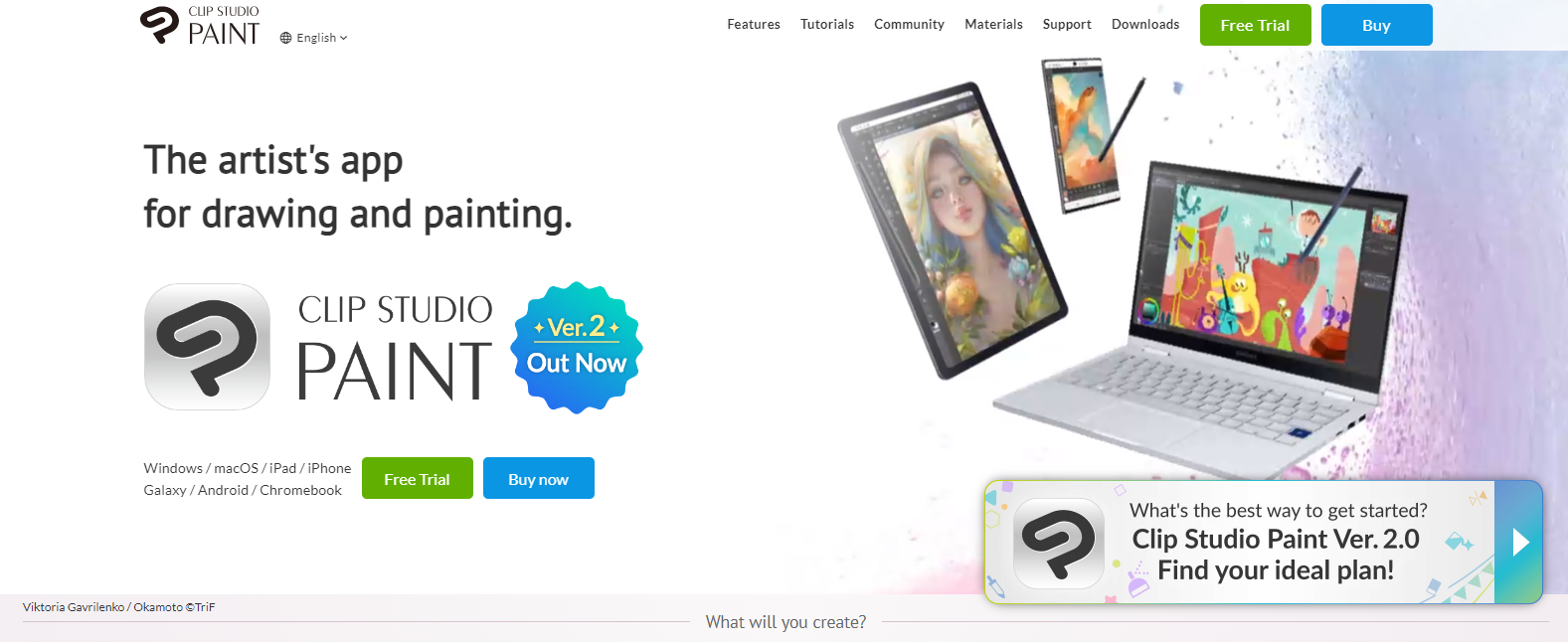 Clip Studio Paint, known as Manga Studio in its earlier iterations, is a versatile digital art software tailored to comic book and manga artists. Its specialized features, such as panel creation and speech bubble tools, cater to the unique needs of comic creators. With both standard and EX versions available, artists can choose the edition that best suits their creative ambitions and budget.
Available: Windows, macOS, iPad, iPhone, Android, Chromebook
Pros:
Professional-grade software for digital art creation
Variety of tools for drawing, coloring, and creating comics
Easy-to-use interface with customizable workspace
Compatible with Windows, Mac, iPad, and iPhone
Intuitive features such as auto-correction and perspective rulers
Cons:
The Pro and Ex versions of Clip Studio Paint are expensive.
The user interface can be confusing for digital art beginners.
Pricing:
One-time purchase of $49.99
Monthly usage plan: $0.99 per month
Artweaver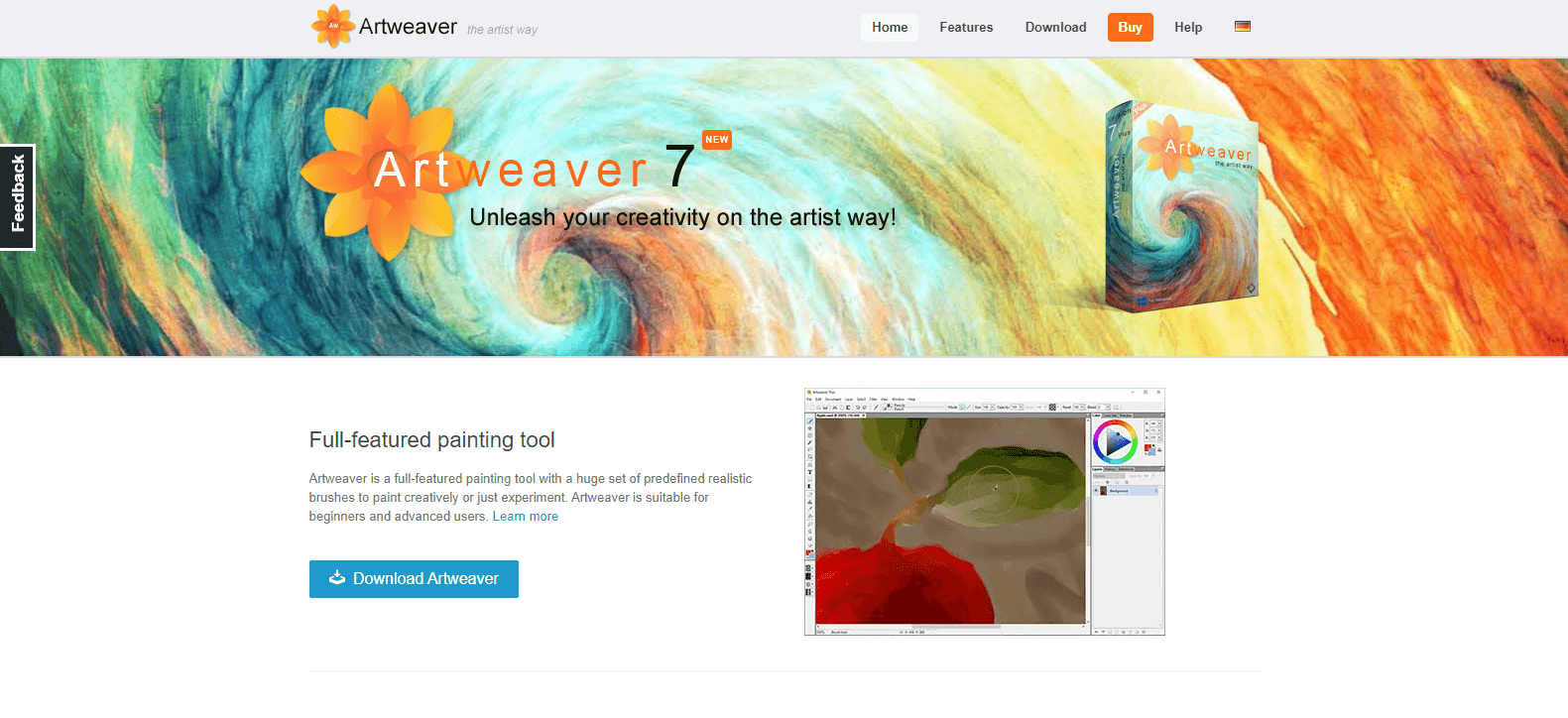 Artweaver is a lesser-known digital art software that deserves recognition for its impressive range of brushes and realistic simulation of traditional art materials. It offers a free version with limited features and a paid version that unlocks more advanced tools. While it may not have the same level of industry presence as other options, Artweaver's capabilities make it a worthwhile consideration for artists seeking a more tactile digital drawing experience. Furthermore, Artweaver has another strong suit when it comes to working on joint art projects, because you can use the app to collaborate with colleagues and clients on the same document.
Available: Windows
Pros:
Realistic brush simulation
Professional editing tools
Support for multiple layers
Compatibility with various file formats
Cons:
Available for Windows users; no mac OS version is available.
Do not support open-type fonts.
The interface is outdated.
Pricing:
Krita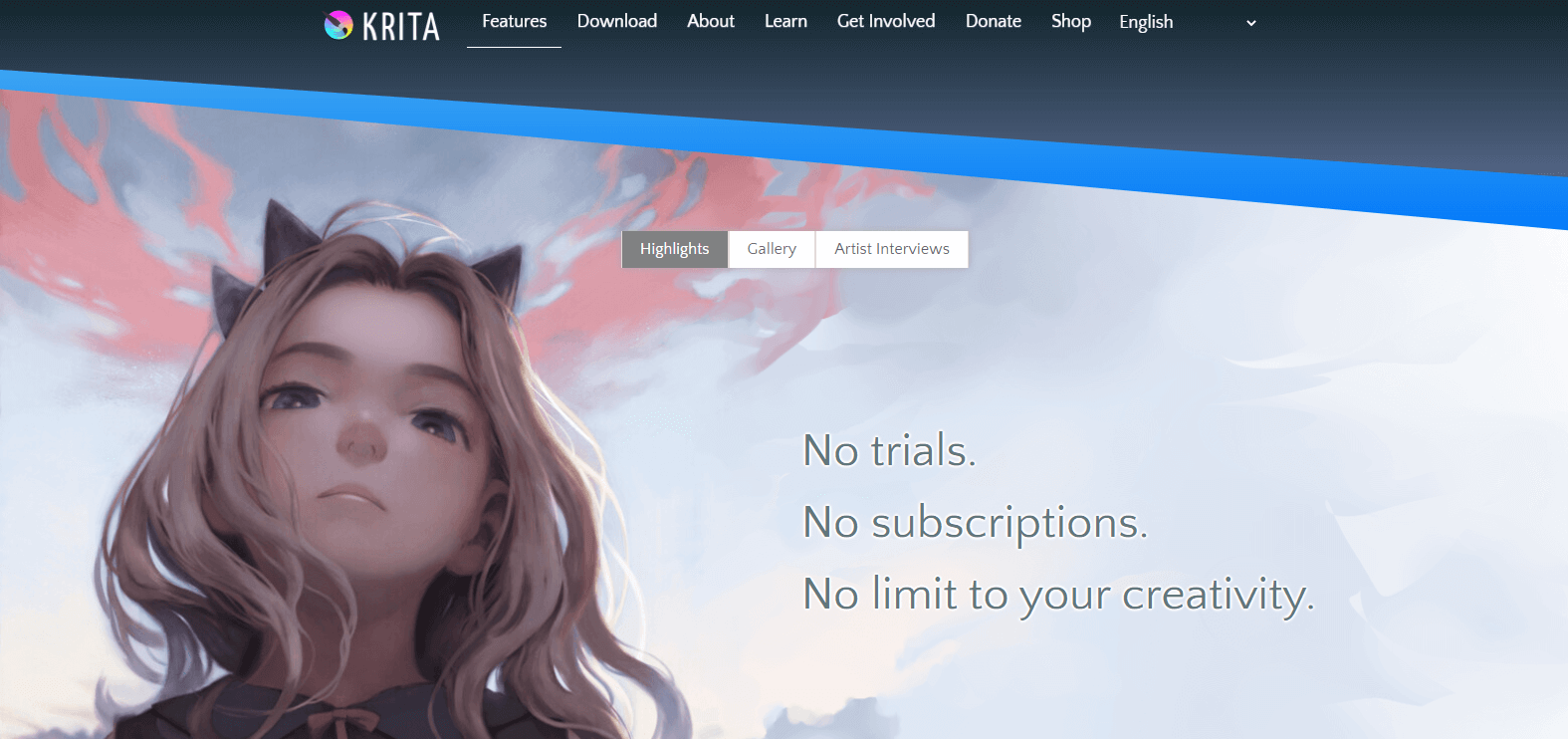 Krita, an open-source digital art software, has garnered a loyal following due to its extensive feature set and collaborative community. Tailored for artists, illustrators, and concept designers, Krita boasts an impressive selection of brushes and customizable workflows. Its open-source nature makes it accessible to artists of all backgrounds, and its regular updates ensure a continually evolving platform.
Available: Windows, macOS, Linux
Pros:
Professional digital painting software
Thousands of brushes and tools
Highly customizable interface
Compatible with multiple operating systems
Cons:
Some features may seem unintuitive.
Pricing:
Rebelle

For artists who yearn to replicate the organic and unpredictable nature of traditional watercolors and acrylics, Rebelle provides a unique solution. This digital art software simulates the behavior of real-world media, allowing artists to create stunningly realistic artworks. While it may not have the widespread recognition of some other options, Rebelle's emphasis on simulating traditional media sets it apart. There are also 'dry' tools like pencils, markers and erasers, so you don't have to stick to paintbrushes. The drawing app also boasts some interesting capabilities like the ability to tilt the canvas you're working on.
Available: Windows, macOS
Pros:
Simulates realistic painting experience
Lots of customization options
Toolkit bursting with brushes and tools
Cons:
The Standard edition lacks some new features.
It can be slow on older hardware.
Pricing:
One-time payment of $149.99
Adobe Illustrator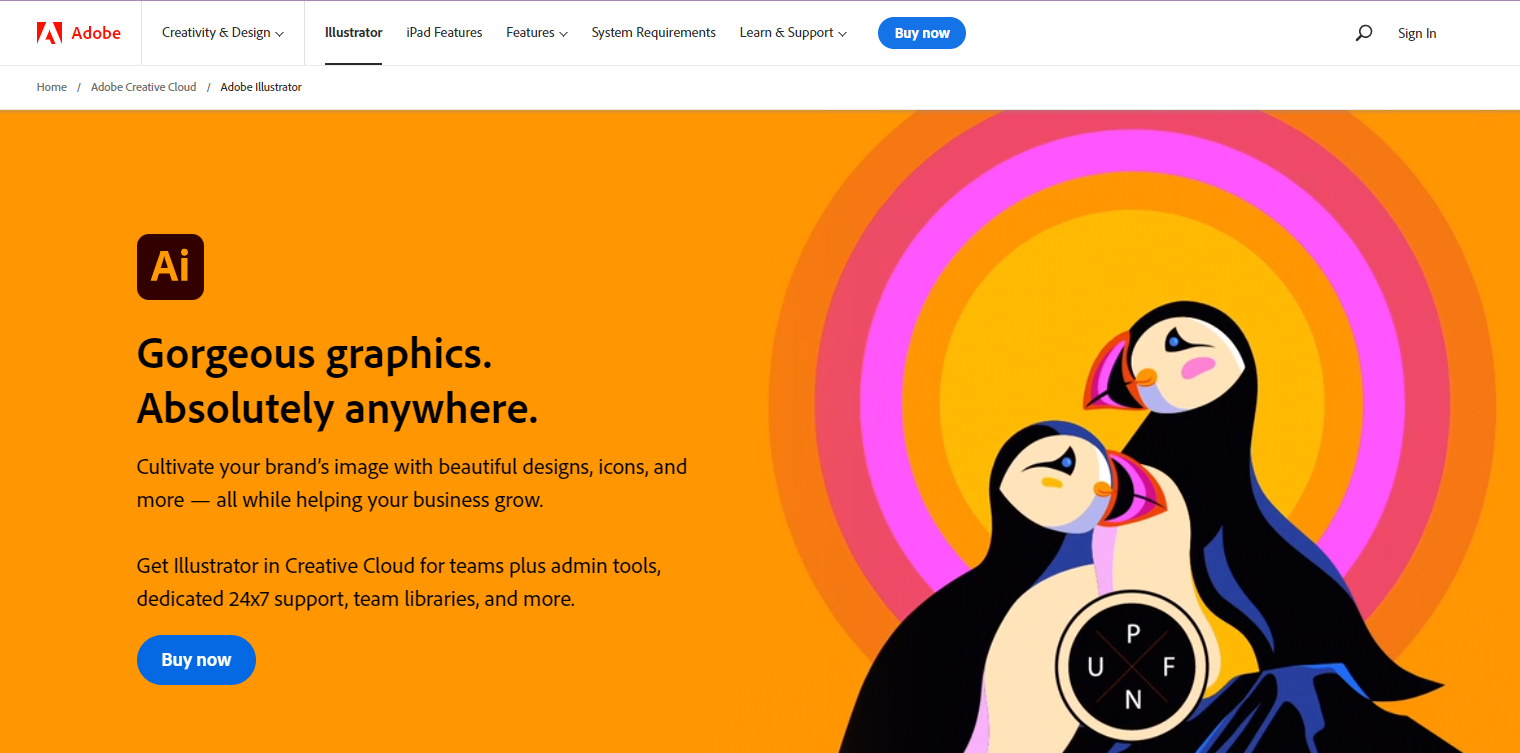 Completing our list is Adobe Illustrator, a powerhouse in the realm of vector graphics and design. While Illustrator is often associated with graphic design, its tools and capabilities extend well into the domain of digital art. One of the main advantages of Adobe Illustrator is its scalability. This makes Adobe Illustrator ideal for creating logos, icons, and text effects since they will look equally good at any size.
Adobe Illustrator offers everything an artist needs – basic shapes and figures and more advanced options such as brushes, gradients effect, and transformation tools.
Available: Windows, macOS
Pros:
It is a versatile software for digital artists.
Offers multiple exporting options
An incredible tool for image tracing.
Available for Windows, Mac, and iPad.
Cons:
It's not beginner friendly.
Provide minimal support for raster graphics.
Pricing:
Conclusion
In this blog, we have talked about digital art and shared 10 best digital art software for digital painting. The realm of digital art software is a diverse landscape, offering a wide array of options to suit artists of all skill levels and preferences. As you embark on your digital art journey in 2023, take the time to explore these exceptional software options. Have a try!