The smell of pumpkin spice is already starting to fill the air. That can only mean one thing – Halloween is approaching! And what better way to celebrate this spooktacular holiday than by teaming up with your significant other for a pair of unforgettable couples' costumes?
In this article we'll share a variety of unique Halloween costume ideas for couples, including fun, creative, scary, and more. Whether your goal is to make party goers laugh or creep them out, you'll find your perfect pick in this list!
Funny Couples Halloween Costume Ideas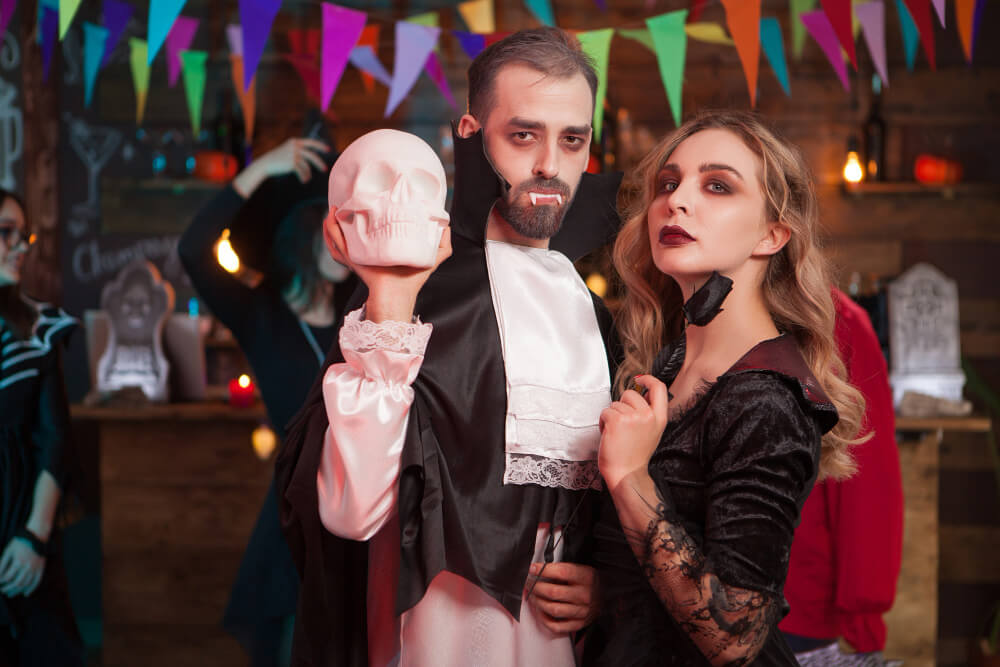 1. Peanut Butter and Jelly:
This classic combo is a staple of the lunchbox and a perfect representation of your inseparable bond. One of you can dress as a peanut butter jar, while the other becomes the jelly jar. Bonus points if you add slices of bread as accessories!
2. Mario and Luigi:
Jump into the world of Super Mario with these iconic plumber brothers. Don the red and green overalls, matching caps, and mustaches. You'll be ready to tackle any "Mario Kart" race or "Super Mario Bros." adventure that comes your way.
3. Shrek and Fiona:
Transform into the lovable ogre couple, Shrek and Fiona, from the animated film series. With green face paint, Shrek's vest, and Fiona's medieval attire, you'll be the life of the fairy tale.
4. Forrest Gump and Lieutenant Dan:
Pay homage to the iconic film "Forrest Gump" by dressing up as Forrest and Lieutenant Dan. One person can be Forrest in a plaid shirt, khakis, and a box of chocolates, while the other can be Lieutenant Dan in a wheelchair with camouflage pants and a beard.
5. Wayne and Wanda (The Muppet Show):
Bring the hilariously doomed Muppet couple, Wayne and Wanda, to life. Wayne can wear a tuxedo, and Wanda can sport a glamorous dress with a microphone, ready for their comically disastrous performances.
6. Plug and Socket:
Create some electrifying humor by dressing up as a plug and socket. One person can wear a large plug costume, while the other can be the socket. It's a clever and witty way to show how well you "connect."
Scary Couples Halloween Costume Ideas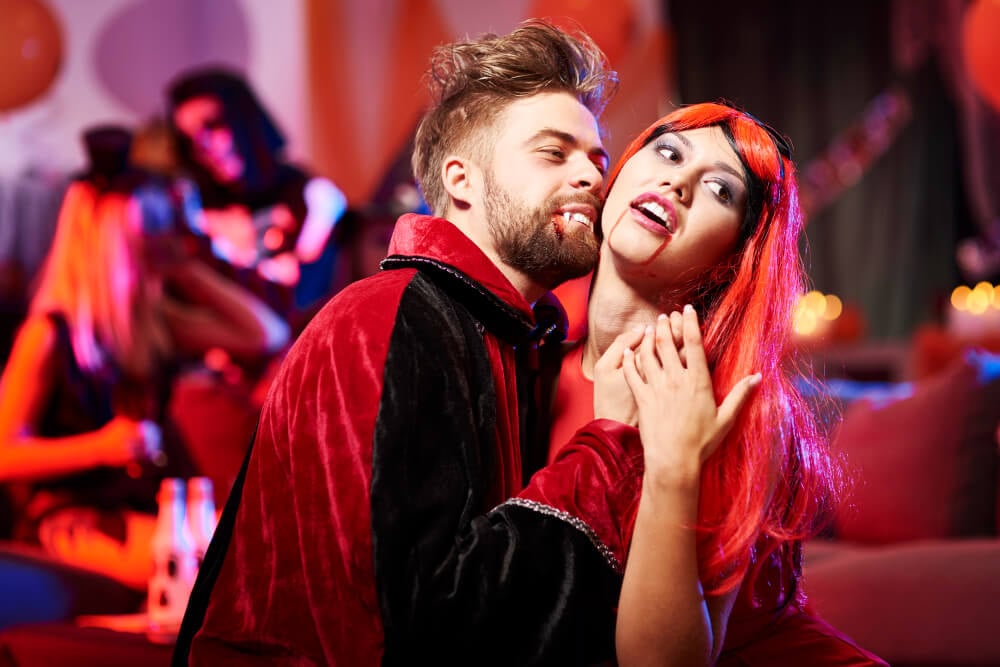 1. Bonnie and Clyde:
Embrace the dark and deadly allure of the infamous criminal couple, Bonnie and Clyde. Dress in vintage 1930s attire, complete with fedoras, suits, and Tommy guns. Don't forget to add some fake bullet holes for that authentic gangster look.
2. The Addams Family:
Bring the eerie elegance of the Addams Family to life with Gomez and Morticia costumes. Gomez can wear a sharp suit, and Morticia can stun in a long black gown. Accessorize with pale makeup, dark wigs, and a passion for all things macabre.
3. The Joker and Harley Quinn:
This iconic couple from the DC Universe is synonymous with chaos and mayhem. Go all out with makeup and costumes that capture the Joker's twisted grin and Harley's playful yet deranged style.
4. Hannibal Lecter and Clarice Starling:
For fans of psychological horror, dressing up as Hannibal Lecter and Clarice Starling from "The Silence of the Lambs" can be both terrifying and sophisticated. Hannibal's iconic mask and Clarice's FBI attire will make quite the impression.
5. Zombie Bride and Groom:
Turn the classic wedding attire into a nightmarish vision by dressing as a zombie bride and groom. Tear your wedding outfits, apply ghastly makeup, and complete the look with decaying accessories.
6. American Horror Story: Murder House Couple:
Get inspiration from the "American Horror Story: Murder House" series by dressing up as characters like Tate and Violet or Constance and the Rubber Man. These costumes are perfect for fans of the show.
7. The Conjuring Couple:
If you're looking for a contemporary horror reference, consider Ed and Lorraine Warren from "The Conjuring" film series. Ed can wear a suit and hold a crucifix, while Lorraine can wear a period-appropriate dress and carry a psychic journal.
Creative Couples Halloween Costume Ideas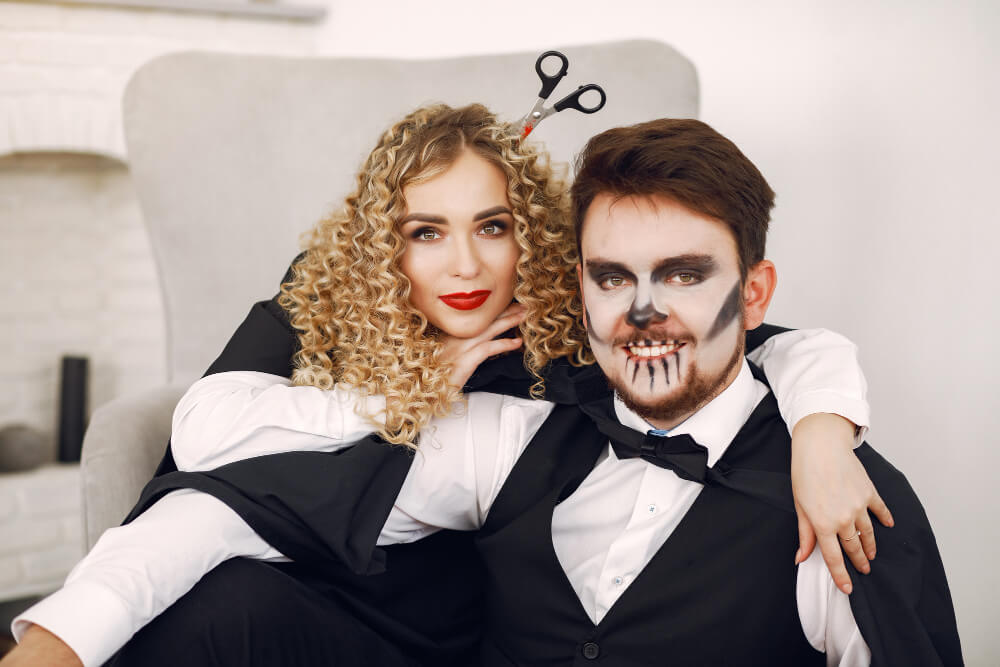 1. Vincent van Gogh and the Starry Night:
Transform into a living work of art by dressing as the iconic painter Vincent van Gogh and his masterpiece, "The Starry Night." One person can wear an outfit inspired by van Gogh, complete with a red beard, while the other can wear a costume that replicates the swirling night sky and stars.
2. Mad Hatter and Queen of Hearts (Alice in Wonderland):
Explore the whimsical world of "Alice in Wonderland" as the Mad Hatter and the Queen of Hearts. Get creative with colorful costumes and props that capture the eccentricity of Wonderland's inhabitants.
3. Tetris Blocks:
Celebrate the nostalgia of retro gaming by becoming Tetris blocks. Construct large, colorful Tetris block costumes that fit together like the pieces of the game. You and your partner can even reenact the Tetris game during the night.
4. The Moon and an Astronaut:
Bring the cosmos to your Halloween party by becoming the moon and an astronaut. One person can wear a moon costume with craters, while the other can don an astronaut suit complete with a helmet.
5. Vintage Movie Stars:
Go old Hollywood glamour by dressing as classic movie stars from the golden era of cinema. Choose iconic figures like Marilyn Monroe and James Dean or Audrey Hepburn and Cary Grant. Perfect your vintage look with period-appropriate attire and hairstyles.
Cute Halloween Costume Ideas for Couples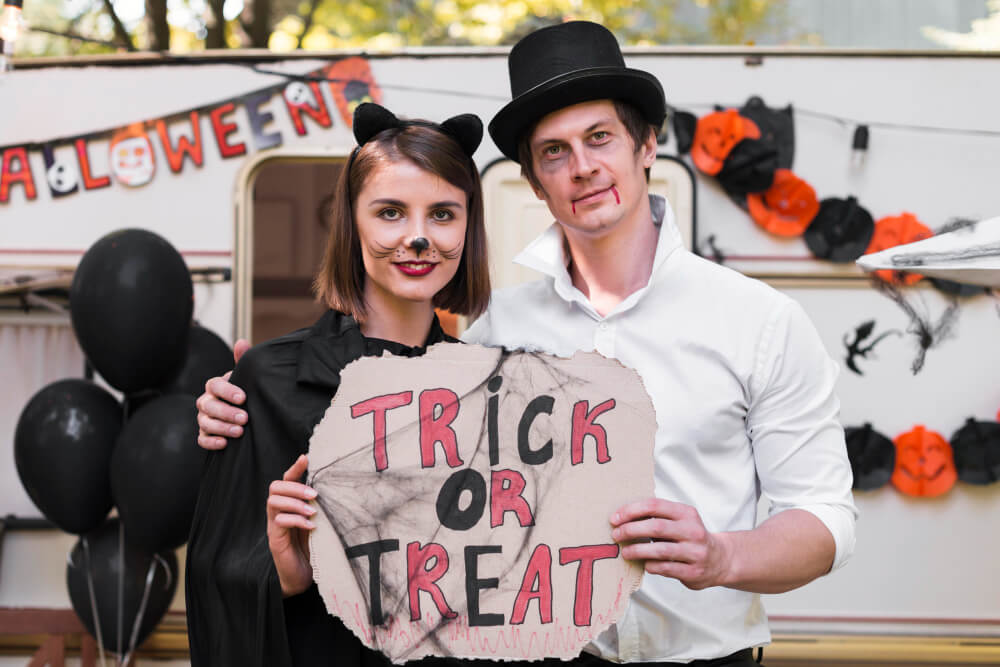 1. Disney's Mickey and Minnie Mouse:
Celebrate the magic of Disney by becoming the beloved Mickey and Minnie Mouse. Mickey can wear red shorts and a black top with large ears, while Minnie can don a red polka-dotted dress with a matching bow.
2. The Up Couple - Carl and Ellie:
Bring a tear to everyone's eye with a costume inspired by Carl and Ellie from Pixar's "Up." Carl can wear a suit with a bowtie and glasses, while Ellie can don a retro dress with a large bow in her hair and an adventure book as a prop.
3. Disney's Beauty and the Beast:
Step into the fairy tale world of Belle and the Beast from Disney's "Beauty and the Beast." Belle can wear her iconic yellow ballgown, and the Beast can transform into the prince with a royal ensemble and makeup.
4. The Incredibles Family:
Feel like a superhero family by dressing up as the characters from "The Incredibles." One person can be Mr. Incredible or Mrs. Incredible (Elastigirl), while the other can choose from Dash, Violet, or Jack-Jack costumes.
5. Woody and Jessie (Toy Story):
Bring the magic of Toy Story to life by dressing as Woody and Jessie. Woody can wear a cowboy outfit with a sheriff badge, while Jessie can sport a cowgirl ensemble with her signature red hat and braided hair.
6. Wall-E and EVE:
Capture the love story between Wall-E and EVE from the Pixar movie "Wall-E." Wall-E can wear a cardboard box costume with his signature tracks and a blue "EVE" cooler, while the other can be EVE with a white outfit and a plant prop.
7. Aladdin and Jasmine:
Take a magical journey to Agrabah as Aladdin and Jasmine from Disney's "Aladdin." Aladdin can wear a white vest and harem pants, while Jasmine can don her iconic blue outfit with a tiara and jewelry.
Sexy Halloween Costume ideas for Couples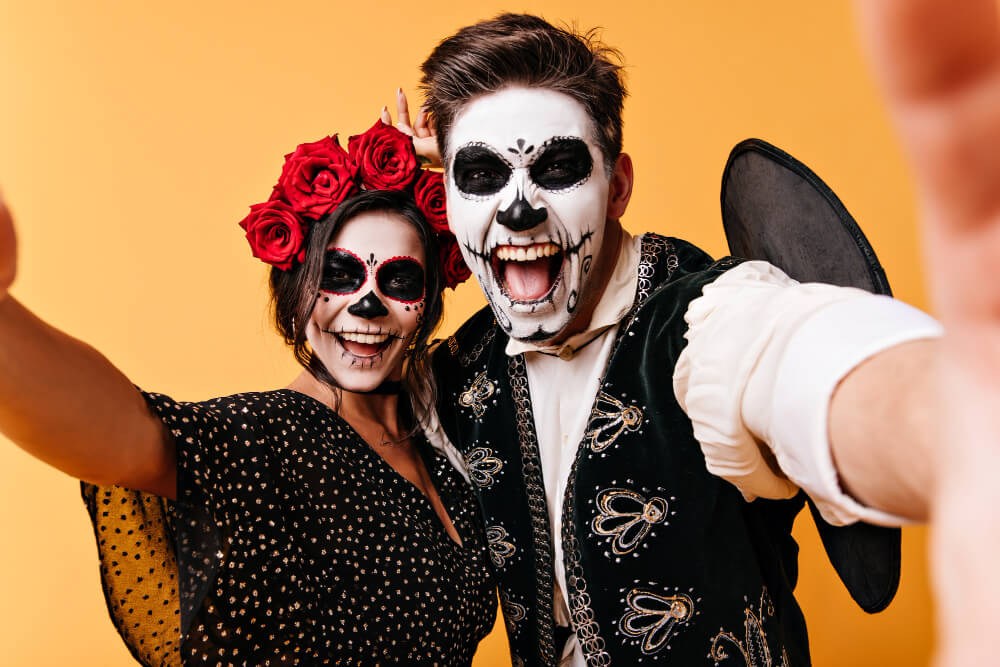 1. Devil and Angel: The Ultimate Temptation
Create a sizzling dynamic by becoming a devil and an angel. One partner can don a sultry red devil costume, while the other wears an angelic, heavenly white ensemble. Explore the contrasts of good and evil while heating up the night.
2. Pirate Couple: Swashbuckling Romance
Channel your inner pirates for a swashbuckling adventure. Leather, lace, eye patches, and pirate props can create a sexy, adventurous look. Sail the high seas of love and romance in style.
3. Vampire and Victim: Eternal Desire
Vampires have always held a captivating allure, and Halloween is the perfect time to embrace your inner creatures of the night. One partner can transform into a seductive vampire, complete with fangs, while the other becomes the alluring victim with a blood-stained outfit. This costume idea is sure to ignite passion and create unforgettable memories.
4. Doctor and Nurse:
Heat up the hospital with a doctor and nurse pairing. White lab coats, stethoscopes, and medical props can add a playful touch to these costumes.
5. Superheroes in Love:
Show off your superpowers and team up as iconic superhero couples like Batman and Catwoman, Spider-Man and Mary Jane, or Superman and Wonder Woman. Tight-fitting costumes with capes and masks add a sexy twist to these classic characters.
Transform Your Look Online with Fotor's Halloween Custume Generator