Photo helps to capture and record unforgettable moments, and it also serves as a way to show your creativity. Halloween in October provides a great chance to take photos. Halloween decorations, costumes, and makeup all appeal to you to press the shutter capturing this moment.
You may feel confused about how to take creative Halloween images when holding up the camera. Take it easy. The following practical Halloween photoshoot ideas will inspire your creativity, enabling you to be a better photographer on Halloween. Tips are also provided for your Halloween photoshoot.
Halloween Photoshoot Ideas
Halloween is the perfect time to show your creativity. But if you are running out of inspiration,
the following ideas for Halloween photoshoots may be your muse. No matter what kind of Halloween photos you are to take, spooky or cute, you can get inspired by these ideas.
Silhouette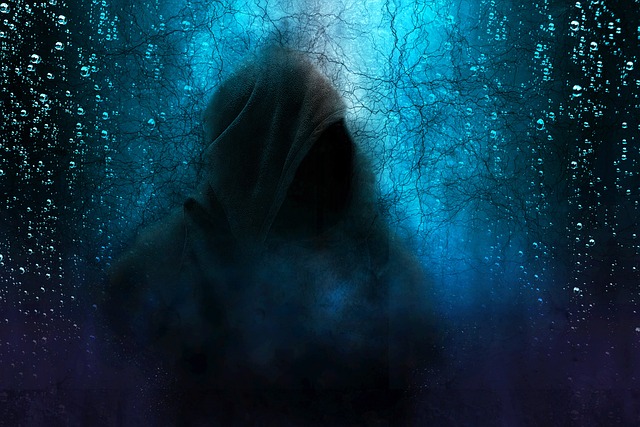 Mystery is an indispensable element of Halloween images, and silhouettes are just here to keep the mystery in the photo. Under the comparison of light and shadow, the subject could be better emphasized. It is a feasible Halloween photoshoot idea for indoors and outdoors. To take silhouette photos outdoors, shooting against the sun. For indoor Halloween photoshoots, you could resort to harsh light to avoid insufficient light.
Ghostly Effect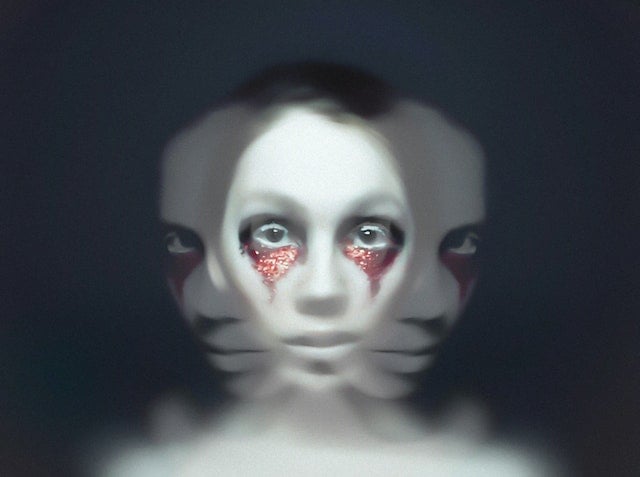 In daily life, ghosting is something that most people would prevent in photography. However, this is not the case in Halloween photoshoots. Instead, it is an artistic effect. The spooky feeling fits right in with the Halloween atmosphere. If you are looking for creepy Halloween photoshoot ideas, try the ghostly effect!
To take a Halloween picture with a ghostly effect, you need to set the shooting speed to 8 to 10 seconds, and 2 seconds after you start shooting, let the subject move quickly and then you will get the desired effect. Besides, dim light with a flash gets a better result.
X-ray Version
How can Halloween be without horror? Shock people with a scary X-ray version image. It is an easy and feasible idea for the Halloween photoshoot. No makeup, no costume, just a simple photo shoot. Download a skeleton picture, open it in a photo editing tool, remove its background, add the skeleton to your photo, and adjust its opacity. You could get a spooky X-ray version photo.
Float the Subject
Floating your subject is a feasible and fun Halloween photoshoot idea for friends. It seems you have magic to levitate your friend. You could simply make it. Take a photo of the background first, then a couple of photos of the subject, snap the subject out of the photo and paste them into the background image. Then you could get a creative photo. Show your magic!
Recreate Horror Movie Scenes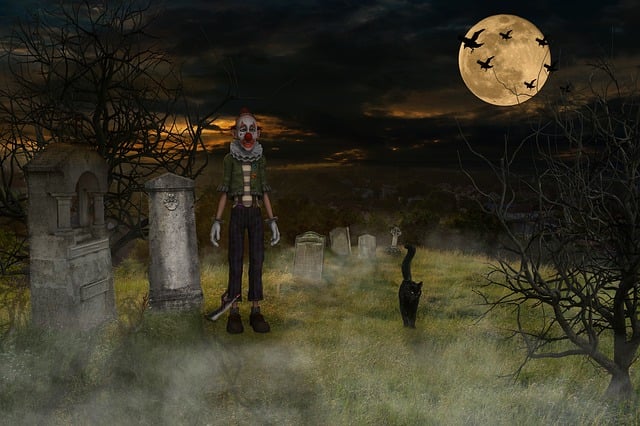 Provided that you are stuck in a rut of inspiration, try to recall some Halloween movies to get some inspiration. It's a brilliant Halloween photoshoot idea for couples and families. Select your favorite scenes that impress you most, and then take action to recreate them. You don't have to replicate the scene, recreate it with the props you have, and innovate if necessary.
Select a Venue with Best Effect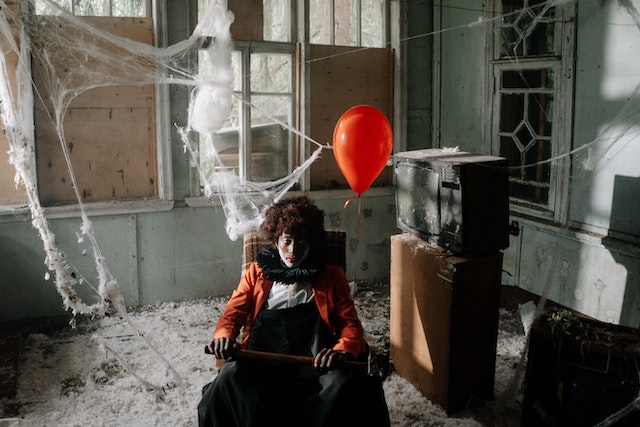 A suitable venue plays a critical role in the Halloween photoshoot. Instead of struggling to figure out how to set up a venue, look for one that is readily available and fits the style of the photo shoot.
The shabbiness of the abandoned sites fits perfectly with the spooky theme of your Halloween shoot. A dimly lit forest with tall trees, fallen leaves, and a scary and spooky atmosphere just right for the Halloween images.
Dress Your Kids
The theme of Halloween is colorful, and not limited to horror, cute style is also very popular. Get your children involved. Halloween baby photoshoot ideas has always been favored.
Incorporate Halloween-themed elements into your photos, you can choose to dress your baby in Halloween-style clothes or place Halloween-themed decoration around your baby. For a little baby, put him or her into a giant pumpkin. Or get him or her dressed in pumpkin clothes. Let the baby play with the decoration.
Get Your Pet Dressed
If you have no baby, shooting Halloween photos with your flurry friend is also a good idea. Getting your pets dressed like a ghost is a classic Halloween photoshoot idea. You could take some cute and funny photos with your pet partner.
Preparation for Halloween Photoshoot
Before shooting Halloween pictures, you can make the process smoother by preparing the stuff that you might need for the shoot. Well-prepared is half done to realize the ideas for the Halloween photoshoot. Check if you have all the ones listed below ready.
Costume
One of the ways to make your photos in Halloween style is to wear Halloween costumes. You can dress whatever you like, ghost costume, witch costume, or costumes of any character you want to recreate. One important thing you need to consider is the suitability of your costume for the venue.
Makeup
You can wear a cute or scary makeup. Black and white skull makeup, witch makeup are always good choices for Halloween photoshoot. With makeup, your photos will have a better presentation, meanwhile, don't forget to keep the makeup consistent with you costumes and the venue.
Props
Props prevents your photos from being doll. Get anything useful ready. Props for a baby Halloween shooting could be pumpkins and candy, while props for an adult Halloween photoshoot could be spider webs, skeleton. Flash and smoke bombs will also come in handy.
Tips for Halloween Photoshoot
Only creative Halloween photoshoot ideas can't make perfect Halloween pictures. To get the images better presented, here we provided some tips about it: make full use of the props in the process of shooting, and edit the images after the shooting.
Props
Take advantage of props. Props contribute to interesting photos. The most common prop for Halloween shooting is pumpkin. Besides, you can also use flash to highlight the subject, and smoke bombs to add a sense of mystery to photos.
Filter
A simple secret to taking your photos up to a notch, is finding the filter in your camera. Just go for it! In case you would like to shoot some cute Halloween pictures, select one brighter filter. And pick up one gloomy filter for spooky Halloween photos.
Post-image Editing
Don't let circumstances limit your creativity. If you fail to realize your ideas for Halloween photoshoot with a camera, you can resort to photo editing tools. For example, floating ghosts, skeletons, dreadful picture atmosphere and so on.