Halloween is on the way this year. Have you prepared your Halloween makeup? Twilight has made the vampires come back to people's horizons. Maybe on this Halloween, vampire makeup is a good choice for us to try.
If you have no ideas about vampire Halloween makeup, we will introduce 17 popular vampire makeup ideas for you. With video tutorials, you can easily learn vampire looks in minutes following those makeup YouTubers. Prepare your makeup materials and get ready to make up now.
Women's Vampire Makeup
We have prepared 10 vampire makeup ideas for females, let's check them out.
Cute Vampire Makeup
Follow this lady to learn about your 2023 Halloween makeup. This cute vampire Halloween makeup is easy to handle. With sight red eye shadow and a little highlight on your eyes, immediately turns you into a tender vampire looks.
The YouTuber calls this cute vampire makeup as blood moons. It is a super exquisite makeup that takes the vampire look up a notch. This makeup has won 44K likes on YouTube. And her fans are impressed by her makeup.
Scary Vampire Makeup
Try this scary makeup to impress your friends on Halloween. This makeup uses dark black and scarlet colors to decorate face features. Deep red eye shadow, Special white contact lenses, and dark lips bleeding blood make this makeup so realistic.
Sexy Vampire Makeup
If you want to shine out on the Halloween stage being a sexy vampire, you are in the right place. Here are the sexy makeup tutorials for you. Look at her fantasy eyes, with deep brown eye shadow and raised eyebrows. And you need to prepare dark lipstick and vampire dentures. Don't hesitate, start to make up now!
Another sexy makeup for you. Dark red eye shadow with slight veins makeup and crimson lips makes a different style of vampire look.
Amazing Vampire Makeup
This makeup is awesome and cool. Black eye shadow makes her eyes shape like a knife. And the fake blood makes her a real vampire. Look at her eyes, it seems like she will pounce on and bite me in seconds.
Pretty Vampire Makeup
All deep purple makeup for this. Look at her stunning purple eye shadow and purple-red lips with blood. It looks so gorgeous for this purple vampire look. Try to follow this video to get your pretty makeup now.
Victorian Vampire Makeup
Scarlet lips, big dark red eyeshadow, wavy blonde, light green contact lenses, and fake long eyelashes all make this girl into a Victorian vampire. This makeup looks so great that we recommend you try to practice if you like this Victorian vampire looks.
Vampire Goth Makeup
If you want to try more stunning and amazing Halloween makeup, you can try this goth vampire makeup. This is a unique makeup that is different from others. Gothic makeup is always special and impressive in black. this girl creatively mixes vampire makeup with goth. the bleeding mouth and that wonderful eye makeup with large areas of red eye shadow concentrated under the eyes make her a real vampire.
Dracula Makeup
Try on this Dracula face paint for your Halloween this year. This full video tutorial will show you the steps to make up, so don't worry. This vampire look is very sophisticated. We can learn more makeup skills from this beautiful lady. You can see the dark red eye shadow and the crimson lips with blood. What you need is in this video, just watch and learn now!
Men's Vampire Makeup
4 vampire makeup ideas for males are ready for you, just learn it now.
Easy Vampire Makeup
Maybe guys are looking for easy vampire makeup for those who are not good at makeup. Here is coming. Easy steps and simple vampire makeup for this video tutorial. You just need to follow the steps one by one and learn it soon.
Simple Vampire Makeup
Another style of simple vampire makeup you can easily handle. you just need to prepare Vampire denture and makeup slightly. This video also provides hair tutorials for you to make you a total vampire. Just start to try now!
Twilight Vampire Makeup
Edward Cullen is the famous male character in Twilight. This must be the best video tutorial that will show you how to make up like Vampire Edward. Just try the vampire look right now.
Scary Vampire Makeup
I know some boys are excellent at face makeup, so here is a difficult makeup look for you. If you are skillful in makeup, you can try to challenge it. The bloody mouth is bleeding blood and the red veins are full of the face. It really will scare people on Halloween.
Kids Vampire Makeup
Cute Vampire Makeup
This is cute vampire Halloween makeup for little girls. Make your girls a vampire Halloween makeup following this video tutorial. Parents can easily use some makeup materials to make up for their kids. It is super easy to start. Just need to prepare a red eyeshadow palette, red contact lenses, red lipstick, and a vampire denture. Maybe you can let kids do it by themselves. It is a good chance to practice makeup skills.
Another pretty girl to show you the cute vampire makeup. All deep purple makeup. if you like purple, you need to try on this. And she even makes up some tiny purple veins on her face.
Simple Vampire Makeup
Here is a simple vampire Halloween makeup for little boys. Super easy steps for parents to learn. You need to prepare a white foundation, black eye shadow palette, red lipstick, and white and red paints. Follow this video and you can learn it quickly.
Virtually Try on Vampire Face Makeup Online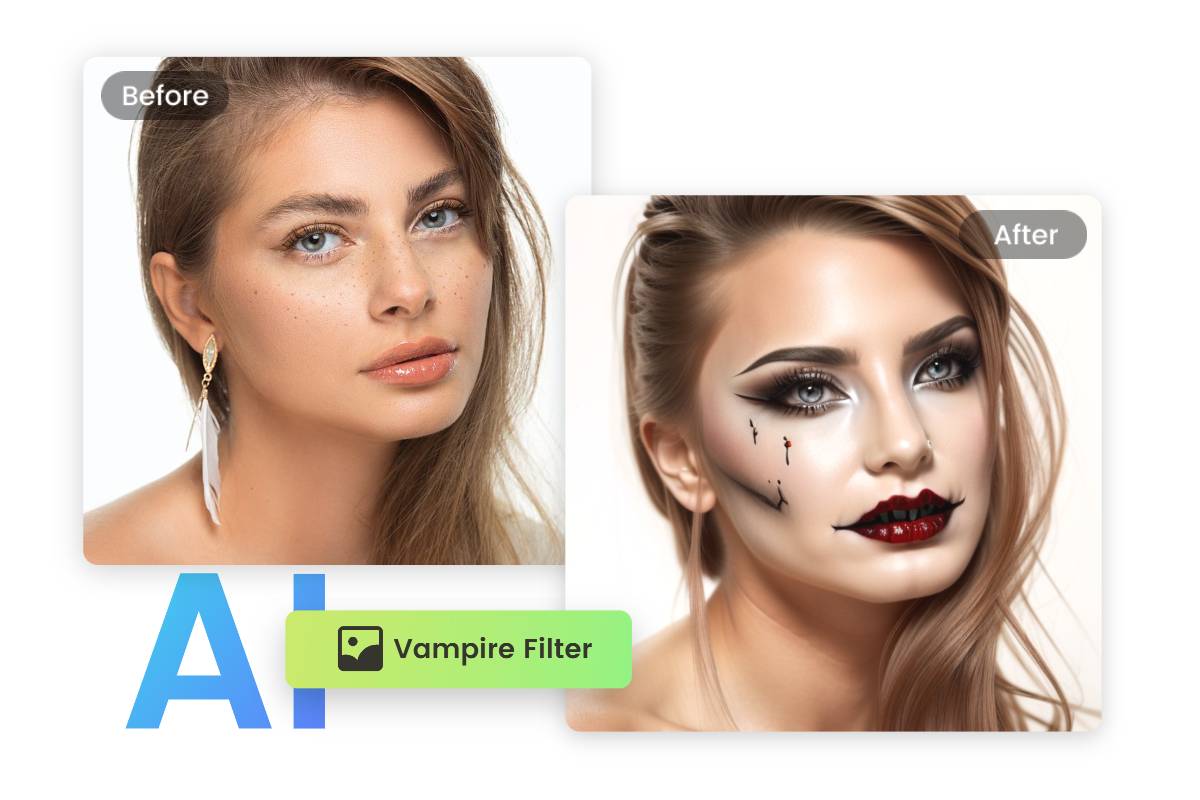 A good makeup needs time and effort to practice. If you are not good at makeup, it will take you a hard time to learn it. But Halloween is coming soon, maybe you can try on Fotor vampire filter to make yourself a realistic vampire.
Fotor online AI vampire Halloween filter will transform your photos into vampire portraits by using advanced technology. You just need to upload your photos and select the vampire filter. Then you will get your vampire-look photos in a snap. That's super easy and user-friendly for anyone. Try to get more Halloween vampire makeup ideas now.
What's more, there are various stunning Halloween filters to choose from. Zombie filter will make you a zombie in seconds. AI Halloween costume generator allows you to change different kinds of Halloween clothes in your favorite. Clown filter allows you to apply clown face paint and clown makeover to your photo in a couple of clicks. You just need one click to entertain your friends with trended Halloween photos on social media.