To get artistic tattoo letterings, choosing the right tattoo fonts is as important as having the perfect design ideas. Usually, tattoo fonts can convey meanings, emotions, and even personalities behind the tattoo artwork. Different tattoo letter fonts create various visual effects, from bold to elegant, but commonly, they should suit every style and personality.
Fonts for tattoos vary from a wide range of options, such as tattoo calligraphy, script, and typewriter. What are your favorite tattoo fonts? If you haven't decided yet, we will share more than 20 different tattoo fonts for you to choose from. In this blog, you will be inspired by what your best tattoo font is. Let's dive in!
What Is a Lettering Tattoo?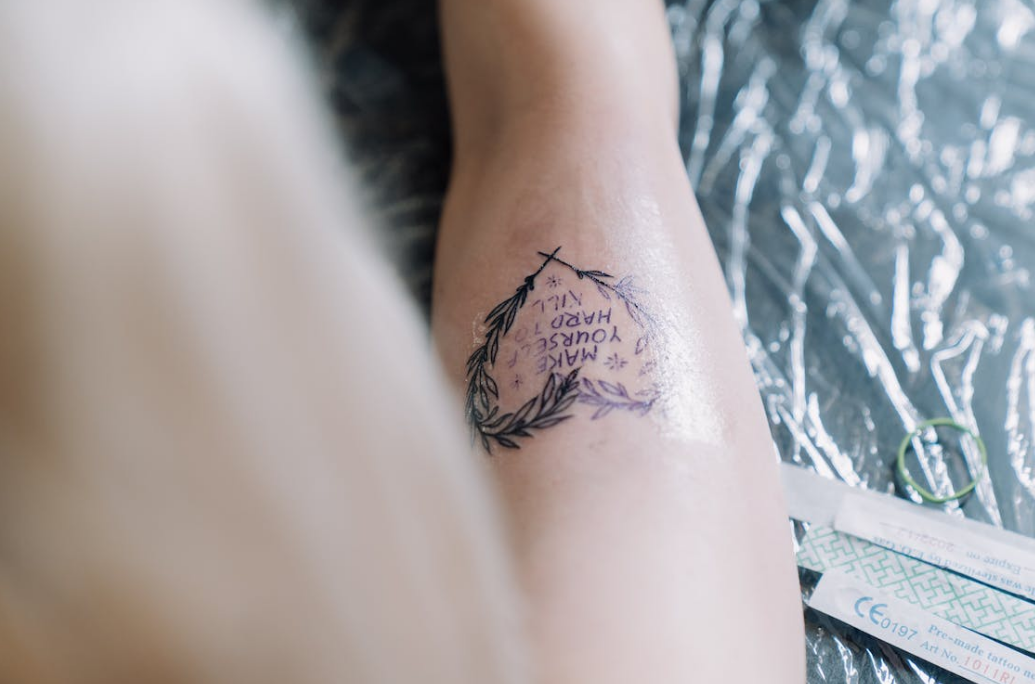 A lettering tattoo is a tattoo with an alphabet, word, phrase, or sentence only. Focused on the message or meaning it conveys, lettering tattoos deflect the emphasis from the illustration design compared to other tattoo types.
Usually, lettering tattoos are created to convey emotions, commemorate important dates, or present a personal attitude and philosophy. Thus, they are often made by some lyrics, quotes, dates, or names. Still, lettering tattoos vary from size to font according to personal taste and preference. It can be simple, sophisticated, artistic, and more, depending on the tattoo font style.
20+ Best Tattoo Fonts That Make Your Ink Stand Out
Choosing the right tattoo lettering fonts is a tough task, but now you don't have to worry about it because we will share 10+ best tattoo fonts. From these good and popular fonts, you will be inspired! From the following types of tattoo fonts, you can easily find the perfect font for tattoos that suit any style or preference!
1. Simple Tattoo Fonts
To create a clean look for your tattoo lettering, you can choose from some popular tattoo fonts that age well and never get out of style. These simple tattoo fonts are readable and visually appealing featuring straight lines and simple curves.
Most of these fonts are classic serif fonts and sans-serif fonts. And they can work well with simple geometric shapes and patterns if they are used in combination with tattoo design elements to create artistic visual effects.

2. Cool Tattoo Fonts
Still, for people who are cool and maverick, cool tattoo fonts can be your first choice when you have no ideas. Generally speaking, cool tattoo fonts have a unique and edgy look, adding an extraordinarily cool personal touch to the tattoo design. And cool tattoo fonts usually feature sharp, intricate, bold tattoo design elements.
For instance, these popular cool tattoo fonts convey the gothic, mysterious, dark sense. To maximize its visual effect, you should choose a relatively small tattoo font size instead of a large one.

3. Script Tattoo Fonts
Script tattoo fonts are those fonts with a sense of cursive handwriting in shapes, which brings them an elegant and flowing appearance. They are always popular options when choosing the font for tattoos. Script tattoo letterings add an ornate sense to the tattoo design and vary in style.
Moreover, the script tattoo fonts have a wide range from traditional script to calligraphy style fonts. They can be used to combine with other elements to create an aesthetic tattoo design, such as floral patterns, decorative scrolls, and embellishments.


4. Cute Tattoo Fonts
If you wish your lettering tattoos playful and whimsical, try these cute tattoo fonts when you are deciding on the fonts. They always feature rounded edges, cursive lines, and other cute design patterns to make the lettering adorable.
Cute tattoo fonts usually go with some swirly or curly fonts to decorate the tattoo letterings. Or you can get some cute floral patterns, stars, and hearts to make the tattoo design playful and charming.


5. Modern Tattoo Fonts
Usually, modern tattoo fonts are the first choices because they feature a modern aesthetic and fresh look. The typography of modern tattoo fonts is simple or sometimes creative. These fonts are serif or boldly edgy fonts, with lines, geometric shapes, and some personal patterns according to your preference.
Tips: Try a Tattoo Font Generator Before Having a Lettering Tattoo