In today's fast-paced and competitive business landscape, staying ahead of the curve is crucial for success. One powerful tool that has emerged to revolutionize various industries is Artificial Intelligence (AI). AI technology has the potential to transform the way businesses operate, making them more efficient, productive, and customer-centric. From giving you valuable insights into customer behavior to automating mundane tasks, the benefits of AI for business are numerous.
In this article, we will explore the benefits of AI for businesses and highlight six top AI tools that can help boost your business.
What Can AI Do for Business
Automate Repetitive Tasks And Processes
AI offers a wide range of benefits for businesses across different sectors. One of the key advantages is its ability to automate repetitive tasks and processes, freeing up valuable time and resources for employees to focus on more strategic and creative activities. By automating mundane tasks, businesses can increase efficiency, reduce errors, and improve overall productivity.
Gather and Analyze Data
Moreover, AI enables businesses to gather and analyze vast amounts of data quickly and accurately. This data-driven approach provides valuable insights and helps in making informed decisions, identifying trends, predicting customer behavior, and optimizing operations. AI-powered analytics tools can extract valuable information from data sets that would be impossible or time-consuming for humans to process.
Enhance Customer Experience
AI can also enhance customer experience by personalizing interactions and providing tailored recommendations. Through natural language processing and machine learning algorithms, AI-powered chatbots and virtual assistants can engage with customers, answer their queries, and provide real-time assistance. This not only improves customer satisfaction but also enables businesses to scale their customer support operations effectively.
Nowadays, the application of AI in the business field has become an inevitable trend. The following data shows that for many companies around the world, AI has become a core part of their operations.
The global AI market size was worth $62 billion in 2020, and is expected to have an annual growth rate of 40.2% from 2021 to 2028, according to Grand View Research.
56% of respondents in McKinsey's "The state of AI in 2021" survey report adopting AI, up from 50% of respondents in 2020.
Accenture's report on AI found that 84% of C-suite executives think leveraging AI will help them achieve their growth objectives.
Best 6 AI Tools for Business
Now that we have an understanding of the use of ai in business, let's explore the best 6 AI solutions for business.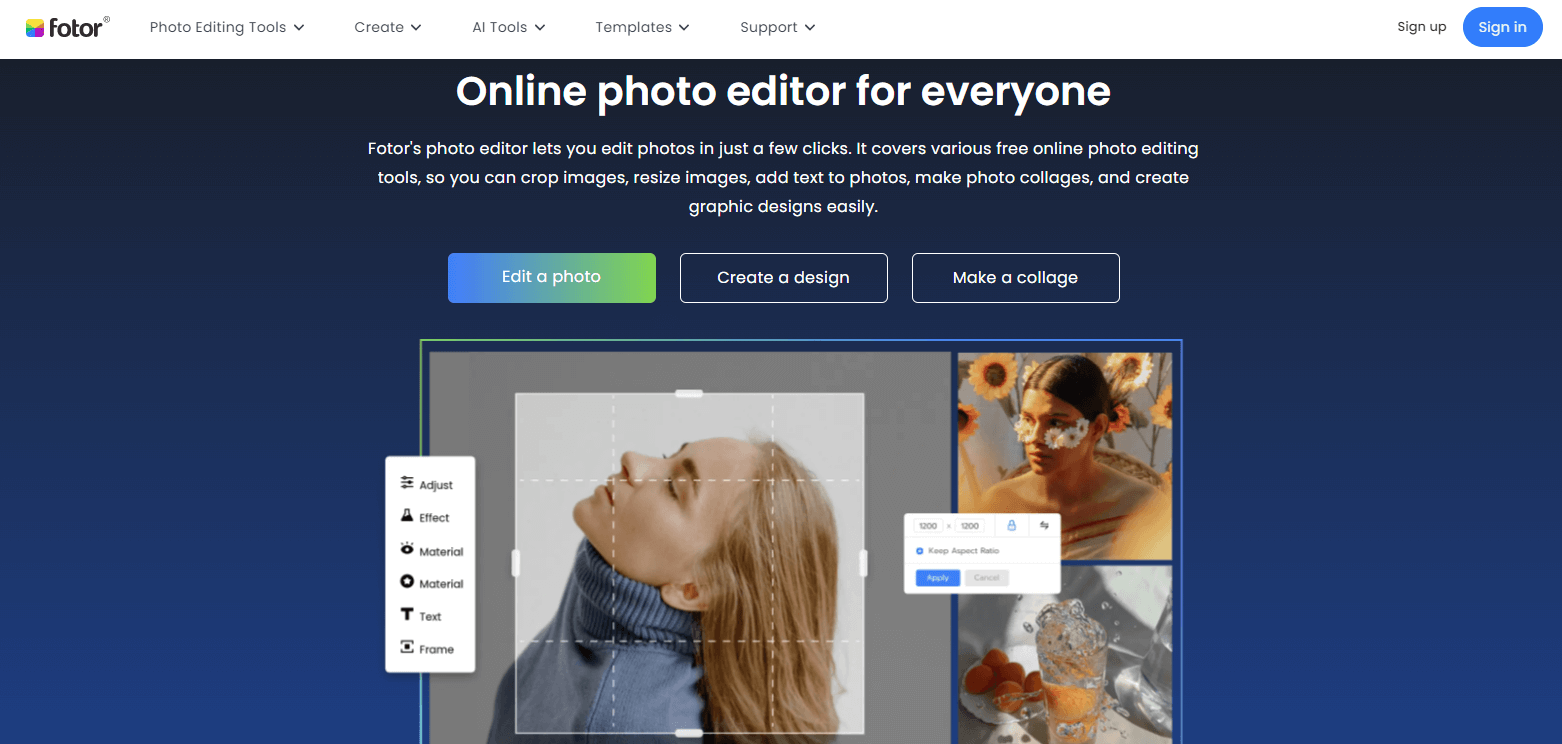 Fotor is one of the best online photo editors. Powered by AI technology, Fotor can remove image backgrounds and enhance photos with one click, add AI effects to photos and more.
In addition to photo editing, Fotor also offers a range of tools for graphic design, such as logo maker, flyer maker, presentation maker, and Instagram story maker. Making good use of these AI tools can promote your business well.
What's more, Fotor allows users to generate images with its AI tools, such as AI Image Generator, AI Face Generator and AI Art Generator. The AI Image Generator is designed to provide a quick and easy solution for generating images from text or photo, without the need for any design skills.