Unique bios and eye-catching Instagram graphics is a great way to keep your profile fresh and looking great.
You can try Fotor's online font generator to turn your normal text font into stylish fonts, including cool fonts, glitch fonts, calligraphy fonts, and other trendy fonts.
Those fonts are free, and you just need to copy and paste the converted fonts into your Instagram bio.
This tool is super easy to use, simply type in your text and choose a font style you like, Fotor will generate a variety of different fonts for you to choose from in a few seconds, you can copy and paste these generated fonts directly into your profile bio or name, add some personal touch to your profile to make it stand out.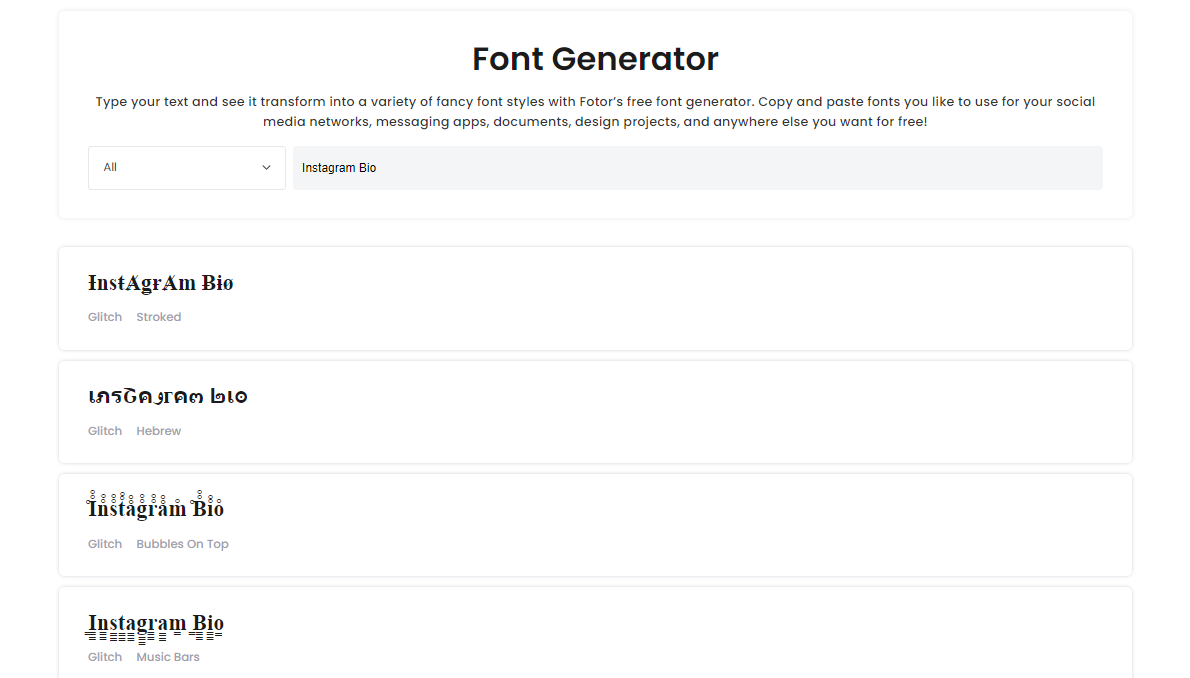 Fotor goes above and beyond by not only providing an array of copy and paste fancy fonts that you can effortlessly add into your Instagram bio, but also by offering an impressive assortment of editable Instagram post and story templates crafted by seasoned designers.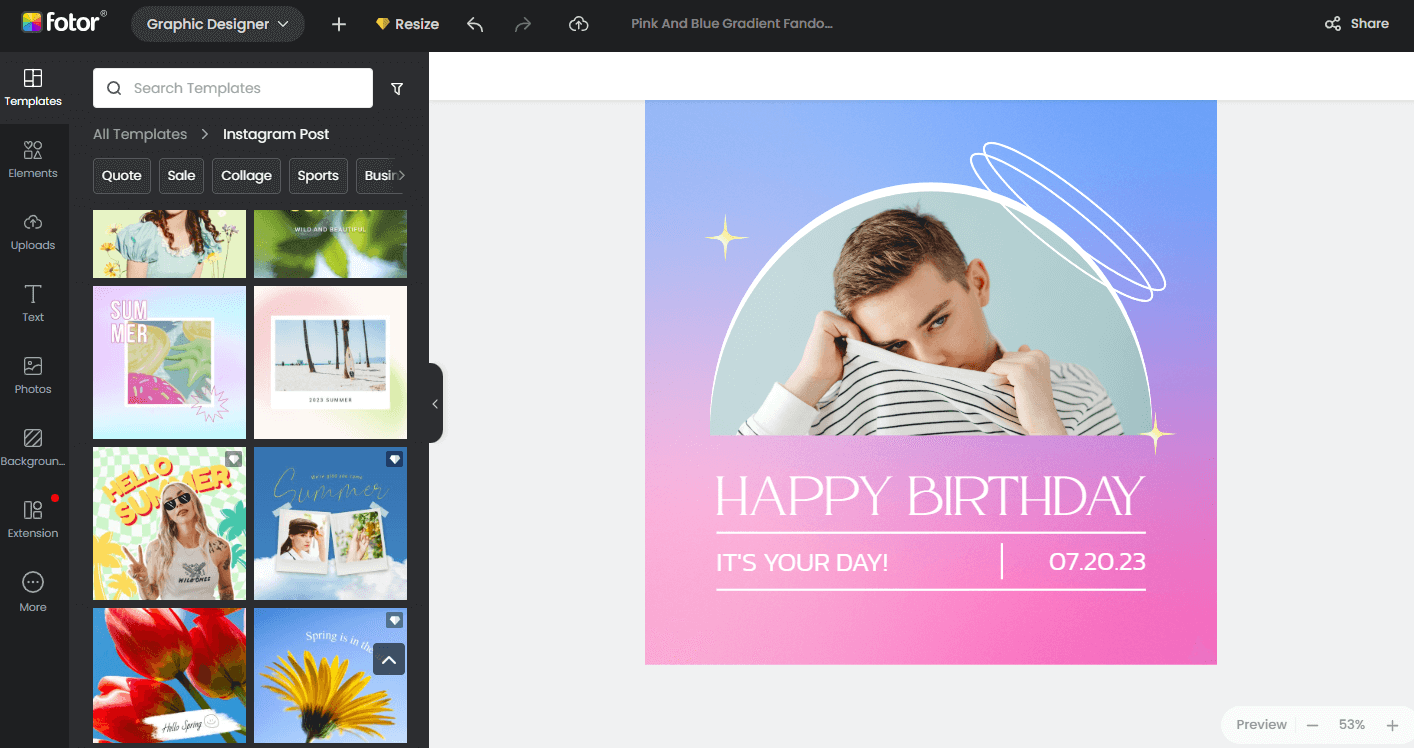 With these templates at your disposal, you have the power to seamlessly add text and images, tweak fonts, colors, backgrounds, and even transparency levels to your heart's content. The customization possibilities are endless, enabling you to create truly one-of-a-kind Instagram content that is guaranteed to captivate and enthrall your audience, ultimately attracting more followers to your profile.
What Makes a Good Instagram Bio?
An Instagram bio is the first thing potential followers will see when they land on your page. It's an important part of setting the tone for your profile and making sure that it reflects you, your brand, and what you have to offer. There are several key elements to consider to make sure you're making a great first impression.
1. Show People Who You Are
A good bio for Instagram should be concise but descriptive, providing visitors with an idea of who you are and what they can expect from following your account. Use keywords that accurately describe yourself or your business to help people quickly find you in searches.
2. Use Fancy Fonts
You can make your Instagram bio stand out by using unique fonts. Fotor's font generator provides a wide range of Instagram fancy fonts, from bold fonts to cursive fonts, that you can use to customize your bio.
3. Include Some Emojis
You should also take advantage of the character limit in order to create intrigue and draw people in by adding some personality. Include emojis or other symbols that best represent your style or brand – this can add extra flair without taking up valuable characters!
4. Add a CTA
An effective bio for Instagram will also incorporate visuals, such as a profile photo or logo. This helps visitors identify who you are immediately — plus it looks aesthetically pleasing and professional! A "call-to-action" (CTA) at the end of your bio is another great way to get more engagement from followers; ask them to "click the link in our bio" for more information about something related to what you do.
5. Creative Writing
Write an Instagram biography that stands out from the rest by using creative writing to captivate and draw attention. Make sure to craft an exceptional bio that allows your followers to get to know you better and sets you apart from the crowd.
Conclusion
This blog post offers 80+ best Instagram bio ideas and tips to create an eye-catching profile. We hope these ideas will inspire you and aid you in constructing a captivating bio to gain more followers. Now, unleash your creativity and create a unique bio to express your personality!