Sell on Pinterest: How to Get Your Products Noticed and Boost Sales
---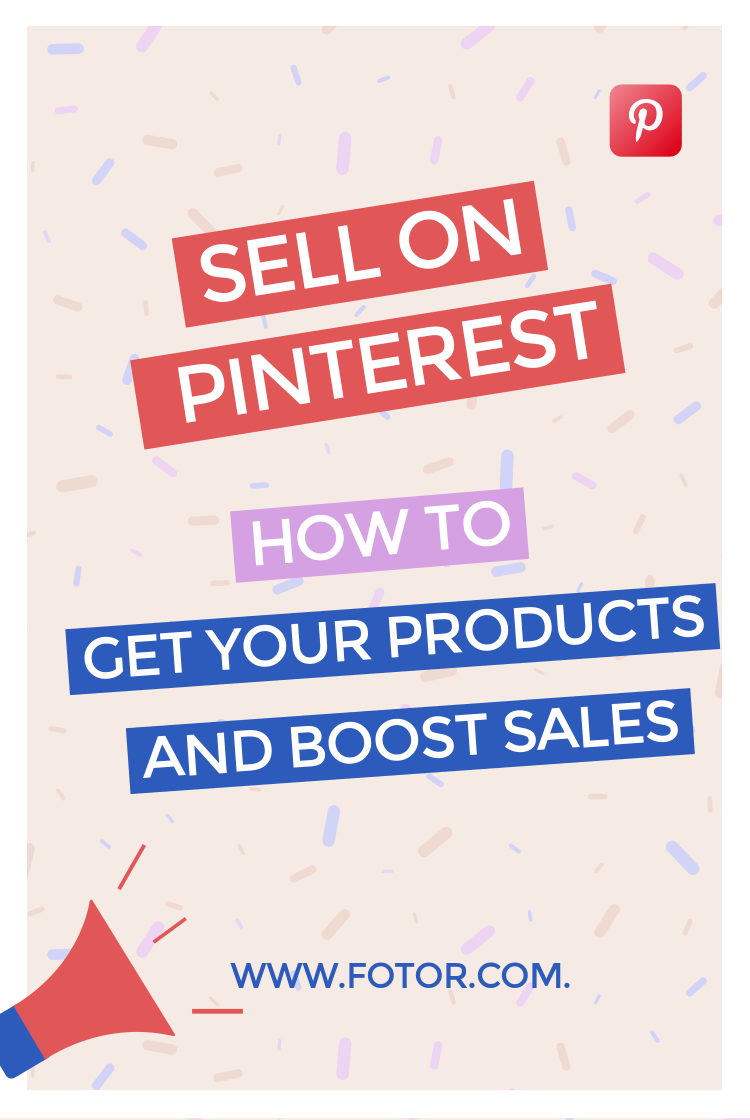 Millions of people visit the platform to get inspirations for their home decoration, fashion, cooking recipes, home renovations and so forth. But, what many of them don't realize is that Pinterest is an extremely massive sales channel for businesses.
Knowing how to sell on Pinterest is an essential skill set that modern businesses should strive to acquire. This is because when it comes to marketing, you simply can't ignore Pinterest.
Let's check what the numbers got to say. Has It's often said, numbers don't lie.
1. Let's Talk Numbers. Statistics
96% of Pinterest users use the platform to perform in-depth research on selected items, while 87% of its users buy the items they come across on the platform.
According to e-marketer, Pinterest beats Instagram by a long shot when it comes to influencing the purchasing decisions of users based in the United States of America.
Here's the deal. If you want to easily grow your online sales quickly, learning how to sell on Pinterest isn't a choice, you must learn how it's done. For starters, you'll need to understand what pins are, and how they position your products or services on the platform. Let's dig in.
2. Types of Pins
Pinterest pins are the visual bookmarks that allow its users to attach their product collage images, videos and so forth and when clicked they simply tell you more about that product. Pinterest has a couple of Pins which include the following:
Buyable Pins
Would you want to promote your products or services on your website, online store or sell them directly on Pinterest? Well, buyable Pins let you do just that.
Buyable Pins allow businesses to sell their products to customers without leaving the Pinterest platform. These pins are marked with a blue price with an 'Add to Bag' button.

Image credits: Neilpatel.com
Benefits of Buyable Pins
Buyable Pins are mobile responsive, therefore they work seamlessly across mobile and web platforms making it easy for customers to purchase and complete payment transactions regardless of what platforms they're in.
Pinterest doesn't take any commissions from your sales.
Rich Pins
Rich Pins are those pins that highlight the description of the product or service. They provide a richer experience resulting in increased engagement via Pinterest post.
There are 4 types of Rich Pins:
These Pins highlight the title, Meta description, date when it was published and sometimes even the author's name. The article of the Pin will appear on your feed and when clicked, it brings forth additional information.

Image credits: socialnerdsguide.com
This Pin showcases a recipe's ingredients, cook time and serving information. The information that is displayed by this Rich Pin will generally depend on the recipe plug-in you have installed.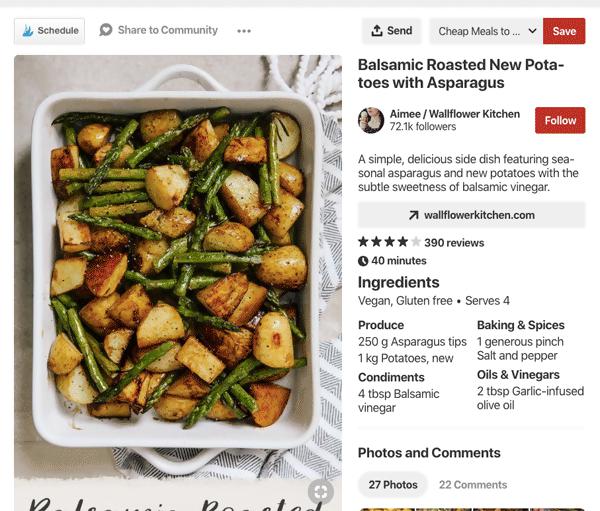 Image credits: Anstastia Blogger
These Pins include the product's pricing, availability and where to buy it.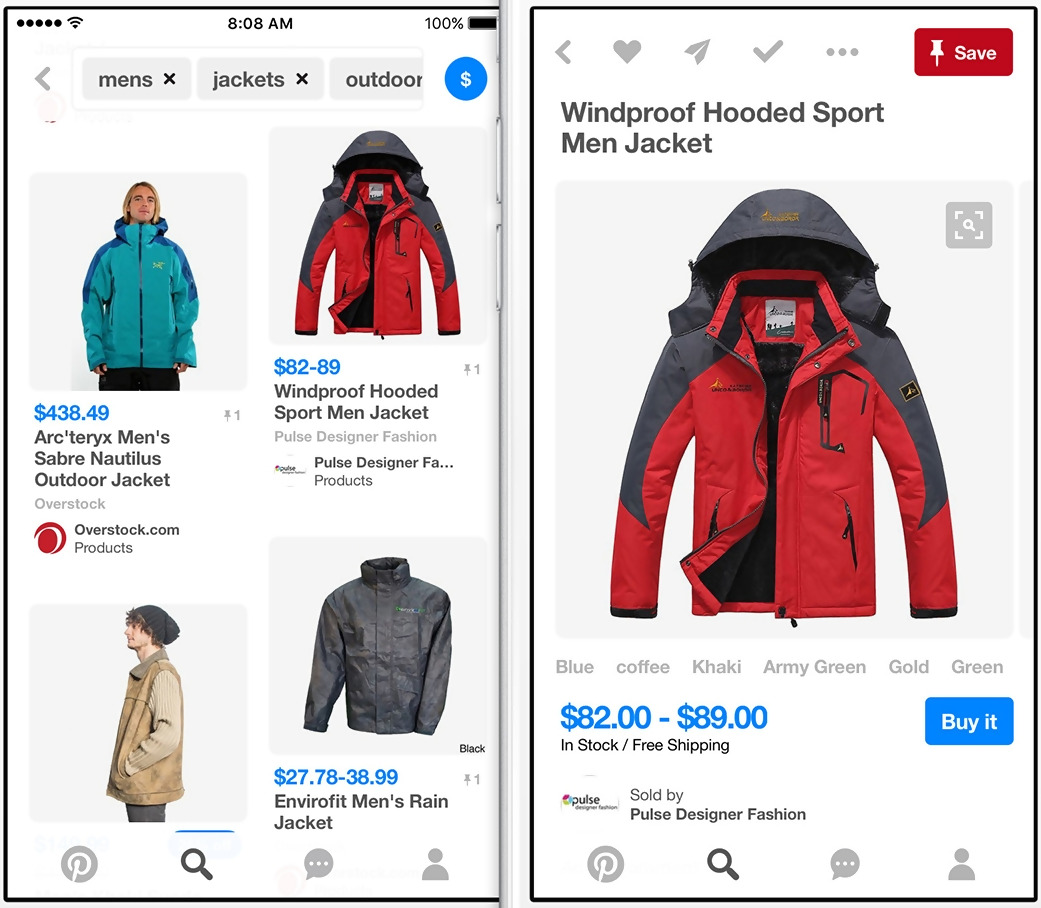 Image credits: ecommerceinsiders.com
Benefits of Rich Pins
They greatly improve a customer's experience as they provide them with info of your recipe, product or services.
The ingredients of Rich Pins are searchable, making it a fast and easy way for people to quickly lookup a recipe on the go.
Promoted Pins
These are the Pins that businesses pay Pinterest to promote. Pinterest highlights them on a user's feed if their profile preferences fit with the audience's target specifications of an advertiser. This leads to increased engagements and conversions for the advertiser.
Pinterest allows you to hide promoted Pins that don't interest you and uses this feedback to make sure that you see more relevant promoted Pins in the future.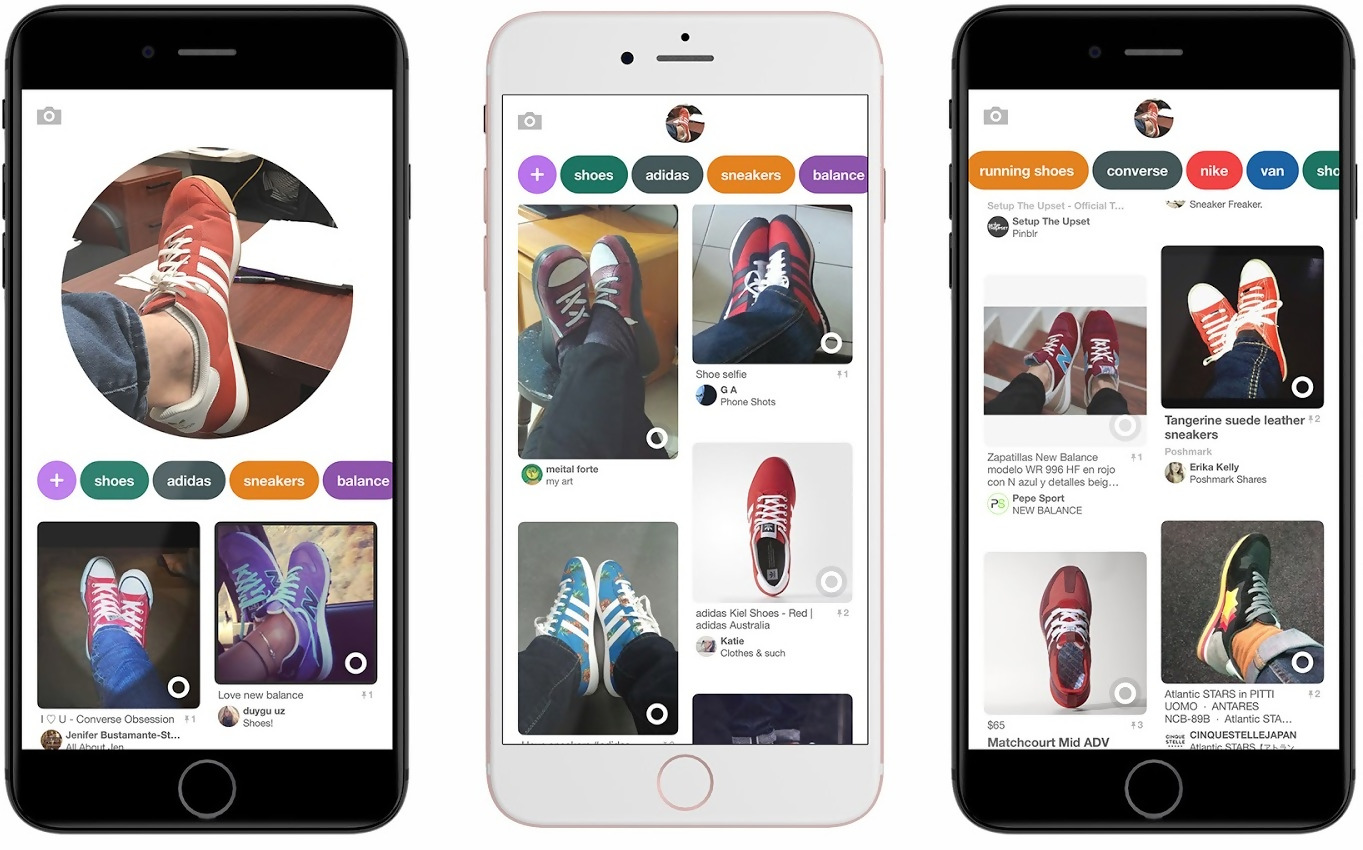 Image credits: socialmediatoday.com
Benefits of Promoted Pins
It allows you to easily reach your target audience as it provides you with insights that highlight the ages, gender, language, location, device of the people seeing your promoted Pin.
Promoted Pins are SEO complaints as they make use of a keyword-based form of advertising. This makes your promoted Pins more strategic and targeted.
3. How to Get the Most of Your Pinterest Presence
With over 250 million monthly global users and 77.4 million of those users in the US alone, it's isn't hard to see what the fuss is all about. Businesses have started taking note of this social media platform that has over 100 billion pins and still counting.
Used well, Pinterest has the potential to significantly drive massive web traffic to your website, translating to increased engagement with your customers, resulting in increased revenue.
But how do we get the most of your presence on Pinterest?
Here, are a couple of tips to help you optimize your business Pinterest account:
Tip 1: Optimize Your Account Profile
One of the best ways to optimize your account profile is by ensuring that you have a business account which provides a number of benefits to users such as:
Allows users to display a business name as opposed to a personal name. This gives your profile a professional look.
Provides access to a vast library of Pinterest marketing content that equips you with the necessary marketing expertise in driving your sales.
Ability to verify your website and get a check-mark next to your name. This shows other users that you are a legitimate account holder; building trust amongst users.
Tip 2: Search Engine Optimized Keywords
You should use specific and relevant keywords to describe your profile and pins. Keywords help search engines and social media platforms such as Pinterest know what your content is all about. It also allows it to appear on relevant search results queried by users.
Among the simple strategies you can use in identifying which keywords you insert in your profile, is by performing a search query on Pinterest that best describes what you do. Pinterest will then provide you with auto-suggest keywords for you to choose from.

Image credits: Pinterest.com
4. Step by Step Guide on How to Sell On Pinterest
Pinterest stands tall as among the most innovative marketing platforms which can catapult your business to the next level. However, you must know how to sell on its platform.
Here is a step by step guide on how to sell on Pinterest.
Step 1: Know your audience
Knowing who your target audience is undoubtedly the first order of business you should do.
This is important as knowing your target audience will assist you in crafting your messaging effectively. The analytics can be got from the Pinterest Audiences dashboard.
Here are a couple of insights you can discover if you use the Pinterest Audiences:
Type of devices your followers are using
Your audience's preferences and persona
Remember that users see promoted pins on their feed based on their profile preferences. Therefore, it's extremely important that you know the persona of your target audience so that you can be able to structure an effective Pinterest marketing campaign.
The good news is that Pinterest makes it easy to target your ideal audience through a feature known as the Pinterest Taste Graph.
The Pinterest Taste Graph has over 5,000 categories within the Pinterest Ads Manager. Businesses can use it to reach higher numbers of targeted customers. Remember, the more refined your targeting is, the higher your sale conversions will be.
Image credits: Pinterest.com
Step 2: Get a Business Account
While your personal Pinterest account may be great for hobbies, it isn't optimized for business. You'll need to set up a business selling account.
Why is this so important, you may ask?
A business account gives you a professional brand image, more credibility and most of all you'll be able to access a wide range of options not available to those with personal accounts. Simply on the 'Switch to Business' button on your personal account and follow the steps.
Don't forget to optimize your business account. Okay, but how?
Pinterest works on the same concept of Google as a search engine and uses keywords to identify and describe your brand. Check out these tips on how to optimize your business account:
Use keywords. Describe what you're offering by inserting relevant keywords to your brand name, a business profile description, and any pinned content.
Add Image description. After adding appropriate image descriptions to your images, you can then proceed to link them to your product pages.
Put hashtags. Hashtags are relevant in Pinterest as much as they're on Twitter or Facebook. They're good at assisting potential customers to find your content. Therefore, don't forget to include a couple of relevant hashtags in your Pins.
Step 3: Understanding and Choosing the Right Pins
Buyable Pins
There're a couple of innovative ways of selling products on Pinterest, but among the easiest and most effective ways is using Buyable Pins. Buyable Pins are easily noticeable as they're branded as a bright blue 'Buy It' or 'Add to Bag' button.
Once a customer clicks on the button, they're instantly directed to a payment page showing the different payment methods available. What's even better is that it is possible to purchase an item on Pinterest without leaving the social media platform.
Rich Pins
You should also consider Rich Pins. Rich Pins have 6 categories which include:
Product Pins, Recipe Pins, Article Pins, Place Pins, Movie Pins and App Pins.
Product Pins are generally the most common pins which you'll initially deploy when just starting out. It comes with a unique code that you place on your account and website. This code is what contains the store information of your Pinterest business account. It is quite innovative as it enables you to share price information and product descriptions in real-time.
Product Pins are extremely effective. Don't believe me? Check out this case study:
Made.com is a company that makes unique and stylish home furniture for clients in 11 countries saw a 36% increase in web traffic, 106% increase in transactions and a whopping 173% increase in revenue when they deployed Rich Pins in their digital marketing strategies.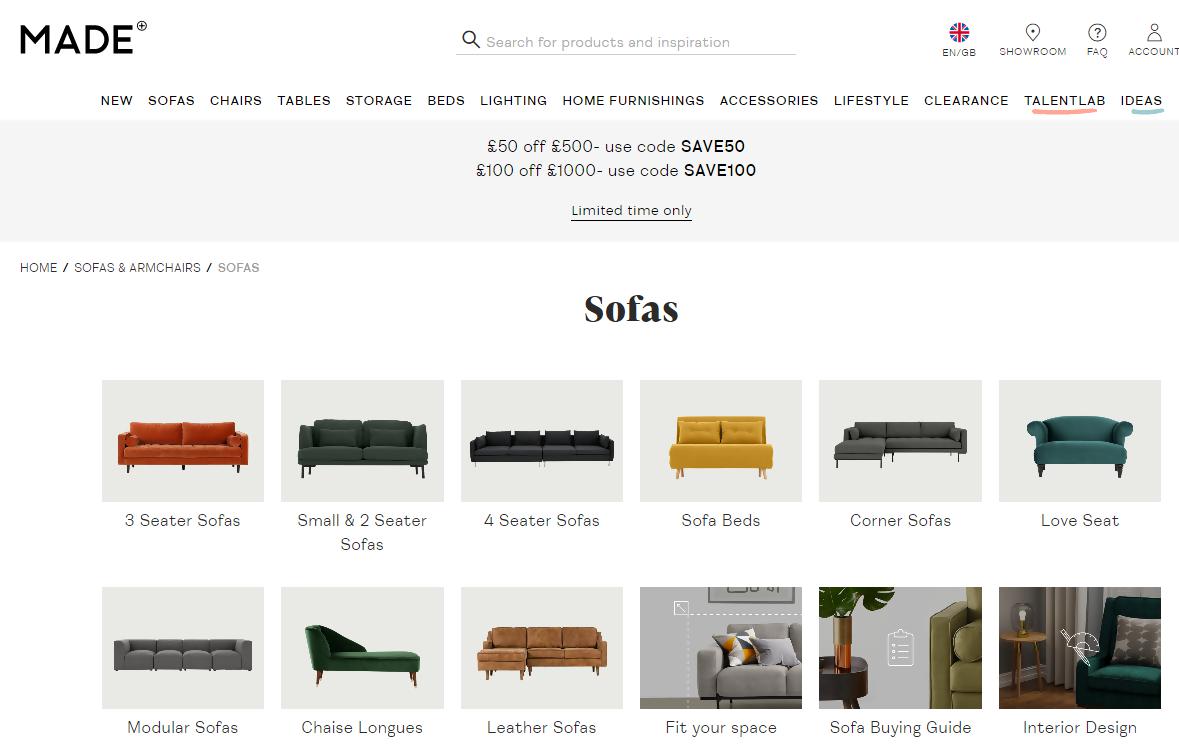 Image credits: made.com
Promoted Pins
Pinterest Promoted Pins made their debut in 2017, giving brands in the Pinterest platform an opportunity to boost their digital marketing efforts with cost-per-click campaigns.
Promoted Pins are similar to any CPC campaigns you would run on Facebook and Google. To get started, you simply specify a budget and duration of your digital campaign and off you go. Relax. You only pay when someone clicks on your pin and lands on your website.
They're usually great for seasonal sales and product launches.
Step 4: Increase Engagement with Your Target Audience
Among the best digital marketing strategies is not focusing on selling.
I know. It sounds crazy. You see, just like any other social media channel, success on social media platforms is made possible by a business's ability to engage with their customers. Increased engagements result in an increase in sales revenue.
You can increase engagement with your target audience by pinning other products related to your, therefore opening up other sales opportunities within your business.
Don't just link. Link strategically. Avoid sounding too promotional when linking back by linking both promotional and non-commercial content.
Don't forget the 'Gift' tab. The gift tab is an innovative drop-down menu that provides users with the ability to search for gifts at certain, fixed prices. Joining this list is very simple as it just requires adding a price-tag to product description and you're automatically added to the list.
Image credits: Pinterest
Step 5: Use Catchy and Vibrant images
What do these social media platforms have in common; Instagram, Snapchat and YouTube?
You guessed it right. Pictures, and ain't just talking about any pictures but catchy pictures bound to grab people's attention. Here are a couple of pointers to spruce up your visuals:
Click the image to edit
Use simple products pictures. Not people's faces.
Get creative with color. Vibrant background colors and all the works.
Click the image to edit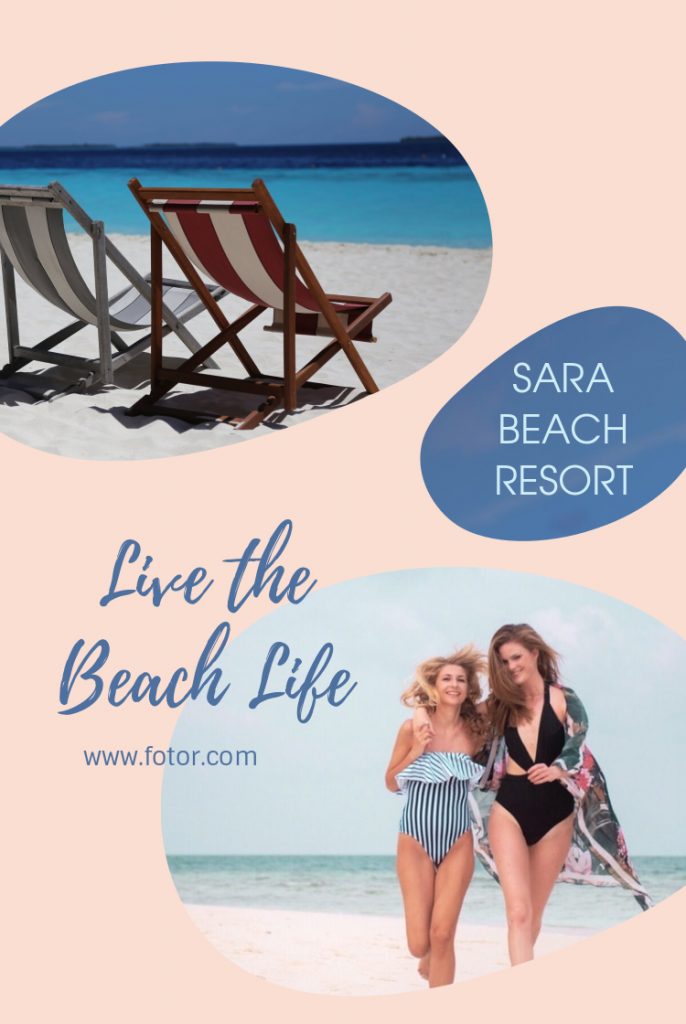 Click the image to edit
I know. Not everywhere, but on Pinterest it does. Forget the little thumbnails you're used to seeing on Facebook or Twitter. Pinterest recommends an aspect ratio of 2:3, at least 600px wide and 900px tall.
Your photography must be on-point. Poorly edited, pixilated images and photo stock images are a big No.
You can also use a professional photo editing software such as
Fotor has incorporated a number of different default photo size dimensions specific to the Pinterest platform. You simply upload your images, add some text and export the image directly to Pinterest within seconds.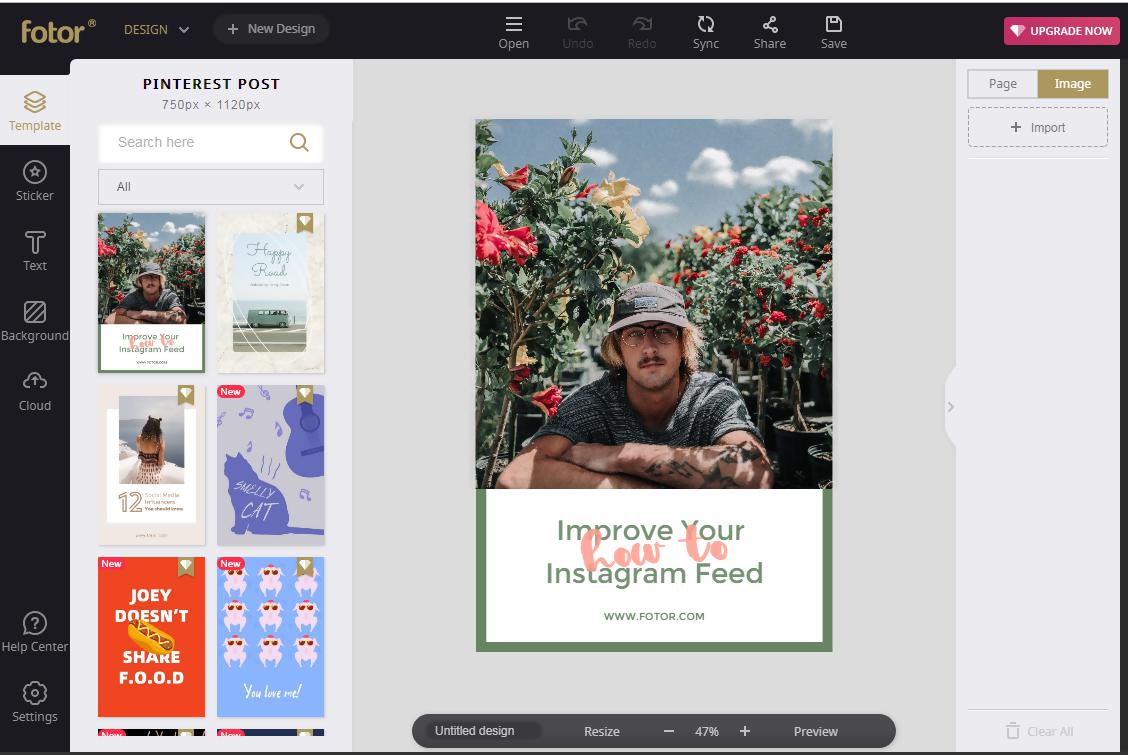 Click to Edit This Template
5. Monitor Your Campaign
The only way you can know if your Pinteres digital marketing strategies are working is by monitoring your Pinterest campaign.
Your marketing strategy on Pinterest isn't complete without monitoring your Pinterest digital marketing campaign. Social media tools like sprout social can assist you in tracking and monitoring your Pinterest posts.
Wrapping up
40% of customers on Pinterest have an annual income of over $100,000, proof that there is a sizeable chunk of people on the platform with the ability to purchase a wide range of products and services across different price ranges.
Pinterest is a visual platform. Therefore, having eye-catching images and photos is a must.
It is that realization that Fotor, one of the largest web-based, photo editing platforms developed and embedded a Pinterest feature to assist both personal and business accounts design customized and vibrant images and have them displayed on Pinterest boards within minutes. Click here to see how Fotor can help make your images get more pins and saves.
About Us:
Fotor is a free online picture editor and graphic designer, allowing you to use online photo editing tools, such as add filters, frames, text, stickers, and effects…and apply design tools to make creative photo designs and graphics. Online photoshop and graphic design software have never been so easy! Also, if you want to get more helpful and inspirational tips, please visit our blog home page to extend your reading.

---
Related Posts :
Leave a Reply :