Graduation is a significant milestone in one's life—a time of accomplishment, growth, and transition. It's a moment to celebrate achievements and embrace new beginnings. As graduates capture these precious moments through photos and share them on social media platforms like Instagram, the perfect caption becomes essential to encapsulate the emotions and memories associated with this milestone.
To help you find the ideal graduation Instagram captions, we have curated a list of the best graduation captions for 2023. Whether you're looking for something inspirational, funny, cute, or reflective, we've got you covered. Let's dive in.
Inspirational Graduation Captions
Are you hoping to inspire others to achieve similar greatness? Or are you creating a caption to generate enthusiasm for your future endeavors? Regardless of your intentions, these graduation captions are perfect for Instagram and are sure to catch people's attention.
"The future belongs to those who believe in the beauty of their dreams."
"The tassel was worth the hassle."
"Dream big and dare to fail."
"She believed she could, so she did."
"The best is yet to come."
"I never dreamed about success. I worked for it."
"Your education is a dress rehearsal for a life that is yours to lead."
"The journey is the destination."
"This is the beginning of everything."
"I believed I could, so I did."
"Failure is an inevitable step toward success. Now, I'm ready to go make some mistakes."
"It's time to plant the seeds of hope and a new, brighter future."
Short Graduation Captions
Can you capture the emotions of graduation using four words or fewer? These short graduation Instagram captions make it possible!
"Here's to new beginnings."
"Chasing dreams, one degree at a time."
"On to the next chapter."
"Diploma in hand, ready to conquer the world."
Graduated, matriculated, and unabated!"
Funny Graduation Captions
Sprinkle a bit of humor into graduation day by posting a few photos adorned with some funny graduation sayings, silly rhymes, or corny puns.
"I'm 100% certain that I am zero percent sure of what I'm going to do."
"I graduated. Now I'm like, smart and stuff."
"I'm not a hot mess. I'm a freshly graduated mess."
"I finally have a degree. Can I go back to bed now?"
"Now accepting adulting advice."
"I did it for the 'gram."
"I thought graduation would be more like a montage sequence with uplifting music."
"Did someone say unlimited free food? I'm available for hire."
"I got the skills to pay the bills."
"I want to thank Google, Wikipedia, and whoever invented copy and paste."
Cute Graduation Captions
Looking for a graduation caption for Instagram that's cute or sweet? Explore these graduation Instagram captions to see what fits.
"We may have changed, but these memories will always remain."
"Friends who graduate together, stay together."
"The tassel was worth the hassle, but the friendships are priceless."
"Graduation: the end of an era, the beginning of a lifetime of memories."
"You're never too old to set another goal or dream a new dream."
"The future is yours to create."
"Goodbye, high school/college. Hello, world!"
"Does this cap make me look smart?"
"One step closer to making my mark on the world."
"How lucky I am to have something that makes saying goodbye so hard."
"Take the risk, make the mistake. It'll all be worth it."
"Don't cry because it's over. Smile because it happened."
Graduation Instagram Captions Inspired by Songs
Remember the songs that you liked to listen to when you were young? Use these familiar classic lyrics to draw a perfect end to your dying youth.
"It's a beautiful day, don't let it get away." - U2
"Started from the bottom, now we're here." - Drake
"I believe I can fly." - R. Kelly
"Ain't about how fast I get there, ain't about what's waiting on the other side. It's the climb." - Miley Cyrus
"Oh, the places you'll go." - Dr. Seuss
"It's a new dawn, it's a new day, it's a new life for me." - Nina Simone
"I will remember you, will you remember me?" - Sarah McLachlan
"This is the start of something new." - High School Musical
"I was enchanted to meet you." —Taylor Swift
"Today is where your book begins. The rest is still unwritten." —Natasha Bedingfield
"What didn't break me, made me better."— Lil Baby
"And if at first you don't succeed, dust yourself off and try again." — Aaliyah
"Goodbye to you. Goodbye to everything that I knew." — Michelle Branch
"I wish that I could have this moment for life." — Nicki Minaj
Graduation Instagram Captions Inspired by Quotes
Youth is an inexhaustible poem, and many famous writers have their own unique insights and feelings about youth. Choose your favorite from the following graduation captions which are inspired by quotes to commemorate graduation.
"Don't watch the clock; do what it does. Keep going." - Sam Levenson
"The beautiful thing about learning is that nobody can take it away from you." - B.B. King
"Education is the key to unlocking the world, a passport to freedom." - Oprah Winfrey
"Success is not the key to happiness. Happiness is the key to success. If you love what you are doing, you will be successful." - Albert Schweitzer
"Your time is limited, don't waste it living someone else's life." - Steve Jobs
"The only limit to our realization of tomorrow will be our doubts of today." - Franklin D. Roosevelt
"The roots of education are bitter, but the fruit is sweet." - Aristotle
"Your education is a dress rehearsal for a life that is yours to lead." - Nora Ephron
"No matter what happens in life, be good to people. Being good to people is a wonderful legacy to leave behind." —Taylor Swift
"Whatever you choose for a career path, remember the struggles along the way are only meant to shape you for your purpose." —Chadwick Boseman
How to Add Graduation Instagram Captions to Graduation Instagram Posts in Fotor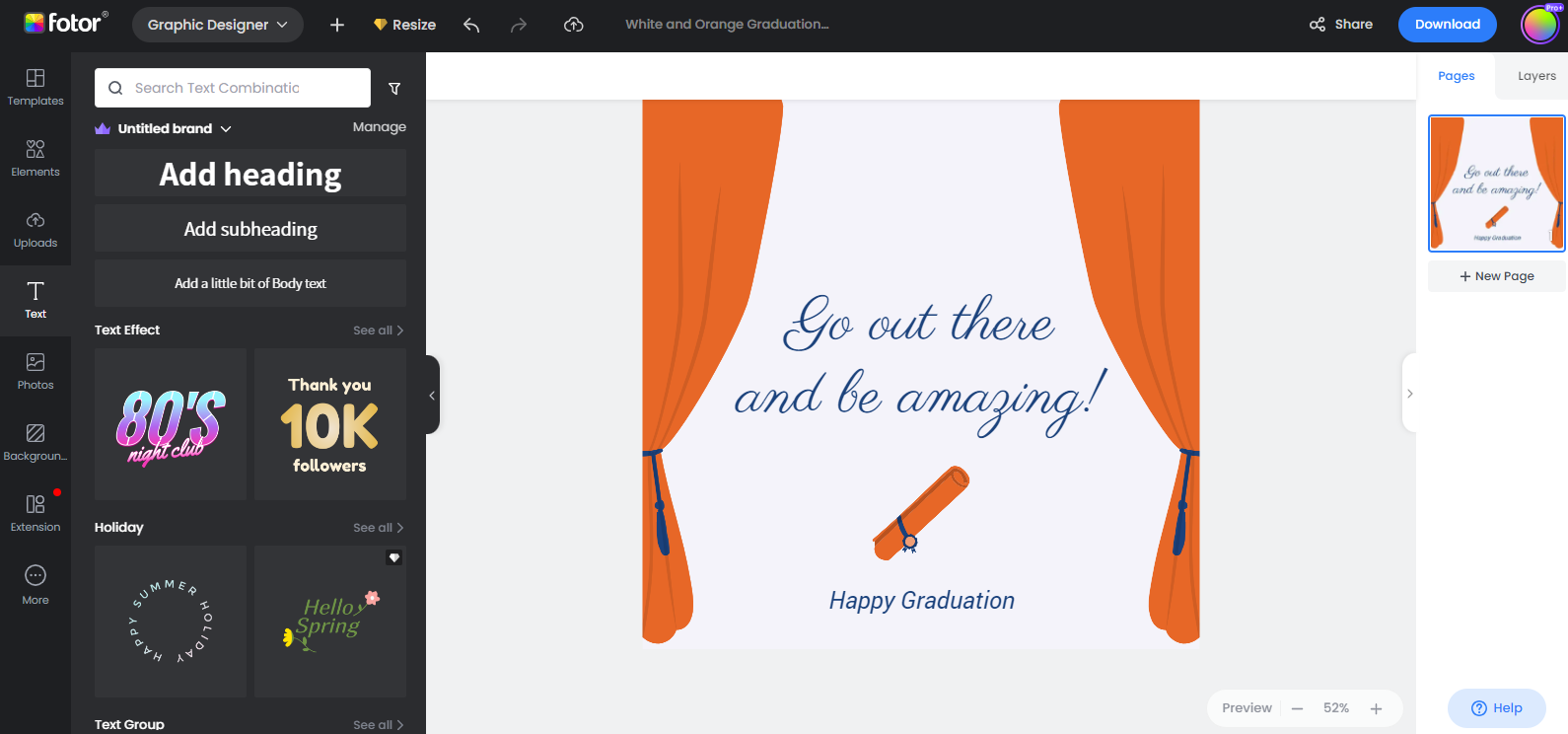 After selecting and knowing what to say in a graduation post, and it's time to add these graduation Instagram captions to it. You can try Fotor's graduation Instagram post maker to make everything done beautifully if you want to create a special graduation post.
Fotor offers you various Instagram post templates that you can use to make a special post to express your congratulation, support, and care to the receivers. Besides, you can use its powerful AI design tools to turn your happy graduation ideas into reality.