Best Remote Working Software You Need in 2020
---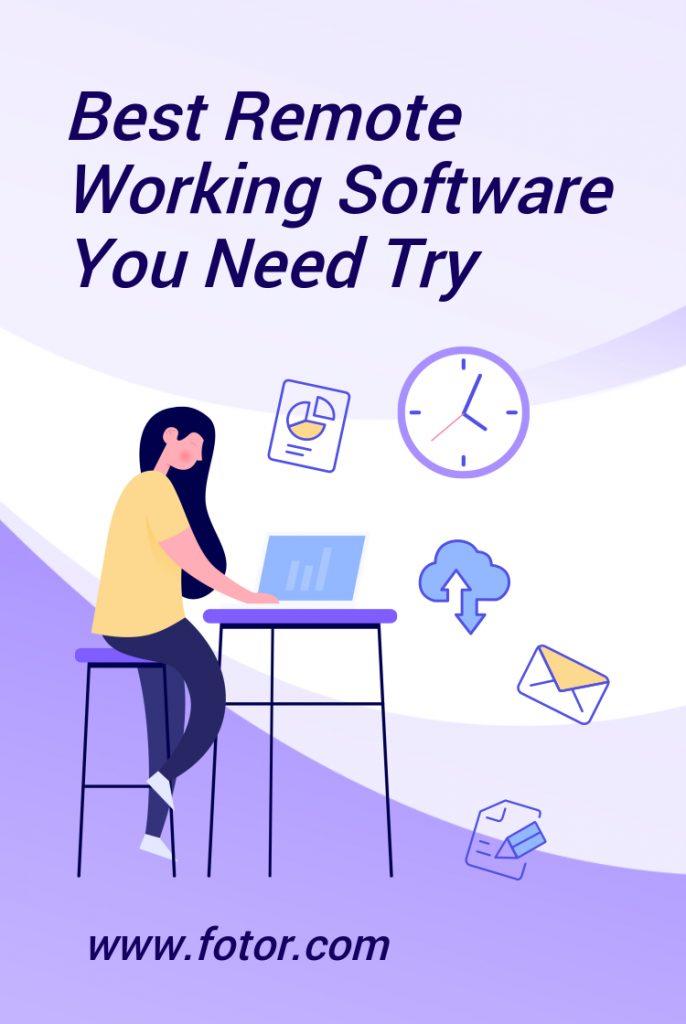 In recent times, the contemporary world has experienced constant progress in the world of technology, transforming the whole dynamic of communication as well. In such times of opportunity, organizations have created tools that have begun to facilitate businesses in employing individuals who can work remotely even work at home.
This does not only increases their ability to hire expert individuals from all over the world but also results in decreasing the costs of a physical location. The top remote software companies have been continuously engaged in producing the best remote working software.
So today, I'm going to introduce the best remote working software to you in detail.
Benefits of a Remote Workforce
The benefits of remote working can be greatly recognized in these circumstances when every organization is looking to work from home. The idea of remote has greatly been facilitated by the services that are allowing employers to monitor employee activity and provide feedback simultaneously. Remote employee software makes use of sophisticated programming systems. These are available in various categories such as; remote employee management software, c++ remote work, telecommuting software, remote admin work, remote workforce management software, and multiple others. Moreover, there are fully remote software companies that are working round the clock with reputable clients in all parts of the world. Remote working has emerged as a professional field as people are continuously working freelancers from home.
However, previously they did not make use of software such as remote time tracking software or remote work software. They used mainstream communication tools and channels, which even caused hindrance for either the one who was getting a job done or the freelancer himself. Organizations developed software to monitor employees that significantly increased productivity levels. Let's dig into the top remote-working software now!
Types of Best Remote Working Software
As briefly discussed above, how organizations have developed software to meet specific employer needs, let's take a more extensive look at the various software categories that are available these days.
Top Remote Working Software – Video Calls 
The most common work from home software can be recognized as the video calls support applications. Video calls software has been around for quite a while, and organizations have used continuously it to interview employees from different parts of the world. This saves them time and cost.
Skype is one of the most renowned video conferencing tools that have enabled employers to conduct meetings with their employees over the internet. It has a user-friendly interface and is free to use. It can be used as a desktop app, or an easier way is to use it via the Skype mobile application. One of the reasons why skype has been so popular is because it was the first-ever voice over IP that individuals or business could use to communicate without having to spend a lot of money.
Pros: Skype is free to use and is incredibly easy to install on your computer or mobile devices. The interface is friendly and offers support to all devices without any complications.
Cons: There is no language translation available. You can communicate with individuals from other countries but in case there is a language barrier in terms of the messages they write, Skype does not automatically translate them.
Zoom is one of the most sophisticated video conferencing tools that has recently emerged to empower businesses worldwide and facilitate them in their meetings. It simultaneously allows the employer to conduct meetings where employees can join from their homes while giving the option to either converse through audio or video. The challenge to Zoom would be maintaining the large influx of people and businesses that they get each day and maintain their security and user privacy.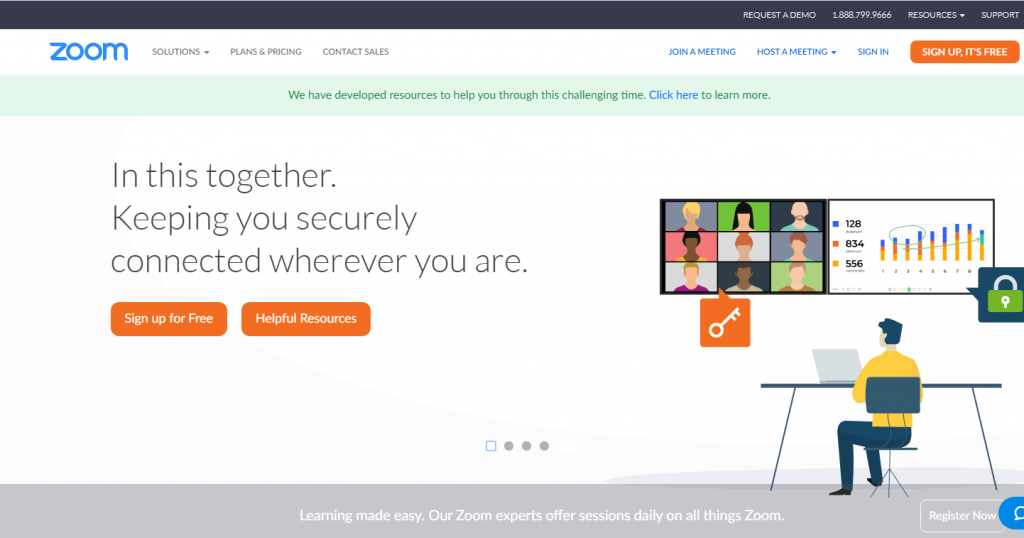 Pros: Zoom's greatest selling point and the reason for its popularity is the allowance of free 40-minute calls which can be attended by up to 100 individuals.
Cons: Zoom does not give the moderator to option to shut down comments. In case of non-serious students or employees that may cause disruption, it may serve as an obstacle to the moderator in pursuing an uninterrupted session.
2. Top Remote Working Software – Project Management
One of the challenges that come with remote working is how to manage your projects, delegate tasks and sharing resources. One of the benefits that have come with working remotely on project management is that it overcomes the physical barriers that employers may feel while communicating the instructions to employees.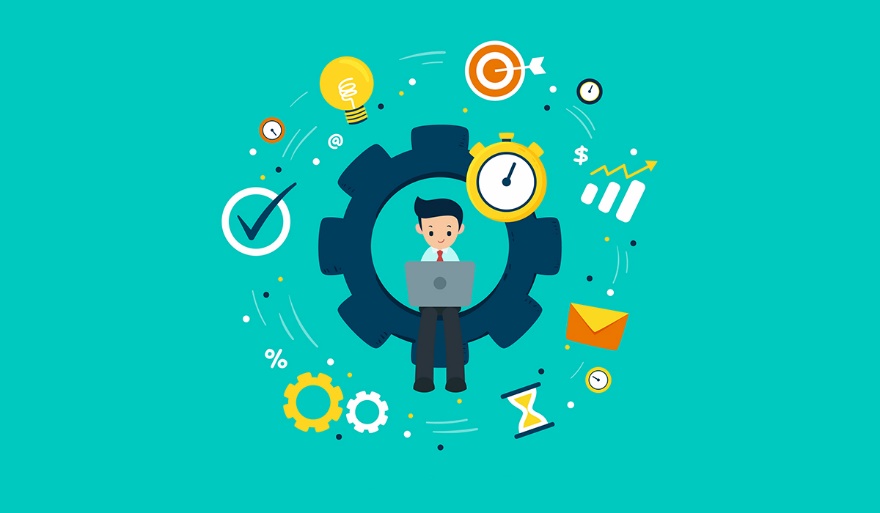 Active Collab is an easy to use software that is fast and time-effective. This allows employers or project leaders to set goals for the team, assign tasks to team members, and get notifications on updates through e-mail. It's a great work from home software for individuals working in project management. As the name suggests, it is essential for businesses to actively collaborate to create a level of synergy amidst the organization. Hence, if the company has remote employees, Active Collab provides a great solution to their physical distances!
Pros: Everything can be tracked through active collab including time, tasks and progress through a user-friendly and fast interface.
Cons:Timestamps are deleted without a prior notice which can cause problems if you have not kept a track of the records yourself.
Basecamp is a software that aims to reduce the communication gaps that exist between employers and employees. With this platform, leaders are not required to send messages to each individual; rather, they can post on Basecamp directly and engage among themselves there. Best remote software companies rely on project management tools for effective communication.
Pros: One of the advantages of using basecamp is that it allows you to follow your tasks. As soon an assignee completes the task, it can checked off to notify that its complete.
Cons: A lack of user-friendliness of the interface may take a newbie a little time before getting used to it.
3. Top Remote Working Software – Time Management
Amidst the coronavirus pandemic and the increase in globalization, time management has also made its way towards remote working. Similarly, organizations have also developed remote employee time tracking software. Often, companies that hire remote software engineers are necessarily required to keep track of time their employees spend on doing their assigned tasks.
 
Timecamp is a great tool and is considered as one of the best remote working software around! It comes with an integrated attendance tracker that allows organizations to see if their employees have checked in for work or not.
Pros: It has an automated time tracking system alongside a simple interface that ensures productivity levels across all departments.
Timecamp's popularity came due to its smooth running as a background application on desktop computers. This feature allows users to continue with their tasks on their devices without any sort of interruption.
Cons: Despite being a fast paced tool, the interface sometimes comes across as disorganized and overwhelming in the first look which may cause individuals to not pursue using it after the first trial.
 Tmetric is a great tool for freelancers and remote software companies. One of the biggest advantages of using this software is that it allows a multiple currency support and bills every minute that the employee spends on the task. It gives the users a good amount of control over their time intervals and budgets of the project.
Pro: Tmetric's functionality has been a major reason why the app has been rated so highly. Its corporate user base and its feedback constantly name it as one of the highest performers among time management software.
Con: Users have experienced a failure or loss in service without any apparent warning from the application which sometimes results in loss of data.
4. Top Remote Working Software – Cloud Storage
Cloud storage has fast become one of the most used online services that have greatly facilitated individuals and organizations that intend to keep huge amounts of data and backup. One of the problems with traditional backup is the amount of physical space they require. Hence, software houses or data collection agencies often face these problems because they collect a considerable amount of ever-growing data. Whether it's traditional software houses or work from home software companies, cloud storage has become a need for these businesses.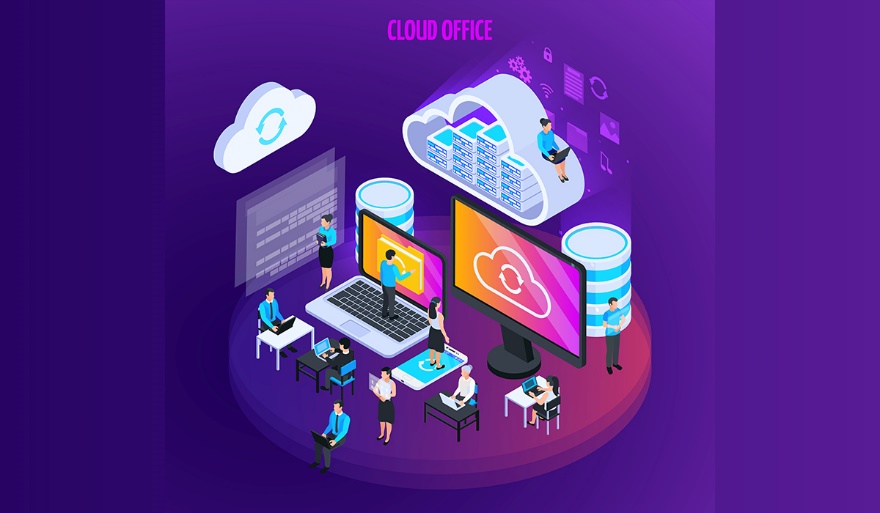 Fotor is a cloud-based photo editor that allows you to edit and upload images on its drive and allows you to share them as well. It is one of a kind photo editor that is fully operational on the web. If you like to create things, Fotor is definitely the tool for you!
Pros: The portal has millions of users worldwide with the integration of social media channels.
The platform holds various competitions where photographers can compete internationally.
The cloud storage feature enables users to keep their data on the portal, making it a great remote working tool for photographers, graphic designers, and creative content creators.
IDrive is a great, fast, and easy to use cloud service that is ideal for software companies and remote organizations.
Pros: It is a service that has a continuous synching function with robust security to keep your data safe. The current users report excellent customer service from iDrive's part in case of handling problems.
Con: Although iDrive is easy to use, users have experienced speed issues over time and there are no monthly plans that people can sign up to.
Everyone is familiar with Google's online diversification, and their cloud storage called Google Drive is also an excellent service that provides plenty of space to users at extremely economical rates.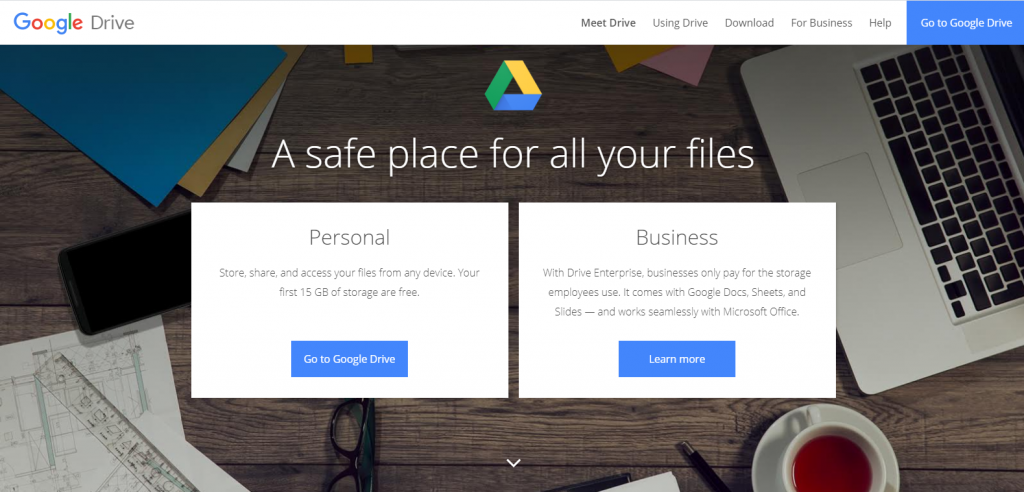 Pros: It can be linked with all of your other Google networks such as Gplus, Youtube and Gmail, making it a convenient all in one tool. The security on Google Drive is excellent and individuals and organizations constantly use it all over the world for data storage.
Con: With a slightly unstable internet connection, google drive does not backup the in process uploading data which has to be uploaded again from the beginning.
5. Top Remote Working Software – Team management
Team management software are ideal for companies that want to work remotely because it often comes across a challenge for team leaders when other members are not physically present at the location.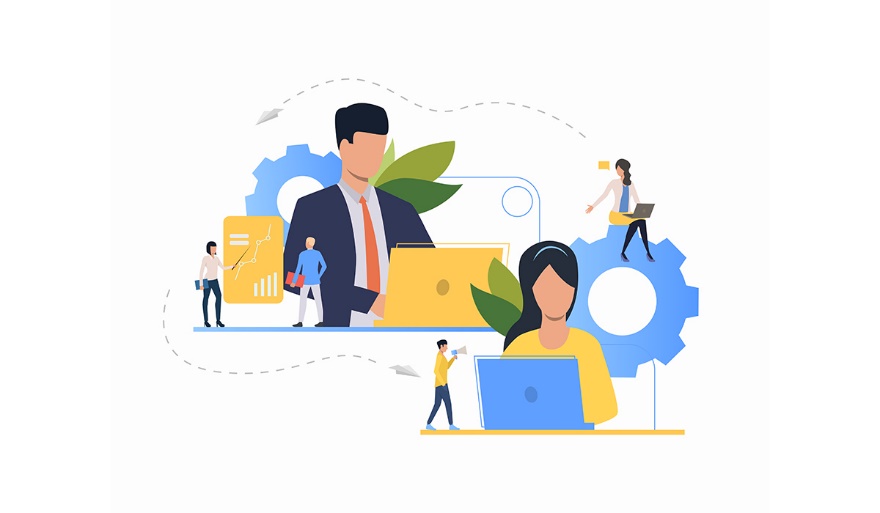 Once again, if you are moving towards remote working with your marketing agency or you're simply a part time remote software developer that delegates tasks to another team, Hubstaff makes a great tool. Hubstaff understands remote working because it was developed by a team of remote workers.
Pros
It not only allows you keep track of the working hours but will also give details about the employee's activity.
It gives extensive information to employers as it tracks the website and applications that viewed by the users.
Con
Some critics have expressed that the extent of information displayed causes a concern of privacy.
Asana is a great tool that is popular among individuals who use it for project and team management. It is a cloud-based tool that facilitates users, allowing you to break down projects into particular tasks and then assign people accordingly.
Pros: Asana is another tool that allows you to see what people are doing and when.
One of the benefits of using asana is that it eliminates unnecessary communication which allows individuals to focus on the task rather than talking about it.
Cons: Asana is not a user-friendly tool for individuals that are new to project management. They are required to take training to maximize their performance which can be a costly and time taking process.
Another extremely well-known tool is Trello that allows individuals and organizations to create lists and multiple cards for different tasks, notes, projects, files or anything that facilitates a team.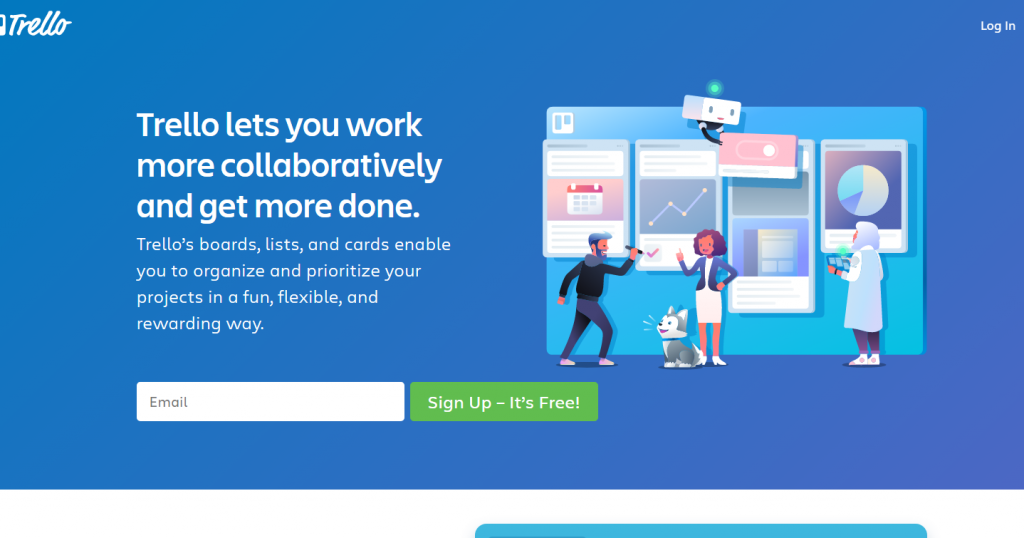 Pros: Trello Business offers premium features such as privacy controls and administrative control that allows employers greater control over the information that they share with the employees.
Cons: The software cannot be used if you do not have access to internet. Limited amount of storage.
6. Top Remote Working Software – Work Collaboration Tools
Some organizations work on projects that are completed by employees from various departments. In such a scenario, especially remote-based companies, it is essential for them to have the right work collaboration tools to execute their plans.
Slack is among one of the most popular tools that is being used for work collaboration by various organizations such as agencies, remote work software developers etc. Teams use it as a messaging app with a great integration that allows flexible communication.
Pros: The search feature has an interface that notifies you of every conversation that is important for you.
It has an all in one scheme which allows you to coordinate and collaborate simultaneously.
Cons: If a channel is created for private use, it cannot be turned public later onwards.
Todoist is a work collaboration tool that allows businesses to have up to 200 active projects at a single point in time with 200 tasks per project and allowing 50 collaborators to collaborate on the project.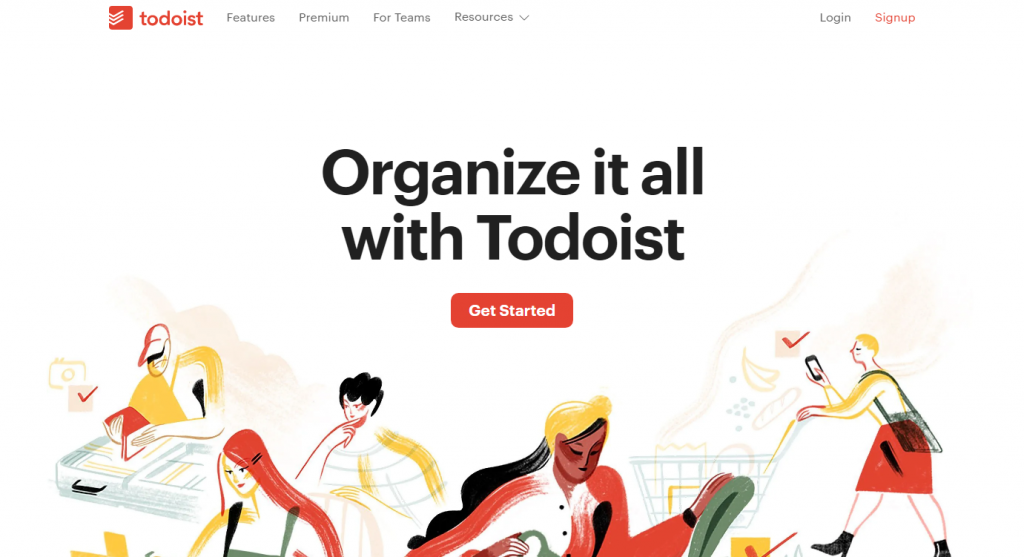 Pros: Its affordability and user-friendliness make it one of the top work collaboration tools that is being by organizations globally.
One of the benefits of using todoist is that it allows quick and straightforward on-boarding and off-boarding of new and existing employees, respectively.
Cons: Creating custom views is a gritty task for those who prefer simpler layouts.
FreshConnect is a tool that is built to facilitate significantly intra and inter team building communication through one on one or group conversations.
Pros: The discussion can begin direct form the customer relationship management desk, which ensures that employees can quickly access the information that they are looking for.
The conversations can also be conducted with people from outside the organization, such as vendors or third parties.
Cons: The support does not tell the status of the ticket which is why users have to follow up on the task themselves.
FAQs
What is the difference between remote and work from home?
Remote employees are the ones that are specified by the organization that they are allowed to work from anywhere as long as they submit their tasks on time. Work from home is a term that is used when an employee cannot be physically present and hence is allowed to do his work from home. The latter is approved only in extenuating circumstances such as the pandemic of COVID-19. Remote working is permanent while work from home is temporary.
What are the most common work from home jobs?
The most common work from home jobs includes virtual assistance, content writing, graphic designing and marketing tasks. However, with the use of sophisticated tools and software, there has been an increase in specialized jobs, such as freelance software development work from home.
How do I monitor remote workers?
There is various time monitoring and activity monitoring software that are available to individuals and organizations for the control of remote employees. These can either be free or paid services depending upon the extent of their offerings. Trello, Slack and there are various other tools that can be used.
Are remote workers more productive?
There may not be a definitive answer to this question as it is mostly surrounded by subjectivity. However, some fields benefit from remote working such as creative fields where employees are allowed to work in their own space. In contrast, jobs that are mundane and require daily computation of tasks are more likely to result in productivity with the physical presence of employees.
Conclusion
The dynamic of remote working has been transformed due to the emergence of technology. With those best remote working software, they have enabled individuals from all ages and backgrounds to communicate regardless of physical distances. Such development has also made its way into the professional world where organizations have particular strategies on how to make optimal use of their resources alongside ensuring positive productivity. In modern times, the richness of organizations depends upon various factors, and getting the best out of their support is one of them. Hence, organizations must recognize where they need to hire remote workers and where they would be better off with a physical workforce.
About Us: 
Fotor is a free online picture editor and graphic designer, allowing you to use online photo editing tools, such as add filters, frames, text, stickers, and effects…and apply design tools to make creative photo designs and graphics. Online photoshop and graphic design software have never been so easy! Also, if you want to get more helpful and inspirational tips, please visit our blog home page to extend your reading.

---
Related Posts :
Leave a Reply :